Feeling the buzz: Meet the Sugar Land Skeeters
Erstwhile indy entity set to begin new era as Astros' Triple-A club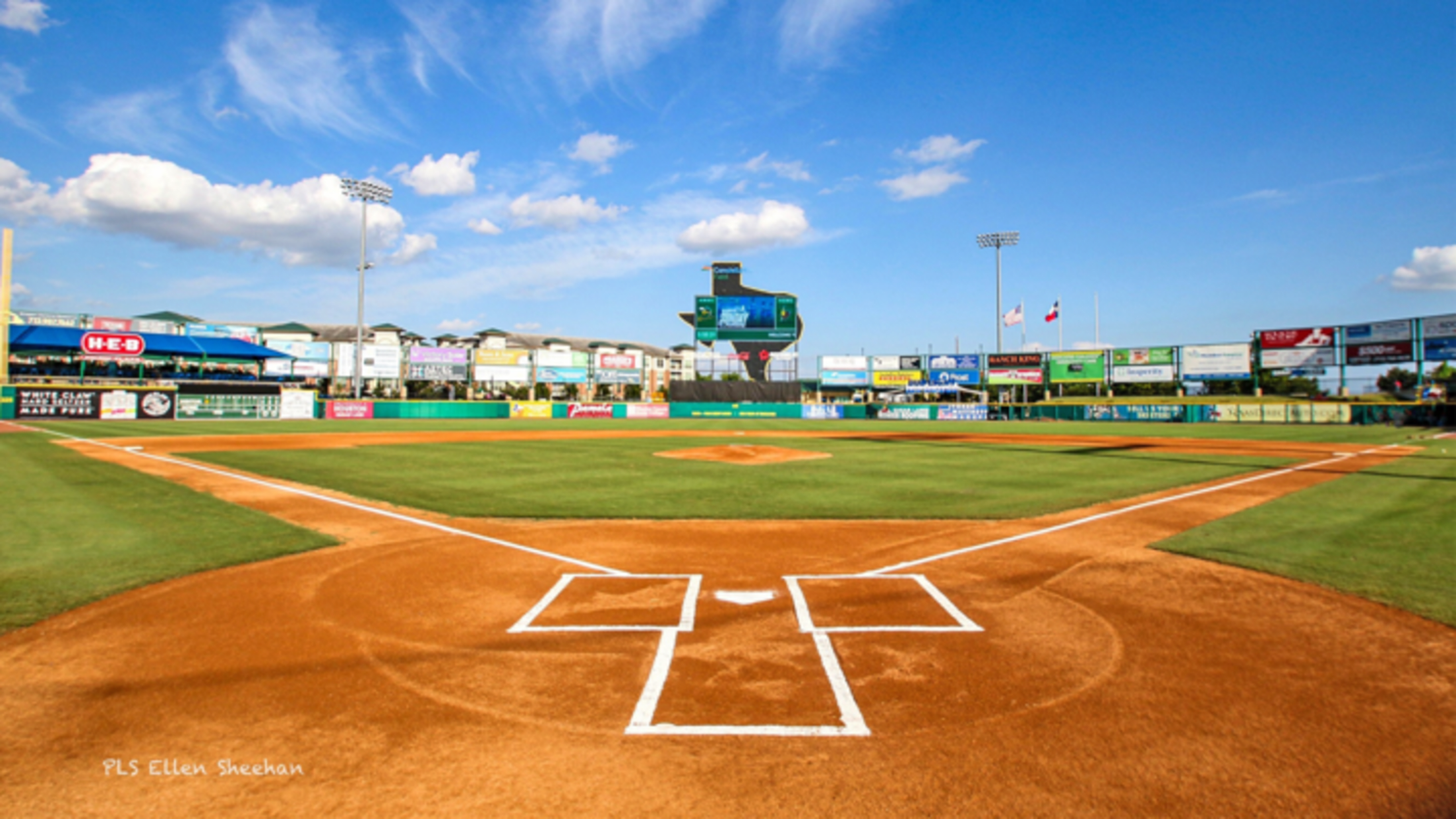 Constellation Field, home of the Sugar Land Skeeters, opened in 2012. Its scoreboard is in the shape of Texas.
The Sugar Land Skeeters are entering a highly refined new era. Established in 2012 as a member of the independent Atlantic League, the Skeeters are set to embark on their debut season as the Triple-A affiliate of the Houston Astros. They are one of three previously independent entities entering the
The Sugar Land Skeeters are entering a highly refined new era.
Established in 2012 as a member of the independent Atlantic League, the Skeeters are set to embark on their debut season as the Triple-A affiliate of the Houston Astros. They are one of three previously independent entities entering the affiliated ranks in 2021, along with the St. Paul Saints and Somerset Patriots. The Skeeters will compete within the 10-team Triple-A West League, operating out of the East Division.
Sugar Land, so named because Imperial Sugar established its headquarters there, is located in the greater Houston metropolitan area. The Skeeters' home of Constellation Field is situated just 23 miles southwest of the Astros' Minute Maid Park, resulting in easy access between the two facilities for players and team personnel. It's an enviable arrangement from a fan perspective as well.
"We'll remain just as focused on being an entertainment venue as we are a baseball venue. That's how we've operated over the past nine years," said Ryan Posner, the Skeeters' director of media relations. "But now we can supplement the affordable family-friendly entertainment we've always offered with 'Holy cow, now you can see the best prospects in baseball.' After we announced our Astros affiliation, our social media numbers just skyrocketed. The Astros have such a crazy fan base -- there's just a hunger for baseball. It's opened us up to a network of people we didn't have access to before.
"We've stressed to our fans that everything they've loved in the past will stay the same," he continued. "The specialty jerseys, giveaways, all the ballpark amenities. It's just that now, you could be at a game on Tuesday and there'll be a strong chance you're watching a guy who could be in Houston's lineup next week. In independent ball that would be an aberration, but now we have a roster where you'll be seeing guys who could be at Minute Maid Park in weeks or even days' time."
Interested in learning more about the Skeeters as they prepare for their affiliated Minor League Baseball debut? Rosner took the time to explain more about who they are and how they operate. What follows are his words, edited for length and clarity.
The team name and logo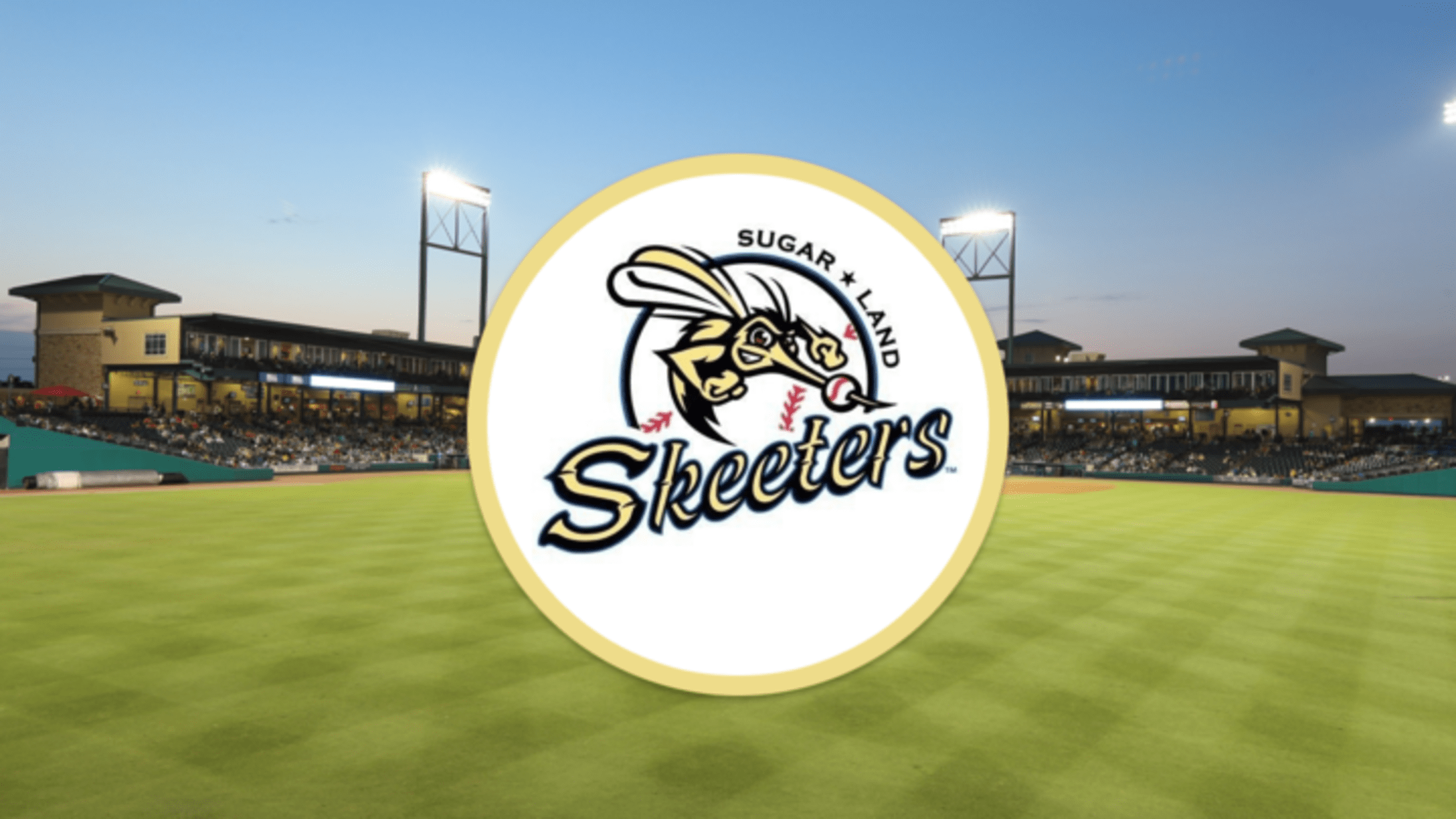 "The name 'Skeeters' was born from a name-the-team contest that received over 8,000 entries. The list was then narrowed down to three: Skeeters, King Canes and Lizard Kings. The Skeeters name is a slang term for mosquito. It was selected due to its celebration of warm Texas summer nights filled with baseball in which mosquitos are sometimes quite prevalent, especially in the Houston area. It's also a reminder of Sugar Land and Fort Bend County's 'itch' for baseball."
The ballpark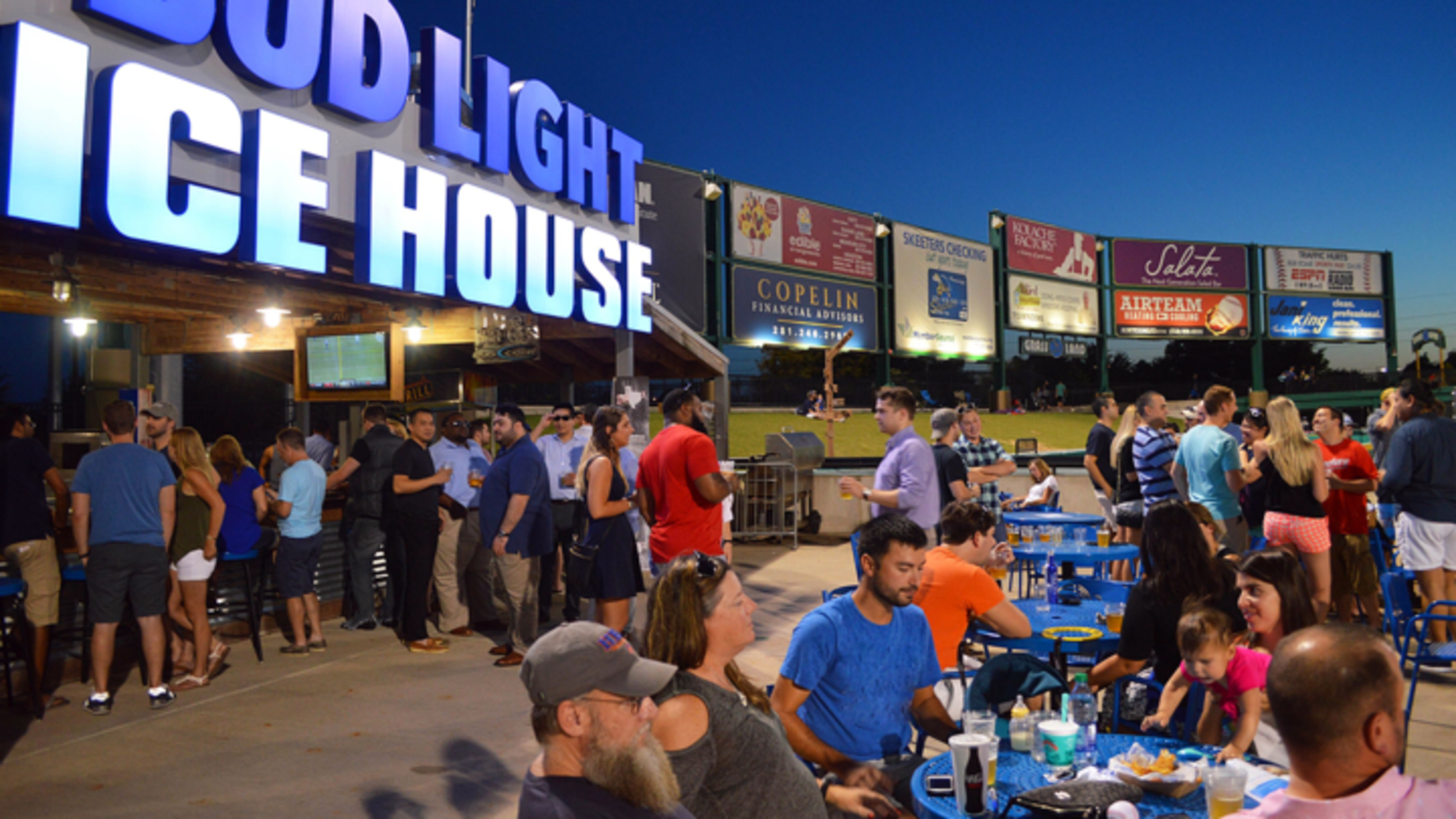 "Constellation Field has followed the guidelines of many other Minor League ballparks across the country in that it places a strong emphasis on fan entertainment outside of baseball. It includes an in-ground pool located beyond left field, a basketball court, a playground, a splash pad, the Bud Light Icehouse in right-center and a berm in straightaway right field. As for on the field, one of Constellation Field's most notable attractions is the manual scoreboard that doubles as the left-field wall. The manual scoreboard is just under 11 feet tall (10.8 feet) and is operated by a Skeeters employee for every game. The Constellation Field outfield walls (other than the manual scoreboard) have a wavy pattern to them, with the walls bubbling out in both left-center and right-center."
Unique concession items
"Being in Texas, Constellation Field would not be the same without traditional Texas barbeque. Some of these items include brisket, sausage and baked beans. The brisket is smoked in-house, so its aroma permeates the stadium. Constellation Field also dabbles in Tex-Mex cuisine via our famous brisket nachos. New in 2021, Constellation Field will offer 'Green Fur' -- cotton candy that resembles the green fur of Skeeters mascot Swatson."
Speaking of Swatson...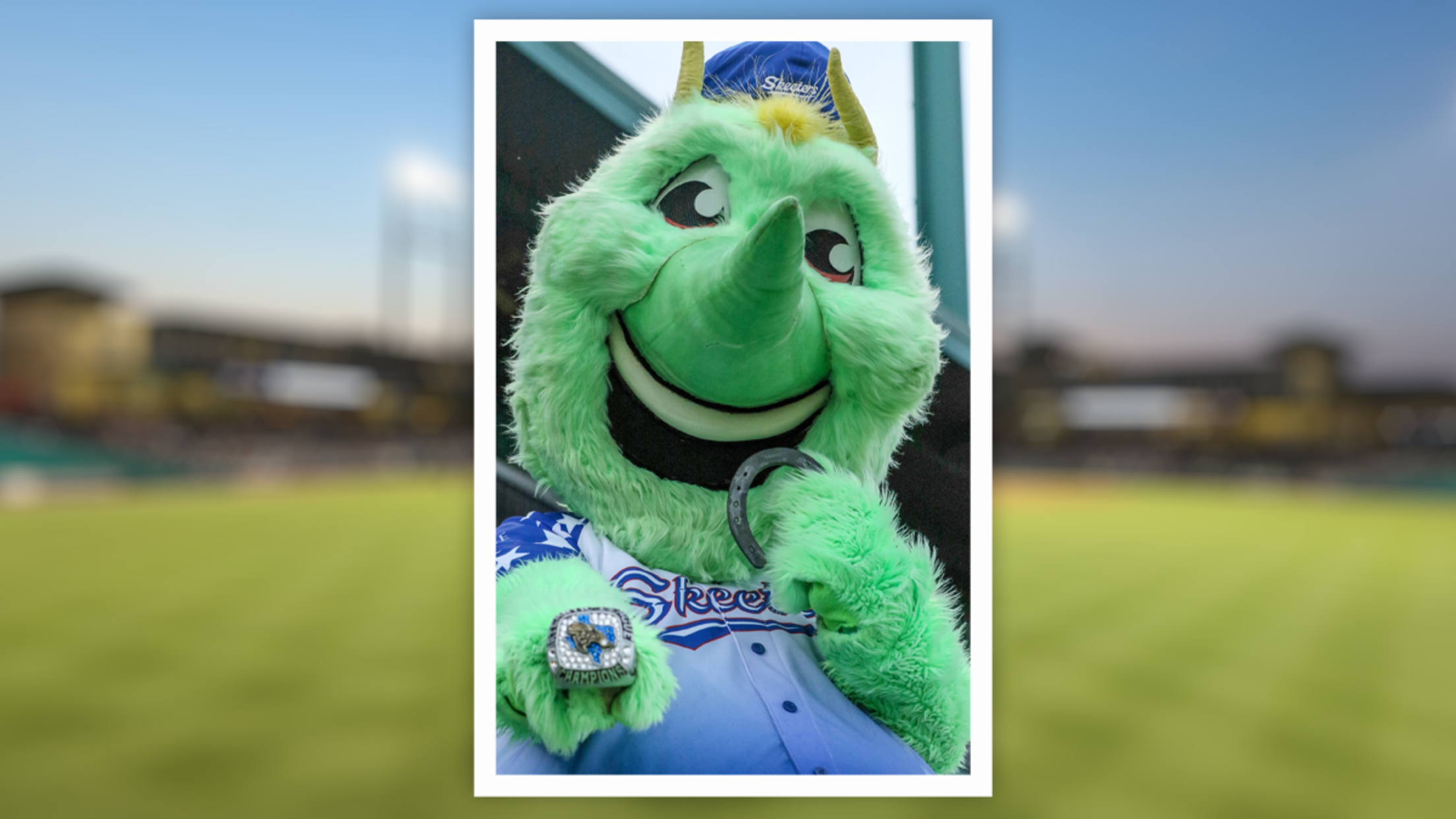 "Swatson's been around since the Skeeters' very first game in 2012. He's a big green mosquito who dons a white Skeeters jersey, Skeeters hat and a nose that squeaks. Swatson's name derives from a name-the-mascot contest, which was open to kids 13 and younger in the Fort Bend County area. He's a lovable goofy mascot who loves to give high-fives, sign autographs and create smiles throughout Constellation Field. He's also been known to play pranks on unsuspecting fans, interns and even opposing players. Swatson is undoubtedly the face of the Skeeters organization throughout the Sugar Land community."
Notable traditions
"One of the most popular in-game traditions at Constellation Field is the playing of 'Deep in the Heart of Texas' in the fifth inning of every game. Fans are invited to stand up, stretch out and sing along to one of Texas' favorite anthems."
Memorable promotions
"Without a doubt, our most popular celebrity appearance was Roger Clemens playing his final game as a professional with the Skeeters on Sept. 7, 2012, with his son, Koby, catching. The game was broadcast nationally on ESPN2 and a sellout crowd of over 7,700 people was in attendance. Roger collected a winning decision after firing 3 1/3 scoreless innings. Also in attendance were country music legend Toby Keith, who watched the game from the dugout, and Houston rap icon Paul Wall.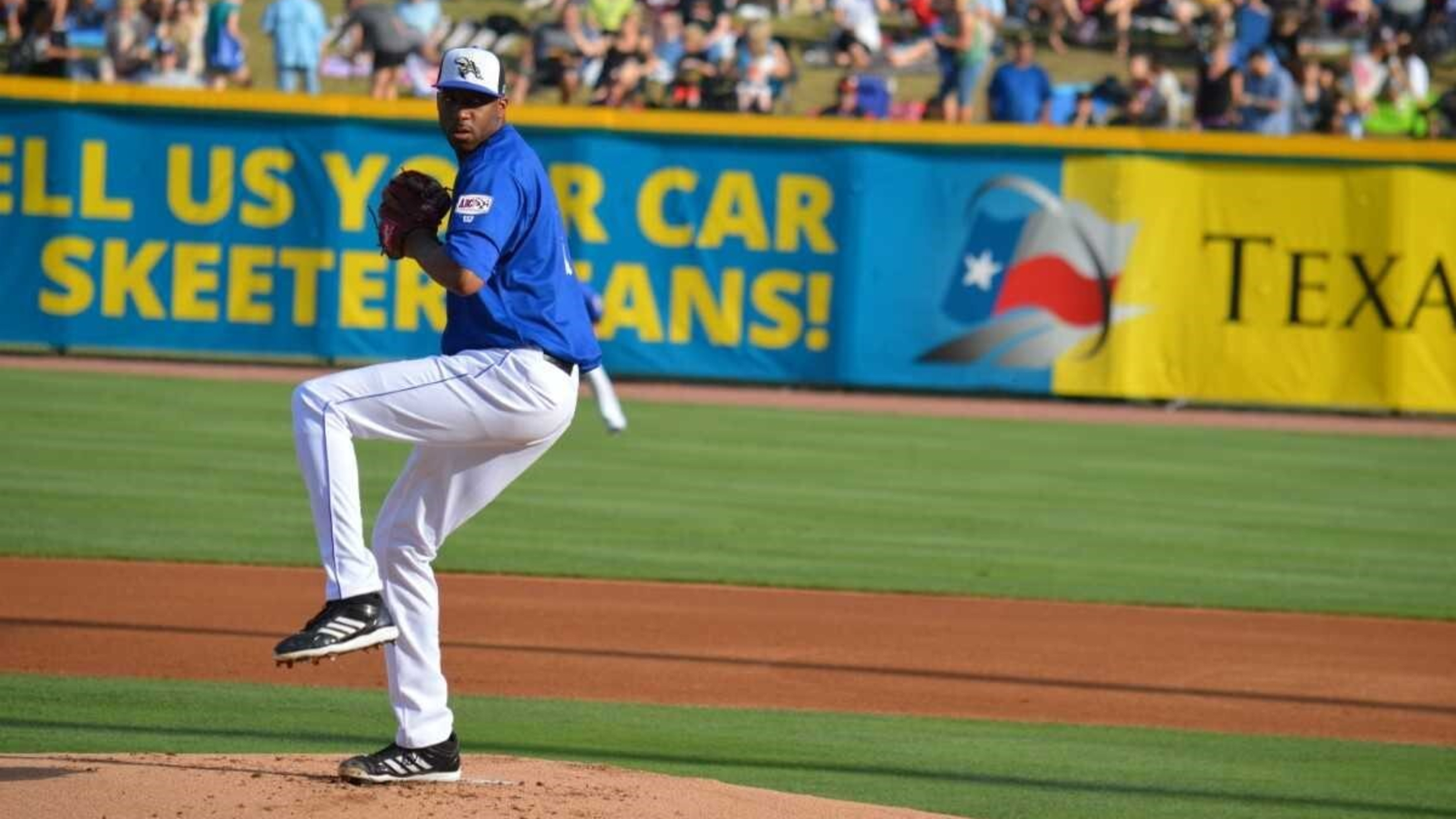 "Another legendary athlete to appear for the Skeeters was Naismith Memorial Basketball Hall of Famer Tracy McGrady. The former Houston Rockets star made four starts for the Skeeters in 2014 as a right-handed pitcher. This occurred two years after McGrady's epic NBA career concluded. While his numbers may have left a little to be desired (6.75 ERA), McGrady joined the likes of Michael Jordan as basketball legends who've attempted a pro baseball career.
"McGrady returned to Constellation Field in 2018 to throw out the first pitch prior to a game in which Tracy McGrady Skeeters bobbleheads were given to fans in attendance.
"Other popular yearly giveaways include Swatson 'Star Wars'-themed bobbleheads. In 2018, the Skeeters gave away 'Jedi Swatson' bobbleheads, and in 2019, we gave away 'Darth Swatson' bobbleheads. The Skeeters also feature an annual Parrothead-themed (Hawaiian) jersey giveaway night, as Houston boasts one of the largest Jimmy Buffett fan bases in the nation."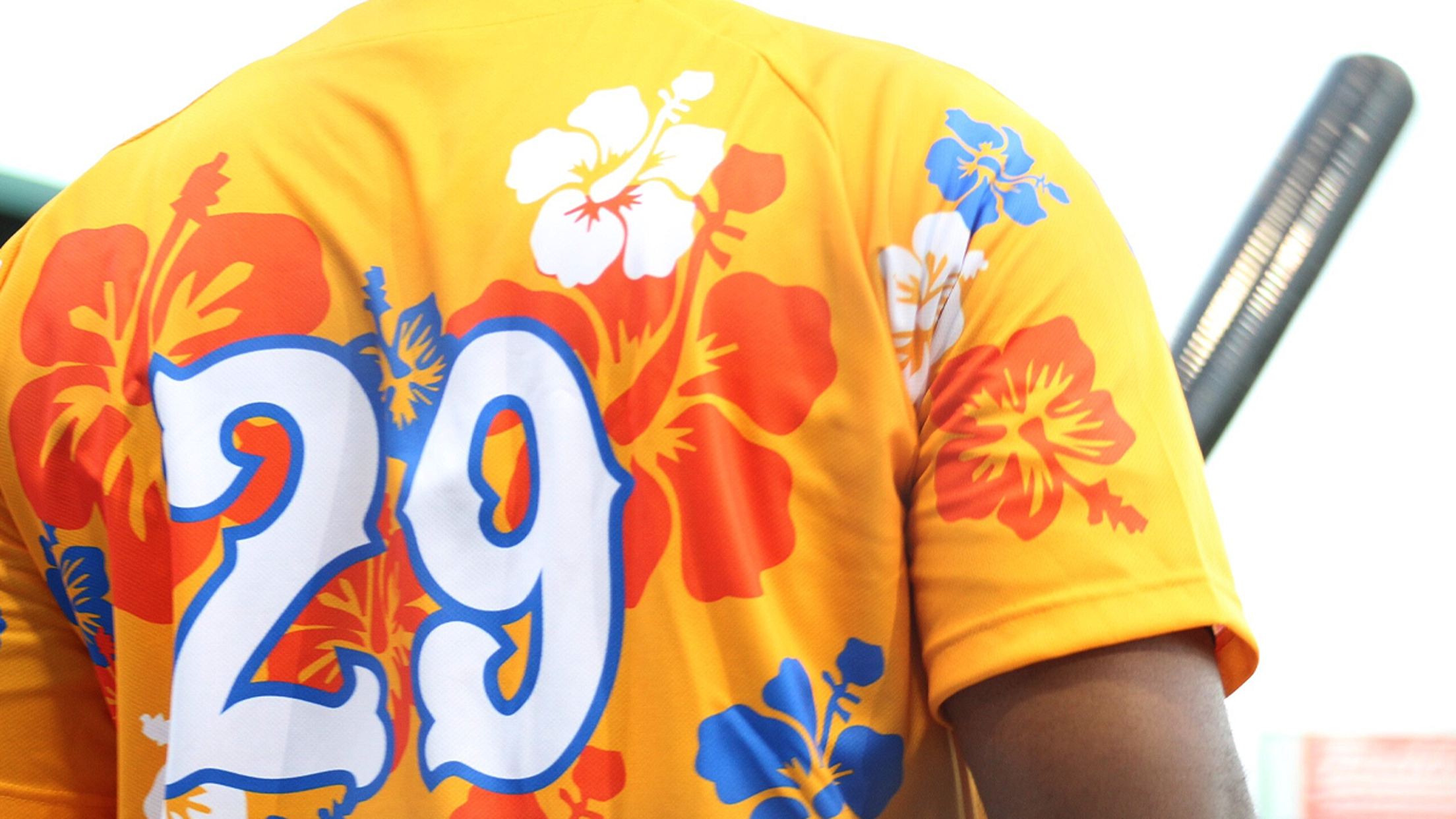 "The Skeeters set the Atlantic League record for single-game attendance (still standing) on July 4, 2016, with a crowd of 8,606 people. The Fourth of July celebration included a prodigious fireworks show."
Beloved employees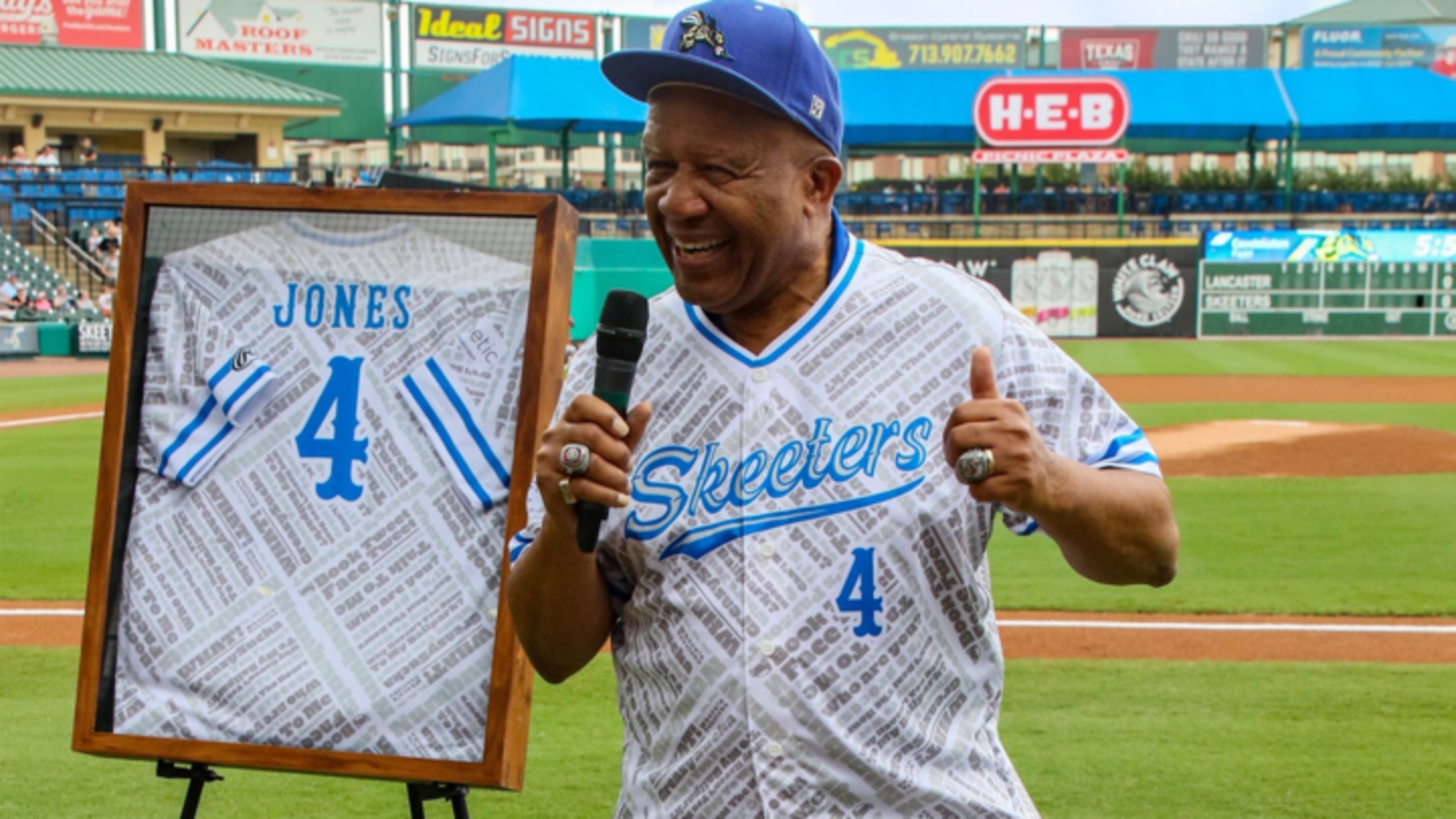 "One of the most beloved employees around the ballpark is former Major Leaguer Deacon Jones. He was instrumental in bringing Minor League Baseball to Sugar Land and the development of Constellation Field. Jones currently serves as special assistant to the president and is an amazing ambassador for the organization. He's constantly seen interacting with fans on game days and never hesitates to bring up the Skeeters when patronizing businesses around Houston. Jones appeared at the Major League level with the Chicago White Sox from 1962-63 and '65. He went on to work as a hitting coach for the Astros and Padres in the '70s and '80s. Some iconic players he's interacted with throughout his career include Jackie Robinson, Ted Williams, Tony Gwynn and Nolan Ryan.
"Other beloved members of the gameday staff include public address announcer Shane Brown and customer service specialist Alice Clark. Brown has served as public address announcer since their first-ever game and his voice booming throughout Constellation Field has become synonymous with Skeeters baseball. Clark has also worked with the Skeeters since 2012. She sets up at the Skeeters customer service desk behind home plate and greets fans with a smile and helpful instructions for whatever their inquiry may be."