Larnach launches a pair for Elizabethton
Twins No. 6 prospect slugs first two Minor League homers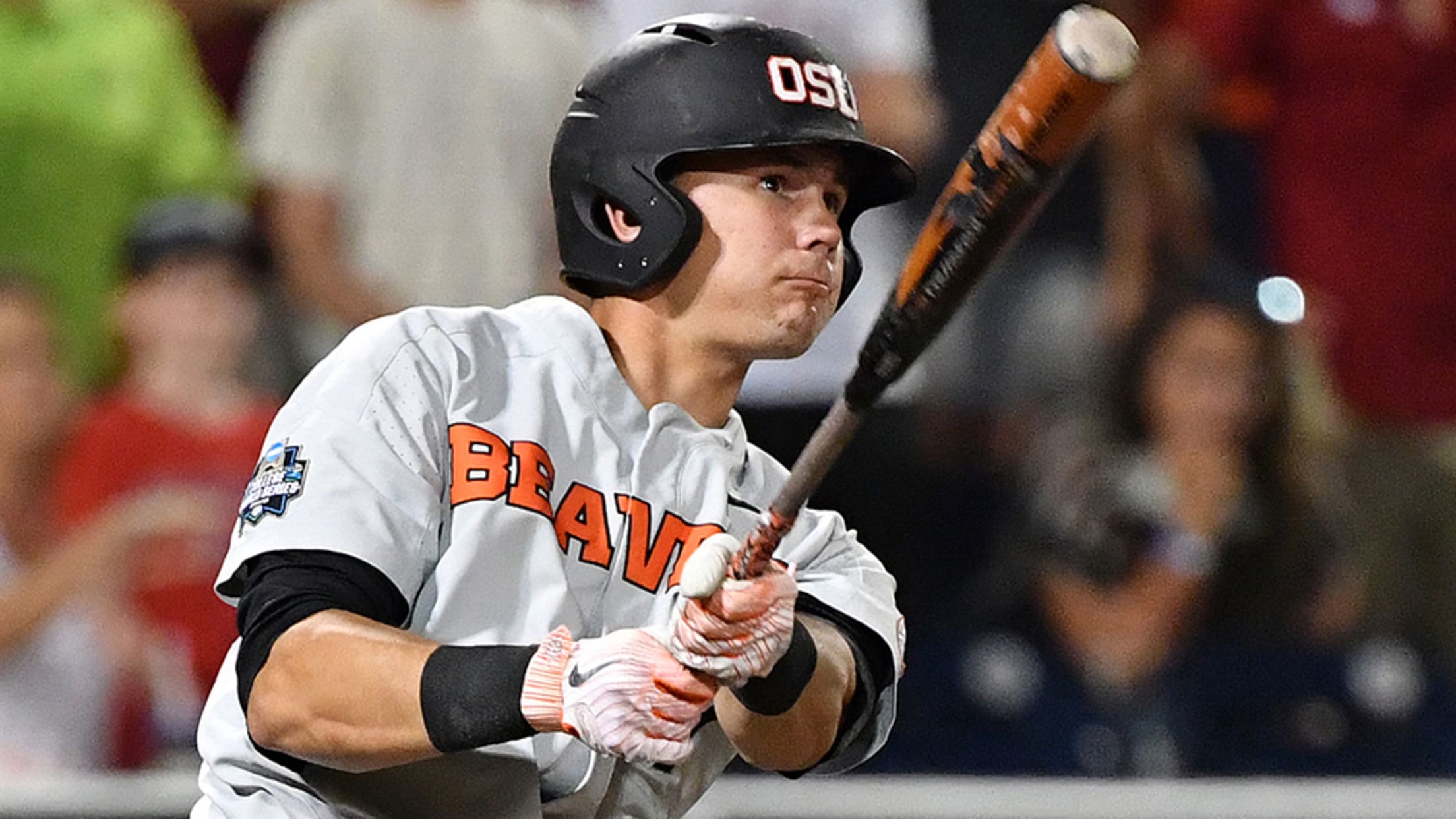 Trevor Larnach is hitting .300/.412/.500 after being drafted 20th overall out of Oregon State. (Peter Aiken/Getty Images)
Trevor Larnach ended his first career mini-slump in powerful fashion. And he added another jolt for good measure.The sixth-ranked Twins prospect hit the first two homers of his Minor League career to lead Rookie-level Elizabethton past Johnson City, 8-5, on Tuesday night at TVA Credit Union Park. 
Trevor Larnach ended his first career mini-slump in powerful fashion. And he added another jolt for good measure.
The sixth-ranked Twins prospect hit the first two homers of his Minor League career to lead Rookie-level Elizabethton past Johnson City, 8-5, on Tuesday night at TVA Credit Union Park.
Larnach had one hit in his previous 16 at-bats after going 9-for-20 with nine RBIs in his first four Minor League contests. But as pleased as he was to get his first home run out of the way, he also did not want to dwell on it.
Gameday box score
"It felt good, for sure," Larnach said. "But at the same time, I don't want to make too big of a deal out of it. It's cool to start your career with that first hit, first homer or first RBI, but I plan on playing this game for a long time. I don't want to sit and cherish one or two home runs when it's my job to do damage in as many at-bats as I can."
The Oregon State product struck out looking in the first inning before depositing a 1-0 pitch from Dionis Zamora over the left-center field fence in the third. He was retired on a comebacker by reliever David Oca in the fourth and walked in the sixth, then connected on his second solo shot of the night to left-center in the ninth off right-hander Juan Alvarez.
The 21-year-old is batting .300/.412/.500 with four extra-base hits and 13 RBIs through 11 games.
"I've been feeling great [at the plate]," Larnach said. "When I was going through that little bad stretch, I was still lining out at least once or twice each game. But you can't control that type of thing. What you can control is having a good at-bat and trying to put the barrel on the ball. That's been the case for me pretty much since I got started a few weeks ago. I've been hitting the ball solidly, but some were right at guys. Tonight, that wasn't the case."e
Larnach parlayed a strong junior season with the Beavers into his selection as the 20th overall pick in last month's Draft. The California native batted .348/.463/.652 with 39 extra-base hits, including 19 homers, and 77 RBIs in 68 games for Oregon State. The Twins held him out of games until July 18, when he made his professional debut with a single and two RBIs. He had a four-hit, four-RBI performance six days later against Burlington before going hitless in four straight contests.
"I just want to get my feet wet over this last month," Larnach said. "I want to have some fun out on the field and with my new teammates and help where I can. I love the game and so I'll go out there and give it my all each night. Staying with the same approach consistently is one of the big things I'm focusing on. That can be such a hard thing to do, but it's so important to try and keep yourself on that path."
Gilberto Celestino tied his career high with four hits and drove in two runs for Elizabethton. Trevor Casanova, Alex Robles and Lean Marrero had two hits apiece as the Twins totaled 13.
Reliever Tanner Howell (1-0) allowed three hits and a walk with four strikeouts over 3 1/3 scoreless innings to pick up his first career win. Zach Neff fanned four in two shutout frames to notch his third save.
One game after homering on a four-hit, four RBI night, Cardinals No. 3 prospect Nolan Gorman went 3-for-4 with two doubles and two RBIs. Leandro Cedeno drove in two runs in his fifth multi-hit effort in six games.
Johnson City reliever David Oca (1-3) was charged with three runs on three hits and a walk while striking out four in 1 2/3 innings.