Peterson apple of Mets' eye in debut
No. 10 prospect notches victory in first Major League start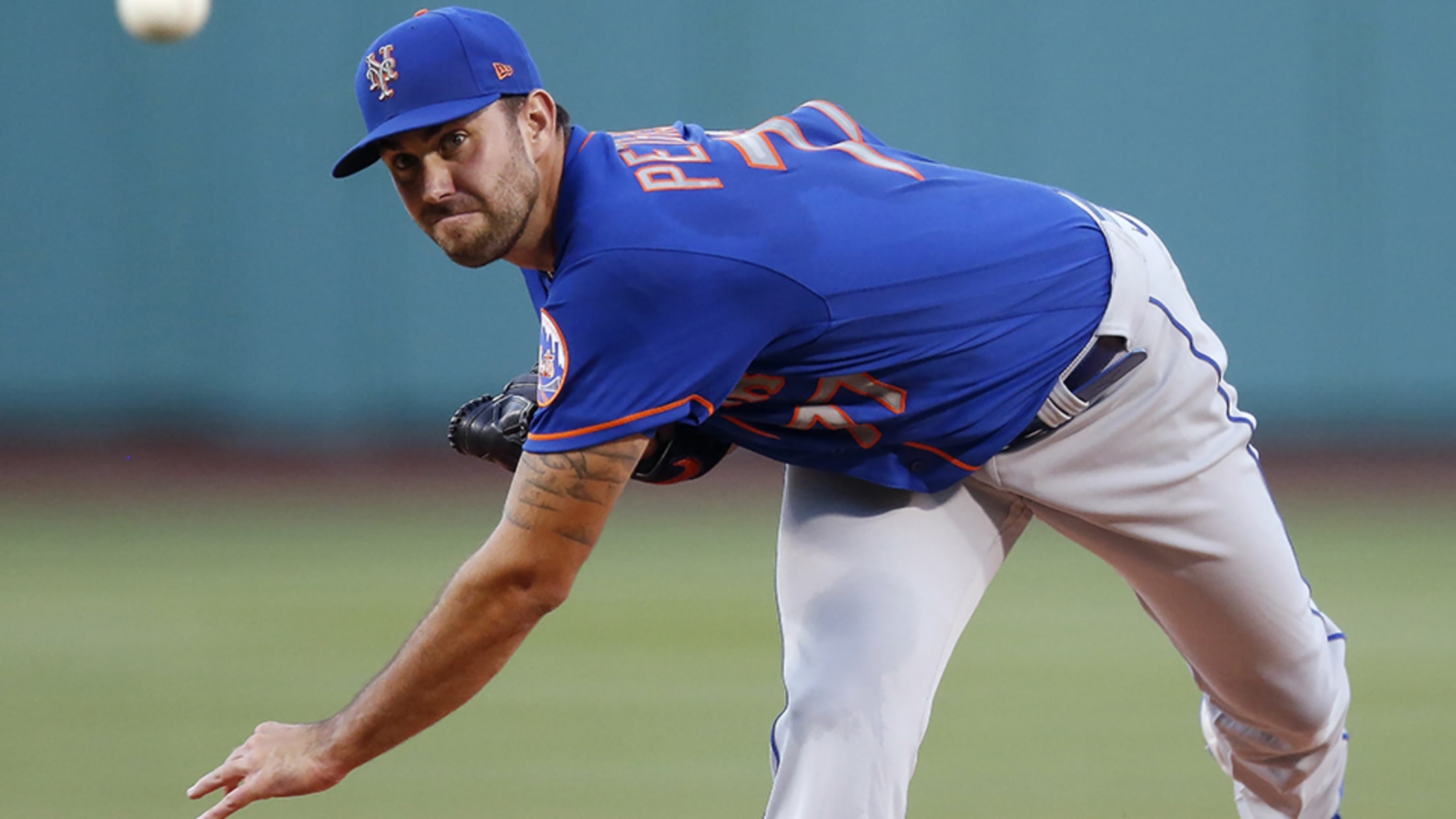 David Peterson became the first Mets pitcher in five years to earn a win in his Major League debut. (Michael Dwyer/AP)
David Peterson woke up Tuesday morning not knowing if he'd make his Major League debut that night. The 10th-ranked Mets prospect will go to bed with his first Major League win. Peterson bent but never broke over 5 2/3 effective innings and the Mets pulled away late to beat the
David Peterson woke up Tuesday morning not knowing if he'd make his Major League debut that night. The 10th-ranked Mets prospect will go to bed with his first Major League win.
Peterson bent but never broke over 5 2/3 effective innings and the Mets pulled away late to beat the Red Sox, 8-3, and complete a two-game sweep at Fenway Park. The 24-year-old allowed two runs on seven hits and two walks with three strikeouts -- including J.D. Martinez twice, en route to becoming the first New York starter to win his Major League debut since Steven Matz in 2015.
A 3-2 inside changeup... tough league 👀#Mets 10th-ranked prospect David Peterson gets J.D. Martinez swinging for his first Major League strikeoutpic.twitter.com/X2pGz22pTZ

— Minor League Baseball (@MiLB) July 29, 2020
"This is one of the greatest days of my life," Peterson told reporters via video call after the game. "This is something I've wanted to do since I was a little kid. To go out there and make my first Major League start and we got the win ... I won't forget this."
Needing a starter following the late Summer Camp injury to Marcus Stroman, Peterson (1-0) benefited from nice defensive play by left fielder J.D. Davis to get through the first inning unscathed. Jose Peraza lined a single off the Green Monster but was thrown out trying to stretch it into a double. The southpaw retired the next two batters in the first and five of six heading into the third staked to a 3-0 lead.
The Red Sox threatened in the bottom half, loading the bases with nobody out on two hits and a walk. Peterson fell behind Martinez, 3-0, but rebounded to record the strikeout. Helped by a unique 4-6-5-4-6 double play that ended the inning, he yielded just one run. Peterson needed 11 pitches to retire Boston in order in the fourth and got another double-play grounder to get out of a jam in the fifth.
"He didn't shy away," Mets manager Luis Rojas said. "That's a tough lineup to navigate through. ... This kid maintained his poise."
Doubles by Rafael Devers and Kevin Pillar in the sixth produced the second Red Sox run and put an end to Peterson's debut after 78 pitches. He became the fifth southpaw to win his starting debut in the Mets' 59-year history.
"There's a lot of thoughts going on in your head," Peterson said. "There's a lot that goes with this day of making my debut and all that. But at the end of the day, once the game starts I have a job to do. Once the game started and I started warming up and everything it was just me playing baseball."
A first-round pick in the 2017 Draft out of the University of Oregon, Peterson went 3-6 with a 4.19 ERA in 24 starts for Double-A Binghamton last year. The owner of a 20-strikeout performance during his senior year in college, he was second in the Mets' Minor League system with 122 punchouts over 116 innings in 2019.
Mets No. 3 prospect Andres Gimenez scored a run after entering as a pinch-runner, then grounded out in the ninth. The 21-year-old is hitless in four Major League at-bats.
In other action:
Indians 4, White Sox 3 (1st game)
Daniel Johnson notched his Major League hit, a single in the third inning, before exiting for a pinch-hitter in the fifth. The No. 13 Indians prospect was optioned to the team's alternate site between games of the doubleheader. Fourteenth-ranked James Karinchak struck out three in a hitless seventh for Cleveland, walking one. Luis Robert extended his season-long hitting streak by slapping a pair of singles, giving the top White Sox prospect a .368/.400/.579 slash line heading into the nightcap. No. 27 Codi Heuer fanned one in a scoreless eighth for Chicago. Box score
Indians 5, White Sox 3 (2nd game)
Luis Robert extended his hitting streak to six games with a seventh-inning single. White Sox No. 16 prospect Jimmy Lambert pitched a scoreless frame, giving up one hit and striking out one. He's yet to allow a run in three innings this season. Ian Hamilton followed and issued a walk in a hitless inning. The 18th-ranked prospect is unscored upon in his first two outings of the year. Box score
Rays 5, Braves 2
Peter Fairbanks kept Atlanta off the scoreboard in his lone inning of relief, striking out three and working around a hit. The performance earned the win for the Rays' No. 24 prospect. Alex Jackson doubled for his first Major League hit and added a single in three trips to the plate. The Braves' No. 22 prospect went hitless in his first 17 big league at-bats dating to last season. Atlanta starter Kyle Wright was tagged for five runs over 2 2/3 innings. The fourth-ranked Braves prospect surrendered four hits and three walks while fanning three. Box score
Tigers 4, Royals 3
Tigers No. 25 prospect Rony Garcia took the mound as a Major Leaguer for the first time and allowed two runs on three hits, fanning three without walking a batter over three innings. Tyler Zuber surrendered three runs on a pair of homers in his lone inning of relief. Kansas City's No. 29 prospect was appearing in his second Major League contest. Box score
Blue Jays 5, Nationals 1
Santiago Espinal singled on a 2-0 count in the ninth inning for his first Major League hit. The Blue Jays' No. 21 prospect was 0-for-6 through his first three big league games. Box score
Cubs 8, Reds 5
Nico Hoerner continued his hot start with an RBI single and a sacrifice fly to lead Chicago. The top Cubs prospect is batting .357/.333/.429 with three RBIs and two runs scored in four games. Box score
Padres 5, Giants 3
San Francisco's No. 11 prospect Mauricio Dubón doubled and scored a run while playing second base and center field. No. 29 Dany Jimenez tossed a perfect inning out of the bullpen. Box score
Dodgers 5, Astros 2
Brusdar Graterolnotched his first win of the season and second of his big league career. The No. 5 Dodgers prospect whiffed two in a perfect inning out of the bullpen. A pair of Astros prospects pitched in relief but with far different results. Enoli Paredes came on in the fifth inning and did not retire any of the four batters he faced. Houston's No. 13 prospect was charged with two runs on two hits and a walk. No. 29 Nivaldo Rodriguez made the most of his Major League debut, working around two hits and a walk while fanning one in two scoreless frames. Box score
Angels 10, Mariners 2
Angels No. 6 prospect Patrick Sandoval gave up two runs -- one earned -- over four innings. The left-hander scattered four hits and a walk while striking out four in his first start of the season. He faced off with Mariners No. 13 prospect Justus Sheffield, who picked up the loss after surrendering four runs on three hits and four walks over four frames. The southpaw struck out two. Tenth-ranked Kyle Lewis went 2-for-4 to raise his average to .421. No. 4 Evan White drew a walk in four trips to the plate. Box score
Rockies 8, A's 3
Sam Hilliard snapped out of his funk with a two-run homer and a double to lead Colorado past Oakland. The hits were the first of the year for the ninth-ranked Rockies prospect. Box score
Michael Avallone is a writer for MiLB.com. Follow him on Twitter @MavalloneMiLB.