Prospects in the Pirates' 2020 player pool
Bucs balance Major League readiness and development needs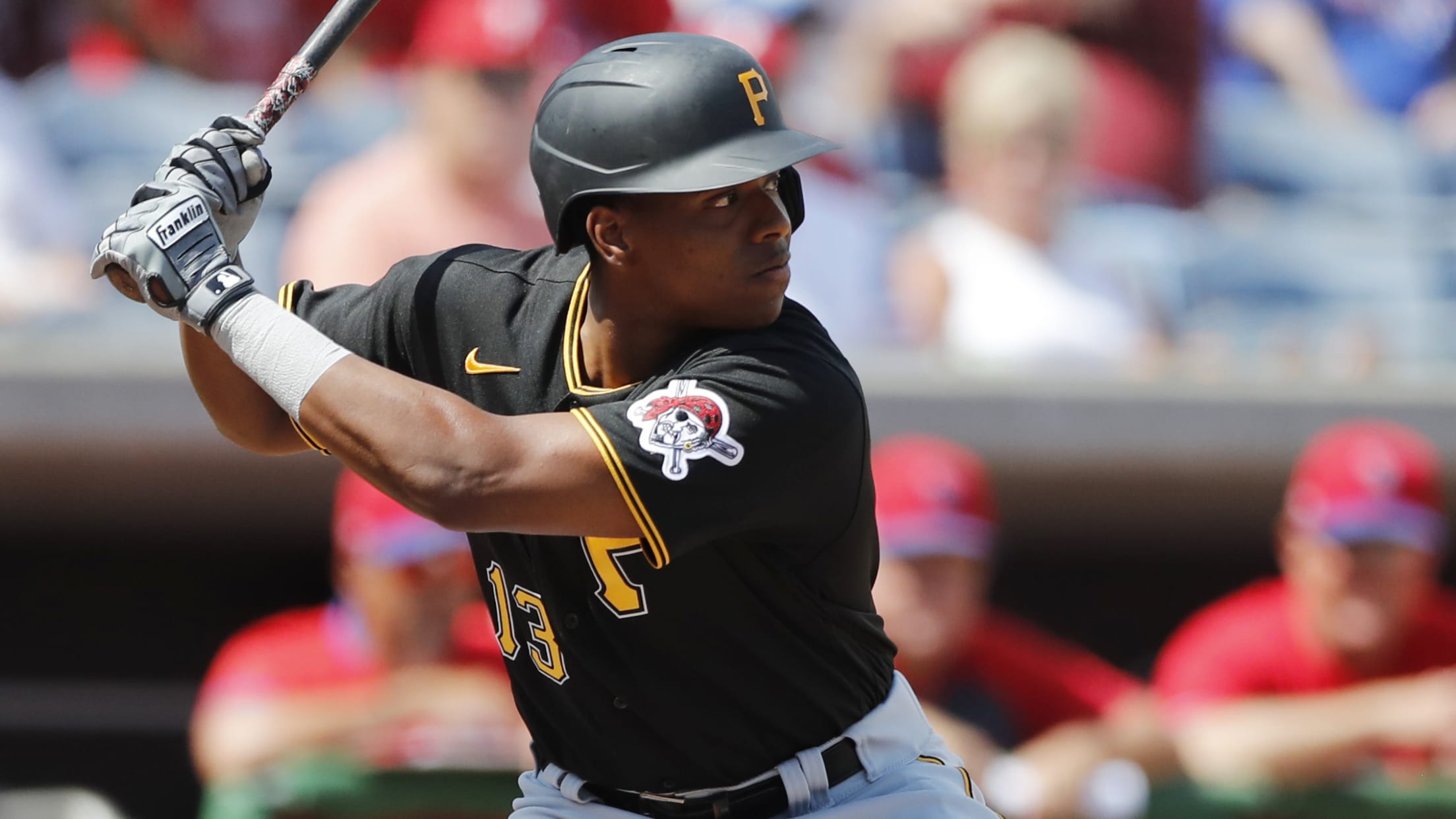 Ke'Bryan Hayes went 7-for-25 (.280) with one home run and one double in 13 Grapefruit League games this spring. (Carlos Osorio/AP)
As part of the new rules for the 2020 Major League season, each of the 30 organizations will maintain a 60-man player pool for the duration of the campaign. Some members of the player pool will feature on the active Major League roster while others will work out at an
As part of the new rules for the 2020 Major League season, each of the 30 organizations will maintain a 60-man player pool for the duration of the campaign. Some members of the player pool will feature on the active Major League roster while others will work out at an alternate training site in the hopes of staying fresh for a potential callup or getting in much-needed development time. The MiLB.com staff is rounding up the notable prospects in each organization's 60-man player pool and analyzing what the new system will mean for their 2020 seasons.
The Pirates had a requirement when selecting prospects for their 60-man player pool, each player must be ready -- or nearly ready -- to contribute at the big league level should the need arise.
For that reason, Pittsburgh left off some of its most highly regarded prospects, like fourth-ranked Quinn Priester and fifth-ranked Liover Peguero. But the Pirates still have 13 of their Top 30 prospects at Summer Camp workouts. Three are in Pittsburgh, where 40 players arrived last week to train at PNC Park and eventually fill 30 spots on the Opening Day roster. The rest of the player pool reports to the Pirates' alternate training site at PNG Field in Altoona, Pennsylvania, home of the Pirates' Double-A affiliate. That group is almost entirely prospects, and their inclusion speaks volumes of how much the organization values them.
We'll start with the three in Pittsburgh and then move onto those in Altoona.
Mitch Keller, RHP: Keller is in the rotation. MLB.com's No. 39 overall prospect made 11 starts for the Pirates last year and would have lost his rookie eligibility with two more innings. It could have gone better. He posted a 7.13 ERA. But he was 23, so there's plenty of time to envision a bright future for the 2014 second-round pick. Keller still sports a career 3.12 ERA in the Minors. He throws a fastball that reaches 98 mph with sink. His curveball and slider both improved last year. His changeup, though behind the others, is above average. How 2020 treats pitchers is a mystery at this stage, but Keller will get just as good of a chance as anyone else to take a step forward this season.
Ke'Bryan Hayes, 3B: Opening Day is a possibility for Hayes, but it's more likely the No. 41 overall prospect is sent to Altoona at the start of the season to avoid starting his service-time clock. When he arrives, though, the Pirates will be inserting a Gold Glove-caliber third baseman into the equation. The addition of the designated hitter only gives Pittsburgh more options when constructing a lineup too. Maybe it makes it easier to include Hayes, whose bat is still a work in progress. The 23-year-old hit .265/.336/.415 in 113 games for Triple-A Indianapolis last year.
Blake Cederlind, RHP: The No. 28 Pirates prospect made his way from Class A Advanced Bradenton to Triple-A Indianapolis in a breakout 2019, and his 2.28 ERA during that rise got him onto Pittsburgh's 40-man roster. He had a good shot at an Opening Day bullpen spot, but Pirates manager Derek Shelton announced Sunday that Cederlind tested positive for COVID-19. The extent of Cederlind's symptoms were unclear. Before he can resume activities with the Pirates, he will need 24 hours between two negative tests; to be fever-free for 72 hours and to undergo an antibody test. He could be back on the field in a week. He could be out for an extended period. It's too early to speculate further.
Oneil Cruz, SS: Of the group reporting to Altoona, Cruz will encite the most chatter. He's a 6-foot-7 shortstop and the No. 64 overall prospect. He has superstar potential at a premium position. The 21-year-old missed two months in 2019 with a fractured right foot, but needed only 24 games after returning to earn a promotion to Double-A. During that short span, Cruz hit .330 with a .960 OPS. His numbers normalized in 35 games with the Curve -- .269 with a .757 OPS -- though he was young for the Eastern League. Cruz should grow into more power with time, just not the kind of time he will spend at Altoona over the next few months. So what if the need for help arises on the left side of Pittsburgh's infield as the Major Leagues attempt to play during a pandemic? The Pirates would have one of the more fascinating roster decisions on their hands.
Travis Swaggerty, OF: Like Cruz, Swaggerty wouldn't have been slated for a potential Major League debut if this was a normal year. It's not a normal year. Should Swaggerty be needed, the Pirates will hope they get the version of their 2018 first-rounder who thrived in the second half of the season at Bradenton. After a rough first half, mental and mechanical adjustments helped the 22-year-old hit .306/.375/.430 in 235 at-bats. He can hold down center field and stole 23 bases in 2019. While it's unfortunate for Swaggerty and Pittsburgh that he can't be further tested at Double-A in 2020, his presence in the player pool shows the Pirates' confidence in their No. 6 prospect hasn't wavered.
Jared Oliva, OF: The portion of the Pirates' player pool in Pittsburgh right now includes just five outfielders. So, ninth-ranked Pirates prospect Oliva might be the first choice should Pittsburgh need to dig into the Altoona camp for outfield depth. He compiled a .277/.352/.398 slash line during a 2019 season spent entirely at Double-A, though, Oliva also had a better second half than first half. An April concussion kept him from getting fully on track until July, but Oliva hit .388 that month and .325/.387/.446 over his final 69 games. The 24-year-old has stolen at least 33 bases in each of the past two seasons, and it might be worth noting Shelton said last week he expects to see more aggressive base-running during the shortened season.
Cody Bolton, RHP: Three years removed from being a high-school pitcher, Bolton doesn't figure to factor into the Major League pitching staff just yet. Then again, the former sixth-round pick already had 40 Double-A innings under his belt before he turned 22 last month. Bolton started 2019 at Bradenton and sported a 1.61 ERA after 12 starts. He wasn't as dominant in Altoona, posting a 5.85 ERA in nine starts. So long as health doesn't get in the way, a spot in the player pool gives the right-hander a chance to work on his slider and changeup, which when improved will complement Bolton's two contrasting fastball offerings.
Ji-Hwan Bae, 2B/SS: You won't see Bae at PNC Park in 2020. He doesn't turn 21 until later this month and has yet to play above Class A. But Bae's inclusion in the player pool is a sign the Pirates probably think their No. 11 prospect is further along than most Class A infielders. The South Korea native signed for $1.2 million in 2018 and won the South Atlantic League batting title with a .323/.403/.430 slash line in 2019. He has yet to homer as a pro, but his speed has helped him get more out of his on-base skills. With Bae profiling better long term at second, the Altoona camp could be a good place for him to build some rapport with Cruz up the middle. It doesn't hurt to dream.
Mason Martin, 1B: Power, power, power. Nobody in Pittsburgh's system -- and barely anyone in the Minors really -- has more than Martin. The No. 15 Pirates prospect went deep 35 times last year to finish three back of Reno's Kevin Cron for the Joe Baumann Award as the Minors' home run king. He was tied for the Sally League lead even though he only played 82 games in Greensboro before getting promoted to Bradenton. Don't expect to see him launching baseballs into the Allegheny River in 2020, but at least a spot in the player pool is a chance to work with coaches on cutting down a strikeout rate that reached 32.3 percent in 201 Florida State League plate appearances.
Will Craig, 1B: Craig entered the Pirates system as a 2016 first-round pick with an elite hit tool in 2016 and has since become more of a slugger. His home run counts in his four pro seasons have been zero, six, 20 and 23. But his strikeout totals have been 37, 106, 128 and 146. He hit .249 at Triple-A Indianapolis last year. Pittsburgh's No. 19 prospect spent 13 games in right field because Josh Bell mans first base in The Show. Maybe the DH gives Craig a chance at some point in 2020, but if not, Altoona offers the 25-year-old a chance to continue to work out with Pirates' staff.
Other notables: No. 21 Pirates prospect Max Kranick topped 100 innings for the first time last season before being shut down in August. He's promising, but only if he's healthy enough to pitch. … Switch-hitting infielder Rodolfo Castro (No. 23) has the makeup of a fine utility player down the line. … Right-hander Aaron Shortridge (No. 27) isn't in line for a callup but can refine his command. … Right-hander Nick Mears might be the Pirates' best relief prospect after Cederlind.
Joe Bloss is a contributor for MiLB.com. Follow him on Twitter @jtbloss.