Rocket Raccoon: Trash Pandas unveil logos
North Alabama Southern League team one step closer to blastoff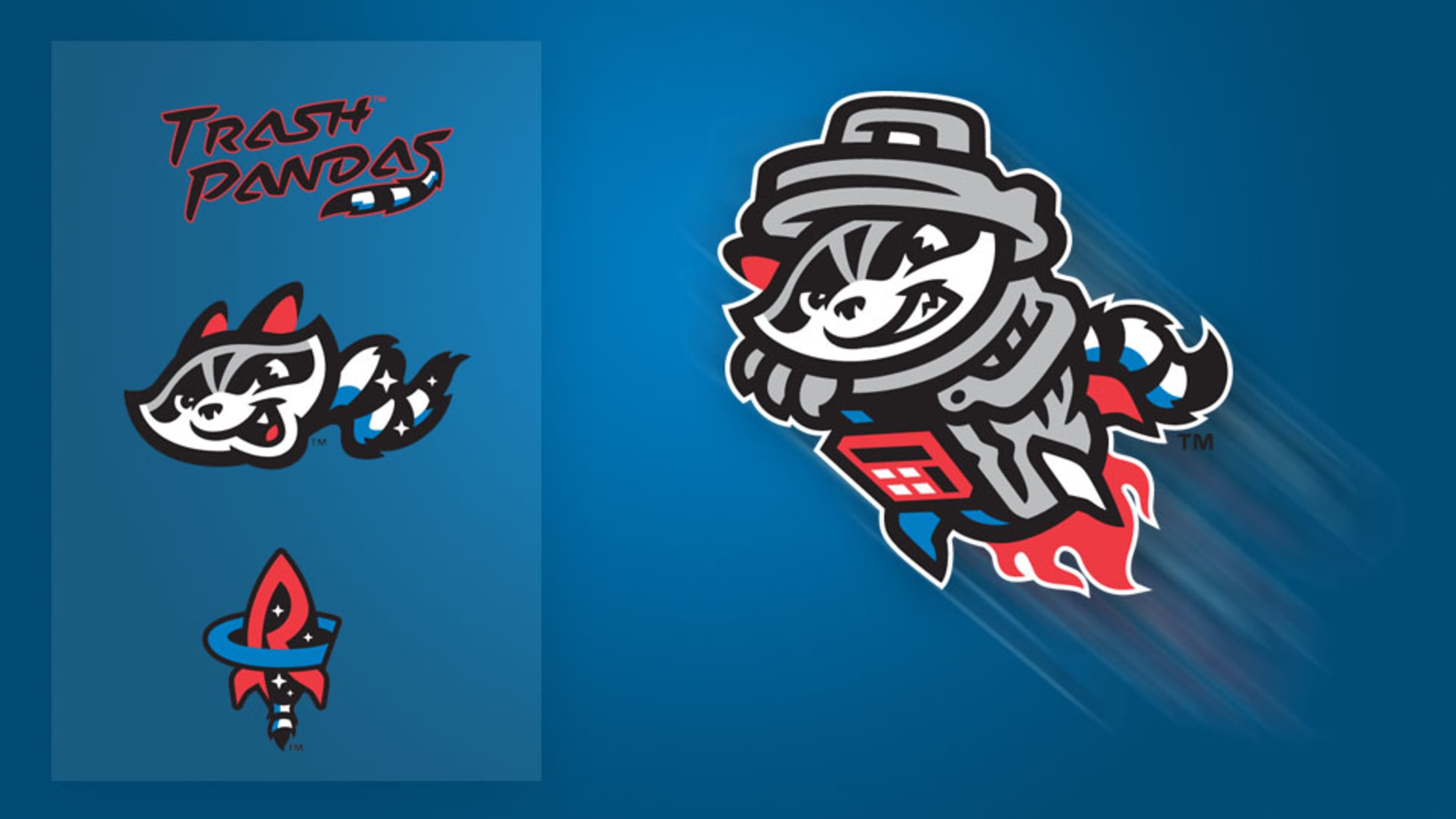 Madison Alabama's Rocket City Trash Pandas, slated to debut in 2020, unveiled their space raccoon-themed logos on Saturday.
Last month, Madison, Alabama's impending Minor League Baseball team announced that they would be known as the Rocket City Trash Pandas. On Saturday, logos were unveiled to go along with this memorable moniker. 
Last month, Madison, Alabama's impending Minor League Baseball team announced that they would be known as the Rocket City Trash Pandas. On Saturday, logos were unveiled to go along with this memorable moniker.
The Trash Pandas won't make their onfield debut until 2020, following the Mobile BayBears' relocation to a 7,500-capacity ballpark that is currently under construction. The team, playing in the Southern League, will serve as the Double-A affiliate of the Los Angeles Angels.
Shop for Trash Pandas gear »
A Trash Panda is a slang term for a raccoon, recently popularized in Guardians of the Galaxy 2. In that film, a raccoon character named Rocket is referred to as a "Trash Panda." The team's "Rocket City" moniker references the longstanding nickname for Huntsville, Alabama, which is located just to the northeast of Madison. Huntsville, home of NASA's George C. Marshall Flight Center as well as Cummings Research Park, is a hub of aerospace and defense industry research and development. The city last fielded a team in the form of the Southern League's Stars, who played out of now-dormant Joe Davis Stadium before relocating to Biloxi, Mississippi following the 2014 campaign.
The sale of the Mobile BayBears to the BallCorps LLC ownership group, approved in November of 2017, was followed seven months later by official approval of the team's relocation to Madison. "Trash Pandas" was among the finalists in a subsequent three-phase "Name the Team" contest, trouncing the competition every step of the way.
BallCorps managing partner Ralph Nelson, speaking Saturday morning, said his initial reaction to the "Trash Pandas" name was negative.
"I just heard the word 'trash.' I hadn't seen the movies. I didn't know the phrase," he said. "We put it in the list of 10 [Name the Team finalists], but I still thought, 'We're in the Bible Belt, people won't react to it well.' ... But looking at the stats, any way you slice it -- ZIP code, age group, any demographic you could find -- in every case, Trash Pandas dominated."
Saturday's logo unveiling took place as part of a public celebration at Madison's Dublin Park, featuring live music, fireworks and plenty of new merchandise. The logos were created by Casey White and Jason Klein of Brandiose, who worked with the team during every step of the identity development process. Brandiose has helped create many of the Minor Leagues most popular -- and sometimes polarizing -- identities, such as the Jacksonville Jumbo Shrimp, El Paso Chihuahuas and Akron RubberDucks.
The Trash Pandas' color scheme is described by the team as "Space Black, Rocket Red, Sky Blue and Trashcan Gray." According to Klein, the primary logo tells "the story of a raccon with ingenuity cobbling together all the elements he needs to launch a trash can into outer space."
"The community has got an incredible amount of engineers, and it's also a hub of rocket scientists. Literally, rocket science," he continued. "So we brought it all together. A trash panda in Rocket City is going to figure out how to get a trash can launched into outer space. And when he gets there, he plants his flag on a planet. That's pretty much the narrative."
Indeed, an alternate logo -- as well as a uniform patch -- portrays a triumphant Trash Panda in space, carrying the American flag. Somehow, using a calculator as a control panel and a trash can lid for a helmet, he was able to complete his mission.
"All these team names, they represent an underdog mentality," said Klein, regarding Trash Pandas as well as much of his firm's recent work. "They're punching above their weight class."
For the Trash Pandas on the ground, their goal is sustain momentum all the way until the team's April 2020 onfield debut. Upcoming events include a Spring fashion show, during which the team uniforms will be unveiled.
"I hear it all the time, it seems like everywhere I go, someone's talking about the Trash Pandas," said Nelson. "It's a phenomenon, and we just need to keep it going."