Tejada cycles in reverse for Syracuse
Mets infielder completes club's second such feat in three weeks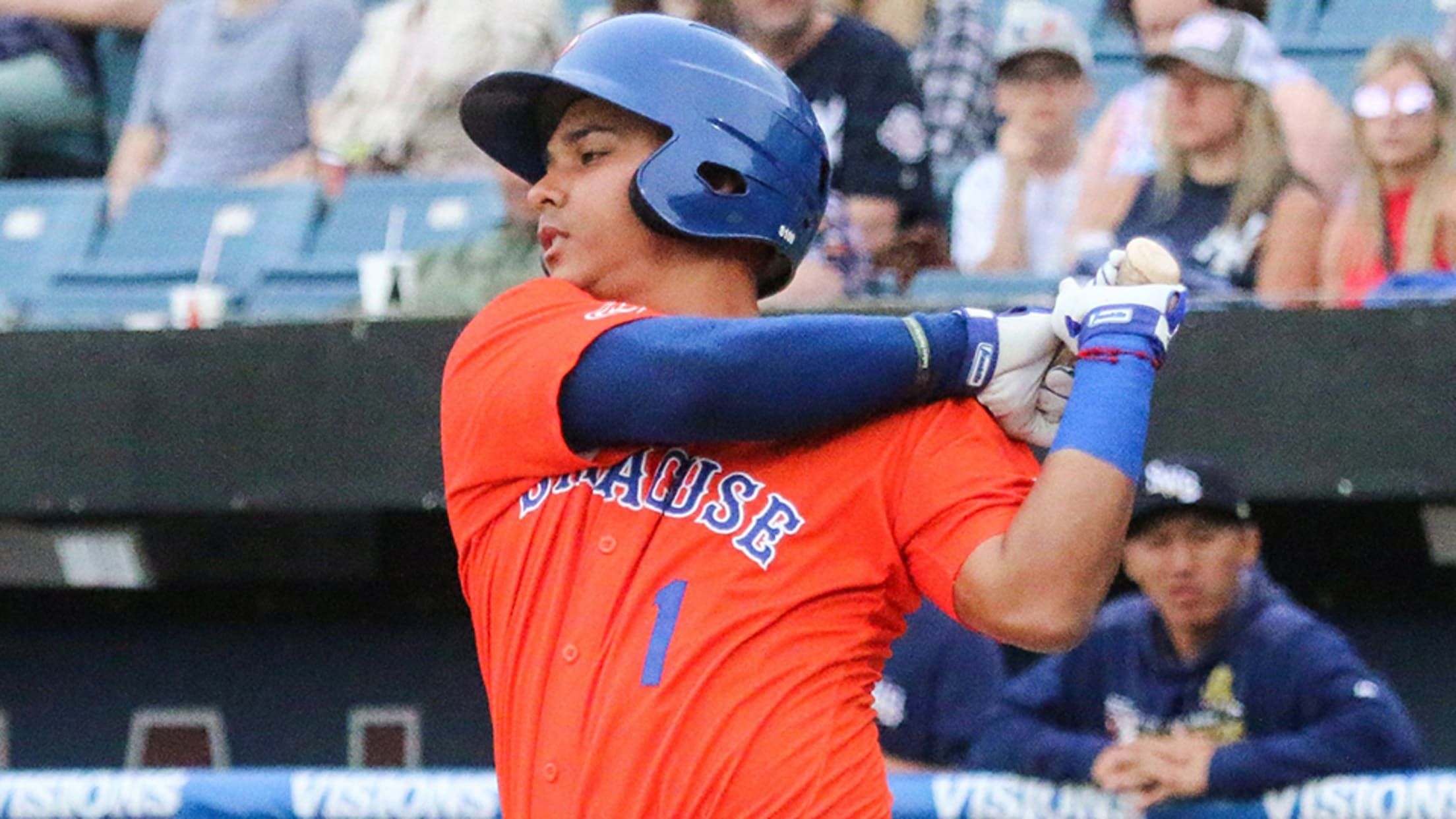 Ruben Tejada has hit .251/.325/.318 in 657 Major League games between the Mets, Cardinals, Giants and Orioles. (Syracuse Mets)
Triple-A Syracuse went 11,602 days between cycles. The wait for another was much shorter thanks to Rubén Tejada.The Major League veteran singled in the sixth inning to complete the cycle, scored three times and drove in two runs as Syracuse fell to Charlotte, 9-7, on Wednesday night at BB&T Ballpark. After
Triple-A Syracuse went 11,602 days between cycles. The wait for another was much shorter thanks to Rubén Tejada.
The Major League veteran singled in the sixth inning to complete the cycle, scored three times and drove in two runs as Syracuse fell to Charlotte, 9-7, on Wednesday night at BB&T Ballpark.
After going without a cycle since Sil Campusano on Aug. 25, 1987, Tejada became the second Met to do so this season, joining Travis Taijeron who achieved the feat May 31 against Scranton/Wilkes-Barre.
Syracuse hitting coach Joel Chimelis credited Tejada's approach toward making it happen.
"He's a true professional hitter," the former infielder said. "You need to do a lot of things right and also have a bit of luck on your side. When something like that happens, a lot of things have to be going your way. As a coach, it's always nice to see one of your own players hit for the cycle."
The 29-year-old took the unconventional route of finishing the natural cycle in reverse order. Tejada kicked off his night with a two-run homer to right field in the first inning. After lining a triple to center and scoring in the third, he doubled to left and scored on René Rivera's roundtripper in the fourth. Tejada completed the Minors' 10th cycle of the year with a single to right in the sixth for his first four-hit performance since May 6, 2013 with Triple-A Las Vegas. He struck out in the ninth while looking for a career-high fifth hit.
Tejada collected four hits in the Majors on four separate occasions in 2012 with the Mets.
Gameday box score
"When he came up [in the sixth], his teammates on the bench were talking about the cycle," Chimelis said. "He had a huge hole on the right said and I said to myself, 'That's so easy for him. He pushes it that way all the time.' He got a fastball middle-away and hit that hole."
The Panama native began his professional career with New York in 2007 and made his Major League debut three years later. He was the Mets' primary shortstop in 2012, when he batted a career-high .289/.333/.351 with 26 doubles in a career-high 464 at-bats. A veteran of 657 Major League games, including 585 with New York, the infielder moved on to the Cardinals, the Giants, the Yankees and the Orioles organizations before returning to the Mets on a Minor League deal at the end of Spring Training.
"I didn't really know him at any point in the past, but he knows exactly what he needs to do," Chimelis said. "If he needs to do some extra work, he'll do it. If he feels he needs a total day of rest, he will. He's a true pro in how he goes about his business. Ruben's a quiet guy, but it's great working with him."
He was assigned to Double-A Binghamton on May 21 for two games before joining Syracuse, where he's been one of the club's most consistent hitters. Through his first 25 International League games, Tejada is batting .359/.450/.576 with 11 extra-base hits, 15 RBIs and 25 runs scored.
"Right from the very beginning with him, I could tell his swing and approach was right in line with what I like to teach," Chimelis said. "It's a very basic swing and he has good hand positioning. He stays in the zone long, keeps it simple and that makes it easy to repeat. His plate discipline and pitch selection play a large part in how well he's doing this year."
Always known for a steady glove at shortstop, second base and occasionally third, Tejada also took part in the club's first triple play in seven years on June 7 against Scranton/Wilkes-Barre.
Dilson Herrera fell a triple shy of the cycle, slamming his team-leading 16th home run -- one of four for Syracuse in the game.
Alcides Escobar's two-RBI double capped a four-run seventh for Charlotte, which trailed, 7-3, after five innings. Jon Jay paced the Knights with three hits and Matt Skole and Seby Zavala both went deep and drove in two runs apiece.