Stripers' Roster Takes Shape Amid Season Delay
Braves have optioned nine players to Gwinnett since March 9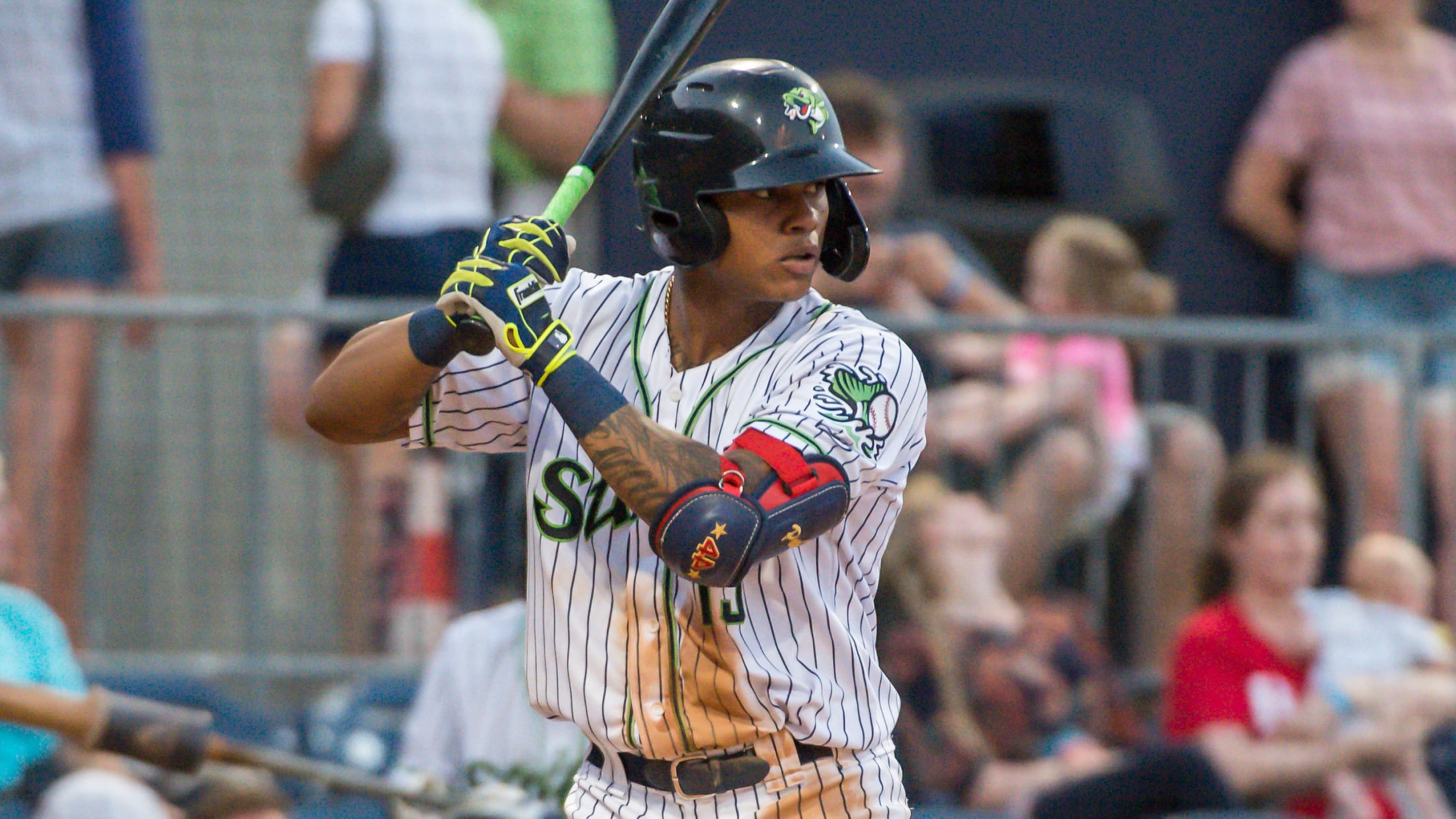 Cristian Pache enters 2020 ranked the Atlanta Braves' No. 1 prospect by MLB.com. (Bernie Connelly)
Opening Day for both Major League Baseball and Minor League Baseball has been delayed indefinitely, but that hasn't stopped the Gwinnett Stripers' 25-man roster from forming. Following initial spring roster cuts that optioned four to Gwinnett on March 6, the Atlanta Braves have since optioned nine more players to the
Opening Day for both Major League Baseball and Minor League Baseball has been delayed indefinitely, but that hasn't stopped the Gwinnett Stripers' 25-man roster from forming.
Following initial spring roster cuts that optioned four to Gwinnett on March 6, the Atlanta Braves have since optioned nine more players to the Stripers: pitchers A.J. Minter and Chad Sobotka on March 9, pitchers Tucker Davidson and Phil Pfeifer, catcher William Contreras, and outfielder Cristian Pache on March 11, pitcher Patrick Weigel and catcher Alex Jackson on March 13, and pitcher Touki Toussaint on March 19. Below is a closer look at each player.
Minter, 26, pitched just once in Major League camp with the Braves this spring, allowing one unearned run over 0.2 innings in one relief appearance. After serving successfully at the back end of Atlanta's bullpen in 2018 (4-3, 3.23 ERA, .244 BAA, 15 saves in 65 games), the left-hander battled both injuries and inconsistency in 2019, going 3-4 with a 7.06 ERA, .298 BAA, and five saves in 36 MLB games. He opened and closed the year on Atlanta's injured list with left shoulder inflammation, and was also optioned to Gwinnett twice, where he went 2-2 with a 3.57 ERA, .264 BAA, and five saves in 20 games.
Sobotka, 26, had an impressive Spring Training with Atlanta, going 0-0 with a 1.93 ERA, .000 BAA, and 0.86 WHIP in five relief appearances. That performance looked more like his MLB debut with the Braves in 2018 (1-0, 1.88 ERA, .104 BAA, 0.98 WHIP in 14 games) than his results in 2019, when he went 0-0 with a 6.21 ERA, .250 BAA, and 1.62 WHIP in 32 games over four stints. Sobotka made his first career MLB Opening Day roster last season, but suffered a left abdomen strain on April 29 that cost him nearly a full month. He spent the rest of the year shuttling between Gwinnett and Atlanta, and was 2-1 with a 4.79 ERA and two saves in 17 games with the Stripers.
Davidson, 23, went 1-0 with a 1.42 ERA and .208 BAA in five relief outings with the Braves this spring, boosting his case for a big-league debut at some point in 2020. The left-hander enters this season ranked Atlanta's No. 10 prospect by MLB.com after going 8-7 with a 2.15 ERA, .234 BAA, and 1.25 WHIP in 25 starts between Double-A Mississippi and Gwinnett in 2019. He led all Braves MiLB pitchers (min. 100.0 IP) in ERA and ranked among the top five in strikeouts (3rd, 134), starts (4th), and wins (T-5th) last year, and was selected to both the Southern League Midseason and Postseason All-Star teams. Davidson wrapped up the season with four starts for the Stripers, going 1-1 with a 2.84 ERA.
Pfeifer, 27, went 0-0 with a 1.23 ERA, .185 BAA, 0.95 WHIP, and one save in seven relief outings for the Braves this spring, his first MLB Spring Training action since 2018. The left-hander joined Atlanta's 40-man roster for the first time in November after enjoying a breakout 2019 season in which he went 6-8 with a 2.97 ERA, .226 BAA, and career-high 159 strikeouts over 30 games (18 starts) between Advanced-A Florida, Mississippi, and Gwinnett. He ranked among Braves' MiLB leaders (min. 100.0 IP) in strikeouts (2nd), SO/9.0 IP ratio (2nd, 10.7), ERA (3rd), WHIP (3rd, 1.16), and innings (4th, 133.1) last year, and enters 2020 ranked Atlanta's No. 28 prospect by MLB.com.
Contreras, 22, is the only member of the group that has yet to make his Triple-A debut. The Venezuelan-born catcher and brother of Chicago Cubs' backstop Willson Contreras batted .250 (1-for-4) in limited action over four games for the Braves this spring. After combining to hit .255 with 20 doubles, six home runs, 50 runs scored, and 39 RBIs over 110 games between Florida and Mississippi in 2019, he enters 2020 ranked Atlanta's No. 9 prospect by MLB.com.
Pache, 21, Atlanta's No. 1 prospect and the No. 13 overall prospect in baseball according to MLB.com, had all eyes focused on him in Braves camp this spring. He didn't disappoint, hitting .269 with one triple, two homers, five runs scored, seven RBIs, three stolen bases, and an .863 OPS in 13 games. It wasn't quite as scorching a display as his spring from 2019 (.359, seven extra-base hits, 10 RBIs, 1.031 OPS in 24 games), but it should keep him on track for his Major League debut some time in 2020. In addition to his elite defense (.985 fielding percentage, nine outfield assists), Pache combined to bat .277 with 36 doubles, nine triples, 12 homers, 63 runs scored, 61 RBIs, and eight stolen bases in 130 games between Mississippi and Gwinnett last season. He was named both a Midseason and Postseason All-Star in the Double-A Southern League, as well as a participant in the 2019 SiriusXM MLB All-Star Futures Game.
Weigel, 25, is hoping a solid showing out of Atlanta's bullpen this spring (0-0, 2.45 ERA, .192 BAA, 0.82 WHIP, one save in six games) will propel him to his long-awaited Major League debut in 2020. Last season, the right-hander re-established his prospect status in his first full season since 2017 Tommy John surgery, going 6-2 with a 2.73 ERA, .184 BAA, and 1.15 WHIP over 28 games (18 starts) between Mississippi and Gwinnett. He was especially dominant as a swingman on the Stripers' staff, posting a 6-1 record, 2.98 ERA, .194 BAA, and 1.17 WHIP across 21 games (11 starts). The Braves recalled him from Gwinnett twice in 2019, but he didn't get into a game. That story should change for Weigel this season, as he enters the year ranked Atlanta's No. 16 prospect by MLB.com.
Jackson, 24, struggled in seven Spring Training games with the Braves, batting .071 (1-for-14) with eight strikeouts. He returns to Gwinnett hoping to duplicate his power from 2019, a campaign in which he hit .229 with a career-high 28 homers (T-5th in the International League), 65 RBIs, and an .846 OPS in 85 games. The Escondido, California native supplemented his career offensive year with stellar defense behind the plate, posting a .983 fielding percentage and .500 caught stealing percentage (25-for-50) in 78 games with the Stripers. Atlanta recalled him twice last season, but he went hitless (0-for-13) over four games during his MLB debut and finished the year on the 60-day injured list with a left knee sprain. Jackson enters 2020 ranked the Braves' No. 22 prospect by MLB.com.
Toussaint, 23, went 0-0 with a 2.08 ERA, .074 BAA, and 0.58 WHIP in three Spring Training relief outings during his bid to win his first Opening Day roster spot with the Braves. Those numbers are encouraging for the right-hander, who followed up an outstanding 2018 season (9-6 with a 2.38 ERA in 24 MiLB starts, 2-1 with a 4.03 ERA in seven MLB games) with a rocky 2019. Across four stints with Gwinnett last year, Toussaint went 1-6 with a 7.49 ERA and .313 BAA in 10 starts. His Major League numbers in 24 games with the Braves were better (4-0, 5.62 ERA, .270 BAA), but not enough for him to establish a regular role in the big leagues. He'll look to change that as either a starter or reliever in 2020.
Keep checking GoStripers.com for updates on Gwinnett's 2020 roster, which will be officially announced at a yet-to-be-determined date prior to the season.