Syracuse steps right up, becomes the Mets
Iconic International League team takes name of new parent club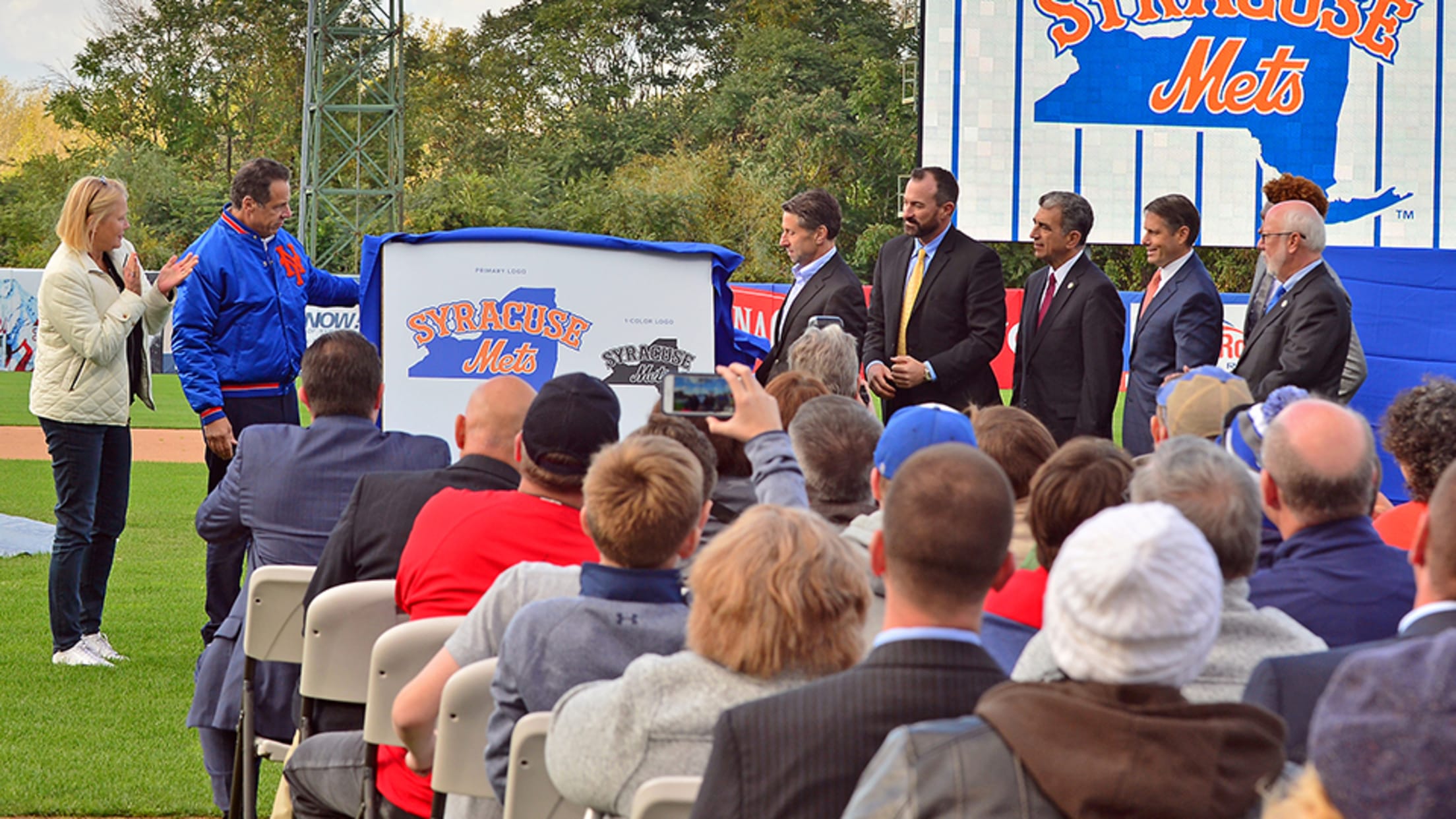 New York Gov. Andrew Cuomo and Mets COO Jeff Wilpon unveil the new Syracuse Mets logo. (Rick Nelson/MiLB.com)
The Syracuse Mets era has begun. During a Tuesday afternoon press conference, Syracuse's long-running International League franchise announced that it has changed its name from the Chiefs to the Mets. This new moniker signifies the beginning of a new chapter for the team, who are owned by the New York Mets
The Syracuse Mets era has begun.
During a Tuesday afternoon press conference, Syracuse's long-running International League franchise announced that it has changed its name from the Chiefs to the Mets. This new moniker signifies the beginning of a new chapter for the team, who are owned by the New York Mets and now entering their first season as the Mets' Triple-A affiliate.
The New York Mets, desirous of having their top affiliate in close proximity to New York City, bought the community-owned Syracuse franchise in October of 2017. The team operated as a Washington Nationals affiliate in 2018, however, due to the Nationals still having one year left on their player development contract with Syracuse. The Mets, meanwhile, spent the previous six seasons with the Las Vegas 51s as their Triple-A affiliate.
Speakers at Tuesday's press conference included New York governor Andrew Cuomo and Mets COO Jeff Wilpon. Cuomo, wearing a Mets jacket, said that the Mets' commitment to Syracuse was representative of Central New York's improving economy. NBT Bank Stadium, the home of the Chiefs, is slated to receive $26.5 million in upgrades. Onondaga County and the State of New York will each contribute $12.5 million, with the city of Syracuse kicking in $1.25 million.
Wilpon, speaking after Cuomo, said that the Mets are committed to Syracuse for the long-term.
"With the new state and county investments to NBT Bank Stadium, the Syracuse Mets will be here in Syracuse, as promised when we bought the club, until at least 2043," he said.
The Chiefs' name had been one of the most enduring in all of Minor League Baseball. The moniker dates back to 1934, the first season in which Syracuse fielded an International League team, and has been used in the vast majority of seasons since. Syracuse is now one of three teams in the Mets system bearing the Mets name, joining Rookie-level Kingsport and Class A Advanced St. Lucie.
When the Syracuse Mets open the 2019 season, Tim Tebow may be on the roster. The former football standout spent the 2018 season with the Double-A Binghamton Rumble Ponies.