Aviators blow big lead, drop 21-16 slugfest to Aces
Reno rallies from 12-6 deficit, scoring 14 runs over the final three innings en route to second straight win over Las Vegas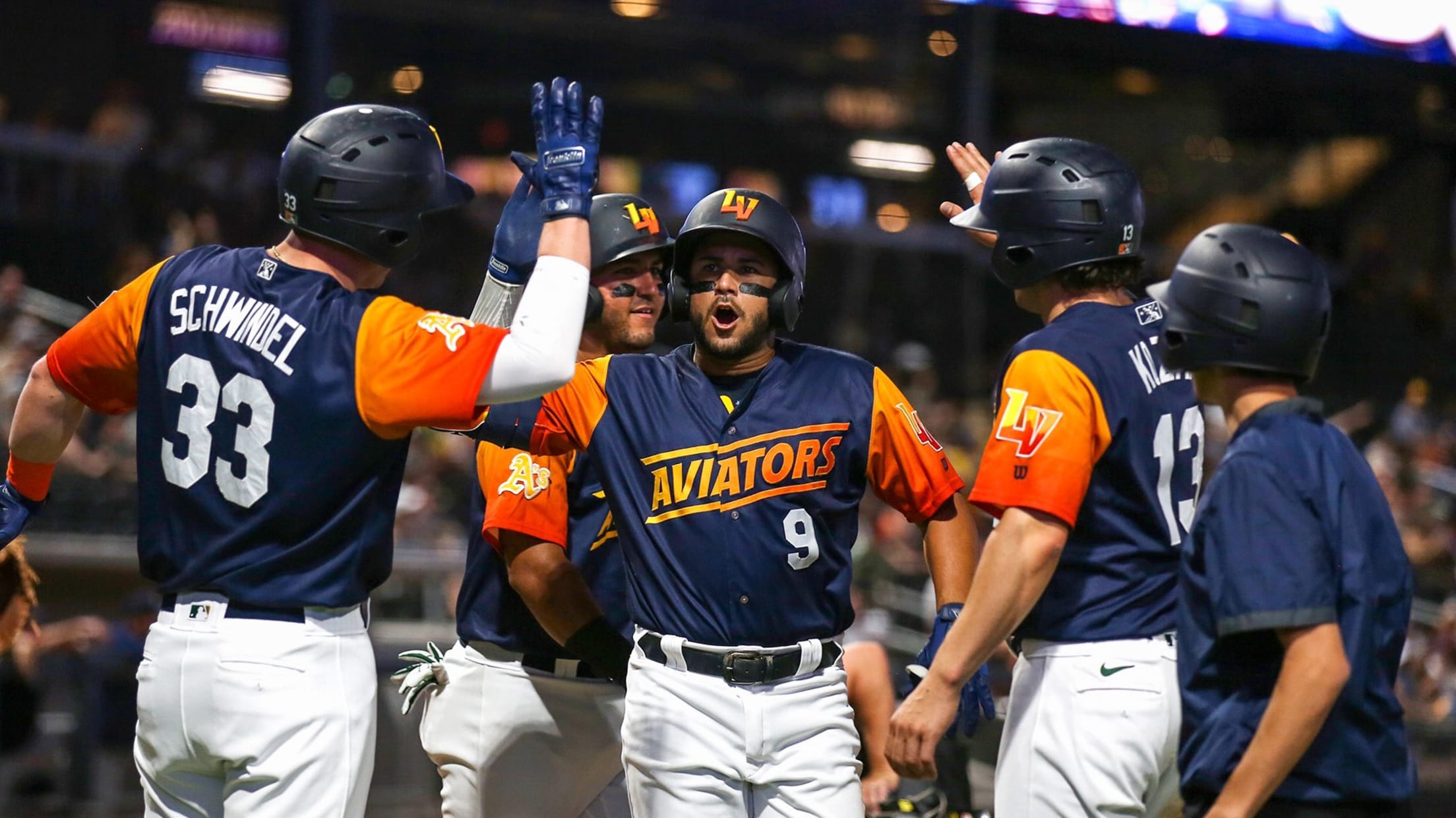 Rare is the day when a baseball team scores 11 runs in an inning … capped by its third grand slam in as many days … and has a player compile seven RBI in his first three at-bats. Even rarer? When a baseball team does all that … and loses.
Machin Makes it in Oakland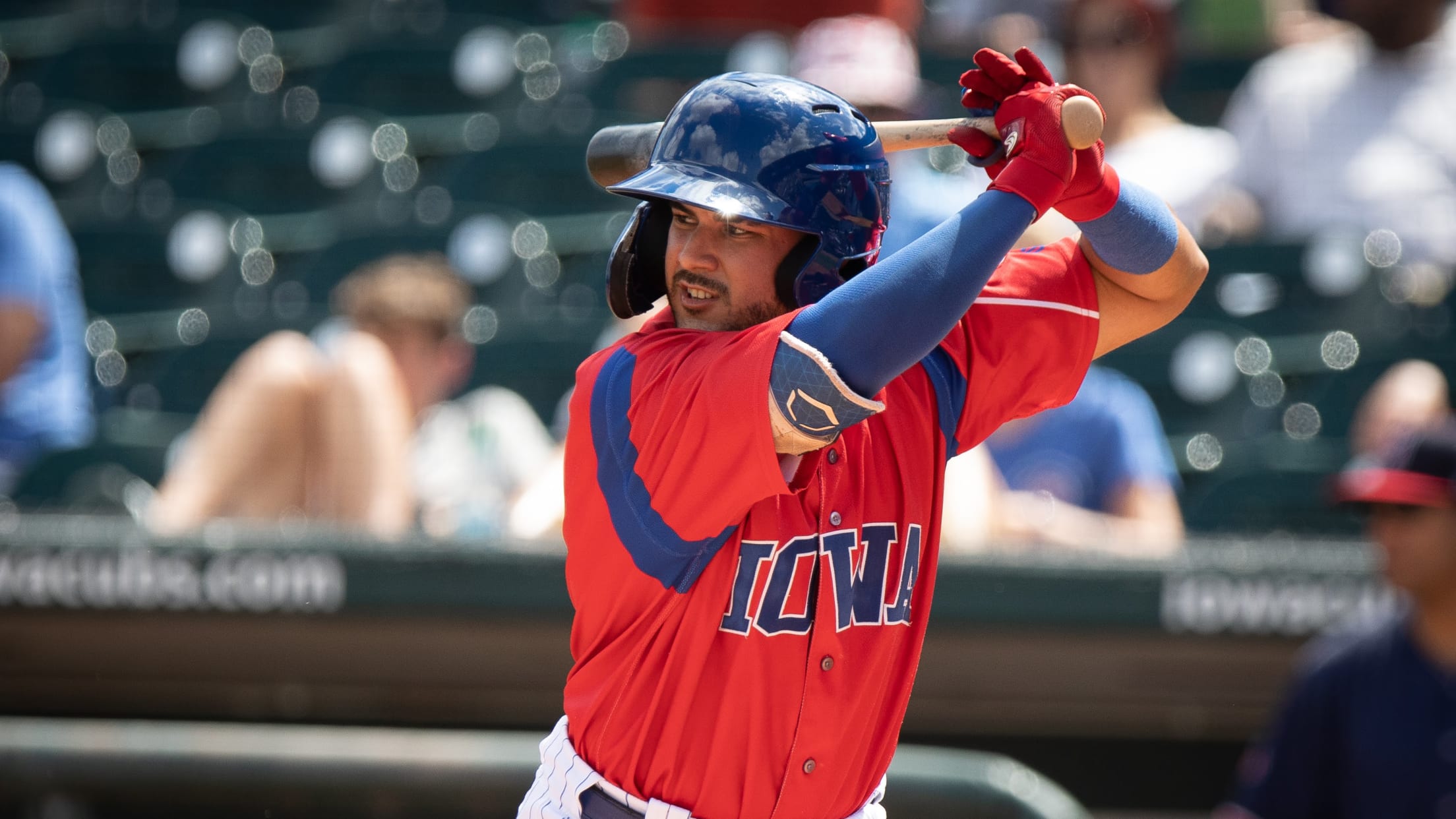 The last time we saw Vimael Machin was in the 2019 PCL Semi-Finals. Now, nearly one year later, the infielder has found a big league home in Oakland. The postseason wasn't the first time Machin had suited up for Iowa. His Triple-A debut came in 2016 as he moved from
Garcia, Bailey highlight 2019 Rule 5 picks
Yankees hurler, Astros righty join Tigers, Orioles with first picks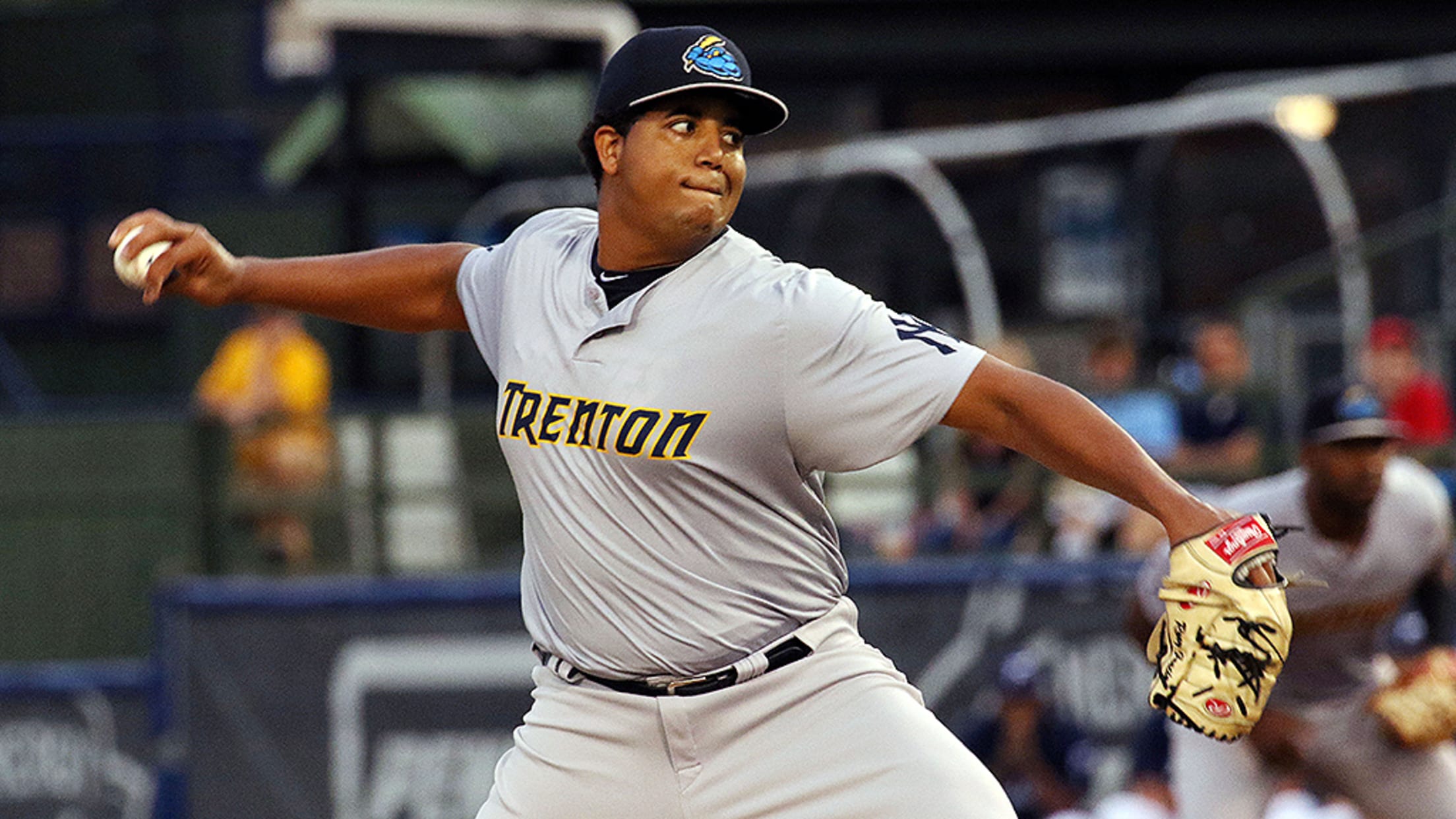 SAN DIEGO -- Eleven Minor Leaguers moved to new organizations Thursday with newfound hope of cracking a Major League roster.The Tigers selected Yankees right-hander Rony Garcia with the first overall pick in the 2019 Rule 5 Draft at the Winter Meetings in San Diego. Astros righty Brandon Bailey went to
Davis, Marquez climbing toward Wrigley
Prospect projects stand out as Chicago retools farm system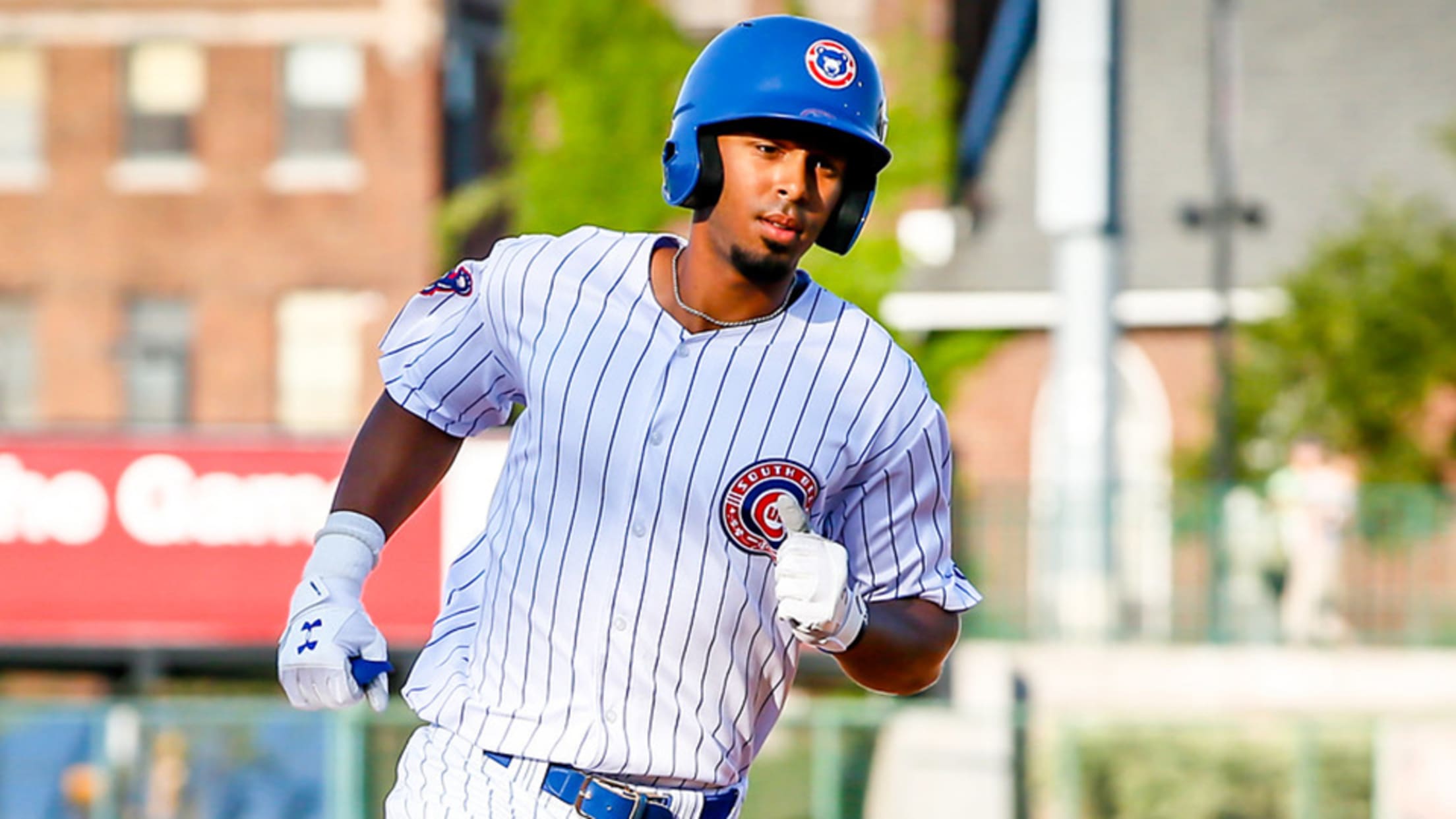 Each offseason, MiLB.com goes position by position across each system and honors the players -- regardless of age or prospect status -- who had the best seasons in their organization. Click here to locate your favorite club.The year couldn't have ended much better for the Cubs' farm system. The organization's top
Smokies Come Back To Stun BayBears, 5-4
Three Two-Out Singles Lift Smokies In Ninth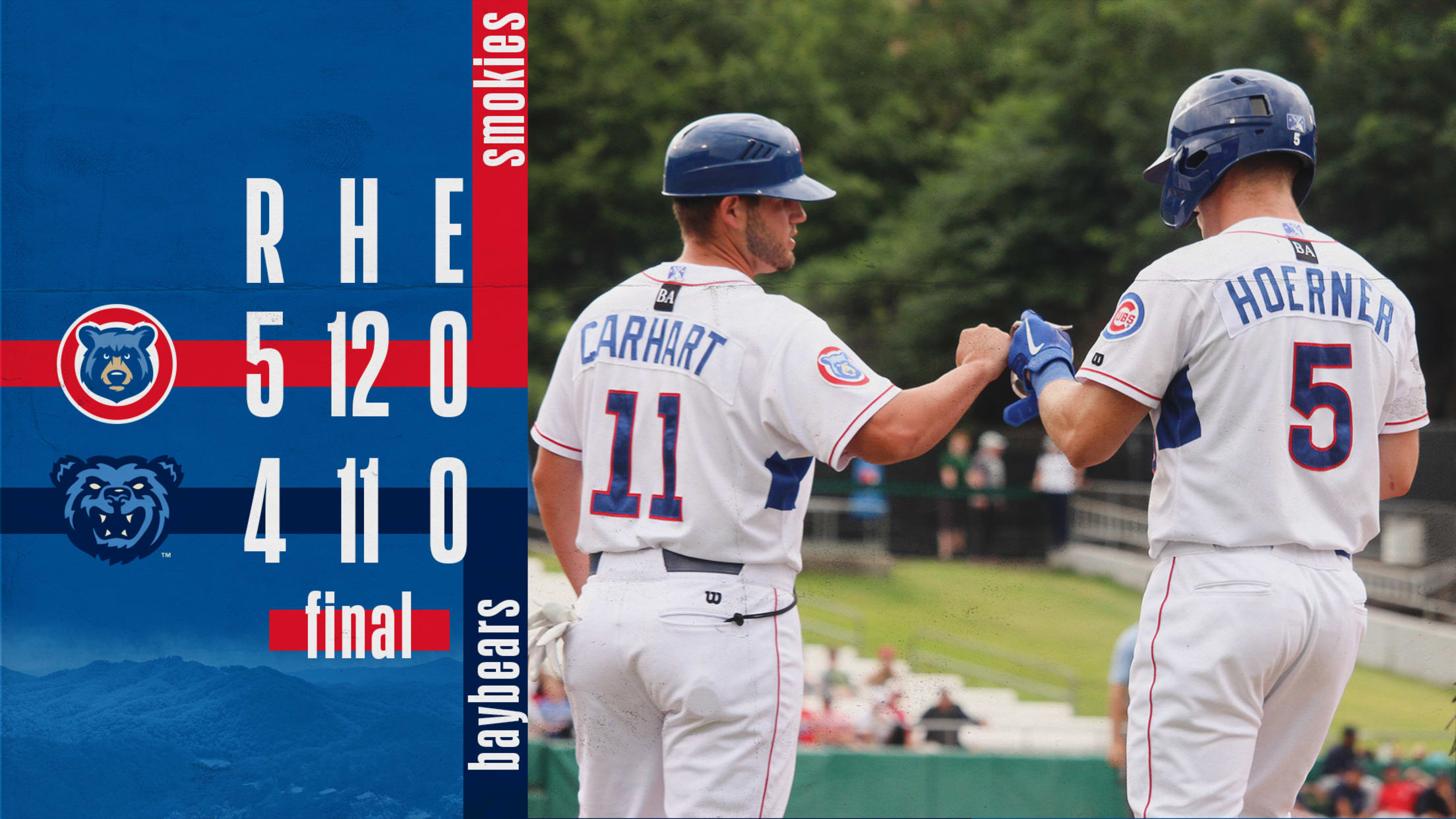 MOBILE, AL - The Tennessee Smokies (56-80, 23-44) erased a 4-1 deficit against the Mobile BayBears (49-84, 22-43) to steal game two thanks to a go-ahead RBI single by Jared Young on Friday night at Hank Aaron Stadium. Vimael Machin played every position in the field expect for pitcher in a
Machin Plates Two En-Route to a Game One Win For The Smokies
Five Smokies Tally Multi-Hit Performance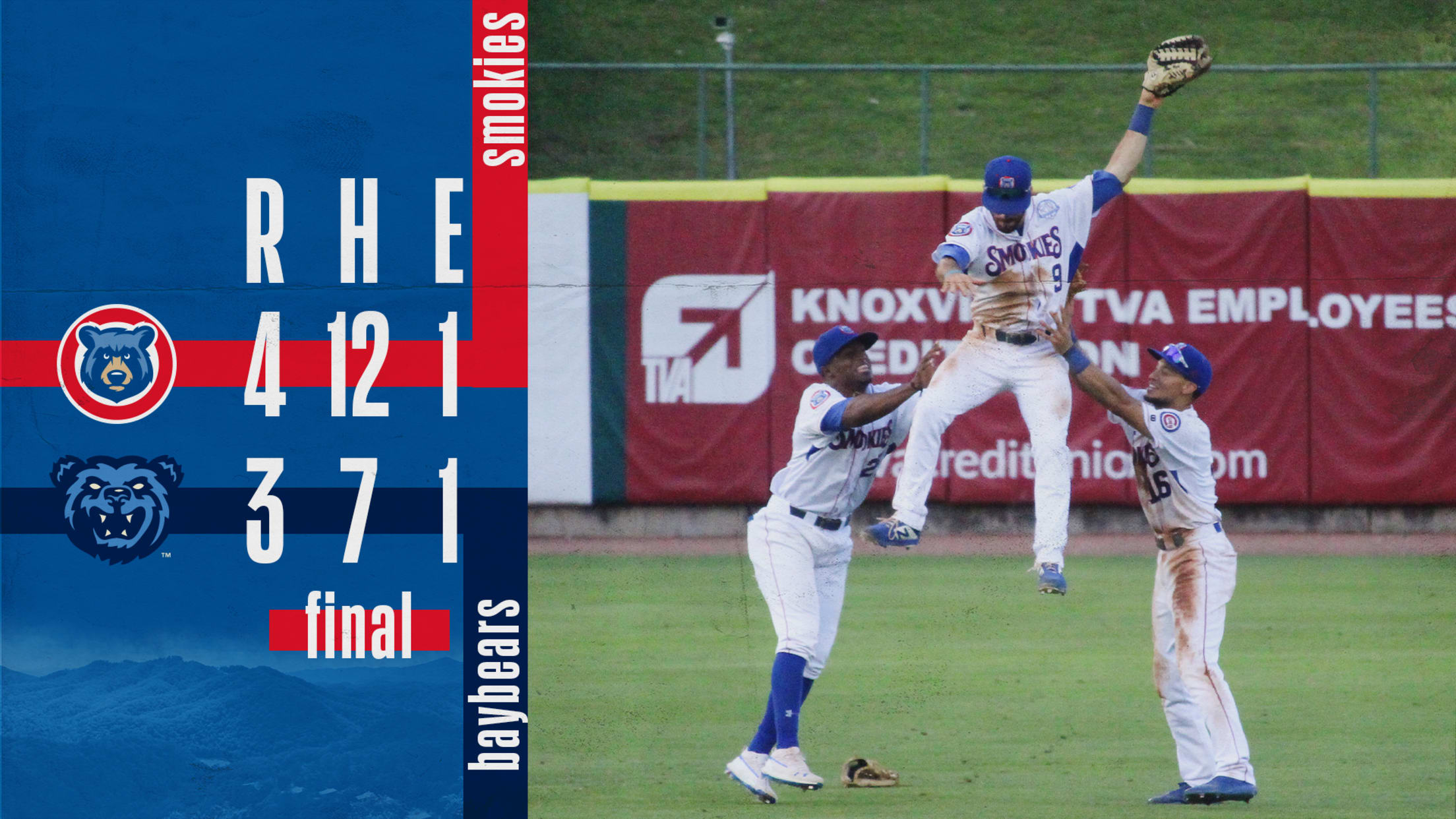 MOBILE, AL - Vimael Machin drove in two key runs and the Tennessee Smokies (55-80, 22-44) bats tallied for 12 total hits to seal a 4-3 game one win over the Mobile BayBears (49-83, 22-42) Thursday night at Hank Aaron Stadium.The Smokies scored first in the ballgame for the 61st time
Sixteen Hits Leads Smokies to 8-2 Win Over Barons
Six Players Record Multi-Hit Nights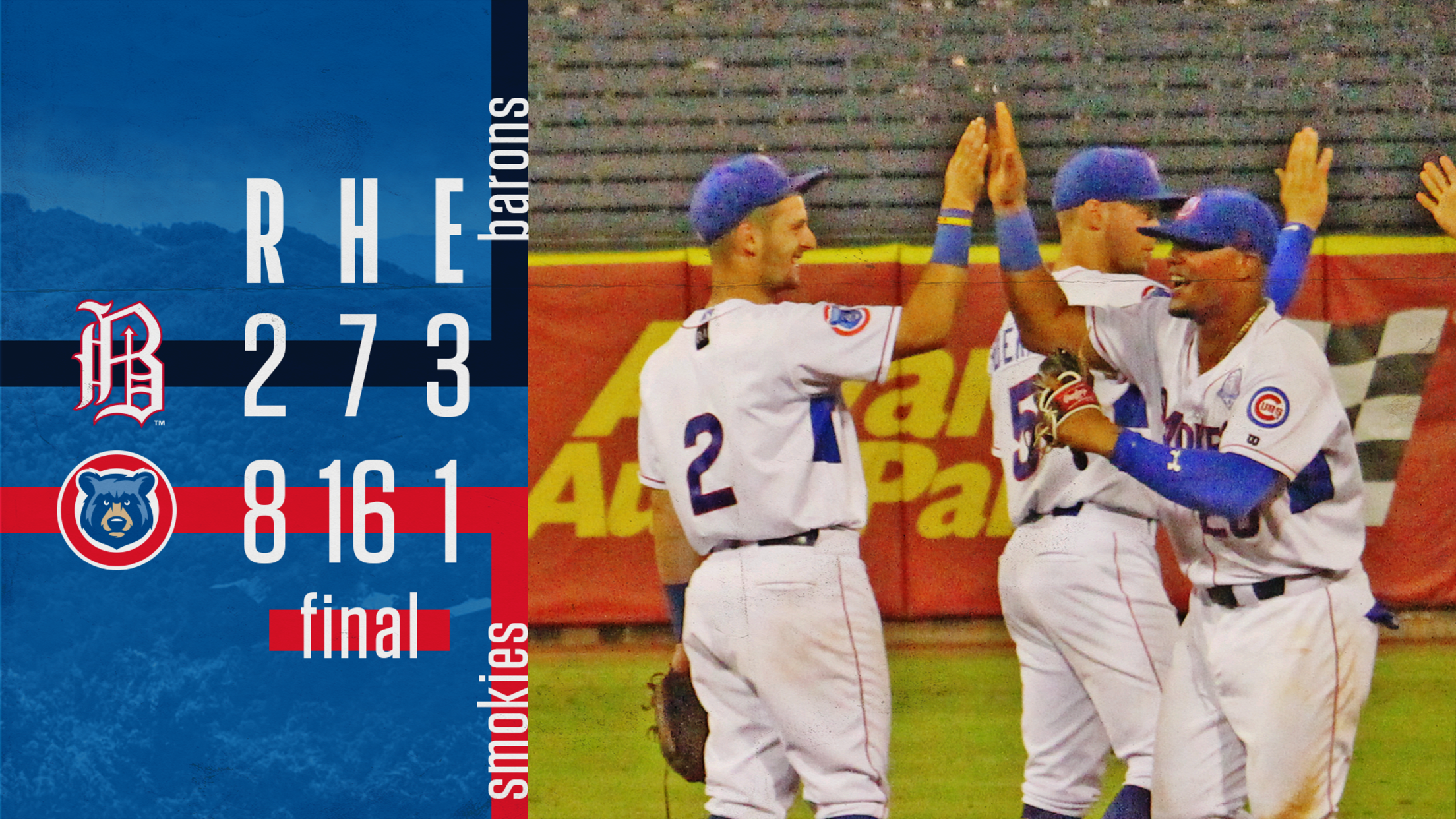 KODAK - The bats came alive in an 8-2 Tennessee Smokies (53-78, 20-42) win over the Birmingham Barons (59-69, 32-27) at Smokies Stadium on Saturday night. Vimael Machin led the pack, going 2-for-5 with a pair of RBIs and a home run. Neither side budged through the first four innings, but in
Machin's Late Home Run Not Enough In 7-3 Loss To The Shuckers
Smokies Drop Their Eleventh Straight Home Game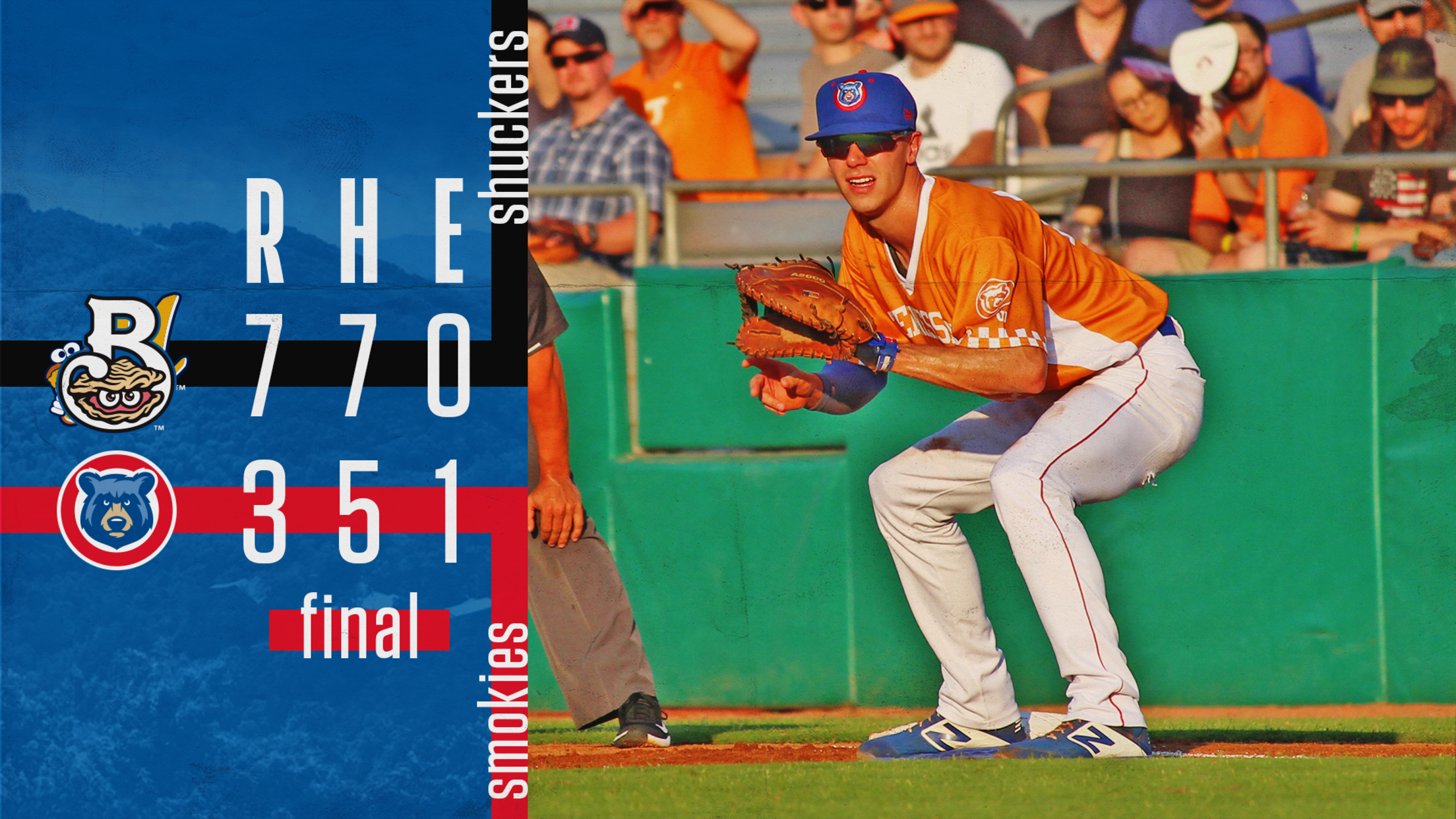 KODAK - A late game-tying home run by Tennessee Smokies (49-69, 16-33) shortstop Vimael Machin was not enough to escape a four run ninth inning from the Biloxi Shuckers (71-47, 30-18) in a 7-3 loss on Saturday night at Smokies stadium. The loss marks the Smokies eleventh straight loss at home.For
Smokies turn first triple play since 2009
Tennessee escapes sixth-inning jam with feat against Biloxi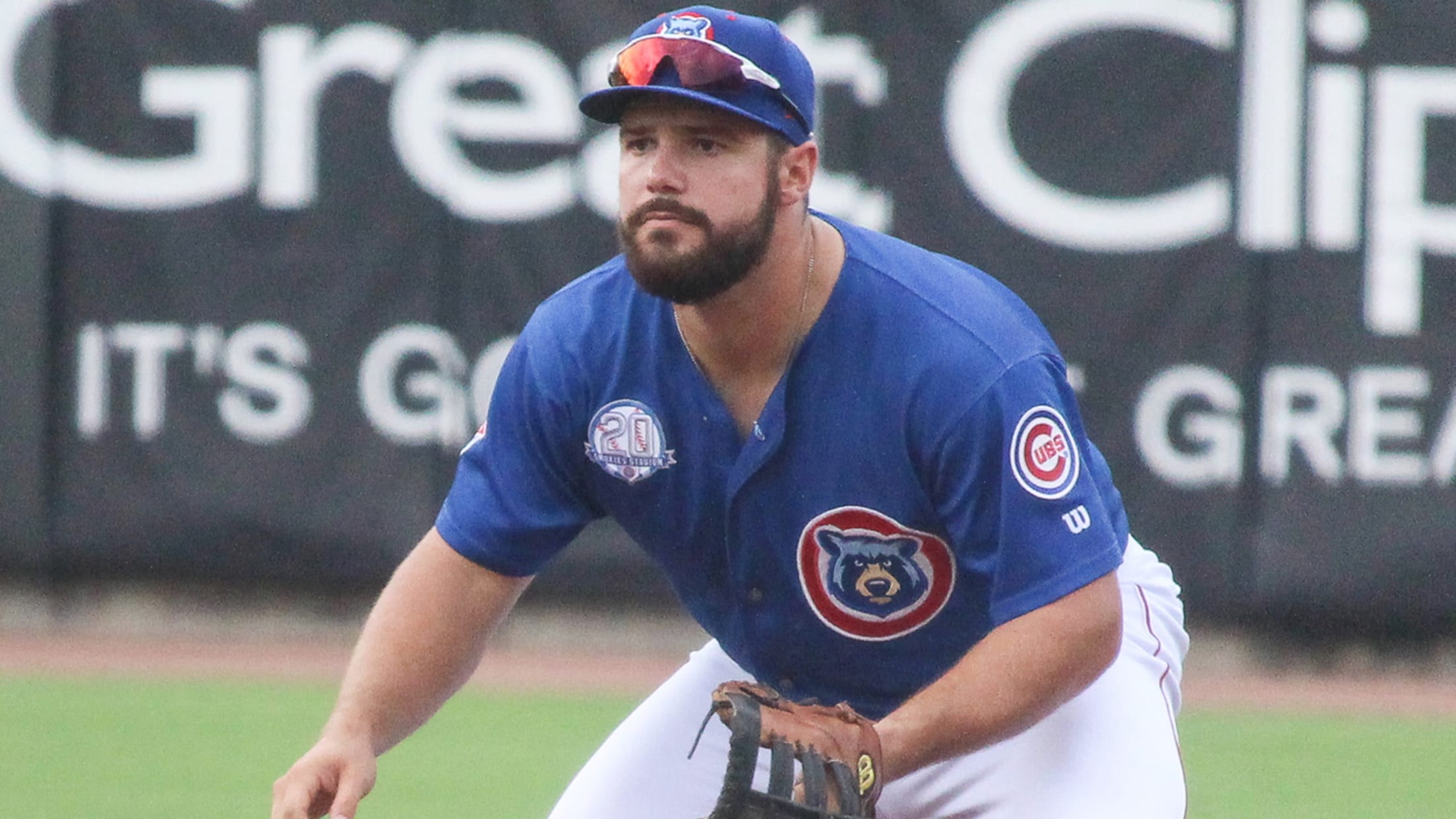 With a run already home and runners at first and second, the Double-A Smokies found themselves in a sixth-inning jam Thursday. With a little magic on the diamond, they got out of it in a flash.Tennessee turned its first triple play in over a decade, wriggling out of trouble in
Machin Lifts Smokies In Extras To Win Series
Smokies Win Third Straight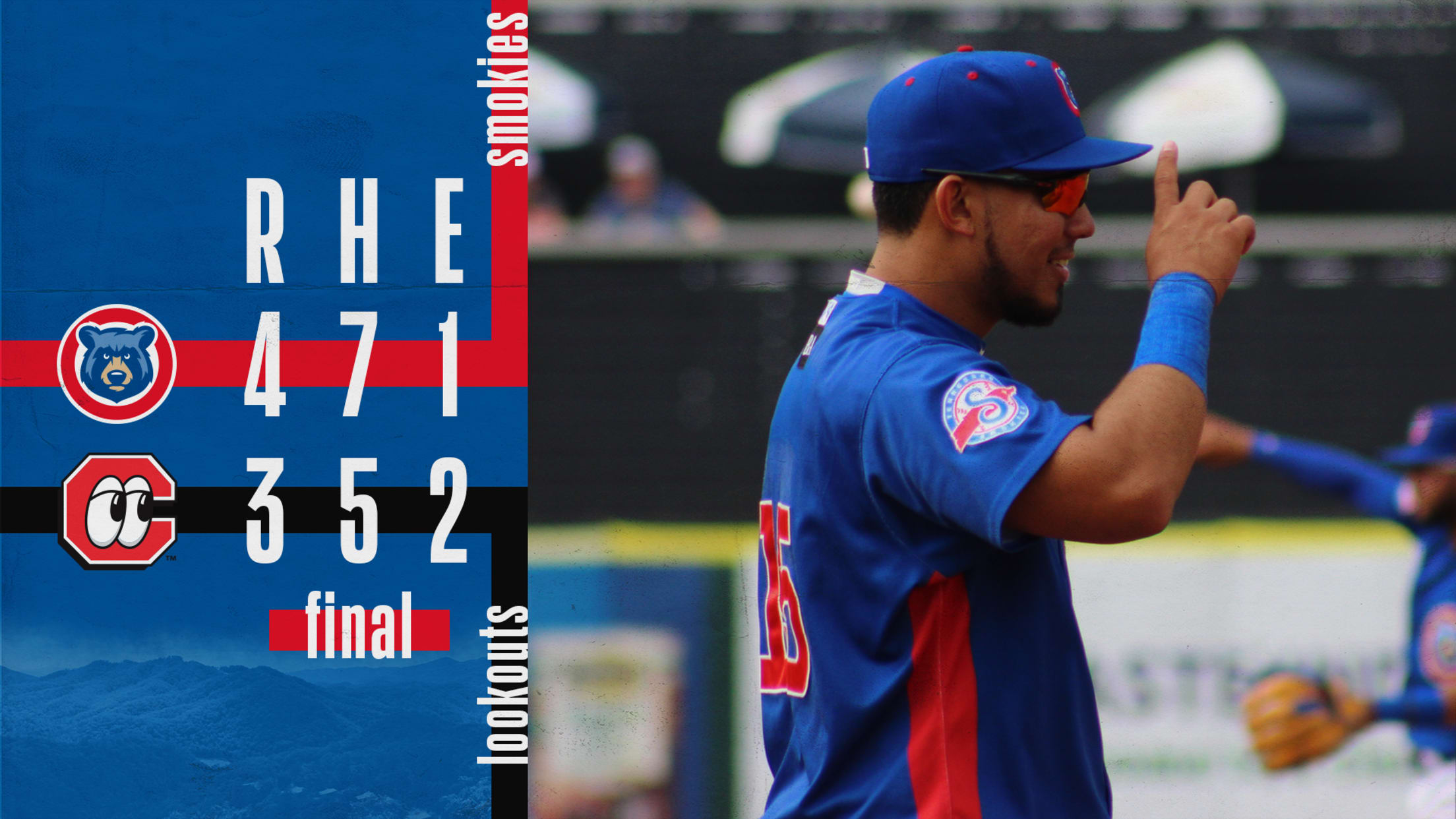 CHATTANOOGA, TN - The Tennessee Smokies (46-61, 13-25) locked up a series win against the Chattanooga Lookouts (46-60, 10-27) with a 4-3 win in eleven innings on Monday night at AT&T Field.Both sides kicked off the evening with an early run in the first. Roberto Caro led off the game by
Hatch Fans Season High Ten In 3-2 Defeat
Smokies Pitchers Strikeout Combined 14 Barons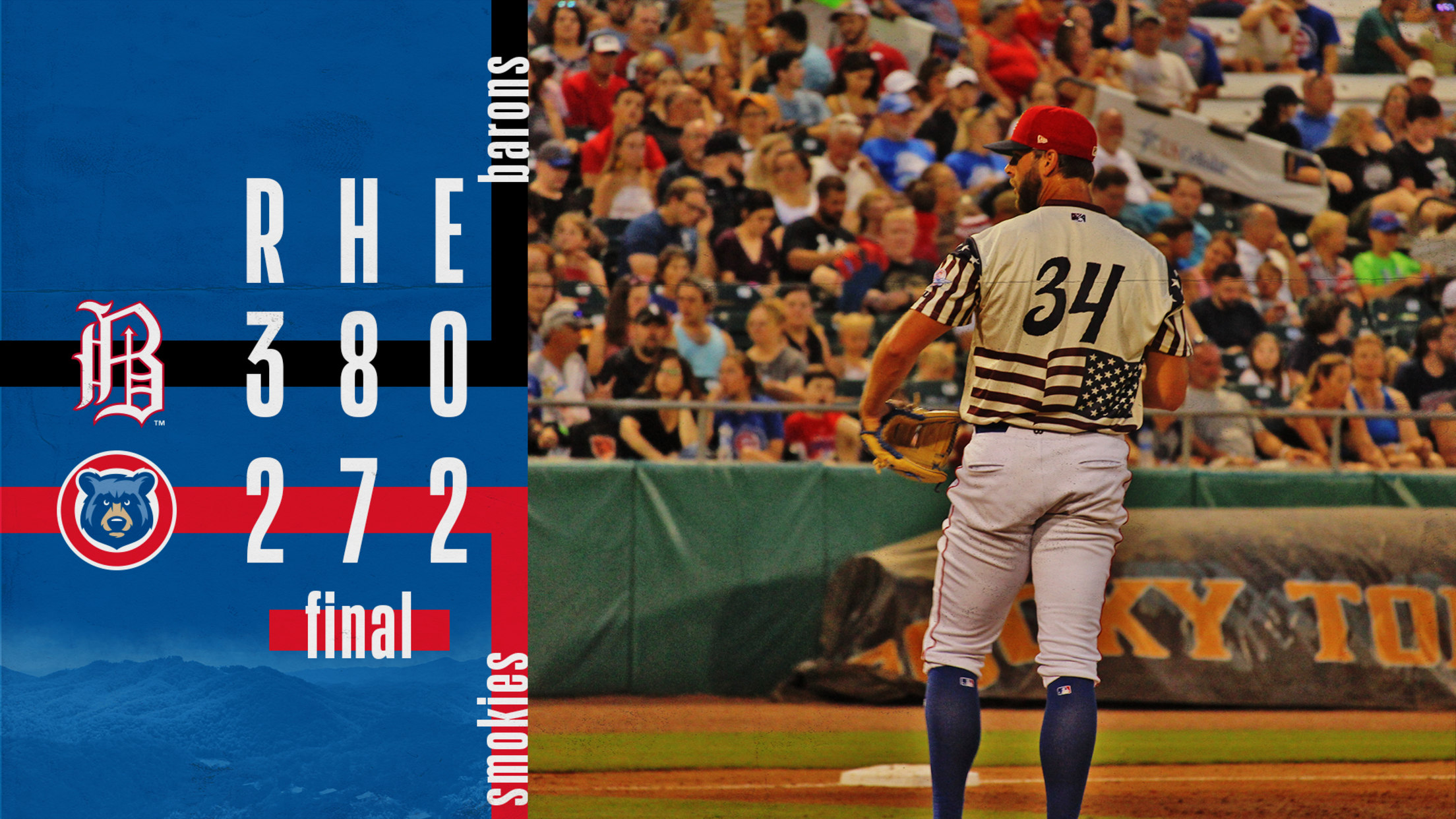 KODAK - Thomas Hatch's season high ten strikeouts was not enough for the Tennessee Smokies (39-44, 6-8) to overcome the Birmingham Barons (36-47, 9-5) late in a 3-2 defeat Wednesday night at Smokies Stadium.Nick Madrigal hit the ground running for the Barons with a single in the first. Two batters
Amaya Doubles Thrice in 9-8 Morning Slugfest
Lugo Picks Up His Third Win in His Third Smokies' Start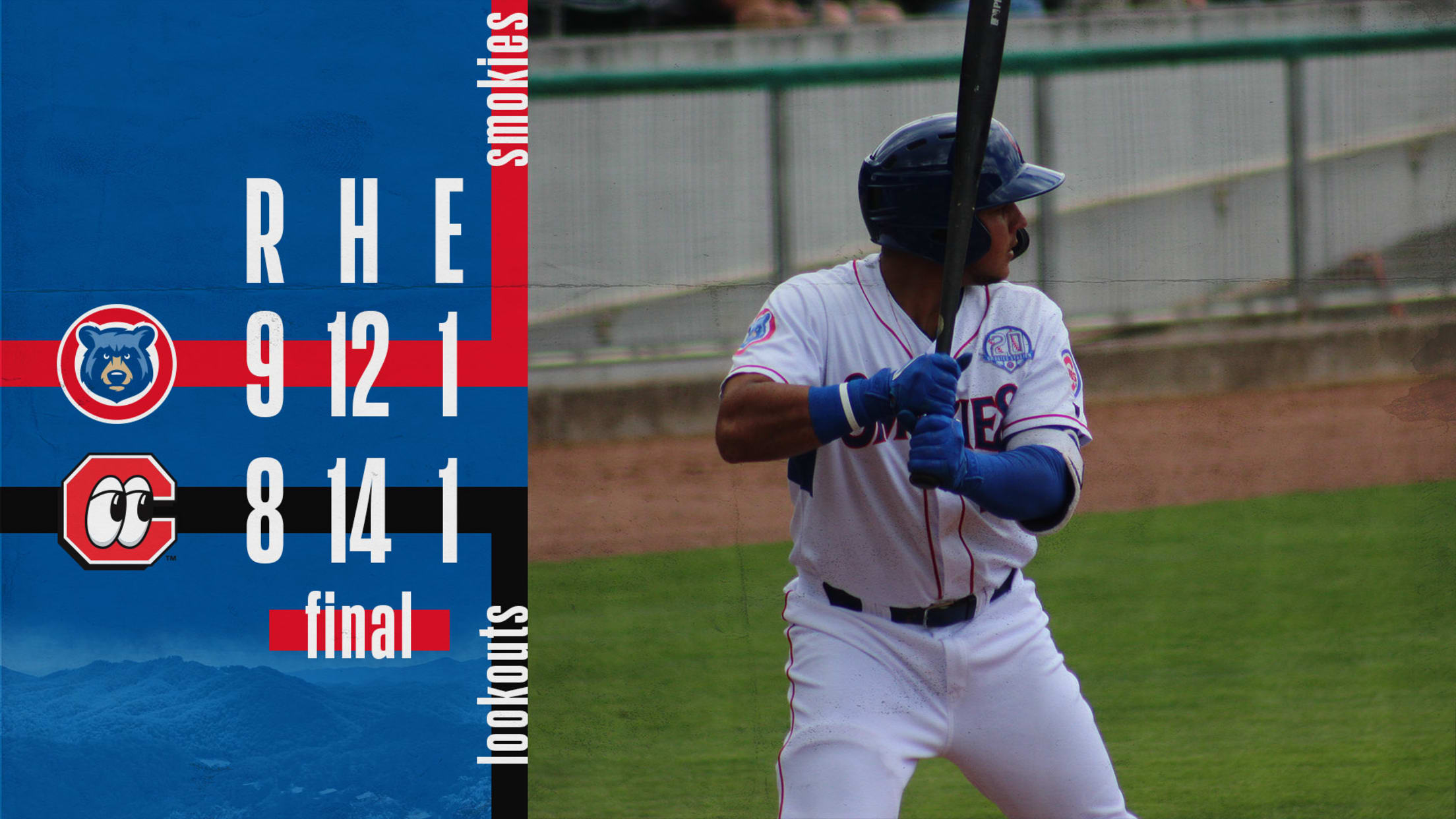 CHATTANOOGA, TN - The Tennessee Smokies (37-39, 4-3) and Chattanooga Lookouts (39-37, 3-4) played their second straight game that featured at least 14 runs in a 9-8 Smokies victory on Wednesday afternoon. Gioskar Amaya collected four hits including three doubles in the win.The Lookouts struck first with four runs in
Smokies Hold Off Lookouts' Comeback in 8-6 Victory
Machin Dings Teams' Second Grand Slam in Two Days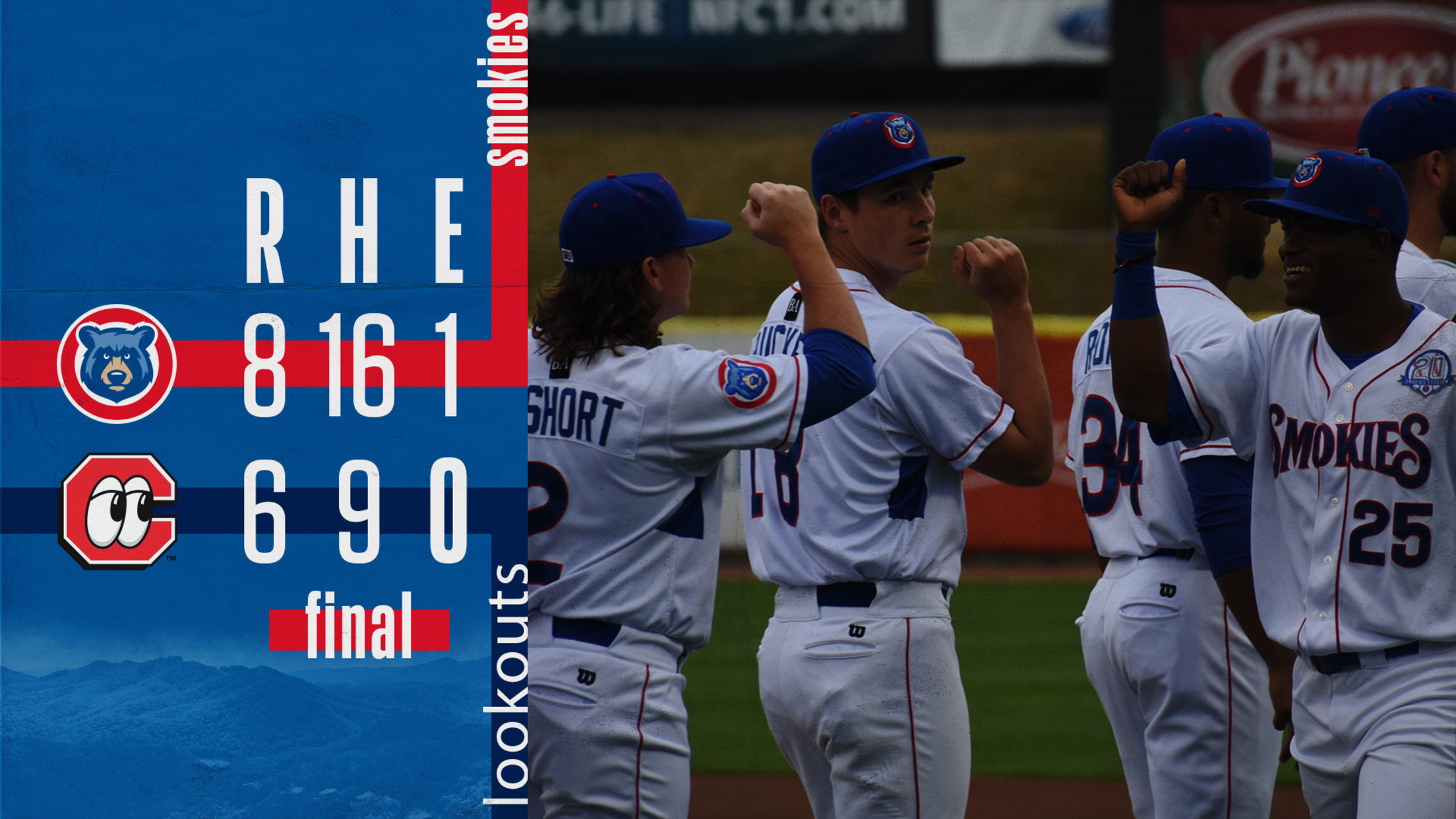 CHATTANOOGA, TN - The Tennessee Smokies (36-39, 3-3) hold on to win 8-6 in a game that featured a grand slam over the Chattanooga Lookouts (39-36, 3-3) at AT&T Field on Tuesday night. The first run came on a sacrifice fly from Connor Myers in the second inning, but Myers best
Lugo and Smokies Exit Pensacola With 3-2 Rubber Match Win
Lefty Gets Win In Smokies Debut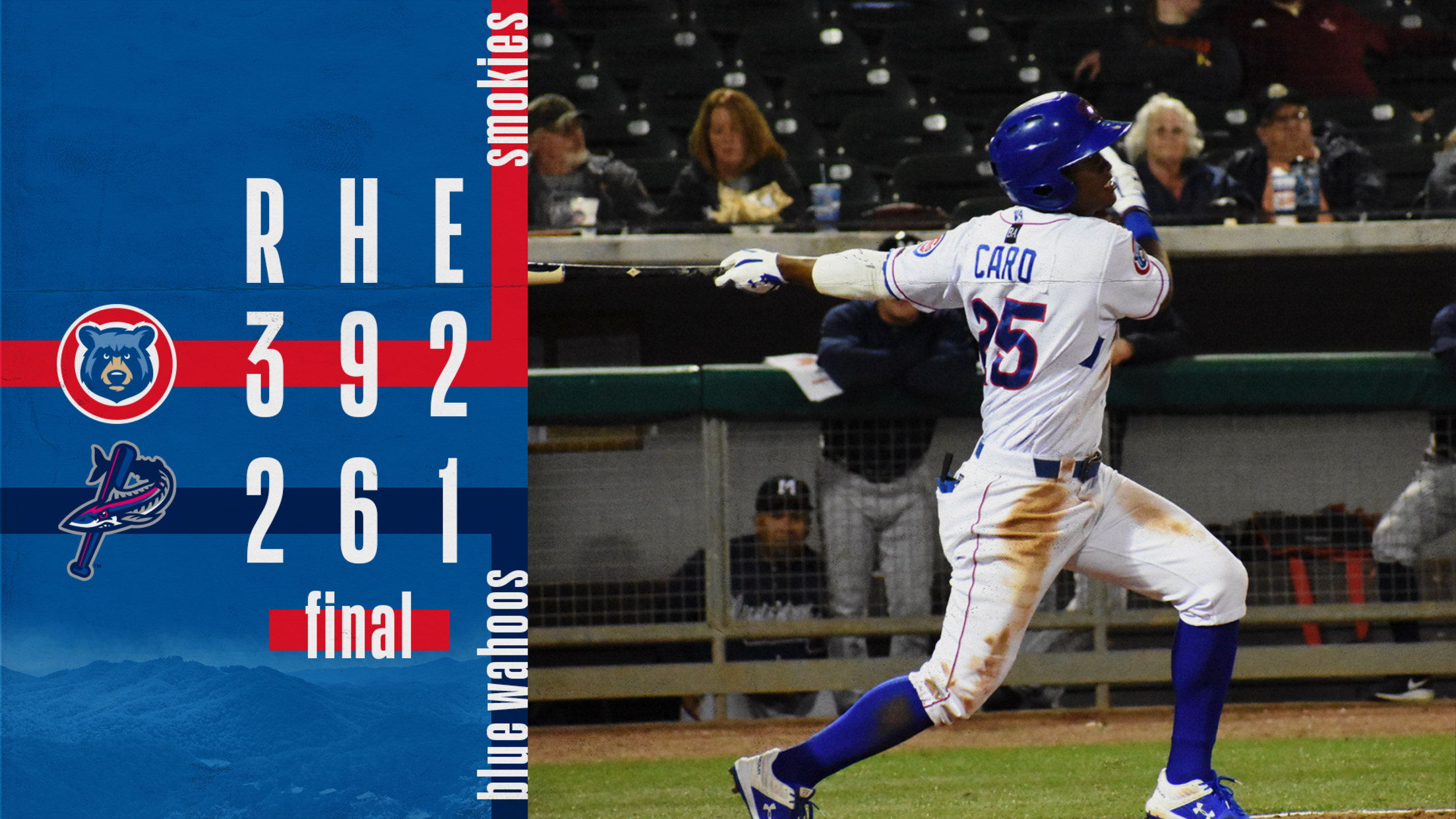 PENSACOLA, FL -  The Tennessee Smokies (33-36) won their fourth rubber match of the season Sunday afternoon with a 3-2 win over the Pensacola Blue Wahoos (38-32) at Blue Wahoos stadium on Sunday afternoon.The Smokies scored the first run of the ballgame for the fourth time in the series. It was
MiLB announces May Uncle Ray's Players of the Month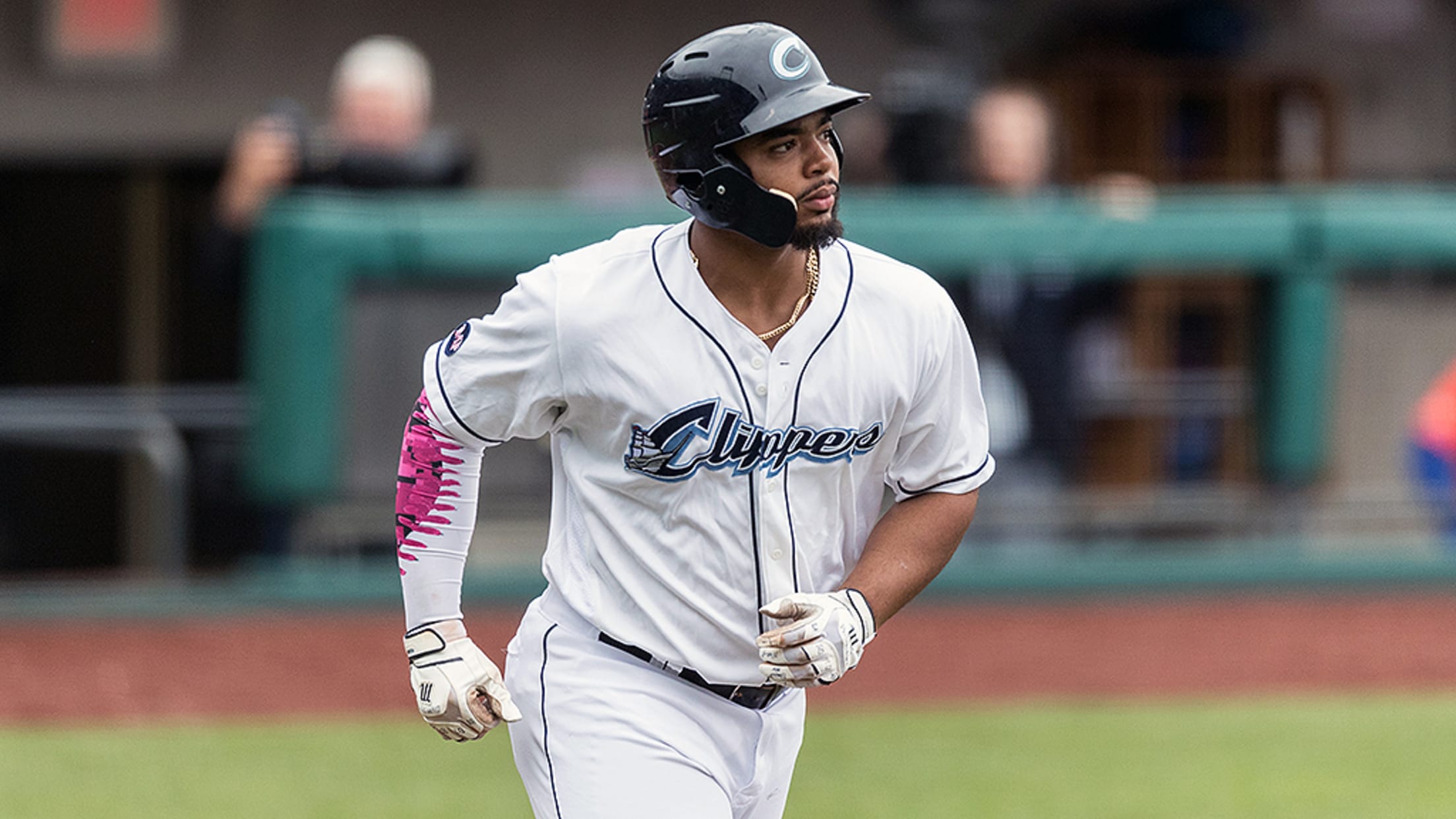 ST. PETERSBURG, Fla. -- Minor League Baseball today announced the Uncle Ray's Player of the Month Award winners for each of the 10 leagues for the month of May. In recognition of the honor, each winner will receive an award from Minor League Baseball and Uncle Ray's, the "Official Potato
Vimael Machin Named SL Player of the Month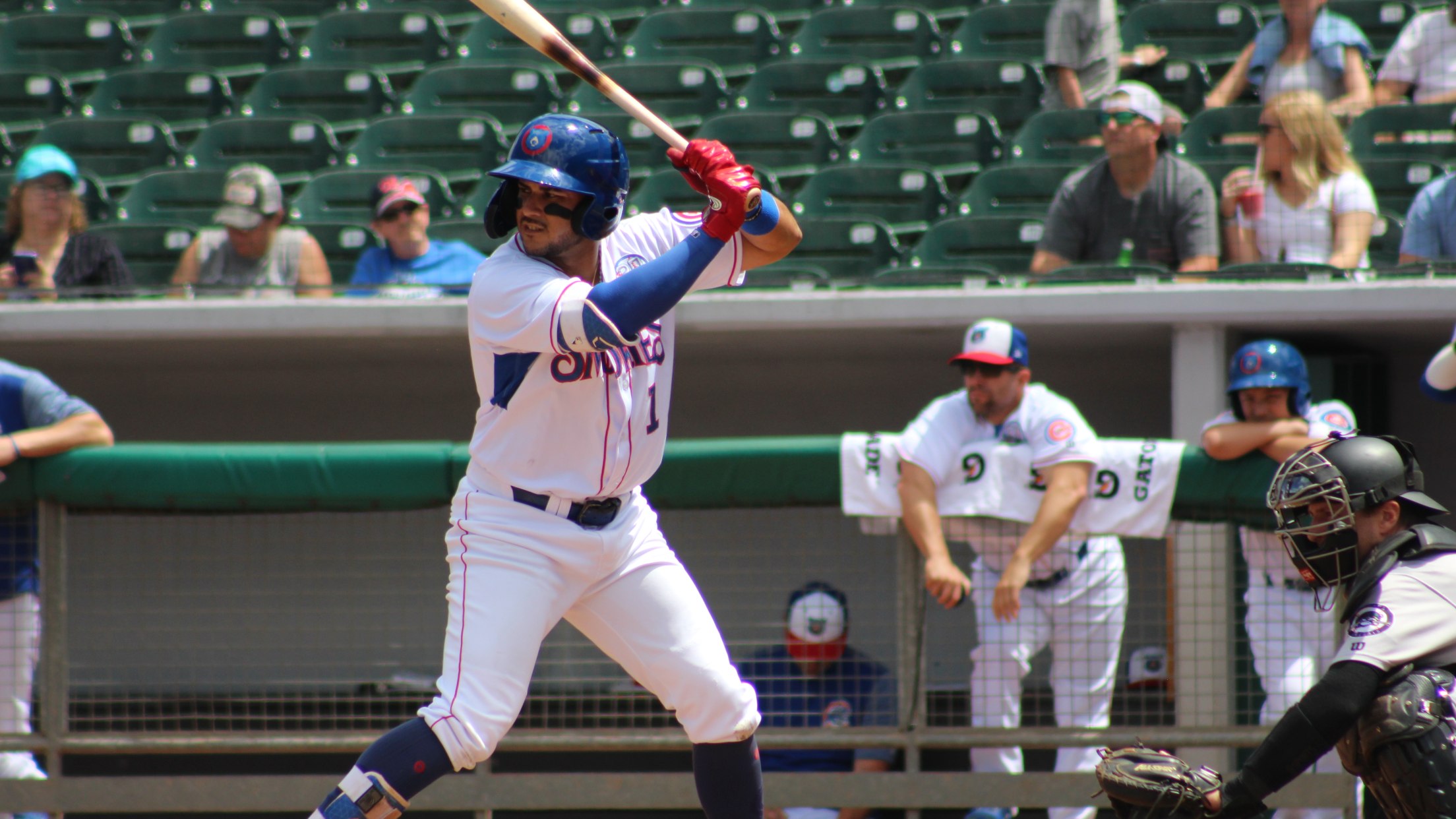 MARIETTA, GA - The Southern League of Professional Baseball Clubs are proud to announce that Tennessee Smokies infielder Vimael Machin has been named the league's Player of the Month for May. The Humacao, Puerto Rico native will also be the Southern League's representative for Minor League Baseball's Player of the
Rojas rides power binge to weekly award
Astros prospect belted six of his seven home runs in last week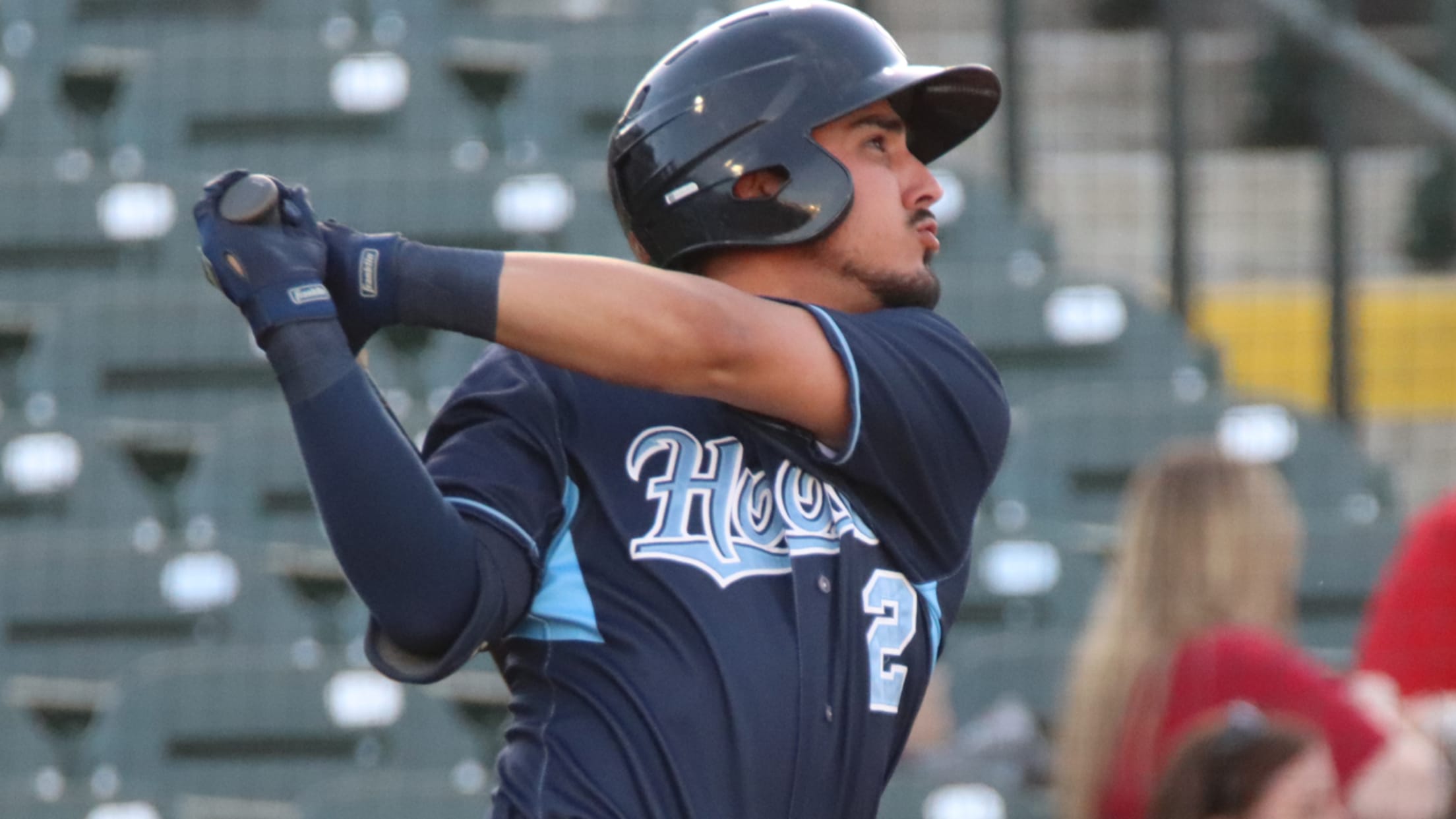 Joshua Rojas was in the middle of a fine season entering last week, but his last seven games have taken things to another level. The Houston prospect went off at the plate, going 16-for-31 with six homers to cruise to Texas League Player of the Week accolades for the period
SL Weekly Awards: May 20-26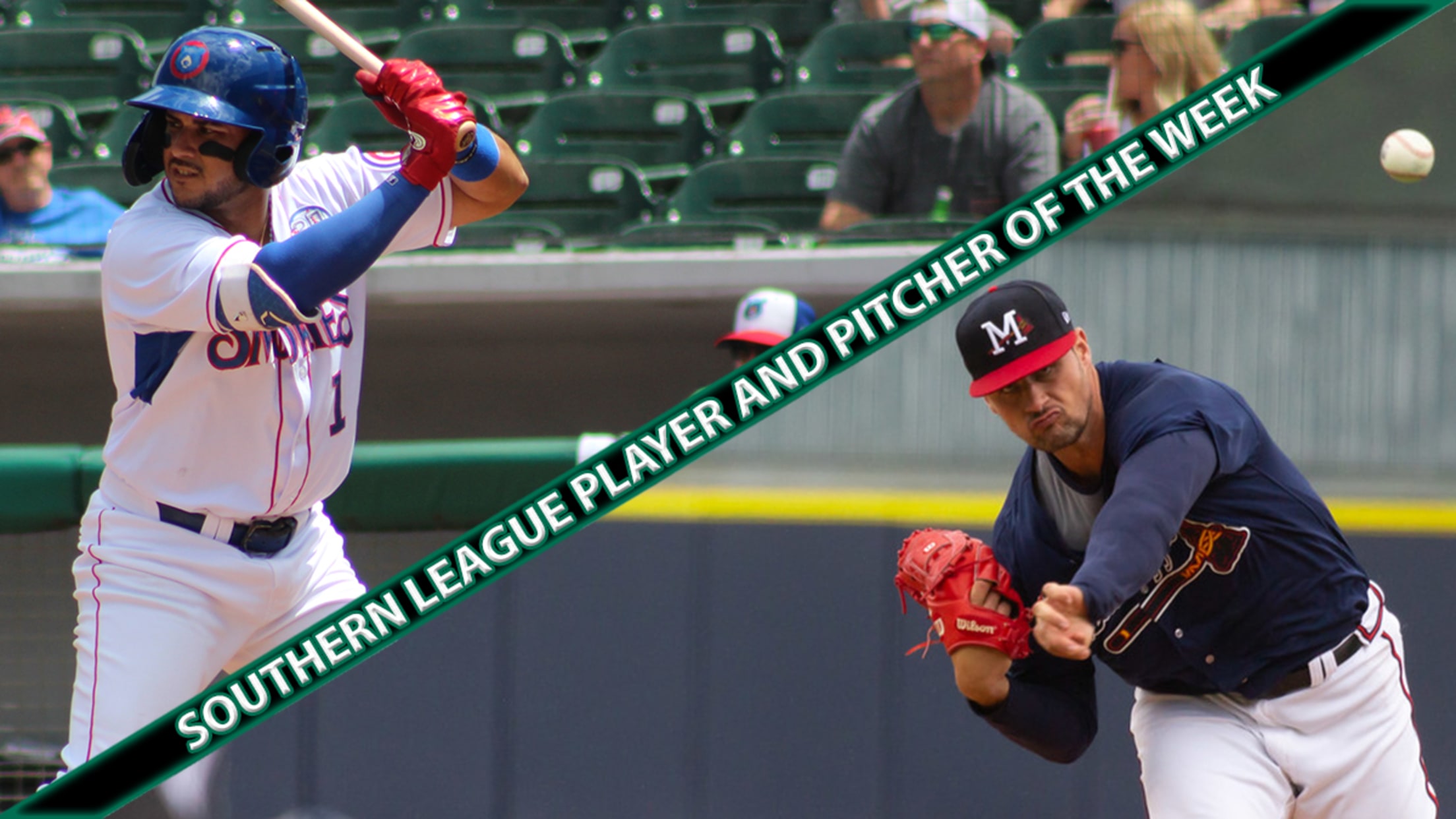 MARIETTA, GA - The Southern League of Professional Baseball Clubs are proud to name Tennessee Smokies infielder Vimael Machin the league's Player of the Week and Mississippi Braves LHP Kyle Muller the Pitcher of the Week. Both awards recognize these players' performances for games during the week of May 20-26.
Deja Vu! Smokies Win 5-1 Again to Clinch Series
Hatch K's Eight in Stellar Start
KODAK, TN - The Tennessee Smokies (25-23) defeated the Pensacola Blue Wahoos (29-20) Saturday night at Smokies Stadium. The Smokies are now two games over .500 and sit just four games back of first place.RHP Thomas Hatch (W, 2-5) earned his second win of the season. He allowed one run
Smokies Open Up Home Stand With 9-3 Win Over Blue Wahoos
Machin, Young Drive in Three Runs Each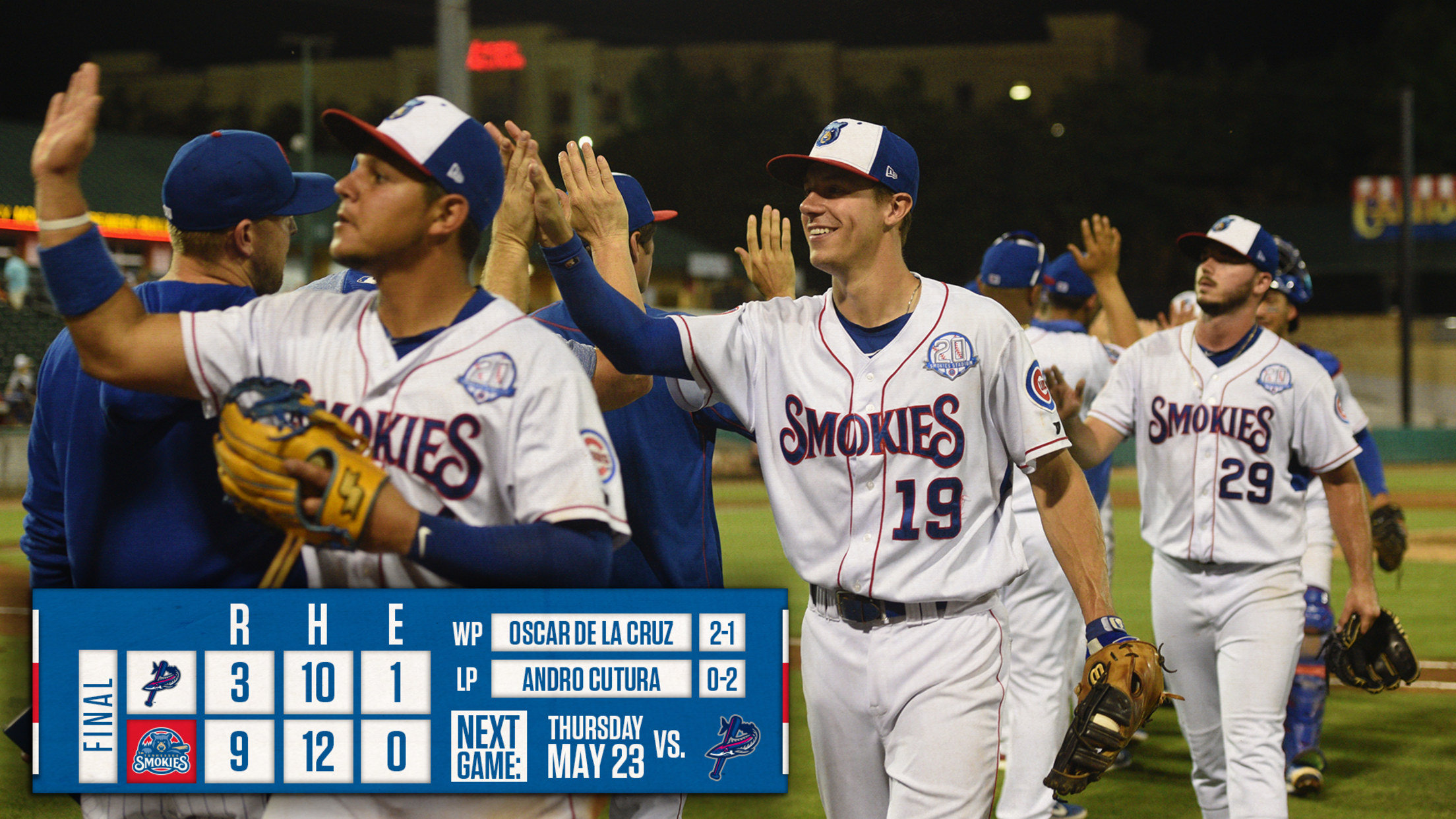 KODAK, TN - The Tennessee Smokies (23-22) defeated the Pensacola Blue Wahoos (28-18) 9-3 Wednesday night at Smokies Stadium. The Smokies blew the game open in the fourth after sending 11 to the plate and scoring five runs.The Smokies began the game with three straight singles to right field off
Machin, Myers, Miller Lead Smokies to Friday Night Win
Vimael Machin Falls Homer Shy of Cycle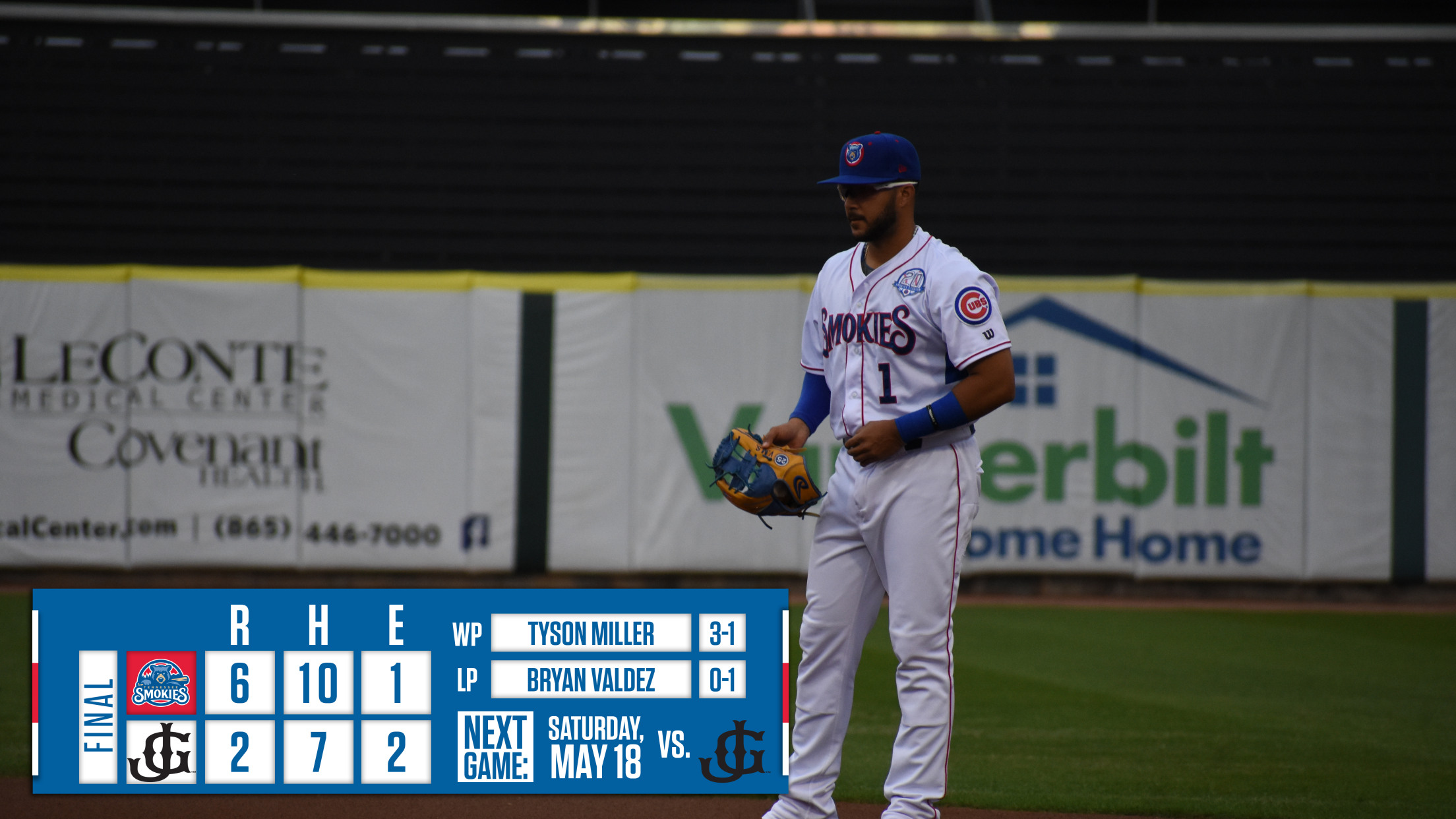 JACKSON, TN - The Tennessee Smokies (21-20) defeated the Jackson Generals (22-18) 6-2 Friday night at The Ballpark at Jackson for their fourth straight victory. Vimael Machin became the first Smokie to collect four hits in a game, he finished 4-for-4 with two doubles, a triple, a walk, and three
Smokies Take Rubber Match 7-3 Over Birmingham
Charcer Burks Two-Run Homer Seals Smokies Win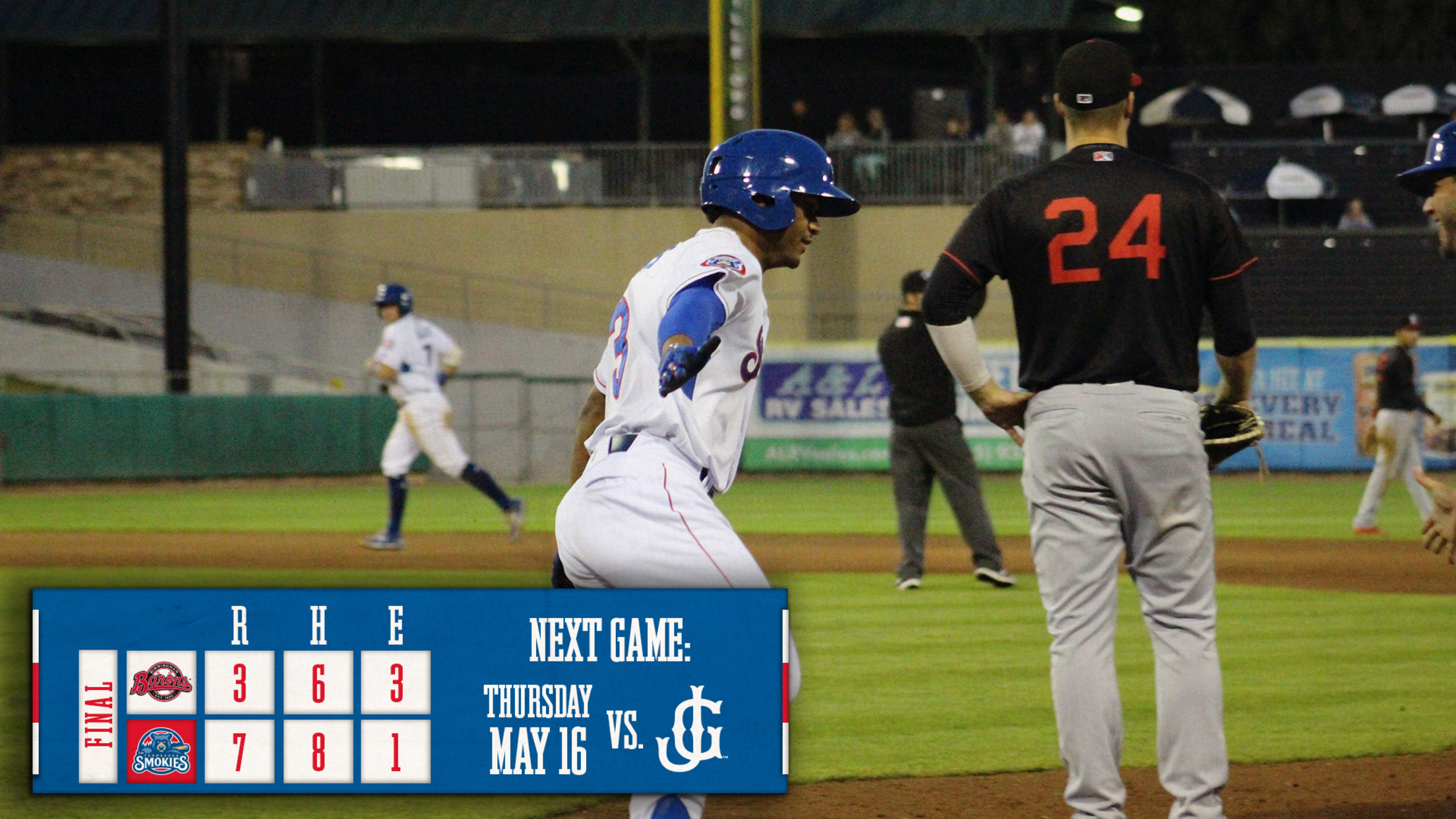 KODAK - The Tennessee Smokies (19-20) defeated the Birmingham Barons (15-24) 7-3 to win the series at Smokies Stadium on Wednesday night. After scoring a season high seven runs in the seventh inning in Tuesday's 9-4 win, the Smokies kept the offense rolling with another multi-run inning Wednesday night. Birmingham grabbed an early,
Another Three-Run Eighth Helps Smokies Clinch Opening Series
Nico Hoerner Drives in Winning Run the Second Day in a Row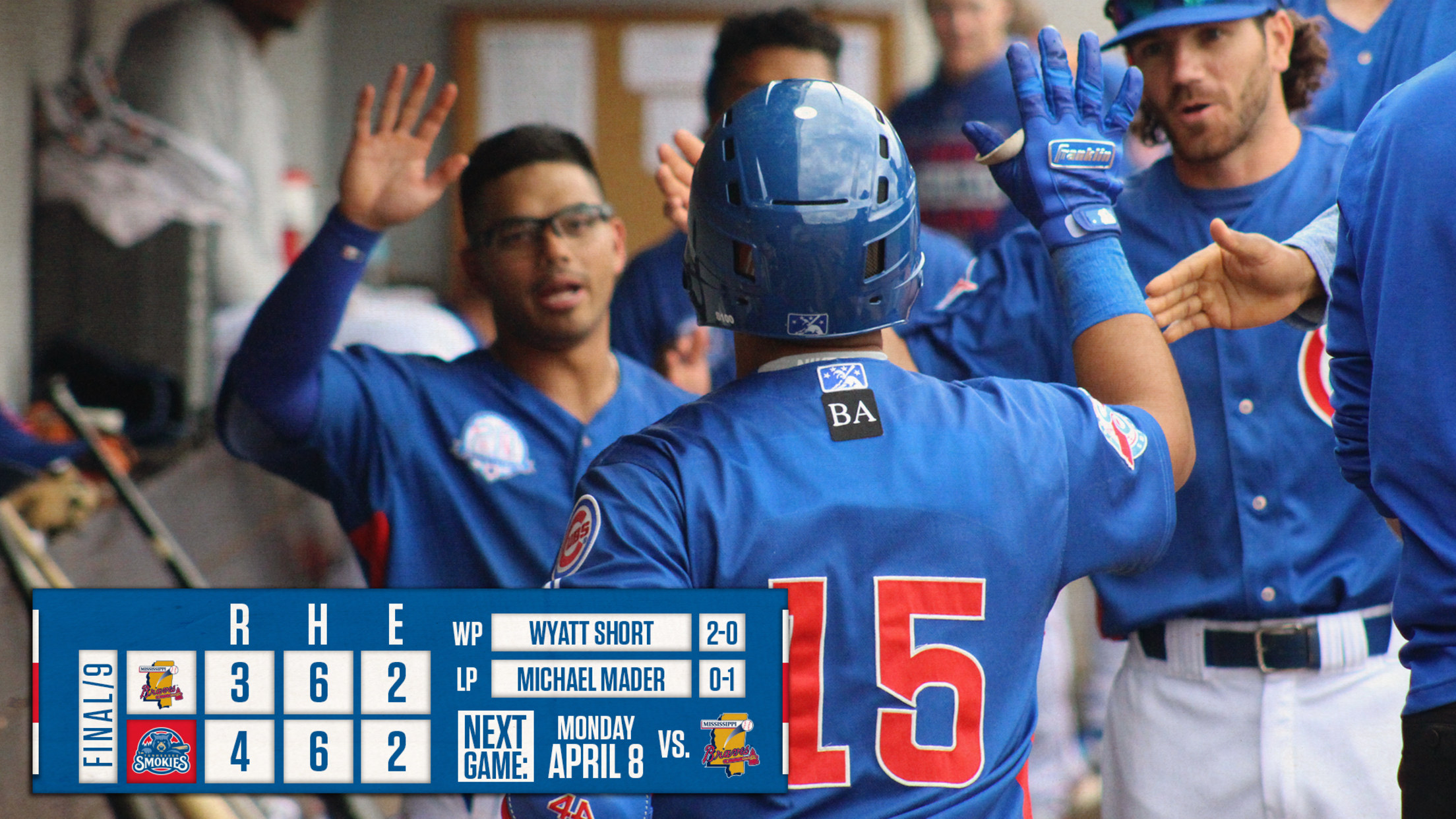 SEVIERVILLE - The Tennessee Smokies (3-1) used a three-run bottom of the eighth inning Sunday afternoon to come from behind and defeat the Mississippi Braves (1-3) at Smokies Stadium. Tennessee sent nine men to the plate in the eighth, and pinch-hitter Nico Hoerner walked with the bases loaded to force
Donahue's Pinch-Hit Double Caps Wild Win On Opening Night
Smokies Come Back From a Pair of Deficits to Down M-Braves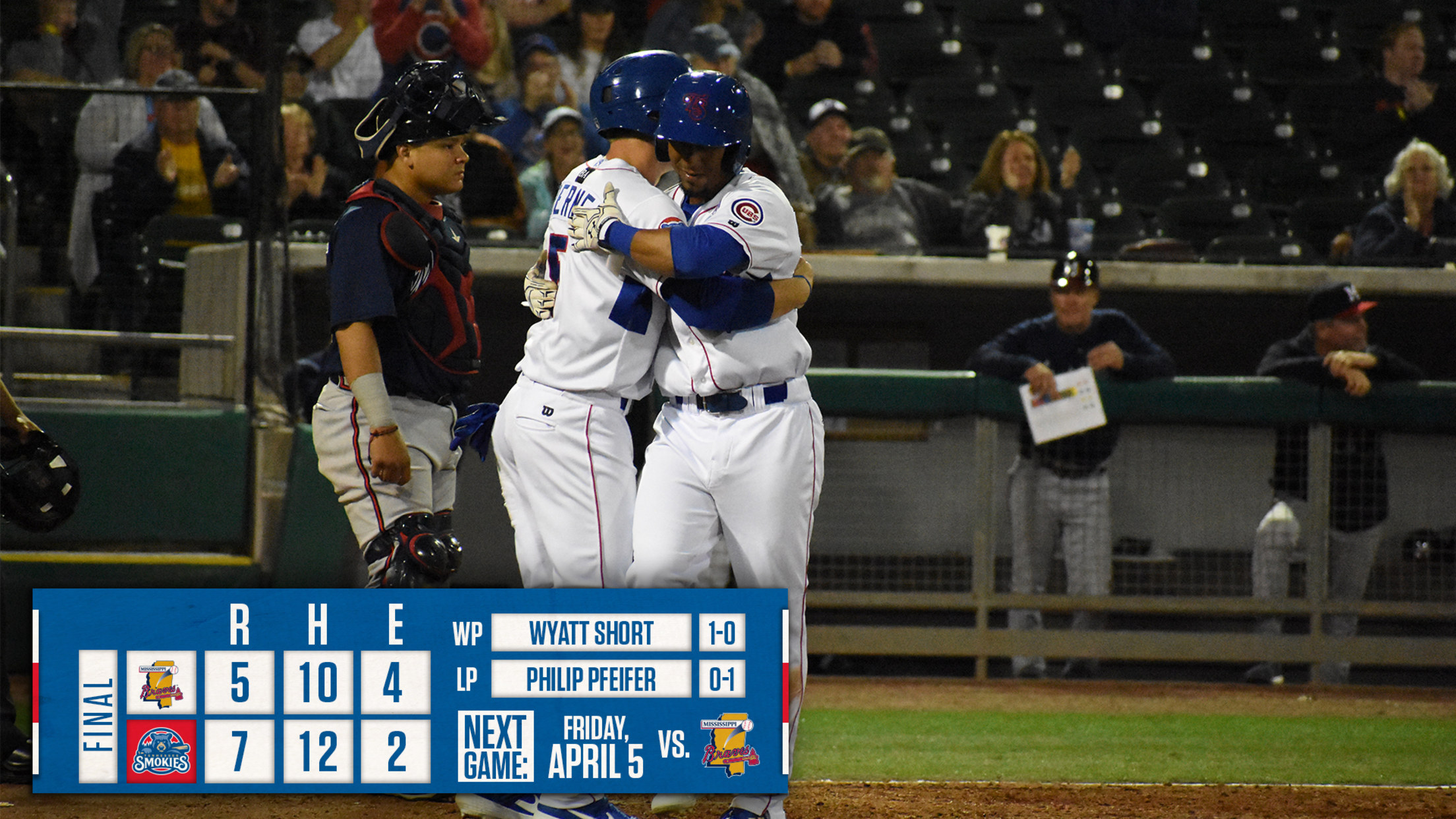 SEVIERVILLE - The Tennessee Smokies (1-0) plated runs in five of their eight innings at the plate, including three in the eighth, to defeat the Mississippi Braves (0-1) 7-5 on Thursday night's season opener. Christian Donahue's pinch-hit two-run double in the eighth off LHP Phil Pfeifer (L, 0-1) put the
Lange dominates as Birds roll 5-1
Alamo, Myers homer in victory at Salem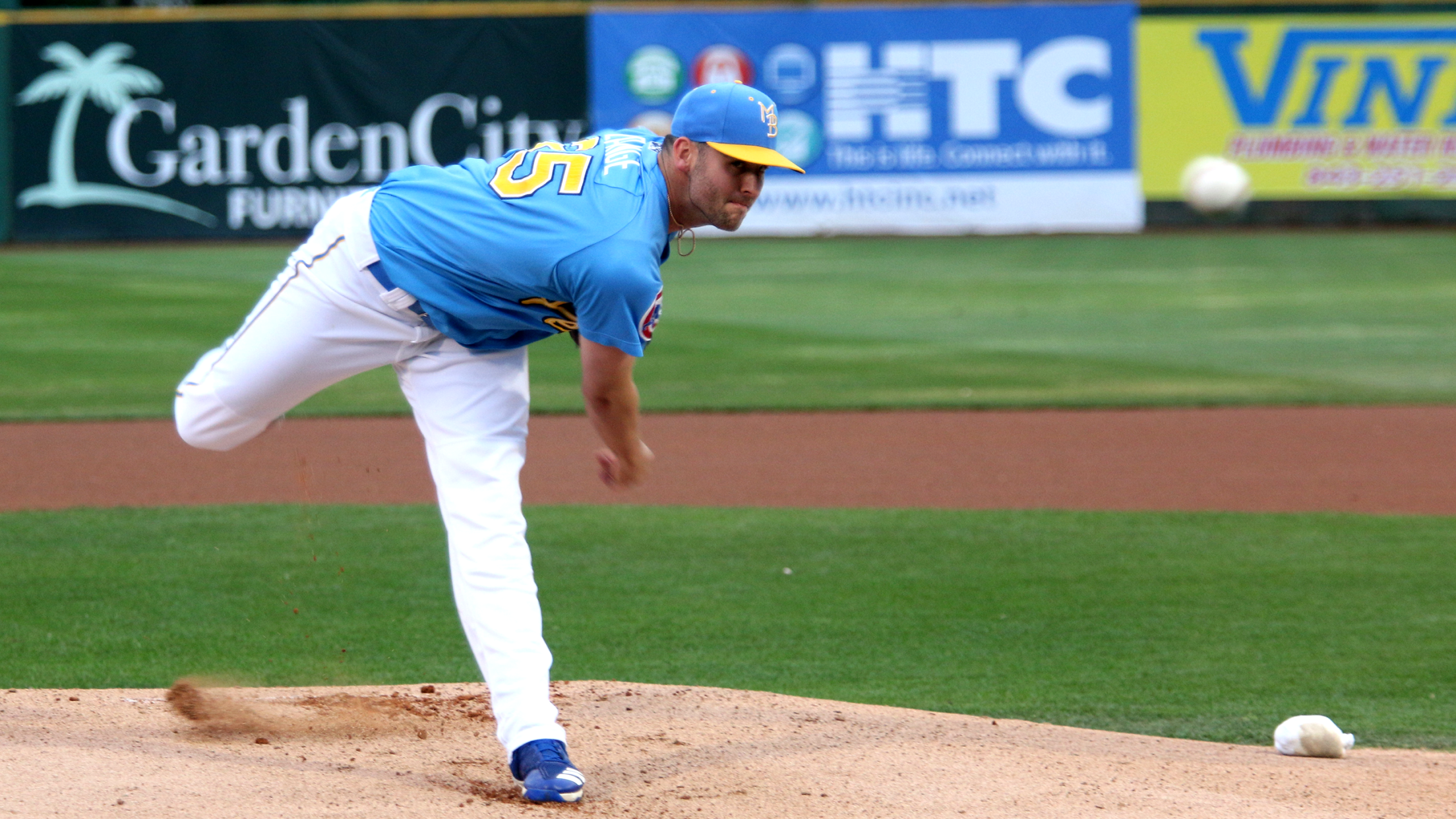 SALEM, Va. (April 28, 2018) - Myrtle Beach starter Alex Lange fired seven dominant innings and Connor Myers and Tyler Alamo each homered Saturday to lead the Pelicans to a 5-1 victory over the Salem Red Sox from Haley Toyota Field. Lange (1-0) ceded just one run on three hits in his