Prospects in the Cubs' 2020 player pool
Batterymates Marquez, Amaya open camp in South Bend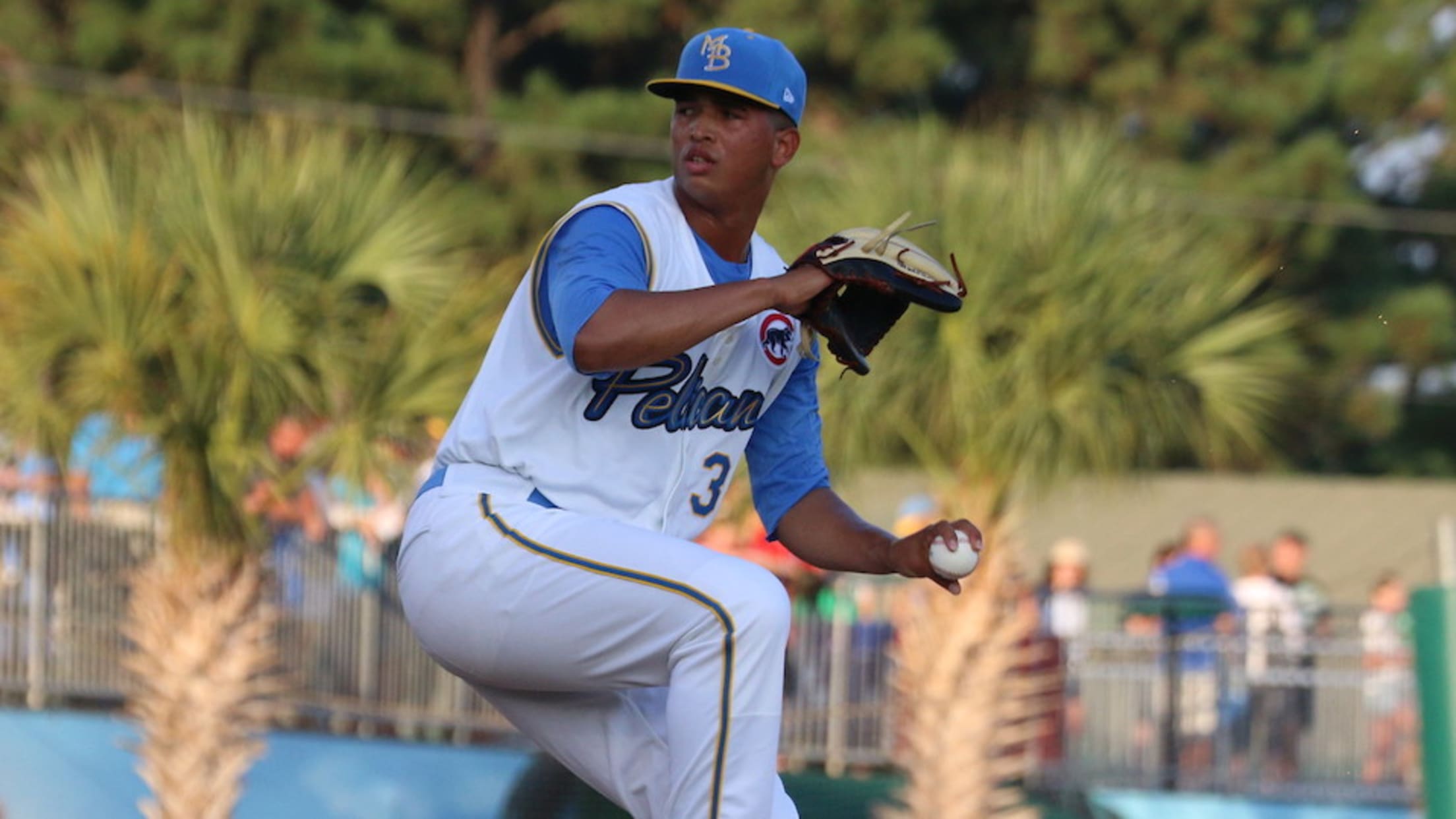 As part of the new rules for the 2020 Major League season, each of the 30 organizations will maintain a 60-man player pool for the duration of the campaign. Some members of the player pool will feature on the active Major League roster while others will work out at an
Garcia, Bailey highlight 2019 Rule 5 picks
Yankees hurler, Astros righty join Tigers, Orioles with first picks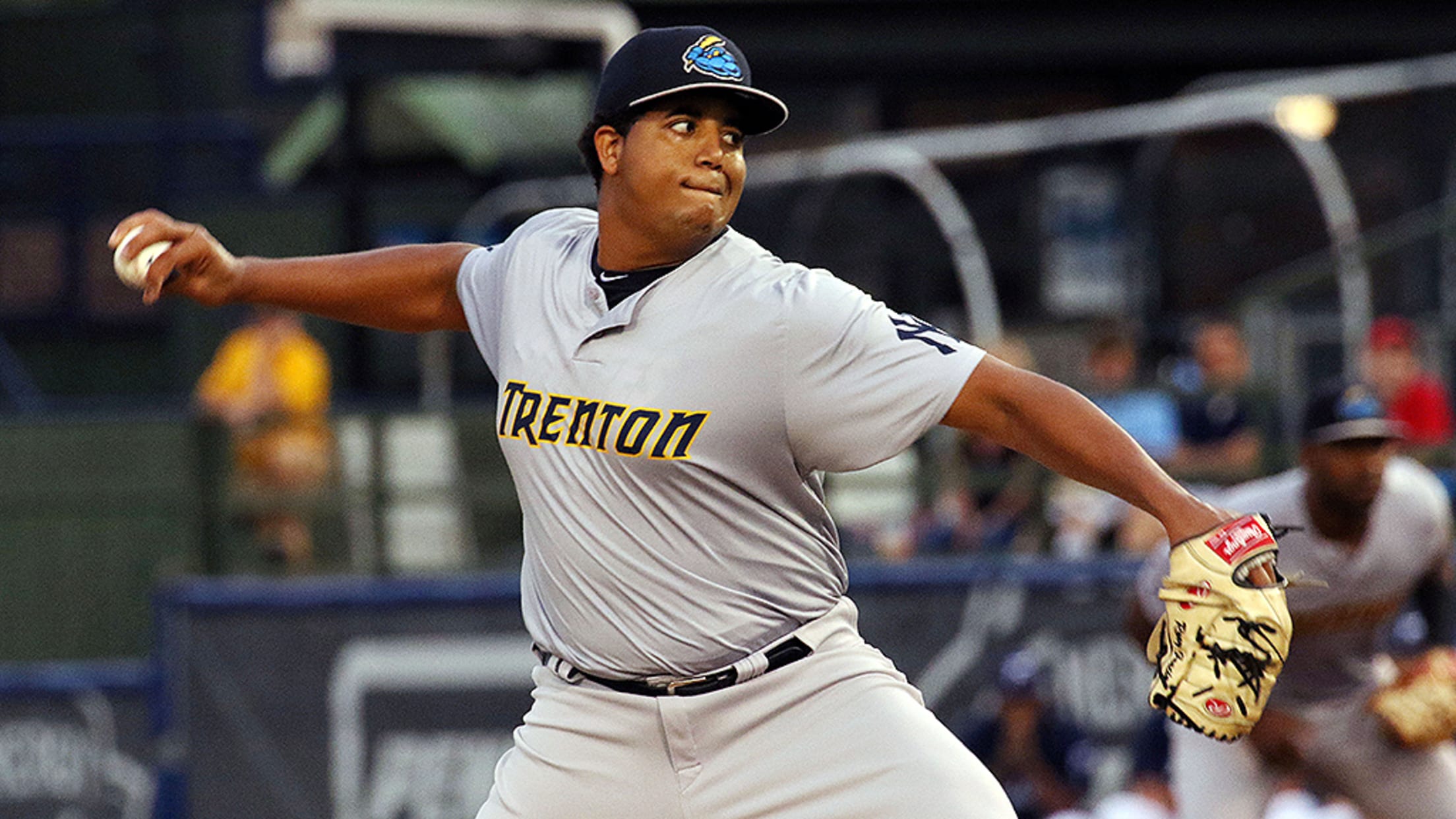 SAN DIEGO -- Eleven Minor Leaguers moved to new organizations Thursday with newfound hope of cracking a Major League roster.The Tigers selected Yankees right-hander Rony Garcia with the first overall pick in the 2019 Rule 5 Draft at the Winter Meetings in San Diego. Astros righty Brandon Bailey went to
Effross And Rucker Blank Lookouts 1-0
Smokies Snap Six-Game Skid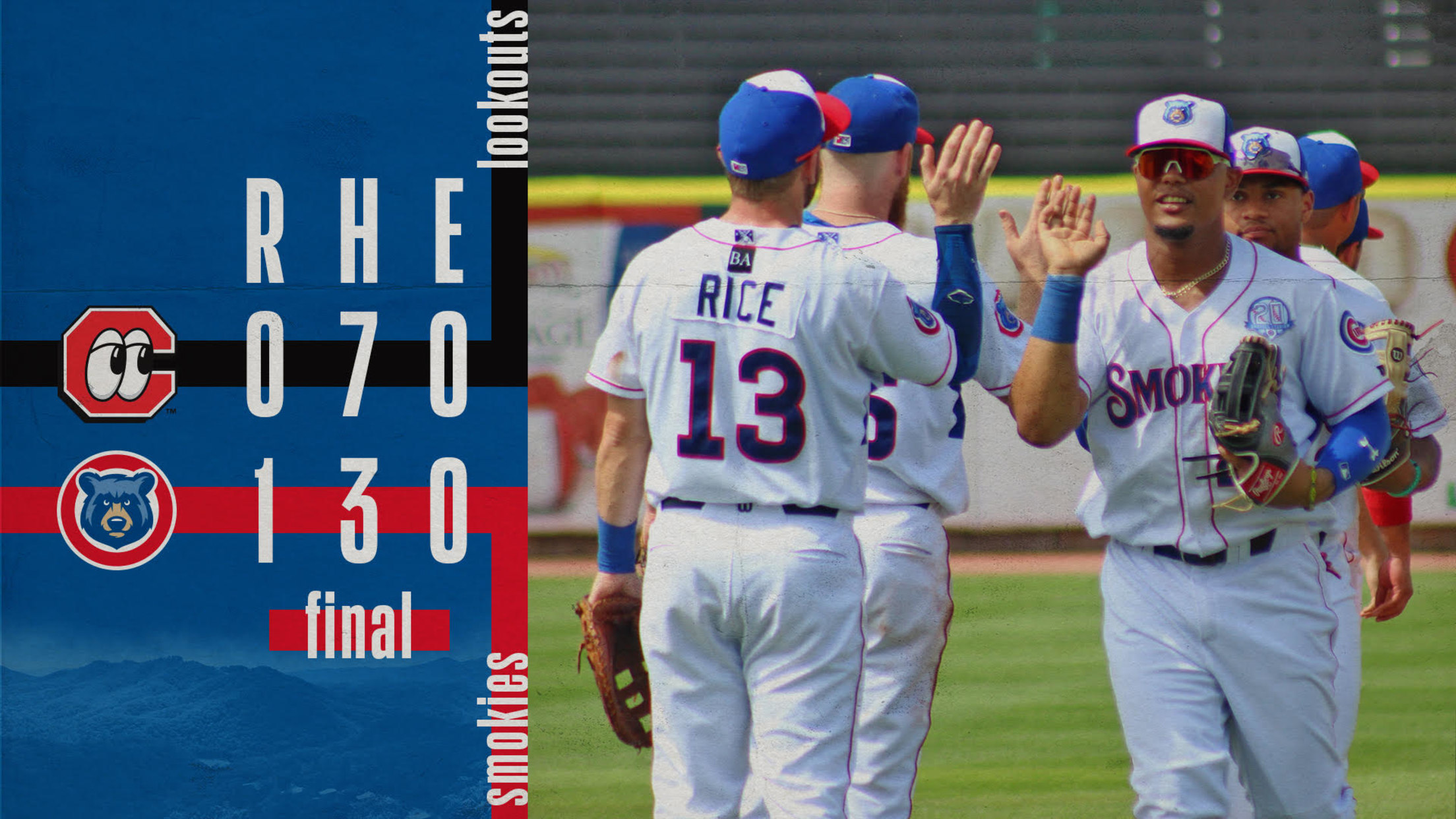 KODAK - Tennessee Smokies (29-33) shut out the Chattanooga Lookouts (34-27) 1-0 Sunday afternoon at Smokies stadium to end their six-game losing streak. In his first start with the Tennessee Smokies RHP Scott Effross (W, 1-2) threw a gem. He tossed a career high five innings and did not allow a
Smokies Hurl Combined No-Hitter in Exhibition Tune-Up
Hoerner Collects a Pair of Hits, While Pitching Staff Strikes Out 13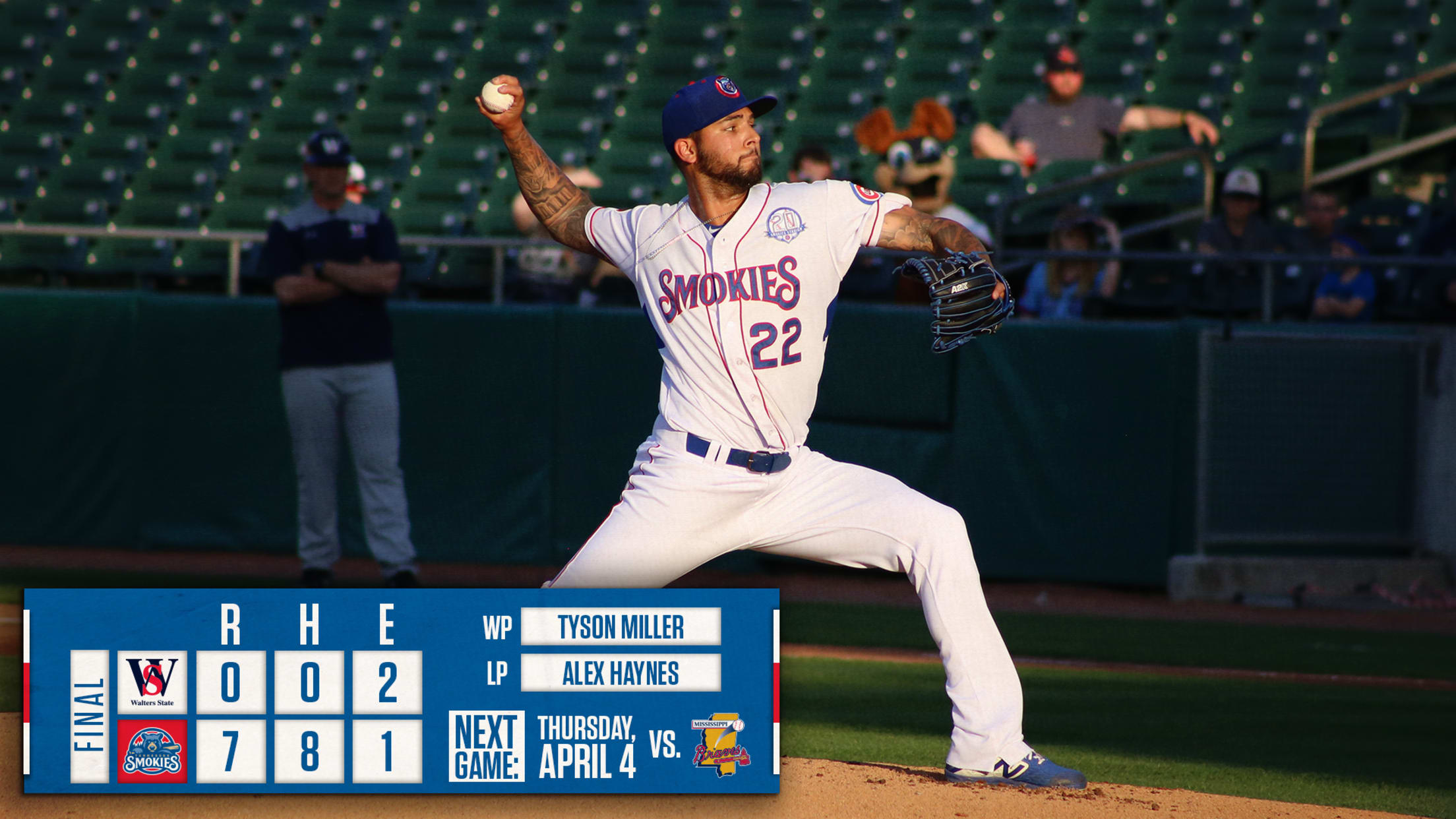 The Tennessee Smokies pitching staff fired a seven-inning no-hitter as part of a 7-0 victory over Walters State in their final tune up before Thursday's regular season opener. RHP Tyson Miller, RHP Michael Rucker, LHP Manuel Rondon and RHP Zach Hedges combined to strike out 13 batters in the shortened
Cubs Prospect Primer: Righties get ready
Albertos, Maples, Rucker on the rise along with catcher Caratini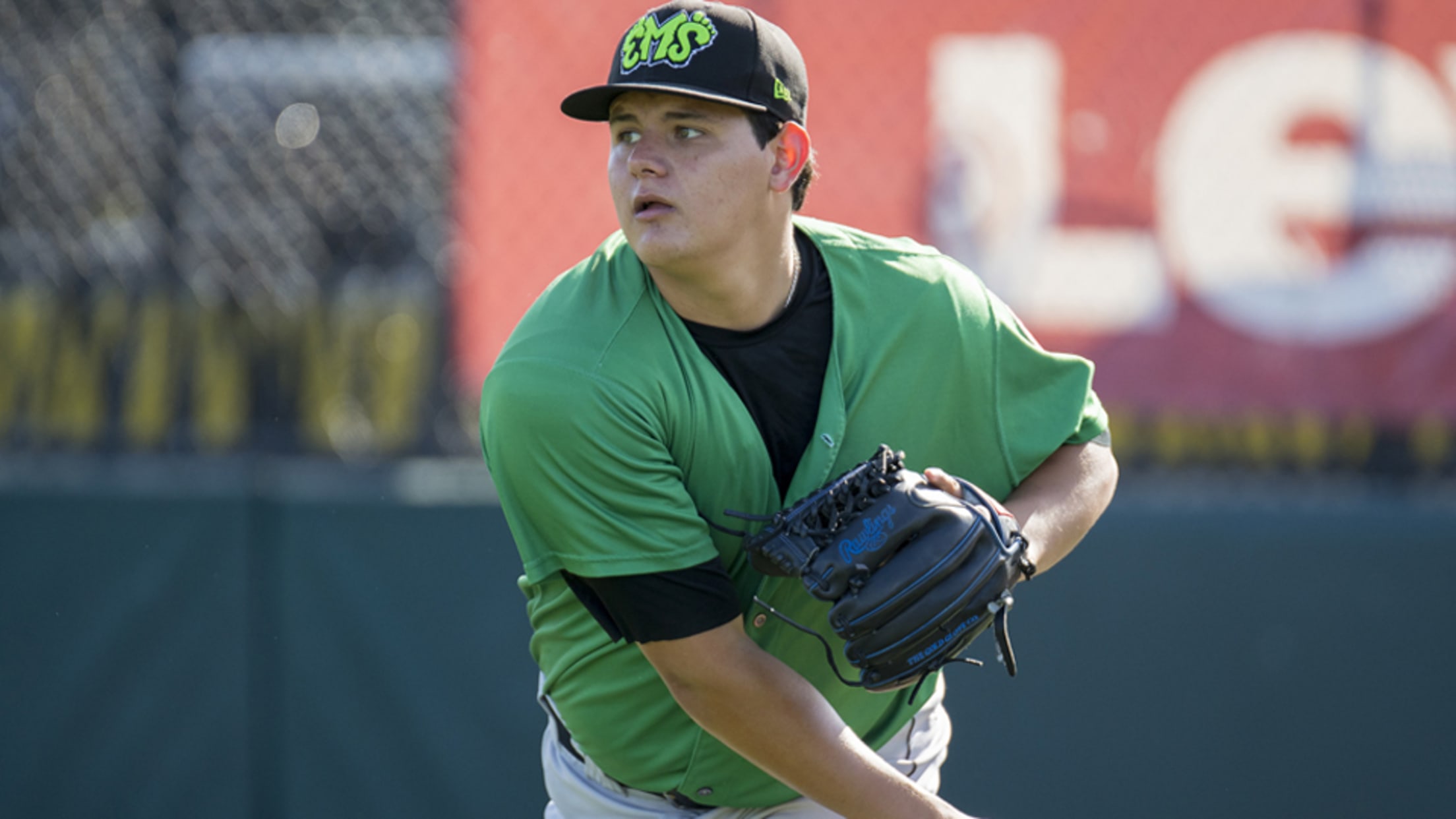 Some players are on the verge of stardom, others are entering a crucial phase of their development and still others are getting their first tastes of full-season ball. With the 2018 season approaching, MiLB.com takes a look at the most intriguing prospects from each MLB organization.Full-season debutant: Jose Albertos, RHPAfter
Birds' offense labors in Game 1 of SDCS
Down East takes 1-0 lead in SDCS with 4-1 win over Myrtle Beach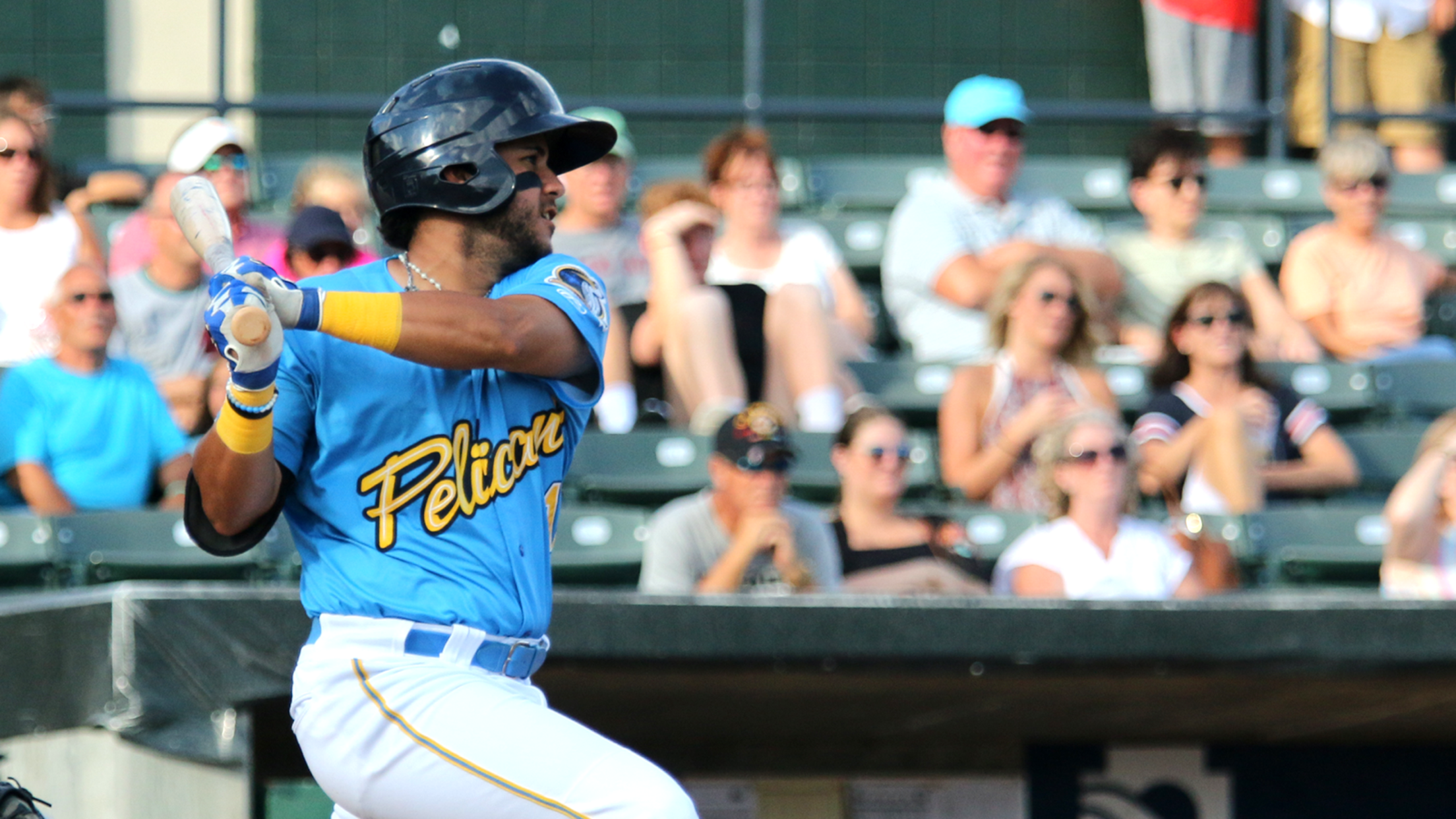 KINSTON, N.C. (September 7, 2017) - Vimael Machin recorded three hits for the Myrtle Beach Pelicans on Saturday despite their 4-1 loss to the Down East Wood Ducks in Game 1 of the Southern Division Championship Series from Grainger Stadium.Matt Lipka kicked off the scoring for Down East (1-0) in
Short reaches base six times in 9-2 win
Myrtle Beach matches season-high with 17 hits in victory over Buies Creek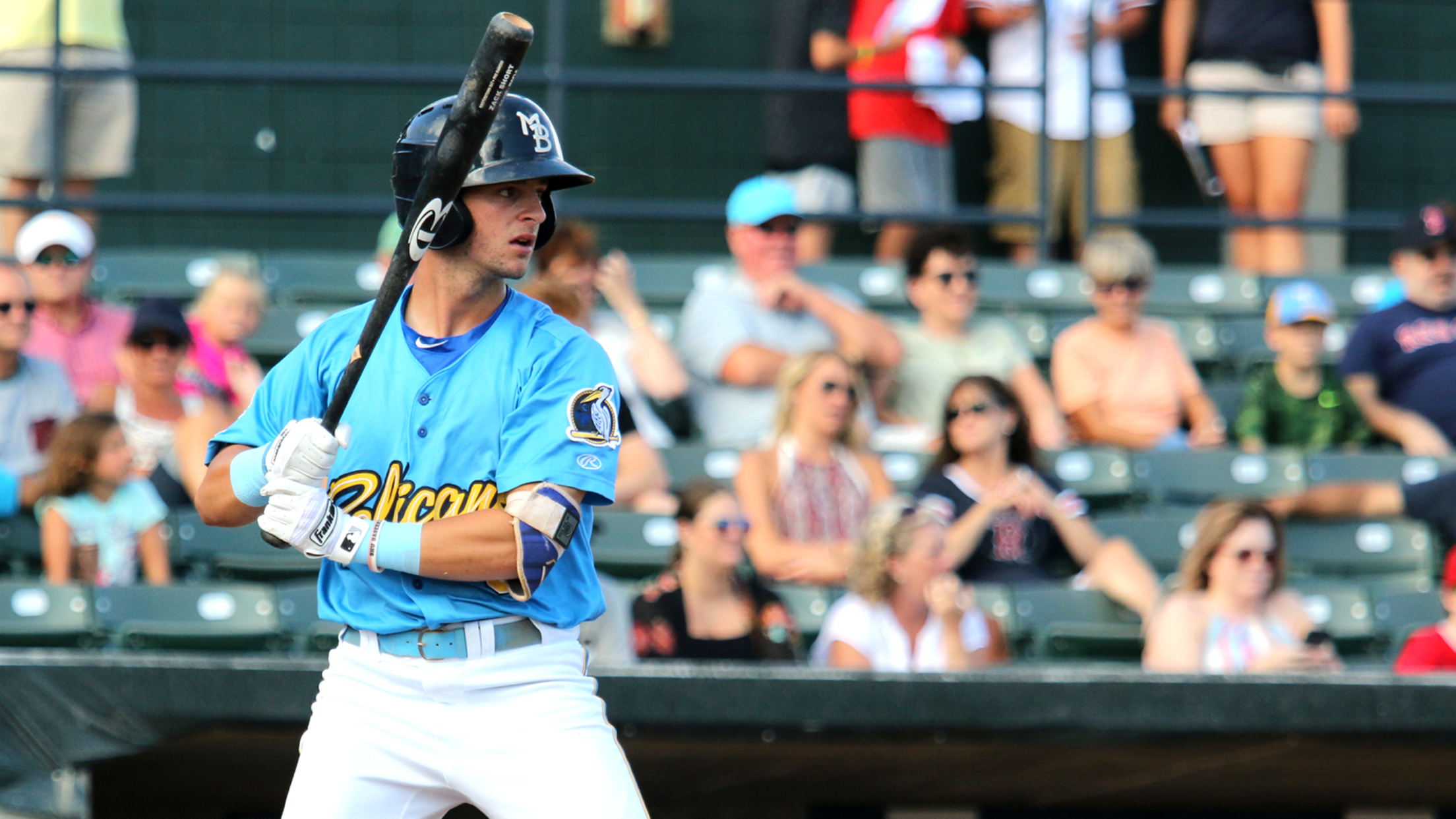 LILLINGTON, N.C. (August 31, 2017) - The Myrtle Beach Pelicans matched a season-high with 17 hits in their 9-2 rubber match victory over the Buies Creek Astros on Thursday afternoon from Jim Perry Stadium.With the game scoreless through two innings, Myrtle Beach (73-63, 30-36) broke through in the third against Buies
Pelicans downed in series opener against Mudcats
Myrtle Beach's late rally not enough in 10-5 loss to Carolina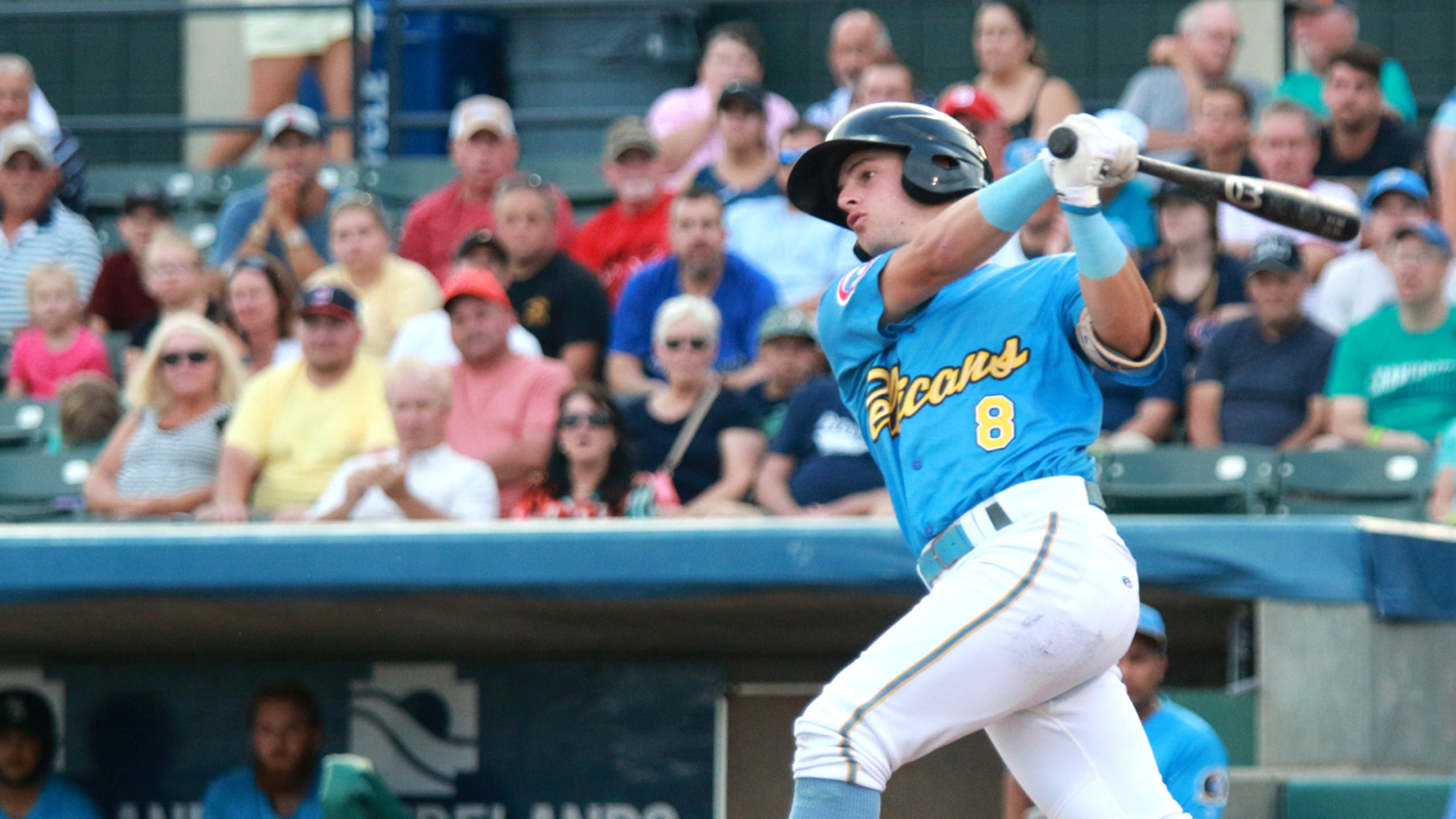 MYRTLE BEACH, S.C. (August 25, 2017) - The Myrtle Beach Pelicans stumbled on Friday night despite a three-hit evening from Zack Short , falling to the Carolina Mudcats by a score of 10-5 from TicketReturn.Com Field. With the game scoreless in the top of the third inning, Carolina (65-64, 29-32) plated a
Pelicans' winning streak snapped in 4-1 loss
Winston-Salem starter Alec Hansen stifles Myrtle Beach's offense in defeat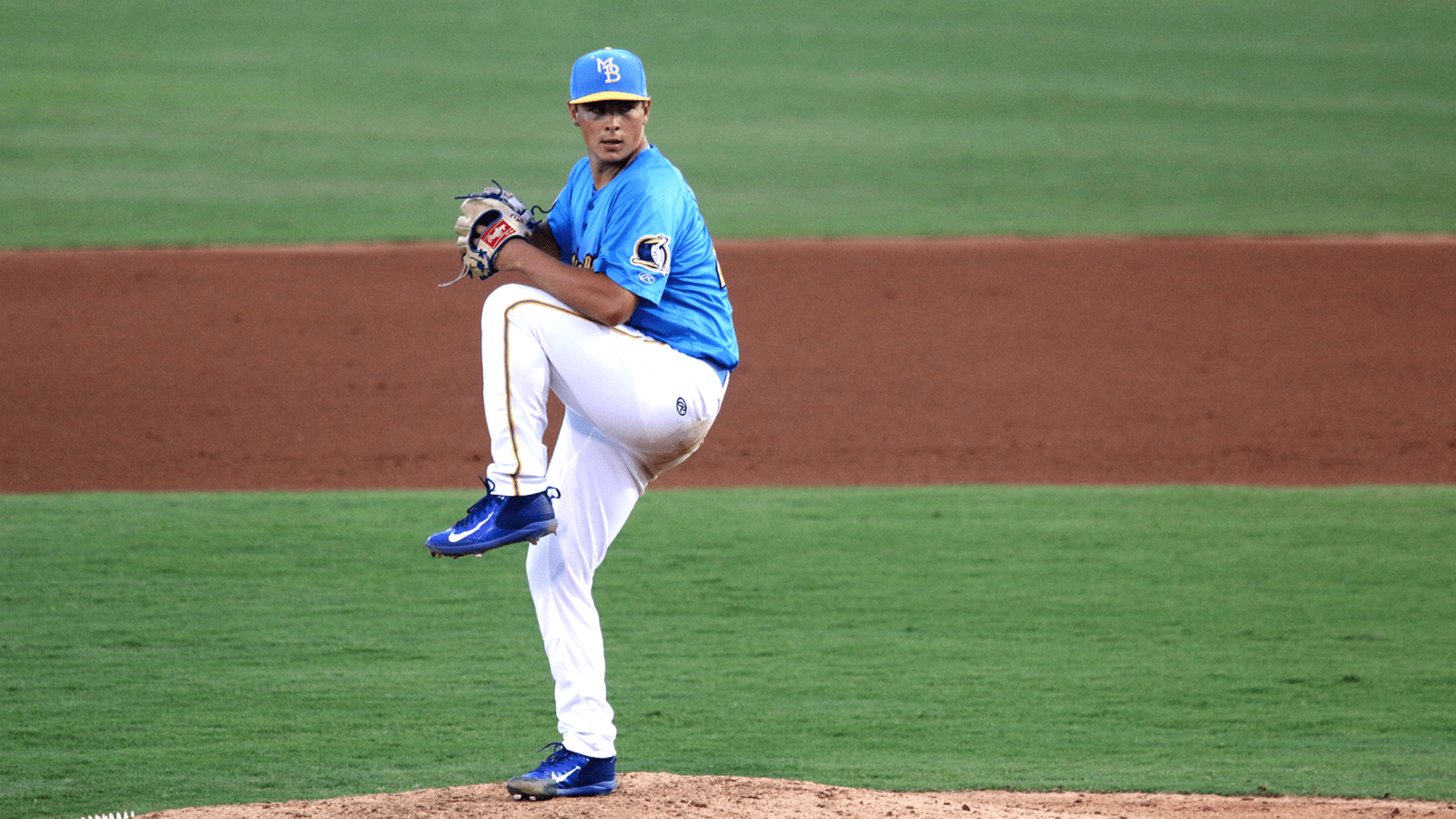 WINSTON-SALEM, N.C. (August 16, 2017) - Mike Rucker struck out nine batters over six innings on Wednesday night, but the Myrtle Beach Pelicans fell 4-1 to the Winston-Salem Dash at BB&T Ballpark. With the score tied at one in the third inning, Winston-Salem (49-74, 25-28) took their first lead of the game against
Birds can't halt skid in 4-1 loss
Myrtle Beach drops their fifth straight game in the series opener against Carolina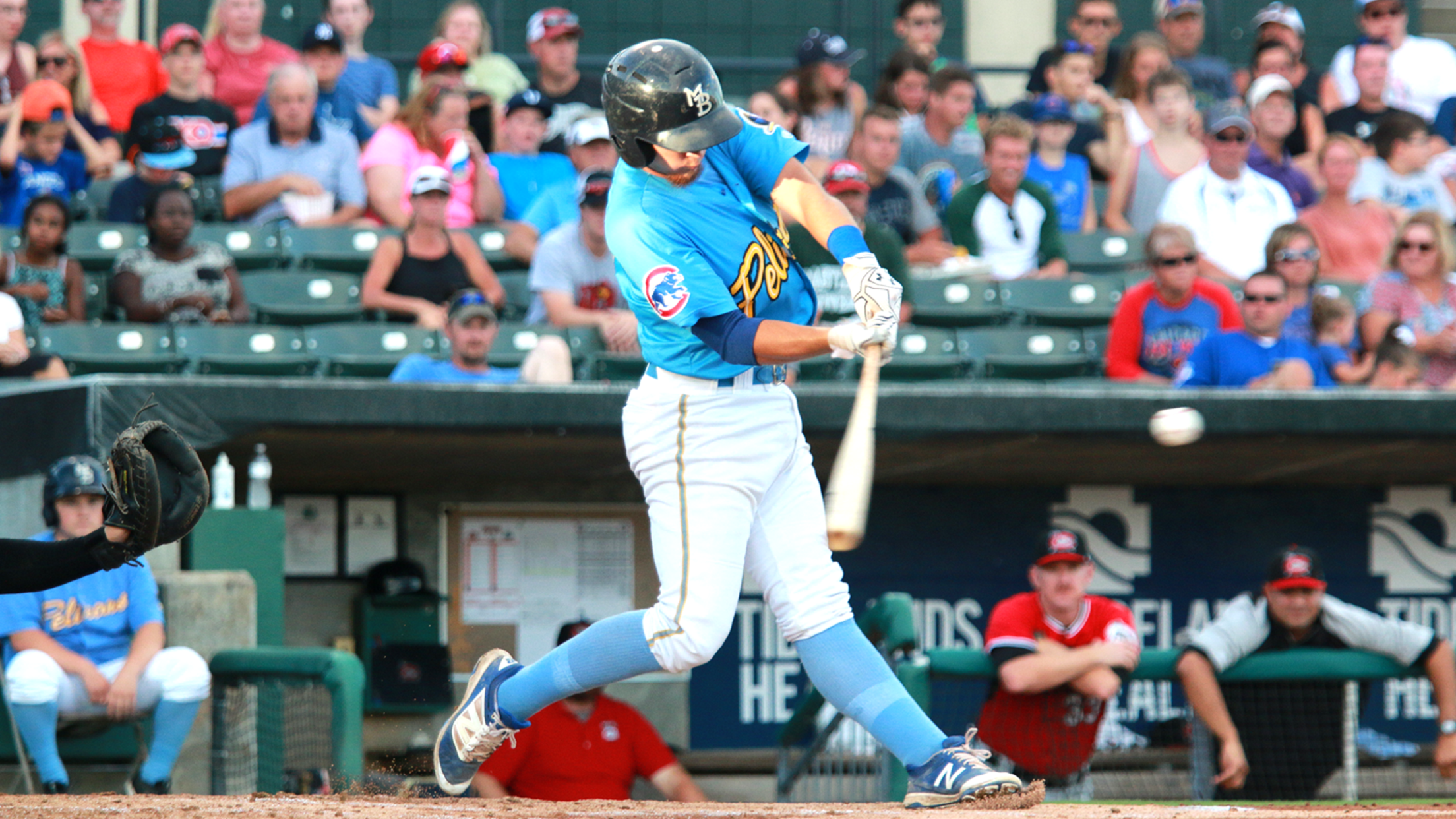 MYRTLE BEACH, S.C. (August 11, 2017) - P.J. Higgins' first inning solo home run proved not to be enough Friday as the Myrtle Beach Pelicans' losing streak tied a season-high five-games following their 4-1 defeat to the Carolina Mudcats in front of 5,177 fans from TicketReturn.Com Field at Pelicans Ballpark. With the Pelicans
Myers, Paula help Birds salvage set
Pelicans notch 6-1 victory at Frederick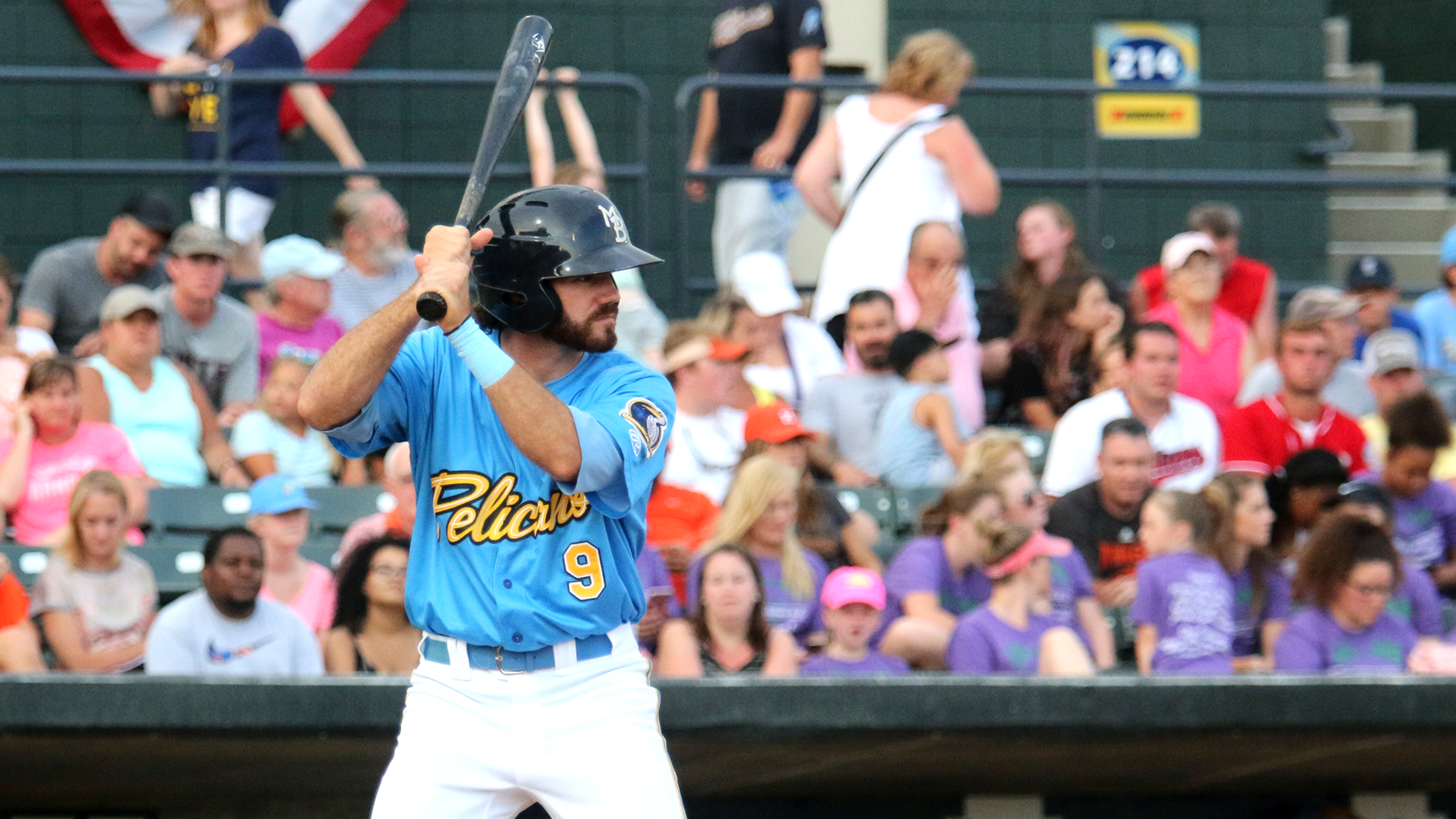 Rucker again reels in Pitcher of the Week
Myrtle Beach righty struck out 17 across two scoreless starts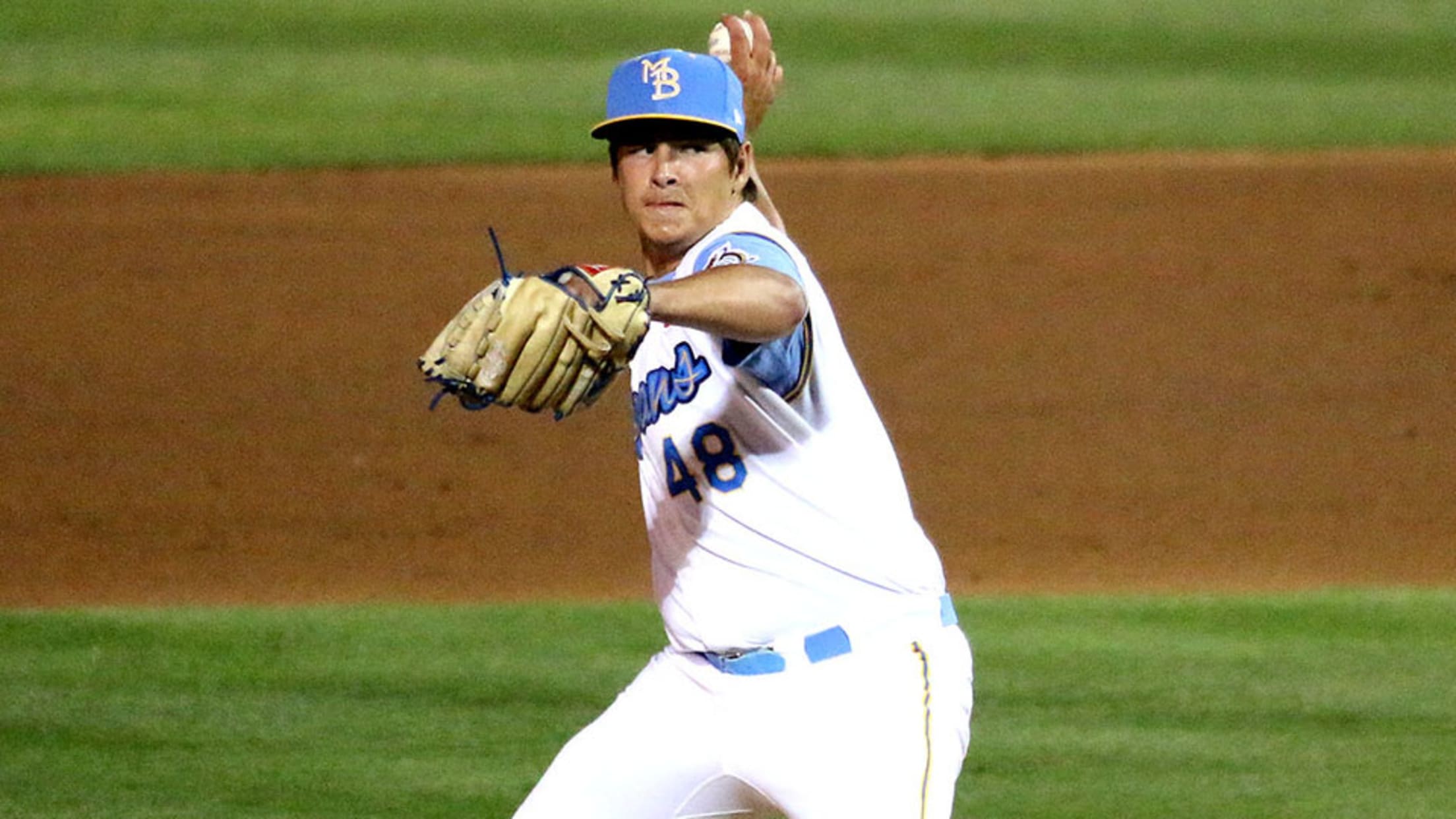 Michael Rucker's third straight scoreless outing helped him earn his second straight award.The Cubs prospect turned in a pair of gems to repeat as Carolina League Pitcher of the Week.
Birds blank Woodies behind stellar start from Rucker
Rucker tosses five shutout innings in Myrtle Beach's 2-0 win over Down East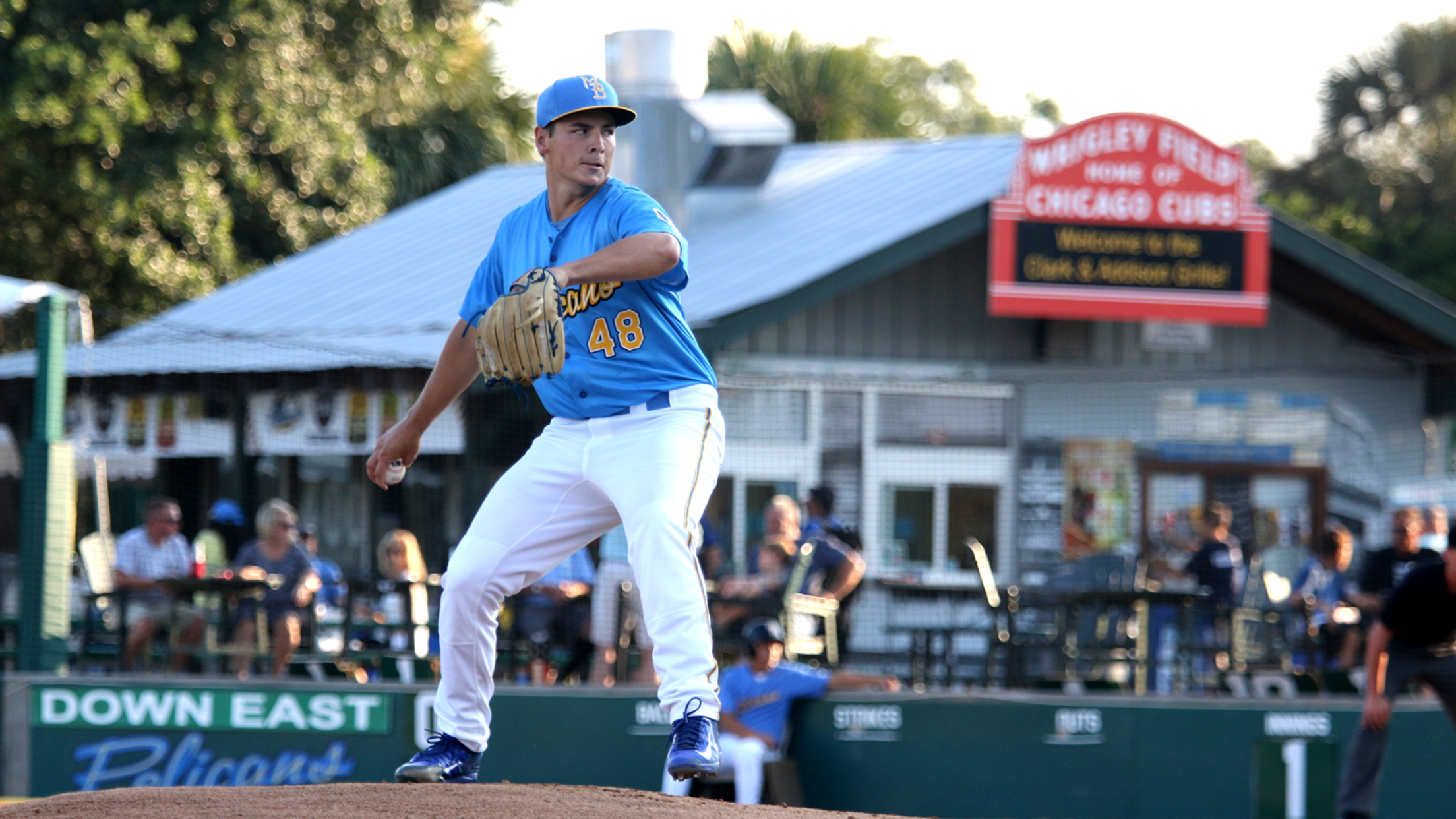 MYRTLE BEACH, S.C. (July 22, 2017) - Mike Rucker extended his scoreless streak to 20 innings with five shutout frames Saturday in the Myrtle Beach Pelicans' 2-0 win over the Down East Wood Ducks from TicketReturn.Com Field at Pelicans Ballpark. Rucker (3-2) dominated for Myrtle Beach (55-43, 12-16), as the right-hander tossed five
Rucker retires 21 straight for Pelicans
Cubs righty strikes out career-high 10 in longest career outing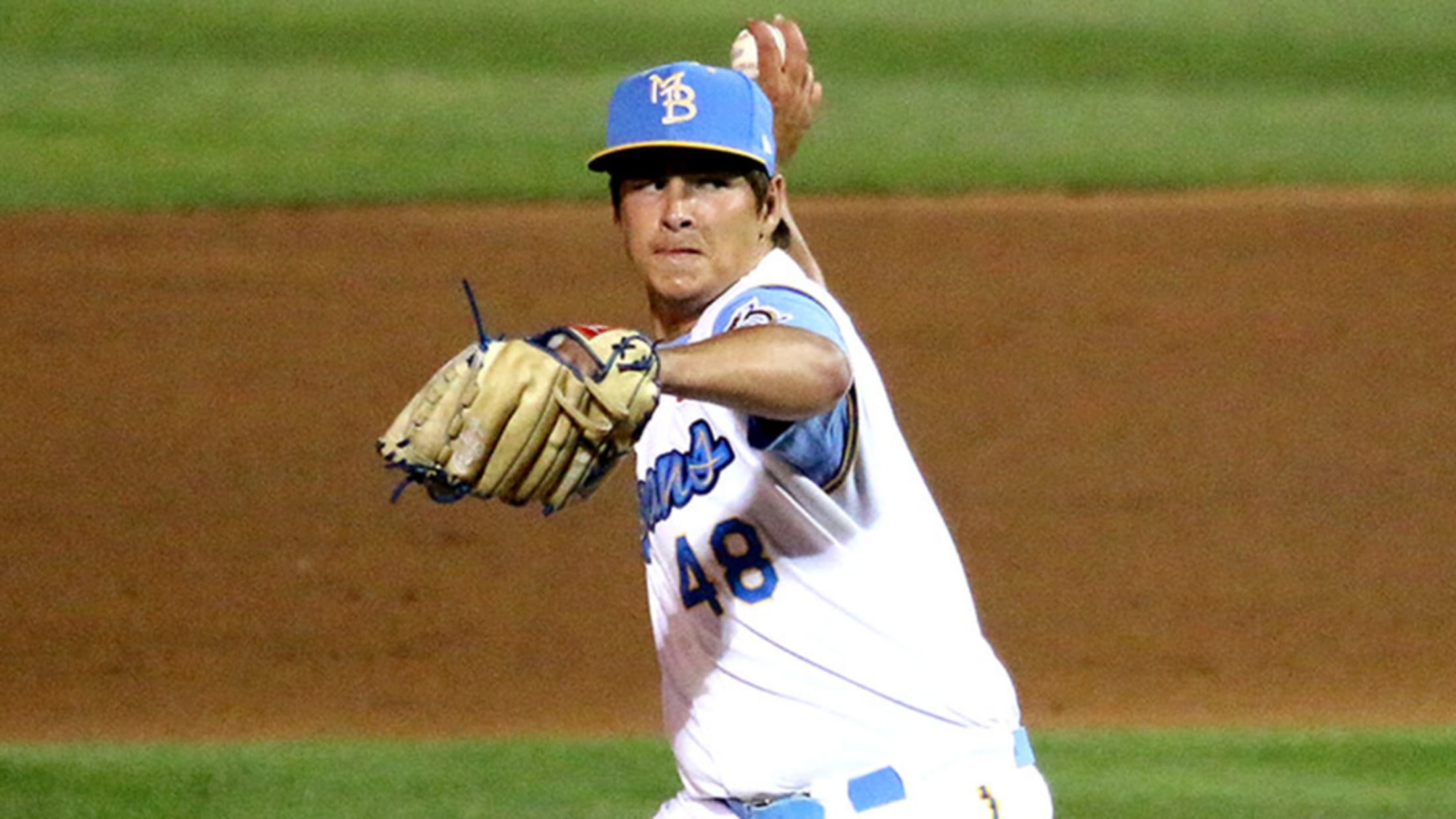 Getting back in the groove of being a starter isn't always easy, but Michael Rucker thinks he's right there.The newly crowned Carolina League Pitcher of the Week worked into the eighth inning for the first time in his career Monday, striking out a career-high 10 while allowing two hits over
Rucker's career night leads Birds in game two win
Myrtle Beach outlasts Buies Creek 2-0 in finale of de facto doubleheader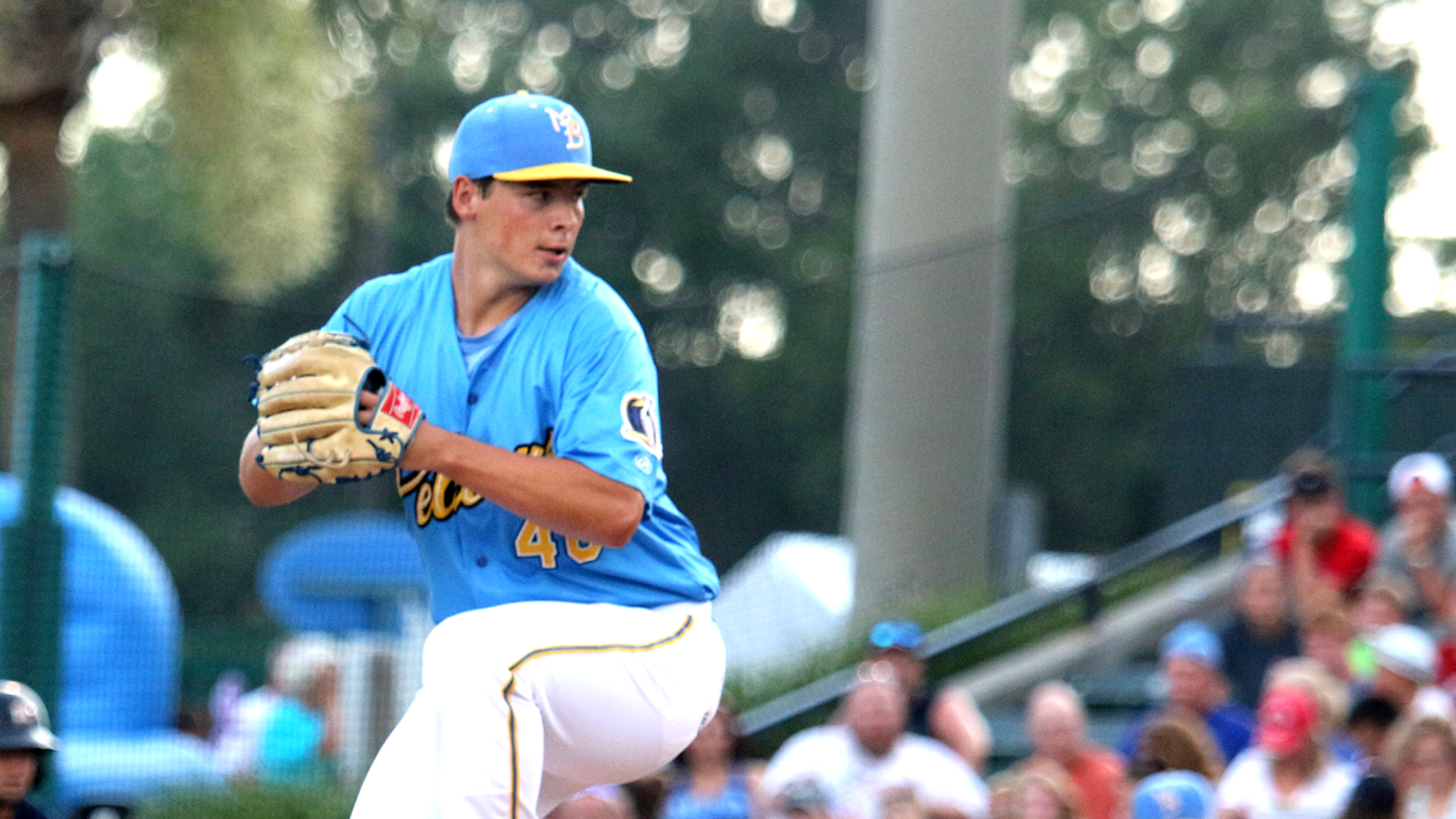 LILLINGTON, N.C. (July 17, 2017) - Mike Rucker dominated in the finale of Monday's de facto doubleheader, as he struck out a career-high ten batters over eight shutout innings in Myrtle Beach's 11-inning 2-0 victory over the Buies Creek Astros, which followed the Pelicans' 5-4 loss in the completion of
BayBears' Long leads Pitchers of the Week
Angels right-hander recorded 15 K's over 12 scoreless innings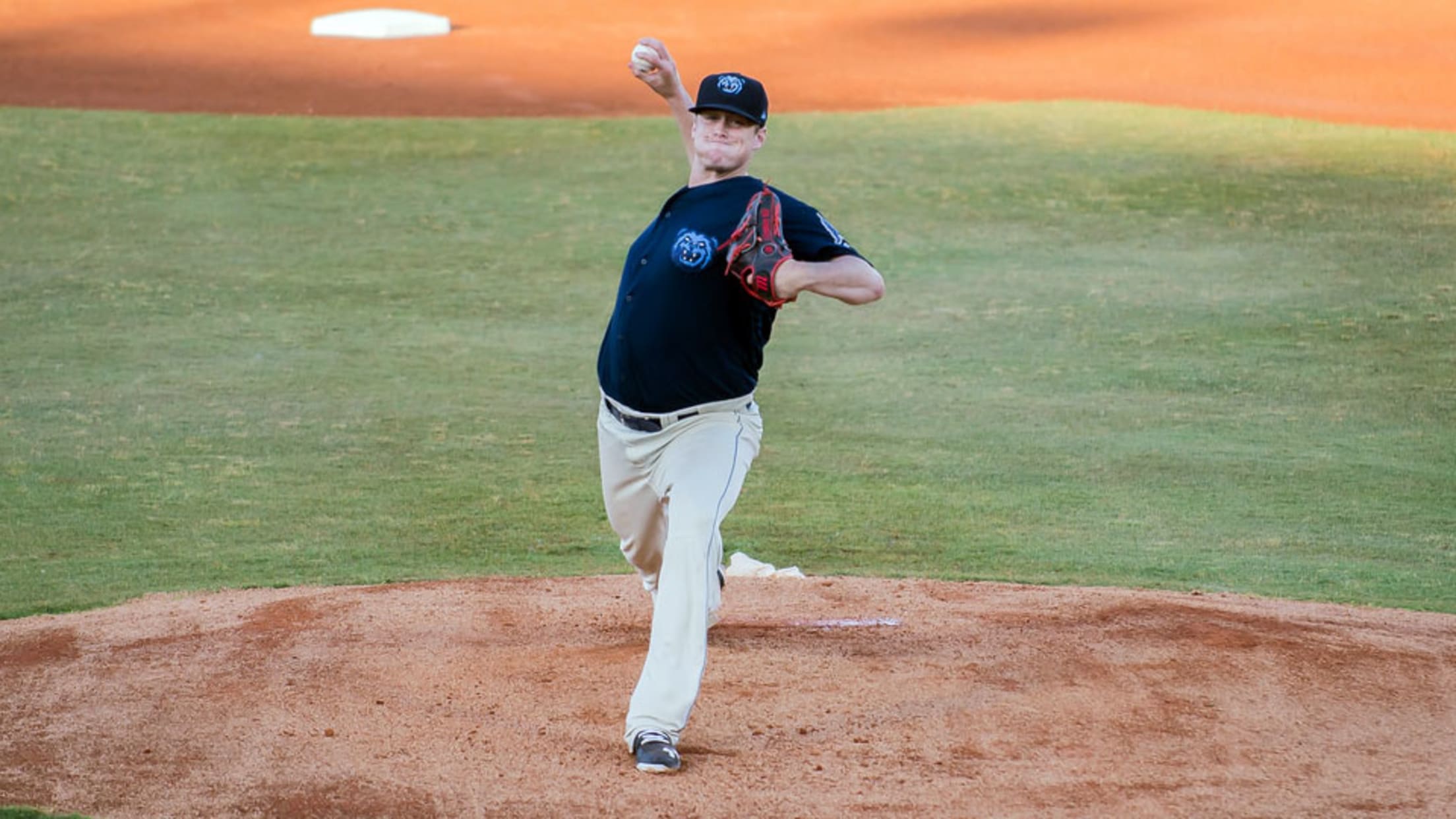 Grayson Long has been in the zone for the last month with Double-A Mobile, and it's not gone unnoticed. "He doesn't get rattled," BayBears manager Sal Fasano said. "He's able to execute his pitches with restraint and not pitch with too much emotion."
Rucker earns Carolina League Pitcher of the Week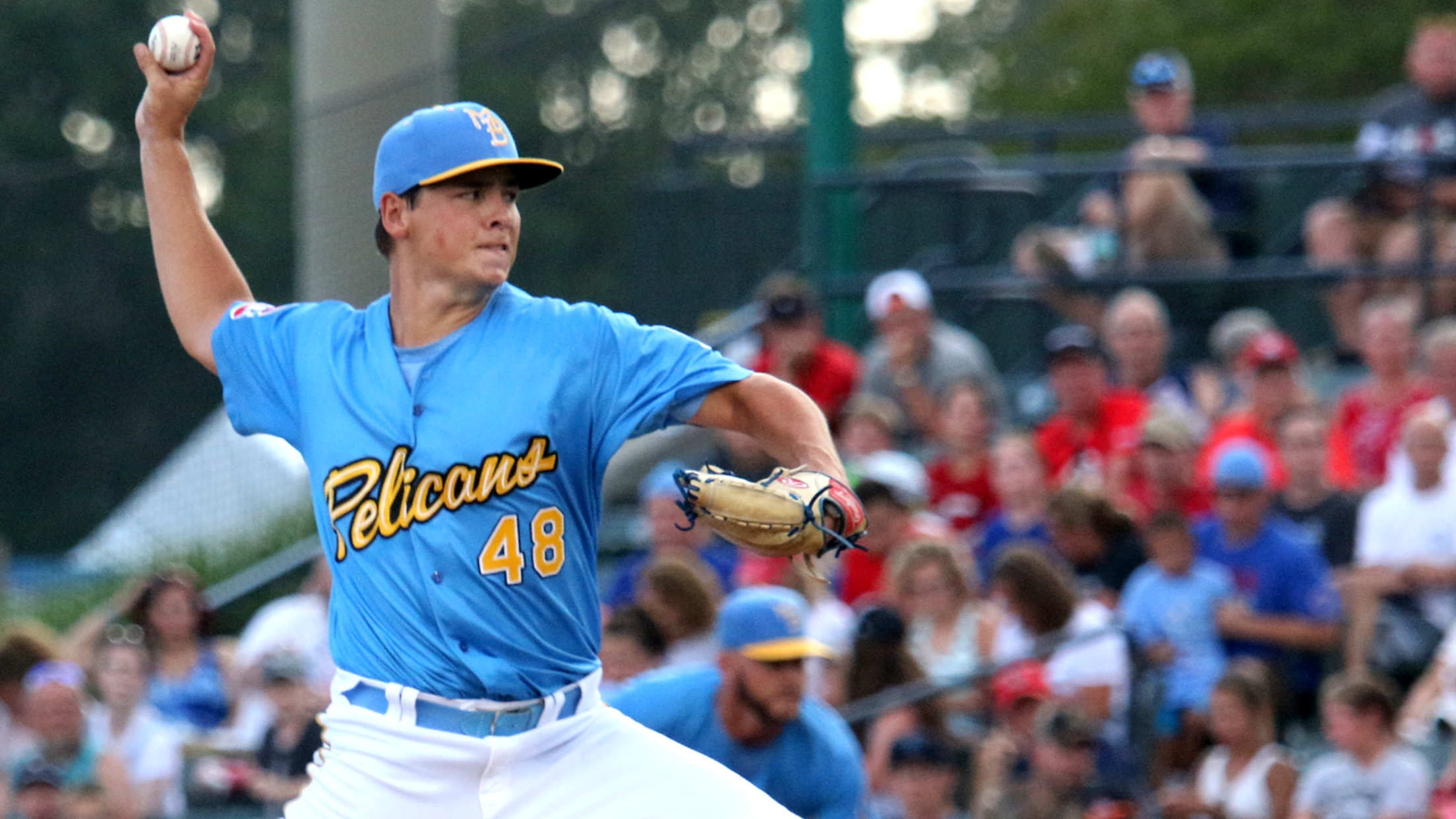 MYRTLE BEACH, S.C. (July 17, 2017) - Myrtle Beach Pelicans right-hander Mike Rucker has been named the Carolina League Pitcher of the Week for the week of July 10-16, the league office announced Monday. Rucker is the first Pelican to earn a weekly honor in 2017.A native of Lake Tapps, Wash., Rucker carried
Pelicans' Rucker takes no-no into seventh
Cubs prospect strikes out seven, turns in longest outing as a pro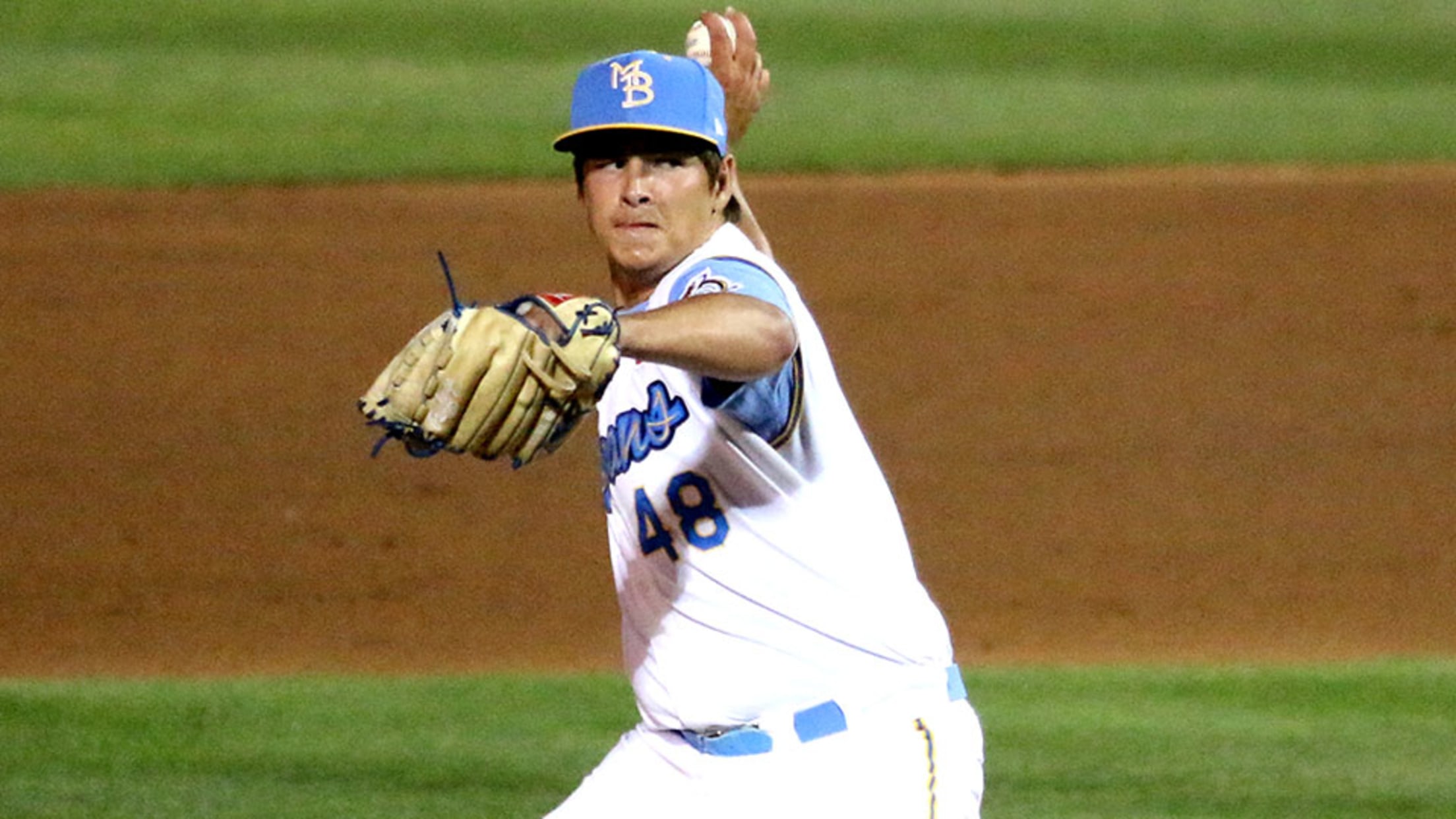 Michael Rucker cruised early on Wednesday, but it wasn't until the middle innings that it hit him he was having a career night."I've only gone six [innings] professionally once, [and I've] gone five several times," the 23-year-old right-hander said. "Getting to that point, seeing guys a couple times, I wanted
Rucker flirts with no-hitter in win over Dash
Right-hander fires seven strong frames in 2-0 victory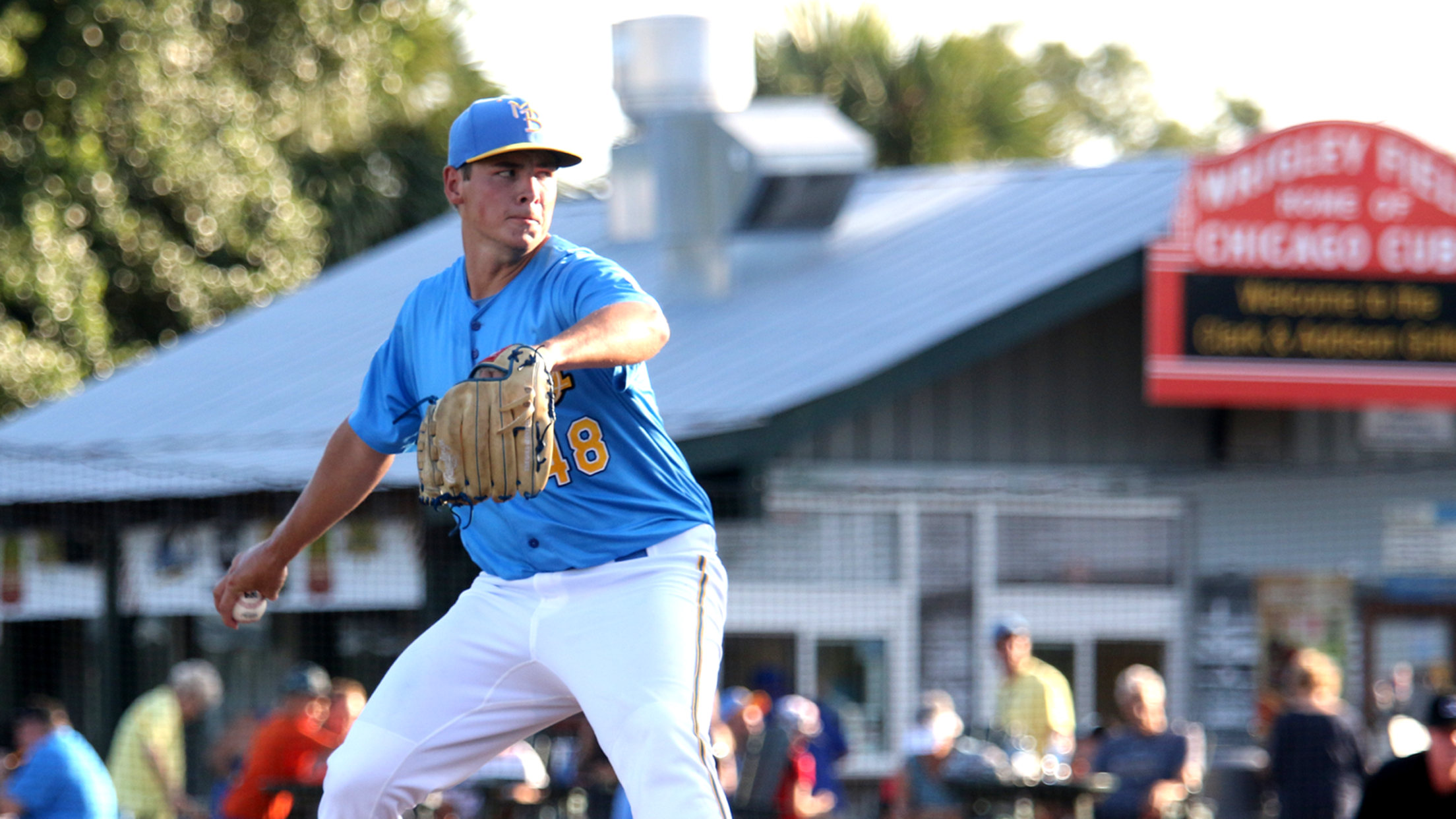 MYRTLE BEACH, S.C. (July 12, 2017) - Mike Rucker twirled seven shutout innings Wednesday to help lead the Pelicans to their 11th shutout win of the season in Myrtle Beach's 2-0 victory over Winston-Salem from TicketReturn.Com Field at Pelicans Ballpark. Rucker (2-2) dominated for Myrtle Beach (51-38, 8-11), holding Winston-Salem (33-57,
Myrtle Beach drops pitchers' duel to Down East
Pelicans fall 2-1 to Wood Ducks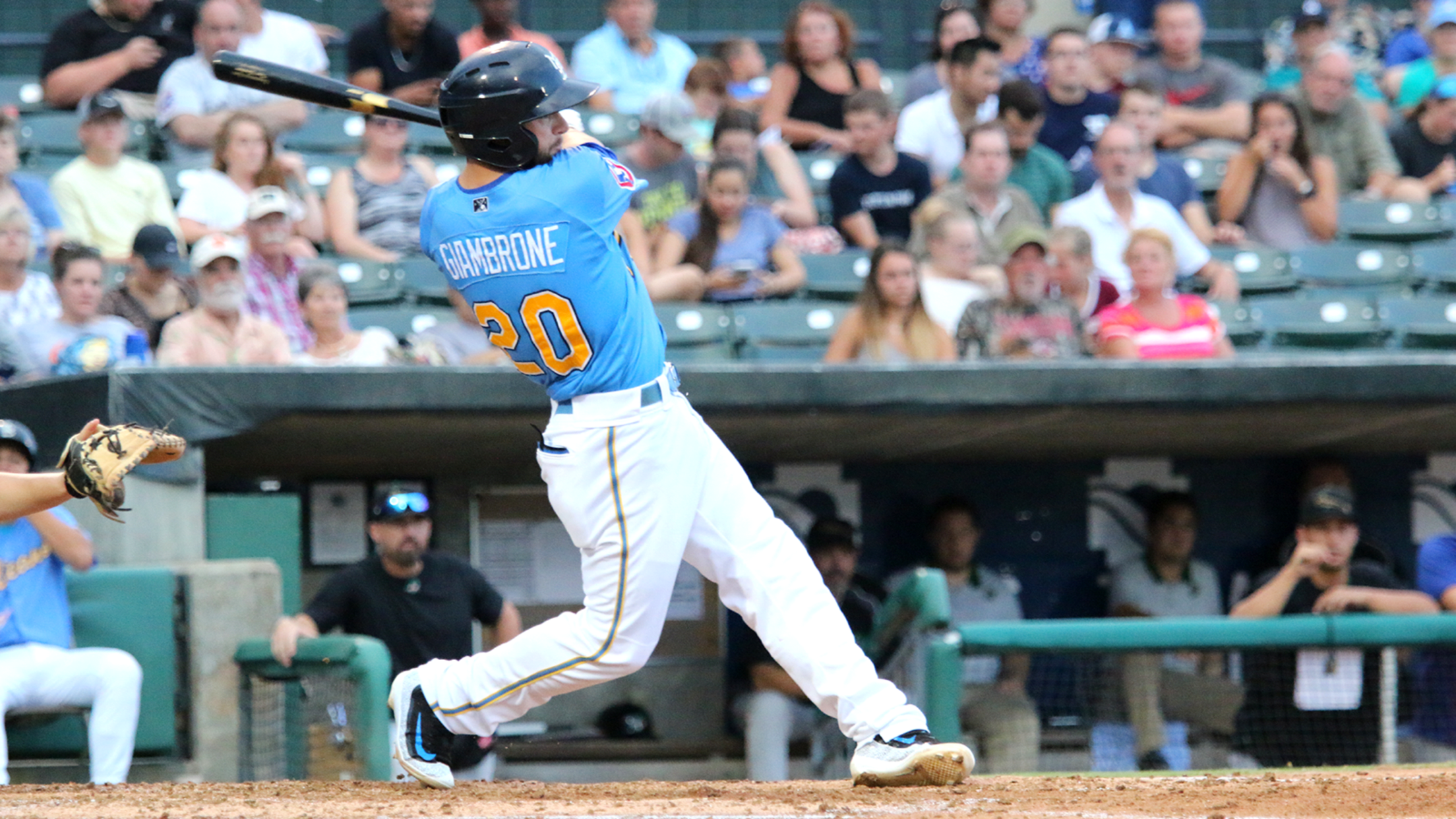 MYRTLE BEACH, S.C. (June 24, 2017) - Myrtle Beach was unable to get the offense going in a pitchers' duel that saw Mike Rucker toss five shutout innings for the Pelicans Saturday in their 2-1 loss to the Down East Wood Ducks at TicketReturn.Com Field at Pelicans Ballpark. Rucker was terrific for
Myrtle Beach bats cold in 2-0 loss
Rucker sets career-high with six innings in defeat at Down East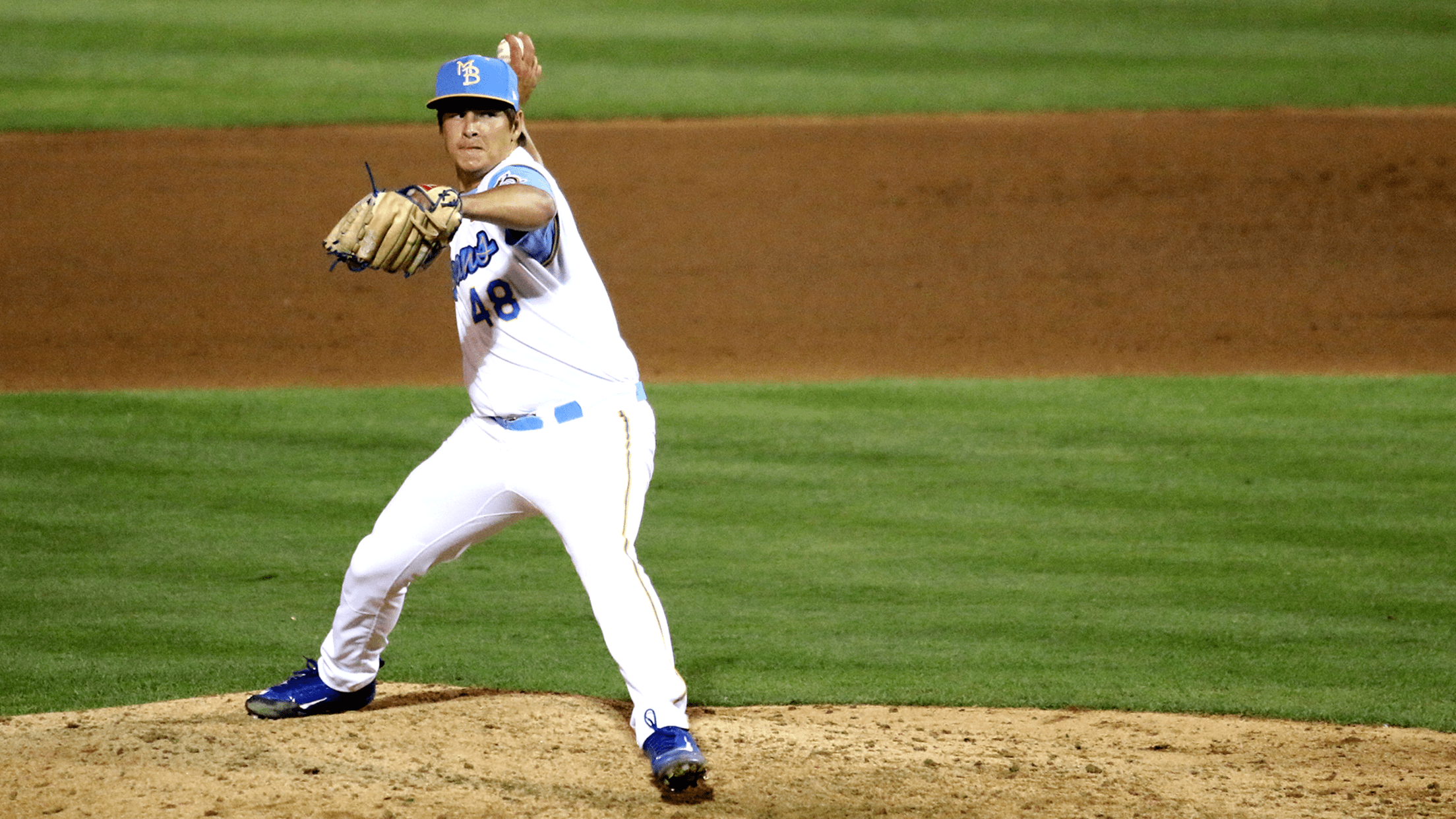 KINSTON, N.C. (June 16, 2017) - Mike Rucker worked a career-high six innings, but the Myrtle Beach Pelicans were blanked 2-0 Friday by the Down East Wood Ducks at Grainger Stadium.The game was scoreless in the third inning when Rucker (1-1) yielded a one out single to LeDarious Clark. The Wood Ducks (24-43)
Myrtle Beach coasts past Carolina to take series
Four-run first inning lifts Pelicans to 6-1 victory over Carolina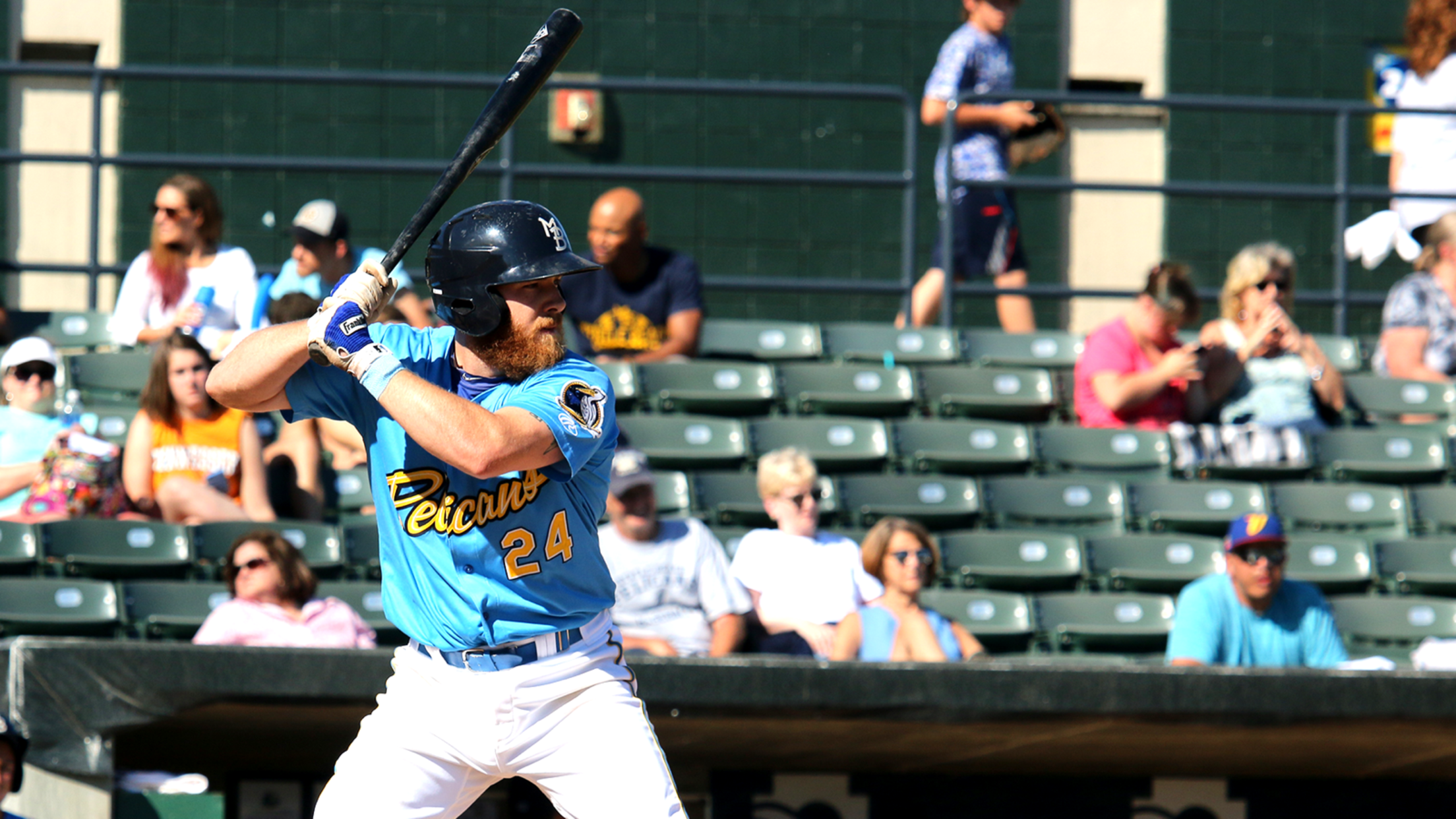 MYRTLE BEACH, S.C. (June 11, 2017) - Myrtle Beach's four-run first inning was all Mike Rucker and the Pelicans' bullpen needed Sunday, as Jesse Hodges and Bryant Flete paced the offense with three hits apiece in the Birds' 6-1 victory over Carolina from TicketReturn.Com Field at Pelicans Ballpark. Flete kicked off the
Pelicans down sloppy Mudcats to split series
Garcia, Steele lead Birds back into second place with 6-3 win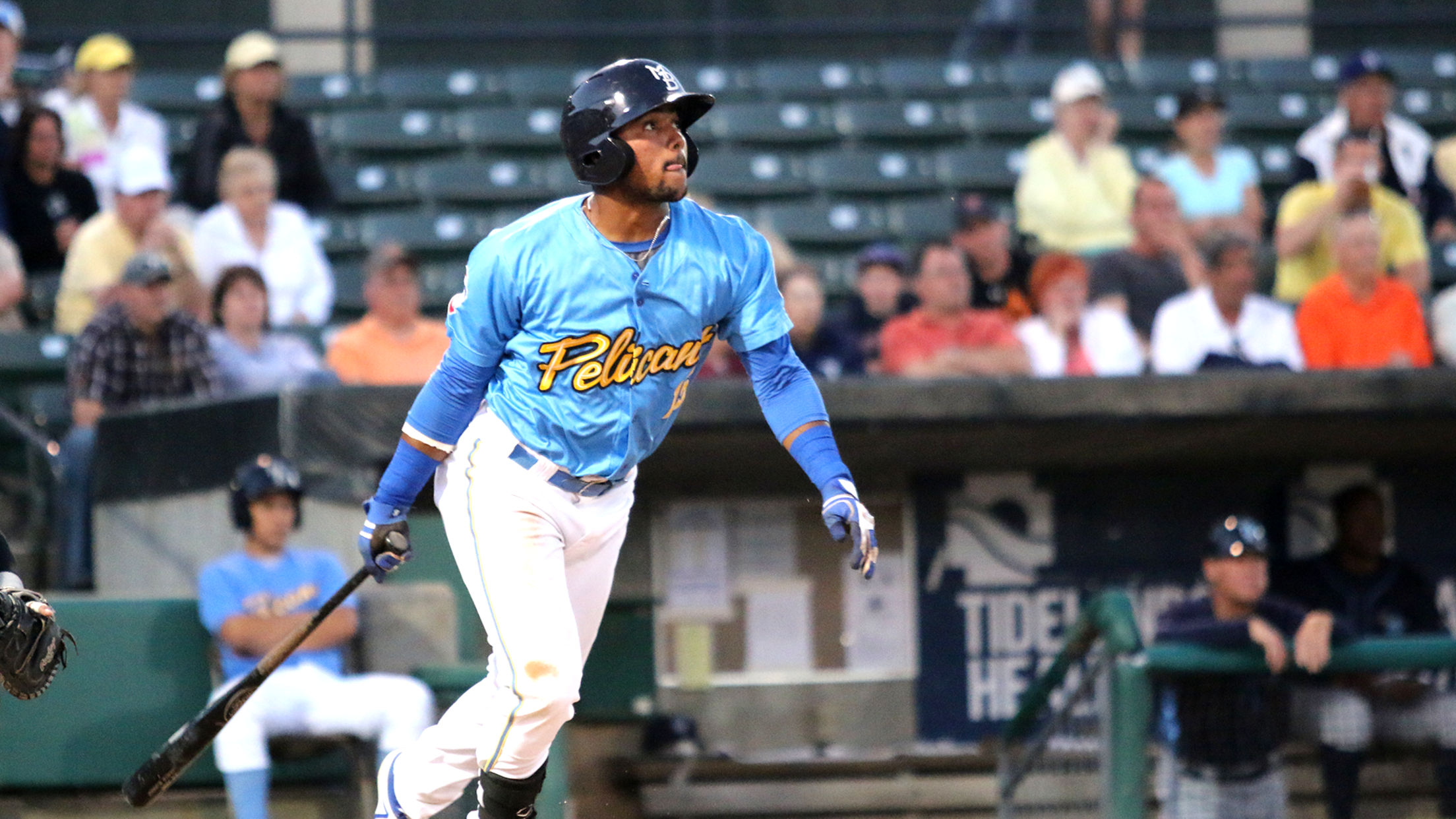 ZEBULON, N.C. (May 29, 2017) - Robert Garcia homered and Justin Steele struck out seven over five strong innings Monday to help the Myrtle Beach Pelicans down the Carolina Mudcats 6-3 to record a series split and vault back into second place at Five County Stadium.The game was scoreless when Matt Rose reached on the first of