State of the System: Oakland A's
Puk, Puason help strike balance as club looks to remain contenders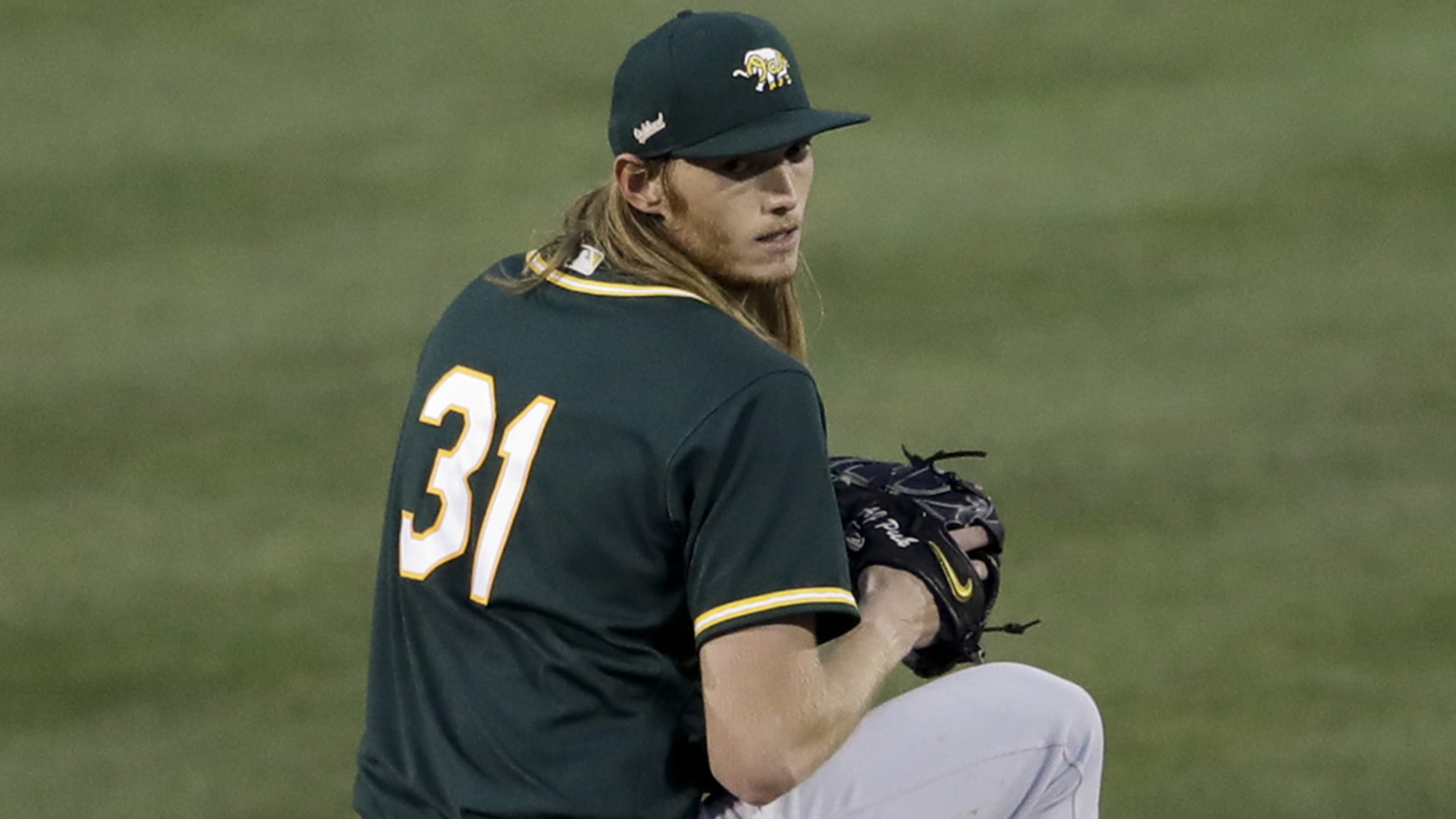 Starting in October and running through the end of the year, MiLB.com's State of the System series will evaluate the strengths and weaknesses of each Major League organization, highlights prospects who've made the biggest strides in 2020 and offers a peek at 2021. So much was different during the 60-game
Prospects in the Athletics' 2020 player pool
Talented Oakland system ready to fill the gaps when needed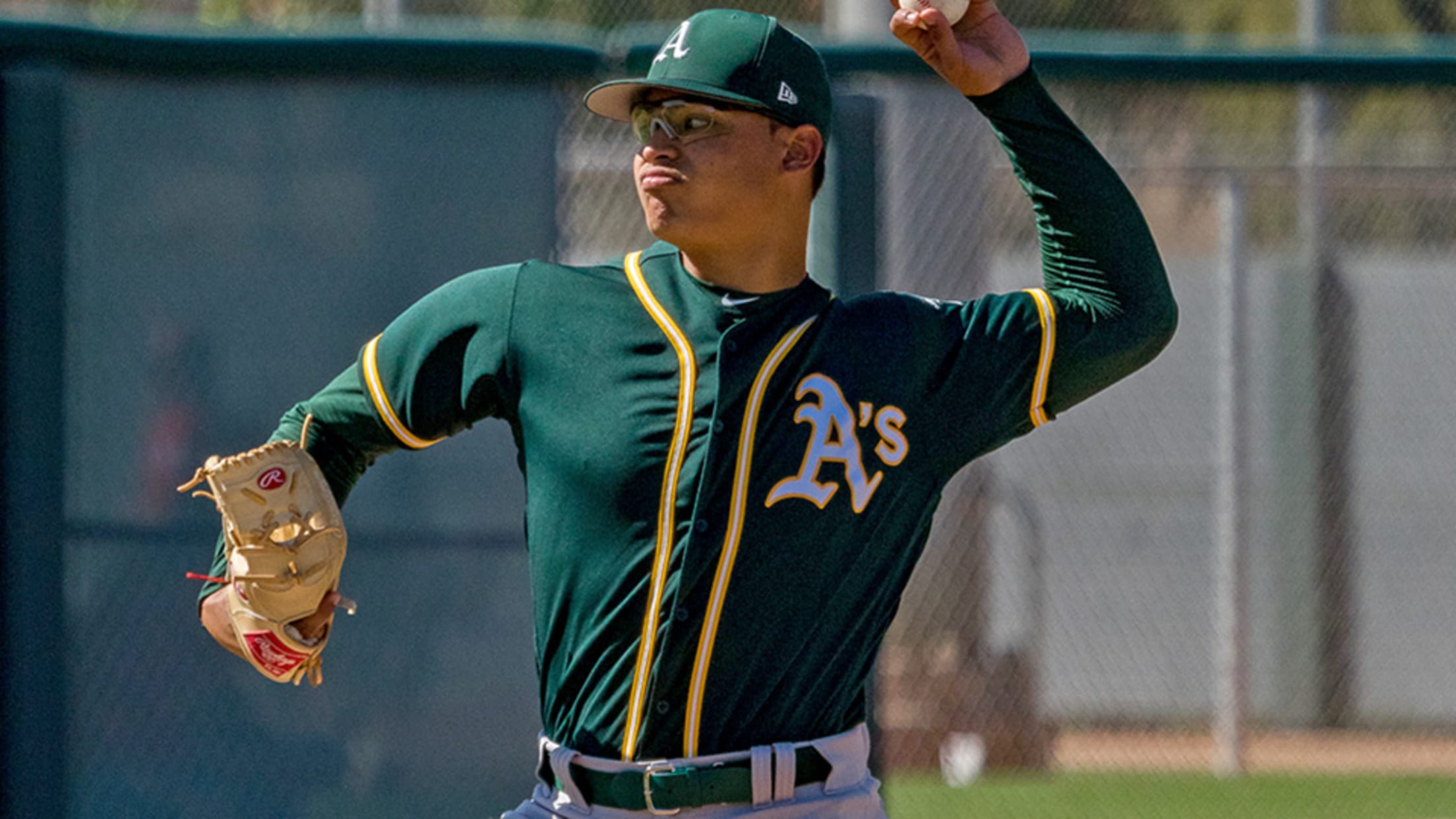 As part of the new rules for the 2020 Major League season, each of the 30 organizations will maintain a 60-man player pool for the duration of the campaign. Some members of the player pool will feature on the active Major League roster while others will work out at an
Buddy system: Puk, Reed reunite with A's
Former Gators-turned-roomates playing for same team again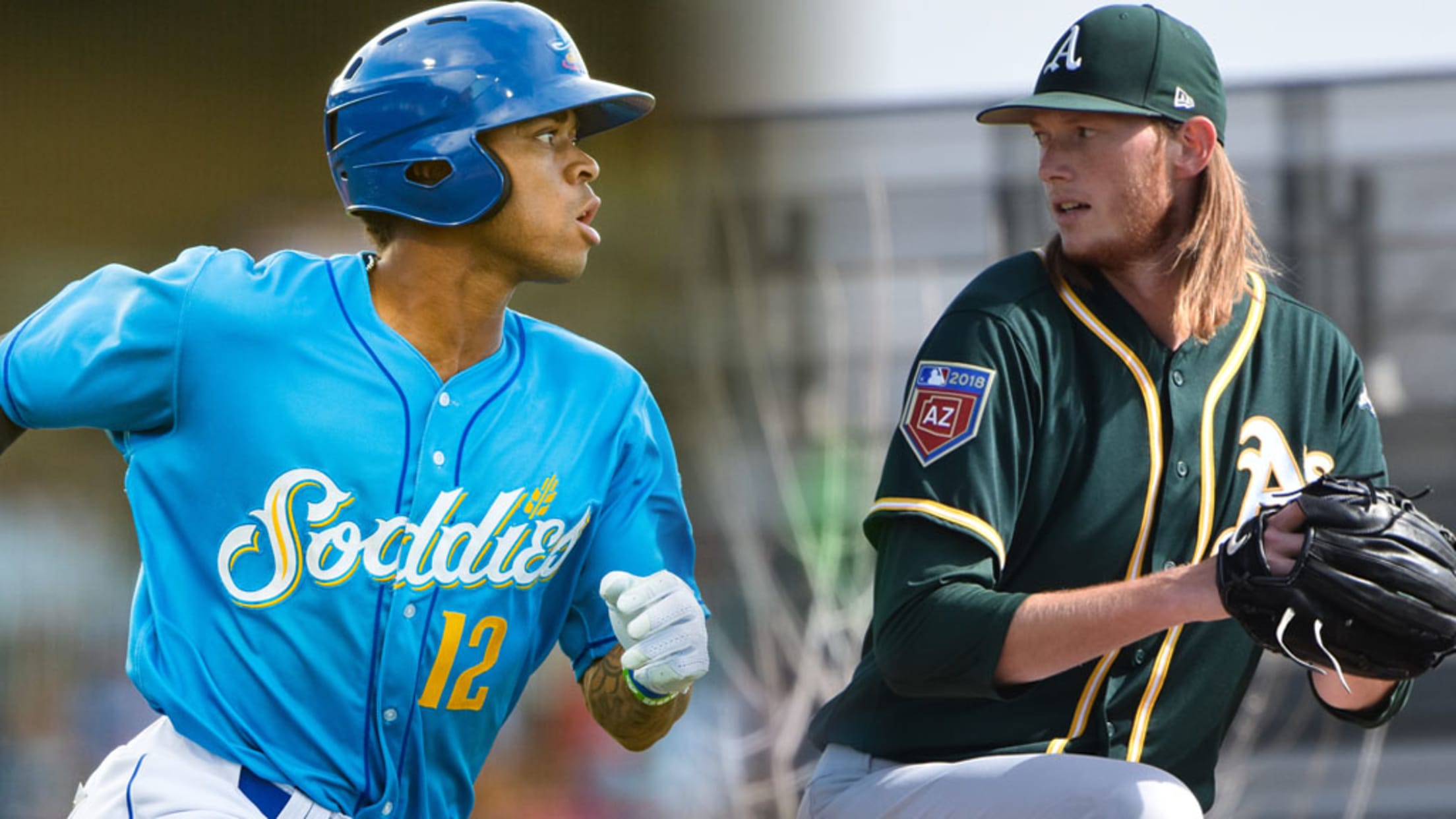 MESA, Arizona -- When Buddy Reed found out he'd been traded to the A's in December, he immediately called three people. The first, his father, Michael. Secondly, his agent. And then his roommate ... so he could tell him that they were going to be teammates -- again. The latter was
Hot Stove roundup: The latest trades
Lots of deals cooking across the baseball landscape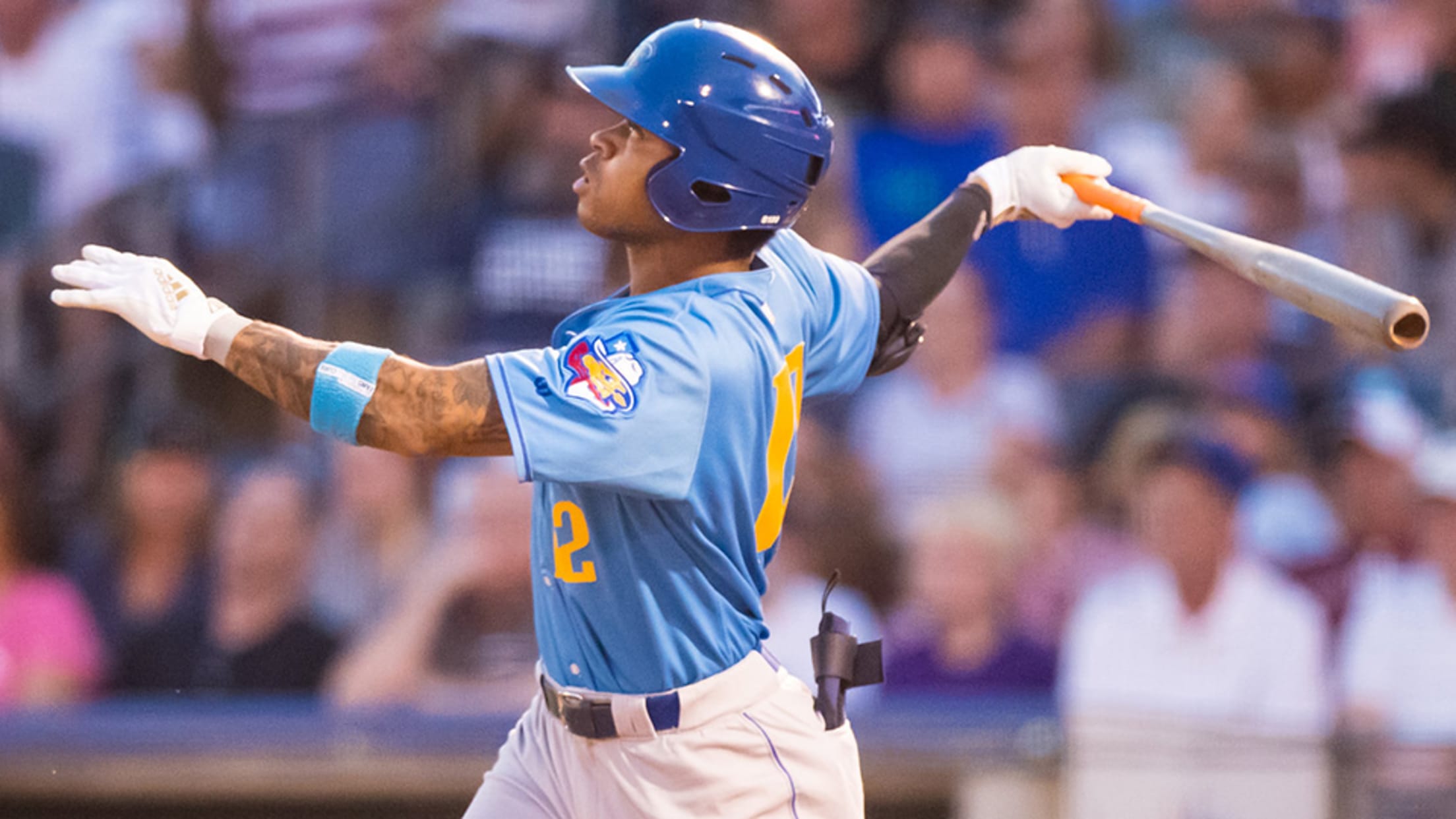 With the Winter Meetings underway, the action on the Hot Stove is boiling over. Here's a roundup of the deals involving Minor Leaguers that have taken place over the past week. Check back for all the latest news.Athletics pick up Reed as player to be named laterThe A's received No.
Reed, Poodles knot Texas League Finals
Padres No. 25 prospect homers to force Game 5 with Drillers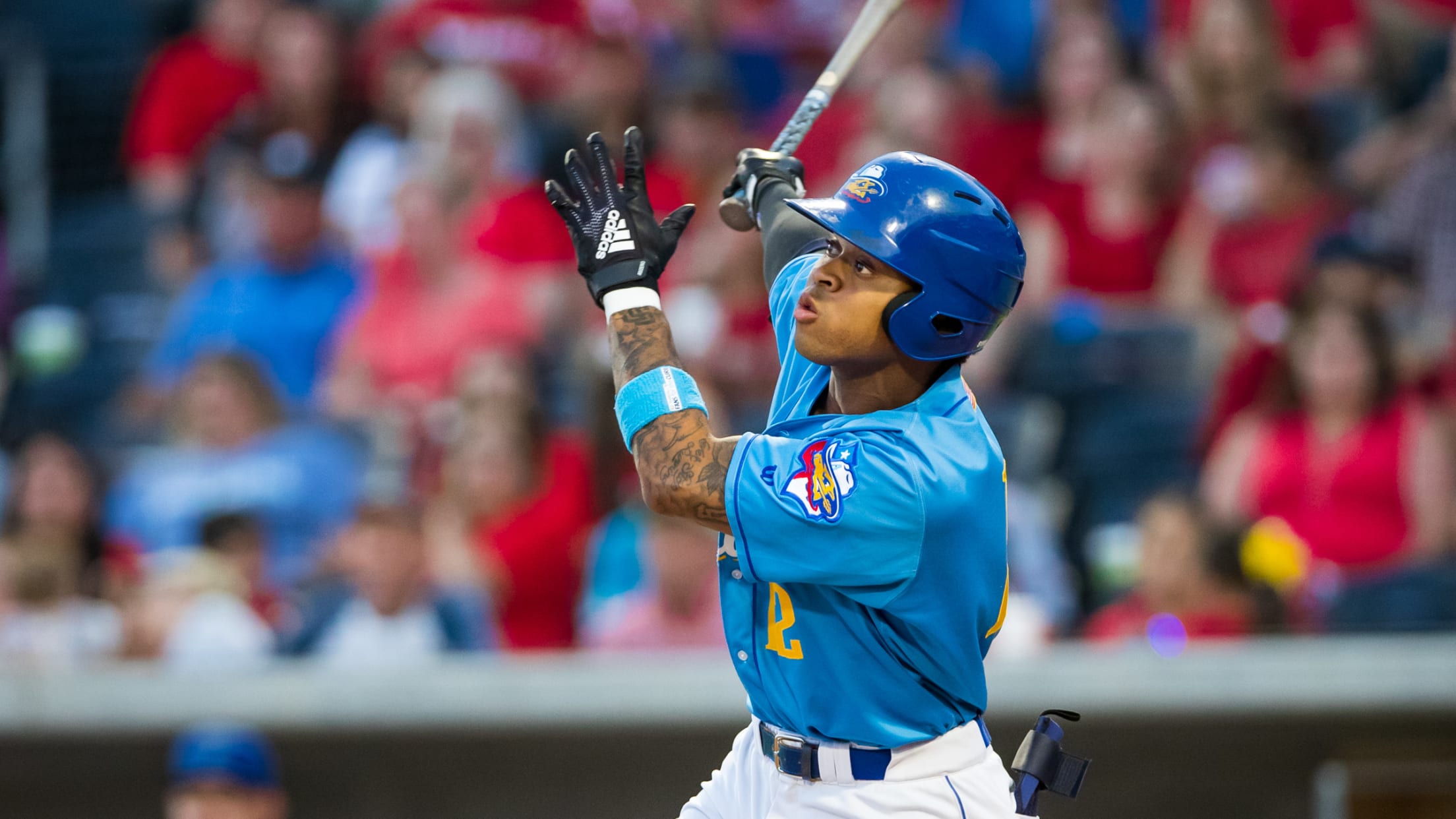 There will be a winner-take-all Game 5 for the Texas League banner.No. 25 San Diego prospectBuddy Reed went yard as Double-A Amarillo blanked Tulsa, 3-0, on Saturday night at ONEOK Field in Game 4 of the Championship Series.
Trammell propels Amarillo to Texas Finals
First-year Sod Poodles hold on after seven-run second inning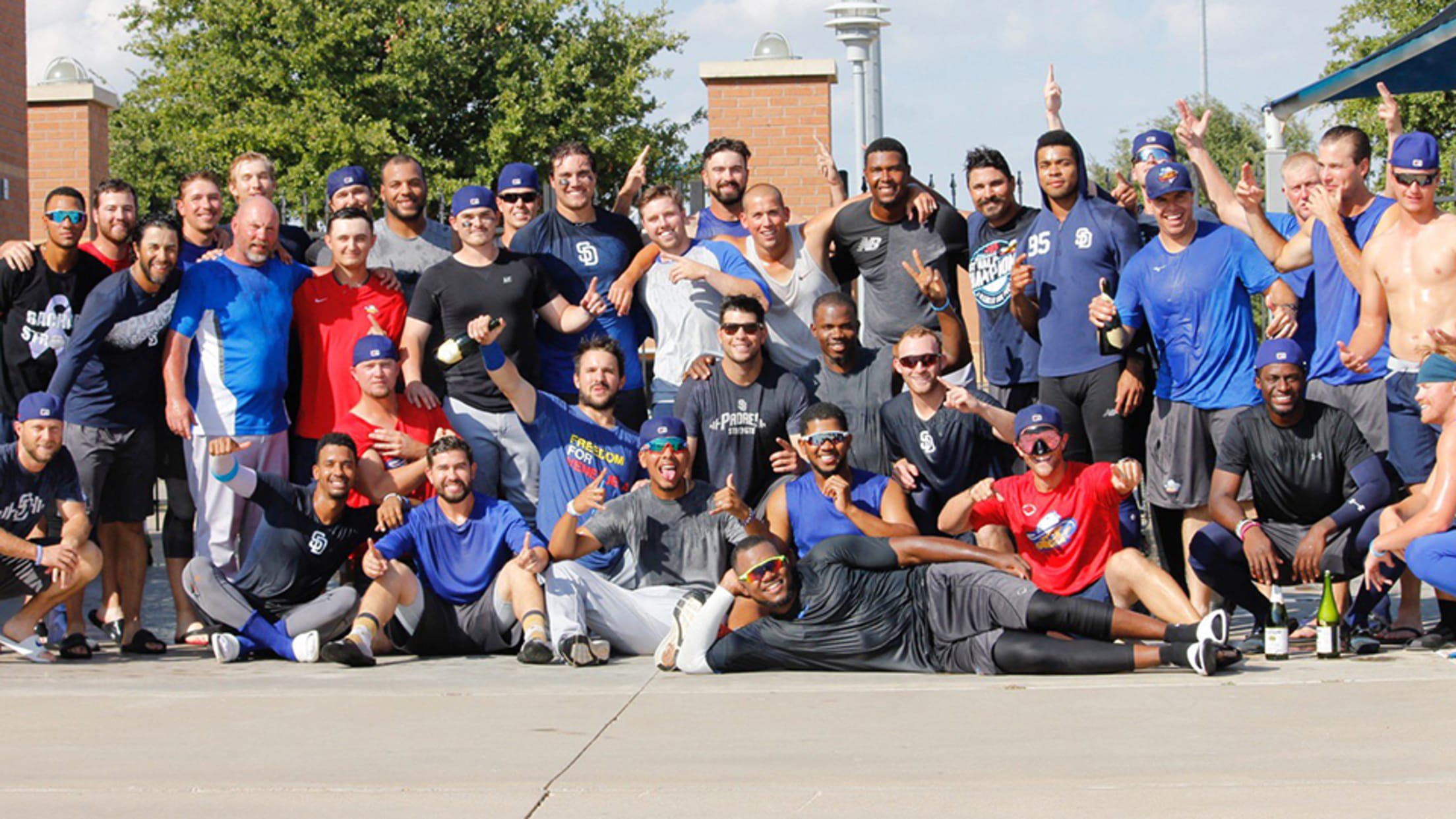 In their first year of existence, the Amarillo Sod Poodles are headed to the Texas League Finals.Second-ranked Padres prospectTaylor Trammell went 2-for-3 with a walk and a run scored as Amarillo built an early lead and held on to beat Midland, 7-5, in the deciding Game 5 of the semifinals
May strikes out career-high 14 for Drillers
Dodgers No. 3 prospect allows two hits in seven shutout innings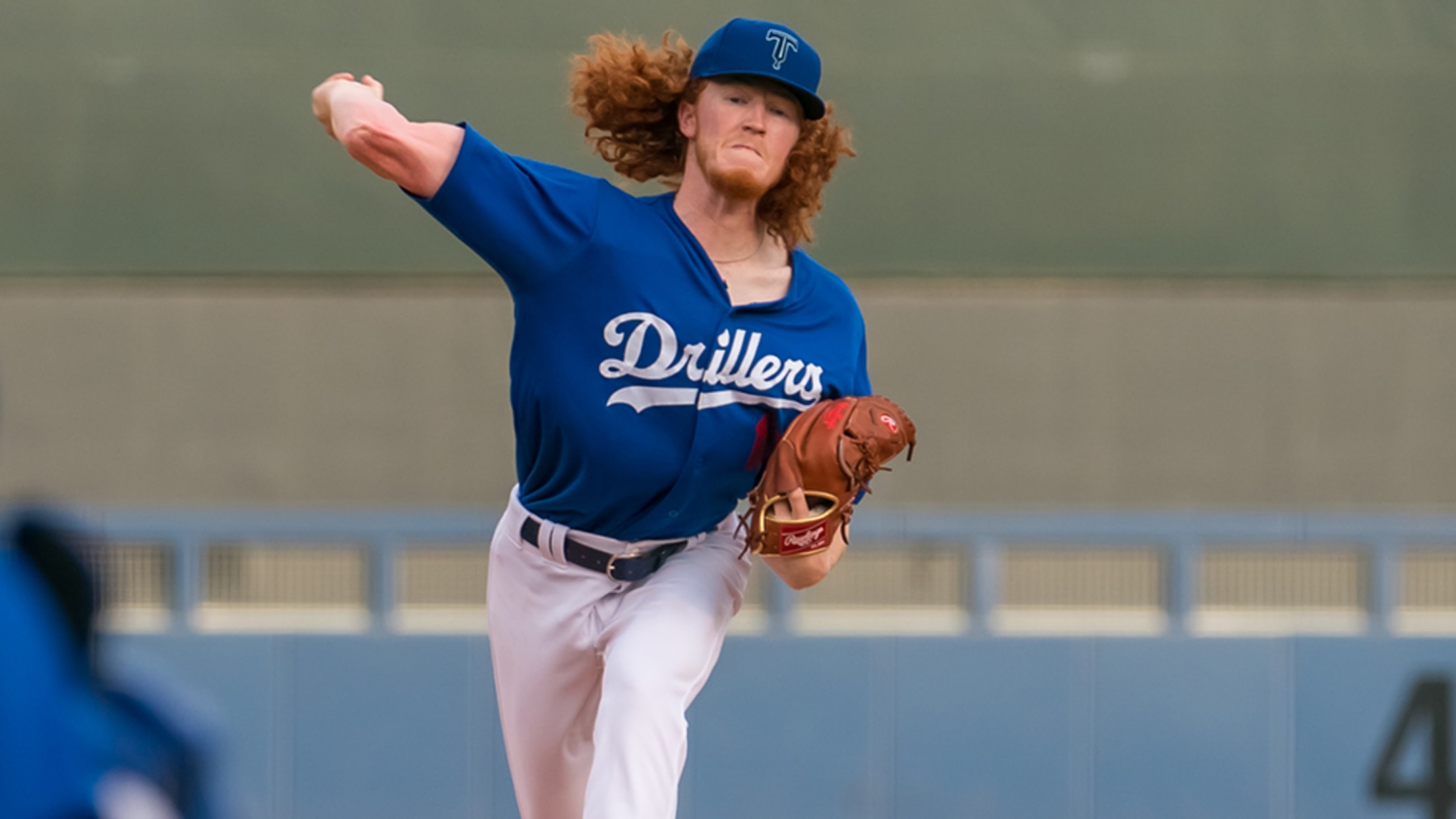 Dustin May was nothing short of magnificent on Saturday -- and he needed to be at his best.The Dodgers' No. 3 prospect recorded a career-high 14 strikeouts and gave up two hits over seven scoreless innings before Double-A Tulsa walked off with a 2-1, 10-inning win over Amarillo at ONEOK Field.
Texas notes: Padres' Reed refines approach
Amarillo outfielder adapting to Double-A with more level swing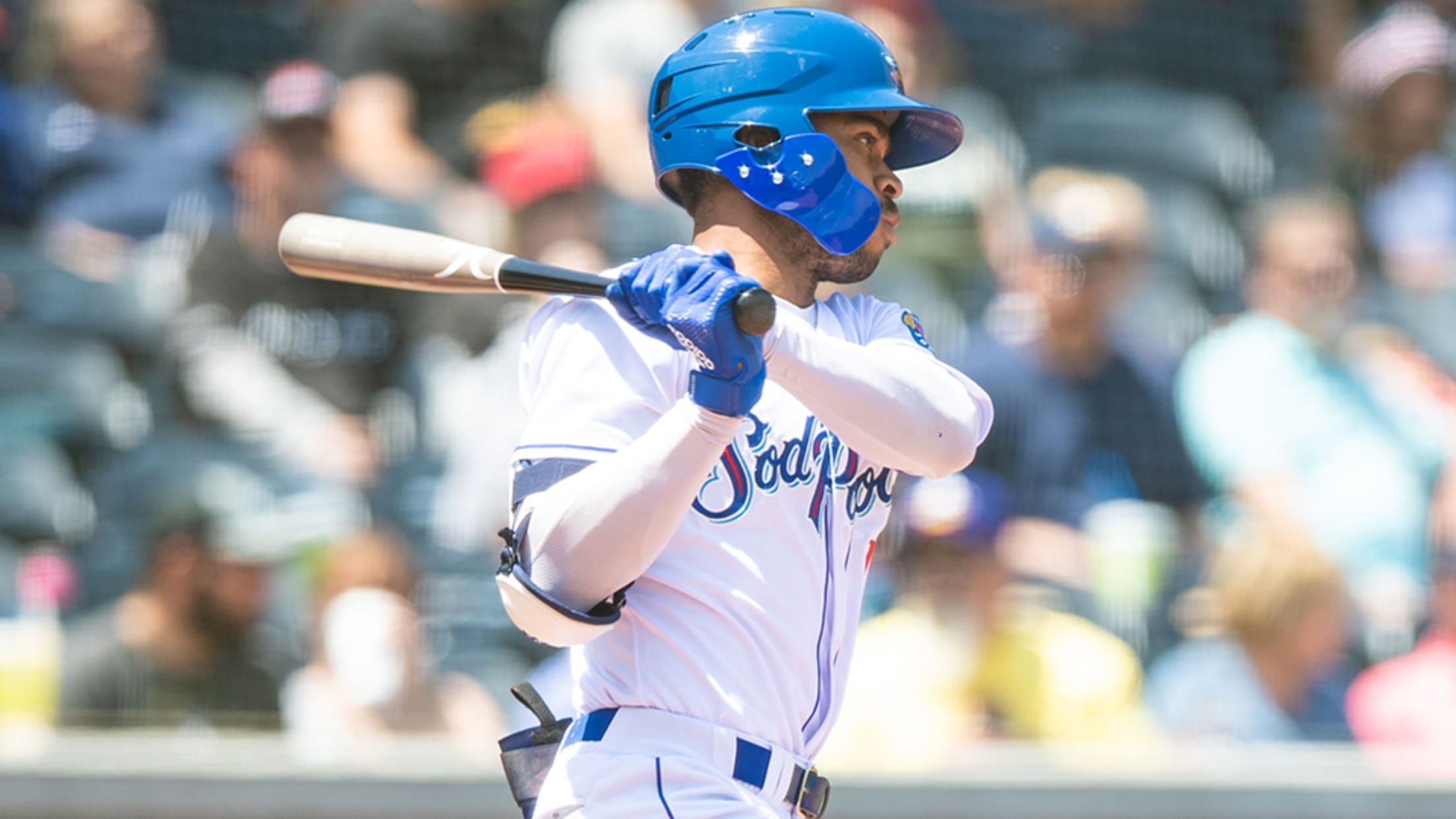 No matter what the rest of the year holds for Buddy Reed, the San Diego Padres prospect can say one thing for sure."I'm comfortable with my swing [and] where it's at," he said.
Reed racks up hits after changing number
Padres No. 14 prospect homers, plates two on four-hit night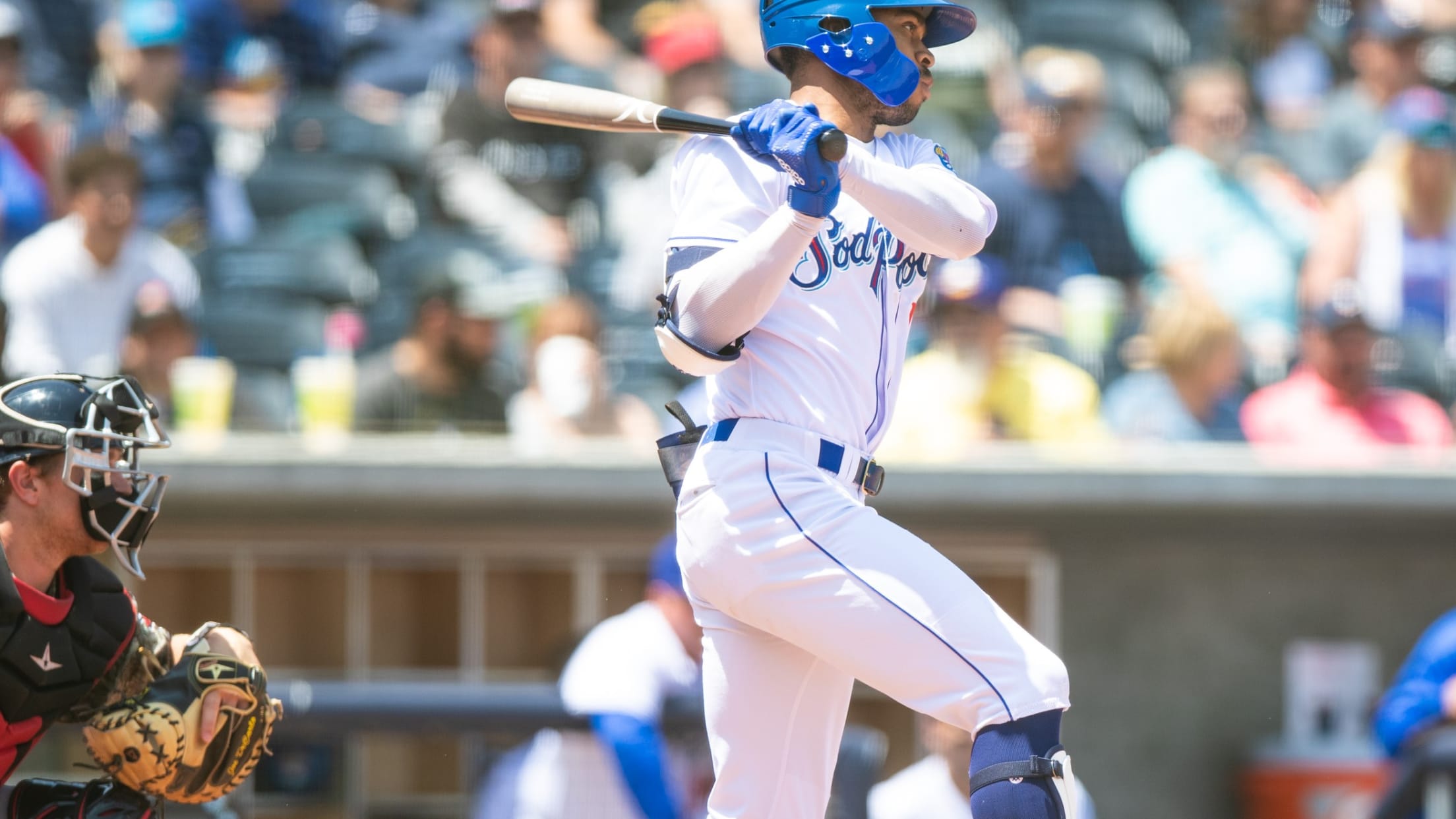 One might say Buddy Reed's big game at the plate was brought to you by the number seven.In his first game after switching from No. 1 to No. 7, San Diego's 14th-ranked prospect went 4-for-4 with a home run, a double and two RBIs in Double-A Amarillo's 9-8 loss to
Robert rolls to Player of the Week honor
No. 4 White Sox prospect paces Carolina League with 15 RBIs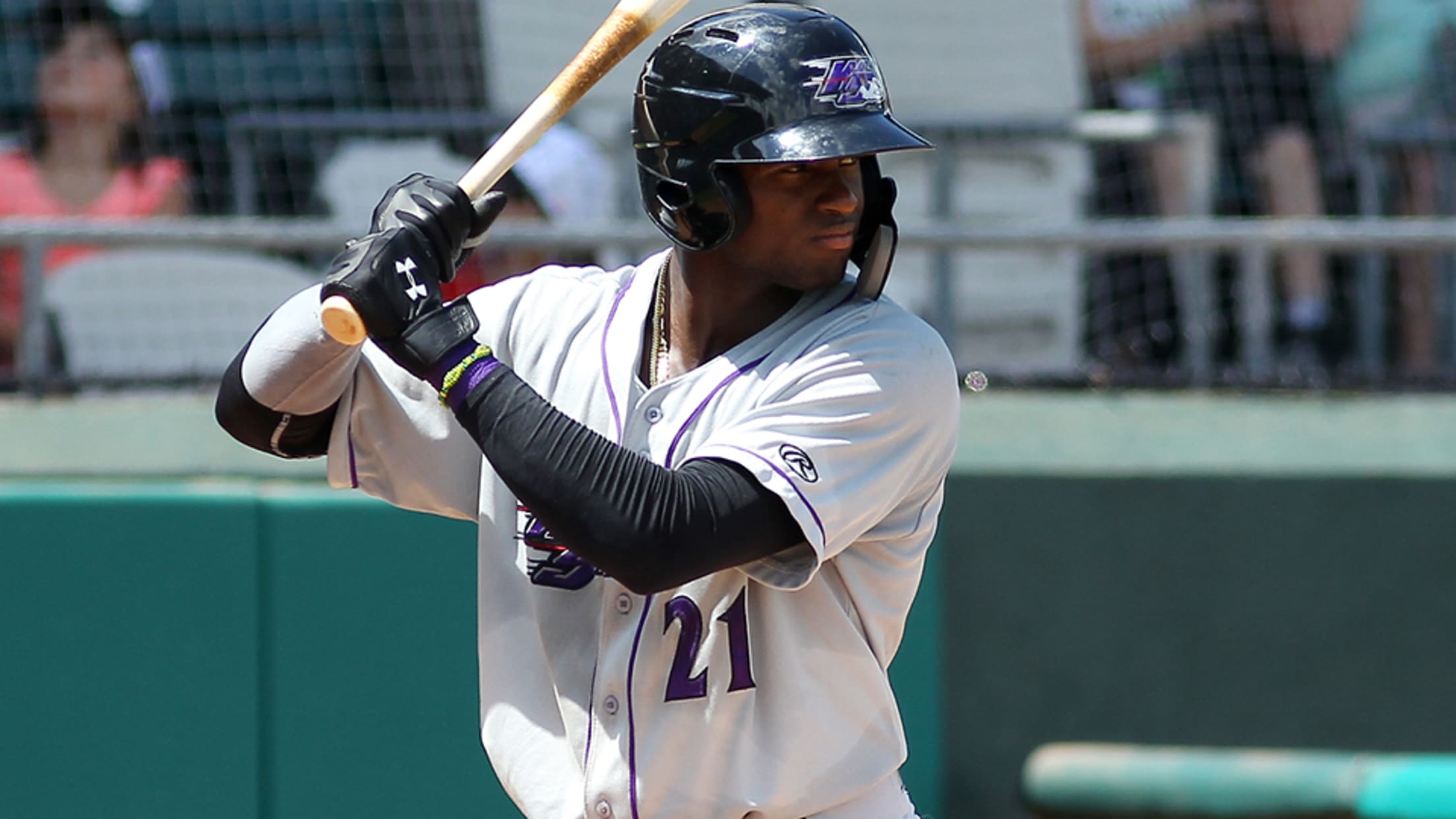 After missing a significant portion of the 2018 season battling injuries, Luis Robert is making up for lost time right out of the gate this year. MLB.com's No. 38 overall prospect is off to a torrid start with Class A Advanced Winston-Salem, earning Carolina League Offensive Player of the Week
Reed uses power, speed for Poodles history
One of outfielder's two jacks is club's first inside-the-park homer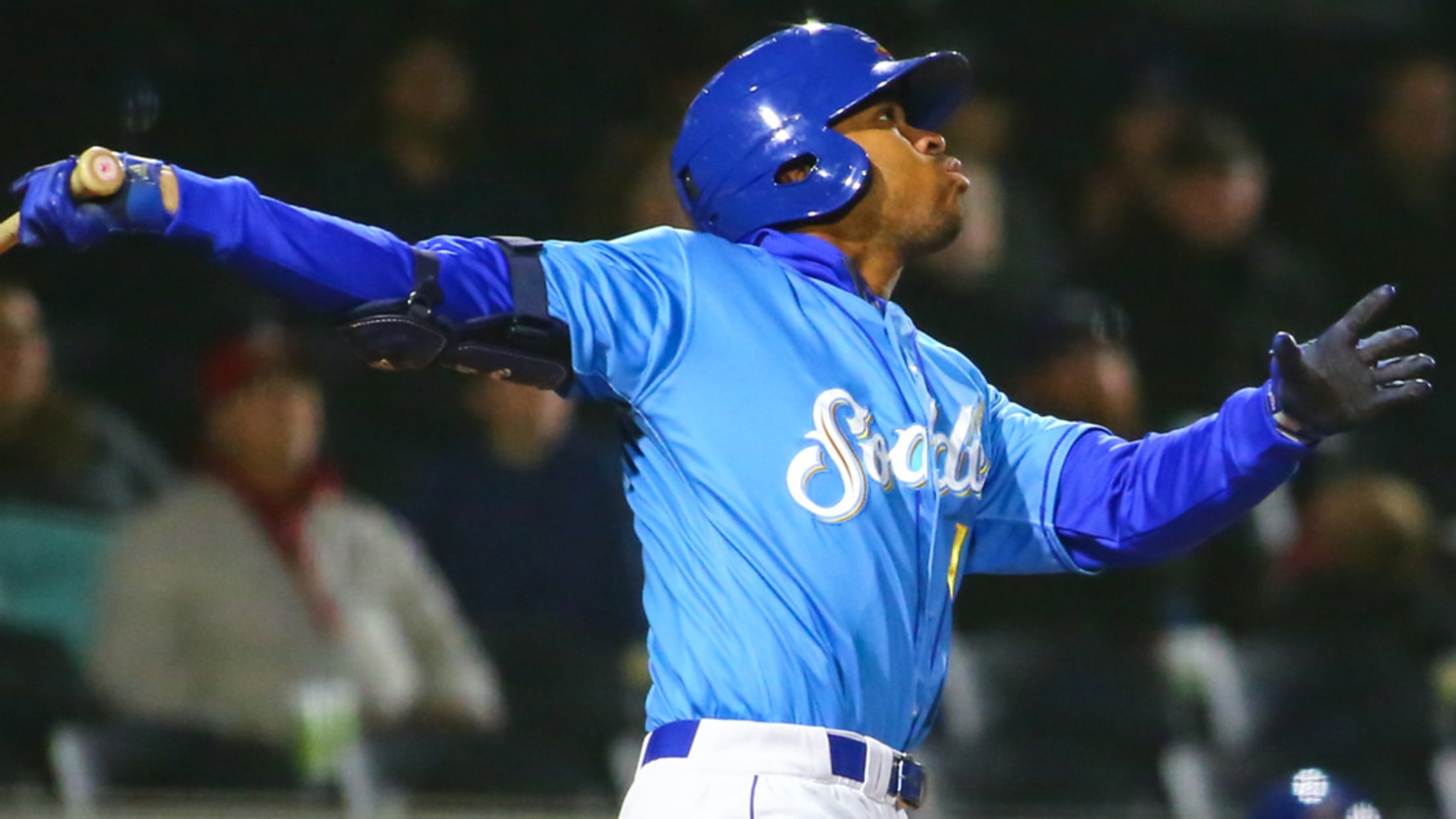 After a cold start, Buddy Reed is starting to look like the athlete who earned a trip to the 2018 All-Star Futures Game, and that can only mean good things for the Padres and baseball fans in the Texas Panhandle.San Diego's No. 17 prospect finished 3-for-4 with two homers and
Tatis leads way in loaded Padres system
No. 2 overall prospect highlights San Diego's bountiful farm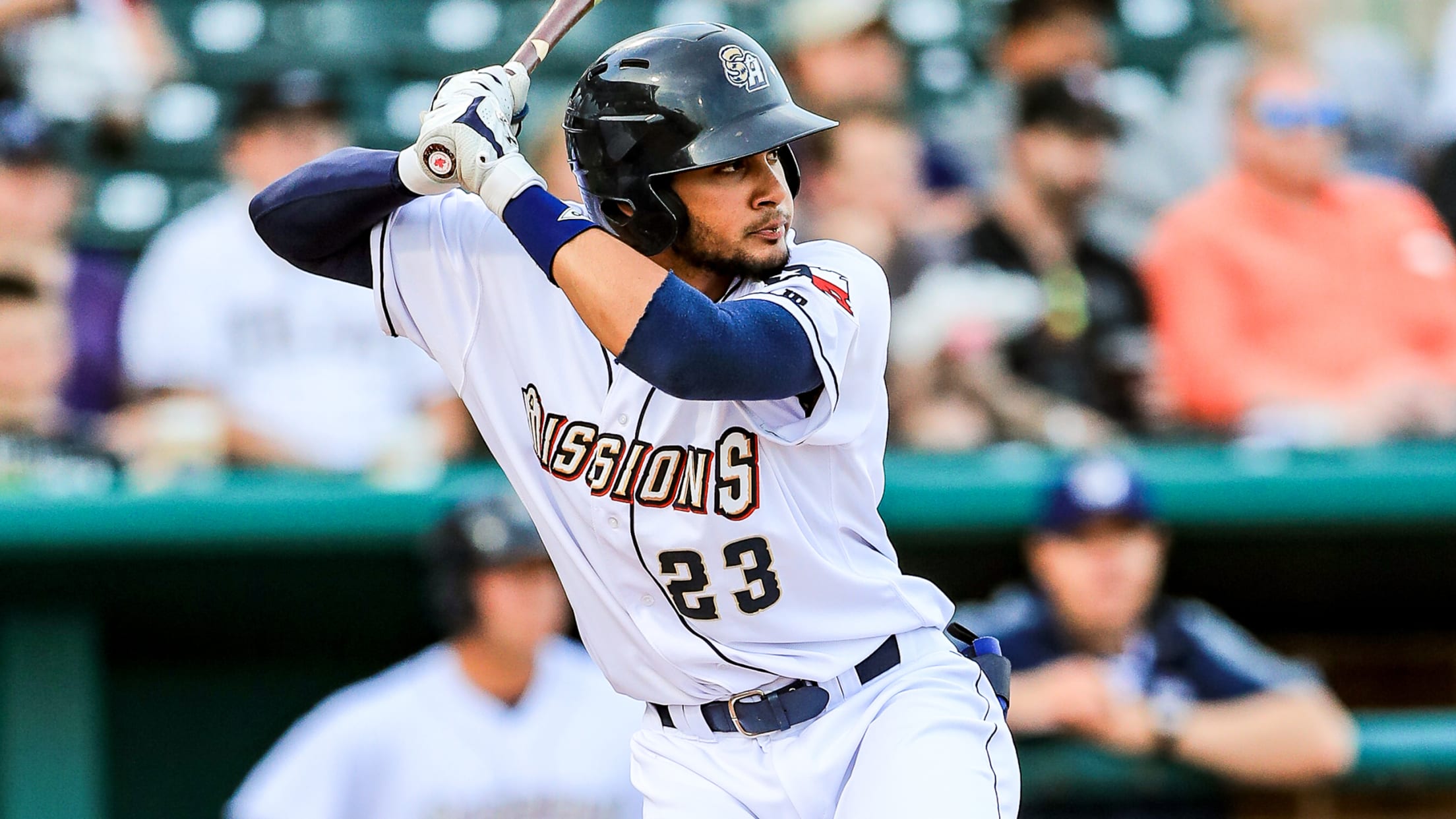 Each offseason, MiLB.com goes position by position across each system and honors the players -- regardless of age or prospect status -- who had the best seasons in their organization. Click here to locate your favorite club.Brighter days are on the horizon in sunny San Diego.The Padres have not finished higher than
Top prospects vie for Fall League title
Nats' Kieboom leads Rafters against Brewers' Hiura, Javelinas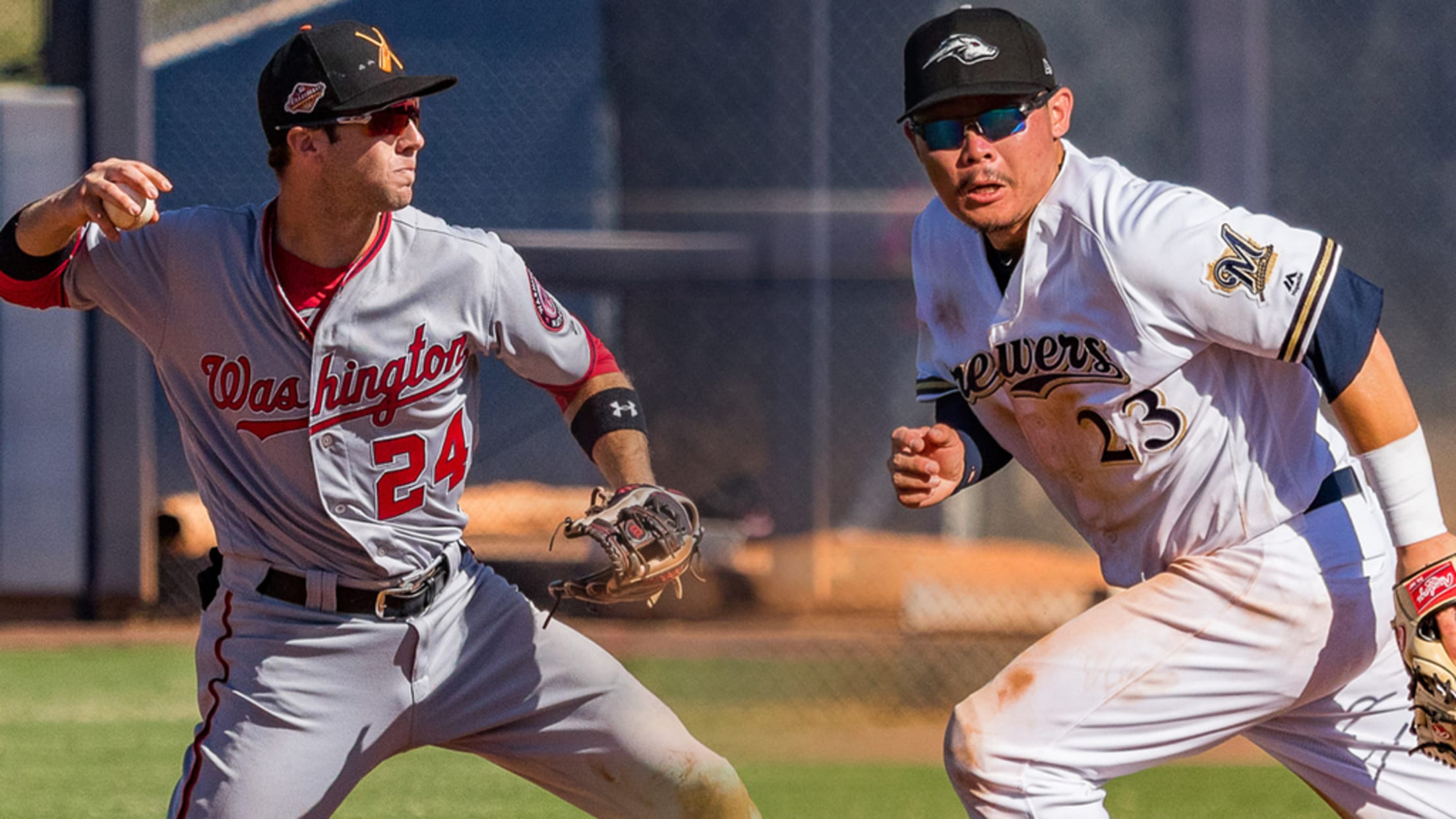 Championship season is coming to a close. There's just one more ring up for grabs in stateside baseball before the book shuts on 2018.After six weeks of competition, Salt River (16-14) and Peoria (21-9) will square off in the Arizona Fall League Championship Game at 3:08 p.m. ET on Saturday
The Show Before the Show: Episode 184
Padres' Reed joins show fresh off MVP turn at Fall Stars Game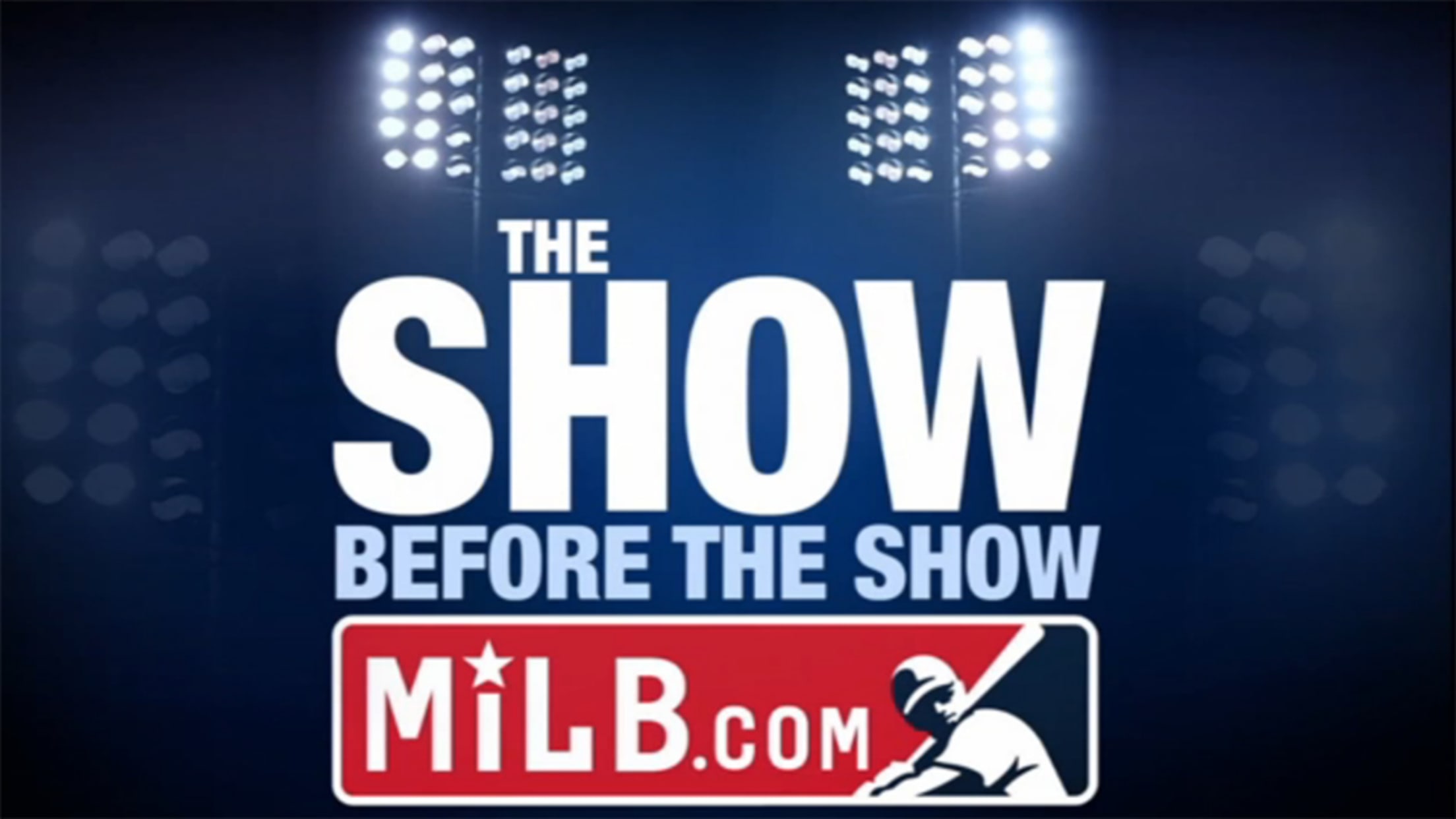 Check out the latest episode of The Show Before the Show, MiLB.com's official podcast. A segment rundown is listed below, in case you want to skip to a particular section. Like the podcast? Subscribe, rate and review The Show Before the Show on iTunes. The podcast is also available via
Toolshed: AFL players flipping scripts
Giants' Adon, Rockies' Nevin, others making most of Fall League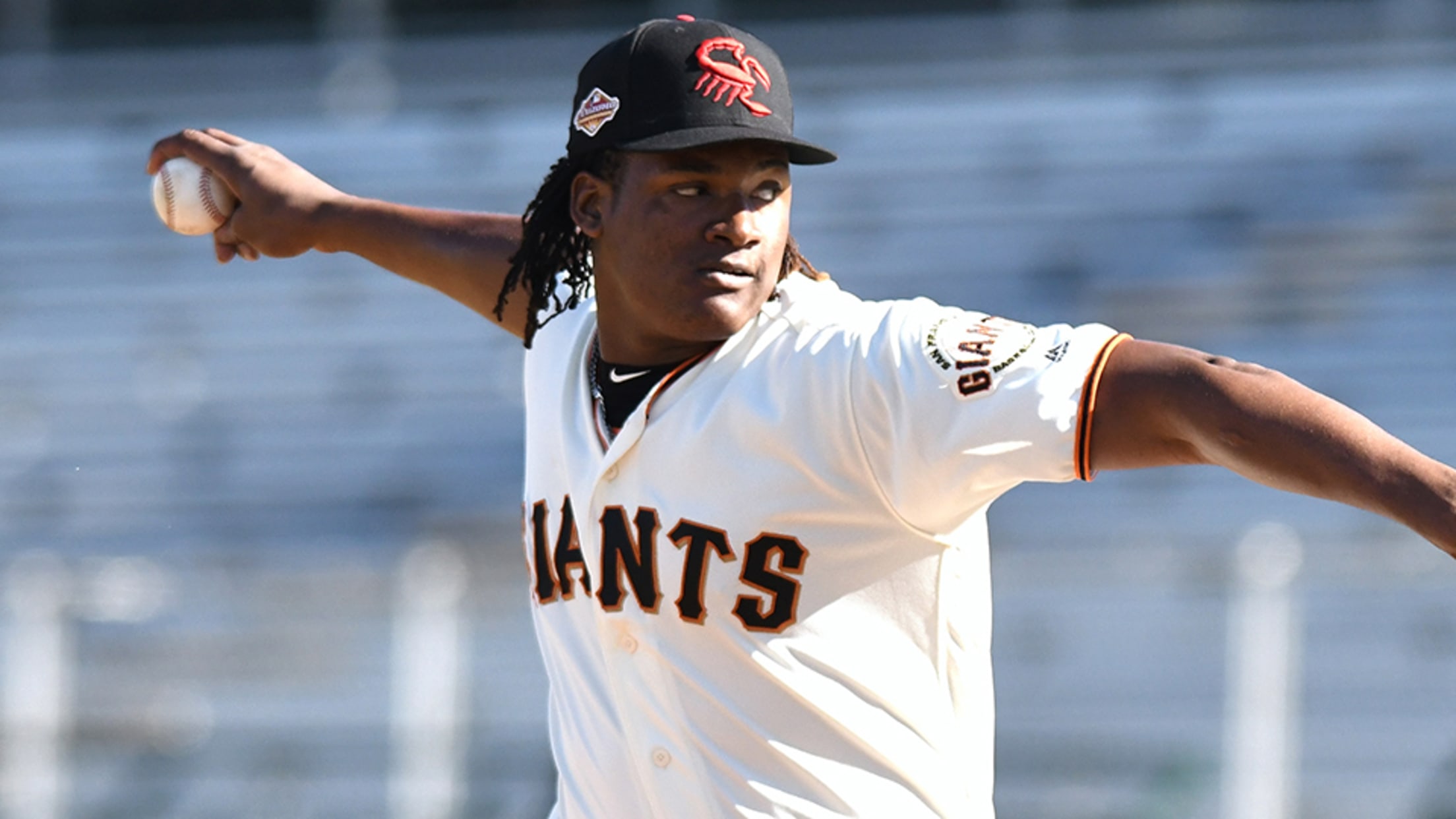 In the Arizona Fall League, the surprises don't end with the Saguaros. Baseball's version of a prospect finishing school is loaded with hype and justifiably so. Many of the game's best young future stars head to the Southwest to make up for lost at-bats, try to prove their worth before 40-man
Reed sparks West to Fall Stars victory
Padres No. 13 prospect hits tying triple, scores winning run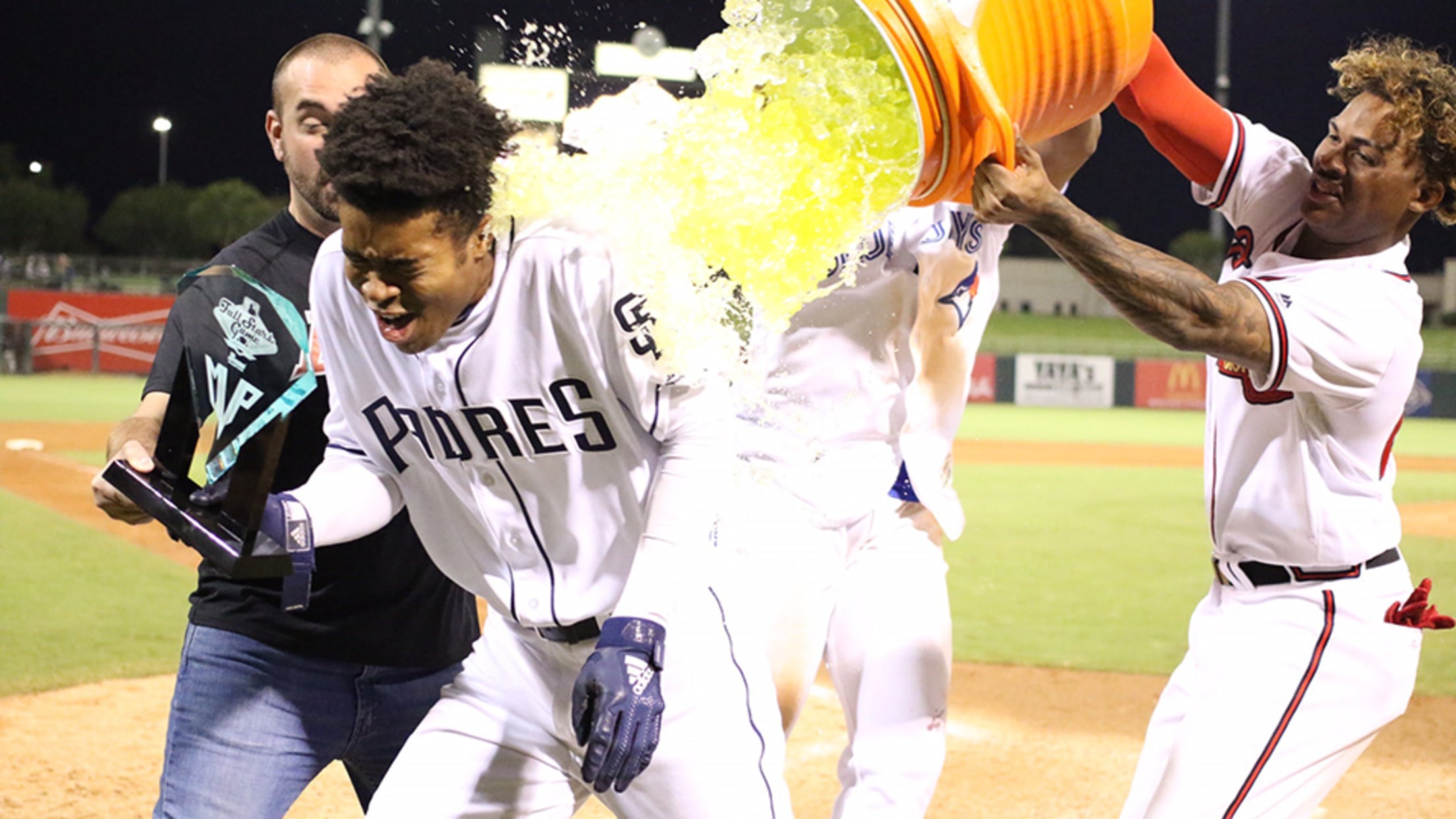 SURPRISE, Arizona -- Down to his final strike, Buddy Reed delivered a game-changer on Saturday night.With his team trailing, 6-5, the Padres' No. 13 prospect turned on a 3-2 fastball and belted a triple deep to left field to score Vladimir Guerrero Jr. with the tying run. Reed scored on
Tucker stays hot at plate with Saguaros
No. 5 Pirates prospect collects four hits, two runs, one RBI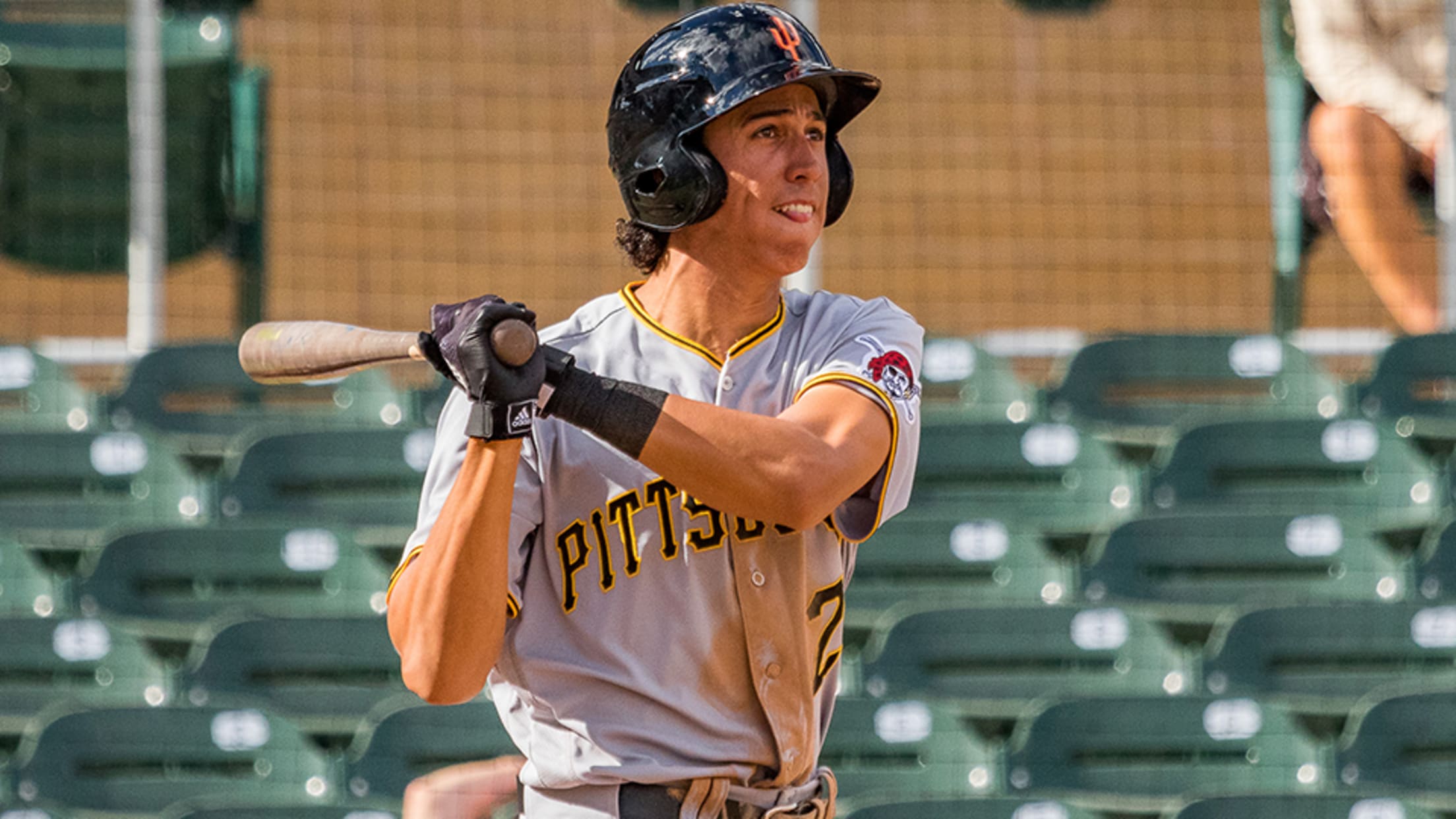 Cole Tucker has picked up where he left off the regular season in Arizona.The fifth-ranked Pirates prospect collected four more hits, two runs and an RBI, but it was not enough to lift the Saguaros as Surprise fell to Peoria, 7-6, in Arizona Fall League action Monday at Peoria Stadium.
Bannon leads California League All-Stars
Former Dodgers prospect takes home MVP, Rookie of the Year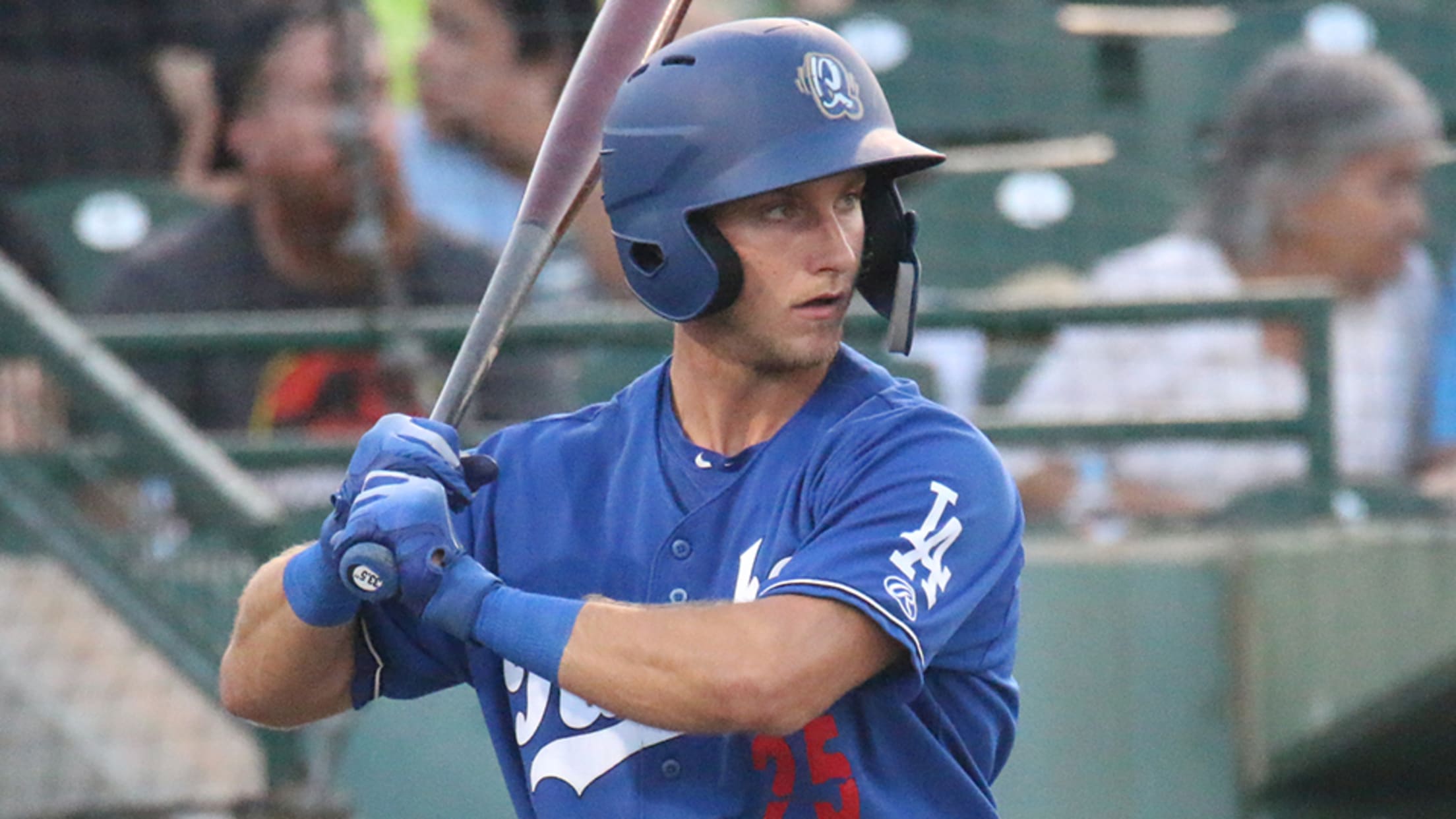 Rylan Bannon might play on the opposite side of the country now, but that didn't stop him from cleaning up the California League's post-season awards. The former Dodgers prospect -- now with Baltimore after being included in the Manny Machado trade in July -- captured the circuit's Most Valuable Player and
Padres' Reed lets talent, personality shine
Outfield prospect enjoying breakout year, having fun as he goes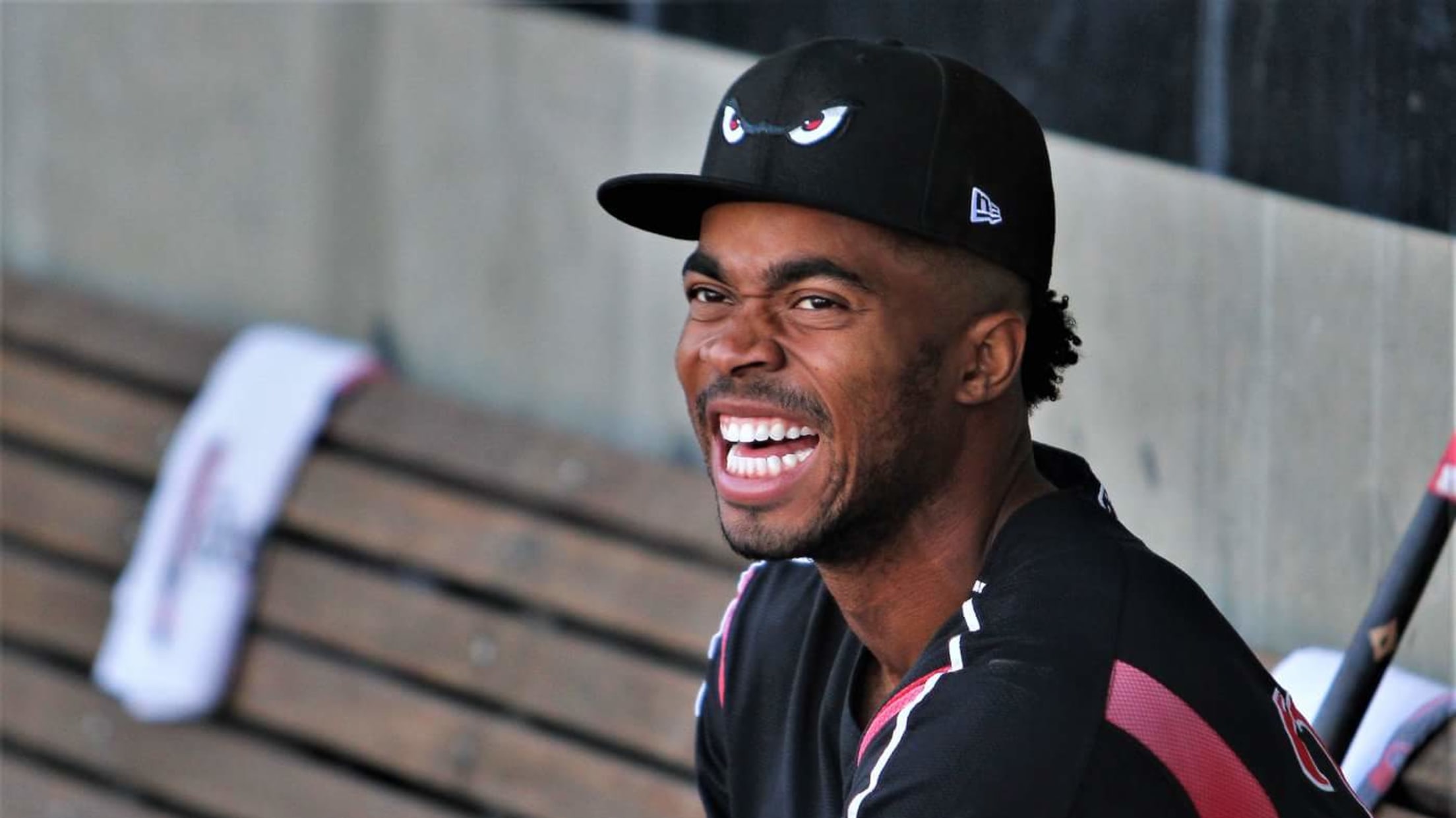 Buddy Reed, after watching the ball he'd just launched die at the wall and land in the mitt of left fielder Yusniel Díaz on the Nationals Park warning track during the sixth inning of the Futures Game, let out a wail -- with a twinge of delight."I got no juice!" the
Futures Game players we're excited to see
Tatis, Adell, Greene ready to take big stage in nation's capital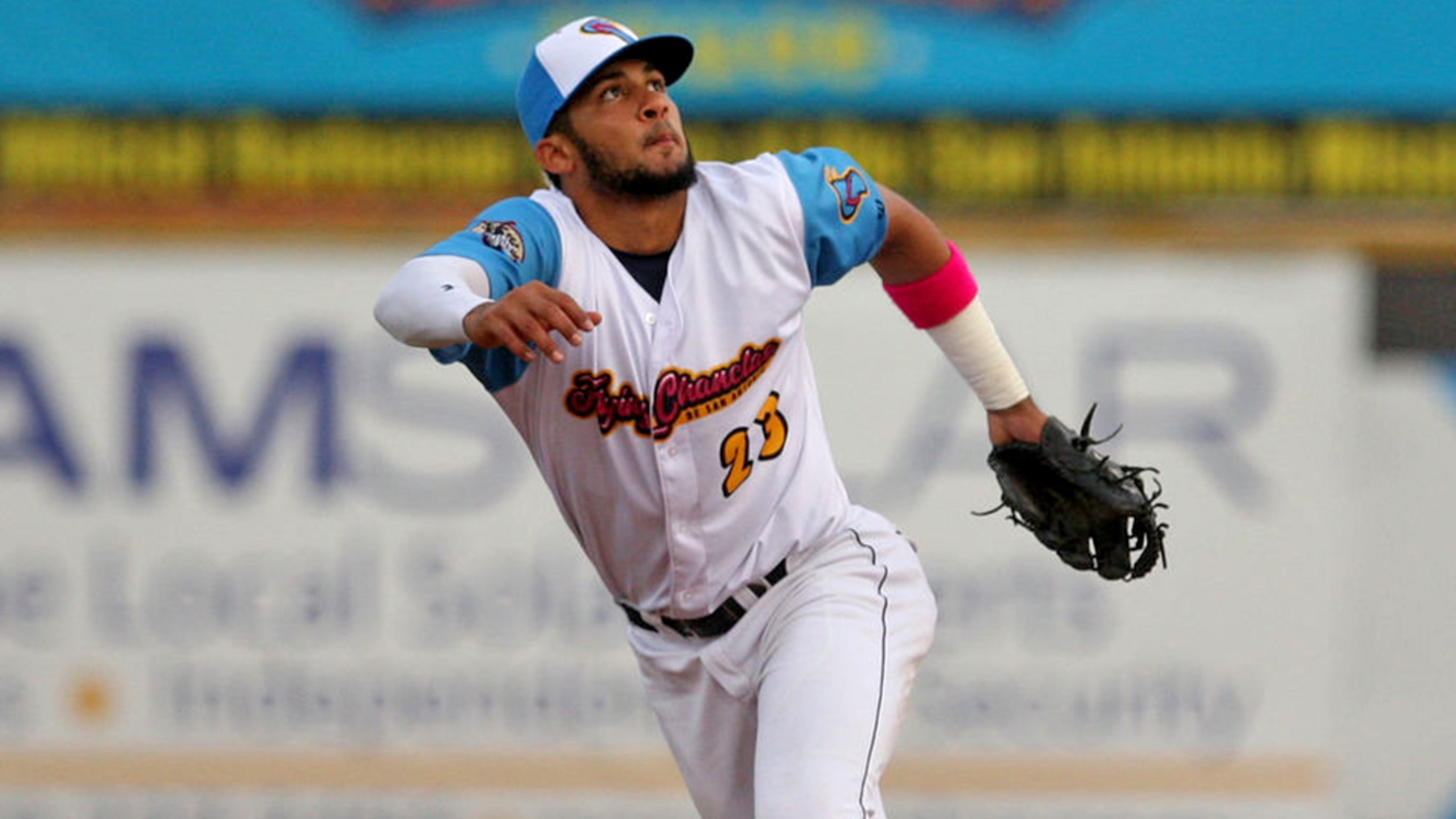 The Futures Game is Sunday at Nationals Park, and MiLB.com writers are stoked. Below are their picks for the top players to watch in what will surely be another exciting prospect showcase.Jo Adell, U.S. OF (LAA, Inland Empire): Taken with the No. 10 overall pick in last year's Draft, Adell
Reed, Ramos headline Cal League All-Stars
Circuit's leaders in average, homers in line to join forces for South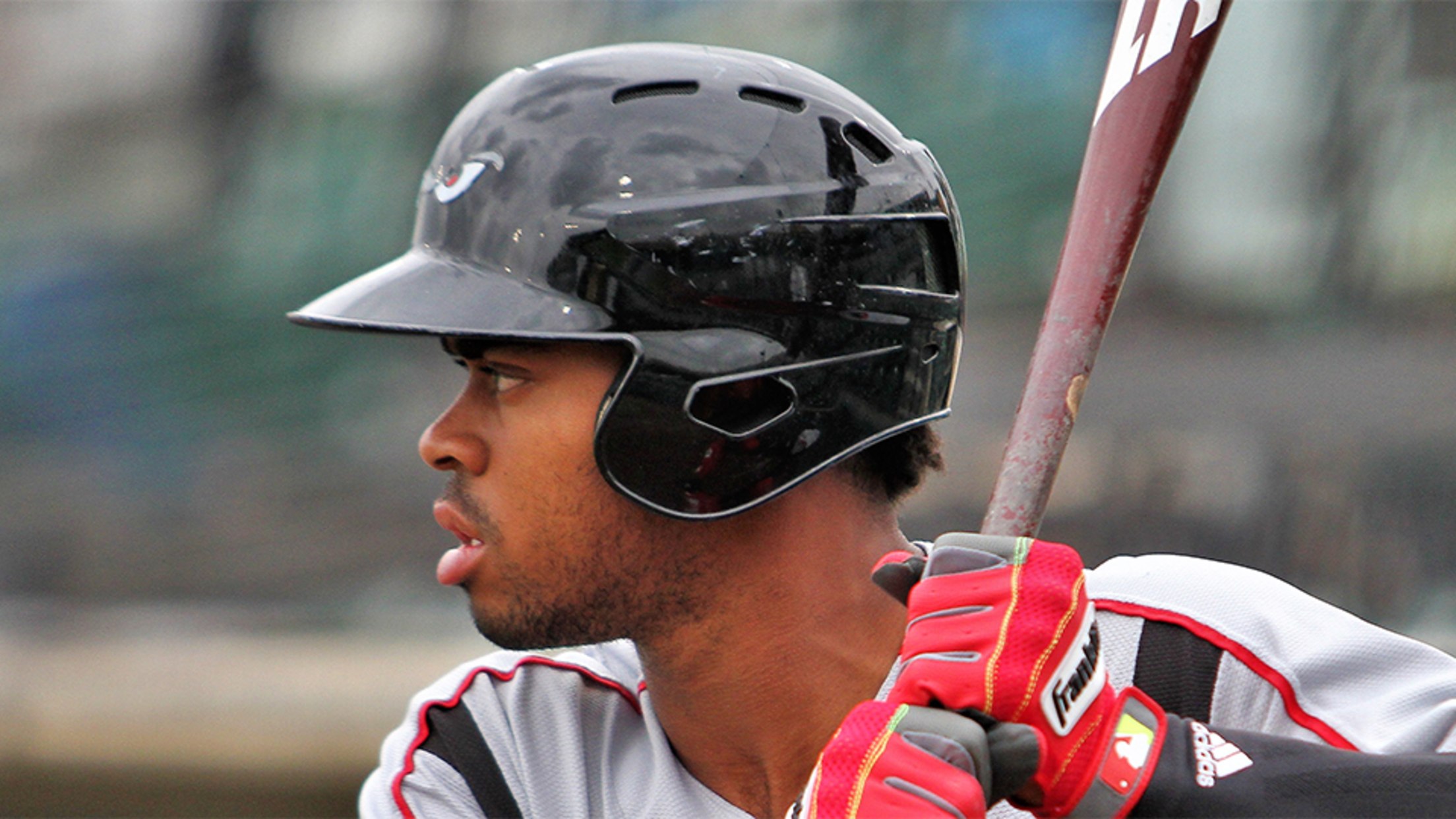 The California League is already known for its strong offense, but there could be some extra fireworks in store for the circuit's midsummer classic. Lake Elsinore's Buddy Reed, the league's top hitter, will be accompanied by home run leader Roberto Ramos of Lancaster on the South roster that'll take on the
Down East's Tejeda leads weekly honorees
Rangers No. 11 prospect hit .414 to punctuate impressive May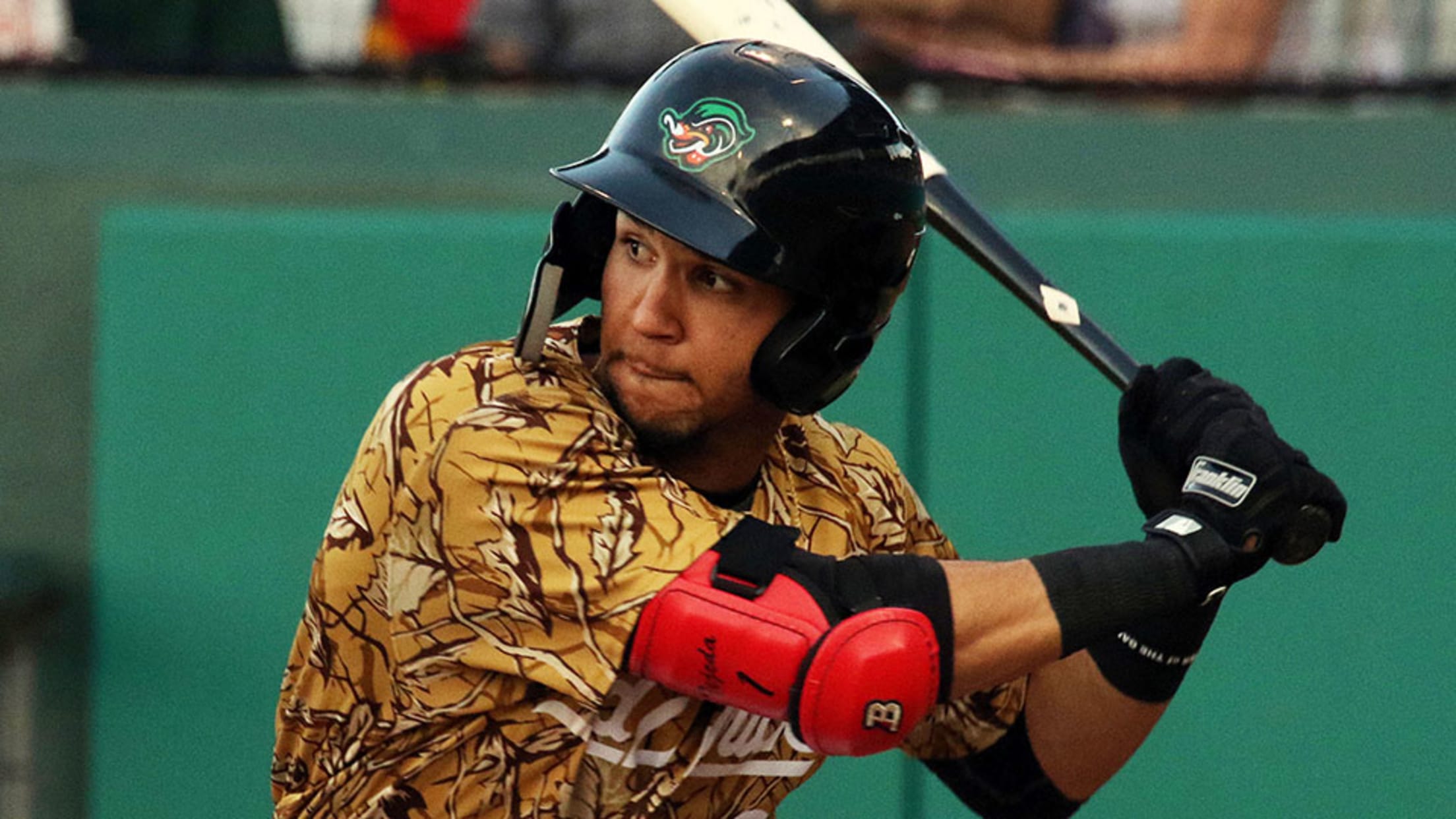 After a forgettable April, Anderson Tejeda turned things around at the plate for Class A Advanced Down East when the calendar flipped to May. The Rangers' No. 11 prospect punctuated his hot month with Carolina League Offensive Player of the Week honors for May 21-27, slashing .414/.452/.793 with three home
MiLB announces April Players of the Month
Each winner will receive an award from Minor League Baseball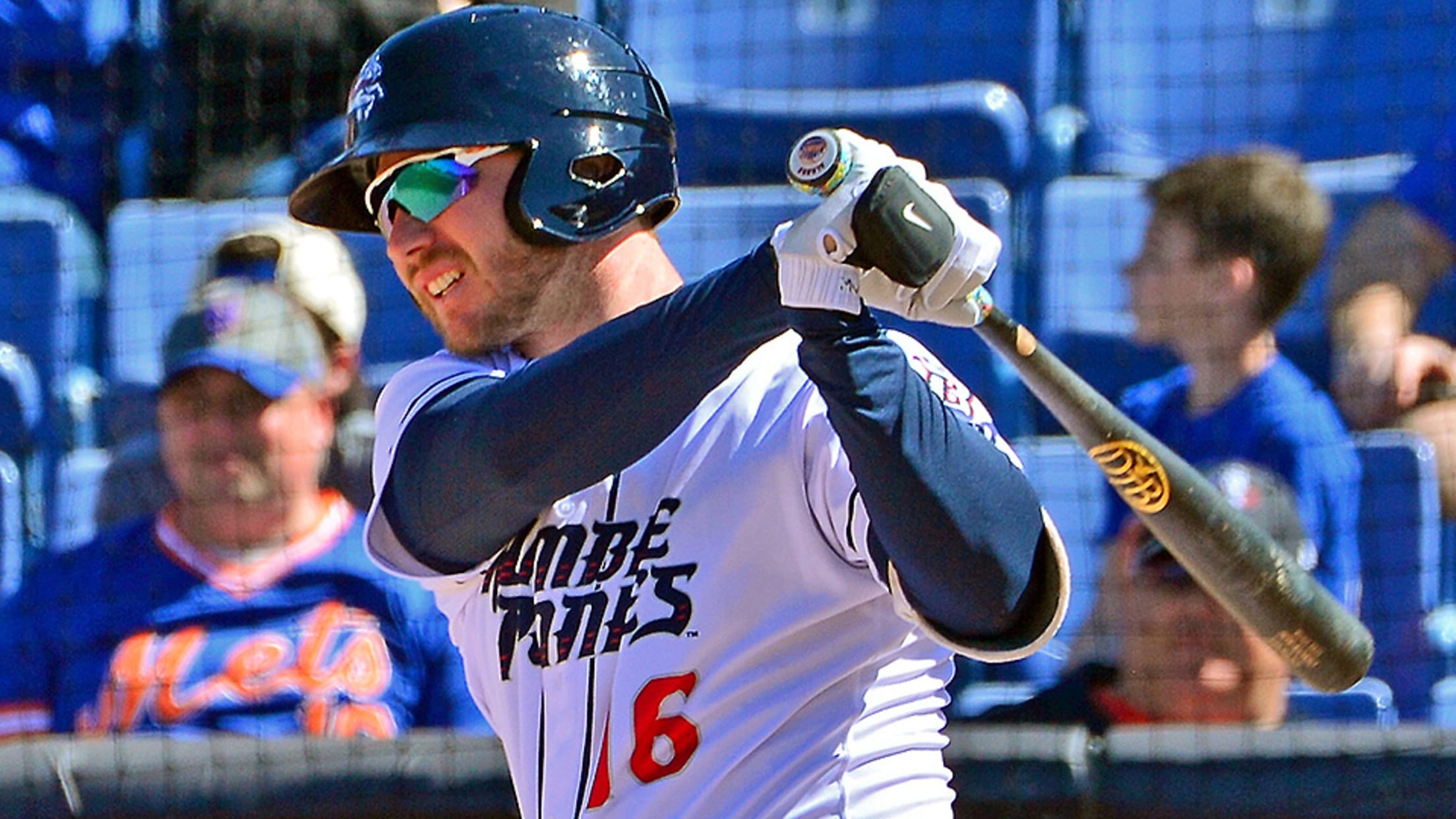 ST. PETERSBURG, Fla. -- Minor League Baseball today announced the Player of the Month Award winners for each of the 10 full season leagues for the month of April. Each winner will receive an award from Minor League Baseball in recognition of the honor.Indianapolis Indians (Pirates) third baseman/outfielder José Osuna
Padres' Reed rakes his way to weekly award
Outfielder goes 15-for-24 with four homers for Lake Elsinore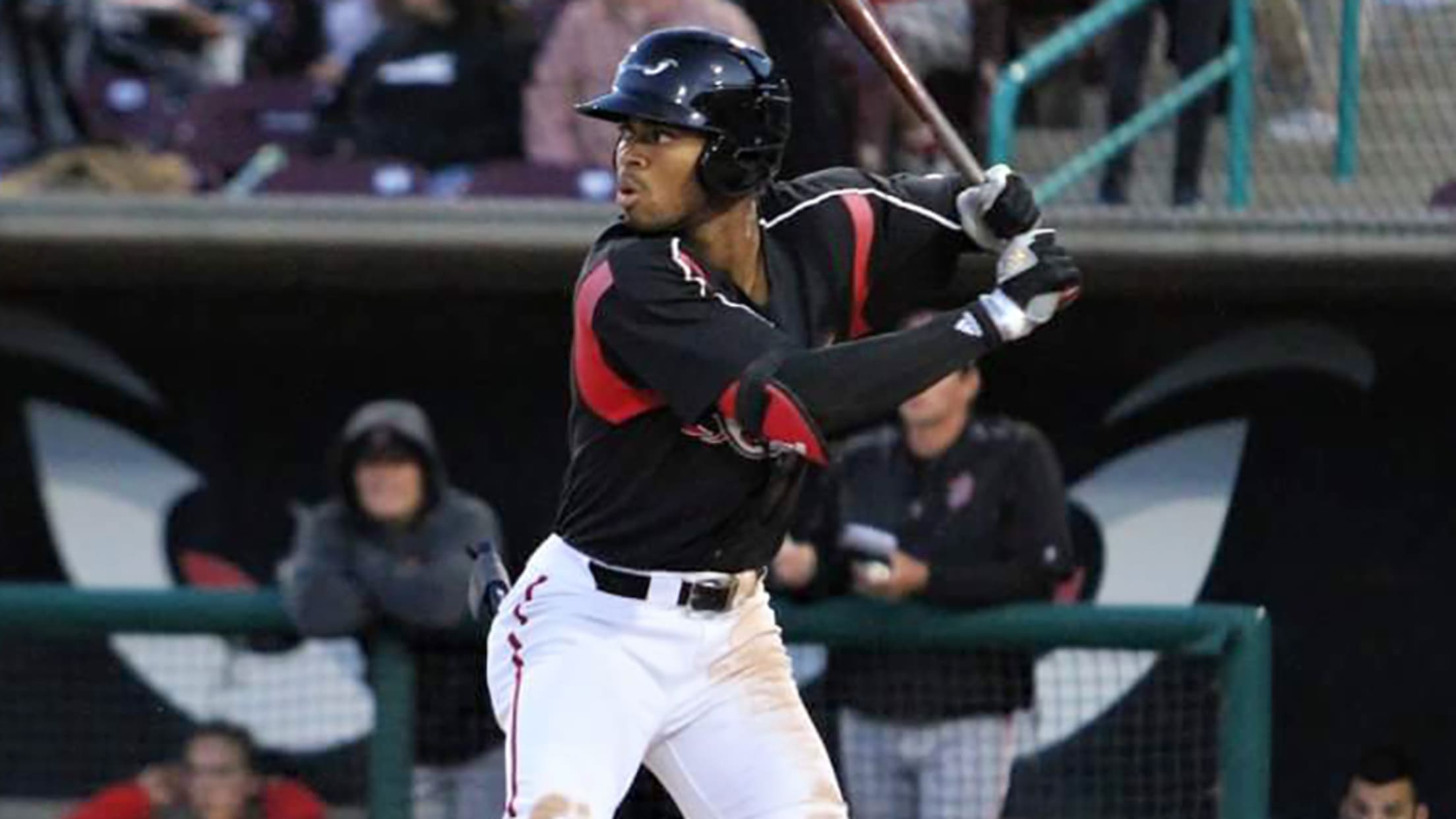 Prospects who struggle for an extended period risk dropping off the radar, particularly in a loaded system like the Padres'. For a time, Buddy Reed was a cautionary tale along those lines. The 2016 second-round pick was considered the No. 14 prospect in the San Diego system after he was
Reed storms out of gate for Lake Elsinore
Padres prospect homers twice, collects career-high six RBIs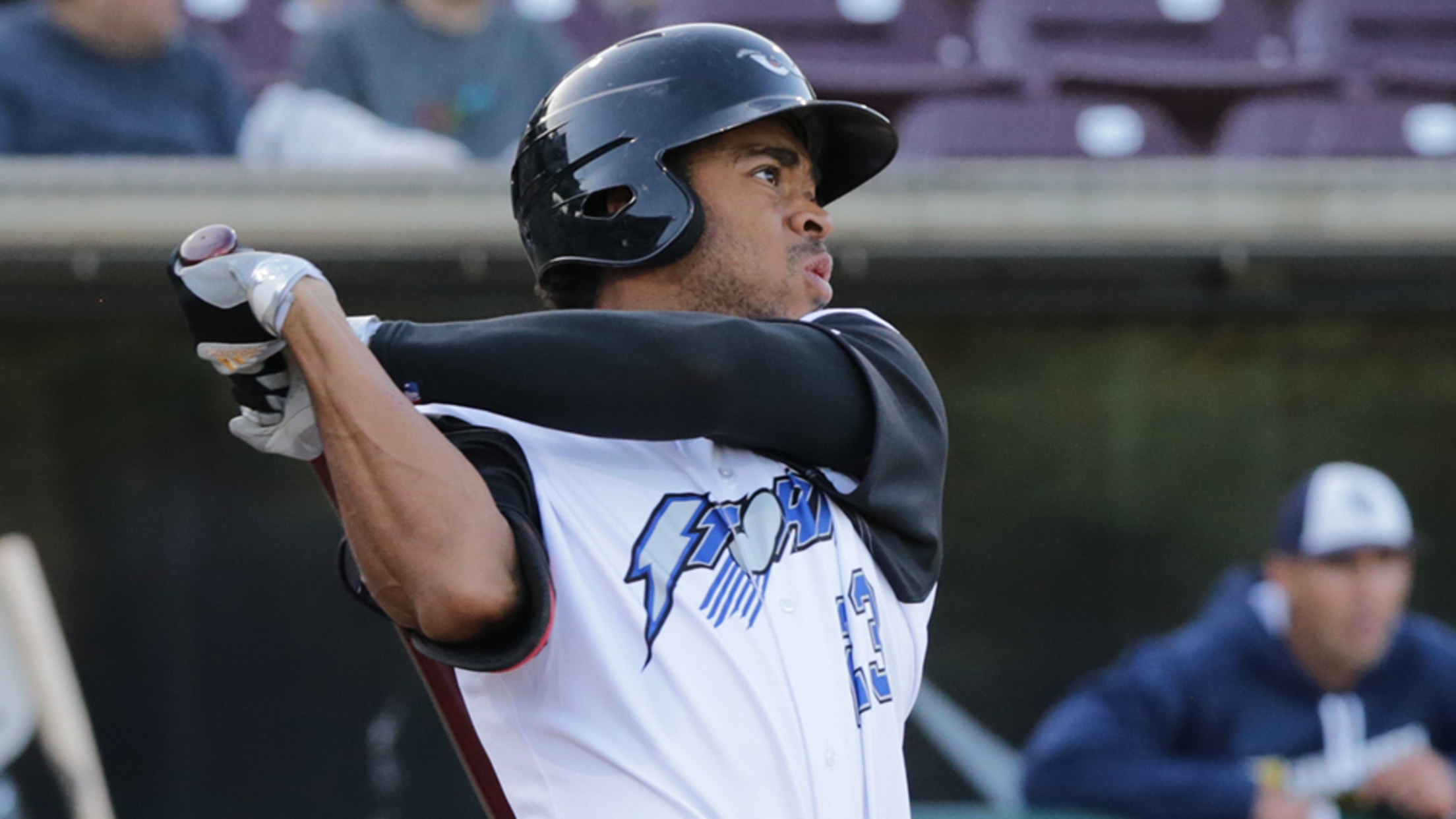 This past winter, Buddy Reed trekked south to the Australian Baseball League in an effort to improve his approach and "find a new identity." So far, the results in the Northern Hemisphere are more than promising for the Padres outfield prospect.Reed smashed two homers -- including an inside-the-parker -- and