Grizzlies down Isotopes 5-3 Sunday
Yadiel Hernandez joins the Fresno 30-HR club
Albuquerque, NM (Sunday, August 25) - In the last road game of the regular season, the Fresno Grizzlies (58-74) clipped the Albuquerque Isotopes (57-75) 5-3 from "The Lab." Fresno split the series and improved to 13-7 on Sundays (8-3 away). Scott Copeland (5-5, win), Sam Freeman (hold) and James Bourque
'Topes outlast Grizz at "The Lab"
Fresno scores seven straight runs to tie game before falling 10-9
Albuquerque, NM (Thursday, August 22) - Amidst the thin air of Central New Mexico, the Fresno Grizzlies (56-73) found themselves on the losing end of a typically high-scoring game at the home of the Albuquerque Istopes (56-73) on Thursday night. The 10-9 final (33 combined hits) dropped Fresno to 1-7
Tacos for the road, and a #TacoTuesday win
"Fresno Tacos" improve to 6-4 this season (2-0 at El Paso)
El Paso, TX (Tuesday, August 20) - On Taco Tuesday, the "Fresno Tacos" (56-71) played as the visiting team for the second time this season, a natural opponent for the "El Paso Margaritas" (74-53) as part of Copa de la Diversion festivities at Southwest Univeristy Park. Fresno prevailed 9-4, scoring
Hernandez propels Grizzlies past Missions 11-10 on Sunday
Yadiel Hernandez: 2 HR, 3 RBI, 3 R
San Antonio, Texas (Sunday, August 4) - The Fresno Grizzlies (54-59) clawed past the San Antonio Missions (70-43) 11-10 from Nelson Wolff Stadium. The victory snapped Fresno's eight-game losing streak and moved them to 12-5 on Sundays (7-2 on the road). It was also the Grizzlies 12th comeback win of
Tacos shelled 8-6 (10) by Sacramento in series-opener
Carter Kieboom extends hit streak to 10 games
Fresno, California (Tuesday, July 23) - The Fresno Tacos (52-50) crumbled to the Sacramento River Cats (55-47) 8-6 in 10 innings from Chukchansi Park. Despite tying the game in the ninth, a four-run 10th was too much for the Tacos to overcome. Derek Self (4-2) suffered the decision while Jandel
Grizzlies begin post-break with an 8-5 loss at Sacramento
Opener of four-game set as rivals vie for division lead this weekend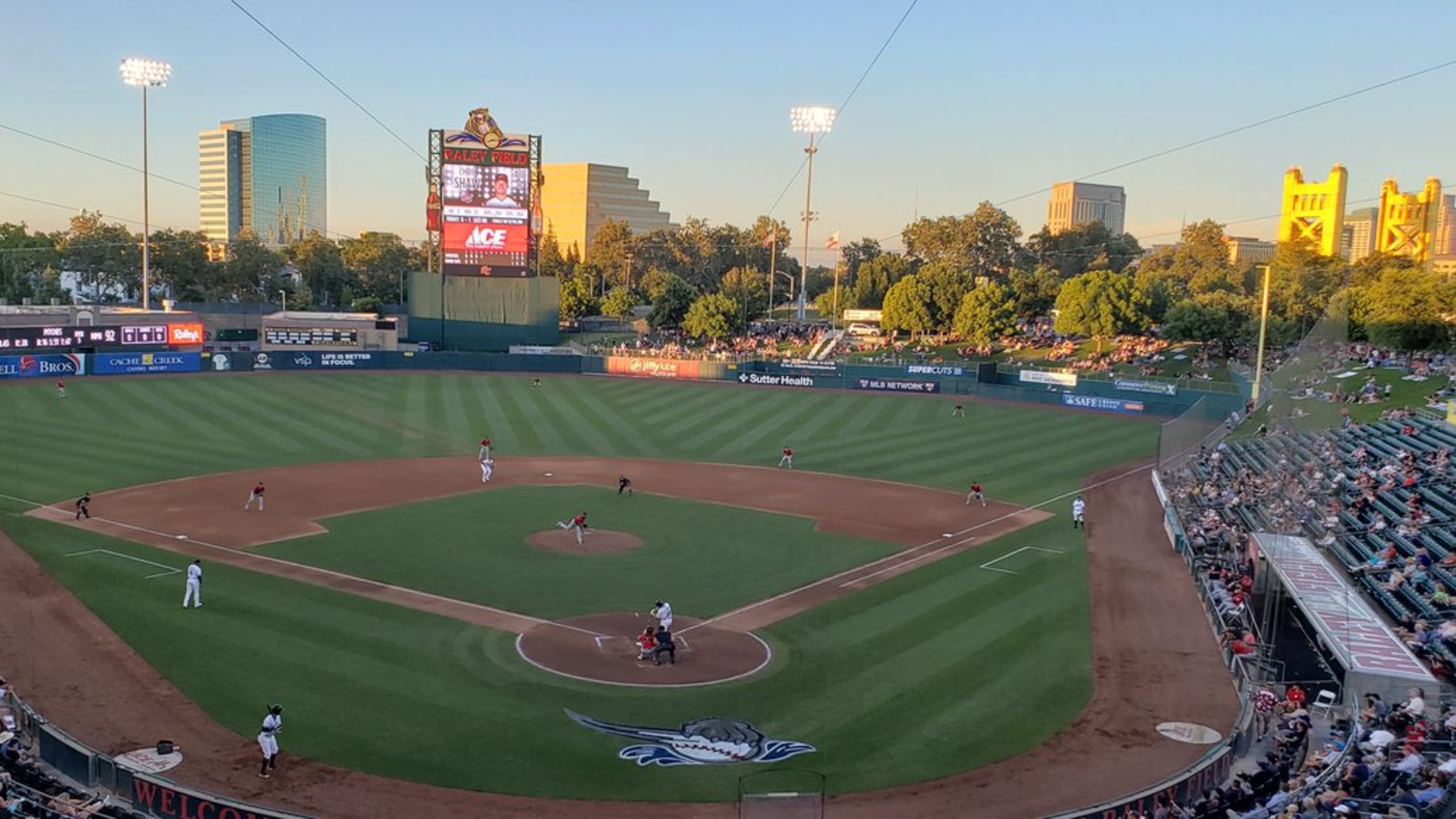 Sacramento, Calif. (Thursday, July 11) - The Fresno Grizzlies (46-45) endured a rare road loss to the Sacramento River Cats (47-43) on Thursday evening; Fresno dropped to 28-9 at Raley Field in West Sacramento since the beginning of the 2015 season (3-2 in 2019). The River Cats moved a game
Chihuahuas bark up 8-4 win against Grizzlies
Jake Noll and Taylor Gushue deliver back-to-back homers
El Paso, Texas (Wednesday, July 3) - The El Paso Chihuahuas (52-33) bit the Fresno Grizzlies (44-42) 8-4 in the series finale from Southwest University Park. Both clubs combined for 24 hits with seven going for extra-bases. Fresno starter Joe Ross (2-1) suffered the loss against his former organization. The
Marmolejos and Gushue co-pilot 7-6 Grizzlies victory over Aviators
Jose Marmolejos and Taylor Gushue hit for combined cycle in front of 10,191 fans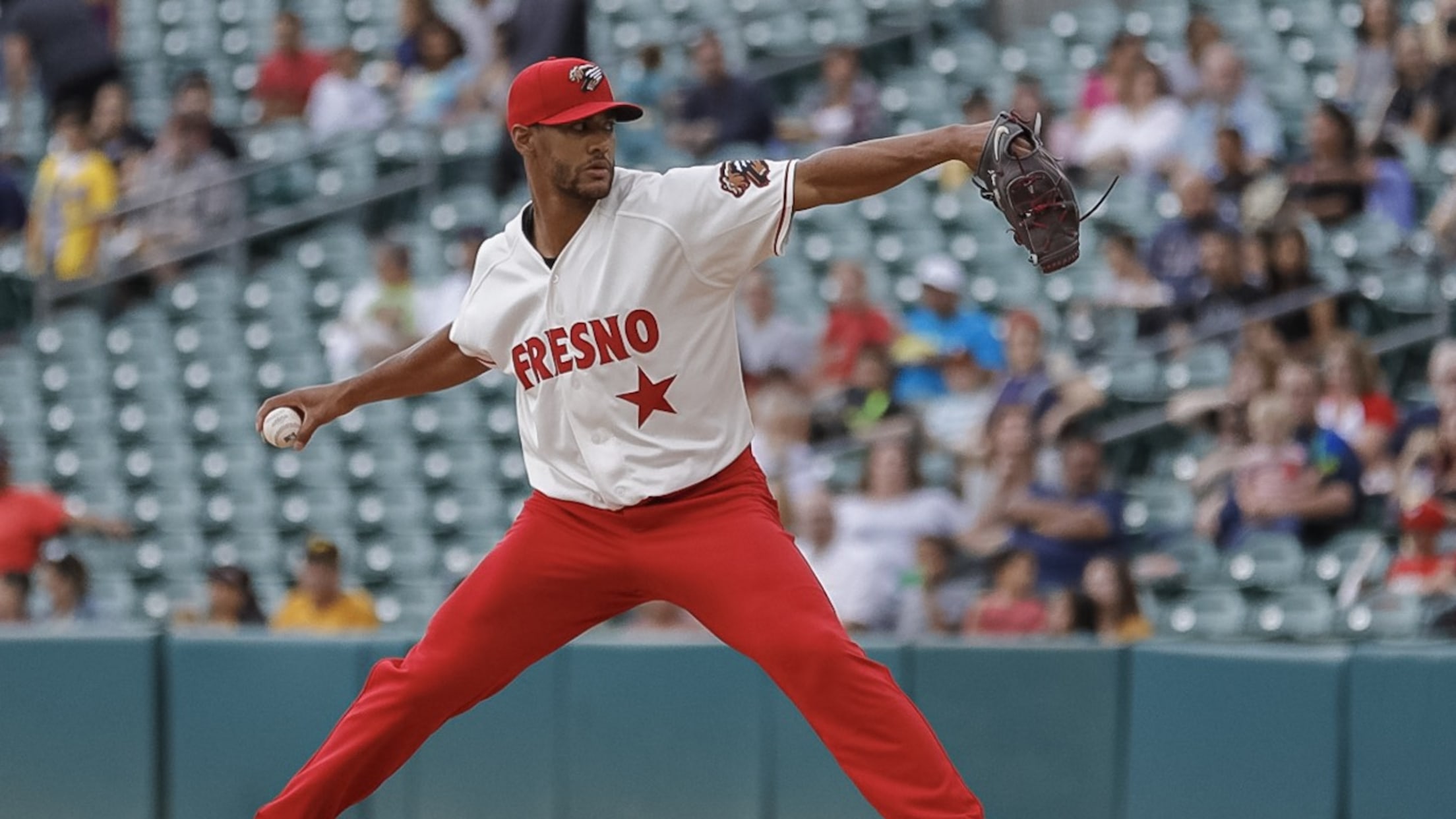 Fresno, California (Friday, June 28) - A crowd of 10,191 saw the Fresno Grizzlies (41-40) salvage the final game of a series against the Las Vegas Aviators (45-36) 7-6 from Chukchansi Park. Fresno has played 20 sets this year and have not been swept. José Marmolejos and Taylor Gushue were
Lowriders run out of gas in 8-7 defeat to Storm Chasers
Fresno scores five runs in the 4th, but can't hold on against Omaha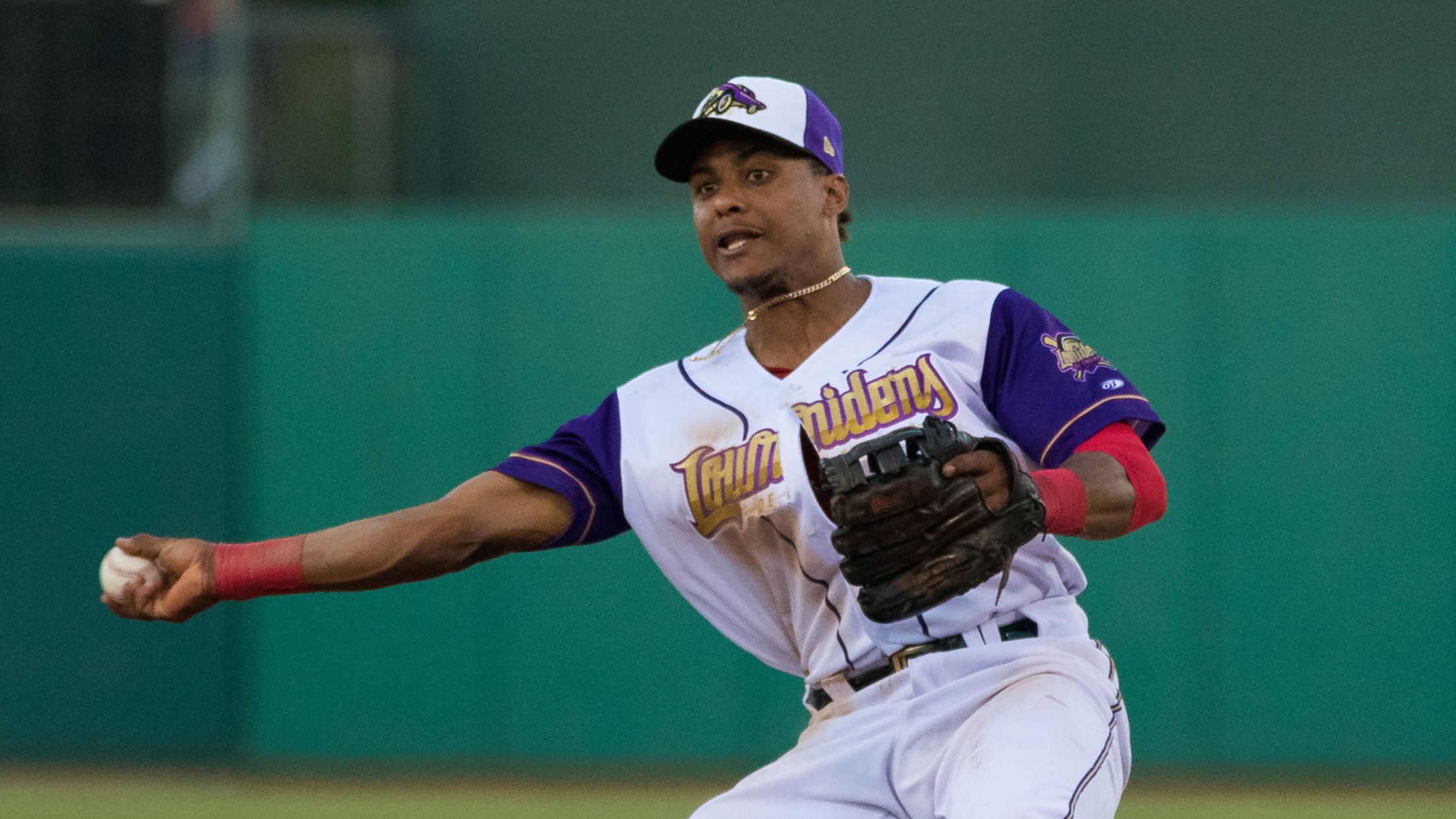 Fresno, California (Saturday, June 15) - The Omaha Storm Chasers (34-35) stormed back from a 7-2 deficit to beat the Lowriders de Fresno (33-35) 8-7 from Chukchansi Park. On the shoulders of reliever Ben Lively, Omaha plated six unanswered runs to enjoy a comeback victory. Lively hurled four and one
Saturday night's all right in Bricktown
Fresno scores nine for a second straight game at Oklahoma City, wins 9-4 to take the first two of the series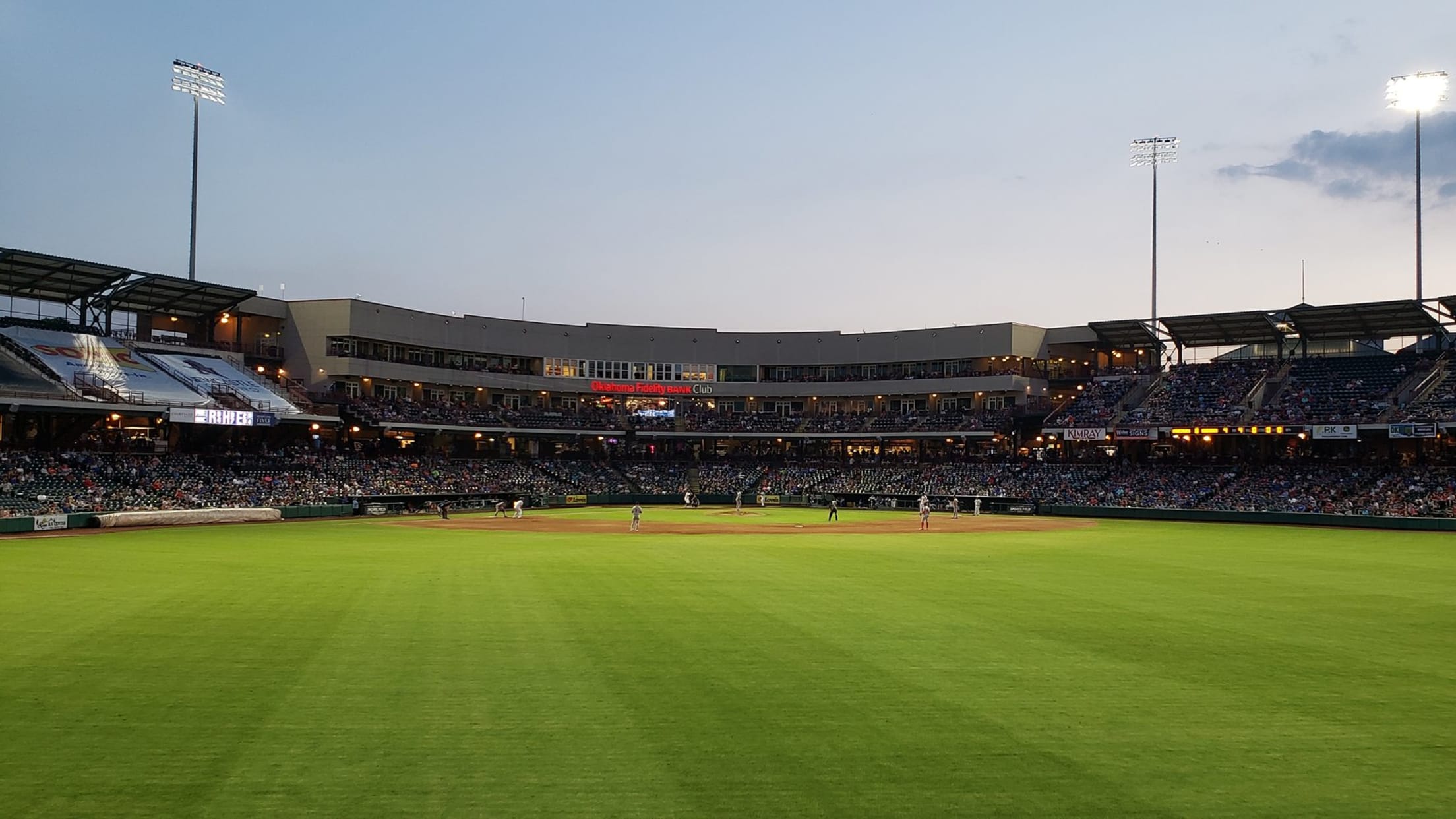 Oklahoma City (Saturday, June 8) - Taylor Gushue drove in two runs with a solo homer (third inning) and a double (sixth inning) on Saturday night in Oklahoma City, as the Fresno Grizzlies (31-31) earned a 9-4 victory over the OKC Dodgers (23-38). In taking the first two games of
Fresno completes the comeback, defeating Albuquerque 8-7 Monday night
The Grizzlies trailed 6-0 in the fifth, mounting their largest comeback of the season
Fresno, California (Monday, May 13) - The Fresno Grizzlies (20-18) clawed past the Albuquerque Isotopes (20-19) 8-7 from Chukchansi Park. Trailing 6-0 heading into the bottom of the fifth, Fresno roared to life, scoring eight runs in the next three innings. Alec Keller and Taylor Gushue both walloped two-run shots
Isotopes inch past Grizzlies 5-3 despite Gushue going 3-for-3
Taylor Gushue has hit safely in 13 of his last 14 games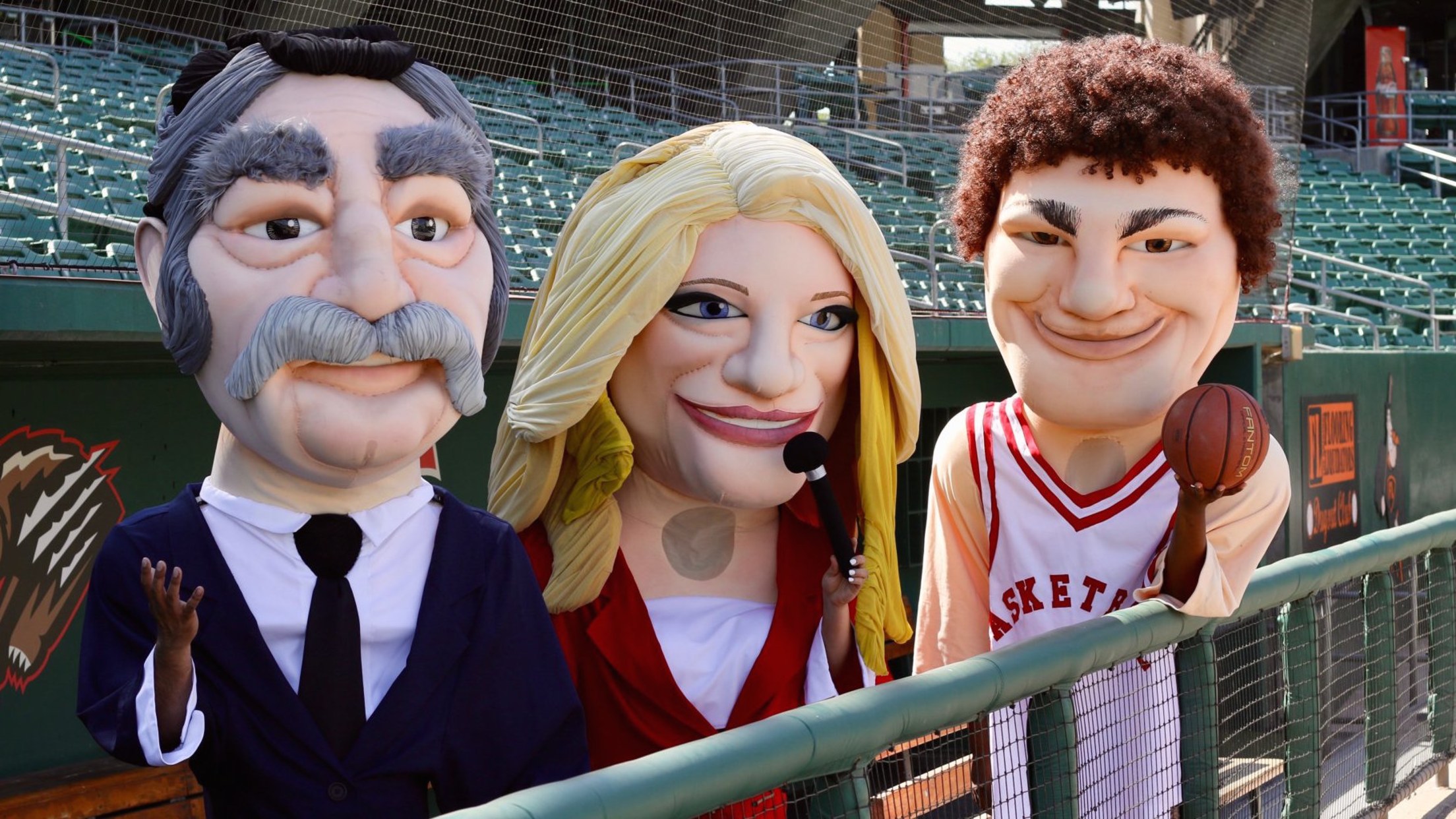 Fresno, California (Saturday, May 11) - The Fresno Grizzlies (18-18) dropped their second straight game, losing to the Albuquerque Isotopes (20-17) 5-3 from Chukchansi Park. Taylor Gushue led the Grizzlies offense, reaching base four times while homering in the second inning. He has recorded a hit in 13 of his
Sacramento squeaks by Fresno 7-6 (10) to avoid sweep
Grizzlies four-game winning streak comes to an end
West Sacramento, Calif. (Friday, May 10) - For the second straight evening, the Fresno Grizzlies (18-17) and Sacramento River Cats (17-18) went to extras, with Sacramento clipping Fresno 7-6 in 10 innings. The Grizzlies were looking for their first sweep of the season and fifth straight victory, but the River
Battery Power: Copeland shines on the hill, catcher Gushue (3-for-4) homers in 4-1 Grizz win at SAC
Fresno holds Sacramento to four hits while winning for the sixth time in seven games
West Sacramento, Calif. (Wednesday, May 8) - Catcher Taylor Gushue extended the longest Fresno Grizzlies hit streak this season to 11 games, going 3-for-4 with a homer on Tuesday afternoon at Raley Field. The Grizzlies (17-16) knocked off the Sacramento River Cats (16-17) for the second time in as many
Fresno can't erase early deficit, falls 4-2 to El Paso
Taylor Gushue extends hit streak to seven games
Fresno, California (Wednesday, May 1) - The El Paso Chihuahuas (19-7) expanded their franchise-record win streak to 12 games Wednesday night, beating the Fresno Grizzlies (11-15) 4-2 from Chukchansi Park. A three-run top of the second was all El Paso needed to stay ahead of Fresno. Peter Van Gansen highlighted
Fresno falters 9-7 in series finale to Las Vegas
Yadiel Hernandez blasts 4th home run of the season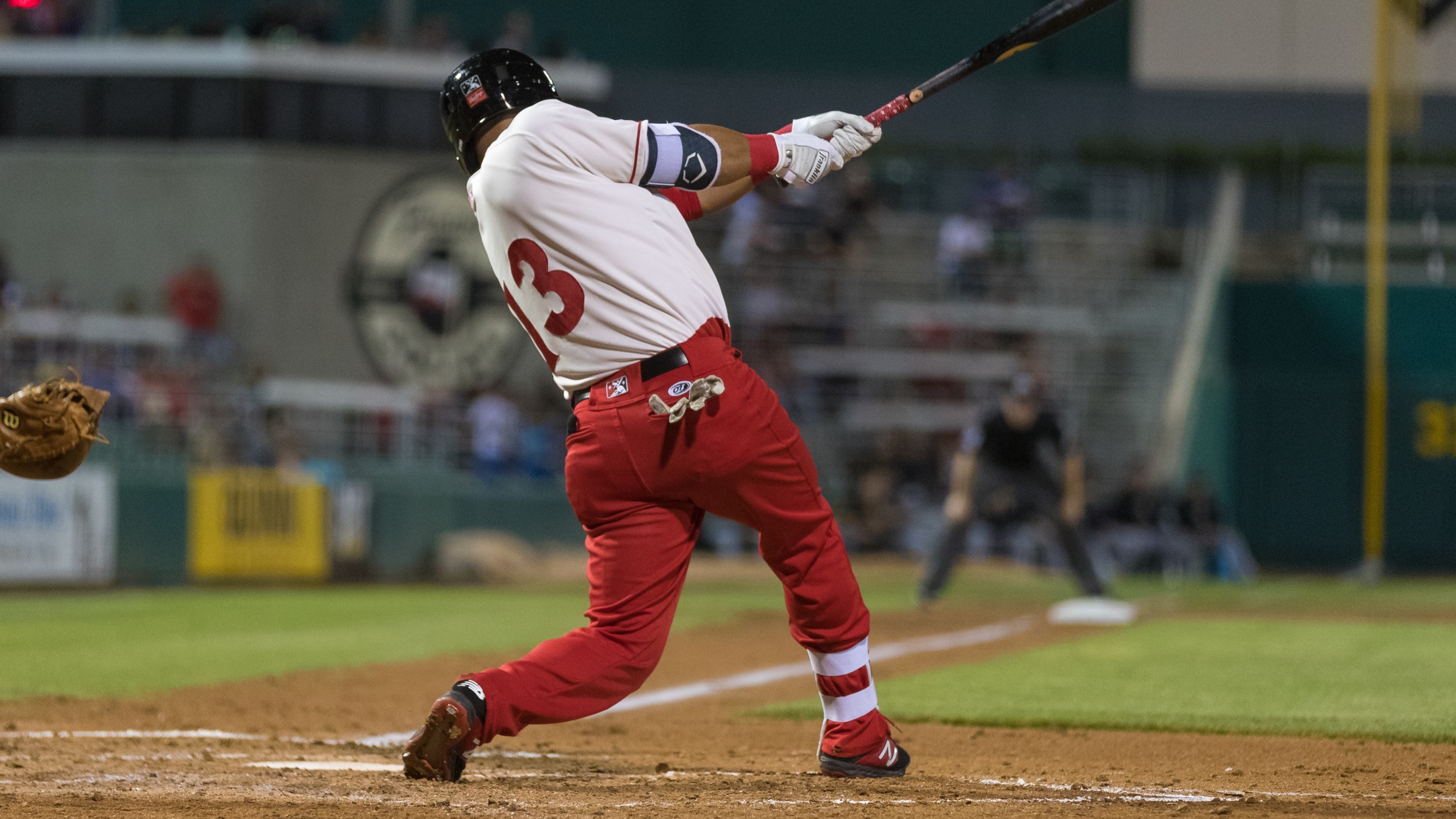 Fresno, California (Monday, April 22) - The Fresno Grizzlies (10-8) split their first series of the 2019 season after falling to the Las Vegas Aviators (15-4) 9-7 Monday night. Yadiel Hernandez clobbered his fourth homer of the year and Carter Kieboom added a pair of hits and RBI in the
#Growlifornia 2.0: Grizzlies open new era with extra-inning triumph
Showing off new colors, uniforms and a rejuvenated Chukchansi Park, Fresno walks off Reno in the 10th on Opening Day in first game as a Washington Nationals affiliate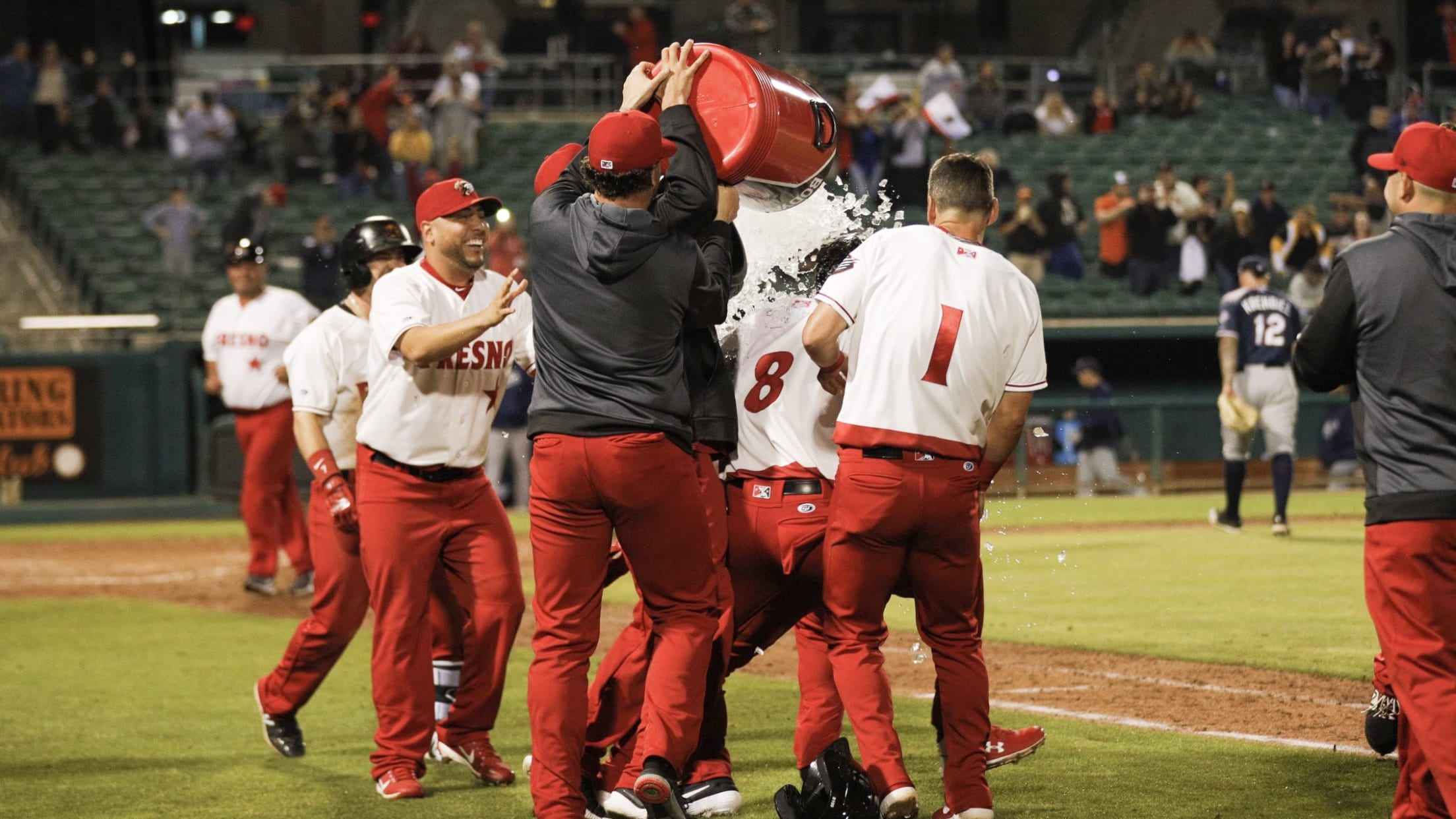 Fresno, Calif. (Thursday, April 4) - The final professional baseball game on the contintent to end Thursday night was well worth the wait for fans of the Fresno Grizzlies (1-0), and not just because of the post-game fireworks. Solo homers by Collin Cowgill (2-for-3, BB, 2 runs) in the second
Triple-A, Eastern sluggers set for HR derbies
League leaders ready to flex muscle as part of All-Star festivities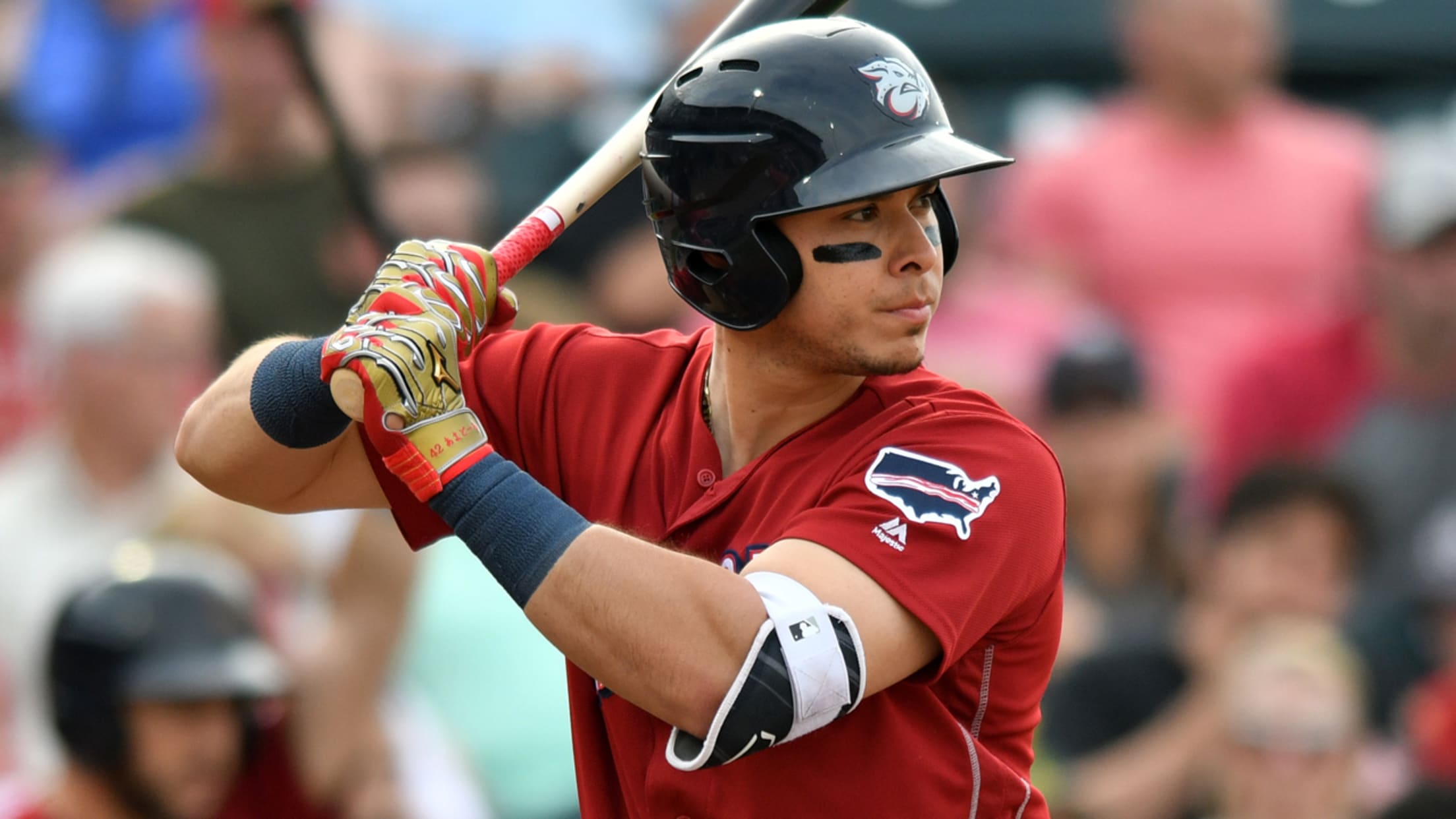 Fans in Columbus and Trenton better make sure their gloves are oiled, laced up and ready to go.Derby season arrives next week for the Triple-A and Eastern leagues, and each circuit has announced its list of participants for their respective home run competitions. The Triple-A showcase will take place in
Victor Robles and Taylor Gushue Named Carolina League Year-End All-Stars
Duo Earns Carolina League Recognition for the Second Time in 2017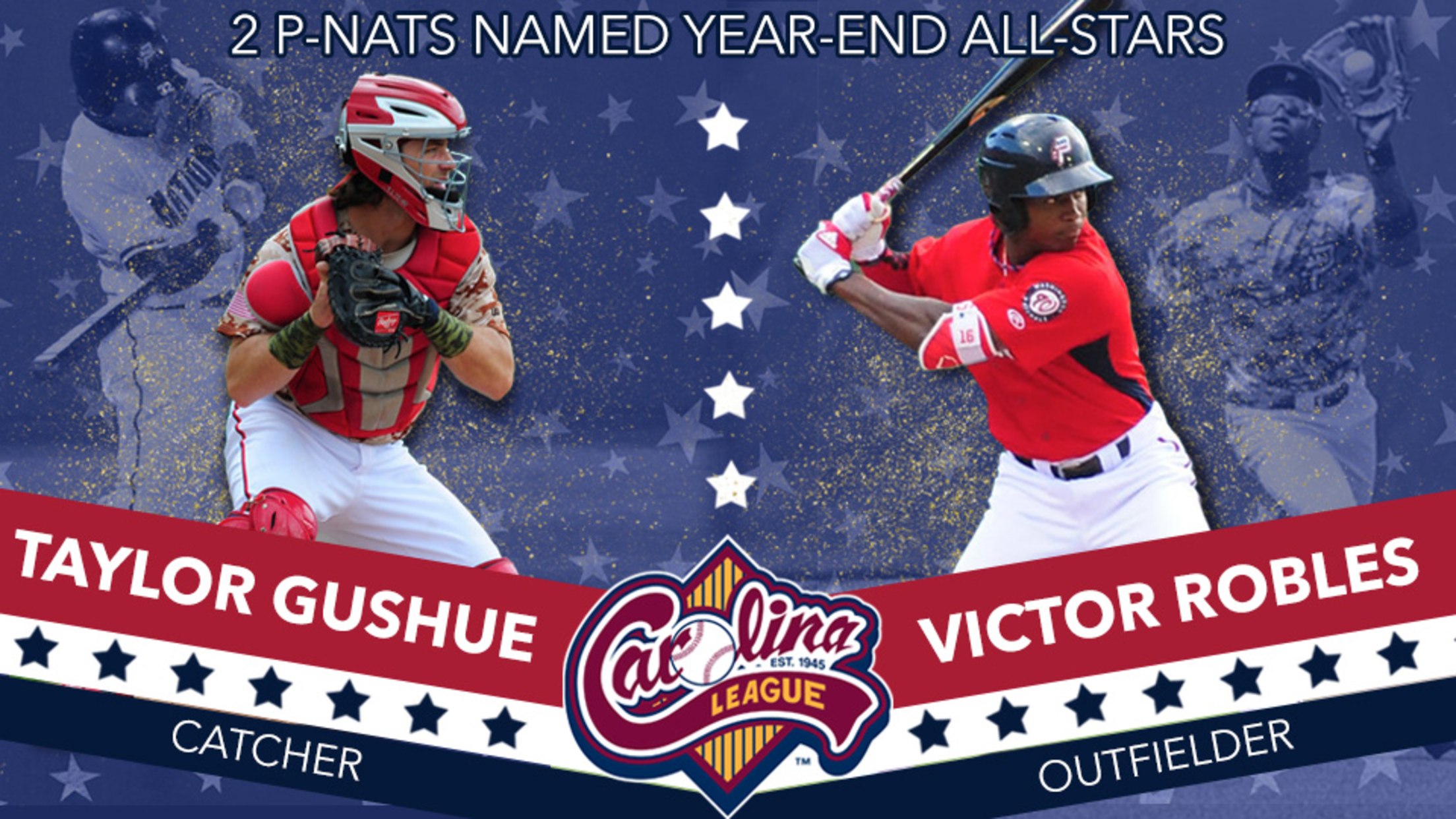 Woodbridge, VA---Earlier today, the Carolina League announced that both CF Victor Robles  and C Taylor Gushue  have been named Carolina League year-end All-Stars. Both Robles and Gushue earned mid-season All-Star accolades as well.
Six Current & Former P-Nats Set to Play in the 2017 Arizona Fall League
Three Current and Three Former Members of The Red, White & Blue Set to Play for Mesa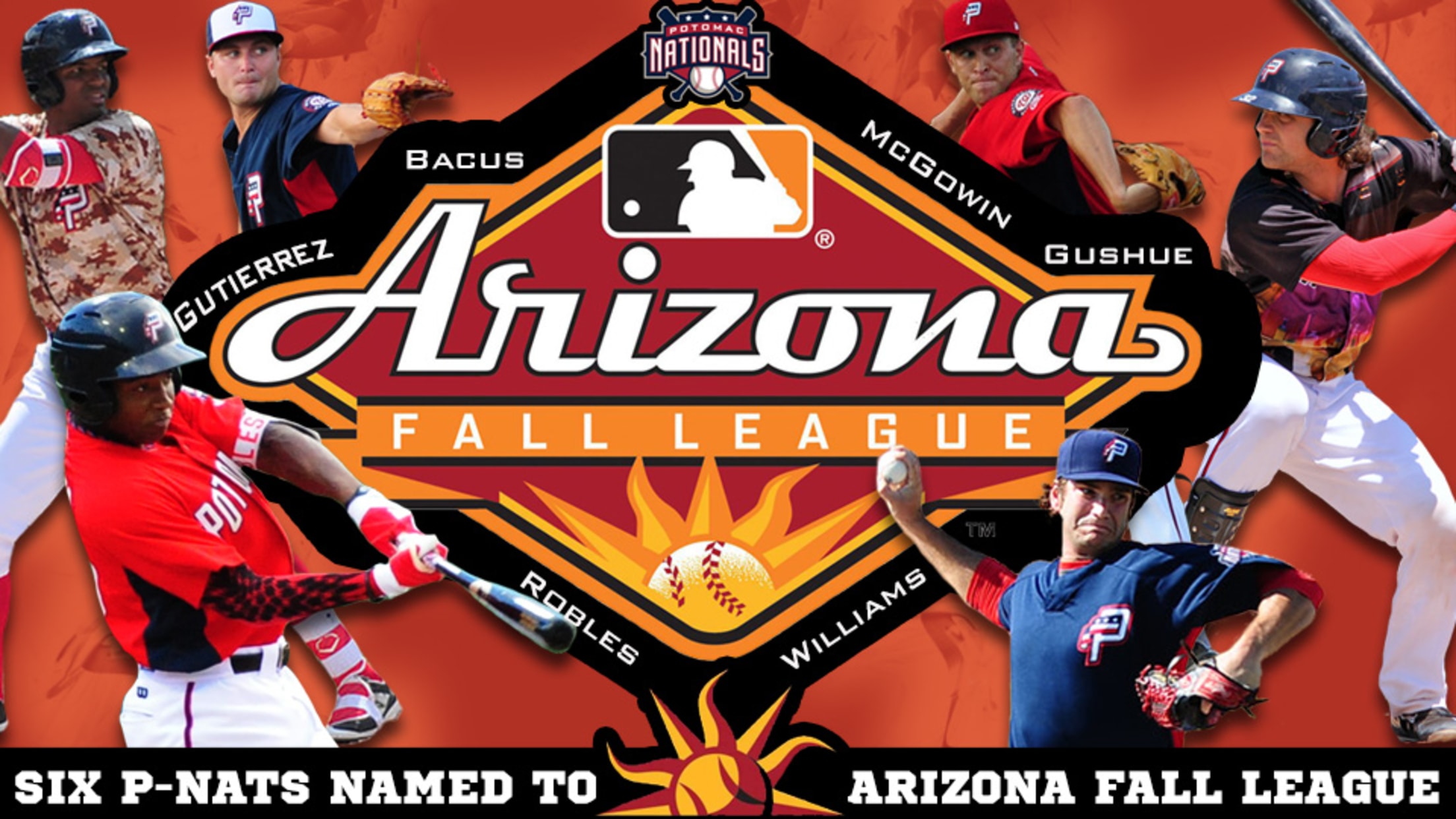 Woodbridge, VA-A trio of both past and present Potomac Nationals will represent the Washington Nationals in the Arizona Fall League come October. Current members of the P-Nats who will play for the Mesa Solar Sox this offseason include RHP Austen Williams , C Taylor Gushue , and 3B Kelvin Gutierrez
Carolina notes: P-Nats' Gushue shows strength
Nationals No. 23 prospect having career year after offseason trade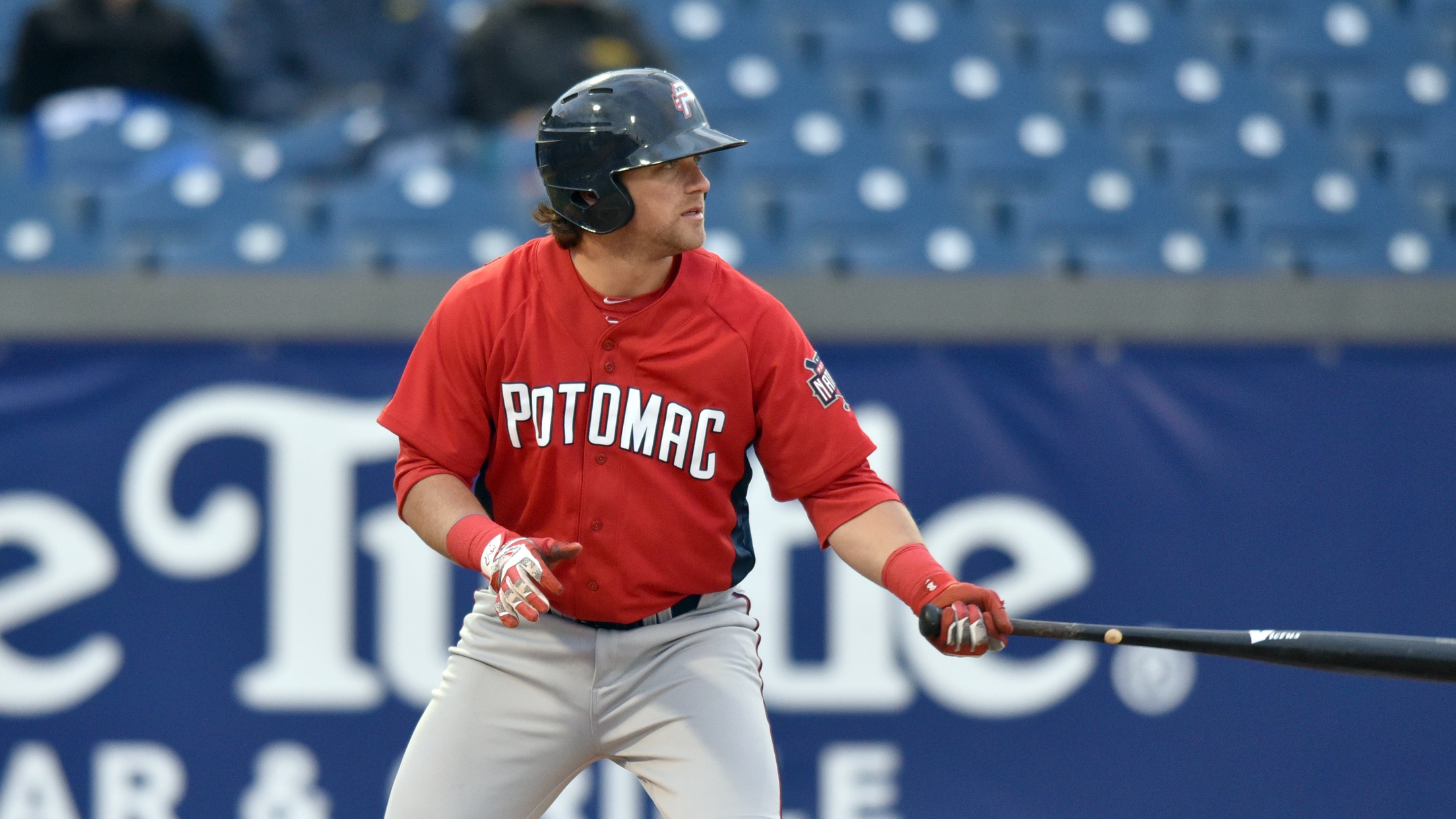 Robles, Gushue, & Gutierrez Named Carolina League Mid-Season All-Stars
Three P-Nats Will Represent Northern Division in 6/20 Matchup at Haley Toyota Field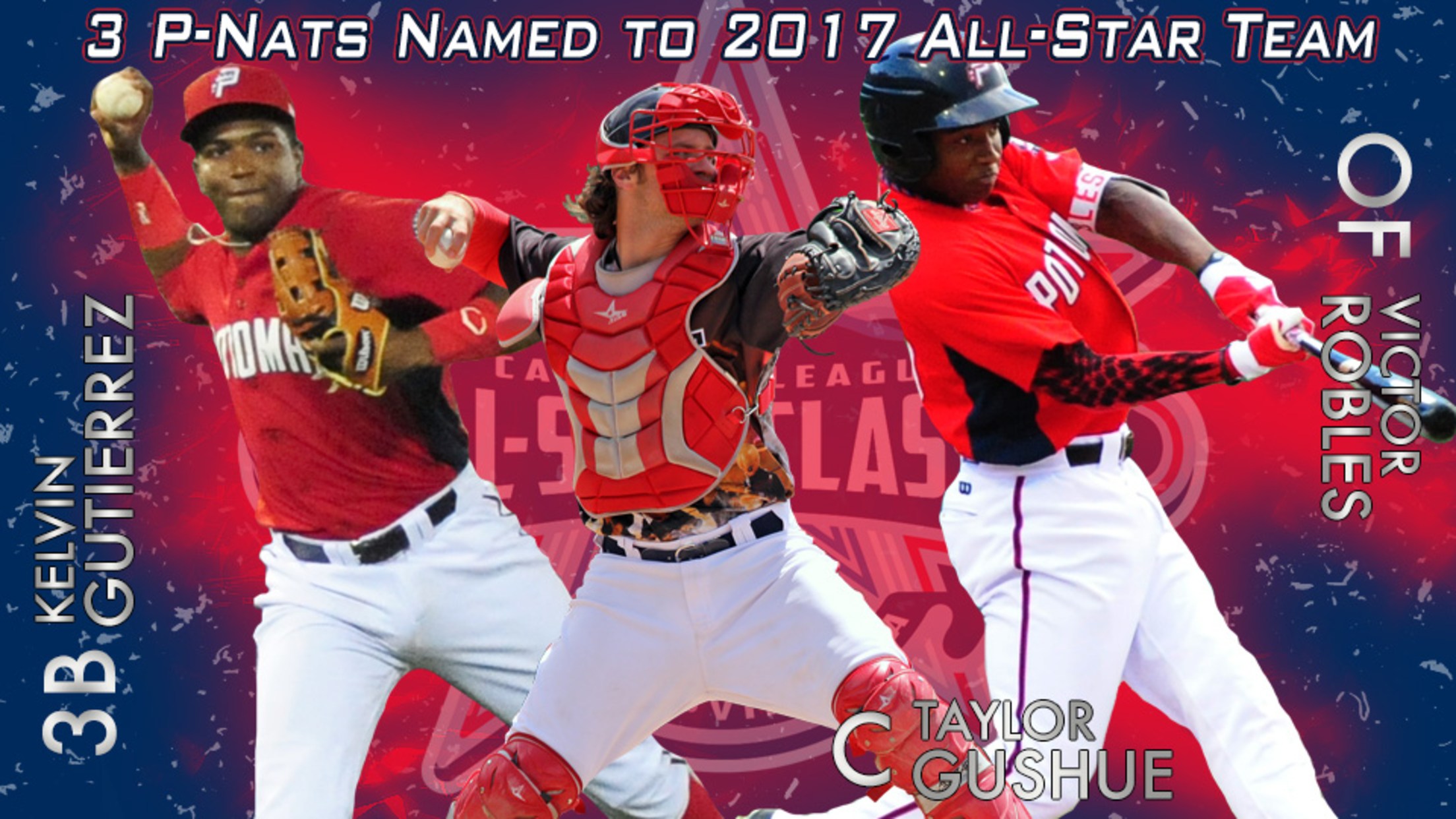 Woodbridge, VA---The Potomac Nationals are proud to announce that CF Victor Robles , C Taylor Gushue , and 3B Kelvin Gutierrez have been named to the 2017 Carolina League Mid-Season All-Star team. These three players will represent the P-Nats and the Northern Division in the 2017 Carolina League All-Star Game