Travs Shutout Frisco To Open Homestand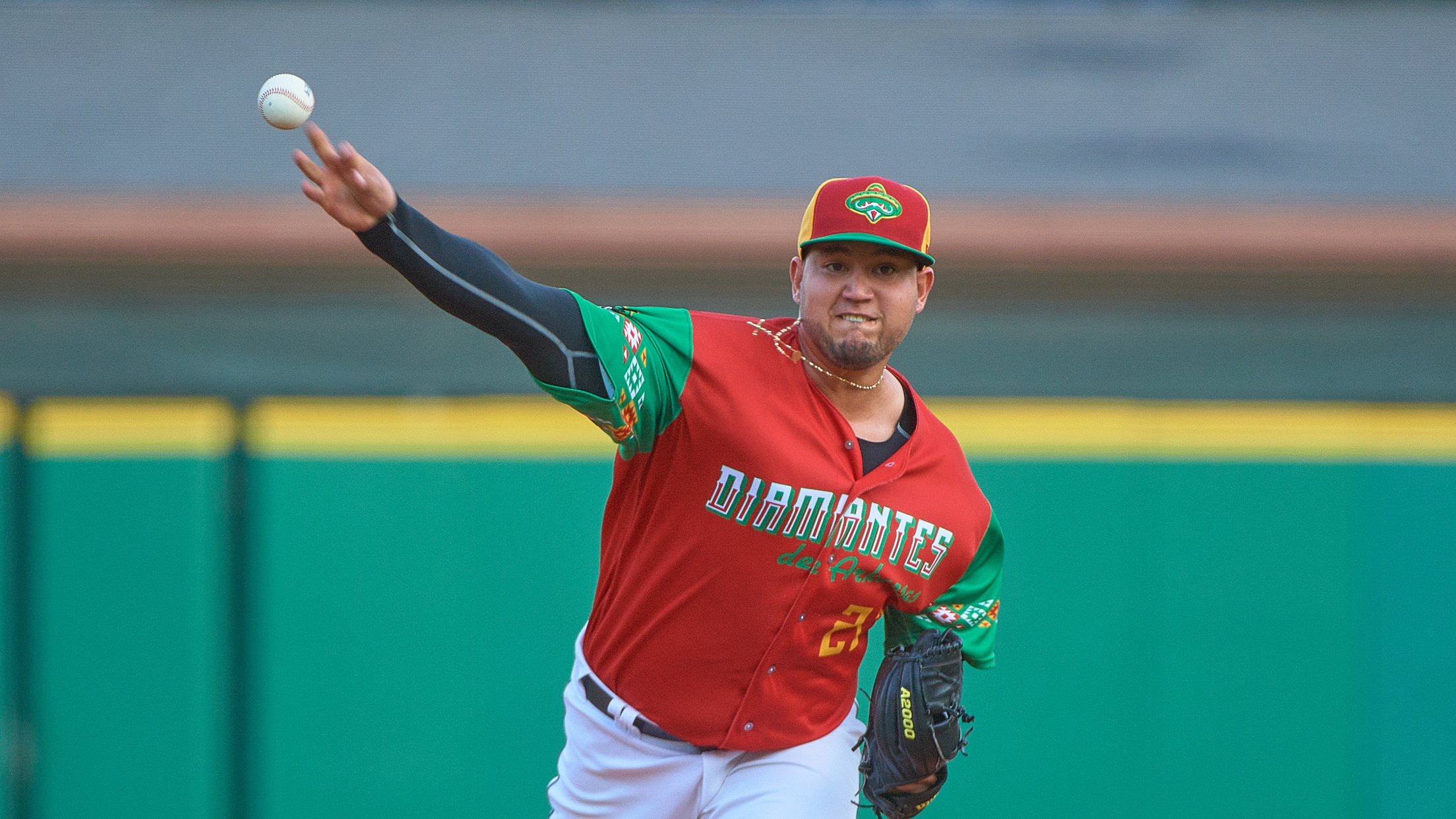 North Little Rock, AR—Four Travelers pitchers combined on the team's sixth shutout of the season Tuesday night in a 3-0 win over the Frisco RoughRiders. Alejandro Requena started and scattered three hits over six innings with four strikeouts on the way to his fourth win of the season. Moises Gomez,
O'Keefe, Morgan Power Travs Past Drillers
Travs ride five-run fifth inning on offense.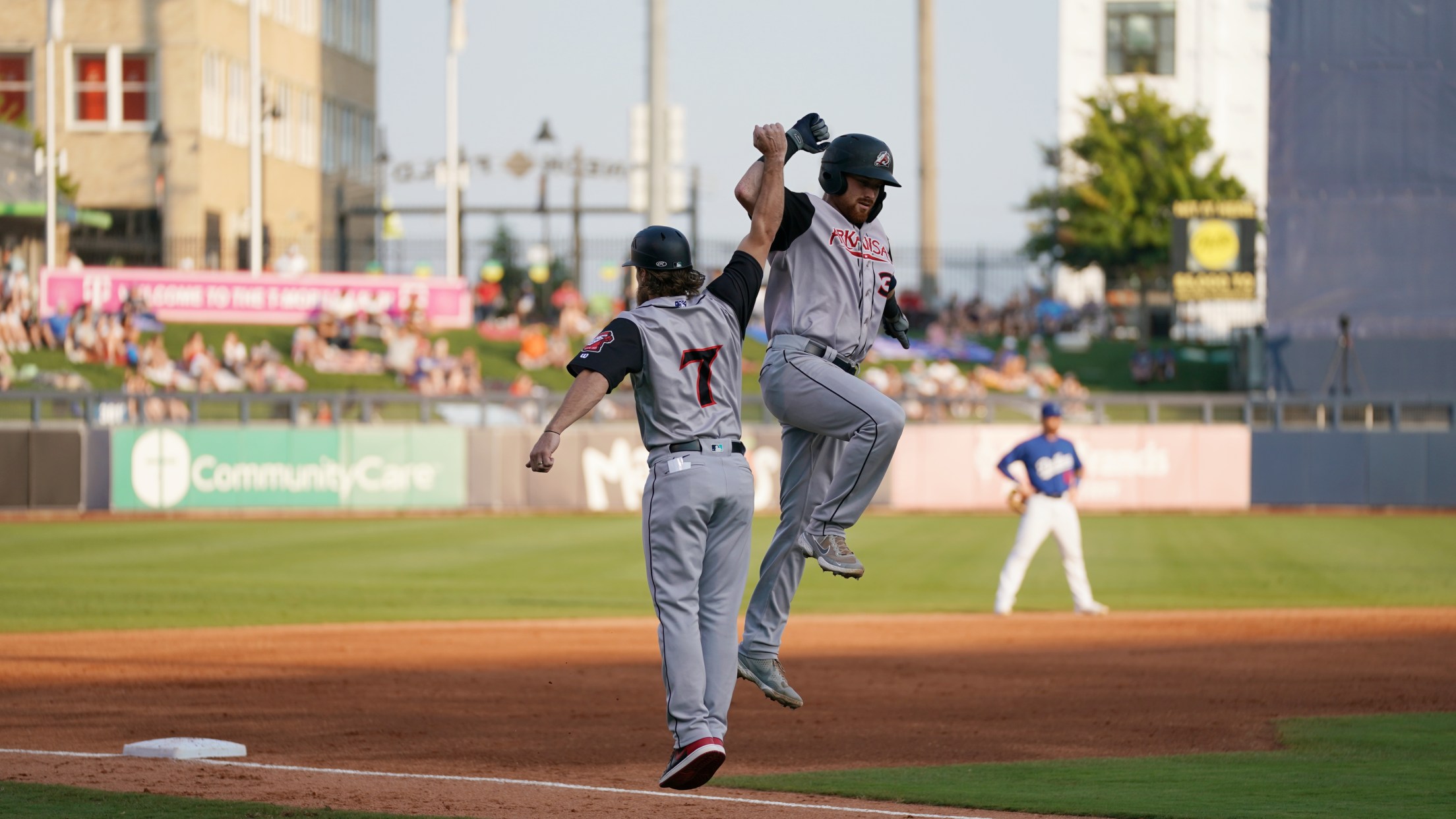 Tulsa, OK—Brian O'Keefe belted his team leading 11th home run of the season among three hits and drove in four runs as the Arkansas Travelers bested the Tulsa Drillers, 7-4 on Saturday night. Josh Morgan added a three-run homer as part of a five-run fifth inning that put the Travs
Big 8th Inning Rallies Travs to Win
Travs erase two deficits in victory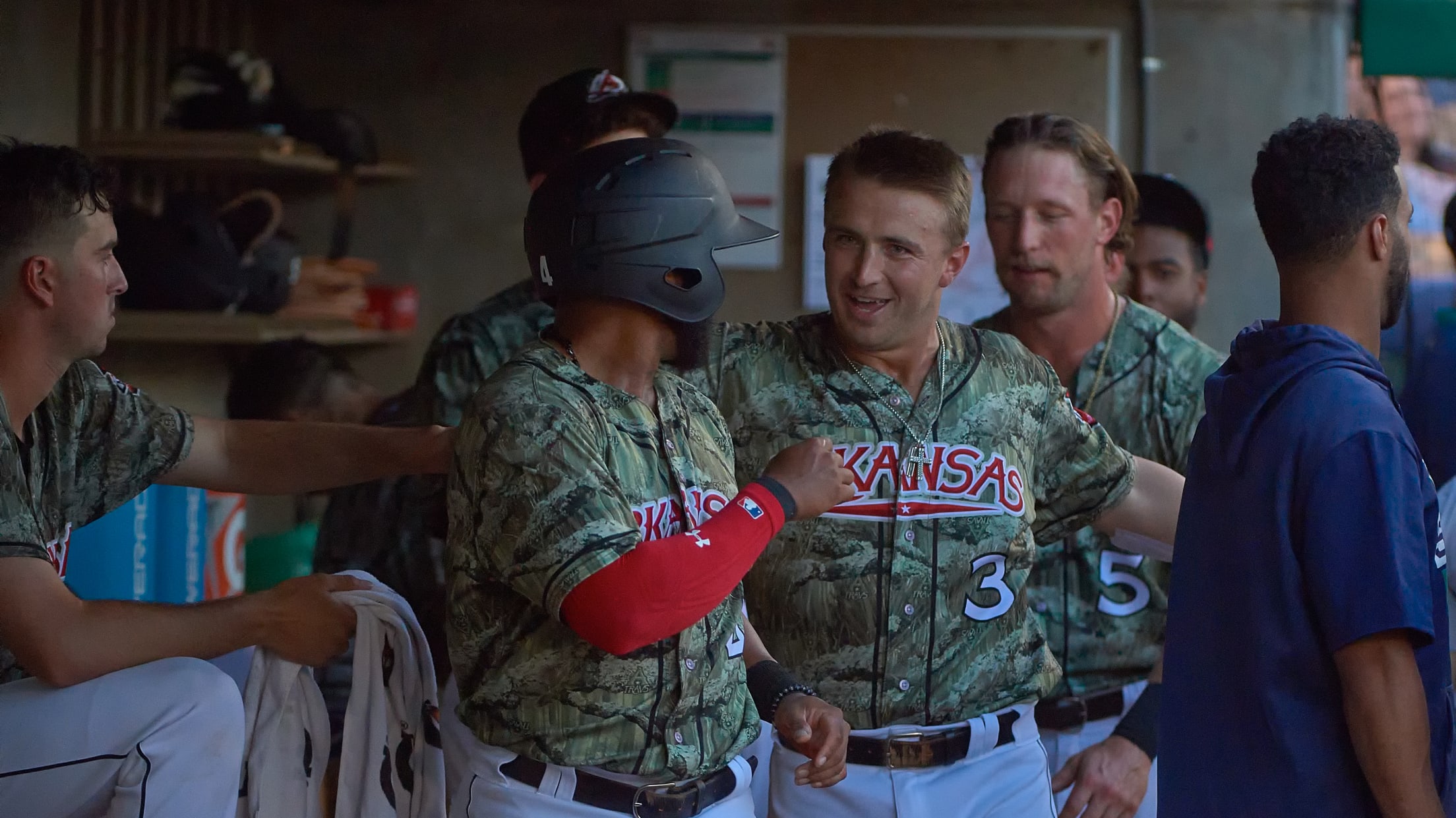 North Little Rock, AR—A four run eighth inning erased the second deficit of the night for the Arkansas Travelers in an 8-5 win over the Tulsa Drillers on Wednesday night. Joe Rizzo homered opening the pivotal inning tying the score. Then with two out, after the Travs loaded the bases,
Josh Morgan Homers Twice; Travs Come Back to Top Cards
Morgan's blasts each give Travs the lead and he drives in six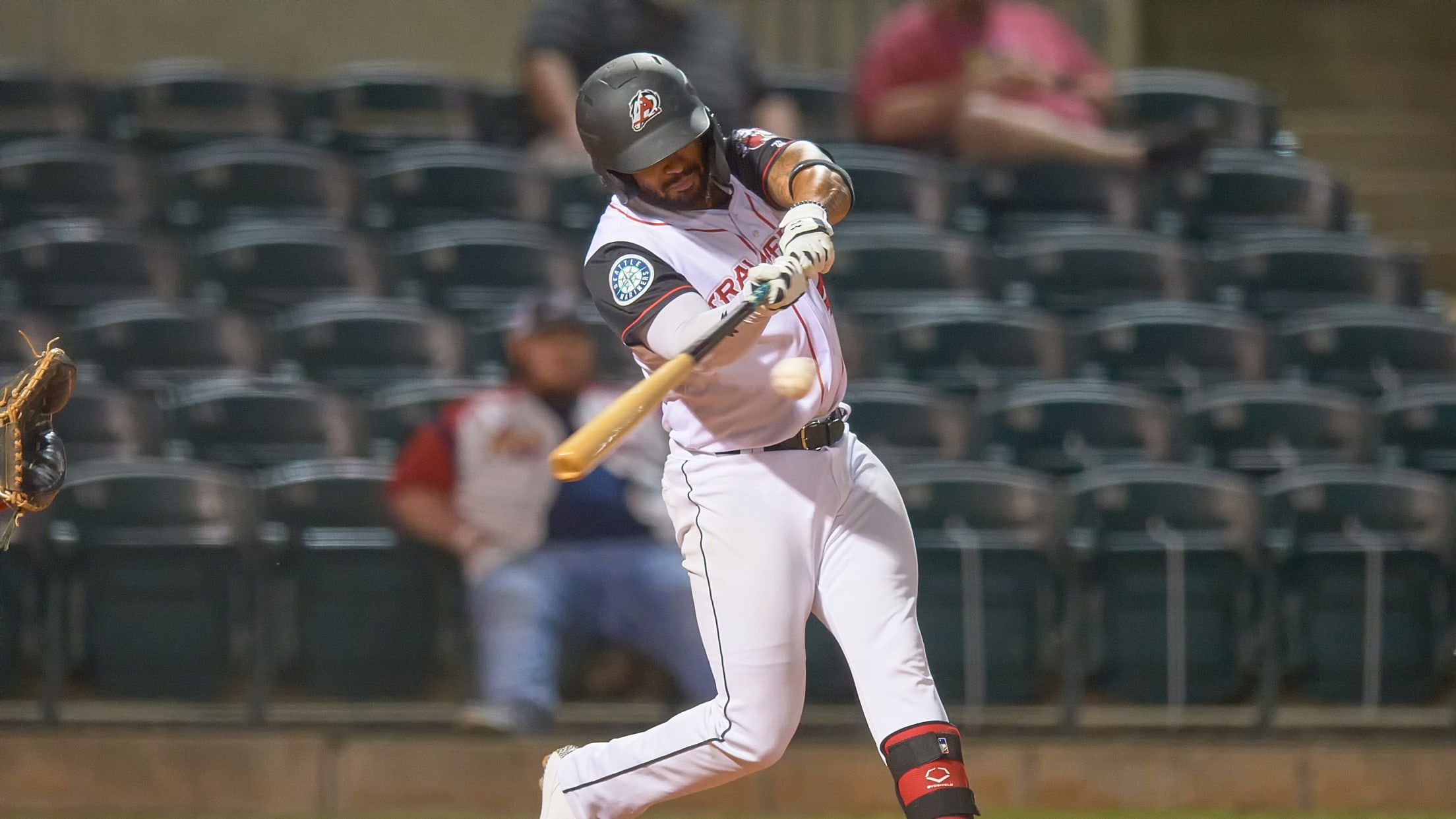 Springfield, MO—Josh Morgan hit a pair of go-ahead home runs including a grand slam in the 7th inning to push the Arkansas Travelers to a 7-5 win over the Springfield Cardinals on Friday night. Penn Murfee pitched six innings and earned the win, striking out seven. Murfee stayed in the
Herb, Travs Blank Wind Surge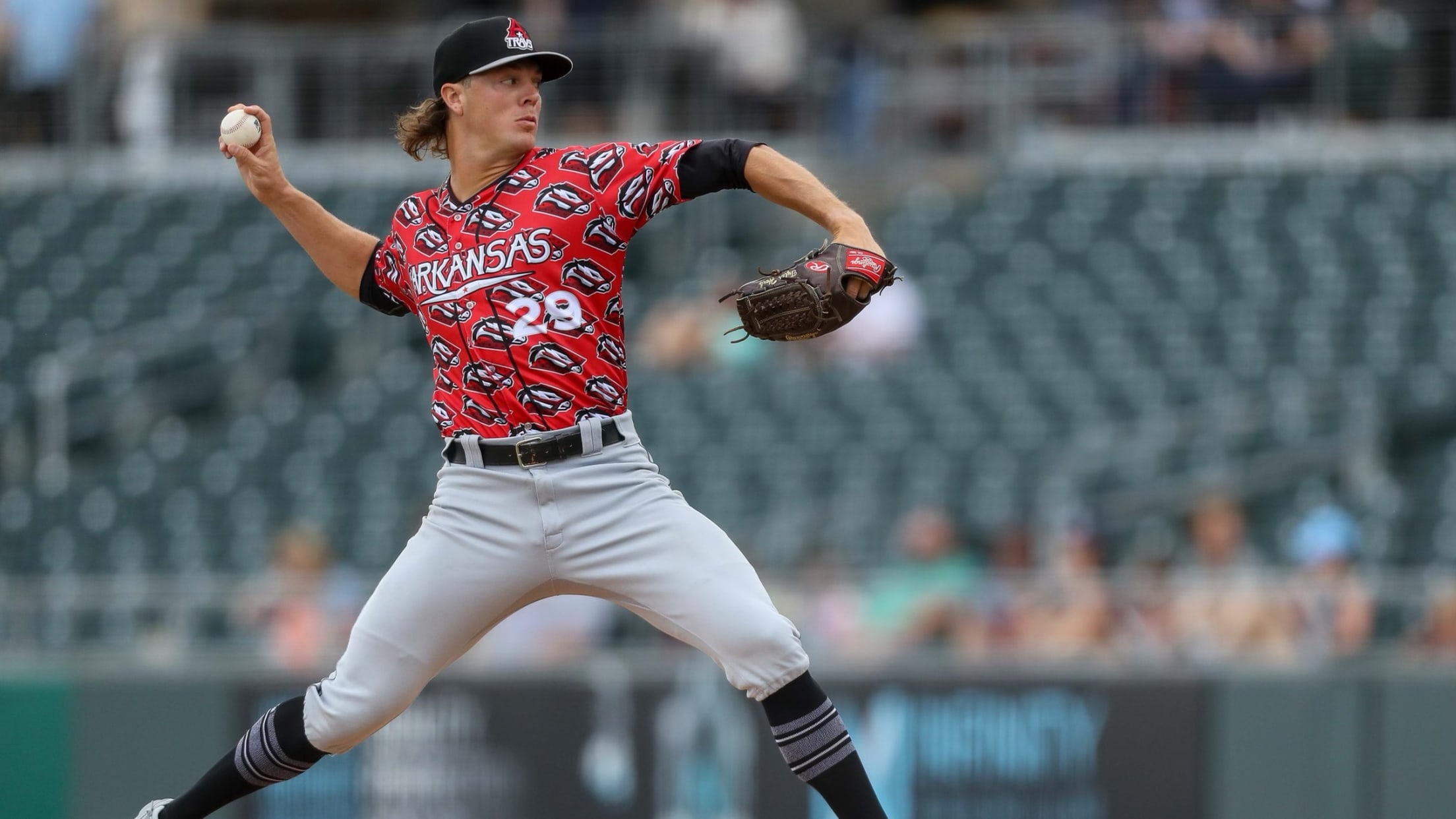 Wichita, KS—Tyler Herb pitched seven shutout innings and the offense scored early and often as the Arkansas Travelers whipped the Wichita Wind Surge, 9-0 on Sunday afternoon. Herb scattered six hits while striking out a season best eight. Ray Kerr and Darin Gillies each pitched a scoreless inning to finish
Josh Morgan's walk-off home run sinks San Antonio
Davis throws five innings of shutout ball in 4-2 win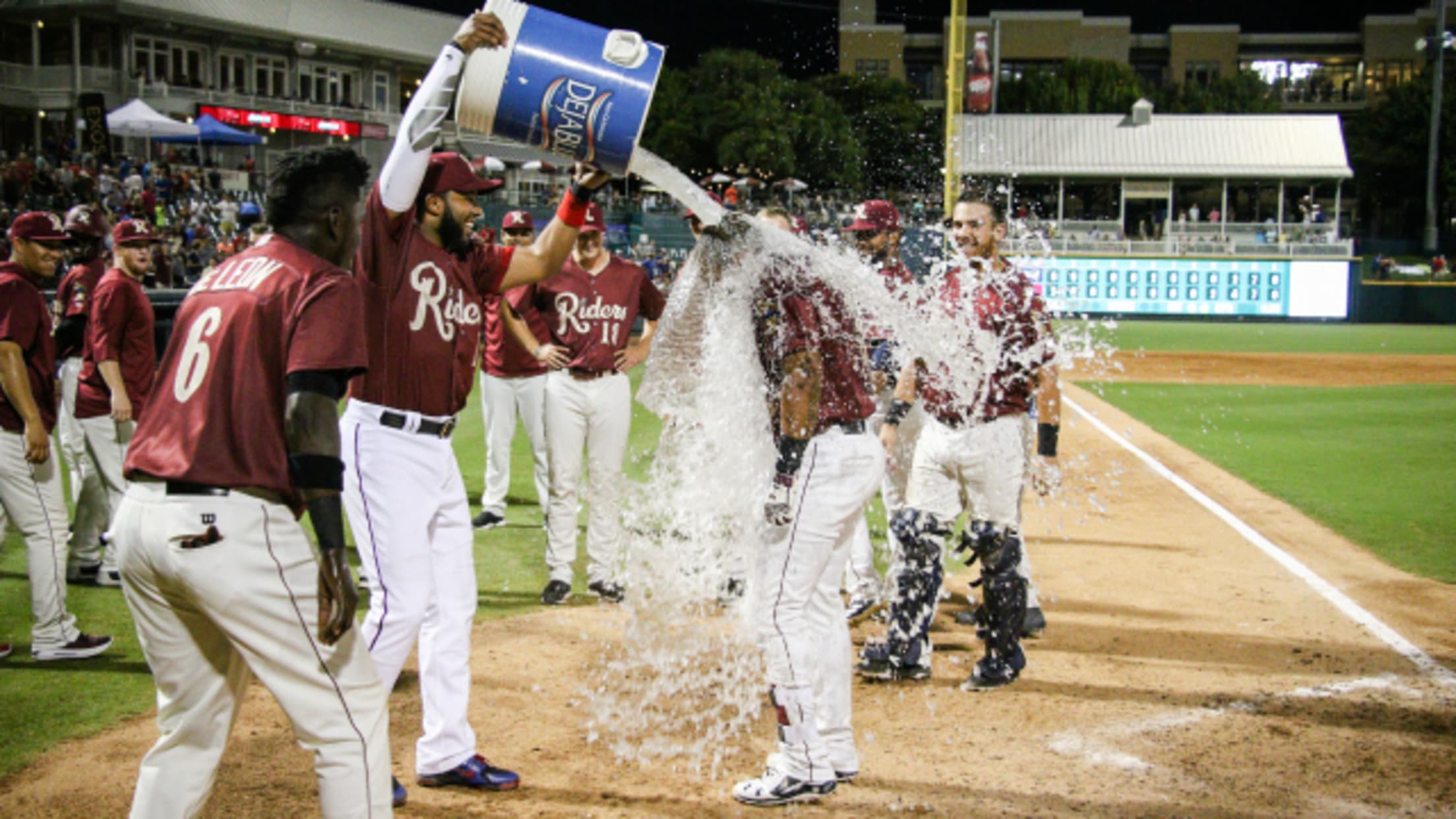 FRISCO, Texas (June 15, 2018) - Josh Morgan blasted a walk-off, two-run home run in the ninth to propel the Frisco RoughRiders, the Double-A affiliate of the Texas Rangers, past the San Antonio Missions 4-2 Friday evening at Dr Pepper Ballpark.BIG MOMENTS* Morgan's homer came with two outs in the bottom
Rangers Prospect Primer: Tool time in Texas
Healthy Matuella on the rise, Calhoun looks to master outfield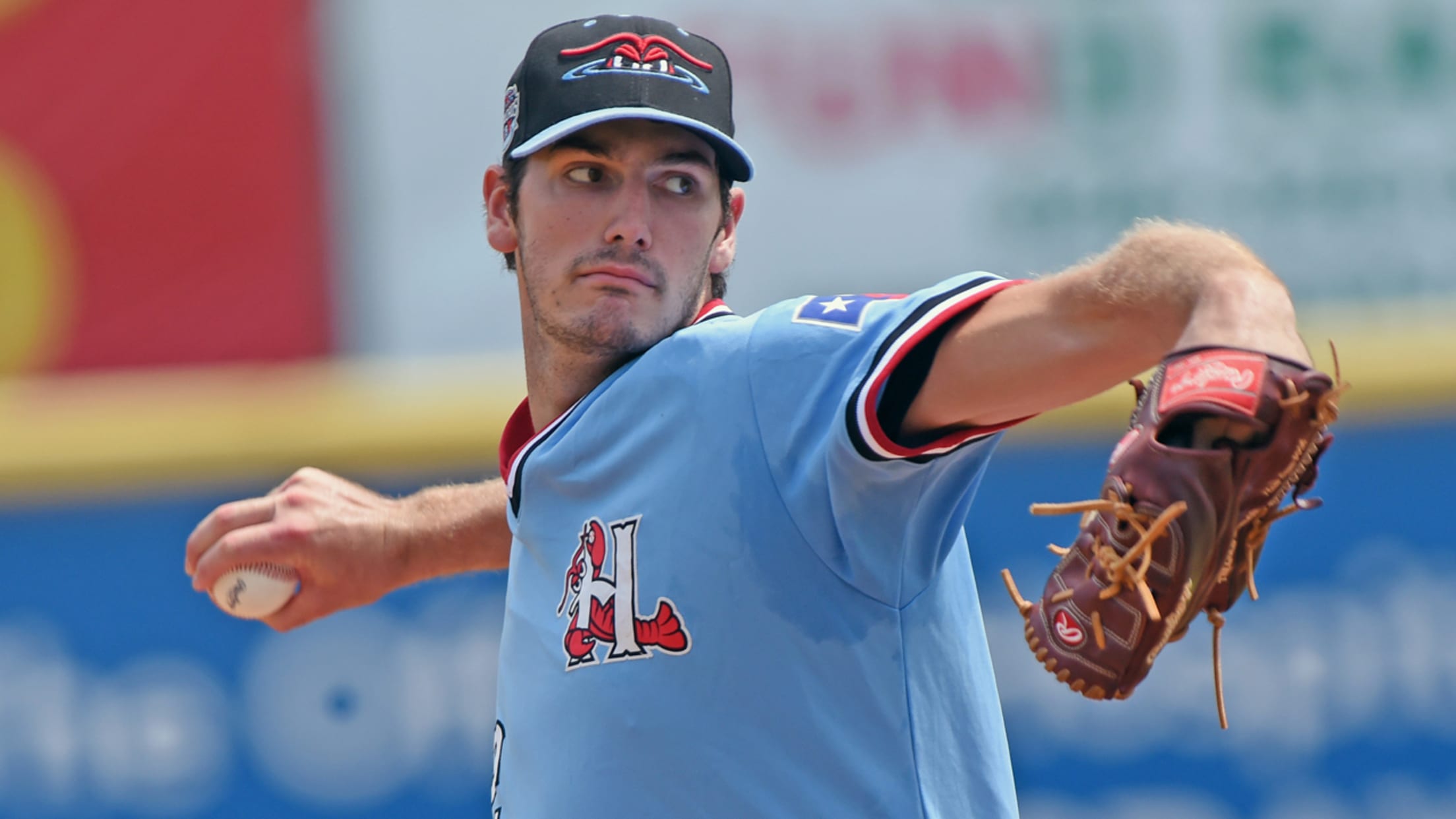 Some players are on the verge of stardom, others are entering a crucial phase of their development and still others are getting their first tastes of full-season ball. With the 2018 season approaching, MiLB.com takes a look at the most intriguing prospects from each MLB organization.Major League-ready: Willie Calhoun, 2B/OFCalhoun's
Five top 30 prospects highlight Riders initial roster for 2018
Fan favorite Jose Trevino returning to Frisco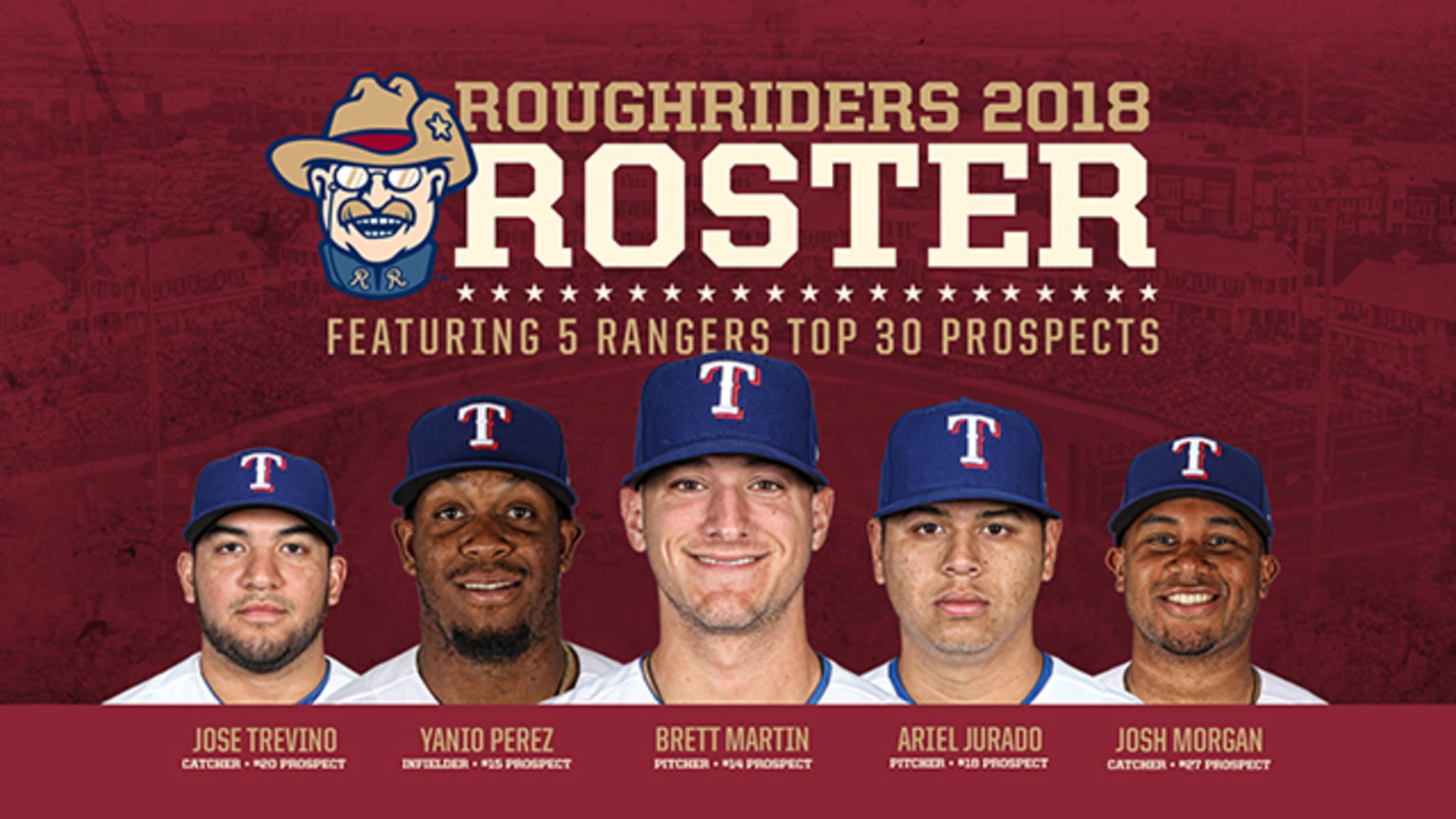 FRISCO, Texas (March 27, 2018) - Five Rangers top 30 prospects highlight the 2018 initial roster for the Frisco RoughRiders, Double-A affiliate of the Texas Rangers, as the team prepares for Opening Day April 5 at Dr Pepper Ballpark.Among MLB Pipeline's list of Rangers top 30 prospects, LHP Brett Martin (14th), IF
Five storylines to watch at Spring Training
Multiple former Riders making bid to join Rangers Opening Day roster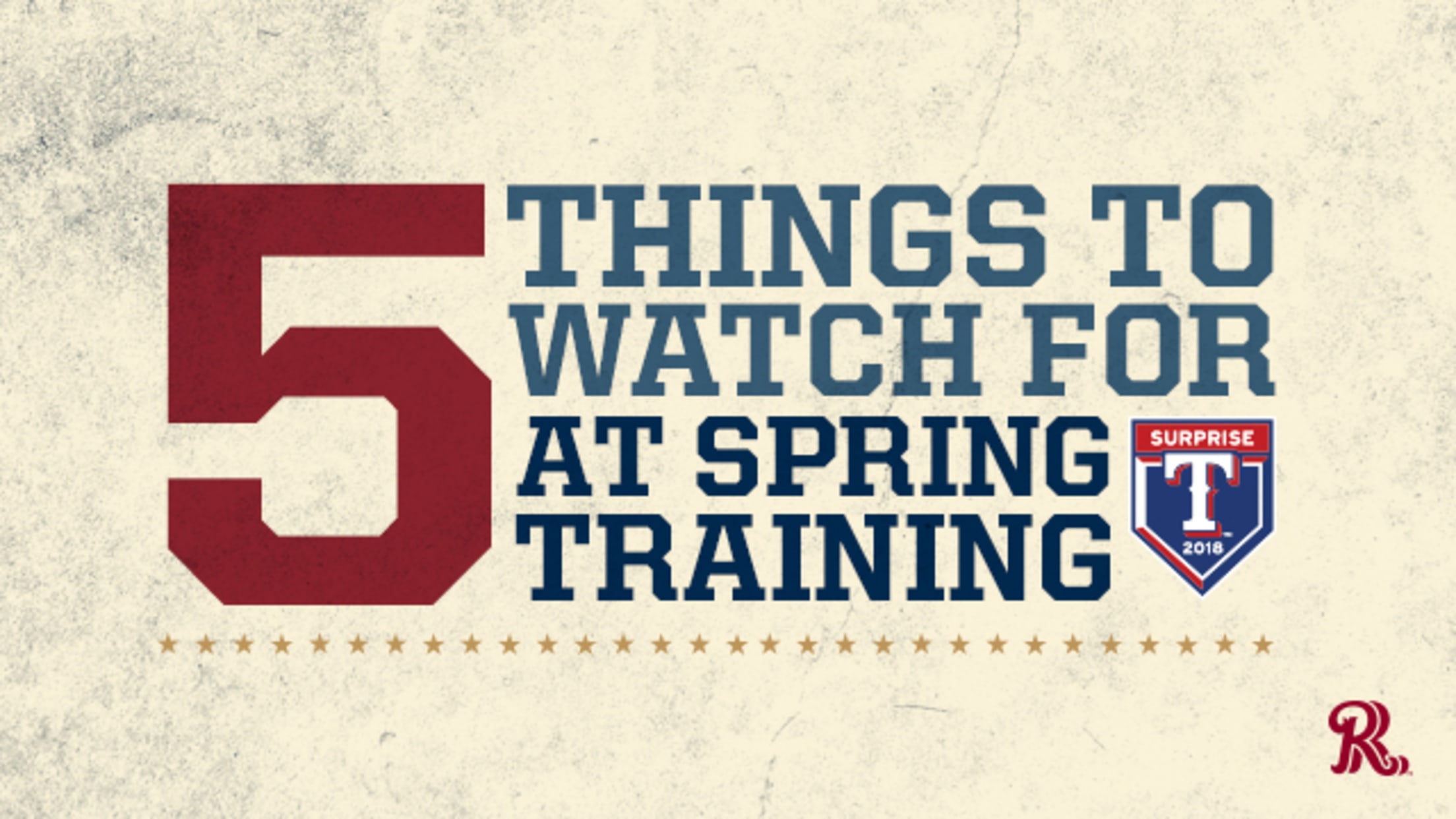 The first full week of Spring Training is underway, and the Texas Rangers held their first full-squad workout Tuesday. As the wheels begin to turn out in Surprise, here are five RoughRiders-themed storylines we'll be keeping an eye on over the next few weeks:TREVINO'S BID FOR THE BACKUP SPOTFresh off
Guzman, Mendez star on diverse Rangers farm
As system moves on from past trades, duo heads next wave of stars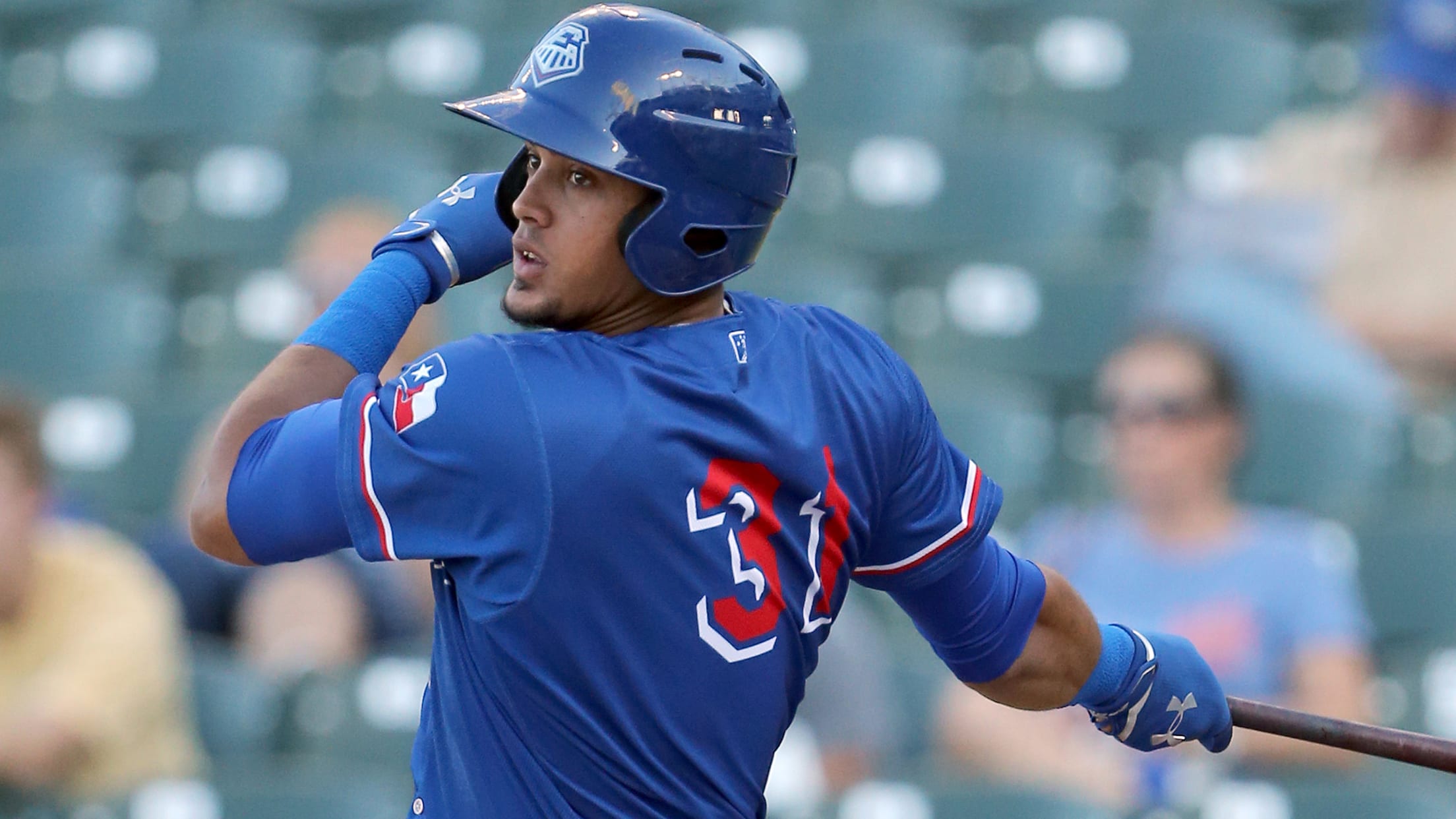 This offseason, MiLB.com is taking a look at the most outstanding campaigns by players in each system across Minor League Baseball and honoring the players -- regardless of age or prospect status -- who had the best seasons in their organization.Two years ago, the Rangers boasted one of the most
Rangers' Morgan powers on and then some
Catcher collects four hits, four RBIs before Neuse walks it off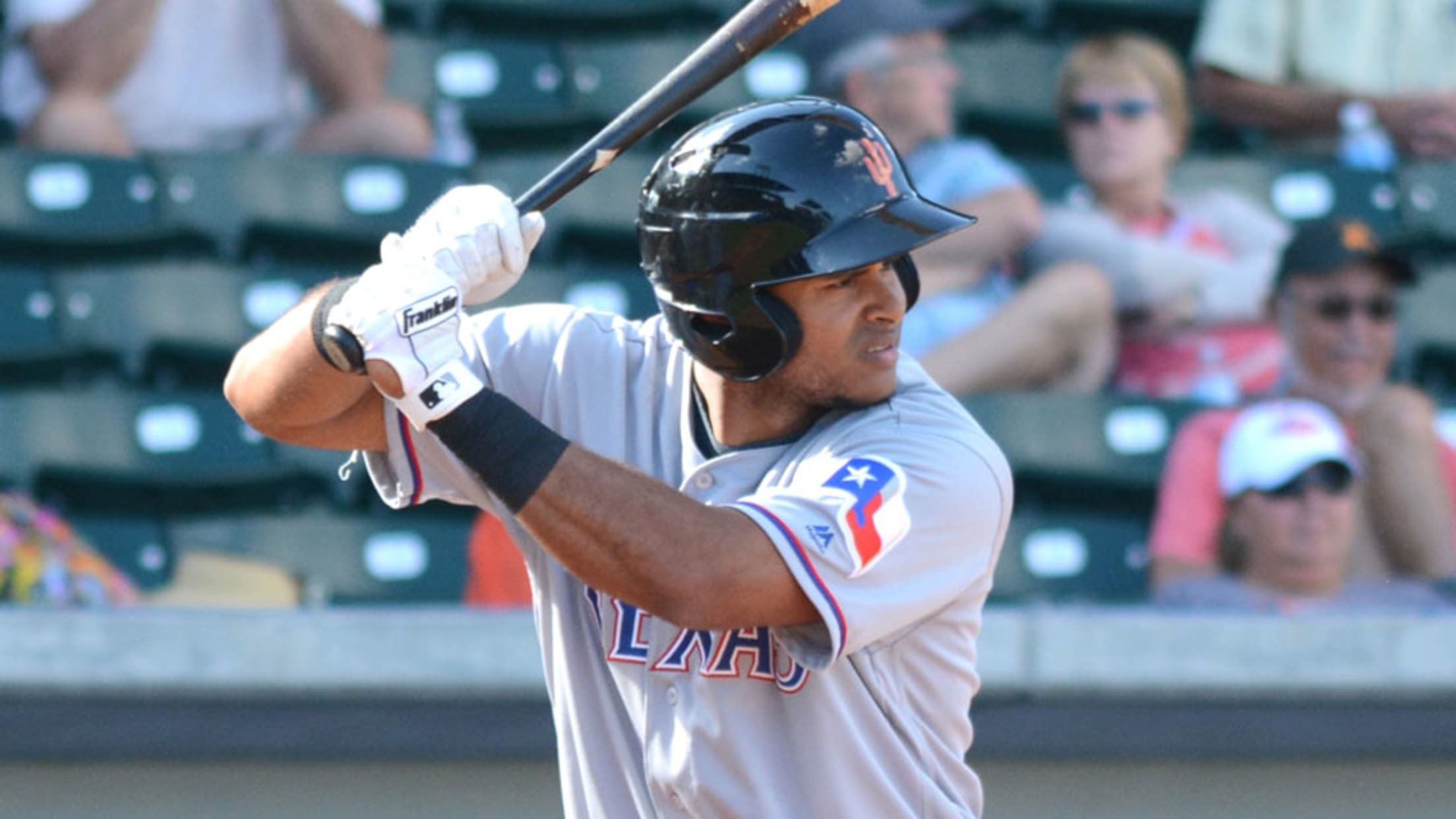 While Josh Morgan continues to hone his skills defensively, he looks dialed in offensively for Surprise.Texas' No. 15 prospect went 4-for-5 with a homer and four RBIs to raise his Arizona Fall League average to .444 in Surprise's 8-6 loss to Mesa in 10 innings on Thursday.
Morgan getting smarter with tools of ignorance
Rangers prospect using AFL to hone catching skills, increase utility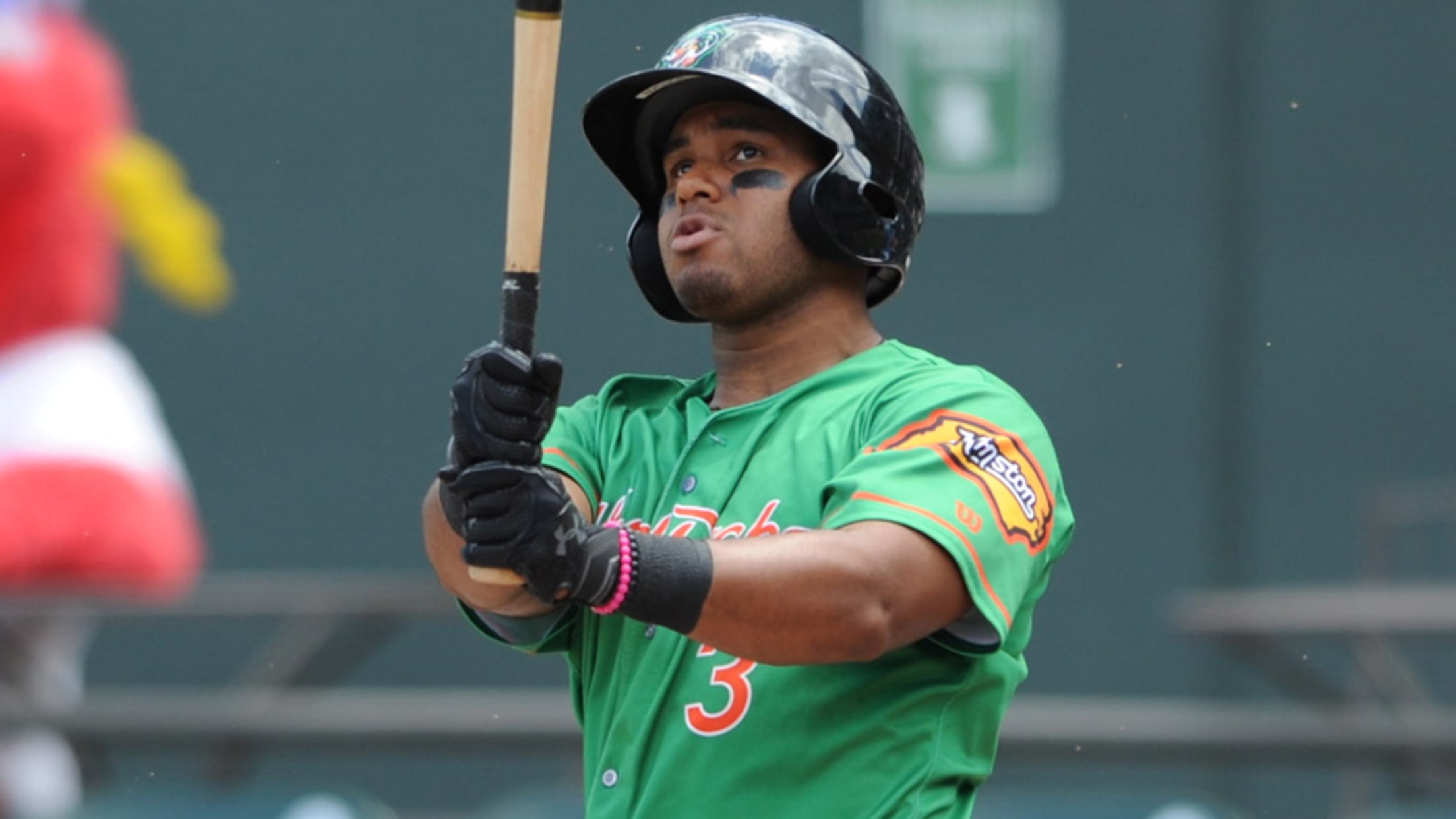 In the closing weeks of the Minor League season, Class A Advanced Down East manager Howard Johnson broke some news to Josh Morgan."HoJo sat me down and said, 'Hey, man, congratulations. You're going to the [Arizona] Fall League,' and I said, 'OK, great,'" Morgan recalled. "He said, 'And you're going
Toolshed: Prospects there from the beginning
McKenzie, Gordon among those to win title with their only '17 club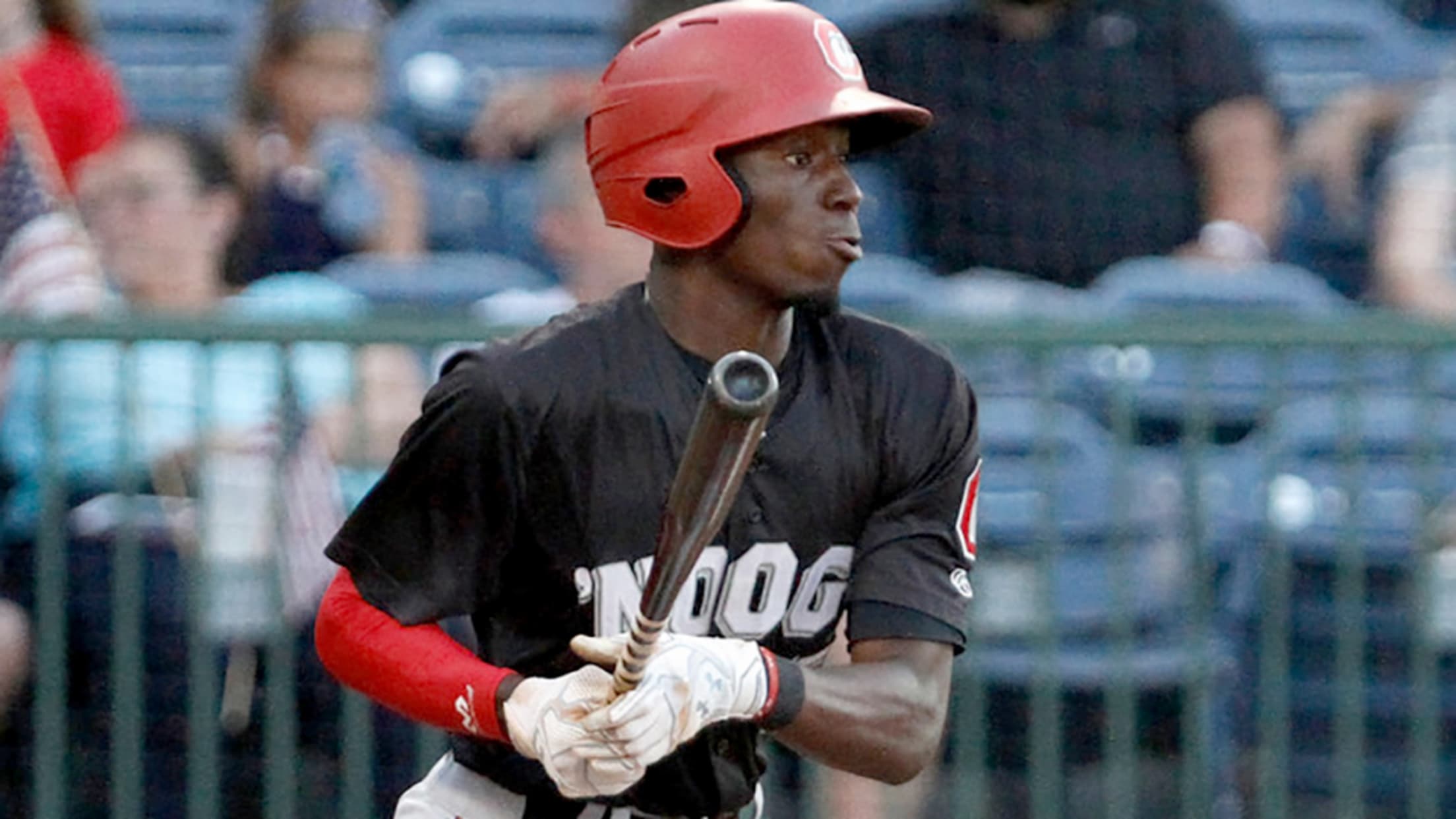 The only constant in the Minor Leagues is change. Hot and cold streaks come and go. Adjustments happen from at-bat to at-bat, inning to inning. First- and second-half performances can vary wildly. Players move up and down the chain, meaning team rosters at the end of a season can be
Morgan, Wood Ducks clinch second-half title
Down East edges Buies Creek, caps late surge to reach postseason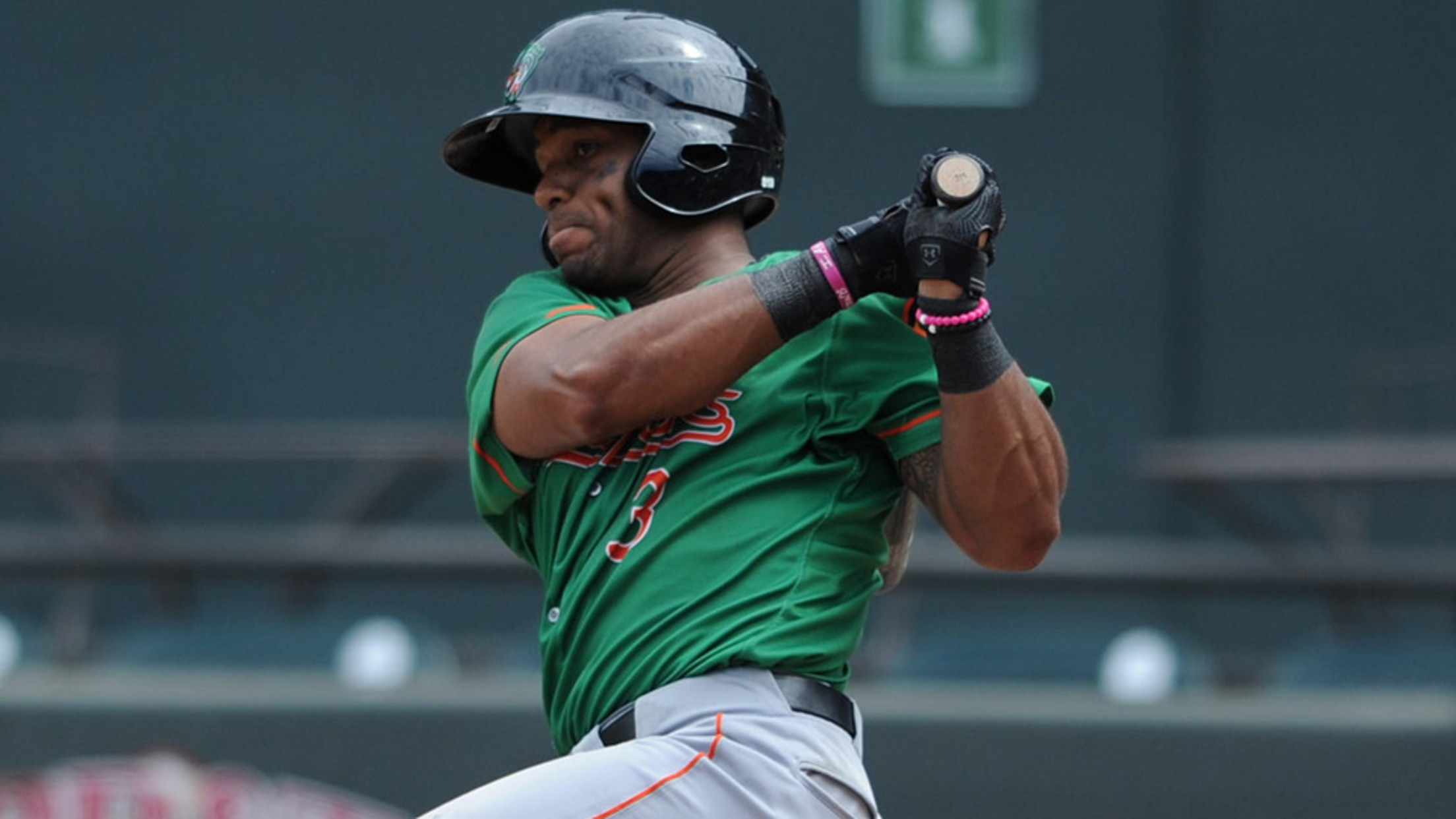 What seemed impossible a few months ago and unlikely at best just a few weeks ago became a reality Monday for the Wood Ducks.Josh Morgan went 3-for-4 with three runs scored and LeDarious Clark homered as Down East struck early to wrap up the Carolina League Southern Division's second-half title
Wood Ducks Win Finale and Clinch Second-Half Title
The comeback is complete: from 7.5 back with 16 to play, the Wood Ducks are headed to the playoffs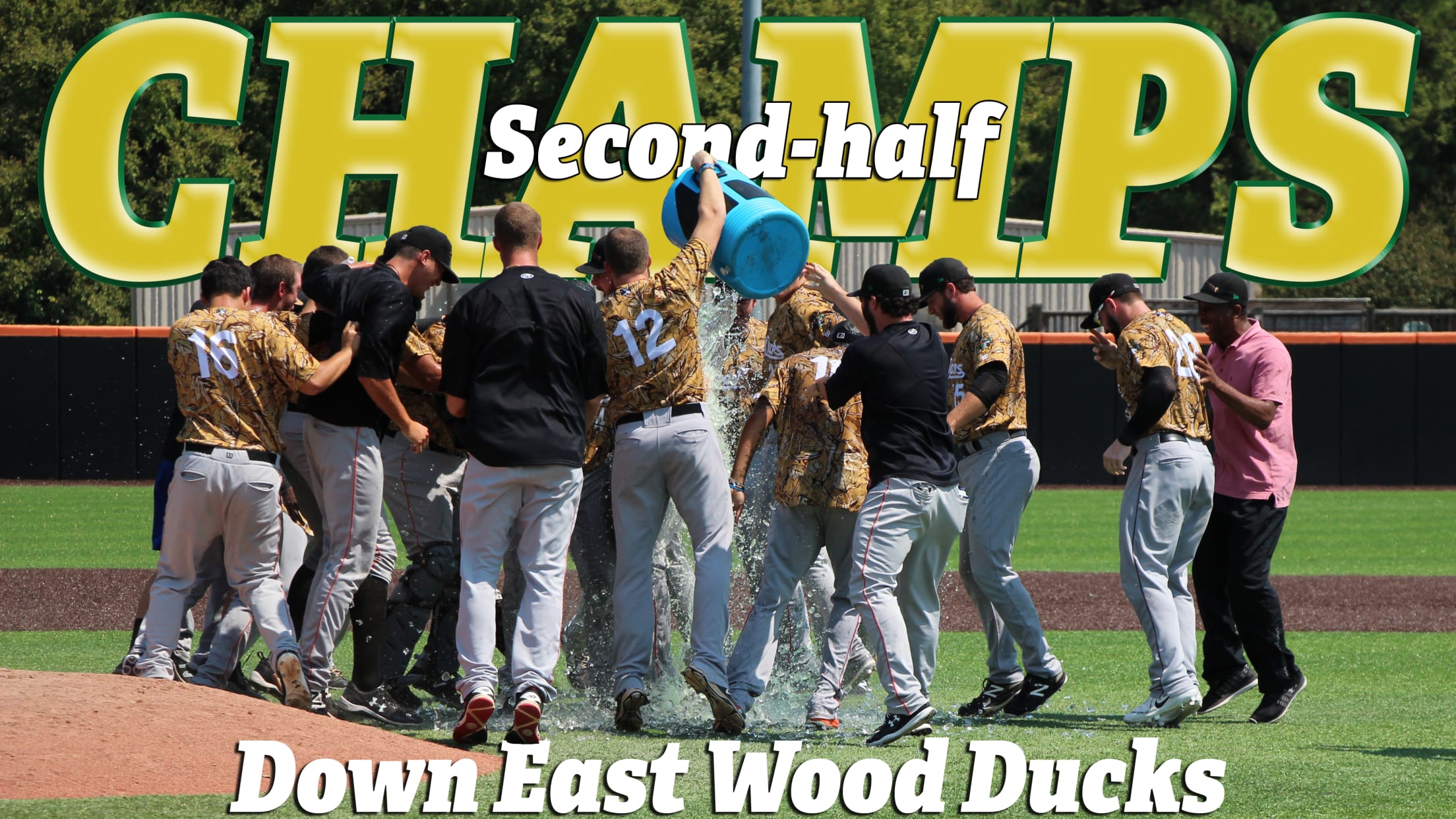 BUIES CREEK, NC - The Wood Ducks capped off a remarkable second-half comeback with a resounding 10-3 victory over the Astros. With the win, Down East clinches the second-half title having not led for a single day in the half until the final out.
Wood Ducks Win, Force Do-Or-Die Finale
Kyle Cody's third straight quality start and a big second inning push the Wood Ducks forward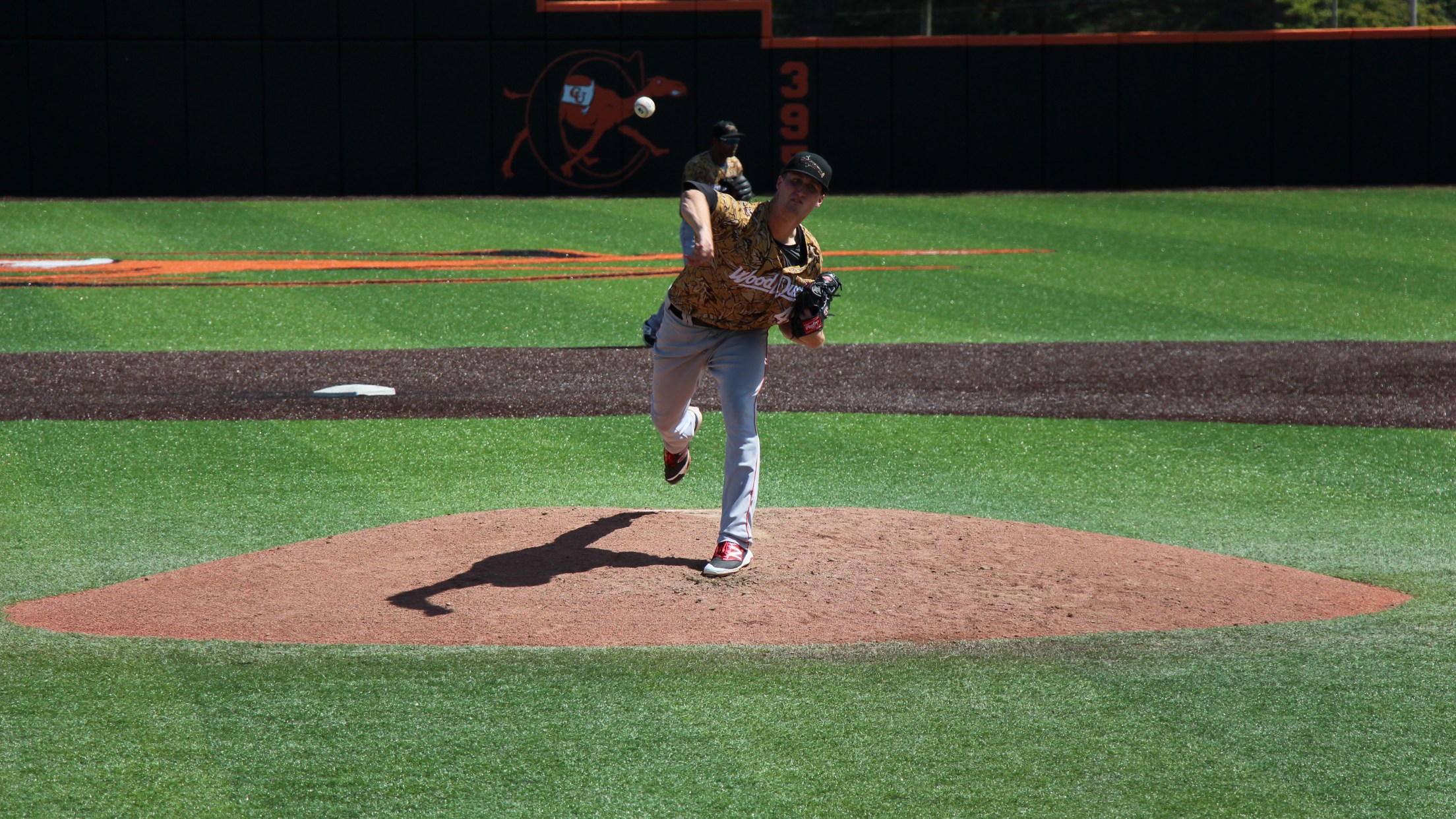 BUIES CREEK, NC - Down East (37-32, 61-77) claimed another head-to-head victory over Buies Creek (37-31, 74-64) to keep its playoff hopes alive. The Woodies mashed 14 hits in a 7-3 victory over the Astros on Sunday afternoon. Josh Morgan tied a career-high with four hits as each of the
Down East Splits Doubleheader with Buies Creek, Still Alive in Postseason Hunt
Now the Woodies must win both of the final two games to win the half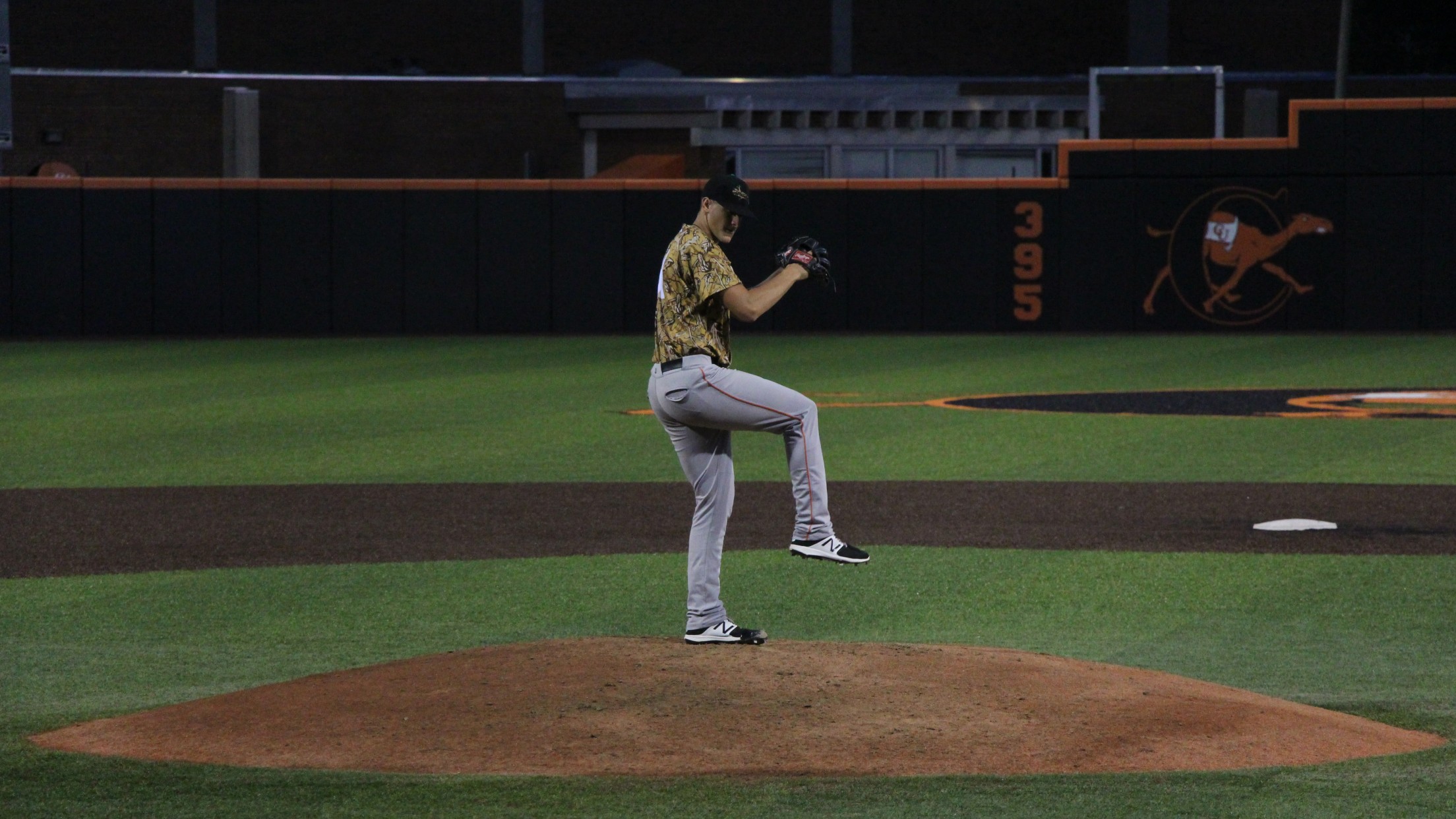 BUIES CREEK, NC - A split doubleheader between the Wood Ducks (36-32, 60-77) and the Astros (37-30, 74-63) creates a must-win scenario for the Wood Ducks in the last two games of the regular season in order to secure a playoff spot.
Seven Wood Ducks Named to the Arizona Fall League
The first set of DEWDs will embark for over a month of baseball against the Minors' best in the desert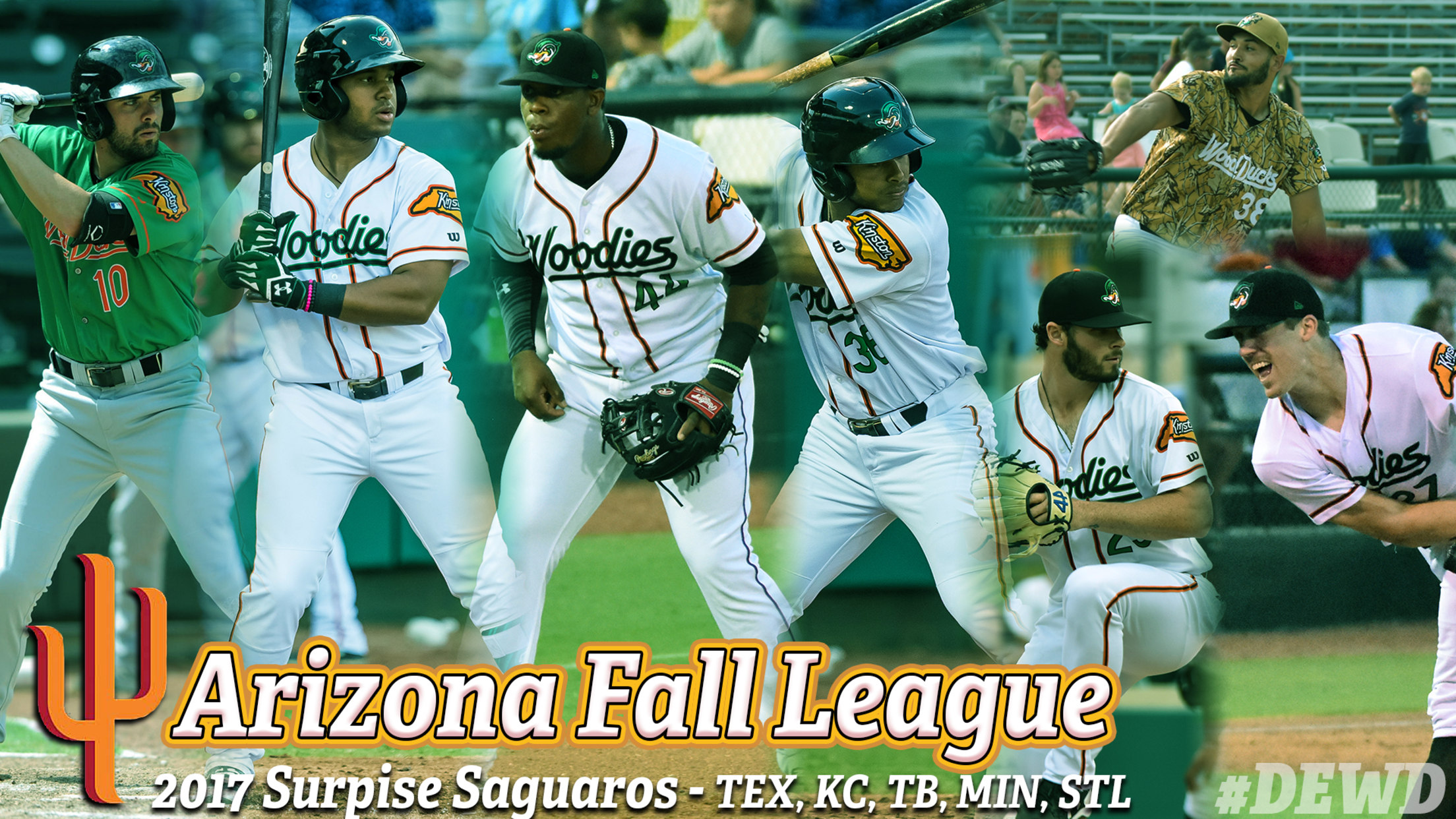 KINSTON, NC - On Tuesday the Texas Rangers announced its prospects headed to Surprise, AZ to participate in the Arizona Fall League - a de facto all-star circuit of the minor leagues' top prospects. Of the eight representatives from the Rangers to the Surprise Saguaros, seven have suited up for
Moorman Homers, but Woodies Fall Late to Pelicans
Moorman, Morgan, and Garay lead the offense but fall just short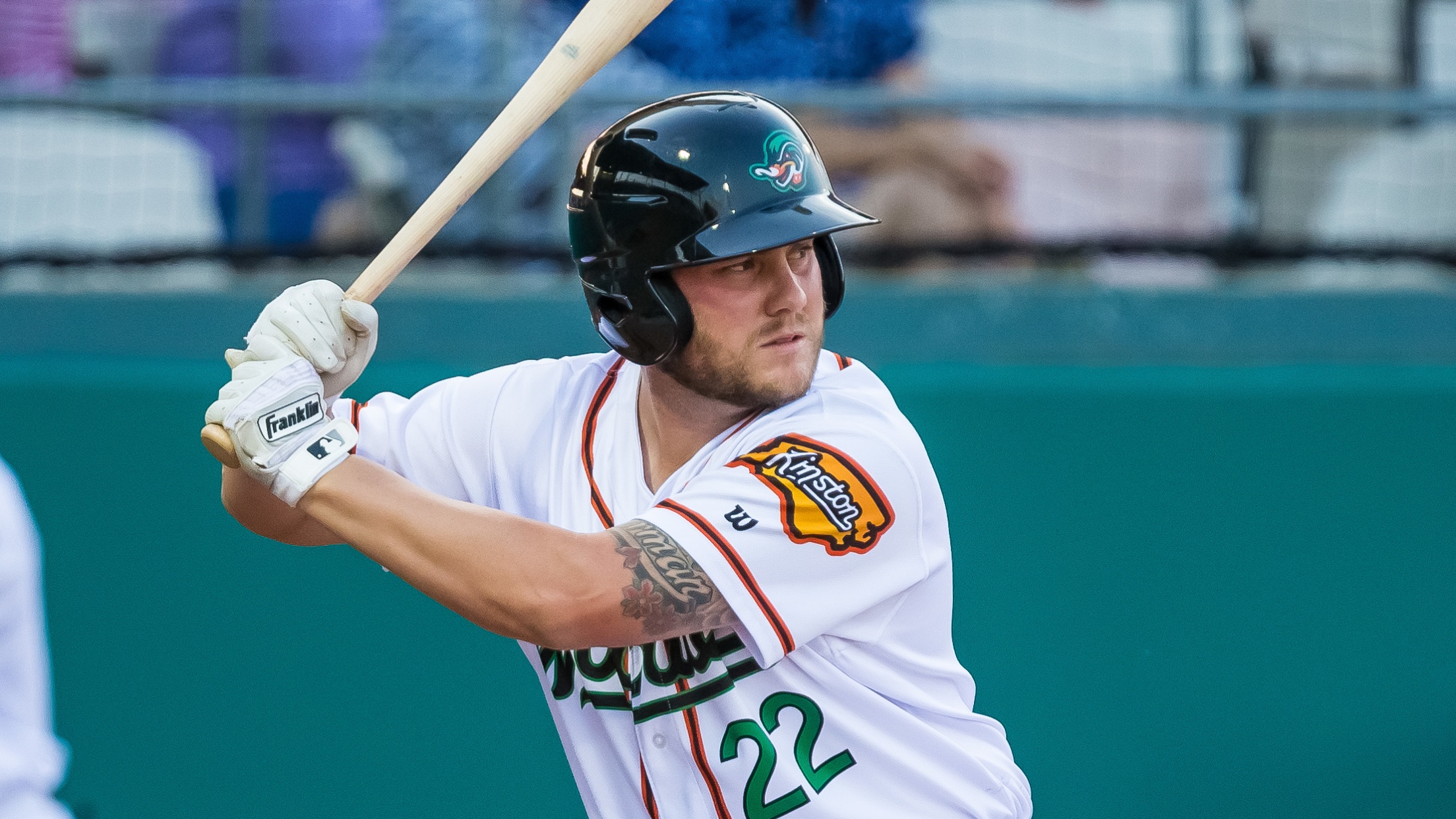 MYRTLE BEACH, SC - A seventh inning rally by the Pelicans (27-33, 70-60) undid the Wood Ducks (30-30, 54-75) in a 5-4 defeat on Thursday night. Chuck Moorman had a homer and two runs batted in for the offense in the losing effort.
Wood Ducks Continue Rolling; Claim Series from Astros
Three homers, a quality start, and error-free defense led the Woodies to victory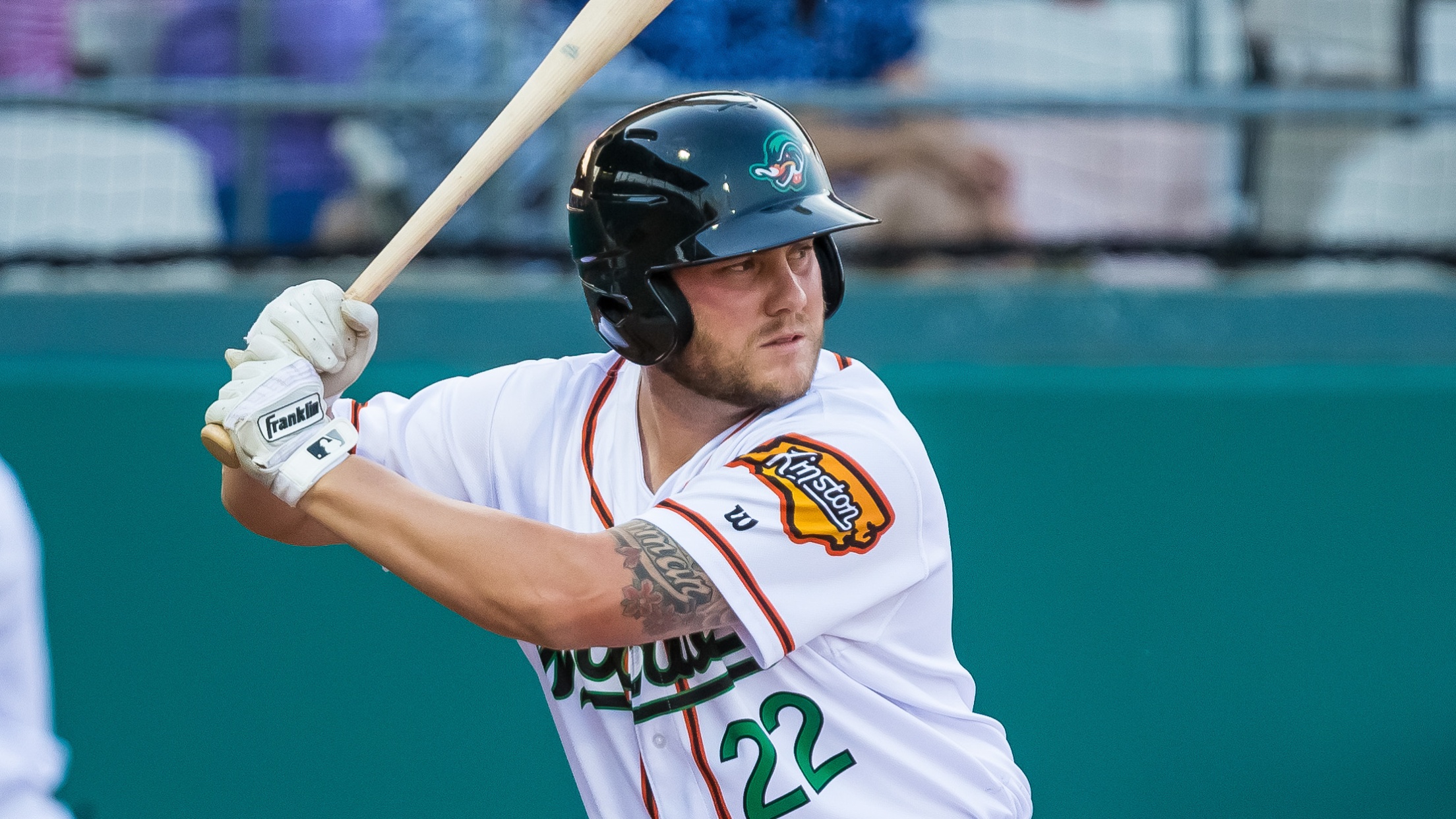 BUIES CREEK, NC -Emerson Martinez won his second consecutive start and the Down East (25-24, 49-69) offense exploded for a home run derby in a 9-3 win over Buies Creek (31-17, 68-50). Martinez worked into the eighth inning with only one walk in his 11th quality start of the season.
Prospect Roundup: Games of Aug. 9
Jones, Rose extend hitting streaks; Martins walks off with slam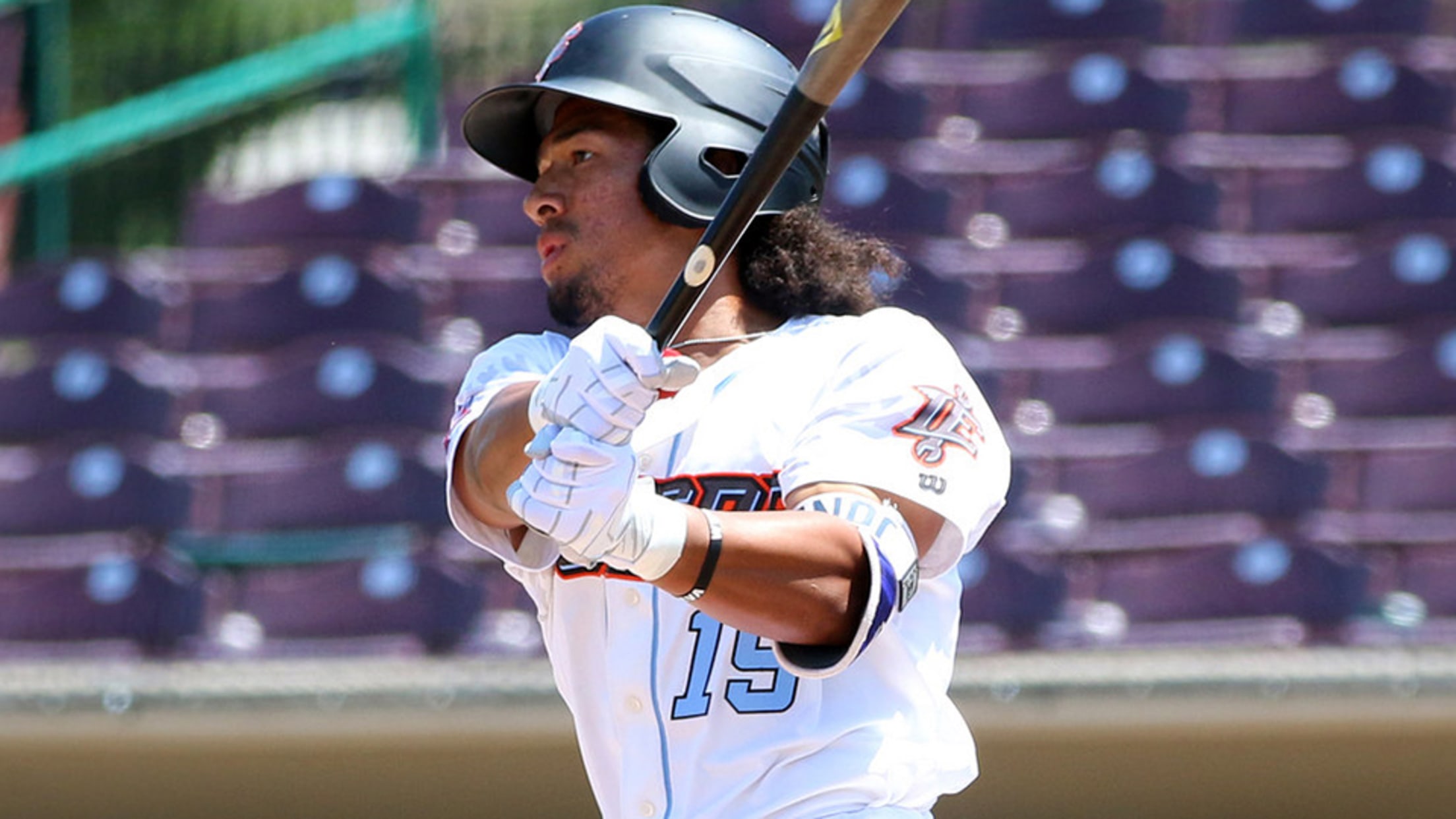 Astros OF Jason Martin, Double-A Corpus Christi: 3-for-5, HR, 4 RBI, K -- The No. 20 Astros prospect delivered his 17th home run of the season in style, belting a walk-off grand slam that capped a six-run rally and gave the Hooks a 10-7 win over Tulsa. Though Martin has shown decent
Wood Ducks Complete Another Comeback over Blue Rocks
Benjamin delivered his seventh quality start of the year despite the no decision
KINSTON, NC - A tremendous start by Wes Benjamin was overshadowed in Down East's (23-23, 47-68) 7-5 come-from-behind victory over Wilmington (21-24, 60-55) on Wednesday night. Benjamin worked seven walk-free innings with seven strikeouts in a no decision.
Wood Ducks Soar in a Blowout Win over the Blue Rocks
Morgan's career-night set the tone in the cleanup spot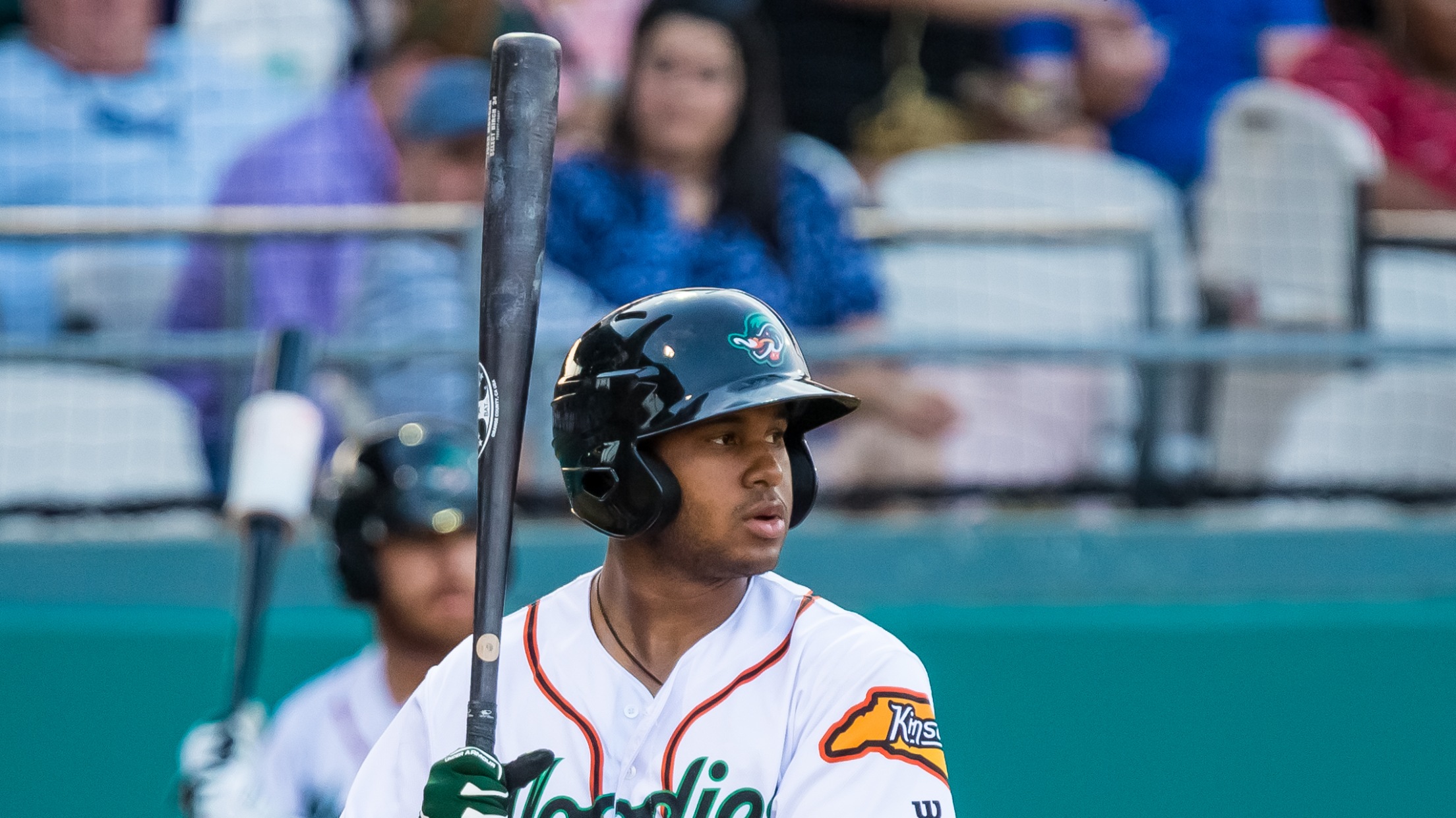 KINSTON, NC - An onslaught of offense never let up as the Wood Ducks (22-23, 46-68) claimed the series opener with the Blue Rocks (21-23, 60-54) in an 11-3 final. Josh Morgan tied a career-high with four hits as all nine starters reached base and either brought in or scored
Wood Ducks Drop Opener in Lynchburg
A quality start from Hernandez was foiled by a lack of offense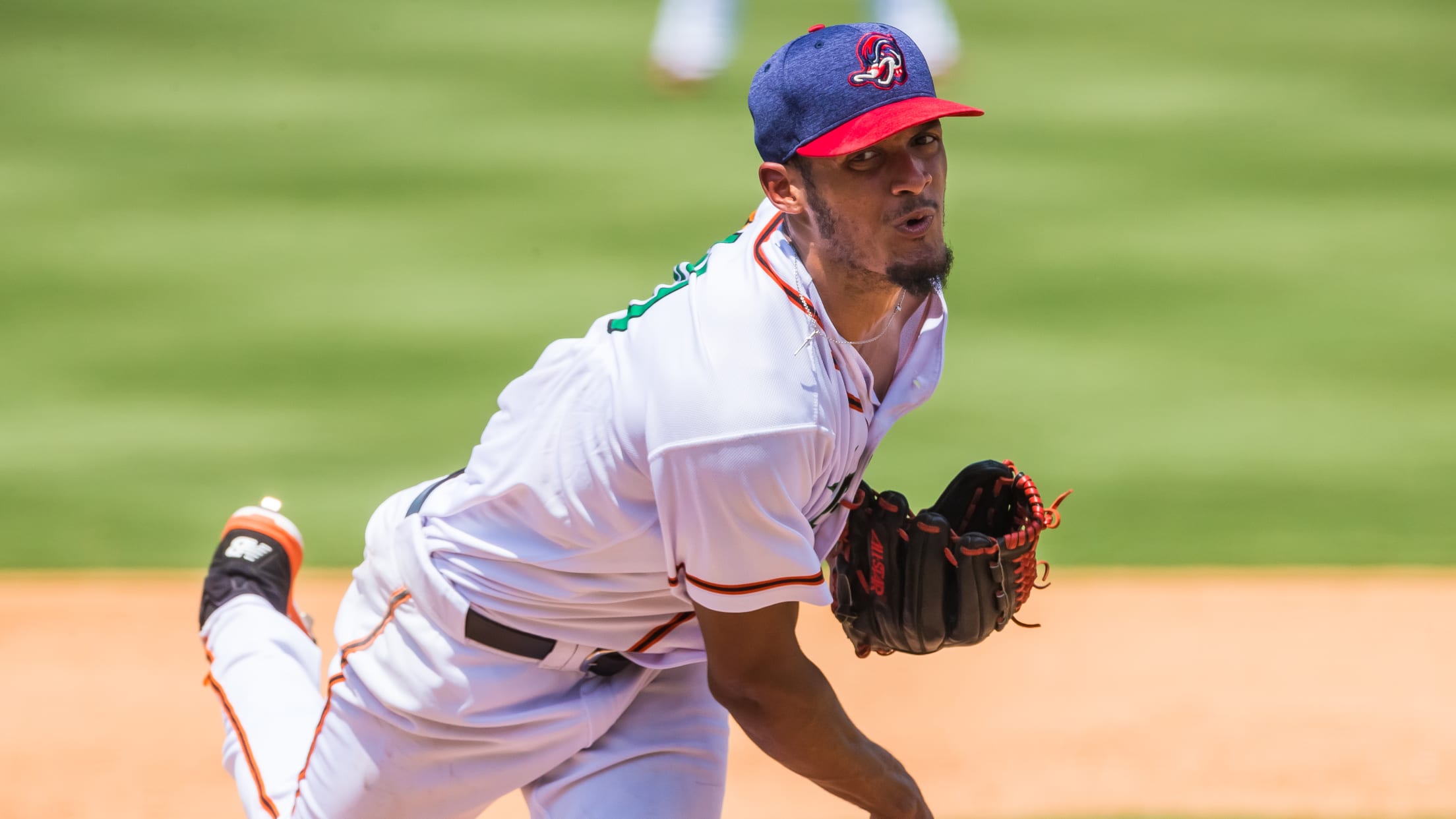 LYNCHBURG, VA - An entertaining pitchers' duel was separated by one swing in the fifth inning in the Hillcats' (24-17, 64-46) 1-0 victory over the Wood Ducks (20-21, 44-66). Josh Morgan reached base three times in the loss and Jonathan Hernández twirled his second consecutive quality start.
Home Runs Doom Wood Ducks in Loss to Keys
A comeback effort came up just short in the last two innings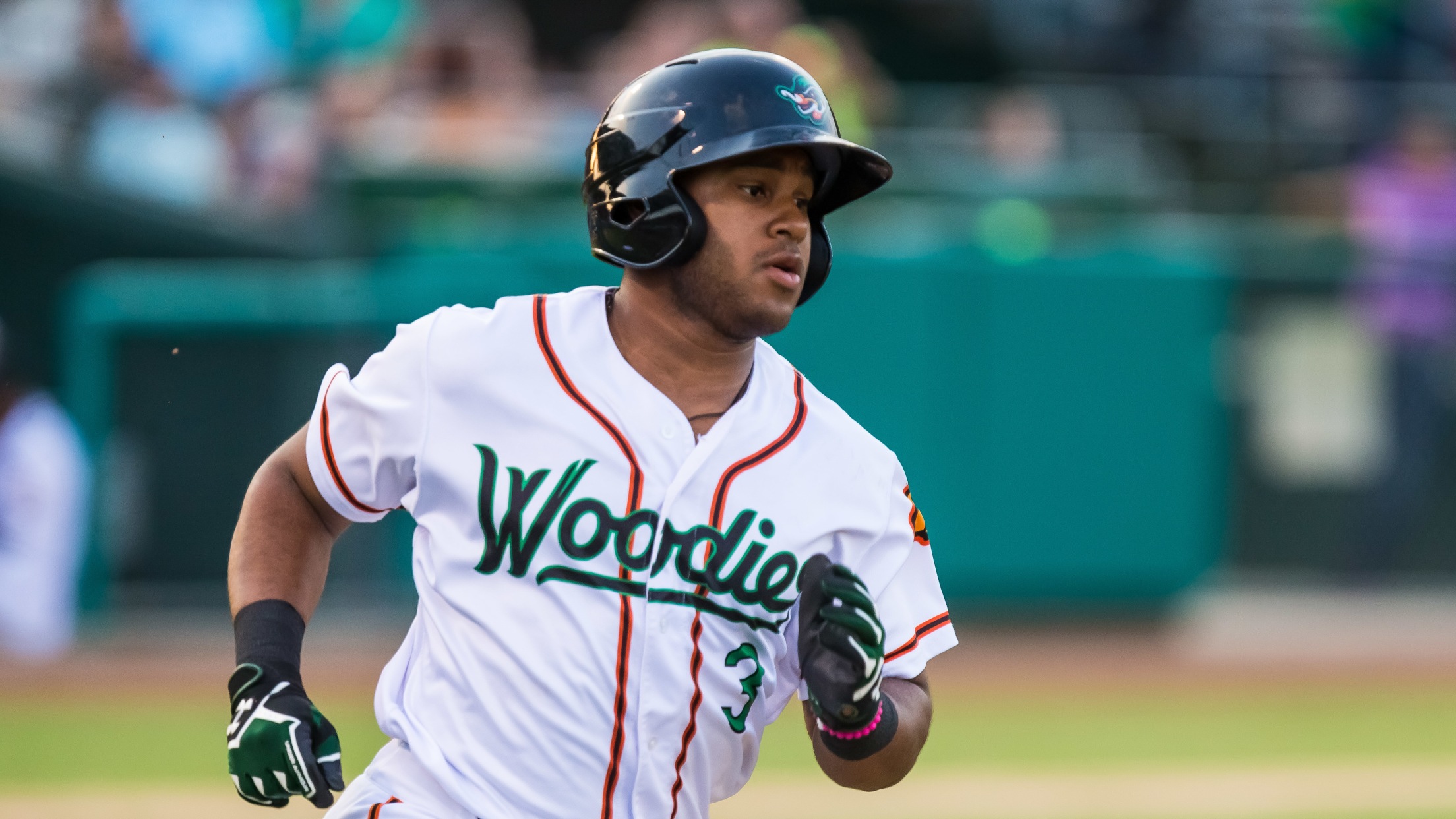 KINSTON, NC - Four homers from Frederick (8-14, 39-52) spiraled Down East (11-12, 35-57) into a hole they could not escape in an 8-6 defeat on Sunday. Multi-hit nights from Josh Morgan, Matt Lipka, and Preston Scott aided a four-run eighth, but the Woodies ultimately could not complete the comeback.