Pearson dominates as Bisons open in Trenton with 6-1 win
Righty fans eight before bullpen locks down win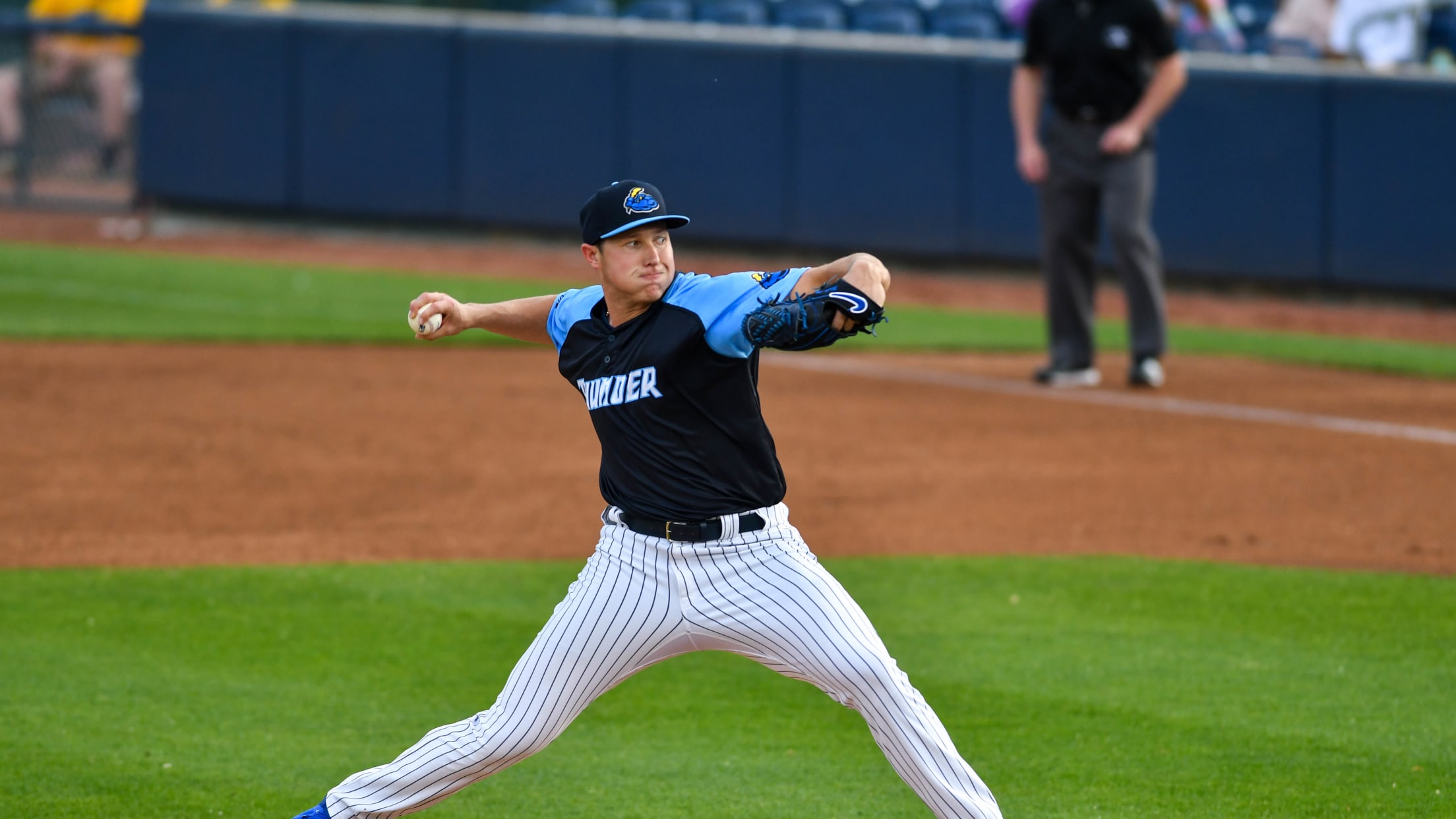 After not playing for 610 days the Buffalo Bisons return to the field Tuesday night for Opening Day playing like they never plan to waste another game. "The players were so excited to get on the field and play in a game and get into a competition that when they
Top Blue Jays prospect Pearson to travel to Trenton with Bisons
Blue Jays reinstate Nate Pearson from IL, option him to Triple-A
The Toronto Blue Jays have announced that they have reinstated top prospect RHP Nate Pearson from the injured list and optioned him to the club's alternate training site. Pearson will travel to Trenton, NJ with the Bisons. MLB.com's 10th overall prospect in baseball, Pearson has not appeared in a game
State of the System: Toronto Blue Jays
Pearson, Martin soaring among balanced group of prospects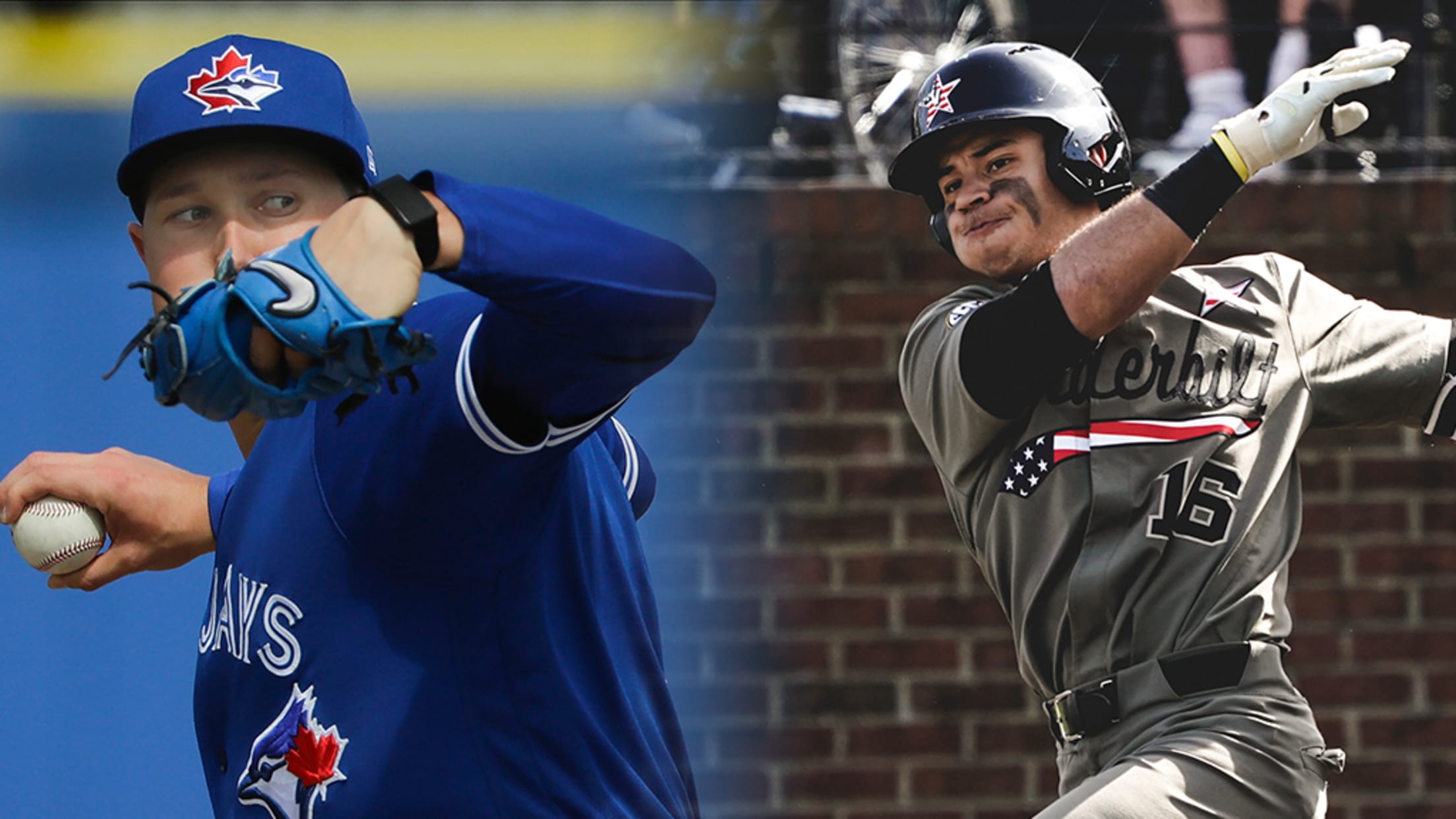 Starting in October and running through the end of the year, MiLB.com's State of the System series will evaluate the strengths and weaknesses of each Major League organization, highlights prospects who've made the biggest strides in 2020 and offers a peek at 2021.
Jays' Pearson blazes his way into record books
No. 7 overall prospect hurls 101.5 mph heater, sets club mark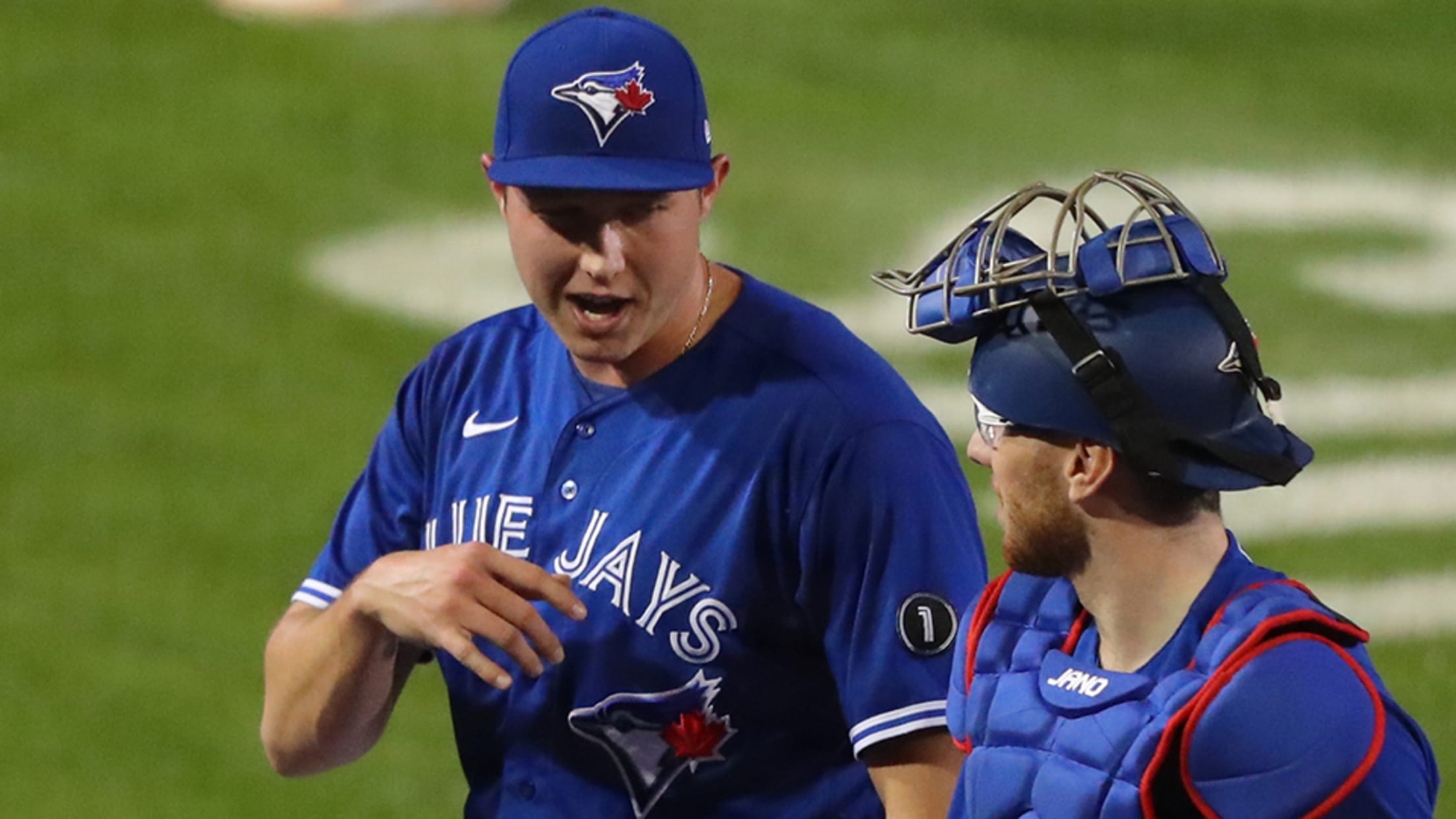 It's no secret that Nate Pearson throws hard. Through three Minor League seasons and a handful of appearances in the bigs this year, the top Blue Jays prospect put on display one of the best fastballs in the game and in the Toronto organization as a whole. Now, after just
Pearson heads to IL with elbow problem
Top Blue Jays prospect felt tightness after start on Tuesday
The Blue Jays suffered a setback Wednesday, placing top prospect Nate Pearson on the injured list with elbow tightness.
Blue Jays' Pearson shines in scoreless debut
No. 8 overall prospect yields pair of hits and walks in five innings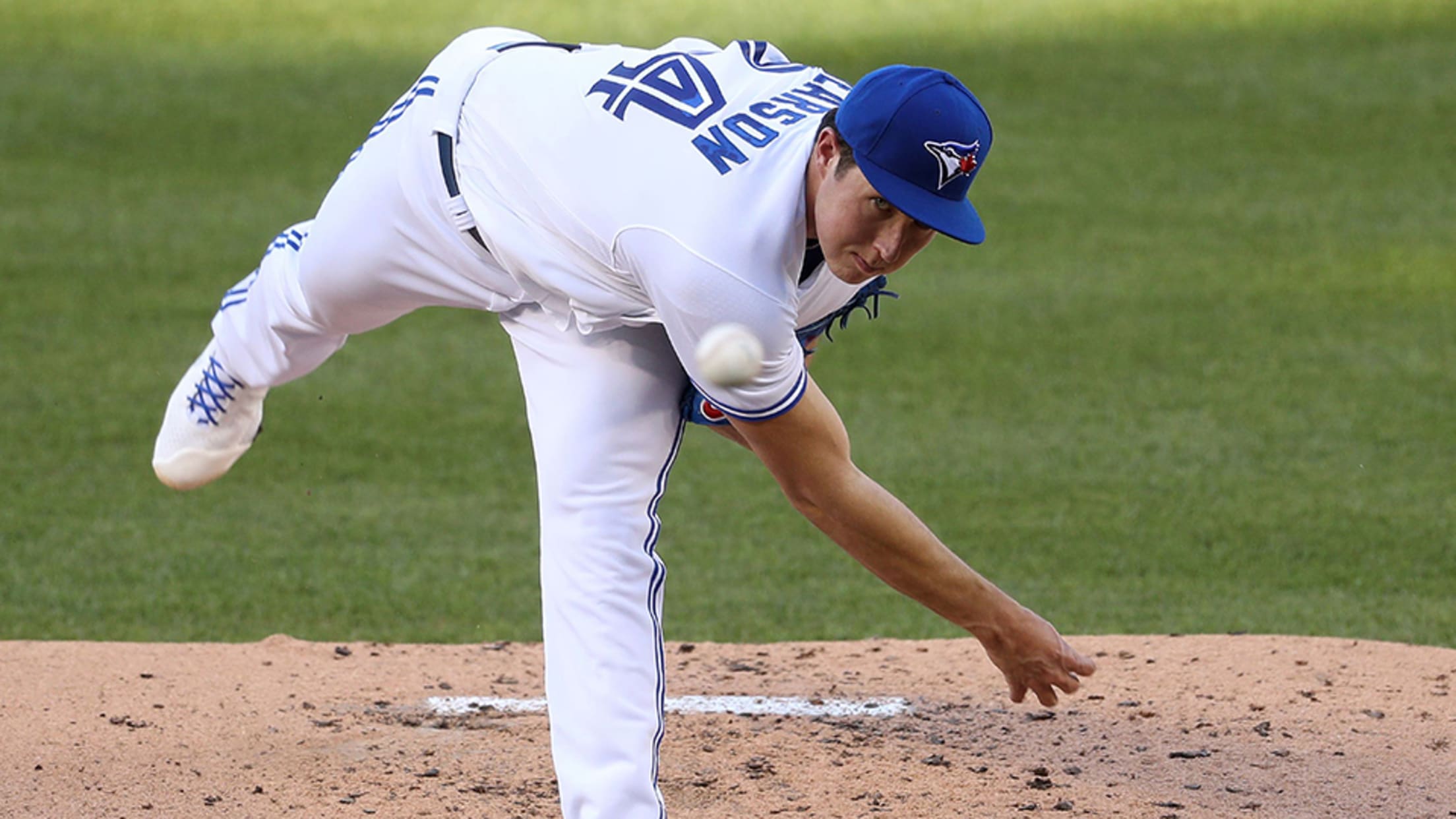 The circumstances of Nate Pearson's debut in the Majors likely defied his expectations. But his performance in what became a home game for the Blue Jays in an empty Nationals Park in Washington, D.C. certainly fit his scouting report. "He gave us a chance, it was outstanding. He was fun
Pearson will start for Blue Jays on Wednesday
Toronto to summon top prospect for MLB debut against Nationals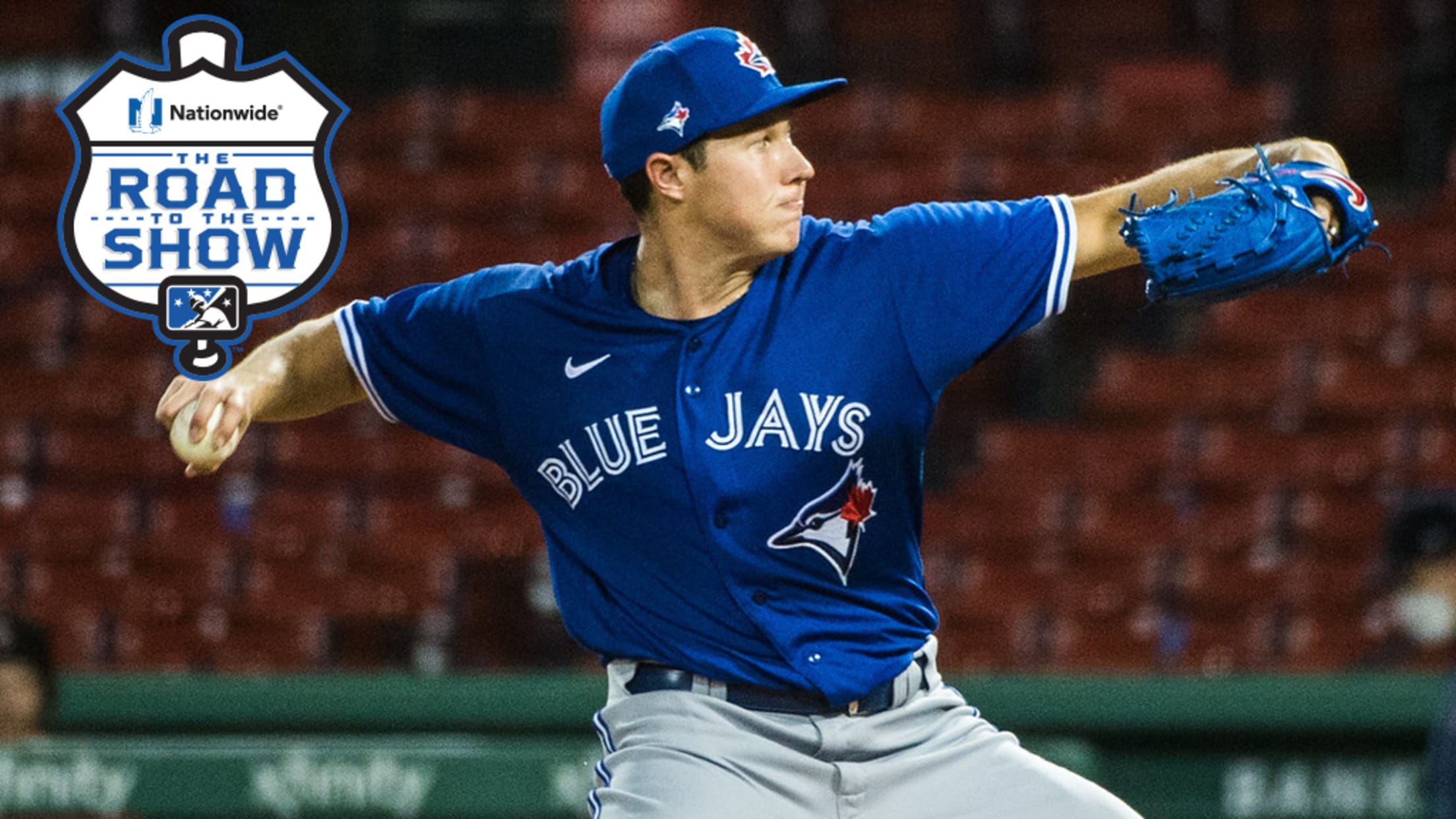 We now have a liftoff date for one of the game's top pitching prospects. The Blue Jays are calling up top prospect Nate Pearson for his Major League debut against the Nationals on Wednesday, according to MLB.com's Keegan Matheson. Pearson has been on the Toronto taxi squad since the 2020
Prospects in the Blue Jays' 2020 player pool
Pearson, Woods Richardson ready to soar north of the border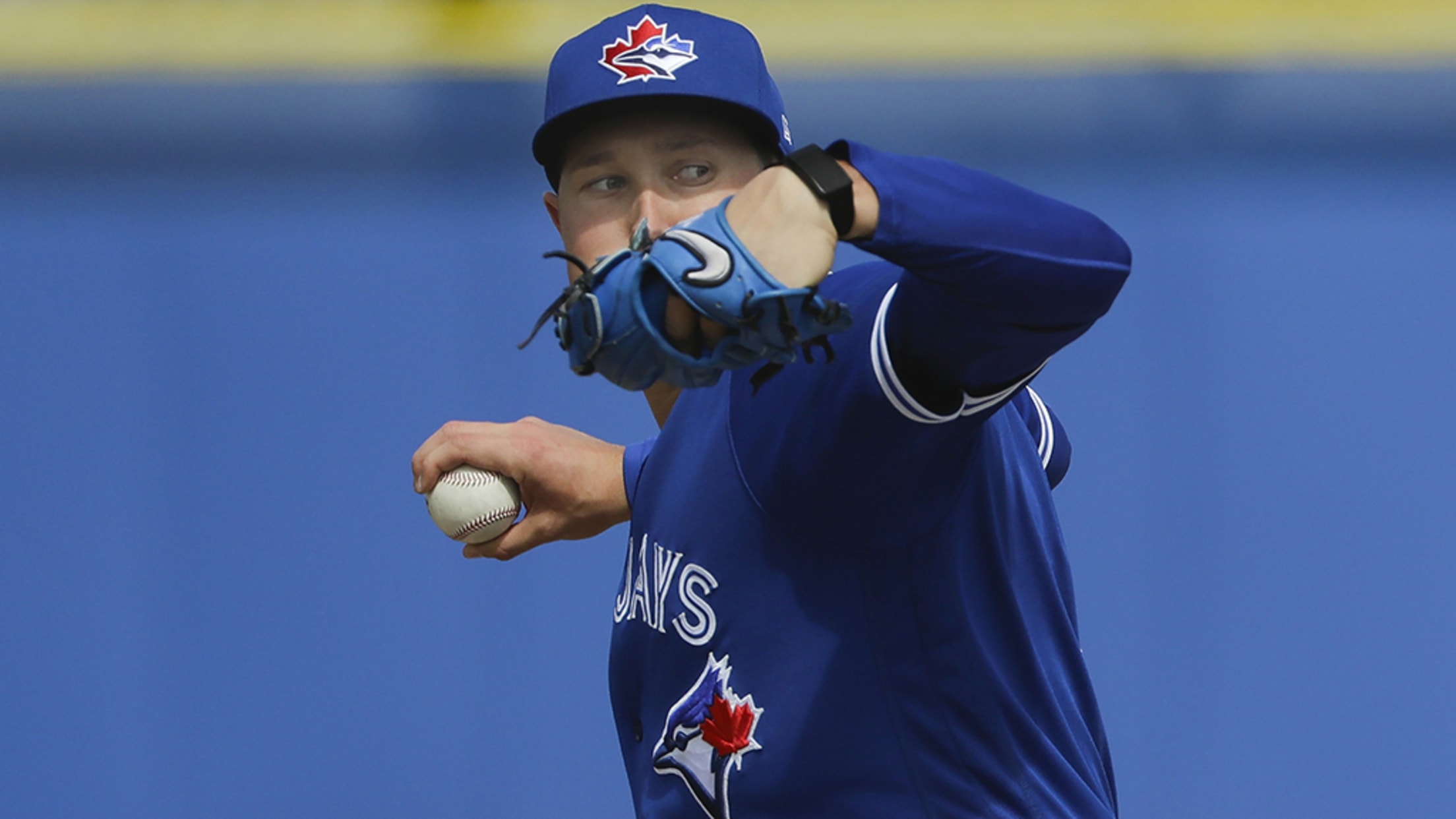 As part of the new rules for the 2020 Major League season, each of the 30 organizations will maintain a 60-man player pool for the duration of the campaign. Some members of the player pool will feature on the active Major League roster while others will work out at an
The Road to The Show™: Nate Pearson
Young hurler has inched closer to leaving Jays nest for the bigs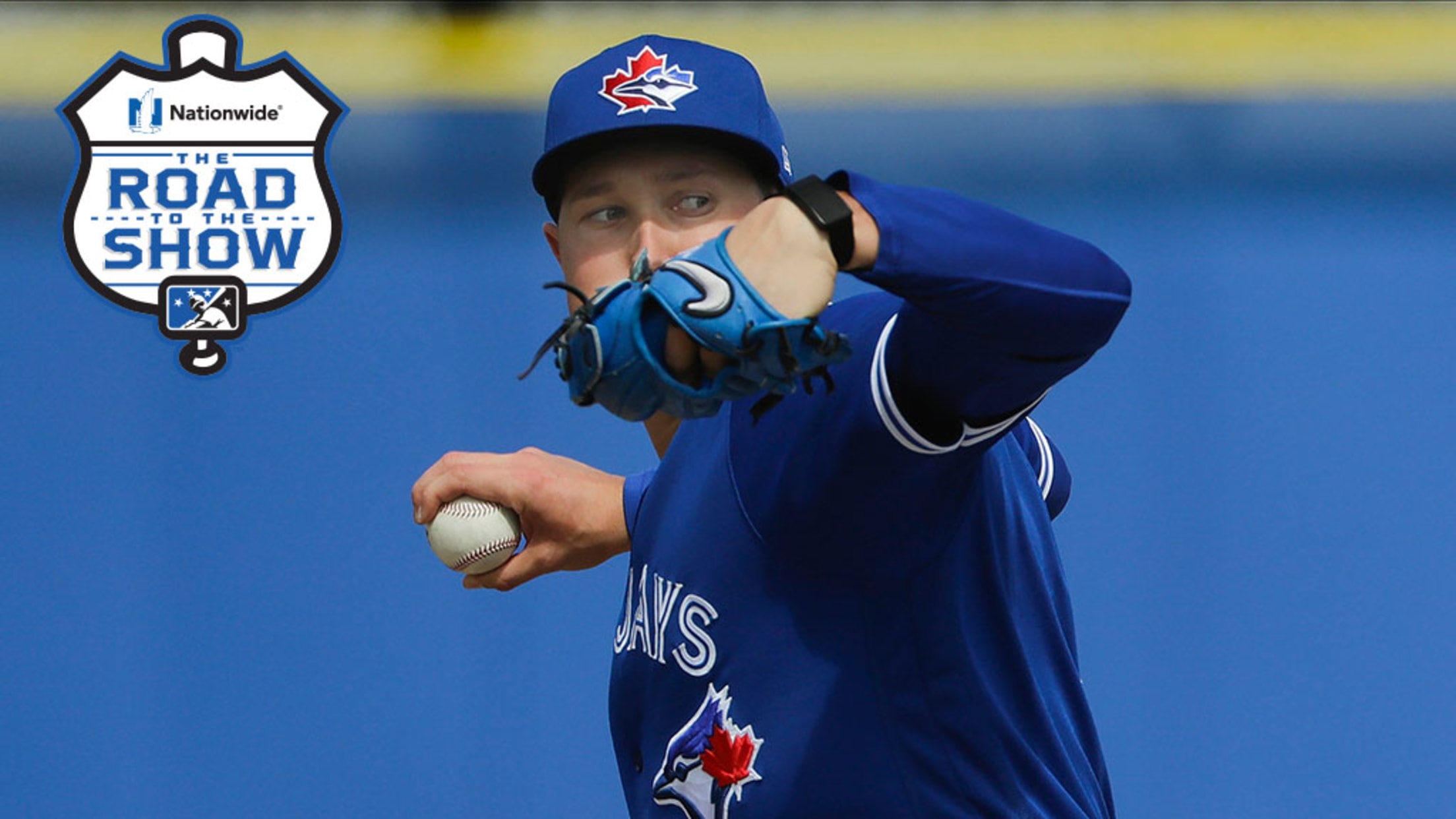 Each week, MiLB.com profiles an elite prospect by chronicling the steps he's taken to reach the brink of realizing his Major League dream. Here's a look at Jays right-hander Nate Pearson. Toronto's top prospect is a prime example why wins and losses are a devalued statistic to many, particularly in
Toolshed: 2017 Draft retrospective
High-school trio at top, Pearson's move up north still stand out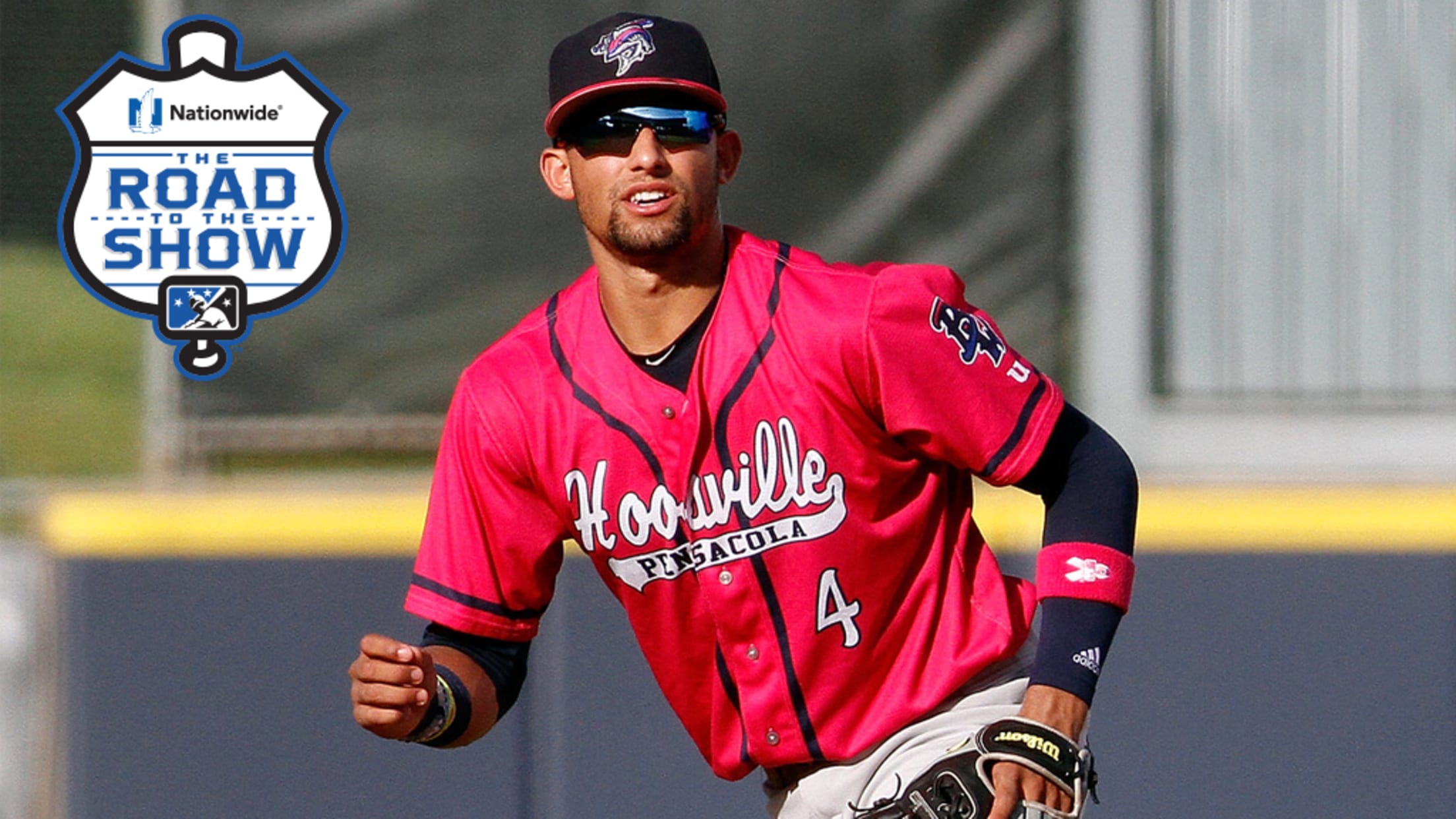 The 2020 First-Year Player Draft is coming, and without regular-season baseball being played yet due to the coronavirus pandemic, it could be the first big Major League Baseball event of the summer. The 2020 edition is likely to take place on June 10 and be as little as five rounds,
Toolshed dream lineup: The 23-year-olds
Jays' Pearson, Giants' Bart among those closing in on Majors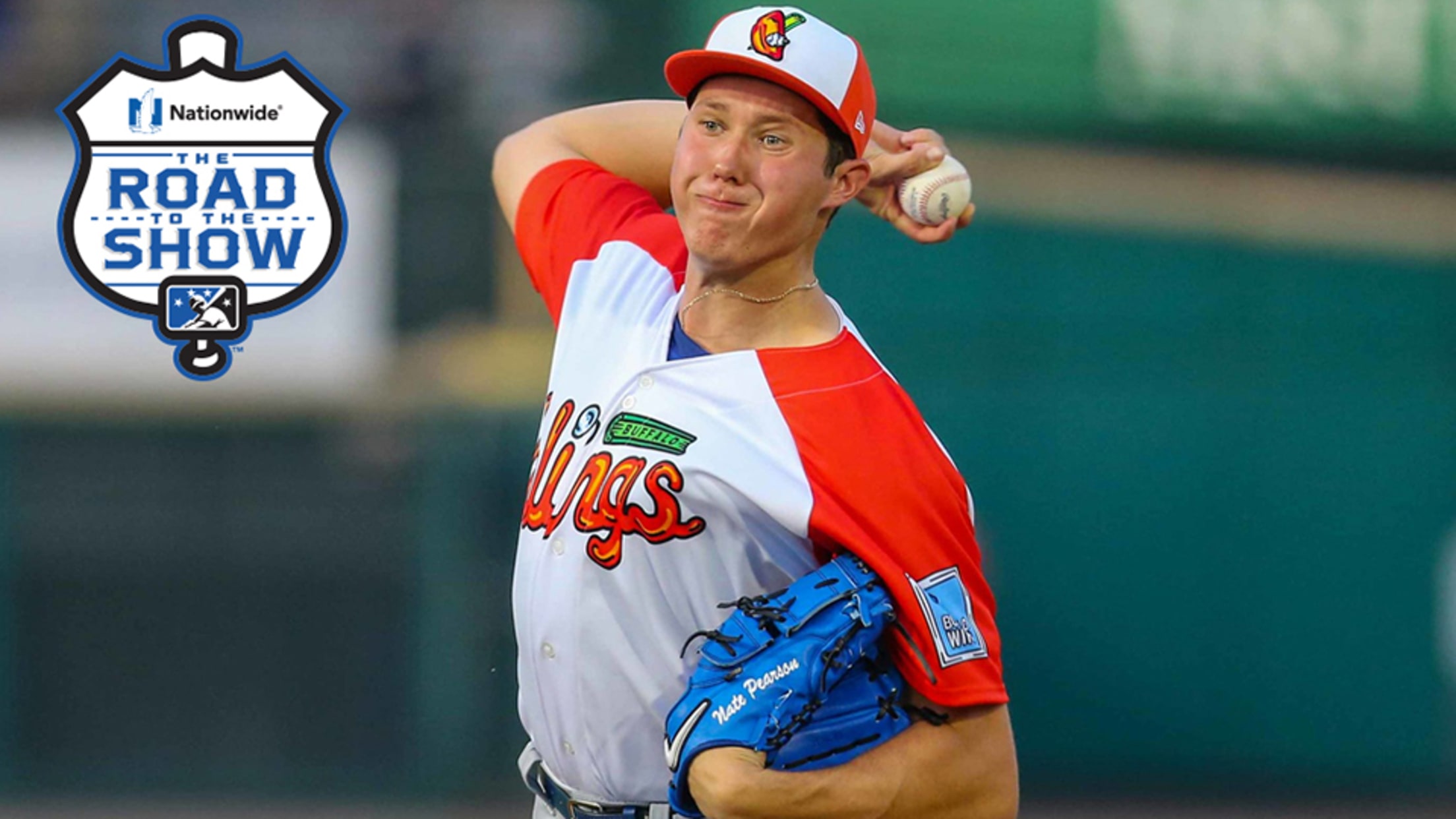 There may be no Minor League Baseball games yet, but that's not going to stop us from dreaming about lineups.In the coming weeks, Toolshed will craft the best possible prospect lineups, sorted by age. So far, the series has focused on teenagers, 20-year-olds, 21-year-olds and 22-year-olds. This time, we turn our attention to
Jays' Pearson ends spring on impressive note
Toronto's top prospect wraps up Grapefruit League with 1.29 ERA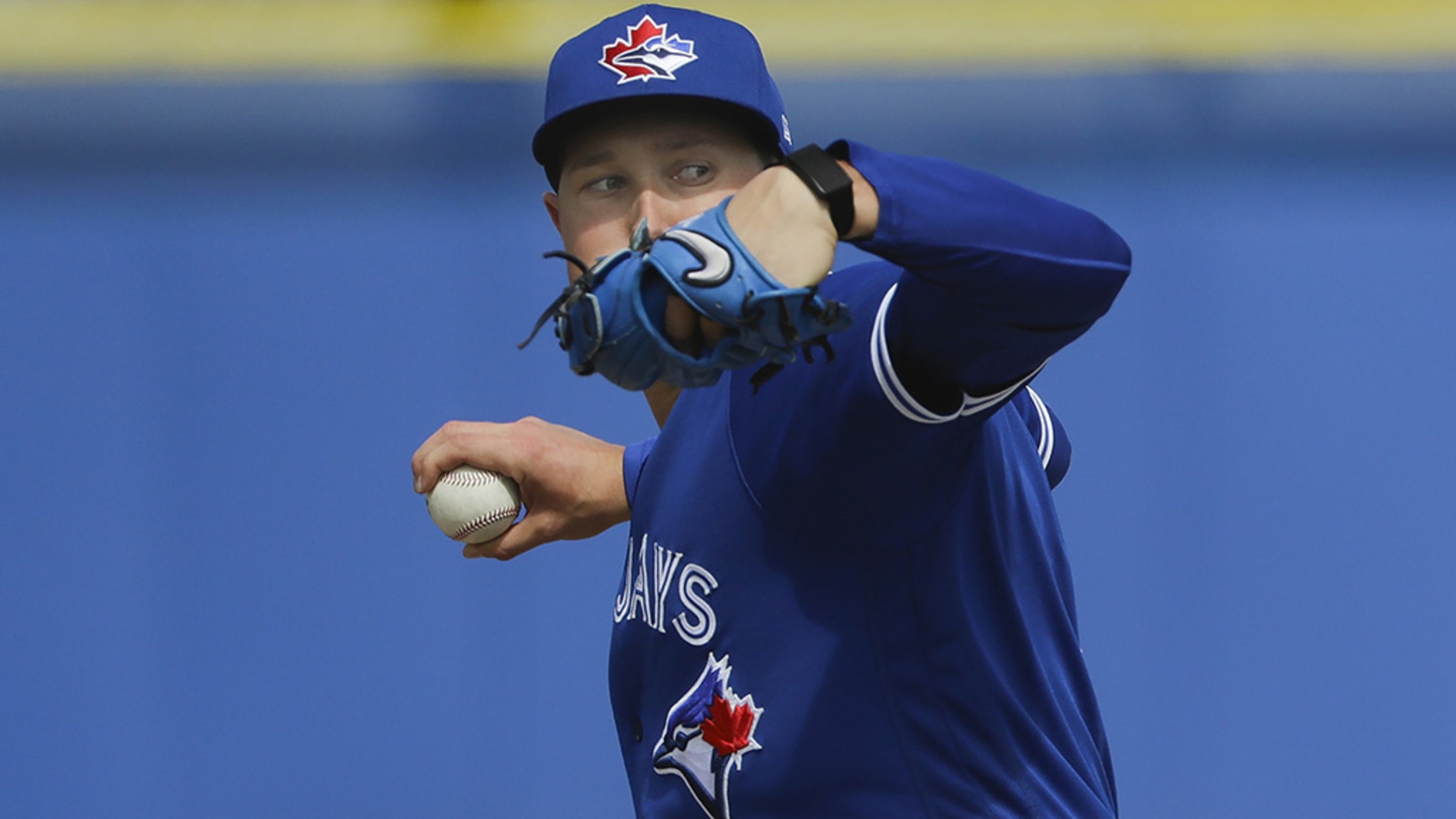 Due to the emerging national emergency created by the coronavirus pandemic, Major League Baseball decided to suspend Spring Training games at 4 p.m. ET on Thursday afternoon and postpone Opening Day.Getting one more opportunity to start, top Blue Jays prospect Nate Pearson wrapped up an impressive Grapefruit League campaign by earning
Righty Pearson flocks to Blue Jays camp
Top prospect headlines 13 non-roster Spring Training invitees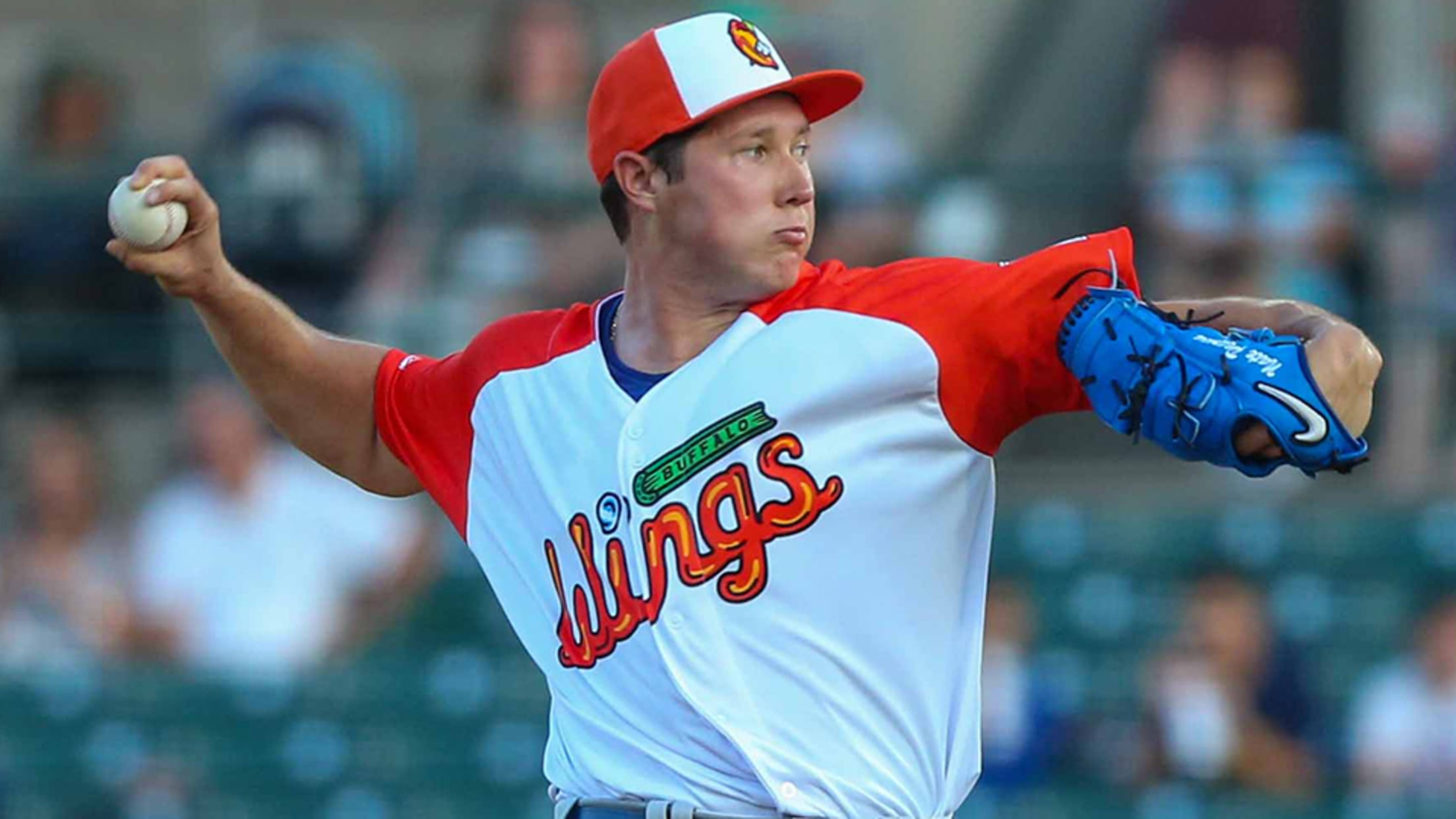 Another year, another Top-10 prospect at Blue Jays camp.Following the footsteps of Vladimir Guerrero Jr., No. 8 overall prospectNate Pearson was invited to Toronto's big league camp on Friday, along with 12 other non-roster invitees.
Jays' Pearson spins gem in Triple-A debut
No. 14 overall prospect hurls seven shutout innings for Bisons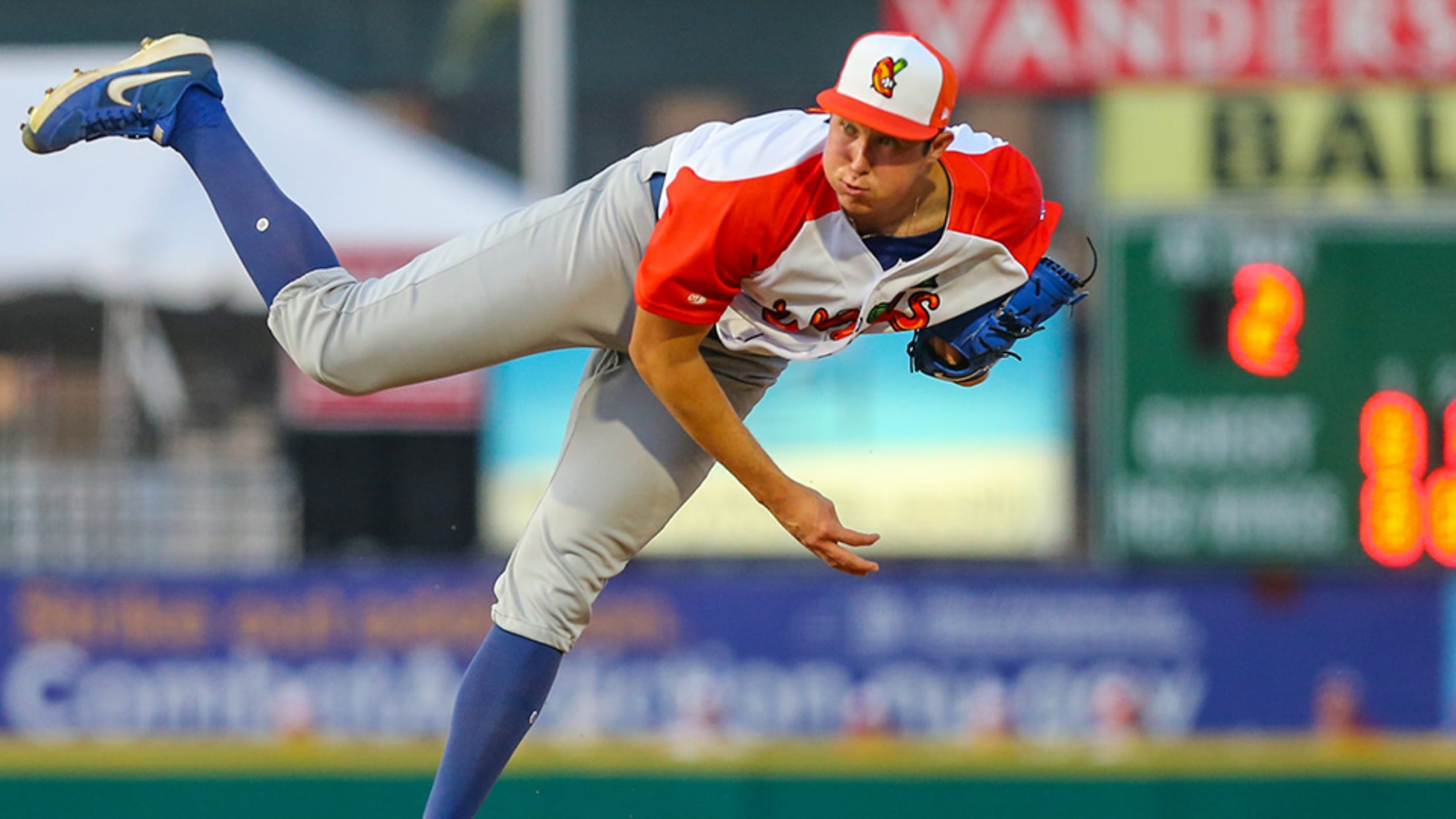 On the mound at the Minors' highest level on his 23rd birthday, Nate Pearson gifted himself a personal-best start. In his International League debut, Toronto's second-ranked prospect twirled a career-best seven scoreless innings, allowing three hits and striking out three, but Triple-A Buffalo dropped a 4-1 decision to Rochester on Tuesday
Jays' Pearson heads to Triple-A Bisons
Club's No. 2 prospect gets promoted for second time this year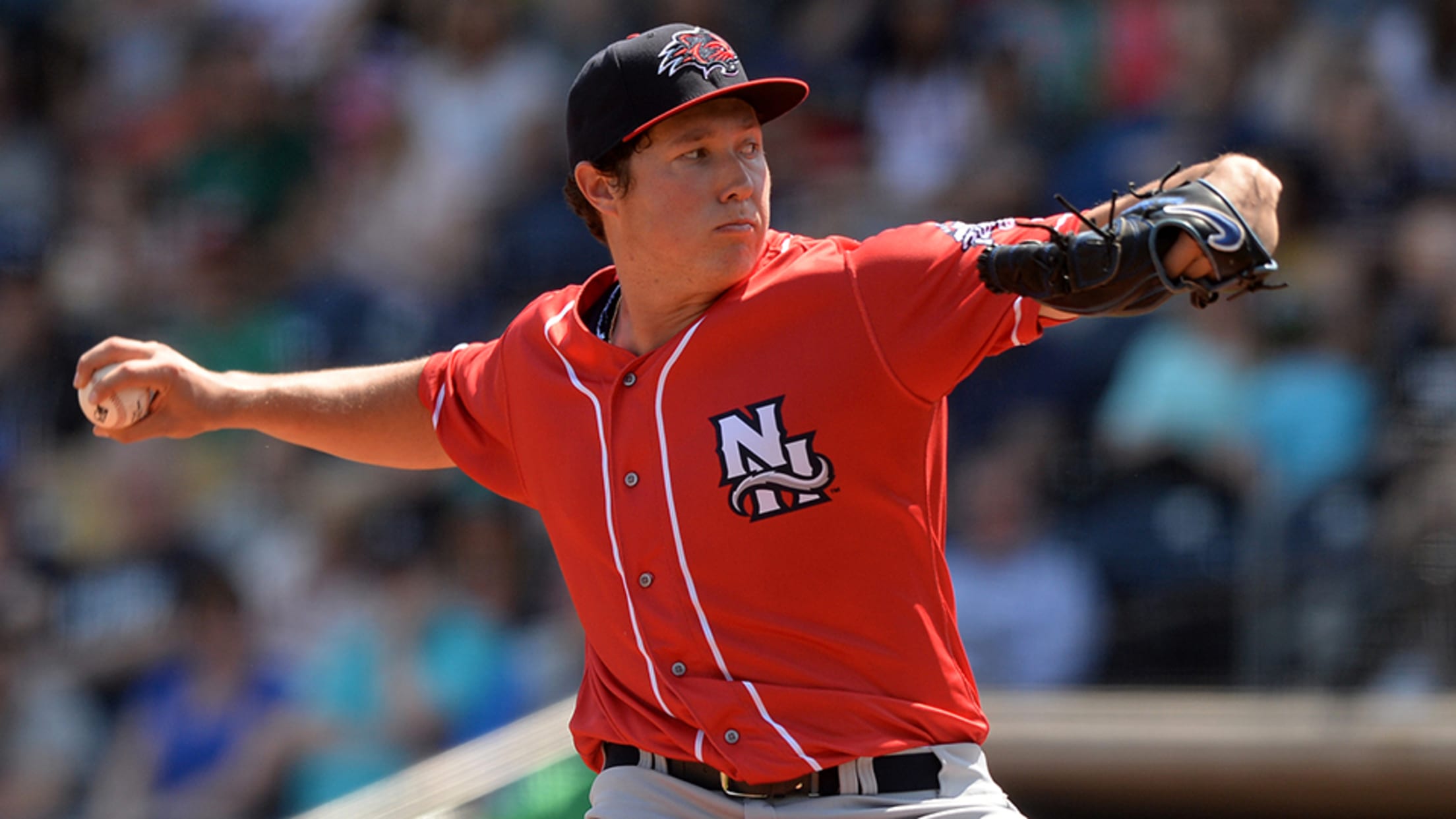 Nate Pearson is getting a change of scenery for the third time this season.Toronto's second-ranked prospect was promoted to Triple-A Buffalo on Sunday after 16 appearances in the Eastern League with New Hampshire. He went 1-4 with a 2.59 ERA and 69 strikeouts over 62 2/3 innings.
Pearson finally gets first Double-A win
Blue Jays No. 2 prospect hurls 5 2/3 scoreless frames for Cats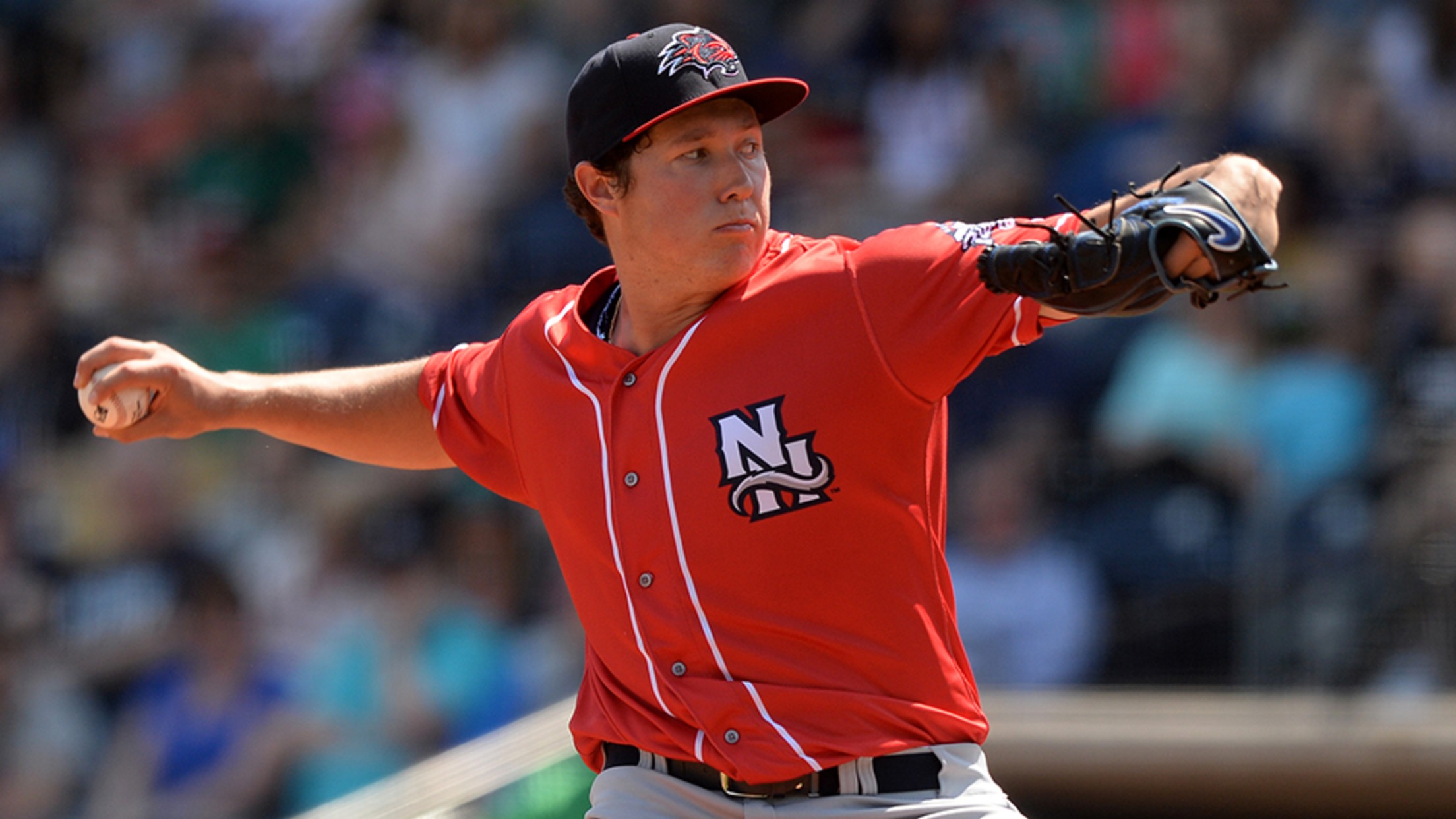 After 16 games in the Eastern League, Nate Pearson got into the win column Thursday. Toronto's No. 2 prospect allowed four hits and struck out six over 5 2/3 innings as Double-A New Hampshire squeaked past Binghamton, 1-0, at NYSEG Stadium. 
Pearson continues rise with Fisher Cats
Jays No. 2 prospect extends scoreless streak to 11 2/3 innings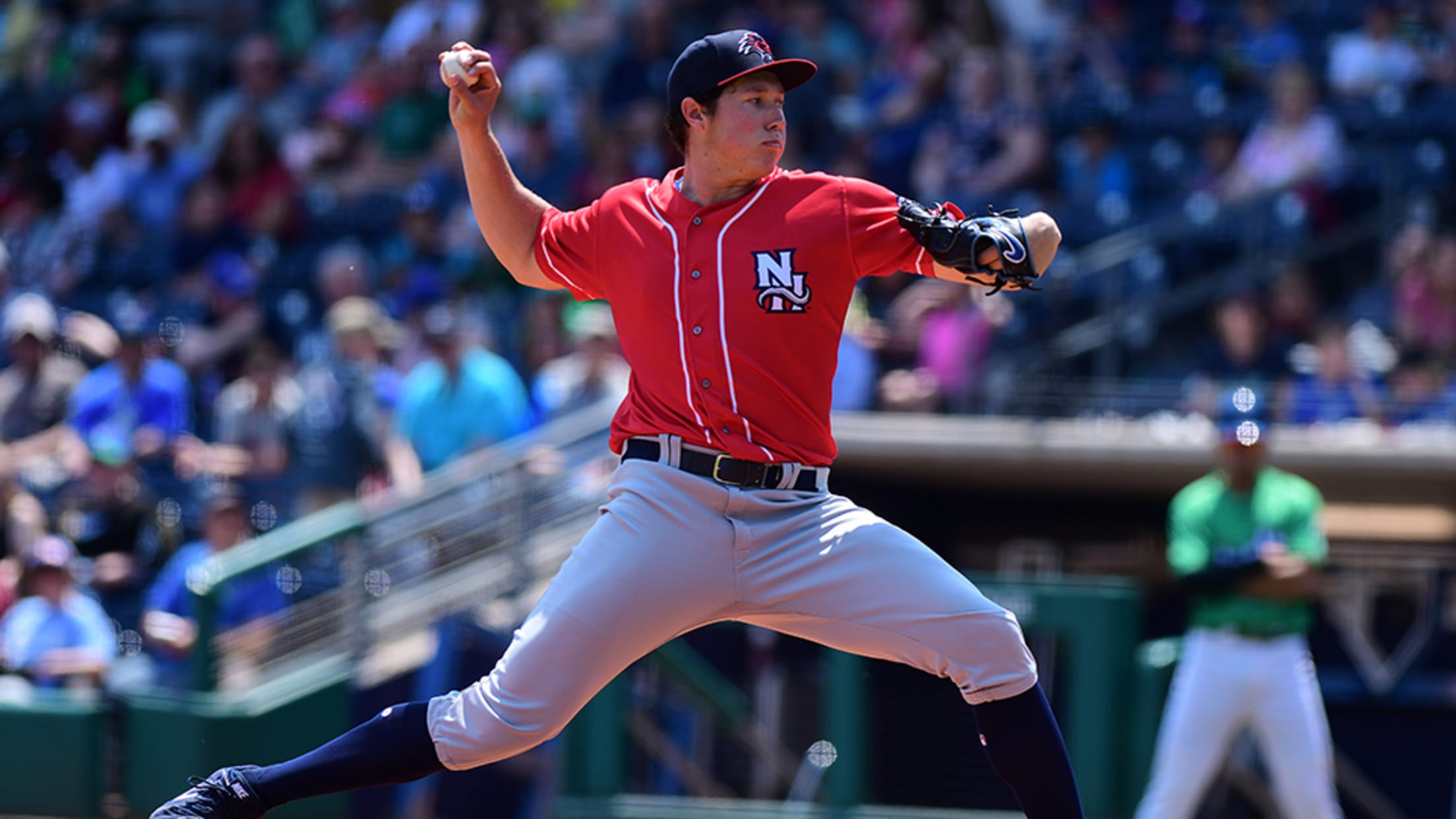 If performances like the one Nate Pearson produced on Tuesday -- in which Double-A New Hampshire pitching coach Vince Horsman classified as being "B-minus or C-plus" -- Toronto fans have a lot to look forward to.The second-ranked Blue Jays prospect made his second consecutive scoreless start on Tuesday night, allowing two hits
Pearson puts on a show for Fisher Cats
Jays No. 2 prospect doesn't allow hit over pro-best 5 2/3 innings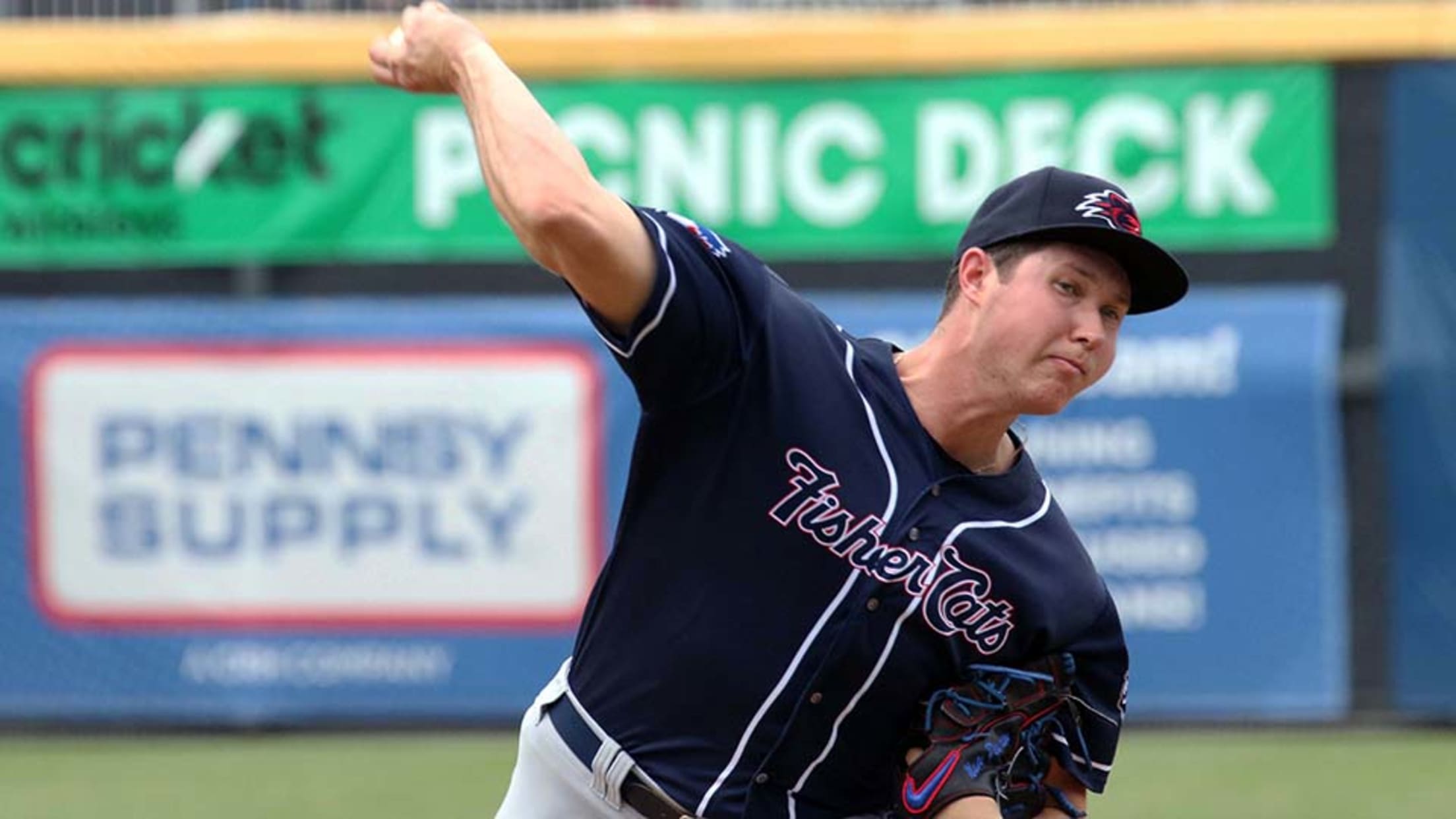 At some point in near future, the reins will come off Nate Pearson. Given more leeway Wednesday, the 22-year-old showed what he could do, even if the competitor in him yearned for more.Toronto's No. 2 prospect didn't allow a hit while striking out eight over a career-long 5 2/3 innings,
AL rallies for tie in unique Futures Game
Huff, Patiño play starring roles in newly formatted showcase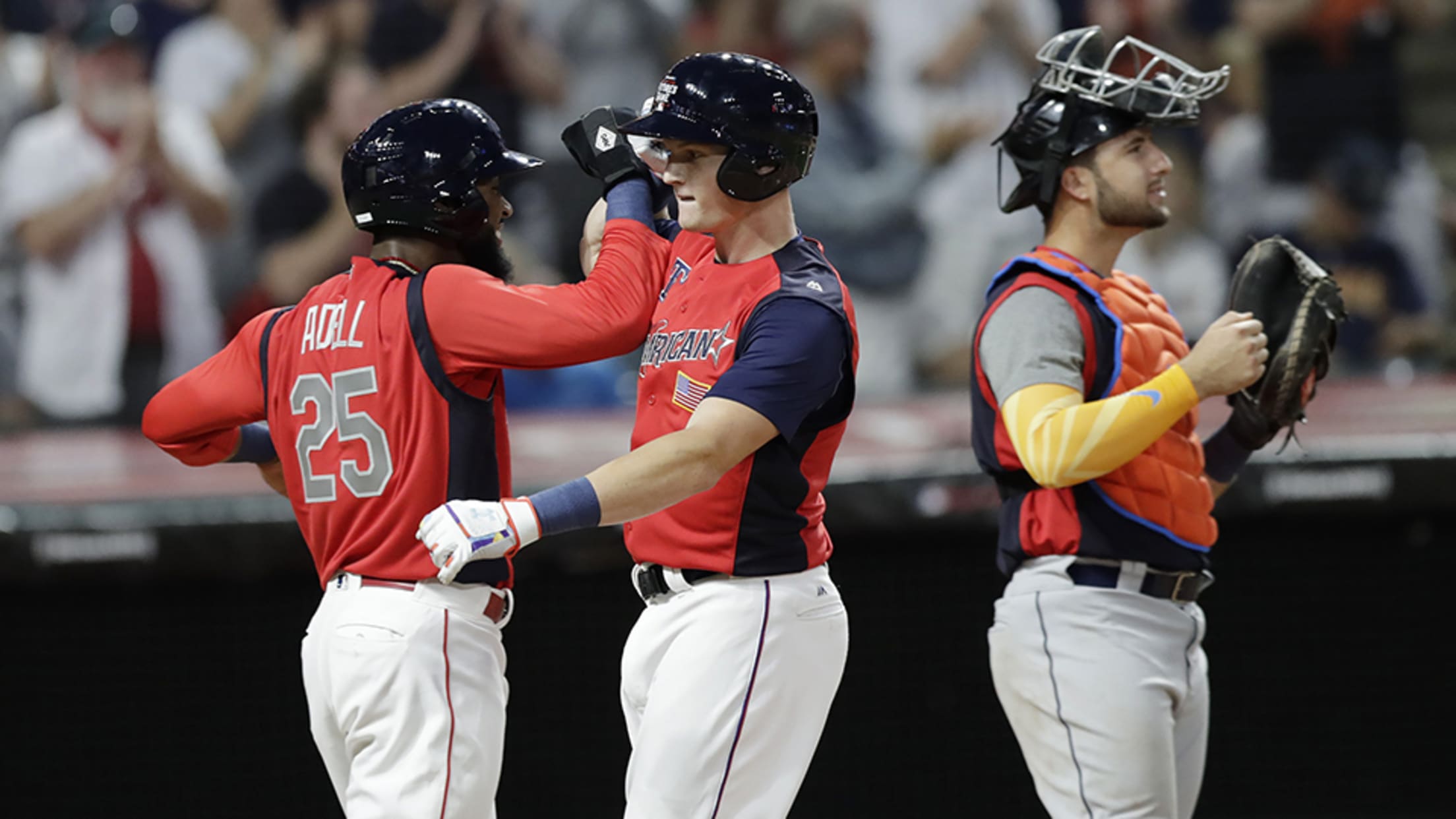 CLEVELAND -- The All-Star Futures Game was supposed to be many things. It was supposed to be a seven-inning game. It was supposed to be a continuation of last year's slugfest that saw the teams combine for a record eight home runs. It was supposed to, at the very least,
Blue Jays' Pearson lands on Double-A IL
No. 41 overall prospect has 2.70 ERA since joining Fisher Cats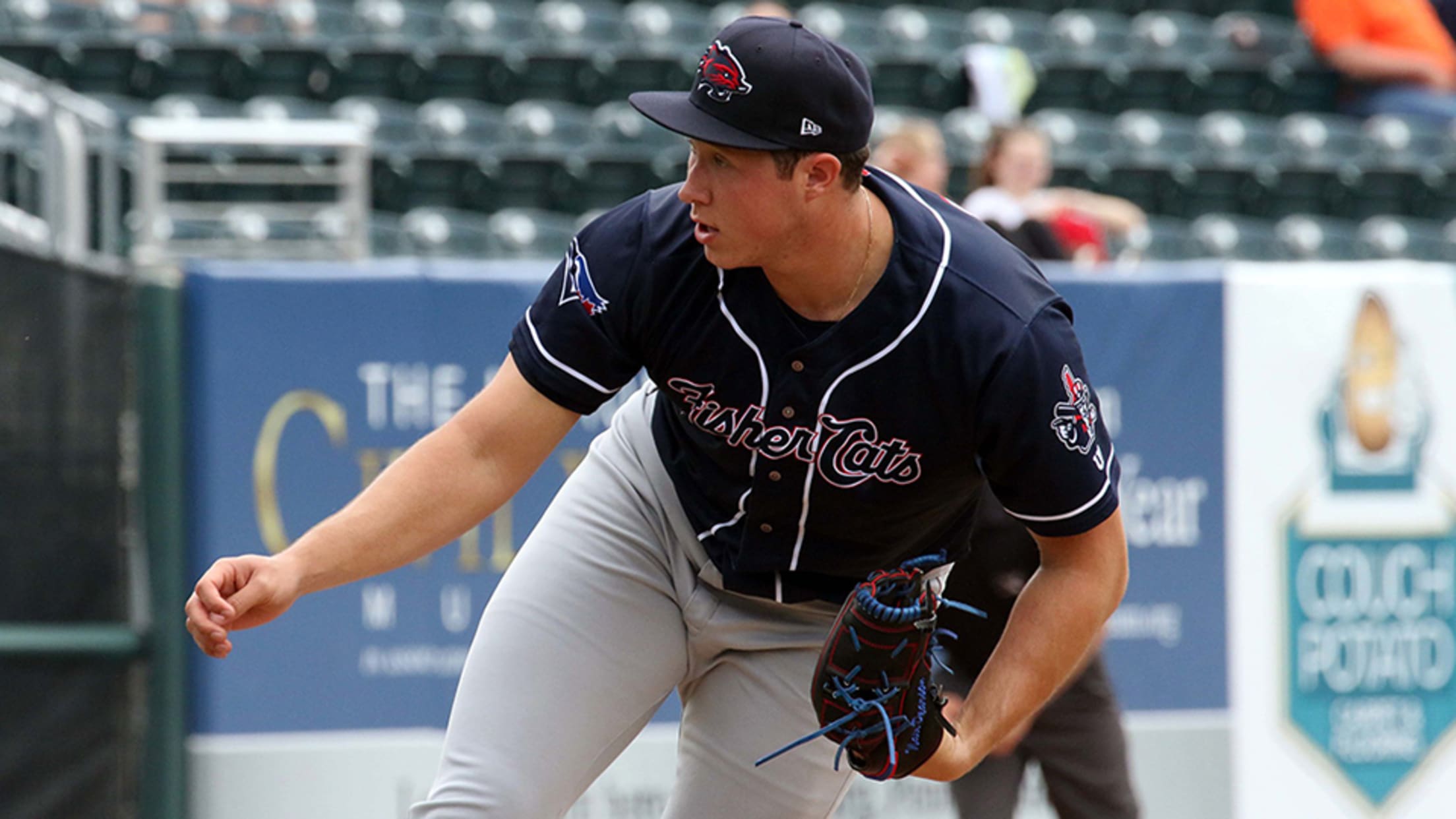 Nate Pearson has been nothing short of dominant this season, but he'll be on the shelf for at least the next few days. The second-ranked Blue Jays prospect was placed on the seven-day injured list, retroactive to Thursday, with an undisclosed ailment.
Pearson dominant again for Fisher Cats
Jays No. 2 prospect allows one hit in five scoreless innings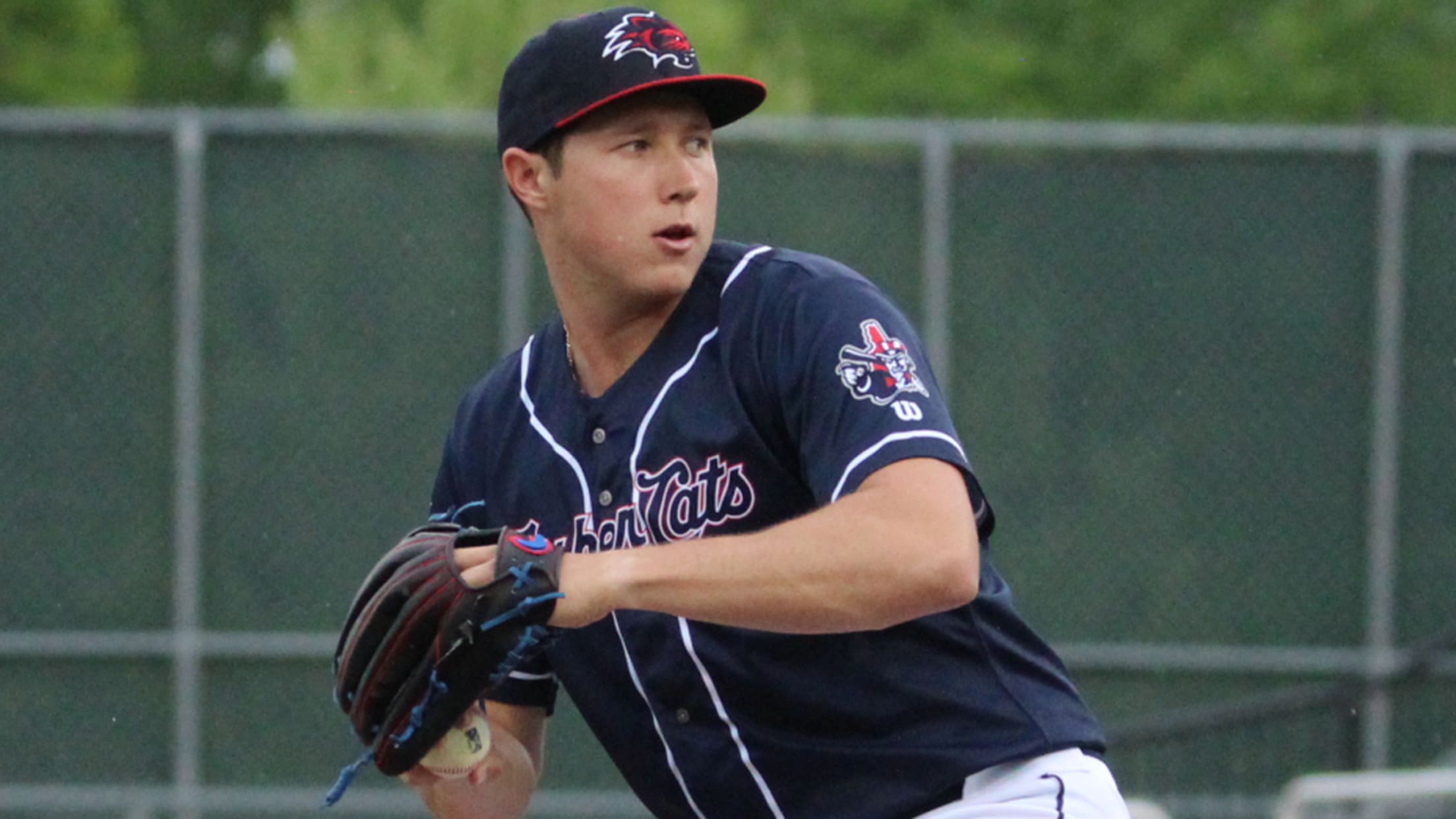 Nate Pearson's season has been a seesaw of short outings and longer outings -- all by design -- to get him ready for a strong summer run. Judging by his last few, it's working.Toronto's No. 2 prospect allowed one hit over five innings in his second straight scoreless start, the
Prospect Roundup: Games of June 4
Marlins' Miller keeps streaking; Jays' Pearson dominates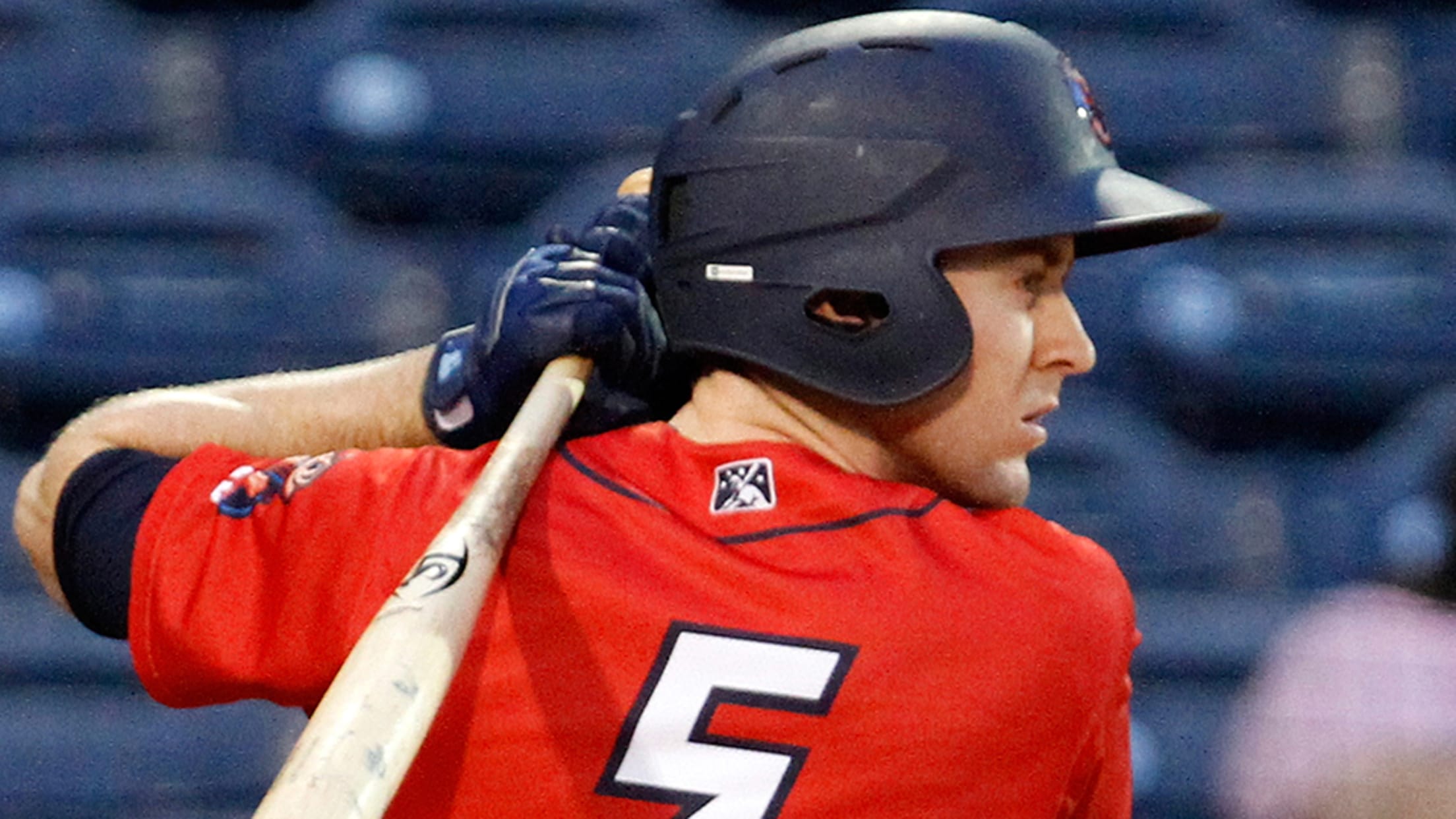 Marlins LF Brian Miller, Double-A Jacksonville: 3-for-5, 1 2B, 1 RBI, 2 R -- Miami's No. 14 prospect ripped a ground-rule double in the fourth inning, singled in the sixth and capped his big night an RBI single in the ninth as he extended his hitting streak to a Southern
EL notes: Pearson undaunted in Double-A
No. 3 Blue Jays prospect hoping to go deeper as season rolls on
Nate Pearson attacks his routine between starts with the mindset that he's going seven-plus innings his next time out, despite knowing that won't be the case.In the wake of limited innings over his college career and a season-ending injury during his debut start last season, the Blue Jays are choosing
Jays' Pearson plays up in Double-A debut
No. 71 overall prospect allows two hits, fans eight in five frames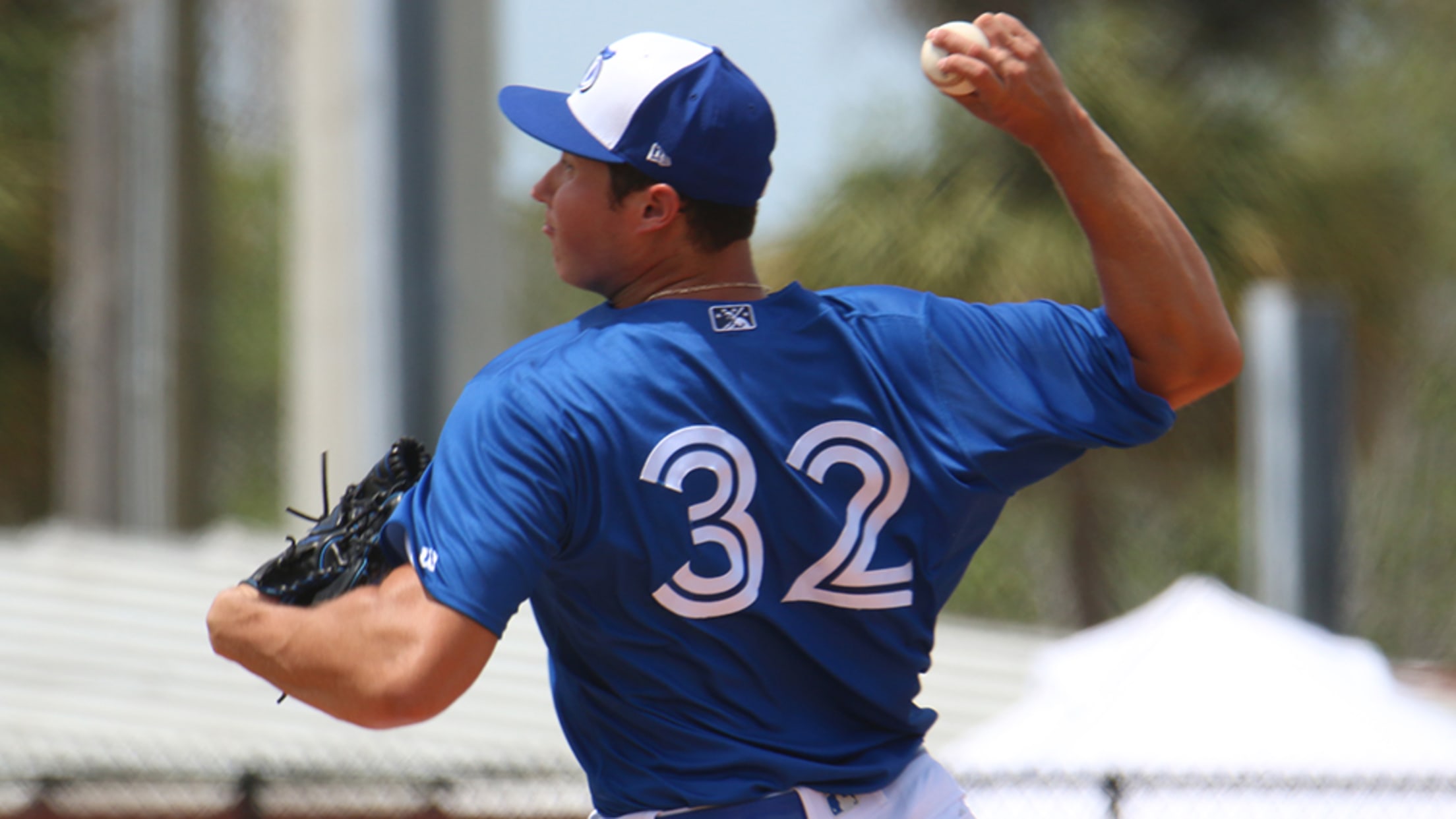 Exactly one year ago Tuesday, Nate Pearson made his Florida State League debut. And exactly one year ago Tuesday, a line drive struck him on the arm and caused him to miss the rest of the regular season. But that was the furthest thing from his mind during his first Eastern League start.The Blue
Toronto's Pearson soaring up to Double-A
Jays sending No. 3 prospect to Fisher Cats in Eastern League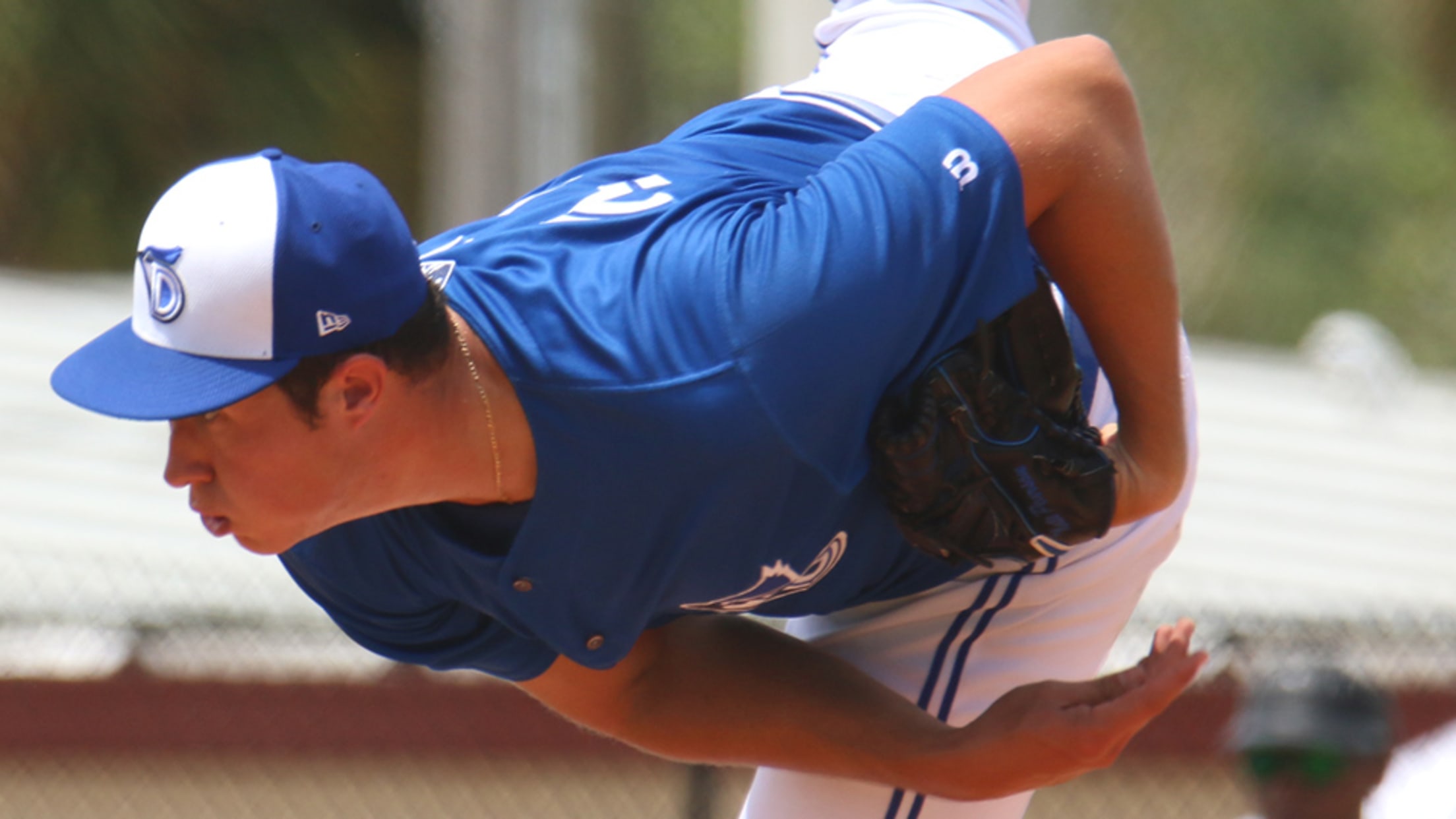 Toronto's top two prospects -- Vladimir Guerrero Jr. and Bo Bichette -- passed through Double-A New Hampshire in 2018. Now, it's Nate Pearson's turn. The Blue Jays promoted their third-ranked prospect Thursday from Class A Advanced Dunedin to the Eastern League. The organization also sent Pearson's batterymate, No. 30 Riley Adams,