Toolshed: 2017 Draft retrospective
High-school trio at top, Pearson's move up north still stand out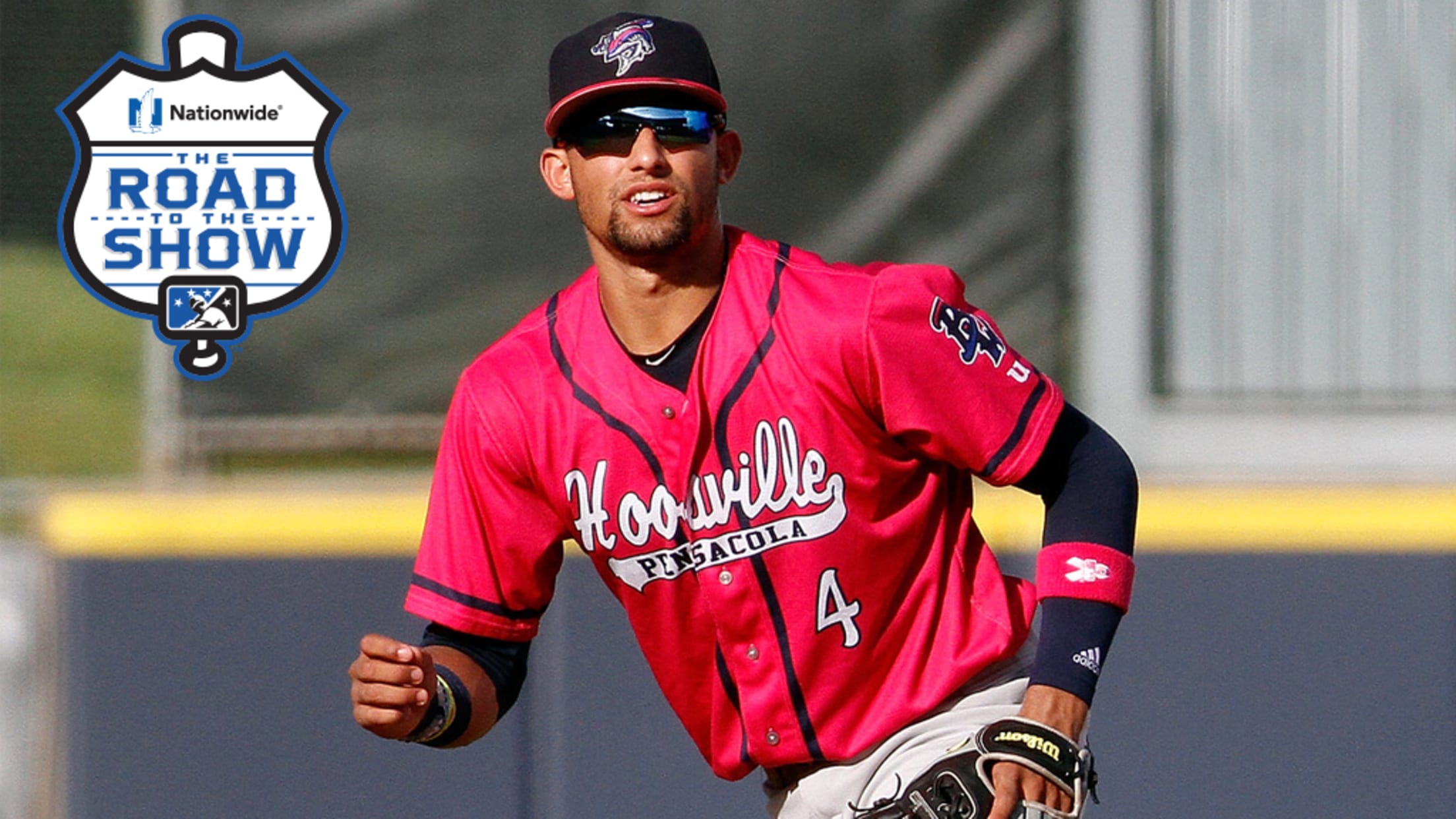 Royce Lewis has clubbed 30 home runs over his first three Minor League seasons. (Ed Gardner/MiLB.com)
The 2020 First-Year Player Draft is coming, and without regular-season baseball being played yet due to the coronavirus pandemic, it could be the first big Major League Baseball event of the summer. The 2020 edition is likely to take place on June 10 and be as little as five rounds,
The 2020 First-Year Player Draft is coming, and without regular-season baseball being played yet due to the coronavirus pandemic, it could be the first big Major League Baseball event of the summer. The 2020 edition is likely to take place on June 10 and be as little as five rounds, but it still will mark the beginning of the professional careers for several of the game's future top prospects. To get fans prepared for the big day on the baseball calendar, Toolshed will spend the coming weeks looking at Drafts of the recent past. The <a href="https://www.milb.com/news/toolshed-2015-major-league-baseball-draft-retrospective-313414088" target="_blank" >2015 and 2016 retrospectives can be found at those links. This edition covers the 2017 Draft.
Biggest storyline at the time -- Youth was served: There were certainly plenty of collegiate options. Kyle Wright was MLB.com's No. 3 Draft prospect coming off three stellar years at Vanderbilt. Brendan McKay was a bit of a prospect unicorn at Louisville, where he showed legitimate two-way potential as a Golden Spikes Award winner. Adam Haseley, J.B. Bukauskas and Jeren Kendall all had their fans. Yet when it came time for commissioner Rob Manfred to read the first three names of the 2017 Draft, all three were high schoolers. That marked the first time since 1990 that picks one, two and three were prep players. Those three youngsters were shortstop Royce Lewis (Twins), right-hander Hunter Greene (Reds) and left-hander MacKenzie Gore (Padres). Greene was the biggest name of the bunch, having already appeared on the cover of Sports Illustrated because of his explosive triple-digit fastball and potential to play two ways as a shortstop/designated hitter. However, Minnesota opted for a fellow Californian in Lewis, who was gifted with plus-plus speed at a premium position and a good hit tool from the right side. It also helped that he ended up signing for $6.725 million while Greene got $7.23 million from the Reds, a record at the time for largest bonus in the signing-pool era. In any event, McKay and Wright went fourth to the Rays and fifth to the Braves respectively to end that youth run, and in the end, 18 of the 30 first-round picks were collegiate players. But the theme stuck. The 2017 Draft was topped by potential, and it was thought to be a while before anyone knew for sure whether those top three bets would pay off. In some ways, we're still waiting on the results, but more on that later.
Biggest storyline since -- Fits and starts: Look up and down the first round of the 2017 Draft, and it's tough to find a top prospect who has ridden a clear road to stardom. Gore is the highest-ranked prospect of the bunch at No. 5 overall in MLB.com's current rankings, and even he had to battle blister issues in his first full season in 2018. Jo Adell, ranked sixth overall, looks like a five-tool player but missed much of 2019 due to leg injuries. Lewis got off to a fast start in 2018, only to hit the brakes in his second full season. Wright was the first player to reach the Majors back on Sept. 4, 2018, but he still has prospect eligibility remaining because he hasn't found a way to stick with the Braves. The Rays claim they're going to give McKay plenty of two-way rope, but it's becoming clearer and clearer he's more advanced on the mound and more likely to stick there. Greene, the top talent in his Draft class, showed off his signature velocity at Class A Dayton in 2018, only to need Tommy John surgery that caused him to miss all of 2019 after that. The player with the most clear top-level success so far is Brewers second baseman Keston Hiura, coming off a rookie season in which he posted a .938 OPS over 84 games, and even he faces questions about his defense at the keystone. The future will show some of these names were able to overcome the bounces.
How the first overall pick aged -- Royce Lewis, shortstop, Twins: Before getting into the minutiae, it's important to point out Lewis is still the No. 9 overall prospect. Following the dropoffs of Mickey Moniak and Brady Aiken (two of the three No. 1 picks before him), it's to Lewis' credit that he has maintained an impressive profile despite the heightened expectations of a top overall selection. That said, how he got here hasn't been entirely smooth. Lewis shot out of the gate in his first full season, hitting .292/.352/.451 with 14 homers and 28 steals between Class A Cedar Rapids and Class A Advanced Fort Myers in 2018. However, the right-handed slugger slowed down significantly between Class A Advanced and Double-A last season. Lewis' average fell to .236, and while he managed 12 homers and 22 steals, his .661 OPS at those spots didn't do much to help his stock. The Twins' top prospect rebounded again in last year's Arizona Fall League, where he earned MVP honors after batting .353/.411/.565 in 22 games while playing multiple positions, and that performance helped buoy his stock back to a top-10 prospect. When he's on, Lewis shows above-average skills across the board, and he even has plus potential with his hit and run tools. Inconsistency is an issue, but this spring, he spoke adamantly about using 2019 as a learning year, one that would springboard him toward future success. He'll also have to show he can stick at short with experience at second, third and center under his belt as well. Only Gore (No. 5), Adell (No. 6) and Nate Pearson (No. 8) rank higher than him among 2017 picks, so his selection has aged fairly well. It's still on him, however, to show 2019 was the fluke and not 2018.
Biggest dropoff -- Pavin Smith, first round, seventh overall: First basemen are always a risk as first-round picks because in order for them to be worth it, they really have to hit. The Smith selection at No. 7 at least looked like a safe one from the D-backs' perspective. The left-handed slugger showed an advanced approach by striking out only 12 times while hitting .342/.427/.570 with 13 homers as a junior at the University of Virginia, and that hit tool pointed to a potential high floor. Unfortunately, Smith's lack of power has held him back in the pro ranks. His career high for home runs remains only 12, and he slugged just .392 over a full season in the hitter-friendly California League in 2018. The former Cavalier has shown some signs of growth to the point at which he could be an average Major League hitter at best, and he's added some defensive versatility by playing the corners. But at age 24, Smith has slid all the way back to the No. 24 spot in an Arizona system that is much more loaded than it was when he entered it three years ago. Think about how much stronger that D-backs young core could be right now if it boasted Adell, Hiura or Shane Baz -- all three of whom were taken in the next five picks after Smith -- instead of this selection. Luckily, it's still early, and Smith could build on his improvements in 2019. But as things stand, it'll take some work to justify the seventh overall pick.
Biggest early-round steal -- Nate Pearson, first round, 28th overall: There were reasons why Pearson fell all the way to Toronto at this spot, don't get us wrong. Of course even then, the 6-foot-6 right-hander was known for touching triple-digits. He used that velocity to great effect at Central Florida Community College, where he fanned 118 in 81 innings the spring before the Draft. But his secondaries and a previous elbow procedure brought along questions, leading more than a few to believe his future was closer to the back of a bullpen than the front of a rotation. Three years later, that seems to have flipped. Pearson's velocity has remained elite, while his slider, changeup and control have all improved to the point at which he's basically ready to lead Toronto's starting group right now. Only Gore is ranked higher among 2018 pitchers, and he's yards away from other hurlers taken before him like Seth Romero, Brendon Little and Tanner Houck. There were other Top-100 prospects found in the collective-balance, second and third rounds, but an ace of Pearson's caliber at the back end of the first round is always going to look like a steal.
Best pick, rounds 6-40 -- James Karinchak, ninth round, 282nd overall: Sometimes you draft a starter who could turn into a reliever, and that still works out like Pearson has with the Jays. Others, you draft a reliever who was always going to stay in the bullpen, and the result there is pretty darn good too. Karinchak was a starter during his time at Bryant University, but arm issues as a junior and diminished stuff -- not to mention a head whack in his delivery -- almost dropped him out of the first 10 rounds. Cleveland swooped in in the ninth round, and after giving the right-hander six Class A Short Season starts in his Draft year, the organization has kept him in the bullpen ever since. Karinchak has thrived in his first two full seasons with a upper-90s fastball that features plenty of movement and a plus curveball. Last season alone, he struck out 74 batters in 30 1/3 Minor League innings, most of which were spent at Double-A and Triple-A. He made his Major League debut on Sept. 22, fanned eight batters in 5 1/3 frames in the bigs and figures to be a big part of Cleveland's bullpen soon after the season resumes. With his stuff and results, Karinchak should be Cleveland's future closer when Brad Hand leaves town, if he can rein in some of his control issues. The righty already looks like an impactful reliever even if he has to swallow his fair share of walks, and Cleveland got pretty good value in its ninth-round pick -- one of only six Class of 2017 pitchers to reach the Majors so far.
Best picks by organization -- Padres: One of the defining characteristics of the 2017 Draft, at least so far, is the way talent was spread out across the sport. Four different organizations (Padres, Braves, Giants, Reds) can claim they drafted two current Top-100 prospects that year, and two more (Angels, Phillies) can add a solid Major Leaguer as well as one Top-100 prospect to their boasts about their 2017 haul. Without a clear leader as of this moment, the nod goes to San Diego for having the top-rated prospect in the class in Gore and a developmental success story in Luis Campusano, who was taken in the second round at 39th overall and surged to become the No. 50 overall prospect. The Padres also added their current No. 10 prospect Joey Cantillo in the 16th round, No. 21Blake Hunt in the second and Major League starter Nick Margevicius in the seventh. Getting a potential future Major League ace in Gore with his four plus pitches and plus control would be enough for a solid Draft class. Mixing in more success stories from later rounds makes this the best of the bunch.
What to watch next from the Class of 2017 -- It's going to take time to round out that Major League case. Potentially expanded rosters will give players like Gore, Adell and Pearson added hope that they can crack the big leagues for the first time while Wright, McKay and others will be looking to return to The Show. It gets trickier for players like Lewis and Drew Waters, who would have been pushing the case in the upper Minors in 2020 under normal circumstances, but may have to rely on getting called to taxi squads if they're going to prove they're Major League bonafides. Keep an eye on Greene too. The Reds right-hander is building himself back up following Tommy John surgery, and if he can show similar pre-surgery stuff -- especially in terms of velocity -- in any venue, his stock could jump right back up from No. 53 overall.
Sam Dykstra is a reporter for MiLB.com. Follow and interact with him on Twitter, @SamDykstraMiLB.