Gómez punctuates big bat with bigger smile
Minor League home run king in '22 makes his case for St. Louis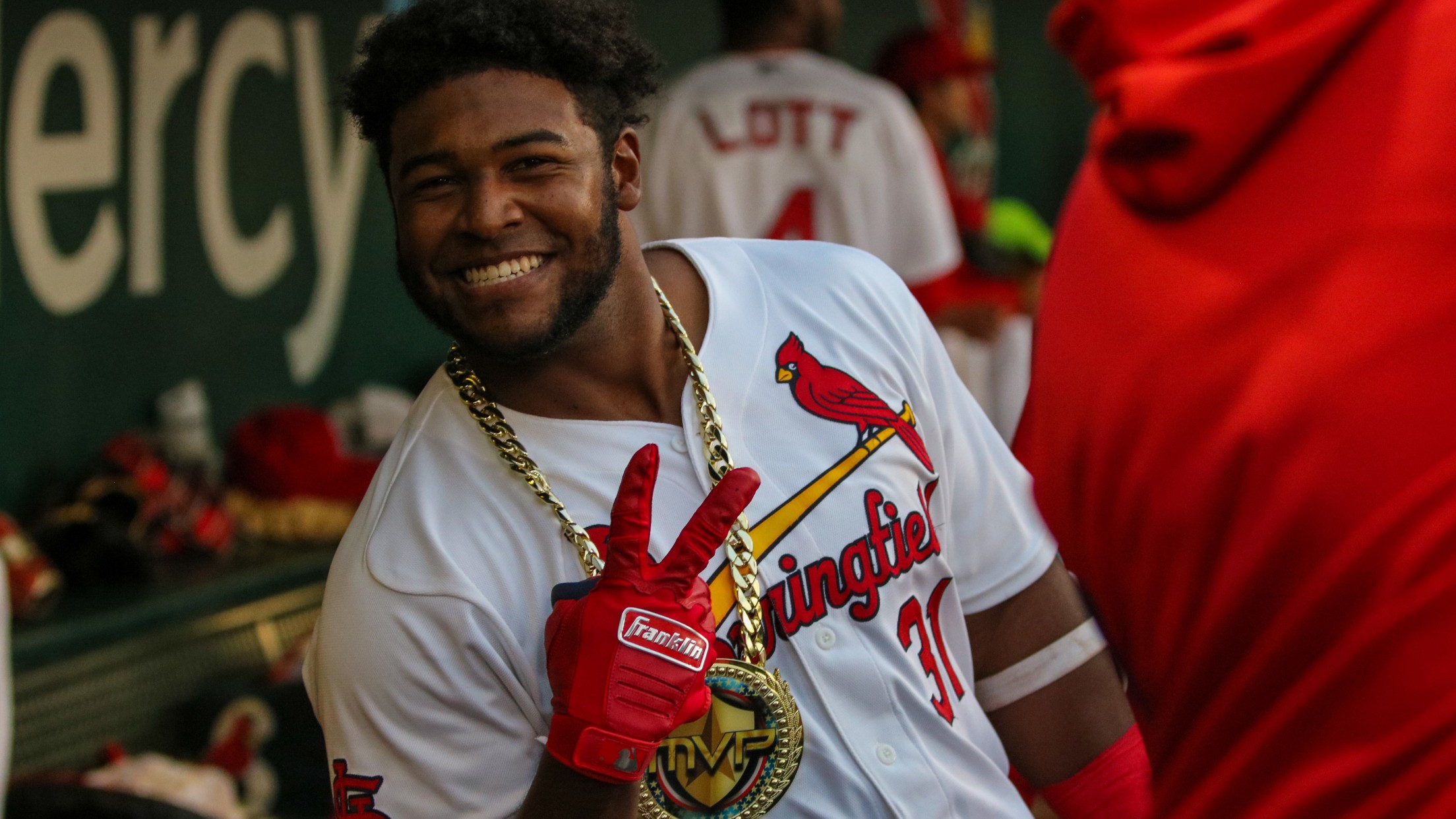 Ben Johnson's recollection of a moment of viral fame is different from most. The Triple-A Memphis skipper was standing in the third-base coach's box when Delvin Pérez took a home run trot about 300 feet, right past him around third. For most, the trot was memorable because the ball had
Walker, Gómez soaring toward St. Louis
Electric bats headline Cardinals' Organization All-Stars list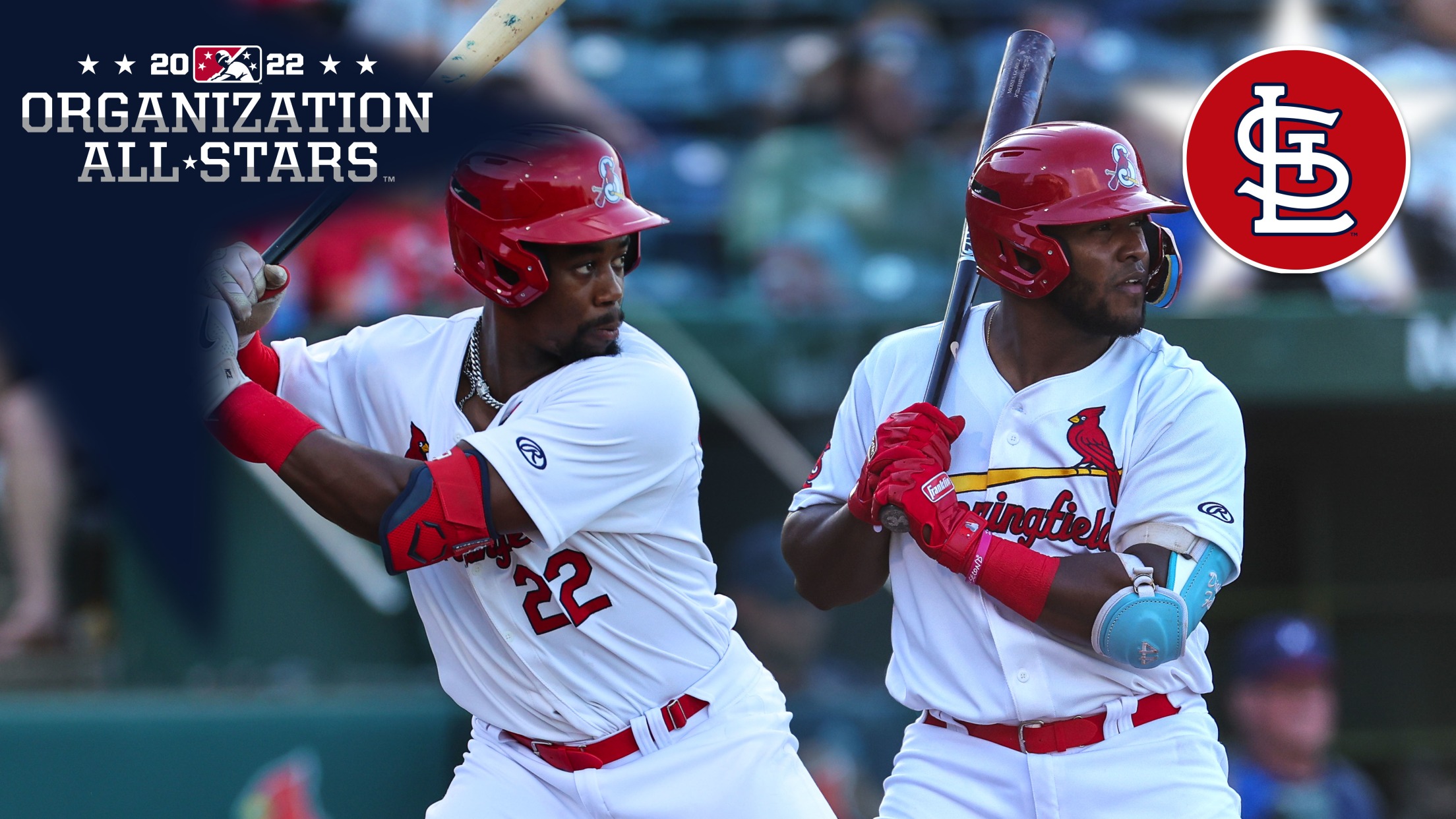 Each offseason, MiLB.com goes position by position across each organization and honors the players -- regardless of age or prospect status -- who had the best seasons in each farm system. Next up in our 2022 Organization All-Stars series are the St. Louis Cardinals.
Double-A award winners and All-Stars
Nieporte, Reetz and Gómez claim league MVP honors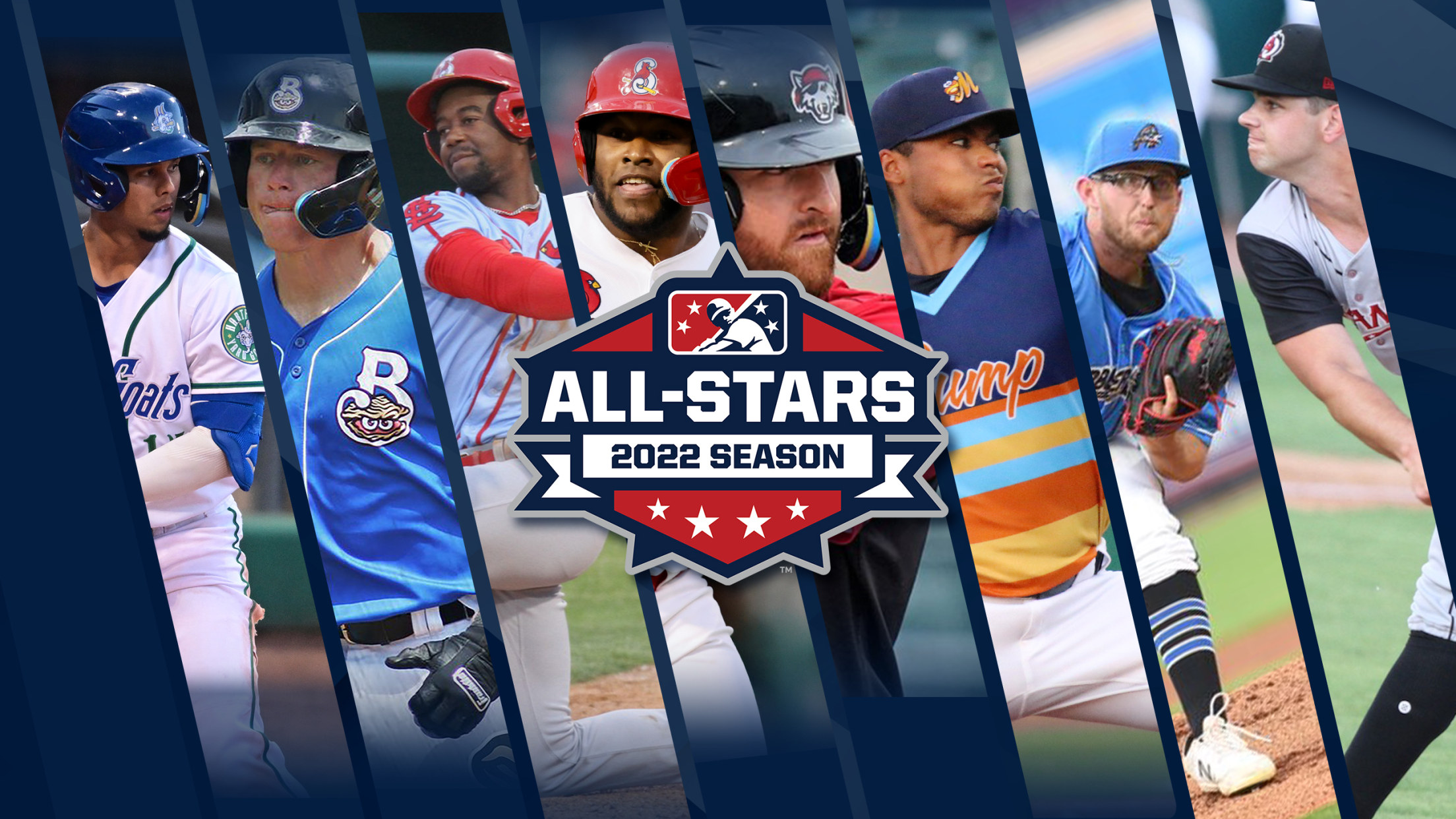 Minor League Baseball has revealed the end-of-season award winners and All-Star teams for the three Double-A circuits, based on votes cast by league managers. Highlighting the winners for the Eastern League were the Tigers' Quincy Nieporte, who took home MVP honors; Pitcher of the Year Tanner Bibee (Guardians) and Ezequiel
Gómez soars to new heights with home run crown
No. 30 Cardinals prospect belts 39 roundtrippers to lead Minors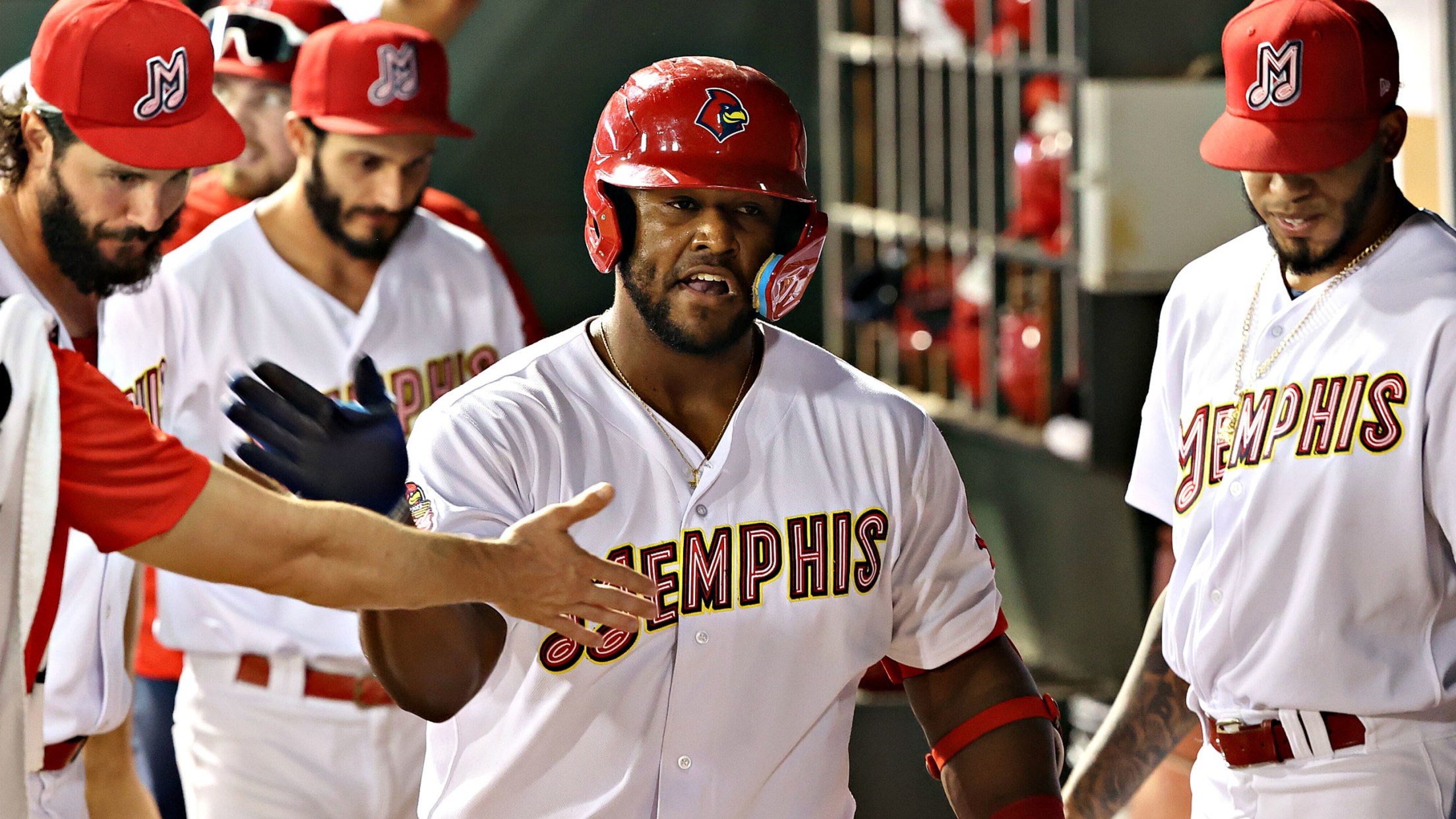 From free agent to this season's Minor League Baseball home run king. It's been quite a year for Moisés Gómez. The No. 30 Cardinals prospect launched 39 homers across the top two levels to claim the Joe Bauman Award, given annually to the top home run hitter in the Minors.
Memphis splits doubleheader with Indianapolis  
Thomas notches first career complete-game shutout in game two win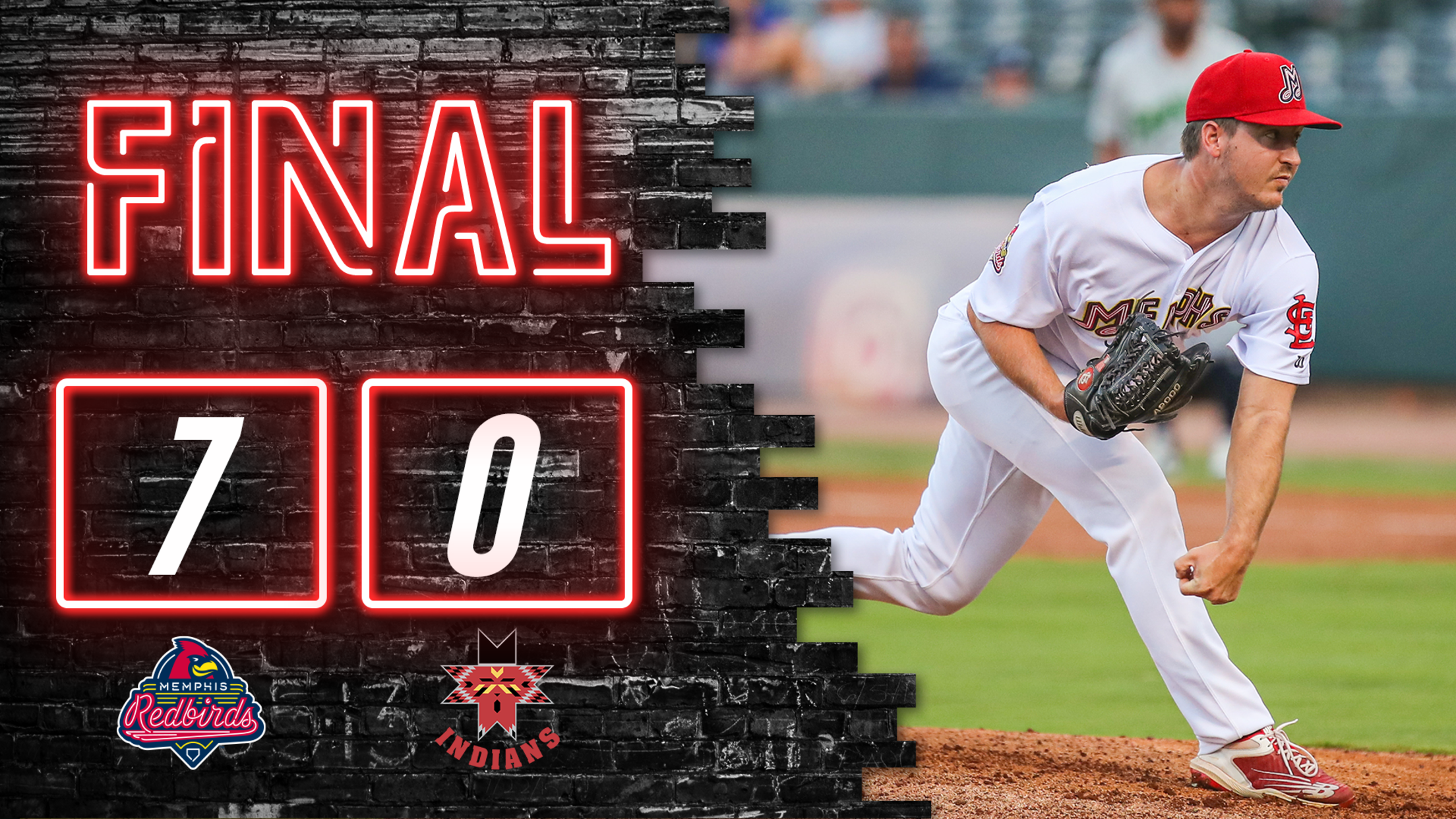 MEMPHIS, TN – The Memphis Redbirds split the Thursday doubleheader with the Indianapolis Indians, dropping game one 8-7 while taking game two 7-0 at AutoZone Park. Connor Thomas was stellar in game two, tossing a complete game shutout, while Moises Gomez and Alec Burleson hit back-to-back home runs to cap
STONE CRABS COMPLETE BEST SEASON IN FRANCHISE HISTORY
Finish season with record-breaking 82-53 record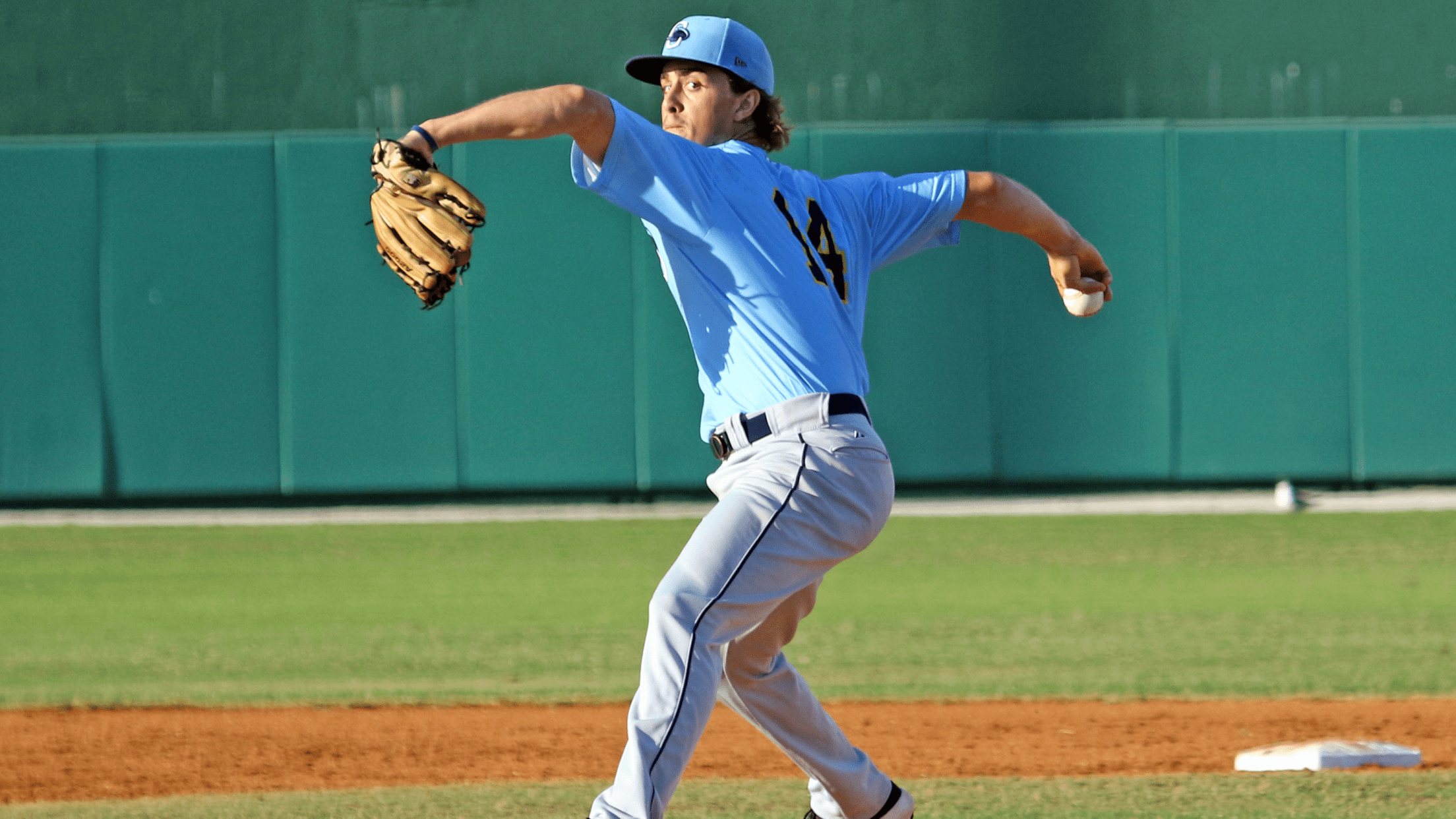 In a season defined by historically dominant pitching and a team that reached new heights, the 2019 Stone Crabs saw the best campaign in franchise history cut short by the threat of Hurricane Dorian.Despite the abrupt end, the Stone Crabs set new franchise records for wins (82) and winning percentage
Stone Crabs sweep Threshers with third straight shutout
Plassmeyer goes five scoreless in win
PORT CHARLOTTE, Fla. (August 25, 2019) - The Charlotte Stone Crabs celebrated their division championship with their third straight shutout win over the Clearwater Threshers, an 8-0 blanking at Charlotte Sports Park Sunday.Michael Plassmeyer (7-2) needed only 47 pitches to go five scoreless innings, allowing just one hit while striking
STONE CRABS CLINCH SECOND HALF DIVISION CHAMPIONSHIP
Charlotte seals fifth postseason berth in franchise history
PORT CHARLOTTE, Fla. (August 24, 2019) - The Charlotte Stone Crabs have clinched the second half championship in the Florida State League South, earning their fifth postseason appearance in the franchise's 11-year history. The Stone Crabs' (79-51, 43-20) 5-0 win over the Clearwater Threshers Saturday night at Charlotte Sports clinched
Gomez breaks home run record in 7-0 win
Stone Crabs tie franchise record for second half wins
PORT CHARLOTTE, Fla. (August 16, 2019) - Moises Gomez broke the Stone Crabs' single-season home run record Friday, extending Charlotte's lead in the division with a 7-0 win over the St. Lucie Mets at Charlotte Sports Park.The Stone Crabs' (75-58, 40-17) win ties the franchise record for second half wins,
Plassmeyer dazzles in 3-2 win in Daytona
Stone Crabs score late to win seventh straight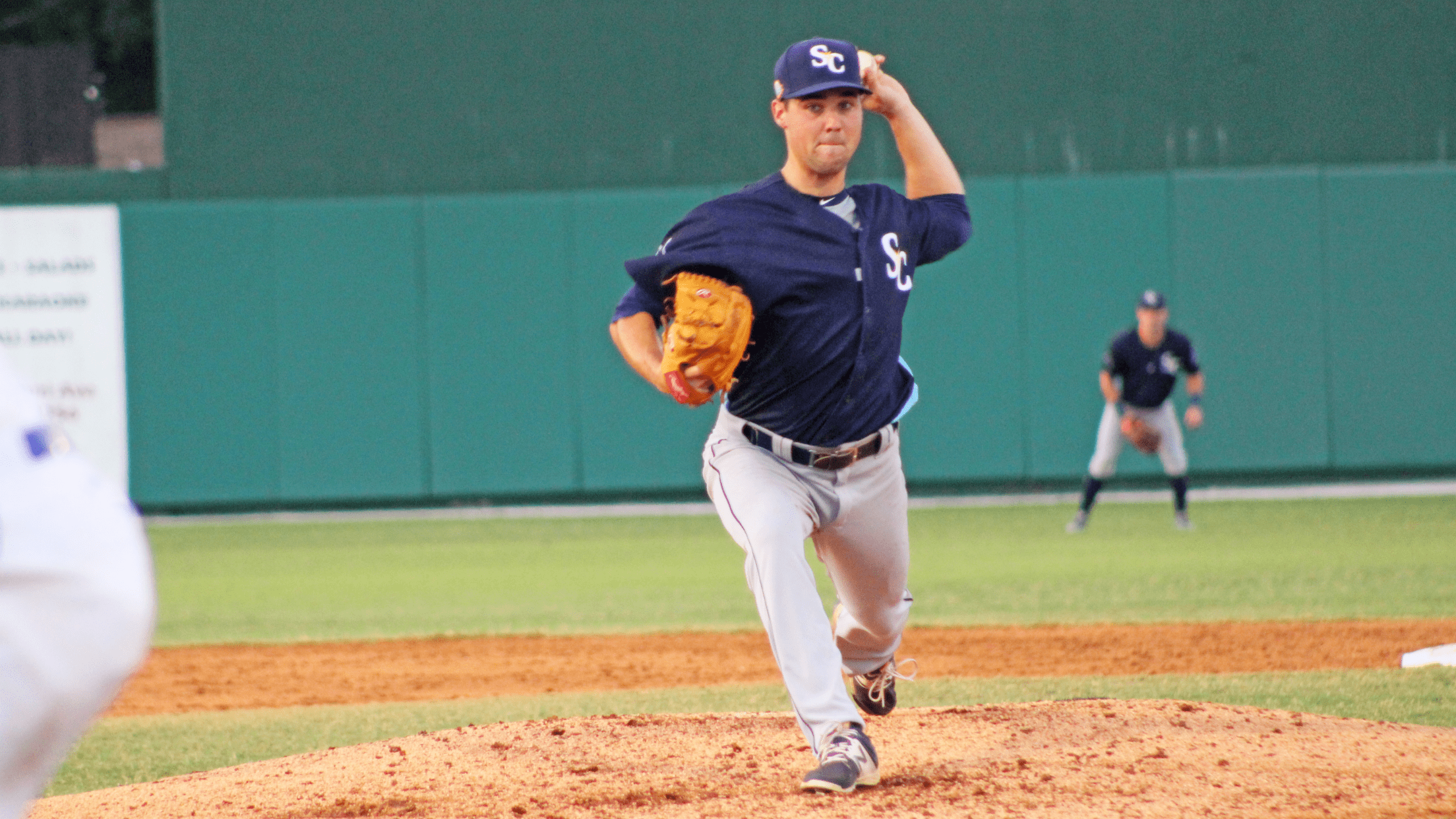 DAYTONA, Fla. (August 12, 2019) - Michael Plassmeyer spun seven outstanding innings and the Stone Crabs broke a tie in the ninth inning Monday, taking the first game from the Daytona Tortugas 3-2 at Jackie Robinson Ballpark.Plassmeyer did not allow an earned run over seven innings, striking out six while
Eighth inning sends Stone Crabs past Tampa 6-4
Charlotte draws nine walks to beat Tarpons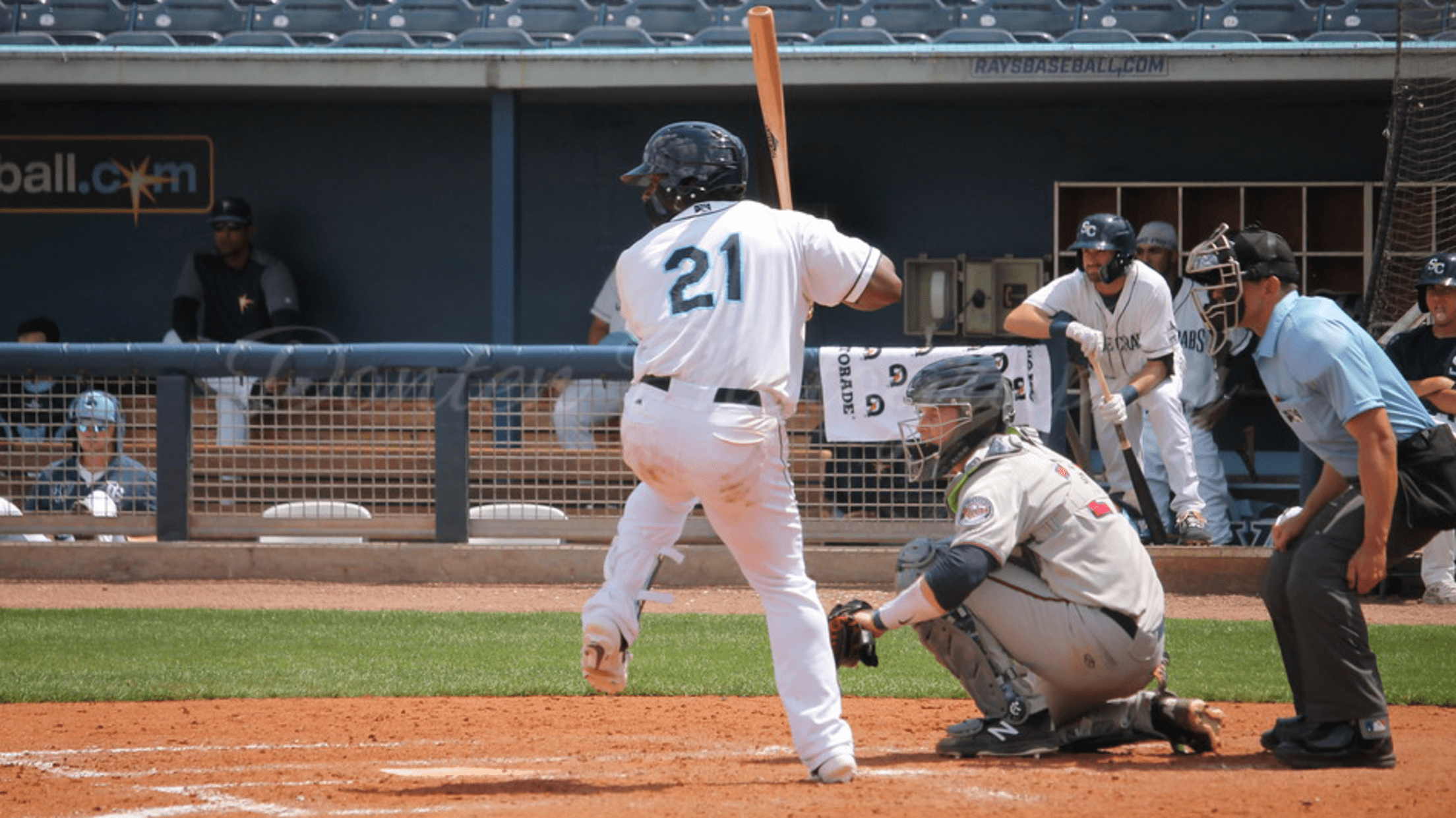 TAMPA, Fla. (August 9, 2019) - The Charlotte Stone Crabs took advantage of a season high nine walks Friday to come from behind and beat Tampa 6-4 at Steinbrenner Field.The Stone Crabs (70-46, 35-15) trailed 2-0 after six innings, cutting the deficit in half on a wild pitch in the
Clearwater comes back to catch Crabs 6-5
Gomez homers for second straight night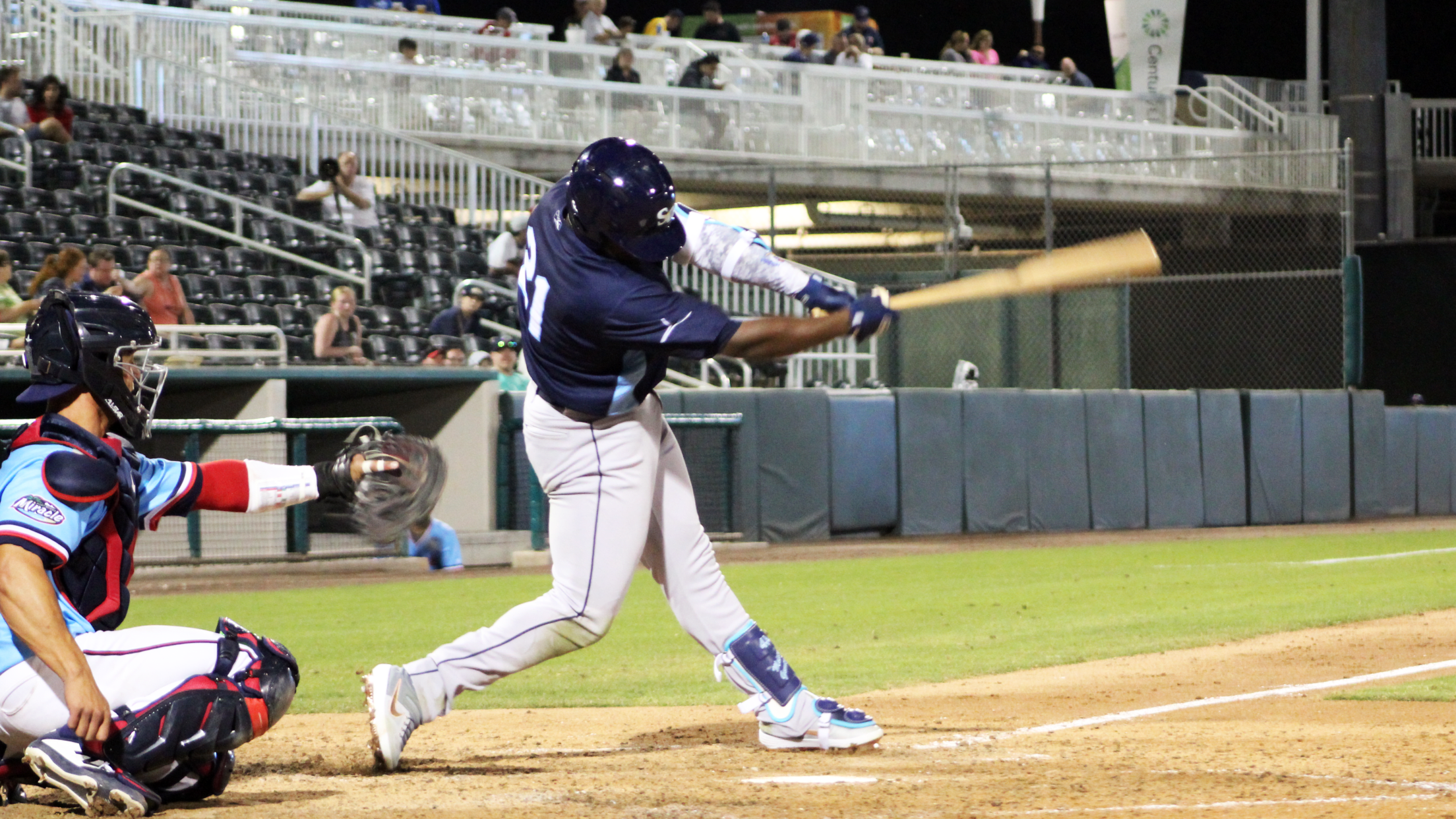 CLEARWATER, Fla. (July 26, 2019) - Moises Gomez homered for the second straight night, but the Clearwater Threshers came back to beat the Charlotte Stone Crabs 6-5 at Spectrum Field Friday. Gomez delivered a solo shot that cleared the grass berm in deep left center to extend the Charlotte (62-41,
Ryan fans eight in 5-3 loss to Clearwater
Gomez, Rutherford hit homers in defeat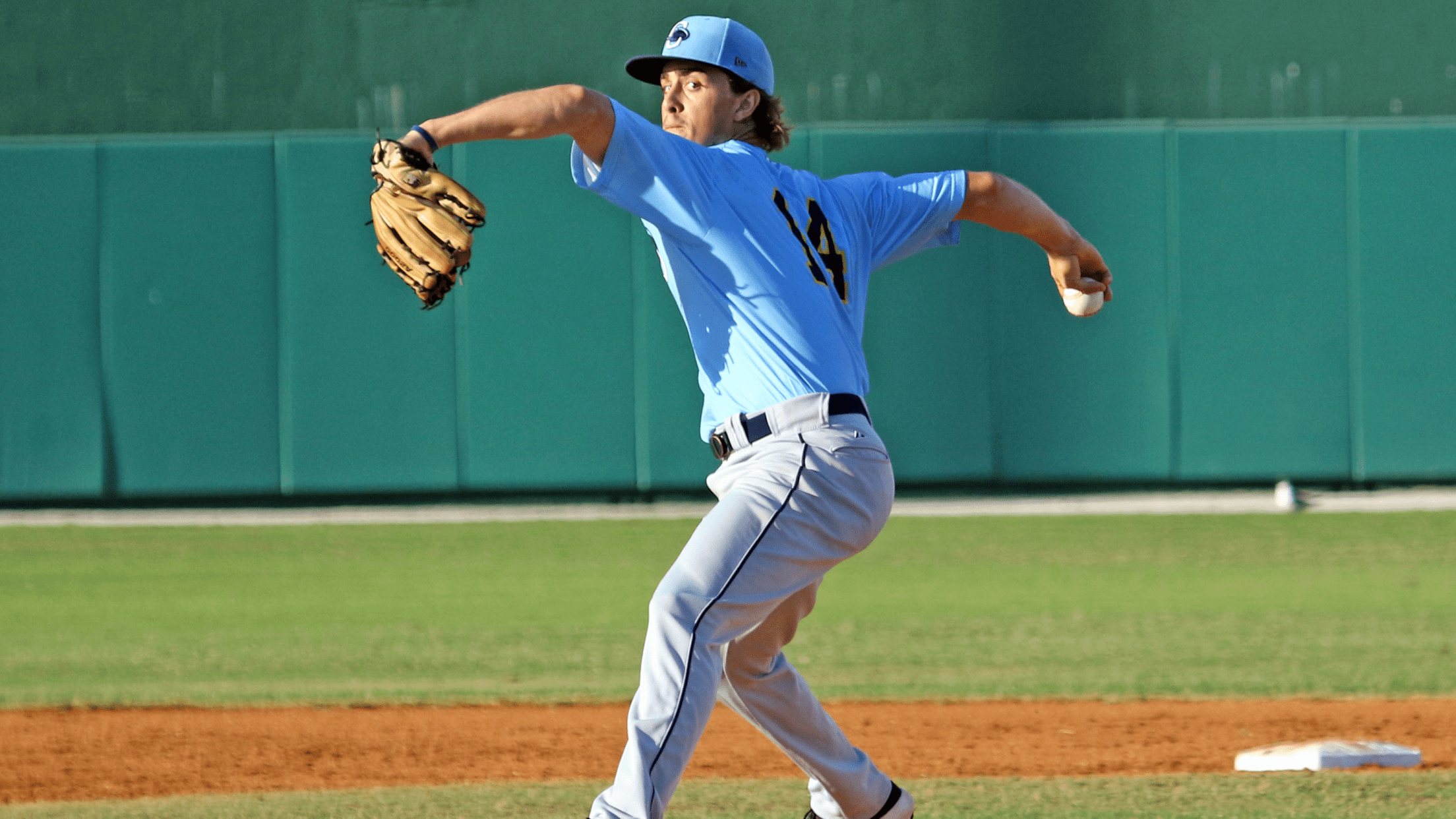 CLEARWATER, Fla. (July 25, 2019) - Joe Ryan struck out eight in over six dominant innings Thursday, but the Clearwater Threshers battled back to beat the Charlotte Stone Crabs 5-3 at Spectrum Field. Ryan allowed just one run on four hits over six frames. He retired ten of the final
Stone Crabs drop finale to St. Lucie 9-8
Charlotte coughs up six-run lead in defeat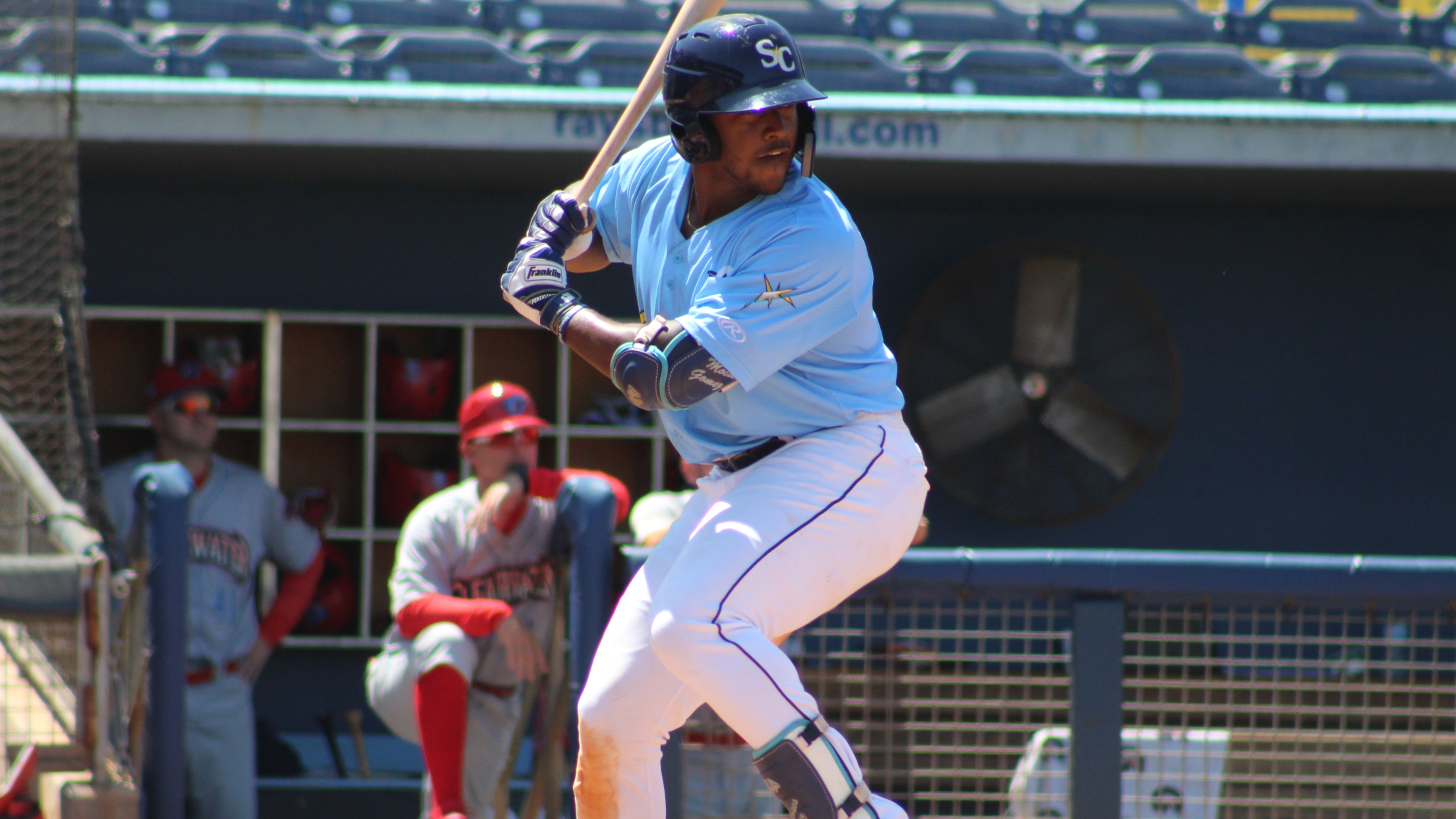 PORT SAINT LUCIE, Fla. (July 18, 219) - Kaleo Johnson and Moises Gomez hit back-to-back home runs Thursday, but the Charlotte Stone Crabs relinquished a six-run lead and lost the series finale 9-8 to the St. Lucie Mets at First Data Field.With the game tied 8-8 in the bottom of
Gomez, Plassmeyer lead Charlotte to ninth straight win
Stone Crabs sweep Fire Frogs with 11-4 victory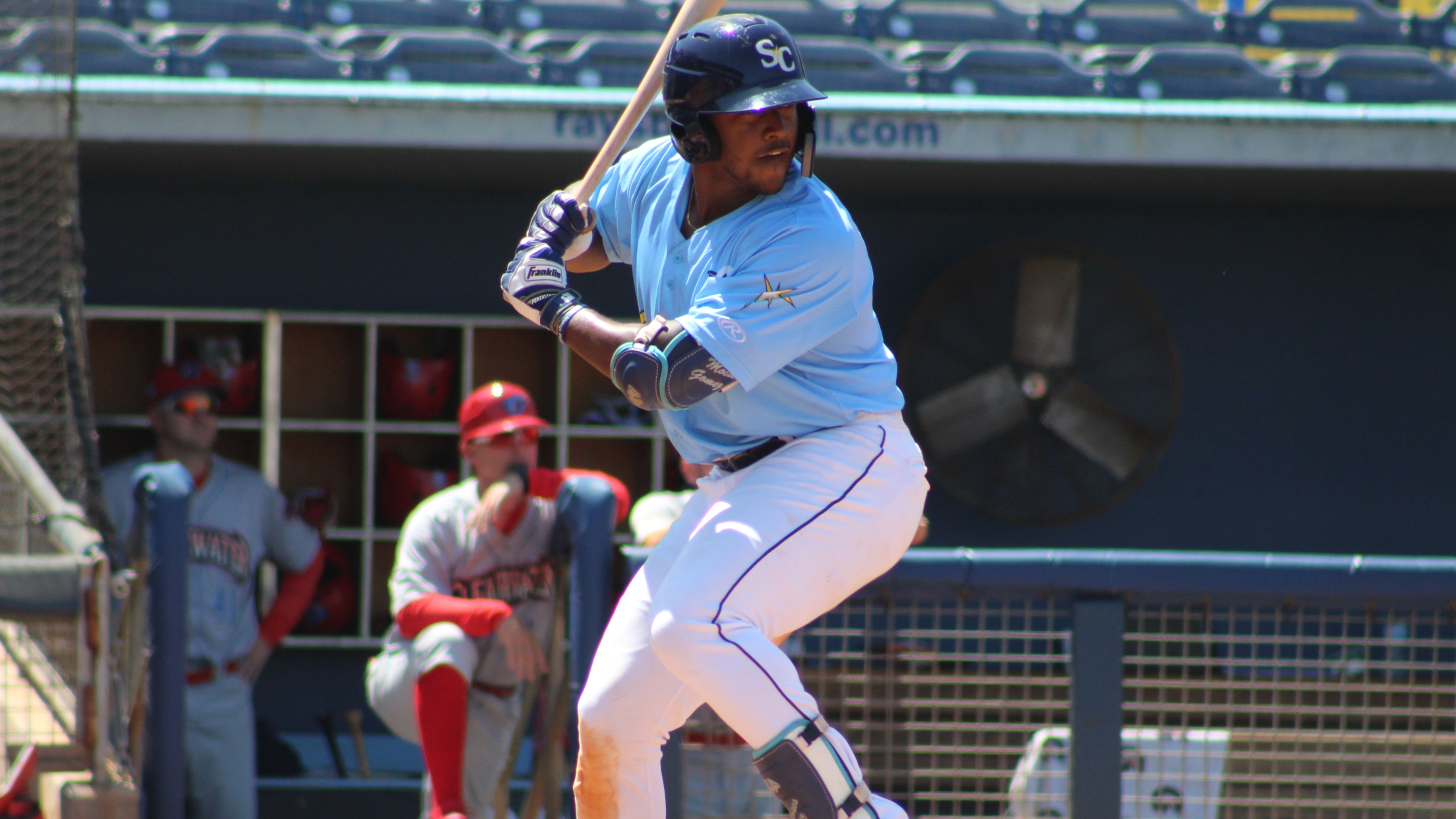 KISSIMMEE, Fla. (July 11, 2019) - Moises Gomez drove in four and Michael Plassmeyer allowed just one run over six innings Thursday, leading the Charlotte Stone Crabs to their ninth straight win, an 11-4 tally over the Florida Fire Frogs at Osceola County Stadium.Plassmeyer (4-2) allowed one run on six
Stone Crabs sweep multi-day doubleheader from Fire Frogs
McClanahan, Woods Jr. pitch Charlotte to seventh straight wins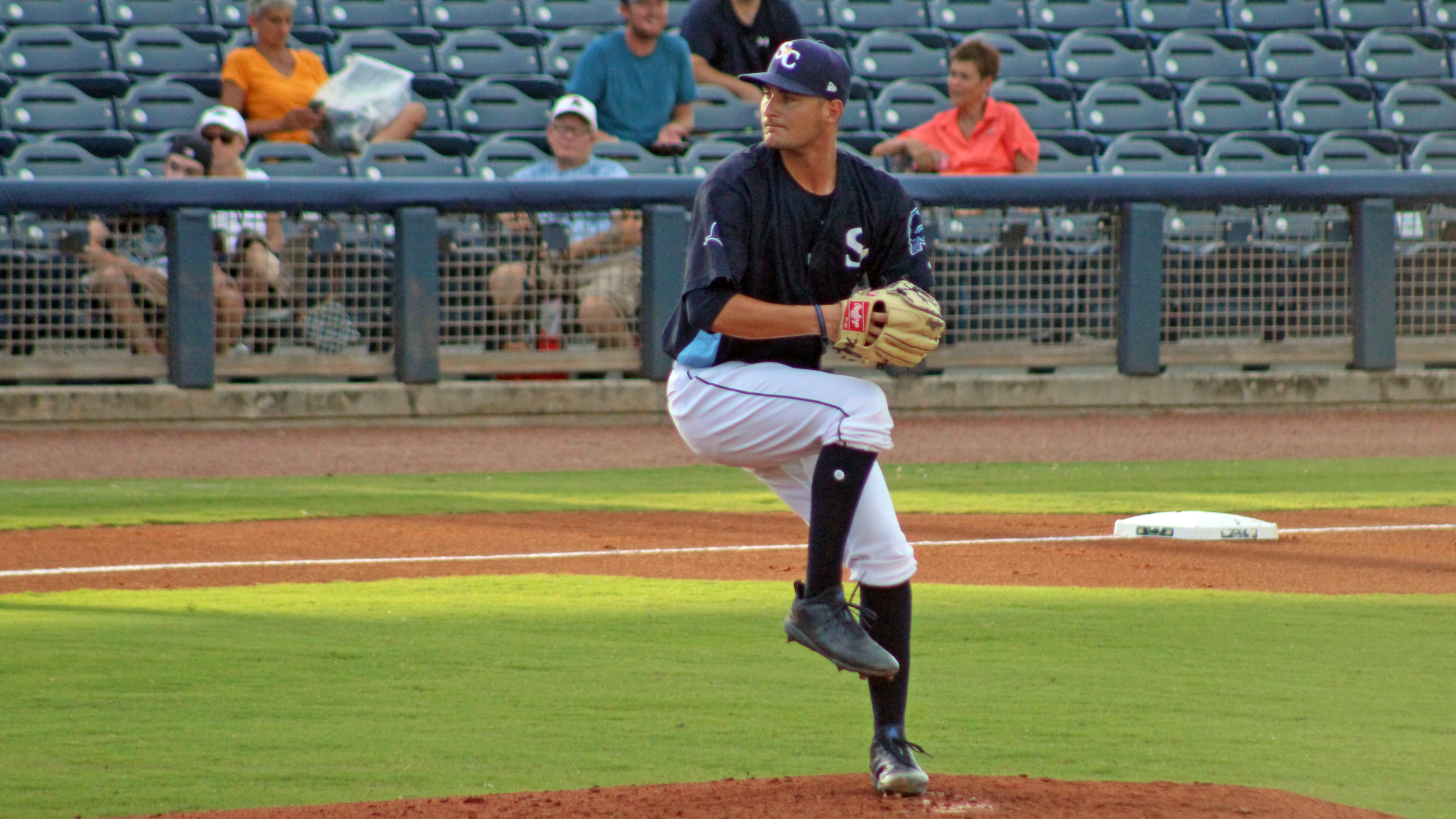 KISSIMMEE, Fla. (July 10, 2019) - Shane McClanahan and Stephen Woods Jr. both spun gems for the Charlotte Stone Crabs, leading Charlotte to a multi-day doubleheader sweep of the Florida Fire Frogs at Osceola County Stadium. After a three hour and 17-minute rain delay Tuesday afternoon, the Stone Crabs (51-35,
Gomez grand slam plunges Palm Beach 7-0
Woods Jr. works six scoreless to lead three-hitter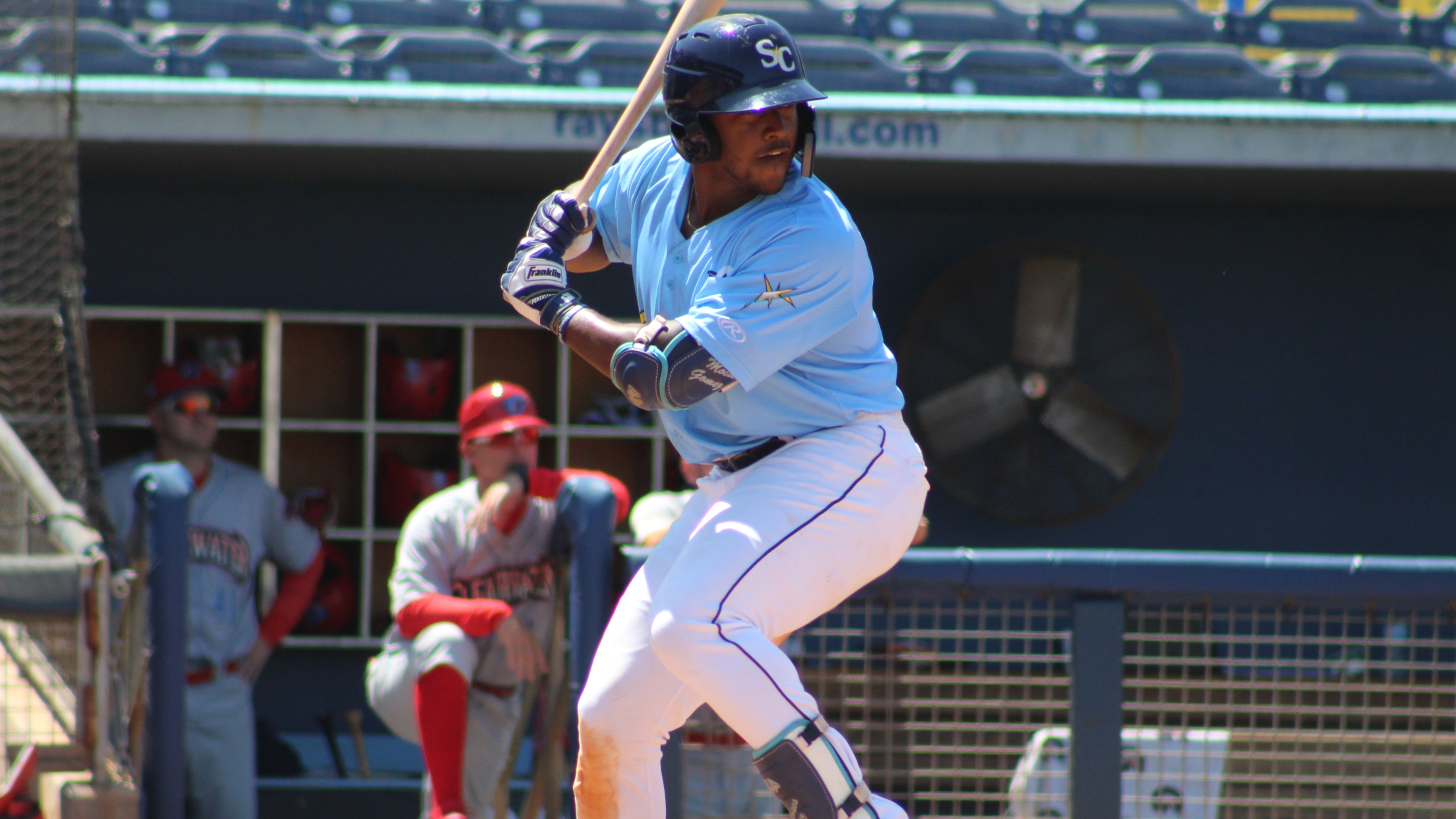 JUPITER, Fla. (June 28, 2019) - Moises Gomez belted a grand slam Friday and Stephen Woods Jr. spun six scoreless innings as the Charlotte Stone Crabs silenced the Palm Beach Cardinals 7-0 at Roger Dean Chevrolet Stadium. The Stone Crabs' (43-34, 8-3) victory marks their fifth shutout in 11 games
Gomez homers in 10-3 loss to Lakeland
Stephen Woods Jr. goes five strong in defeat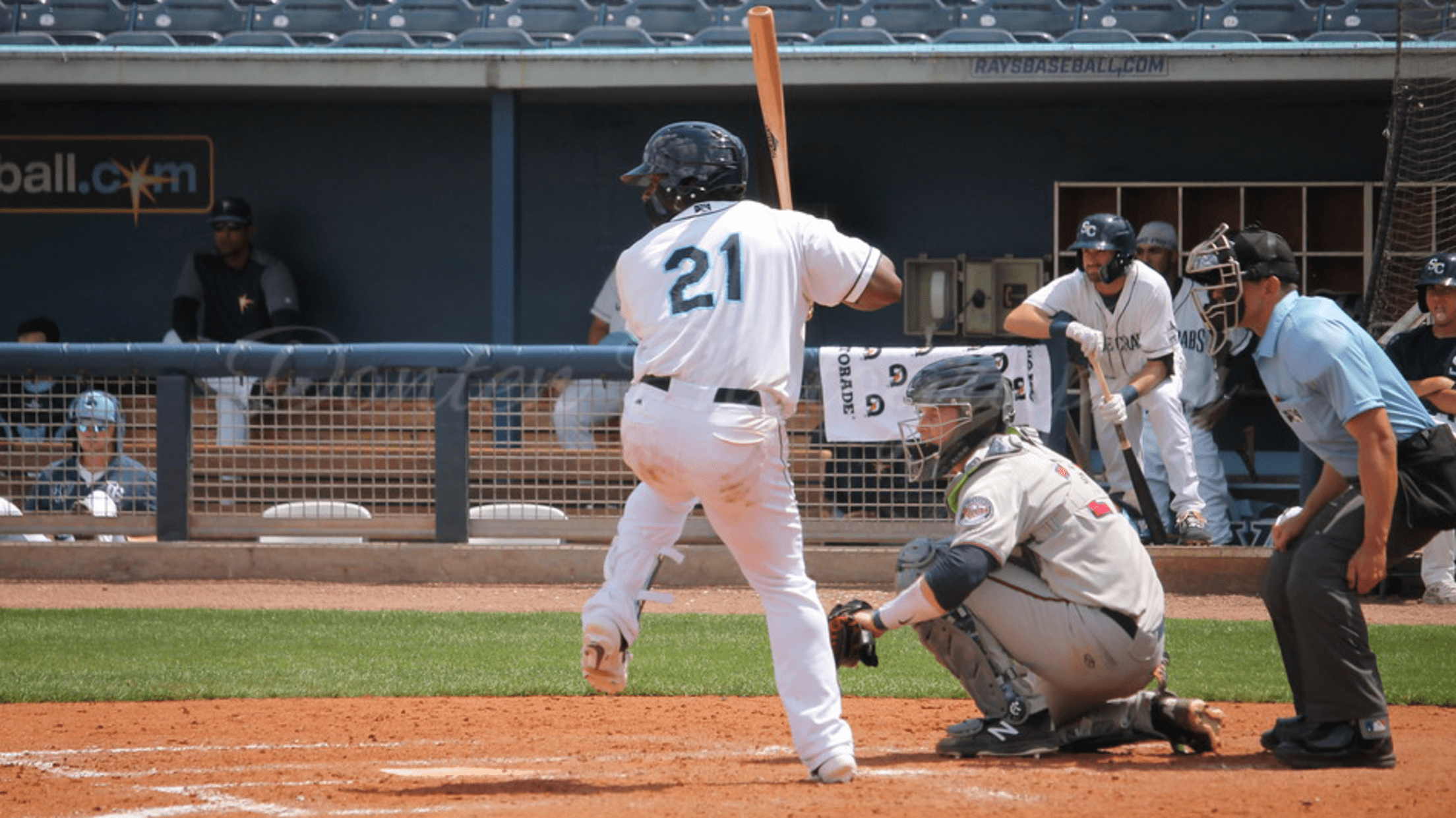 PORT CHARLOTTE, Fla. (June 21, 2019) - Moises Gomez homered Friday, but the Lakeland Flying Tigers scored early and often to beat the Charlotte Stone Crabs 10-3 at Charlotte Sports Park.In a scoreless game in the top of the first, Brock Deatherage singled before stealing second. After a walk and
Fourth inning sinks Stone Crabs in 10-2 loss to Clearwater
Moises Gomez homers in loss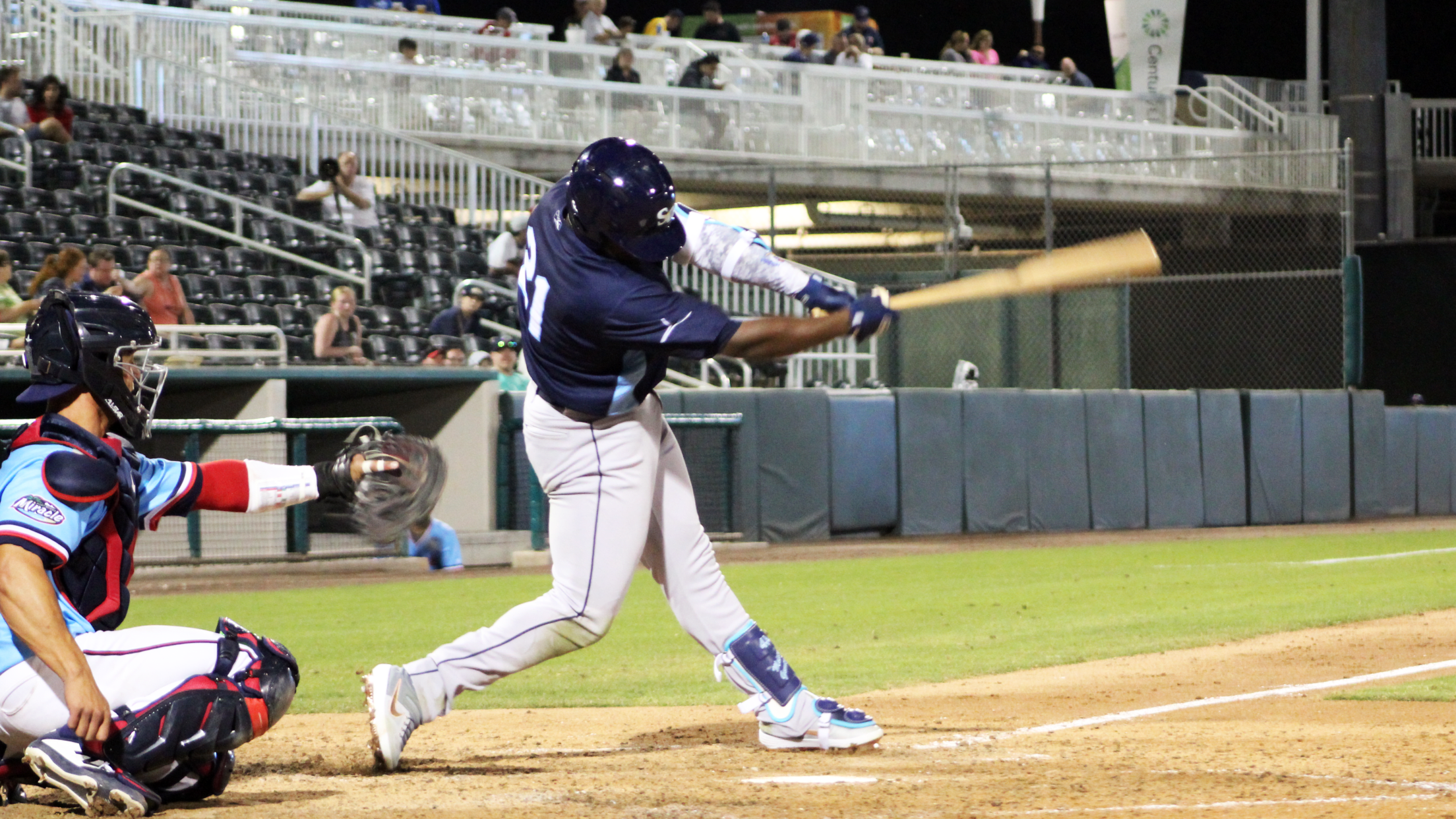 PORT CHARLOTTE, Fla. (May 30, 2019) - The Clearwater Threshers rallied for seven runs in the fourth inning Thursday, taking the series from the Charlotte Stone Crabs with a 10-2 win at Charlotte Sports Park. The seven runs were the most the Stone Crabs' (27-26) pitching staff had allowed in
Gomez gashes two doubles in 3-2 loss to Clearwater
Stone Crabs surrender lead in ninth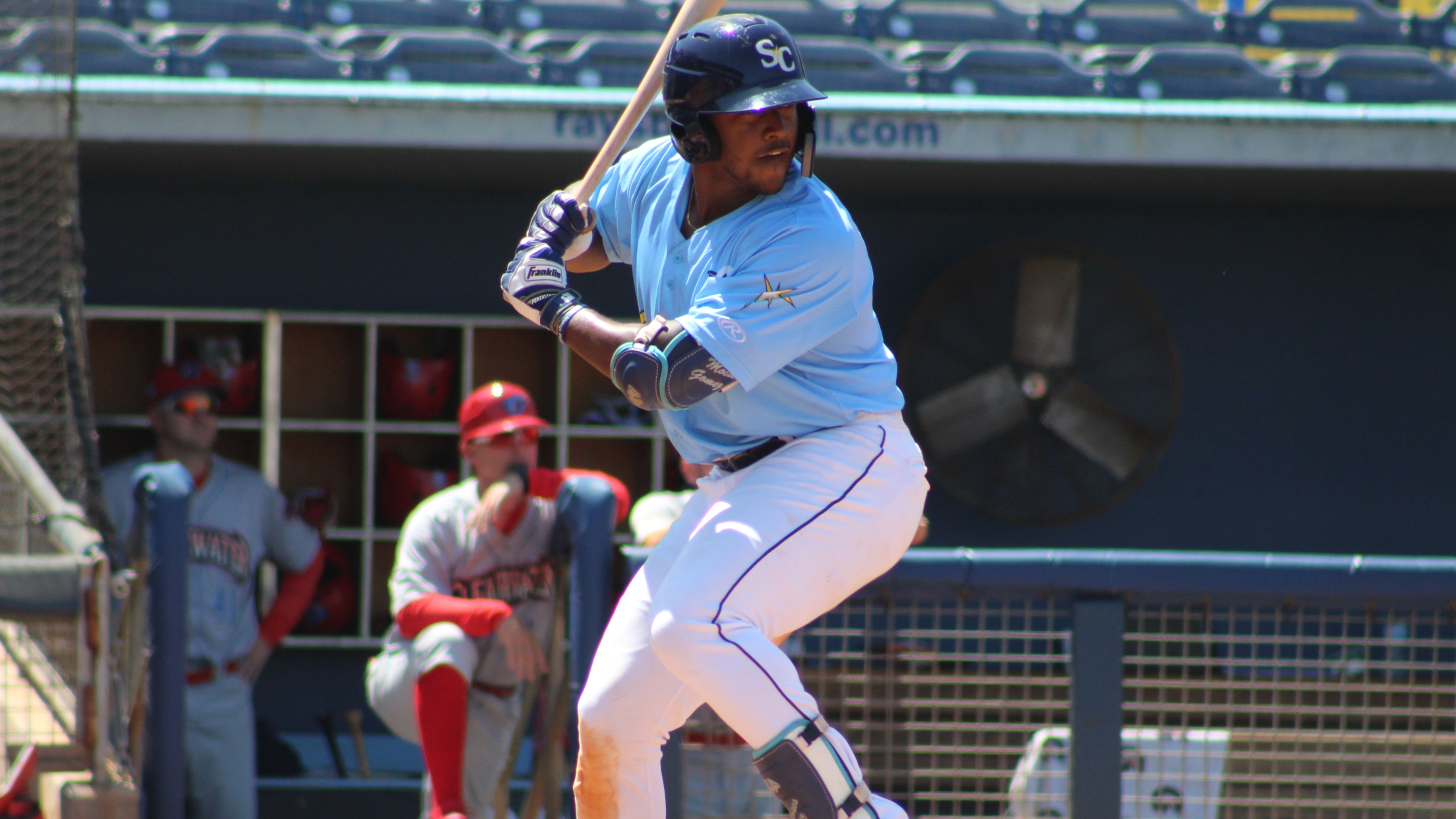 PORT CHARLOTTE, Fla. (May 29, 2019) - Moises Gomez connected on a pair of doubles Wednesday, but the Charlotte Stone Crabs allowed the winning run to come across in the top of the ninth in a 3-2 loss to the Clearwater Threshers at Charlotte Sports Park.The Stone Crabs (27-25) went
Prospect Roundup: Games of May 19
Pilkington fans career-high 12, Cardinals' Whalen plates six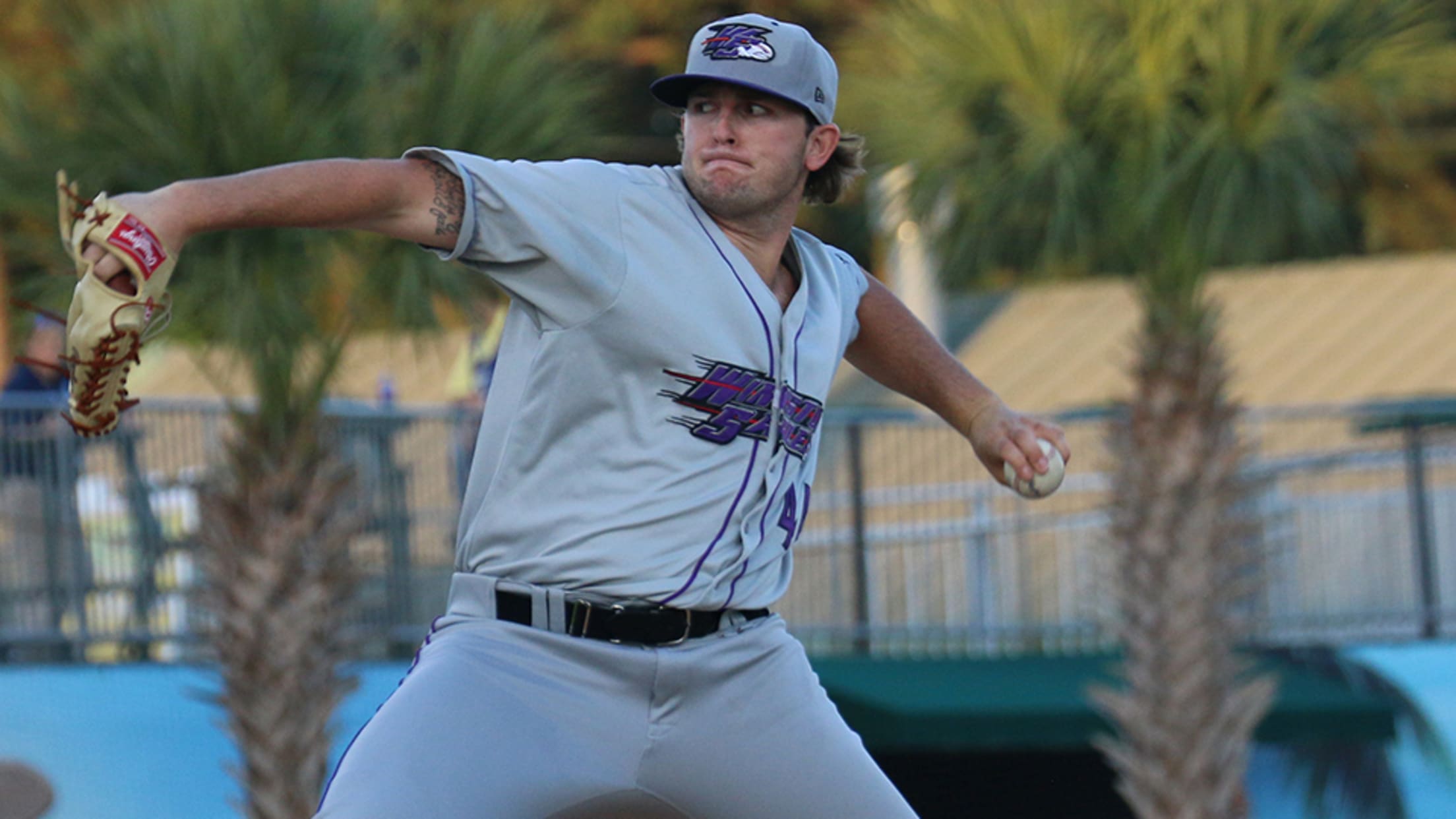 White Sox LHP Konnor Pilkington, Class A Advanced Winston-Salem: 6 IP, 3 H, 2 BB, 12 K - Chicago's 20th-ranked prospect spun a gem in the Dash's 1-0 loss to Down East, recording a career-high 12 strikeouts in his second Carolina League start after a May 11 promotion from Class A
Crabs mash five homers in 9-3 win over Threshers
Gomez hits two to help Charlotte claim series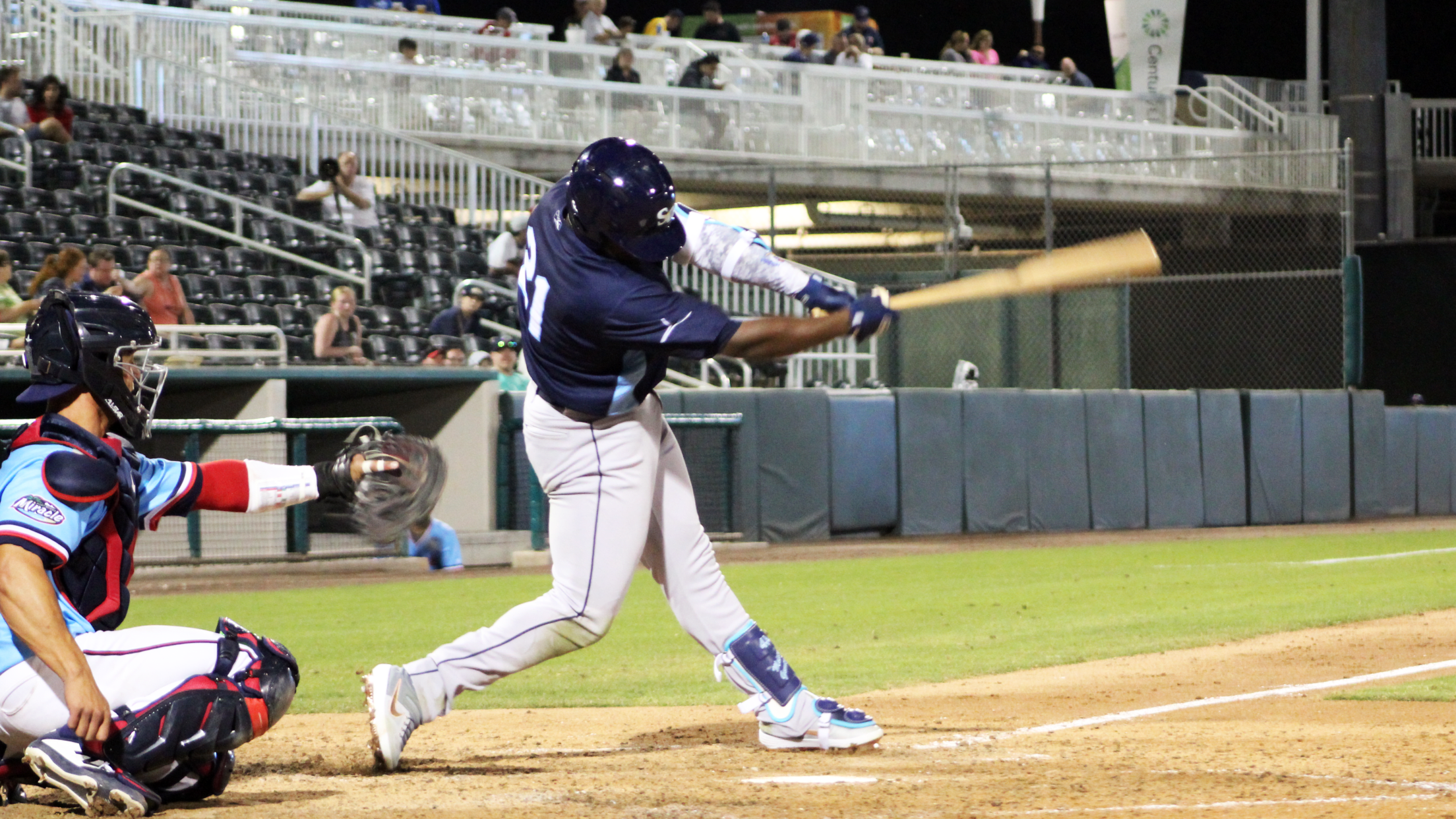 CLEARWATER, Fla. (May 19, 2019) - Moises Gomez turned in his second multi-home run performance of his career Sunday, as the Charlotte Stone Crabs beat the Clearwater Threshers 9-3 to claim the weekend series at Spectrum Field. Charlotte (22-21) clobbered a season-high five home runs, as Rays rehabber Matt Duffy
Alvarez among week's outstanding hitters
Astros No. 3 prospect went 13-for-22 in strong stretch at Triple-A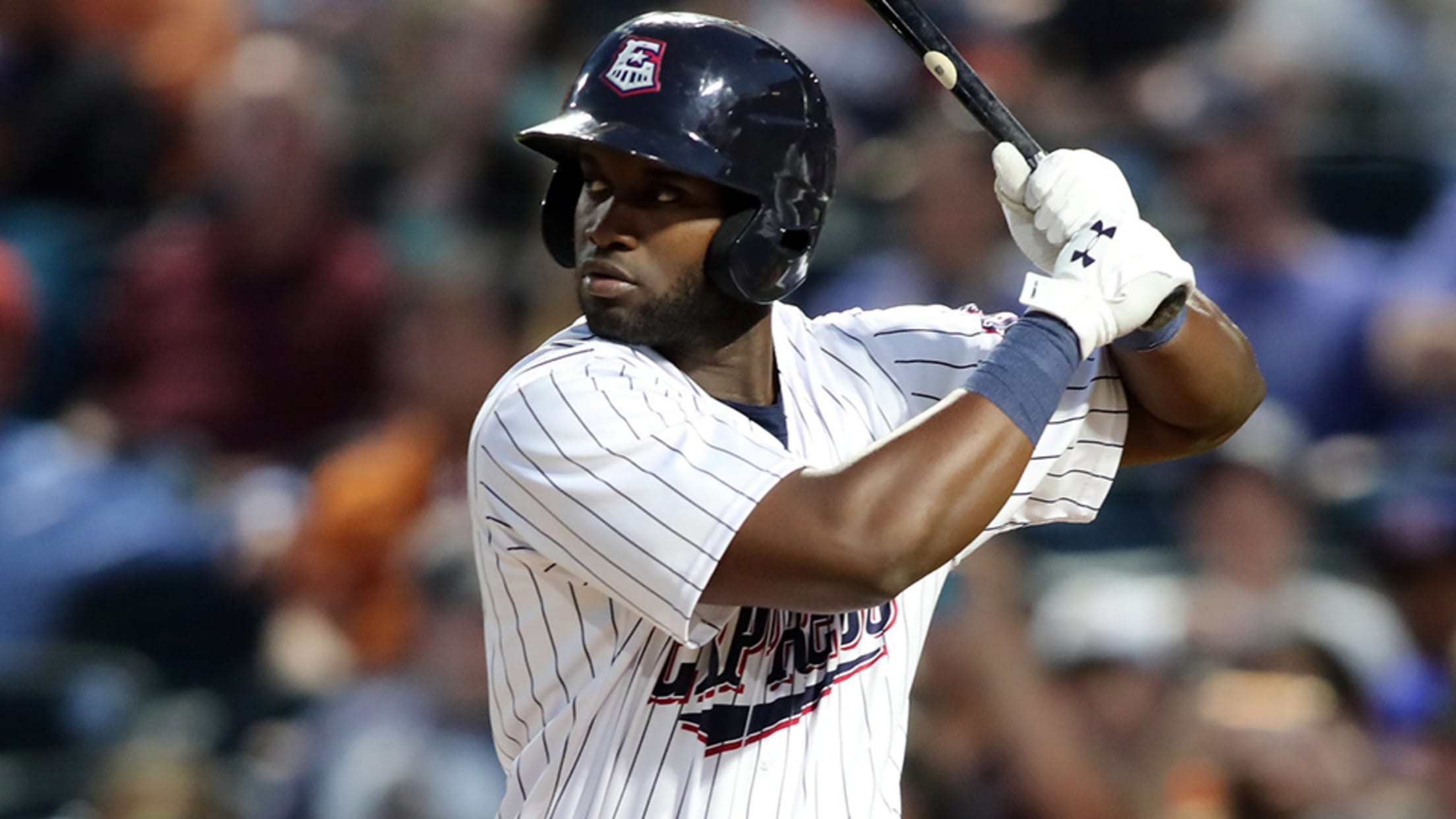 One of the Minor Leagues' hottest hitters in 2019 went unrewarded for his efforts in April, at least when it came to official awards. That has changed in May. Astros No. 3 prospectYordan Alvarez has been named the Pacific Coast League Offensive Player of the Week after going 13-for-22 (.591)
Stone Crabs shut out Hammerheads 5-0
Gomez homers in first shutout win of season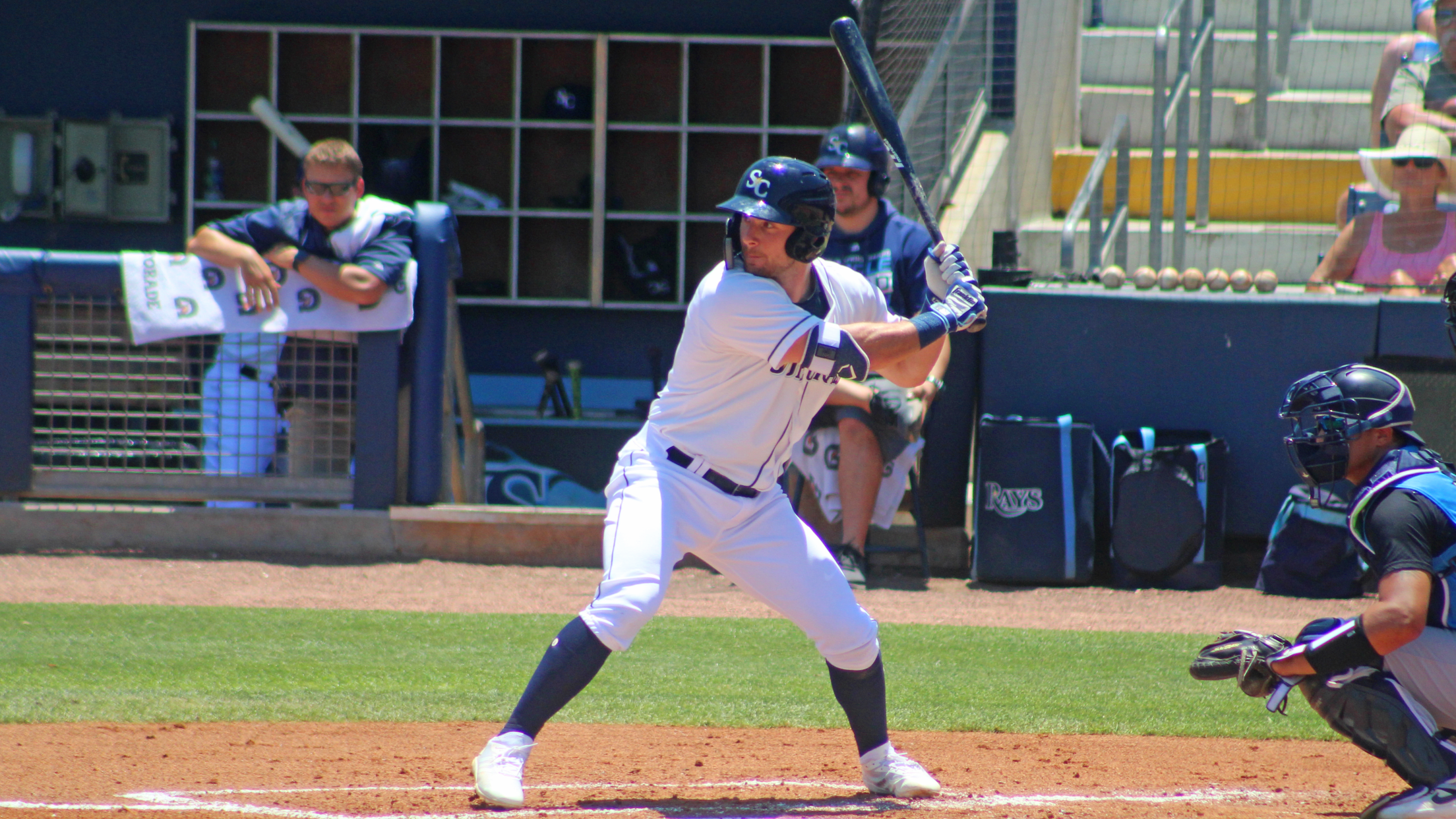 PORT CHARLOTTE, Fla. (May 3, 2019) - Moises Gomez delivered a mammoth home run Friday as the Charlotte Stone Crabs notched their first shutout of the year in a 5-0 victory over the Jupiter Hammerheads at Charlotte Sports Park. With the Stone Crabs (13-15) leading 2-0 in the bottom of
Stone Crabs take out Tarpons 5-3
O'Brien goes six strong to even series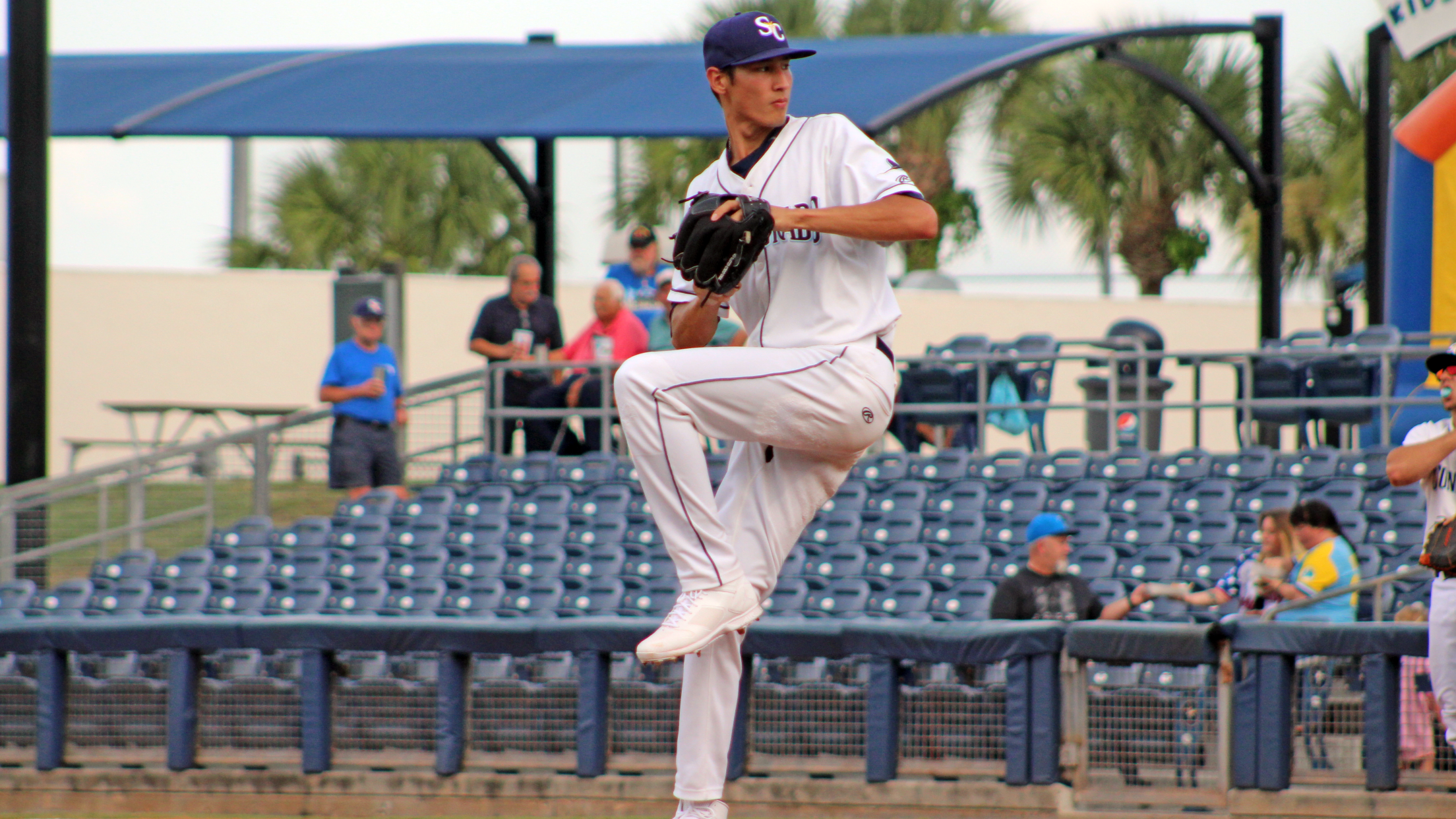 TAMPA, Fla. (May 1, 2019) - Riley O'Brien turned in six strong innings Wednesday and the Charlotte Stone Crabs rallied for three runs in the fourth to beat the Tampa Tarpons 5-3 at Steinbrenner Field. O'Brien (2-0) has now gone 18 straight innings without allowing an earned run. The right-hander