A brief history of the Blue Sox and Bunnies
Teams played significant role in Iowa's storied baseball past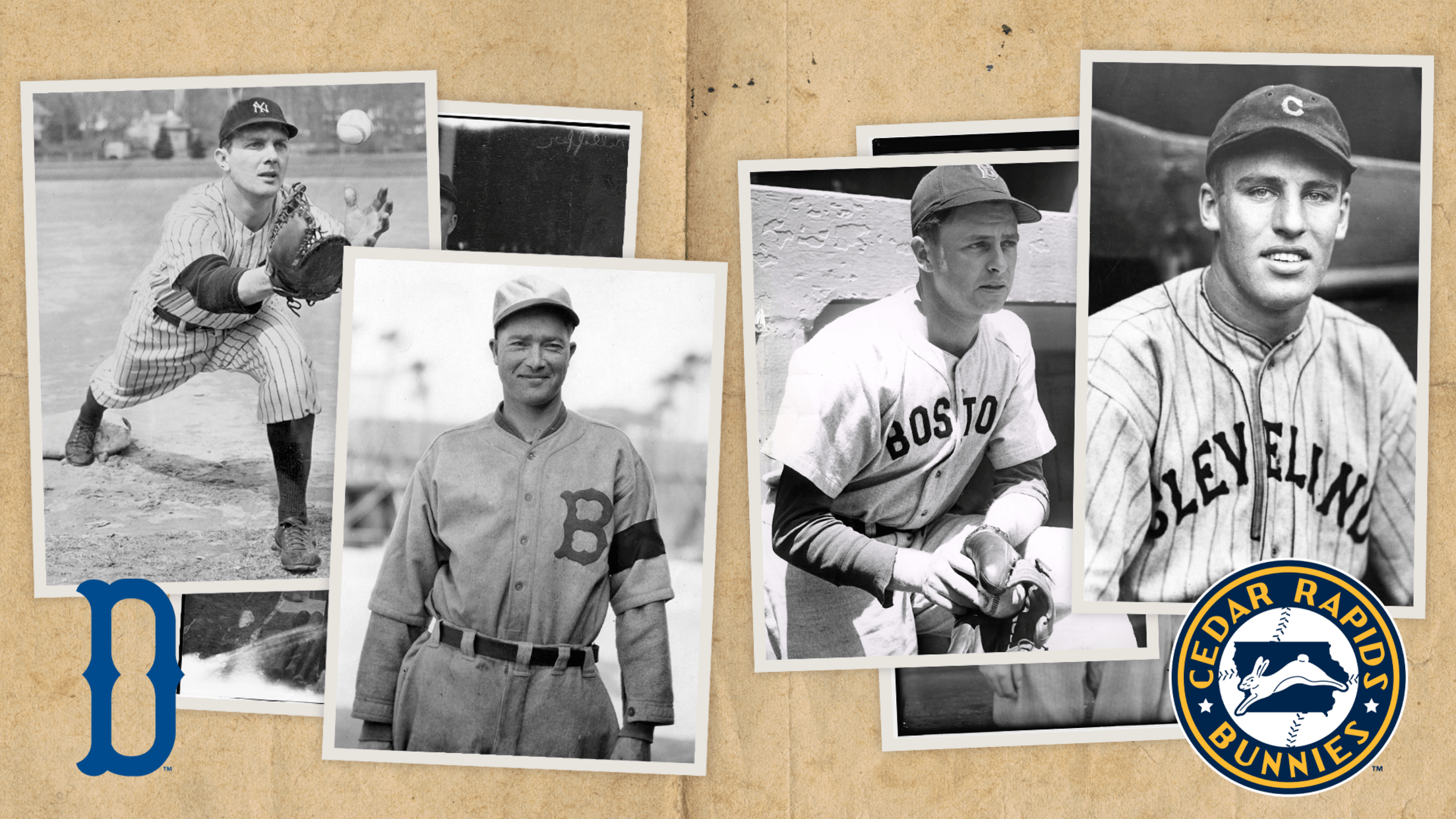 Left to right: Nick Etten and Jesse Barnes suited up for the Blue Sox, while Bill Zuber and Hal Trosky took the field for the Bunnies.
As we watch the Davenport Blue Sox (River Bandits) take the field against the Cedar Rapids Bunnies (Kernels) in their classic throwback uniforms at MiLB at Field of Dreams on Tuesday night, we are reminded of the significance these two communities have played in Iowa baseball history. Not long after
As we watch the Davenport Blue Sox (River Bandits) take the field against the Cedar Rapids Bunnies (Kernels) in their classic throwback uniforms at MiLB at Field of Dreams on Tuesday night, we are reminded of the significance these two communities have played in Iowa baseball history.
Not long after Iowa became a state (1846), the earliest known organization of a baseball "town team" took place in Davenport on May 28, 1858, when the Pastime Baseball Club #2 was organized. A few "town teams" were organized before or during the Civil War in Dubuque, Independence and Muscatine, but when the war ended in 1865, baseball exploded in Iowa. Where fewer than a dozen clubs existed in 1865, by the next year, over three dozen clubs existed, including the Club of Marion, organized in 1866.
Game story | Box score | Highlights | Gameday journal | Top prospects in game | Newsletter | Podcast | Early Minors in Iowa | Best players from Iowa | Best Iowa team | Best players to play in Iowa | Road trip
It was a well-established belief after the Civil War that when you came to Iowa to homestead, your priorities included a shelter for your family, a school and a church, and a baseball town team to put you "on the map!" On May 2, 1867, a group of young men met and organized the Cedar Rapids Base Ball Club. On June 21, 1867, they made their debut with a 31-14 victory against the Oatka Club of Vinton, and with that success, a 155-year tradition of baseball in Cedar Rapids had been established.
Although professional Minor League Baseball first came to Keokuk (Westerns) in 1875, and to Dubuque (Red Stockings) in 1879, Davenport's Brown Stockings joined the Northwestern League in 1879, beginning a long and storied tradition of Minor League Baseball in Davenport. The Blue Sox played a long and important role as part of the Three-I League from 1913-16, the Mississippi Valley League from 1929-33 and the Western League from 1934-37. They were Three-I champs under manager Dan O'Leary in 1914 (83-52) and lost in the league finals in 1915. Their most successful years were under manager Cletus "Smoke" Dixon from 1932-36, winning two league championships and losing twice in the finals. Dixon, who played in the Minor Leagues from 1922 to 1935 and managed from 1924-1936, is notable for leading four teams to league championships over the course of a 13-year managerial career, including both with Davenport and the Cedar Rapids Bunnies. Other Blue Sox worthy of mention include brothers Jesse and Virgil Barnes and Nick Etten.
Jesse Barnes arrived in Davenport in 1913, pitching his way to a 20-10 record, and by 1914, was considered the most promising pitcher in the Three-I League. He helped the franchise with the league championship in 1914, and by 1915, was the league's dominant pitcher, had an 18-6 record and an ERA of 1.38, which propelled him to the big leagues. During his 12-year Major League career, he was a two-time World Series champion (1921, 1922), a National League wins leader (25) in 1919 and pitched a no-hitter on May 7, 1922, against the Phillies. On June 26, 1924, Jesse and Virgil squared off in the first pitching matchup of brothers in Major League history.
Nick Etten played first base for the amazing 1933 Blue Sox, who won the Mississippi Valley League with an 82-32 record. The 1933 Blue Sox were ranked as the 58th-best Minor League team in the 20th century. Etten went from the Blue Sox to a nine-year Major League career, which saw him lead the AL in home runs (22) for the Yankees in 1944 and in RBIs (111) in 1945. He was selected to the All-Star Game in 1945.
The Cedar Rapids Bunnies played in the Western Association from 1896-99, the Central Association in 1914 and the Mississippi Valley League from 1922-32. From 1886-99, their home field was Athletic Park, in 1914 it moved to Hill Park, and from 1922-32, it was renamed Belden Hill Park. Led by the team's founder, third baseman and manager Belden Hill, the Bunnies won the league championship in 1897, with an 84-41 record, but would have to wait until 1922 under manager Bill Speas -- in the Mississippi Valley League -- to claim another championship as they finished 92-37. The Bunnies won championships in 1925 (74-51) and again in 1930 (71-55) before leaving the league in 1933.
Several Iowa-born Major Leaguers played with the Bunnies, including Fred Glade of Dubuque, Emil "Dutch" Levsen of Wyoming, Hal Trosky of Norway and Bill Zuber of Middle Amana.
Emil Levsen's 19-4 record with the 1923 Bunnies was followed by a six-year career pitching with the Cleveland Indians, which was highlighted by a single day. On August 28, 1926, he accomplished something that may never be repeated in Major League history, as he became the last Major League pitcher to record complete game victories in both ends of a doubleheader, pitching two four-hitters (6-1 and 5-1) against the Red Sox. He's also the last pitcher to throw two nine-inning complete games on the same day.
Hal Trosky of Norway, Iowa may have been the best Major League player to have played for the Bunnies. After signing with the Bunnies in 1931, he was called up to Cleveland in 1933 at the age of 20. His first full season (1934) was truly amazing as he played every inning of all 154 games, hit .330 with 35 home runs, drove in 142 runs and posted a slugging percentage of .598. His 374 total bases set a rookie record that has since been tied by Tony Oliva in 1964.
Bill Zuber, who pitched briefly for the Bunnies in 1932, had an 11-year Major League career between 1936 and 1947 with the Cleveland Indians, Washington Senators, New York Yankees and Boston Red Sox. His lifetime record was 43-42 and included a World Series championship with the Yankees in 1943. To many Iowans, he is remembered for opening Zuber's "Family-Style Dining" restaurant in the Amana Colonies (Homestead) in 1949.
In the 170 years that Iowa has had organized "town teams" and Minor League Baseball, many players got their start with teams like the Davenport Blue Sox and Cedar Rapids Bunnies. Their tremendous legacies continue on tonight as the Kernels and River Bandits pay homage to the great teams and players of the past.
John Liepa, Professor Emeritus, Des Moines Area Community College, taught History and Political Science for 40 years, is a 35-year member of the Society for American Baseball Research (SABR) and Iowa's "Field of Dreams" Chapter, and is a life-long baseball card and memorabilia collector, focusing on the over 220 Iowans who have played in the Major Leagues. In the last 12 years, he has done over 175 presentations on baseball history throughout Iowa and the Midwest, often appearing as Calvin McVey, Iowa's first professional baseball player.