Copa de la Diversión provides plenty to chew on
Food and drink identities abound in celebration of Hispanic culture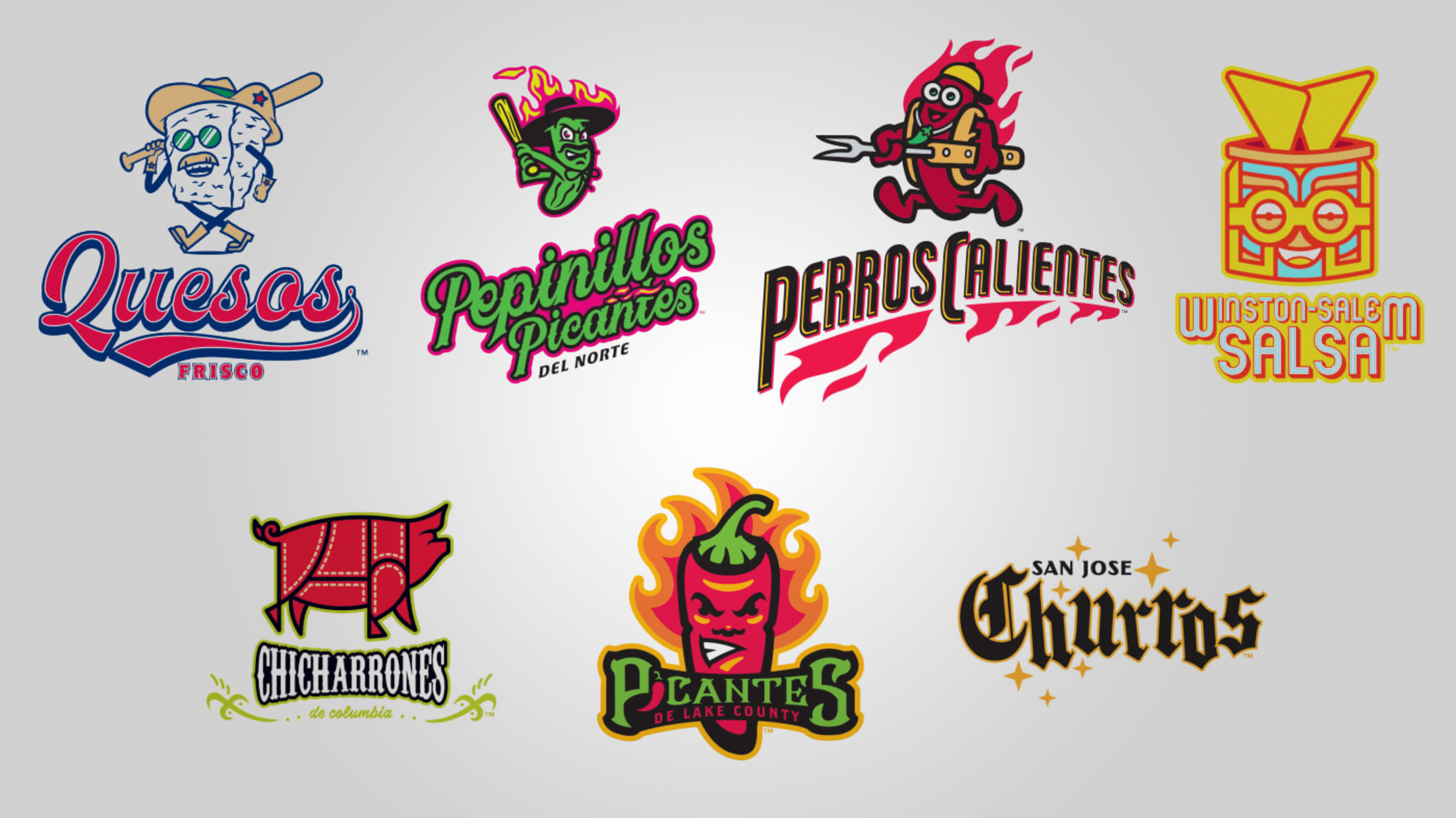 Go anywhere in the world, and there's no better cultural education than a home cooked meal and a traditional cocktail. So it should come as no surprise that Copa de la Diversión -- with 85 teams participating this season -- provides a healthy bounty of food and drink identities around
Go anywhere in the world, and there's no better cultural education than a home cooked meal and a traditional cocktail.
So it should come as no surprise that Copa de la Diversión -- with 85 teams participating this season -- provides a healthy bounty of food and drink identities around the Minors. While many Copa identities cater to a dish or beverage that appeals to a broader population of many different Lantinx cultures, others pay homage to their own city's local flair.
Among the 10 teams to debut new Copa identities in 2022, four opted to go with a food-based look. For High-A Great Lakes' first foray into Copa, the club looked to local Hispanic leadership and presented a list of potential names to the Great Lakes Bay Hispanic Leadership Institute (GLBHLI). The winning identity? Los Pepinillos Picantes del Norte.
Directly translated, the name means "Spicy Pickles of the North." While itself not necessarily a traditional dish in any specific culture, the name recognizes the many pickle factories that make their home in the central Michigan region and the Hispanic farm workers who keep those operations going. The name's locating element -- "del Norte" -- is a reference to the farmers actual trek to Michigan, which also appears in the logo.
Los Pepinillos Picantes del Norte are represented by a cartoon pickle swinging a baseball bat while wearing a mustache and flat-brimmed matador hat surrounded by red tassels with flames coming out from the top of its head. The keen observer would also notice the shape of the state of Michigan -- upper peninsula and all -- traced within the flames above the hat.
We are excited to participate in Copa de la Diversión, as Los Pepinillos Picantes del Norte!

Learn More > https://t.co/fIouyNaM05 pic.twitter.com/yPA28uHeRF

— Great Lakes Loons (@greatlakesloons) March 31, 2022
The Loons' home of Midland, Michigan, does not itself have a large Hispanic population. But that community is well-represented in neighboring cities like Saginaw, which led to the establishment of the GLBHLI in 2009. Cameron Bloch, the team's director of entertainment and community outreach, knew it would be important to create an inviting experience for these neighboring communities when the club got involved with Copa.
"We had already been working with the leadership institute and we reached out to try and take it to the next level," Bloch said. "We really wanted them to help us drive it, and it's been working ever since. … [And] we genuinely chose the pickle based on their communities' responses."
Like most Copa items, the food and drink identities are difficult items to keep stocked in the shop. Bloch said the Pepinillos selection on the hat wall in the Loons' team store has already been "decimated" and the club plans to sell out most of their Copa merchandise before the first event.
Of course, with an edible identity, fans are going to expect some referential ballpark fare. There were already plenty of pickle-based concessions available at Dow Diamond, but the club hopes to ramp it up for their three Los Pepinillos Picantes del Norte nights with a menu offering spicy pickle fritters and a pickle-flavored shaved ice.
Regardless of the selection of the Pepinillos as an identity, Hispanic food and drink was likely to be involved in the club's Copa celebration. Bloch mentioned a Taco Truck festival planned for the first Pepinillos night on June 17 and a tamale taste-off for July 22.
"The pickle obviously leads to some really good ballpark interaction," Bloch said. "But the pickle will be there no matter what. It does lend some continuity to whichever Copa day it is, but we can have these pickles year-round -- which is the exact point of Copa is to make sure that these communities always feel invited. Having it be part of our concourse now is a nice benefit."
There are 11 clubs participating in Copa de la Diversión featuring food or drink identities in 2022. Like Great Lakes, each one comes with a story all its own:
Los Quesos de Frisco (Frisco RoughRiders) – In addition to "celebrating the rich Mexican roots in North Texas," this is just fantastic word play. "Queso fresco" is a white cheese commonly used in Latin cooking. So, "Queso Frisco" is a wonderful way to bond the identity to the city, and having the actual logo look like Teddy Roosevelt is on-brand for all things RoughRiders. Like los Pepinillos Picantes, los Quesos de Frisco is an identity new to Copa in 2022.
As part of @milb's Copa de la Diversion, we're introducing Los Quesos Frisco.

Celebrating the rich Mexican roots in North Texas, we'll play four games with the moniker. #VamosFrisco | https://t.co/P6eH1sl7QH pic.twitter.com/Pe29ScItcD

— Frisco RoughRiders (@RidersBaseball) March 31, 2022
Perros Calientes de Akron (Akron RubberDucks) – Akron jumped into Copa last season with the Hispanic twist on a ballpark favorite -- the hot dog. The city itself didn't have the same type of Latinx community to call upon in the creation of the identity, but there was a desire to get involved in Copa, and the team had an assist from Cleveland baseball legend Abraham Allende, who led the Perros Calientes charge and worked as public address announcer for Akron's five Copa games at Canal Park.
va a ser épico

Los Perros Calientes🌭🔥🌶 pic.twitter.com/hbgcMYJeMd

— Akron RubberDucks (@AkronRubberDuck) April 3, 2020
Salsa de Winston-Salem (Winston-Salem Dash) – Here's another identity new to Copa in 2022, and there's more to the salsa identity than the traditional Mexican dish. The logo itself is designed in a Mesoamerican-style with a smiling face, which is described to "[celebrate] and [amplify] the flavor, joy and vigor of modern Mexican heritage within Winston-Salem." The two chips being dipped into the jar represent the merger of the once individual cities of Winston and Salem.
The Dash are excited to continue our participation in the @MiLB #CopadelaDiversión initiative with a fresh new look! Say hello to the Winston-Salem Salsa!

Shop Salsa Gear ➡️ https://t.co/P9hUssDVbJ pic.twitter.com/EfC4fgtKME

— Winston-Salem Dash (@WSDashBaseball) March 31, 2022
Picantes de Lake County (Lake County Captains) – Stay in the Midwest and there will likely be more references to local crops and farming. The Captains' choice of the hot pepper in the logo is not necessarily specific to a food item, though they acknowledge "the [chili] pepper's place in spicier Latino cuisine." Instead, the club decided to make their identity an homage to the Lake County area's "spice for life" as well.
Captains Story Time en Español: Book Fiesta

Painesville City School Teacher Amber Torres reads Book Fiesta, by Pat Mora! Amber is even wearing her Picantes de Lake County shirt! #SomosLosPicantes

Today's story is brought to you by @LakeHealth pic.twitter.com/SSLtzML305

— Lake County Captains (@LCCaptains) April 15, 2020
Chicharrones de Columbia (Columbia Fireflies) – The fireflies reached across cultural boundaries with the Copa identity they adopted in 2019. Chicharrones -- or pork rinds -- have countless uses on traditional Hispanic dishes. The logo itself honors the butcher cuts that create not only chicharrones, but also Carolina barbecue. Columbia, South Carolina, has a more populous Latinx community than many other Minor League cities, and the Chicharrones identity helps celebrate its growth.
Presentando Chicharrones de Columbia! #MiLBesDivertido https://t.co/xpSQFRUzuT pic.twitter.com/qIlk1q93xV

— Columbia Fireflies (@ColaFireflies) March 18, 2019
Churros de San José (San Jose Giants) – There have been a few versions of San Jose's Churros logo, but the moniker continues to pay tribute to what's become a staple food item at many events nationwide. The fried dough and cinnamon-dusted desert has its roots in Spanish cuisine, but has long been the finishing touch on meals on this side of the world or just a grab and go snack. The Giants pay tribute to the more modern churro salesman, with their cap logo – "a nod to the region's rich agricultural history and iconic churro vendor Hippolito "The Churro Man" Cerda background as a vaquero."
It's Churrrrrro time … again

The San Jose Giants are excited to be a part of MiLB's COPA initiative for the 5th year in a row with six Churros nights planned in 2022! pic.twitter.com/vcTXRRzOAT

— San Jose Giants (@SJGiants) March 31, 2022
Cervezas de Durham (Durham Bulls) – The perfect match of Minor League Baseball and craft beer has its champion in Durham. Goodmon Field is home to the Bull Durham Beer Co., the only in-stadium craft brewery in the Minors. While the directly translated name is fairly generic, the beer can logo -- which is topped with a lime and designed with more festive colors -- lends itself to more Hispanic traditions.
Cheers to this 🍻

The Cervezas de Durham will be back for 3 games this season!

— Durham Bulls (@DurhamBulls) March 25, 2022
Margaritas de El Paso (El Paso Chihuahuas) – There have been many twists on the margarita, but many claim that the original cocktail was invented by a Juarez-born bartender in El Paso named Francisco "Pancho" Morales in 1942. Having that history in their own backyard was charmed for the Chihuahuas, but the club also wanted to make sure their Copa identity "represents El Paso's welcoming culture, its soul and the good times associated with the city and the team."
Our next home series starts next Tuesday, April 26th vs the Reno Aces!

Tickets: Click the graphic below

Highlights include Day Baseball on Wednesday, the return of the Margaritas on Thursday, and our Swag Chain Jersey Auction with postgame Fireworks Spectacular on Saturday!

— El Paso Chihuahuas (@epchihuahuas) April 20, 2022
Cocos Locos de Rochester (Rochester Red Wings) – There are many noteworthy uses of the coconut. Among the most delicious are the combination of coconut cream, coconut water, rum, tequila, vodka and lime juice to create the traditional tropical cocktail, the Coco Loco -- which could still be enjoyed in the furthest place from a tropical climate, like Rochester, New York. The Red Wings will offer the cocktail at Frontier Field while also "[featuring] the music, dancing, food and fun of Hispanic culture" during their three Cocos Locos nights in 2022.
JUST ANNOUNCED: The Red Wings will play as the Cocos Locos de Rochester for three home games during the 2020 season as part of @MiLB Copa de la Diversion initiative!

MORE: https://t.co/Zj3PB42fGh pic.twitter.com/0WrMkzOHmx

— Rochester Red Wings (@RocRedWings) November 14, 2019
Viñeros de Tri-City (Tri-City Dust Devils) – The Dust Devils also honor migrant farm workers in the Copa identity. Pasco, Washington, home of Gesa Stadium, stands within Washington state's wine country, where grapes are harvested in vineyards. The Viñeros, who are obviously crucial to the process, get their day in the sun with a fun cartoon logo of a man holding a baseball bat along with some grapes.
We are excited to announce our 2019 Copa de la Diversion Identity! For three games this season, we will become Viñeros de Tri-City! #MiLBesDivertido https://t.co/5LMIIJoDho pic.twitter.com/2CpTtDBde6

— Tri-City Dust Devils (@TC_DustDevils) March 18, 2019
Some consideration must be paid to Fresno, who were among the first Minor League teams to adopt a Hispanic alter-ego. The club wore "Fresno Tacos" uniforms in 2015, before the advent of Copa, to promote the annual "Taco Truck Throwdown," at Chukchansi Park.
Finally, though not technically a food or drink identity, the "Corazones de Reno," deserve acknowledgement here. Their heart logo is occupied with two crossed chili peppers, which the team describes as "[representative of] food's place in familial love and baseball."