TinCaps to Become "Manzanas Luchadoras de Fort Wayne" for Select Games in 2020
Minor League Baseball Hispanic Fan Engagement Initiative Continues Growth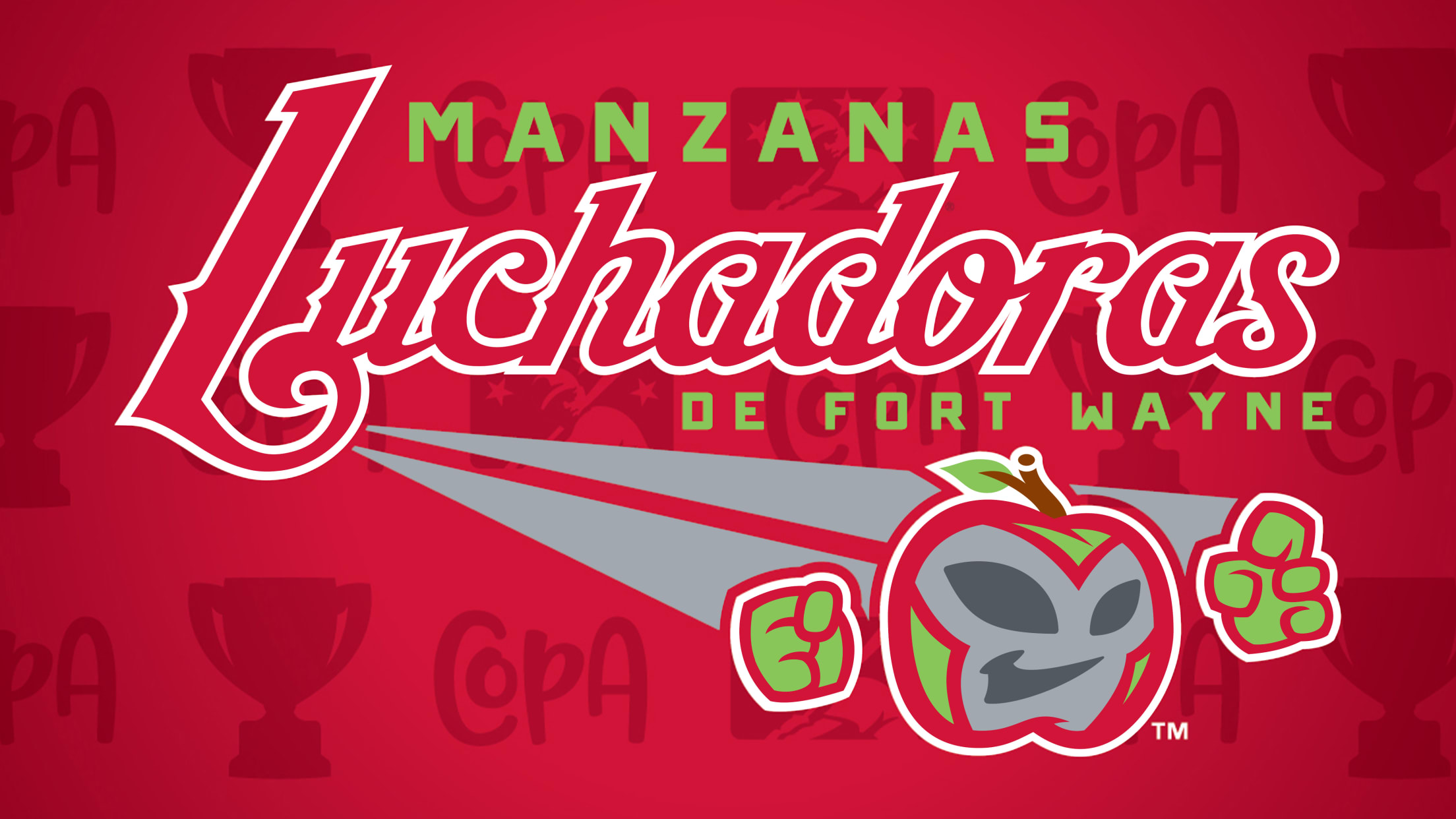 FORT WAYNE, Ind. -- The Fort Wayne TinCaps will become the "Manzanas Luchadoras de Fort Wayne" for select games during the 2020 season. The team's identity change, which translates to the "Fighting Apples" in Spanish, is part of Minor League Baseball's "Es Divertido Ser Un Fan" (It's Fun To Be A
FORT WAYNE, Ind. -- The Fort Wayne TinCaps will become the "Manzanas Luchadoras de Fort Wayne" for select games during the 2020 season. The team's identity change, which translates to the "Fighting Apples" in Spanish, is part of Minor League Baseball's "Es Divertido Ser Un Fan" (It's Fun To Be A Fan) Hispanic fan engagement initiative.
A staple in Mexican culture, "lucha libre" (freestyle wrestling) blends showmanship and athleticism through the wrestlers' vibrant wardrobes and rapid-pace movement. An adaption of Fort Wayne's full-time moniker, the Manzanas Luchadoras (Fighting Apples) will mimic the flare and skill of luchadoras.
HAGA CLIC AQUÍ PARA LEER EN ESPAÑOL
The Manzanas Luchadoras logo features a familiar look for TinCaps fans with a red apple as the centerpiece. The Manzanas Luchadoras apple is wearing a green and gray mask, as wrestlers customarily don masks in the ring. The apple logo also includes two fists raised in a fighting position.
The TinCaps are scheduled to take on their Manzanas Luchadoras identity for six games at Parkview Field during the 2020 season: May 1-3 and June 26-28. For these "Días de la Familia," or Family Days, the team will wear special Manzanas Luchadoras jerseys and hats, which will be revealed in March.
Fans can purchase an exclusive package for an All-Star ticket to each of the six games, which includes a Manzanas Luchadoras hat per package, for $72. Call 260-482-6400 or email Jenn Sylvester at [email protected] to order. This limited-time offer is available while supplies last through Dec. 31. Tickets to all TinCaps games will go on sale in February. Season ticket packages and group outings are already on sale.
Manzanas Luchadoras merchandise is now available in The Orchard Team Store at Parkview Field and at TinCaps.com. On-field apparel will become available to purchase in March.
"We've very excited to debut our Manzanas Luchadoras identity during the 2020 season," said Michael Limmer, TinCaps Vice President for Marketing and Promotions. "The TinCaps take pride in Parkview Field being an inclusive place for all of our fans each and every game. Our Días de la Familia are a great way for us to further reach out to a growing community in our area and celebrate a culture that's also shared by so many of our players from the San Diego Padres organization."
As of 2016, the City of Fort Wayne's Hispanic/Latino population was estimated at 26,000, close to 10% of the city's overall population. Meanwhile, about 18% of students attending Fort Wayne Community Schools are Hispanic.
During the 2019 season, of the 58 players who appeared in a game for the TinCaps, 24, or 41%, grew up in a Latin American country. Recent TinCaps stars from Latin America who've already reached the major leagues include Fernando Tatis Jr. (2017, Dominican Republic), Michel Baez (2017, Cuba), Franmil Reyes (2014-15, Dominican Republic), and Luis Urías (2015, Mexico).

"Minor League Baseball has done a great job leading this campaign," said TinCaps President Mike Nutter. "Our Manzanas Luchadoras identity is something for our entire fan base to embrace."
Minor League Baseball began "Copa de la Diversión" (Fun Cup) in 2018 with 33 teams participating. The series is designed to embrace the culture and values that resonate most with local U.S. Hispanic/Latino communities. The number of participating teams for 2020 has grown to 92, including 11 of the Midwest League's 16 teams. For example, when the Fort Wayne TinCaps host the Wisconsin Timber Rattlers from May 1-3, it will be the Manzanas Luchadoras de Fort Wayne hosting Los Cascabeles de Wisconsin (the Wisconsin "Jingle Bells") and from June 26-28. The visiting teams will also wear special jerseys and hats.
92 teams will vie for the Copa de la Diversión in 2020!

¡92 equipos batallarán por la Copa de la Diversión en el 2020!https://t.co/pMDU0pkxCZ #JoinLaDiversión pic.twitter.com/dHv3TY92gW

— Minor League Baseball (@MiLB) November 14, 2019
The TinCaps held a Día de la Familia to celebrate Hispanic culture this past season on Sept. 1. Amanceres de Mexico, a local dance group, performed outside of Parkview Field's main entrance as fans entered the ballpark.
In honor of Hispanic Celeration Night, Amaneceres de Mexico performed in front of the gates before tonight's game! 💃🇲🇽 pic.twitter.com/wbhZGTyaGb

— Fort Wayne TinCaps (@TinCaps) September 1, 2019
Other elements of the night included Fernando Zapari, from Fort Wayne's El Mexicano News, filling in for part of the game on public address, announcing in Spanish. He also joined the team's TV broadcast. Additionally, as players were at-bat, their headshot on the video board included their home country's flag. Other in-ballpark promotions included players greeting fans on the video board and counting down to fireworks in Spanish, as well as educational content like a "name that nation's flag" game. These features and more will be incorporated during the Días de la Familia at Parkview Field in 2020.
We're honored to have Fernando Zapari serving as the public address announcer in Spanish from the third through the fifth inning tonight! 🎙 pic.twitter.com/RmAny2kMmj

— Fort Wayne TinCaps (@TinCaps) September 1, 2019

The TinCaps collaborated with the Greater Fort Wayne Hispanic Chamber of Commerce to plan their Día de la Familia in 2019 and are continuing to partner with local Hispanic community leaders as they take on their Manzanas Luchadoras identity in 2020.
"We're looking forward to seeing the Manzanas Luchadoras play at Parkview Field on Días de la Familia in 2020," said Herb Hernandez, Director of the Greater Fort Wayne Hispanic Chamber of Commerce. "We appreciate the efforts of the TinCaps and Minor League Baseball to celebrate our community's values and culture, which includes a love for baseball."
Manzanas Luchadoras - Días de la Familia

May 1-3 vs. Los Cascabeles de Wisconsin (Wisconsin Timber Rattlers)

June 26-28 vs. Los Cabritos Maldichos ("Cursed Goats") de South Bend (South Bend Cubs)