Toolshed: Dodgers' Hoese finding way in 2020
No. 3 prospect impressed at alternate site, moving on to instructs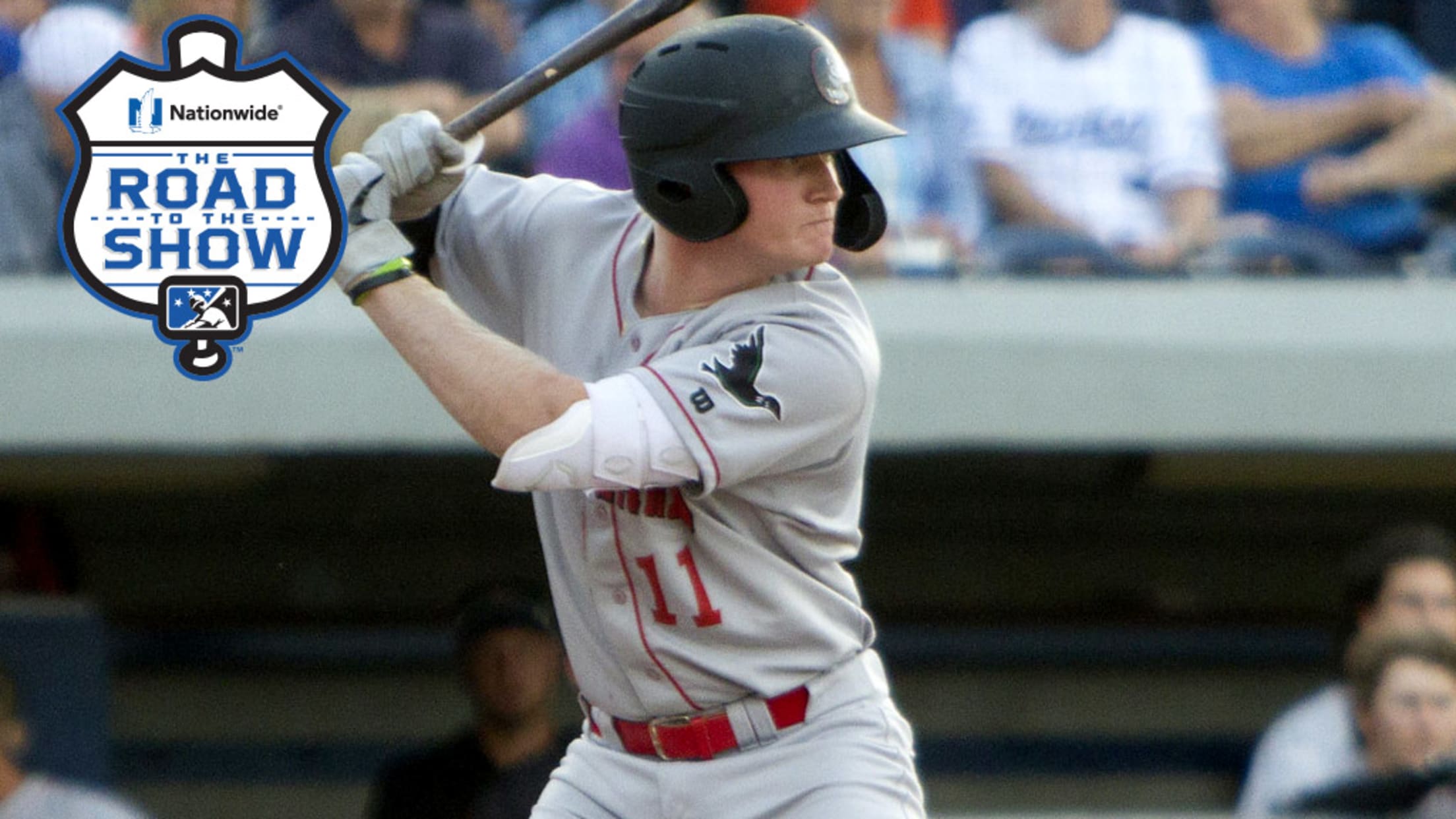 Kody Hoese produced a .715 OPS over 22 games with Class A Great Lakes during the 2019 season. (Emily Jones/MiLB.com)
A presumed National League Rookie of the Year favorite entering the year, Gavin Lux surprisingly bounced between the Majors and the Dodgers' alternate site at the University of Southern California for much of the first half of the truncated regular season. When he finally settled in with the big club
A presumed National League Rookie of the Year favorite entering the year, Gavin Lux surprisingly bounced between the Majors and the Dodgers' alternate site at the University of Southern California for much of the first half of the truncated regular season. When he finally settled in with the big club in late August, he came with a few scouting reports of players who few others had gotten to see in 2020 without the benefit of a Minor League season. One hitter, in particular, stood out right away.
"Kody Hoese can really, really, really hit," the Dodgers infielder told reporters, including SB Nation's Eric Stephen. "I felt like every day he was hitting the ball off the wall or shooting a double the other way."
It didn't take long for word to get back to Hoese.
"We both have the same agent [at Jet Sports Management]," Hoese said Thursday. "I think my agent texted me and said, 'Did you see what Gav said about you?' We're pretty close too, so we're good friends. I respected him a lot, even before he said that."
In any event, the cat had gotten out of the bag. The club's top prospect at the time saw a kindred hitting spirit at the alternate site in Hoese, bringing up questions about what could have been for the fellow slugging infielder in a normal 2020 and what still could be as he works his way through the Dodgers system.
Los Angeles grabbed Hoese with the 25th overall pick in the 2019 Draft, following a breakout junior year at Tulane. The right-handed-hitting third baseman had been solid, if not quite stellar, in his first two seasons with the Green Wave. A .291 average, five homers and an .803 OPS as a Draft-eligible sophomore made him a 35th-round selection of the Royals in 2018, but Hoese returned to campus in New Orleans hoping to show a little bit more to scouts. The bet paid off. He crushed 23 homers, fifth-most among Division I batters. His .779 slugging percentage was second-best in the nation, and his .391 average placed 19th.
Showing a strong bat with promising lift from the right side, Hoese went from 2018 Draft afterthought to bona fide first-rounder in the course of one year. Considering Los Angeles' No. 3 prospect stands at a listed 6-foot-4, 200 pounds, perhaps that pop was just waiting to break out all along.
"I talked to everyone about this, and it's nothing crazy," Hoese said of his 2019 season. "I didn't make a swing change or anything like that. I just got mature with more confidence. Also, scouting pitchers and watching what they throw and how they attack other hitters and what their go-to stuff is, that aspect was huge. I think it was more of a mental approach than anything."
The Dodgers sent the Indiana native to the Rookie-level Arizona League and Class A Great Lakes, where his numbers were solid but less eye-popping than in the spring -- .299/.380/.483, five homers in 41 games split almost evenly between the two spots. It's also worth noting Hoese was dealing with elbow inflammation during his pro debut that forced him into a designated-hitter role for about half his AZL and Midwest League starts. (He says the injury required little more than one month of rest in the offseason to get cleared up.)
Hoese spent part of that offseason in Los Angeles working out of Dodger Stadium, which was undergoing renovations in anticipation of a Major League All-Star Game that never happened. Fast-forward through the cancellation of Spring Training, and the third baseman was invited back to Southern California as a member of the Dodgers' 60-man player pool. It wasn't the live competition that comes with Minor League Baseball, but given the circumstances of the coronavirus pandemic, it was the best possible option for the 2019 first-rounder in what should have been his first full season.
"The goal was probably starting at high-A [Rancho Cucamonga] and then go to Tulsa at some point," Hoese said of his plans for 2020. "And then depending on how I did, either finish there or finish at Triple-A, you never know. But I think the main focus was just to get to Double-A games. I'd been hearing a lot about how Double-A's where the pitching and everyone's kind of developed. They're throwing a lot more strikes, and they're throwing their off-speed for strikes and all that stuff. So I think Double-A would have been a really good test to finish up at."
Instead, Hoese went up against what he called "Double-A-plus" competition at the Dodgers' alternate site at USC and the occasional times the player pool worked out at Dodger Stadium while the big club was on the road. The National League West club's player pool featured big prospect names at times like Josiah Gray and Tony Gonsolin pitchers with various levels of Major League experience such as Mitchell White and fellow first-rounders like 2020 pick Bobby Miller -- all of whom at minimum have stuff Hoese would have been unlikely to see in the California League had he started there in the spring. Then there were the occasional rehab assignments, like one due to a well-known blister issue on the hurler's right hand.
"[Walker Buehler] was throwing some sides against us, and then I think for the first time, I thought about what we were going up against," Hoese said. "You know you're getting 98-100 [mph]. You know you're getting the slider. I realized that he's the competition now. He's where I want to be."
Instead of getting intimidated by Buehler or the other more advanced arms, Hoese found himself settling into the same routines that brought on production in his final year at Tulane. Study the pitchers. Know their repertoires. Find ways to get your hits. Let your talent take over.
"I'd probably say about a quarter of the way through, I was just continually finding the barrel on the ball," said the slugger. "I was driving the ball opposite field, gap to gap. Facing the quality arms and doing well, then you know you're locked in at that point. The arms aren't going to get any better than this."
Hoese's evaluation of his early days at the alternate site match up with Lux's comments to the media. But without a traditional Minor League season, there were no slash lines, no home run totals to back up what he was feeling at the plate. Instead, the Dodgers -- like many clubs in 2020 -- turned to technology and provided that data to the players. Hitters could turn to their individual evaluations to find out their exit velocities, launch angles and chase rates on pitches outside the zone (according to a robot umpire). Hoese, in particular, found himself drawn to one number on his process-oriented sheet every time.
"For me, it was hard-hit balls," he said. "If you're hitting the ball hard, you're seeing the pitch well. You're swinging at the right pitches too. I'd rather line out to center rather than get a blooper over the first baseman's head. In the long run, that feeling and that swing is going to benefit you more than that little jam job."
For its part, the Los Angeles player-development system -- which counts Major League regulars Cody Bellinger, Corey Seager, Will Smith and Joc Pederson among its graduates -- seems more than happy to let Hoese hone in on his process at this early stage of his career.
"We just told him, go do what you do," Dodgers farm director Will Rhymes told MLB.com's Jim Callis earlier this month.
It's a process that Hoese has carried to Los Angeles' instructional camp in Arizona. With Keibert Ruiz in the bubble as part of the expanded playoff roster, the Tulane product is the highest-ranked position player at Dodgers instructs, where the focus remains on making up for the lost time he would have seen at Rancho Cucamonga, Tulsa or even Oklahoma City. Hoese estimates he got 150 at-bats of actual game action during his time at the alternate site and believes he's slated for perhaps 200 more at instructs, where playing against other prospects across the Phoenix area will become more of a priority in the coming weeks.
"I probably lost 300 at-bats total, but it's better than nothing at all," Hoese said. "A lot of guys I played with or I know in pro ball, they don't get the chance to go play in live games right now. It's different just sitting at home, getting in the cage or facing your friend. It's like a live BP, you know? You get that adrenaline and game feel. That game speed is just a little different."
Offense hasn't been the only focal point for Hoese, both at USC and in Arizona. With the elbow issue fully behind him, he was able to put more of an emphasis on defense, and that focus was necessary since the Dodgers have had him split time between his natural position at third and one spot over at shortstop. The move to the six might come as a bit of a shock given Hoese's size, but this is the same organization that also employs fellow 6-foot-4 shortstop Seager in the big leagues. Hoese's arm graded out as above-average at Tulane, so that tool could handle a move to his left. Now he's working on getting every other aspect of the position down after he last played it regularly as a college freshman.
"I'm 50-50 third and short right now," Hoese said. "I actually like [shortstop] a lot. It's a lot of footwork and holding runners on and stuff like that. It's all going to take a little time. I definitely need some more reps in at short, but I feel really comfortable with it right now."
Wherever Hoese ends up on the diamond, his bat has the potential to get him back to Dodger Stadium in an actual Major League capacity for long. No more offseason workouts. No more sneaking in while the big club is away. No more Lux spreading the word. As Hoese watches the Dodgers forge their way through the postseason and to yet another National League Championship Series, he can't help but think one thing. Soon, he'll be able to announce his own presence in the City of Angels.
"These playoff games have been super exciting," he said. "And we'll be watching these games, and I'll start thinking, 'I was just facing this guy.' So you know you're just so close, so close to cracking it and making it up there. That is super, super encouraging."
Sam Dykstra is a reporter for MiLB.com. Follow and interact with him on Twitter, @SamDykstraMiLB.