Toolshed: MLB clubs' level of prospect impact
How heavily each of 30 teams will rely on young talent this season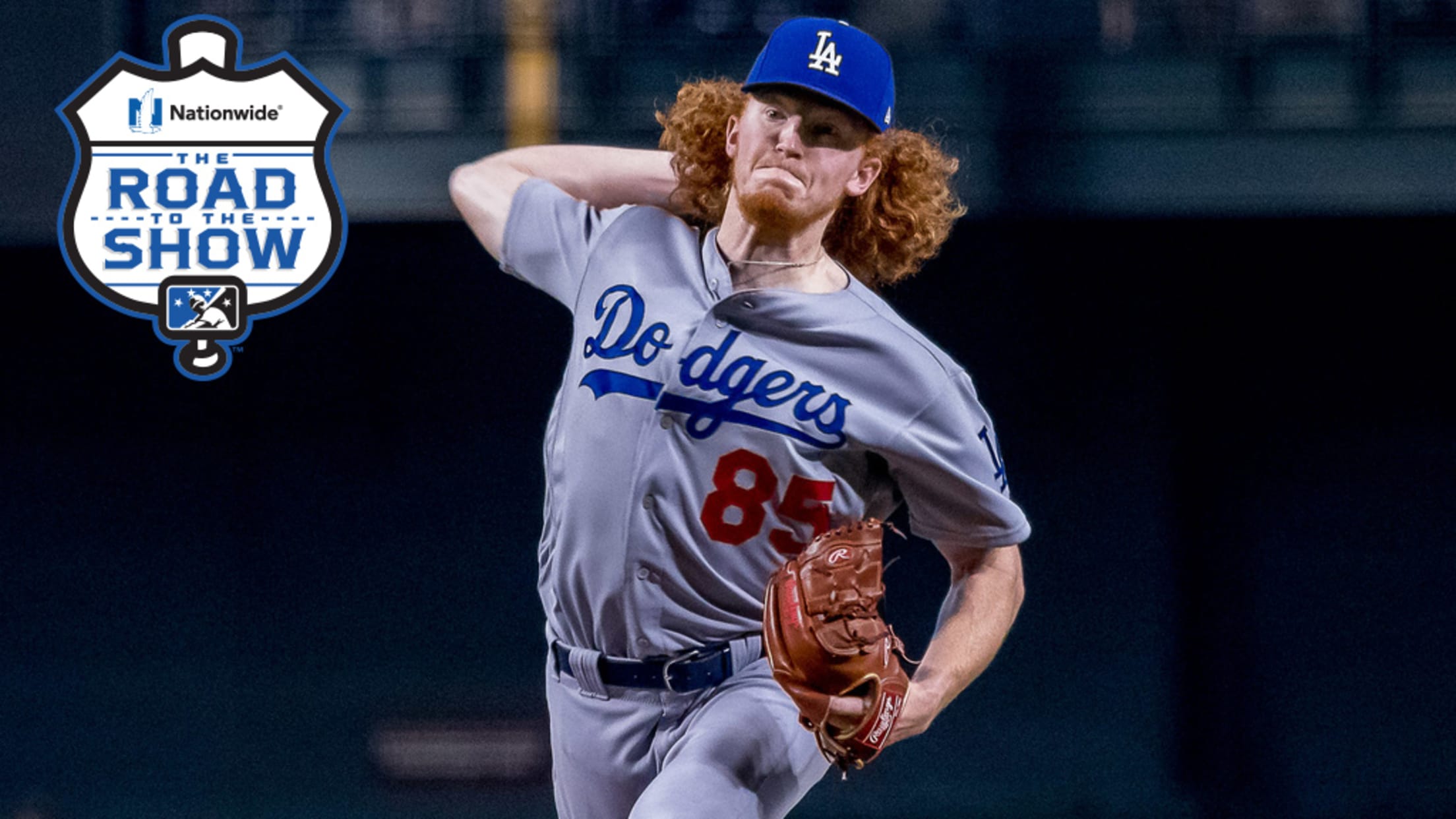 Dustin May made 14 appearances (four starts) with the Dodgers in 2019 and is in line for more this season. (Freek Bouw/Phrake Photography)
Among the major sports, baseball's typical 162-game season feels most like a marathon. The 2020 60-game schedule, which is set to open Thursday, is going to feel much more like a sprint. Whichever way you want to measure the distance, one thing is for sure -- Major League Baseball's race
Among the major sports, baseball's typical 162-game season feels most like a marathon. The 2020 60-game schedule, which is set to open Thursday, is going to feel much more like a sprint. Whichever way you want to measure the distance, one thing is for sure -- Major League Baseball's race is always a team relay.
Whether it's because of injuries or poor performance, teams are always relying on the next players up to take the baton and run with it at the Major League level, and that typically means opportunities for young talented prospects. The 2020 season will be no different. This week's Toolshed uses three tiers (a lot, somewhat, very little) to break how heavily the 30 Major League clubs will rely on their prospects in a 2020 campaign without Minor League Baseball.
A lot
Chicago White Sox -- This list is going alphabetically, but the White Sox would be at or near the top of this list anyway. Chicago signed top prospect Luis Robert to a Major League contract this offseason, and then watched the presumed Opening Day center fielder produce Summer Camp highlights every day (including one homer he hit while falling down). No. 2 Andrew Vaughn has seen some time at third base as the Sox make it clear they'd like to get his bat to the Majors some way even with Yoán Moncada, Edwin Encarnación and Jose Abreu taking up the 1B/3B/DH spots. No. 4 Nick Madrigal is coming off a tough spring, but his ceiling remains too high to keep him away from the second-base job for long. No. 3 Michael Kopech opted out of the 2020 season; otherwise, all of Chicago's Top-100 contingent possibly will see the South Side this summer.
Luis Robert is doing Luis Robert things 💪pic.twitter.com/tGXoa1u6ny

— Minor League Baseball (@MiLB) July 20, 2020
Colorado Rockies -- The Rox claim one Top-100 prospect Brendan Rodgers, and after shoulder surgery ended his first Major League season early in 2019, he'll open back up in Colorado, albeit possibly as the first infielder off the bench at least to open the shortened season. Ninth-ranked Sam Hilliard played his way into the starting left-field spot after slugging .649 in 89 big league plate appearances a year ago. Those two alone give the Colorado roster a prospect tinge, and defensive outfield wizard Yonathan Daza, solid hitter Tyler Nevin, left-handed reliever Ben Bowden and right-handed starter/reliever Ashton Goudeau all should get a solid chance at seeing Denver. The Rockies can't afford to be patient if they have any hope of returning to the postseason, and that could lead to some aggressive moves for the younger group.
Detroit Tigers -- The Tigers took away any hope for happy surprises by reassigning Casey Mize, Matt Manning, Spencer Torkelson and Riley Greene to the alternate site in Toledo on Monday. (Fellow Top-100 prospect Tarik Skubal remains on the injured list for an undisclosed reason, but will likely join the others in Toledo when cleared.) At least in the case of the pitchers, the big names will need innings for the sake of their development, and as important as their work in Toledo will be, it's not an exact substitute for real live gameplay. It's possible Mize, Manning and Skubal all end the season leading the Detroit rotation, giving Tigers fans a taste of the future in an all-too-odd present. Even Torkelson, who played first base at Arizona State but will try third in the Tigers system, could make up for some lost at-bats in the bigs. His pop certainly would play, even against the game's best arms. Greene is the biggest long shot of the group at 19 years old, no matter what his Summer Camp defensive heroics may say about his chances to help the club. Mix in potential debuts for Isaac Paredes, Daz Cameron, Alex Faedo and Derek Hill among others, and there actually might be optimism in Motor City yet.
Houston Astros -- For a potential World Series contender that has a farm system as down as it's been in recent years, the Astros might feel like a surprise inclusion. But consider that Jose Urquidy, Bryan Abreu and Cristian Javier figure to contribute to the pitching staff in various roles this summer and Abraham Toro, fresh off his 2019 breakout, should add to the infield depth as a switch-hitter off the bench. (Note: Urquidy has yet to report to camp and remains on the IL for an undisclosed reason.) The big one remains top prospect Forrest Whitley, who took some serious lumps in 2019. But the organization and the hurler believe he's found a way to lean more into his athletic delivery and get the most of his four plus pitches, all of which would be useful in multiple roles with Houston in 2020. With no game development time available elsewhere, expect Whitley to get the Major League look many believed would come a year ago.
Los Angeles Dodgers -- The Dodgers certainly have a lot of money to spend, but one of the reasons the club remains the heavy favorite to win the National League West yet again is its conveyor belt of prospect talent. No. 2 overall prospect Gavin Lux has had his struggles of late, but he should be the Major League second baseman for much of the season because of his plus hit tool and plus power when he's on. No. 23 Dustin May may open in the bullpen, where he pitched in the Majors last season, but everyone knows the 6-foot-6 right-hander has the stuff to stick in the rotation. Sixth-ranked Dodgers prospect Tony Gonsolin is in a similar boat to May, though he has a lower ceiling, and new addition Brusdar Graterol could be special right away in his newfound role as a full-time reliever. No. 18 Edwin Ríos could benefit from the expanded 30-man rosters to open 2020, and his power should make room for him even as rosters contract in the weeks to come. And that's just who we know is likely to get Major League time. Josiah Gray and Keibert Ruiz remain around for potential looks down the stretch. Like we said, conveyor belt.
Miami Marlins -- It's a similar situation to the Tigers, though the Fish are more likely to feature prospects out of the gate. Miami isn't going to contend in the loaded NL East, but it could surprise a few folks with the talent already knocking on the door. Monte Harrison is going to make it very difficult for the Marlins to send him north to Jupiter with some of the long balls he's been hitting in Summer Camp, and he's not even one of the club's Top-100 prospects. Sixto Sanchez, Jazz Chisholm, Jesús Sánchez and Edward Cabrera all have at least Double-A experience, and JJ Bleday was considered so advanced offensively coming out of Vanderbilt that a 2020 debut isn't out of the question for him either. Beyond the Top-100 contingent, Lewin Diaz and Nick Neidert should be in the thick of discussions by August, and Braxton Garrett and Trevor Rogers are dark horses to see the rotation but their shots shouldn't be discounted either. It's unlikely all these names see Miami in 2020, but if any mix of them arrive together, we'll have a much better idea of where the Marlins are headed in their ongoing rebuild.
Monte Harrison be like, "I know a place,"

then takes you DEEP. 👂 pic.twitter.com/3DvEyt1rQp

— Miami Marlins (@Marlins) July 9, 2020
Oakland Athletics -- It's The Big Three. Jesus Luzardo, A.J. Puk and Sean Murphy. It's rare to have three Top-100 prospects and have all three ready to open with the Major League club. That said, there have been unfortunate complications. Luzardo tested positive for COVID-19 and was initially held out of camp, though he has since returned healthy. Puk has suffered a shoulder strain -- the severity of which has yet to be fully determined -- and just went on the Injured List. Murphy remains a full go to open as Oakland's starting catcher. A lot of the A's playoff hopes will depend on how much they can get out of their big prospect names.
Pittsburgh Pirates -- The Bucs system isn't as flashy as some of the others in this section, but what flash it does have should be on full display in Steel City before long. Top prospect Mitch Keller is expected to slide right back into the rotation, where he can show better potential than last year's 7.13 ERA indicates. Ke'Bryan Hayes is on the COVID IL for now and hopes to make the third-base job his upon his healthy return. His glove alone could be Major League ready, and while Colin Moran has manned the hot corner for some time, Hayes' ceiling should clear the way. Oneil Cruz could make the Bucs' Top-100 contingent 3-for-3 if he got the call, and it's awfully enticing to dream of how much power the 6-foot-7 slugger could exhibit in The Show. The Pirates may just have to figure out a position for him during his time in Altoona first.
San Diego Padres -- The Padres should be every prospect lover's dark horse to compete in 2020. With another year of Manny Machado, Fernando Tatis Jr. and Chris Paddack forming the core in San Diego, the club projects to be in the thick of things for an NL Wild Card spot at the least, and it just might have the best possible reinforcements behind the current group possible. Should the Padres be in a race down the stretch, it'll be all the tougher to keep top prospects MacKenzie Gore and Luis Patiño working out at the University of San Diego. That also goes for fifth-ranked Taylor Trammell, who the club remains high on after some missteps in his transition from the Reds system last year. (His Texas League-winning grand slam for Amarillo was a pretty good peek at his potential.) Adrian Morejon and Michel Baez are the surer bets to impact the big league roster, but the big names behind them are too juicy to keep in check.
Seattle Mariners -- Start with what we know. Kyle Lewis, Justin Dunn, Justus Sheffield and Evan White are basically locks for the Opening Day roster. White is the only one among them not to debut yet, but his place at first base was solidified when he signed a Major League deal in the offseason. Those are four of the club's top 13 prospects alone. Now it gets a little tricky. Top-100 prospects Jarred Kelenic and Logan Gilbert have been Summer Camp darlings, which only have grown the calls for their debuts. Gilbert, who is two years older than Kelenic at 23, is the more likely of the two to see the Emerald City, but Kelenic is too gifted with basically every tool to keep him down for long. Julio Rodriguez suffered a left wrist fracture last week; otherwise he might be on the cusp of The Show at just 19 as well. Even first-rounder Emerson Hancock has been mentioned as a possible 2020 debutant. Jerry Dipoto could have his work cut out for him in finding time for his prospects without a Minor League season.
Just listen to that crack of the bat.

This homer from top #Mariners prospect Jarred Kelenic was an absolute 🚀 pic.twitter.com/DL3OpS7Gf2

— Minor League Baseball (@MiLB) July 14, 2020
Somewhat
Atlanta Braves -- No. 52 overall prospect Kyle Wright was likely headed to the Atlanta bullpen to open the season anyway, but with recent rotation openings, he could find a way to slide into a starting spot, even if it's on the front end of a piggyback to open 2020. If he falters in that role, other prospects Bryse Wilson, Tucker Davidson or Ian Anderson could pick up the slack. Wilson should at least be a Major League reliever on Opening Day while the other two, along with others like Kyle Muller and Huascar Ynoa, figure to feature in the Majors at some point this summer. Top Braves prospects Cristian Pache and Drew Waters ended 2019 at Triple-A, but a crowded Atlanta outfield -- which would have been even more crowded had the club followed through on a potential Yasiel Puig signing -- could have them on the outside looking in for most, if not all, of 2020. Too many hypotheticals keep the Braves from jumping into the top group.
Baltimore Orioles -- On paper, the Orioles should be a team that relies heavily on its prospects. The club is expected to be in the cellar of the AL East for the fourth straight season and possesses a farm system with flashy names like Adley Rutschman, Grayson Rodriguez and Heston Kjerstad. But the club has been notably slow in bringing its prospects into the Summer Camp fold. Austin Hays -- the expected Opening Day center fielder -- was the only notable ranked prospect included on the first edition of the 60-man roster. Even reigning International League MVP Ryan Mountcastle was a relatively late addition and will be headed to the alternate site in Bowie to prove he's ready for The Show. Lower prospects such as Yusniel Díaz, Dean Kremer and Michael Baumann should be given chances to impact the big club, and the thought of Rutschman, who would have soared up the chain in a normal first full season, debuting at some point is always enticing. But it'll take a few more smoke signals than the Orioles have sent so far to get excited that the youth movement is about to arrive en masse in Charm City.
Chicago Cubs -- Top prospect Nico Hoerner remains locked in a battle to win the second-base job, and even if he doesn't win it outright over veteran Jason Kipnis, the Stanford product is capable of impacting the roster in multiple ways as a shortstop or even an outfielder. Getting a potential everyday Major Leaguer into the fold is notable enough for a down Cubs system, and it's also possible that second-ranked Brailyn Marquez's 80-grade heater is good enough in South Bend to give the 21-year-old a shot in the bullpen down the stretch, especially if things stay close in the NL Central. No. 6 Adbert Alzolay figures to feature in the pitching mix, and No. 4 Miguel Amaya could travel as the emergency catcher on road trips, though at 21, he's unlikely to see major time in the bigs just yet. It's still a very veteran-heavy side in Wrigleyville.
Cleveland Indians – Toolshed marked Cleveland as having the 10th-most interesting initial Summer Camp roster because of the aggression the club had for including even teenage prospects at that time. That excitement continues, but it's likely to be isolated to the alternate site at Class A Lake County. Don't get us wrong; there will be prospects playing in the Majors in northeast Ohio this summer. No. 11 Logan Allen needs to find a role he can stick in on the mound. No. 12 Bobby Bradley's power is too good to leave at the alternate site all summer. No. 13Daniel Johnson has plus speed and plenty of defensive quality to work as at least a fourth outfielder, though he was reassigned Monday. There's even the off chance that top prospect Nolan Jones gets a call should the infield depth take a hit. The focus from a prospect standpoint, however, remains on the youth who will make up for lost time elsewhere.
Kansas City Royals -- This group got a big kick from the news that Brady Singer is getting a legitimate chance to open the season in the Kansas City rotation. It didn't hurt the No. 59 overall prospect's chances that he threw four scoreless innings in his last intrasquad game. There could be more from where he's coming from with Daniel Lynch, Jackson Kowar and Kris Bubic lurking at the nearby alternate site. From the position-player group, Nick Heath was the Minor League leader in stolen bases last season and should get a chance to spin his wheels at some point, considering he's on the 40-man roster already. Just don't expect Bobby Witt Jr. any time soon, no matter how impressive the 20-year-old shortstop looked in camp.
Los Angeles Angels -- Jo Adell. Jo Adell. Jo Adell. Let's not beat around the bush here. The biggest prospect-related question around the Halos is the matter of getting the club's top prospect into right field. Manager Joe Maddon continues to preach patience with the 21-year-old, but given Adell's burgeoning power, plus speed and impressive defensive ability, he will be in Anaheim before long and could be a Rookie of the Year candidate if he gets enough time there. Brandon Marsh, another Top-100 prospect, could see big league time if the Angels' outfield depth takes a hit, and Patrick Sandoval at least should be a long man out of the bullpen and potentially a spot starter as well. For the most part, if the Angels can usher in the Age of Adell in 2020 without any bumps, then that'll be a win from a prospect standpoint.
Oh hey there Jo Adell 👋

A lot of eyes on this guy and he goes yard.@Angels | @joadell0 pic.twitter.com/9xpcNuNkxP

— FOX Sports West (@FoxSportsWest) July 9, 2020
Minnesota Twins -- There are a few big names in this group, all of whom have played at least at Double-A: Royce Lewis, Alex Kirilloff, Trevor Larnach, Jhoan Duran. But no one from that group is guaranteed Major League time in 2020. The Twins, coming off a Major League record-setting season for home runs, already boast a loaded lineup with shortstop, first base and the corner outfield spots (the positions typically taken by Lewis, Kirlloff and Larnach) pretty well covered. The rotation faces a few more questions, and that's where Duran could be of service if Minnesota deems the 22-year-old right-hander with a plus-plus fastball and plus splitter ready for big league action. If not, No. 10 Lewis Thorpe seems like the Twins prospect most likely to impact the roster in 2020, and even he will do so only as a lefty out of the bullpen.
New York Yankees -- The focus here is on the arms. No. 88 overall prospect Clarke Schmidt has done plenty both in the spring and summer to make the Yanks believe he could step into the rotation when they need him, and No. 92 Deivi Garcia remains an option in a few roles coming off a dominant 2019 campaign. Other non-roster invitees Albert Abreu, Luis Gil and Luis Medina have less experience at the upper levels but throw with velocity that could work at any level. The 60-man features far fewer interesting position player prospects with Estevan Florial the lone standout, and the 22-year-old outfielder has too much to prove offensively at the alternate site to be a serious contender to see the Bronx in 2020.
Philadelphia Phillies -- Superstar Bryce Harper already has openly called for Spencer Howard's inclusion on the big league roster, and who could blame him. The No. 34 overall prospect throws in the mid-90s and features a plus changeup and impressive breaking ball. Injuries have limited him to only six starts above the Class A Advanced level, but his stuff certainly could help the Phillies rotation, where the hopeful NL East contenders face the most issues. No. 30 overall prospect Alec Bohm always seemed destined to help the Phils at some point in 2020, and the lack of available Triple-A at-bats probably pushes up his timeline. He's also aided by the universal DH, which could open up playing time at either corner infield spot. That's an impressive big two. They're also about the only two notable prospects who will help the Phillies in impactful ways this summer, barring breakouts from the likes of bullpen arms/swing starters Enyel De Los Santos or Cole Irvin.
San Francisco Giants -- Buster Posey's decision to opt out for the 2020 season and spend time with his growing family had big ripple effects for the Giants farm. Some were already questioning when, not if, top prospect Joey Bart would debut in 2020, and an opening behind the plate in San Francisco helps his cause, even if he had yet to play at Triple-A in the Minors. Bart's all-around game as a catcher has impressed those who have seen him in Summer Camp, so even if he opens up the season at the alternate site in Sacramento, he'll be up before long. Don't expect to see the other members of the Top 100 (Heliot Ramos, Marco Luciano, Hunter Bishop, Seth Corry) by the bay this summer, lessening some of the excitement overall and leaving Mauricio Dubón and Logan Webb as the other prospects expected to play prominent roles. (Don't sleep on Dubon, however, as he looks to make the second-base job his own.)
St. Louis Cardinals -- Much of what was said about the Angels and Adell could be slotted in here with the Cards and Dylan Carlson. St. Louis was facing questions about the 21-year-old switch-hitter at the end of last season following his 26-20 breakout campaign between Double-A and Triple-A, and those questions have only gotten louder as he's been measured up against his fellow outfielders in camp. By mid-August at the latest, Carlson should be an everyday player for the reigning NL Central champs. Elsewhere, Andrew Knizner should contribute as a backup to Yadier Molina, and Junior Fernandez and Génesis Cabrera -- the latter of whom is currently on the COVID-19 injured list -- will feature out of the bullpen. Like so many here, how this group is judged falls heavily on Carlson's shoulders.
Tampa Bay Rays -- This may come as somewhat of a shock. The Rays possess the top farm system in baseball and are well-known for dipping into their Minor League depth to compete with New York and Boston in the AL East. No. 15 overall prospect Brendan McKay, who is sitting on 49 Major League innings, should have a prominent role in the club's pitching plans. Wander Franco remains the game's top overall prospect and is part of the 60-man player pool, making it possible (if unlikely) he could see the Majors this summer. What gives? Well, as good as the prospect pipeline is, Tampa Bay's depth is likely to come from more veteran types. It doesn't help matters that Brent Honeywell Jr. underwent another arm procedure back in May. Shane McClanahan, Joe Ryan and Shane Baz seem like long shots to help the pitching staff in a 60-game season. Outside McKay, the best shot for a Top-100 type to help the Rays might be Vidal Brujan, and even he might do so primarily as a pinch-runner off the bench to start. If Franco's 80-grade hit tool gets a whiff, then all of this changes. For right now, don't expect many graduations from this deep group outside of McKay's.
Texas Rangers -- A few prospect names will help Texas usher in its new stadium. The most prominent is No. 5 Nick Solak, who produced an .884 OPS in the Majors last season. The Rangers have been trying to find a position for the 25-year-old and seem to have settled on left field for the time being. But don't sleep on No. 3 Leody Taveras' chances either. Texas has been aggressive in pushing the 21-year-old in the past, and his plus tools on the basepaths and the outfield would help the Major League club right away, even if it needed to hide his bat a bit on the bench. Top-100 prospects Josh Jung and Sam Huff are long shots but have the offensive tools to at least make things interesting at the alternate site. Elsewhere, Joe Palumbo should be in contention for at least a few starts even after a rough introduction to the Majors last season (9.18 ERA in seven appearances).
Toronto Blue Jays -- It's one of those open secrets. While we may not know where the Jays will call home this summer, we do know they will feature Nate Pearson at some point, likely early in the season. The No. 8 overall prospect is Major League-ready with his triple-digit heater, plus slider and improving changeup, and he'd instantly become one of Toronto's best pitchers. His arrival will be the pitching version of the debuts of Vladimir Guerrero Jr. and Bo Bichette last season. The other big names will be left out, but prospects like Reese McGuire and Anthony Alford still should graduate as well. Keep an eye on Anthony Kay in his attempt to win a starting spot for this summer and the long term.
What does 💯 MPH sound like?

Ask @big_nate5 🔥 pic.twitter.com/sbmYJnFioE

— Toronto Blue Jays (@BlueJays) July 11, 2020
Washington Nationals -- Nats manager Dave Martinez put a lot of questions to bed when he named Carter Kieboom as the starting third baseman relatively early in Summer Camp. The No. 21 overall prospect was the only big prospect name in contention for a Major League spot, so it's notable he'll get the chance to show how his plus bat plays in the bigs this quickly. Outside of him, fourth-ranked Wil Crowe might be the Nationals' only other top-10 prospect with a chance to see the bigs this summer, but when you're the defending World Series champions, adding one Top-100 prospect to the mix can be enough.
Very little
Arizona Diamondbacks -- Excited about the young D-backs farm system? Keep that excitement. Let it sustain you until spring 2021, since all of the club's Top-100 talents are likely to keep their prospect statuses for 2020. The most likely to graduate is No. 76 Daulton Varsho, the Southern League's best hitter last season. The catcher will be taking more outfield reps in his attempt to find a roster spot. Even if he leaves, Kristian Robinson, Corbin Carroll, Alek Thomas and Geraldo Perdomo still will be prospects. No. 10 J.B. Bukauskas is the highest-ranked pitching prospect with a chance to see Arizona.
Boston Red Sox -- This system got a little stronger with the Dodgers deal in the offseason, and there's a good chance it could look exactly the same with minimal graduations in 2020. Bobby Dalbec has the best chance to crack the Major League roster, and even he might not get enough at-bats to exhaust his prospect status given the roadblocks at first and third base. Pitching is the biggest question mark in Boston these days, but top pitching prospect Bryan Mata is too young at 21 to force a look and Noah Song is set to begin military duty that will keep him from helping from the mound. Don't be surprised if Rule 5 pick and No. 30 prospect Jonathan Arauz ends up being Boston's Rookie of the Year since he'll need to be on the roster all season long.
Cincinnati Reds -- It's setting up to be an exciting season in Cincinnati. The pitching staff should be loaded. Adding Nick Castellanos, Mike Moustakas and Shogo Akiyama should be a boon for the offense. Unfortunately, that doesn't mean many spots for the prospects in a relatively weak system. Nick Lodolo would make for a fun push, but he only has 18 1/3 innings of pro experience. Jonathan India's path only got more blocked by the Moustakas addition. Tyler Stephenson could receive some looks behind the plate, but he's behind at least three other catchers on the depth chart. The veterans will be the ones bringing the Reds back to promising territory in a crowded NL Central.
Milwaukee Brewers -- Not much to say here. The Brewers have the worst system in baseball because the organization put so much into the big club in previous years. That emphasis remains in 2020. Even the club's top prospects -- Brice Turang and Ethan Small -- remain too far away from the Majors as 2018 and 2019 first-round picks respectively. Keep an eye on Drew Rasmussen, who has caught Milwaukee's eye with a plus-plus fastball, and Trey Supak, who dominated at Double-A last season but got shellacked (like so many others) in the Pacific Coast League.
New York Mets -- If the Mets system stands out for anything right now, it's its youth. All six of the organization's top prospects are 21 or younger, and of them, only Andrés Giménez is in the 60-man player pool. The 21-year-old shortstop could see time on the New York infield this summer, but he's unlikely to seat Amed Rosario, at least not yet. No. 7 Thomas Szapucki is the highest-ranked pitching prospect with a chance at helping out in Queens, and even he has just one Double-A start under his belt.
Sam Dykstra is a reporter for MiLB.com. Follow and interact with him on Twitter, @SamDykstraMiLB.