Toolshed's best of the decade: Starting pitchers
Ranking the MiLBY Award winners who shoved down on the farm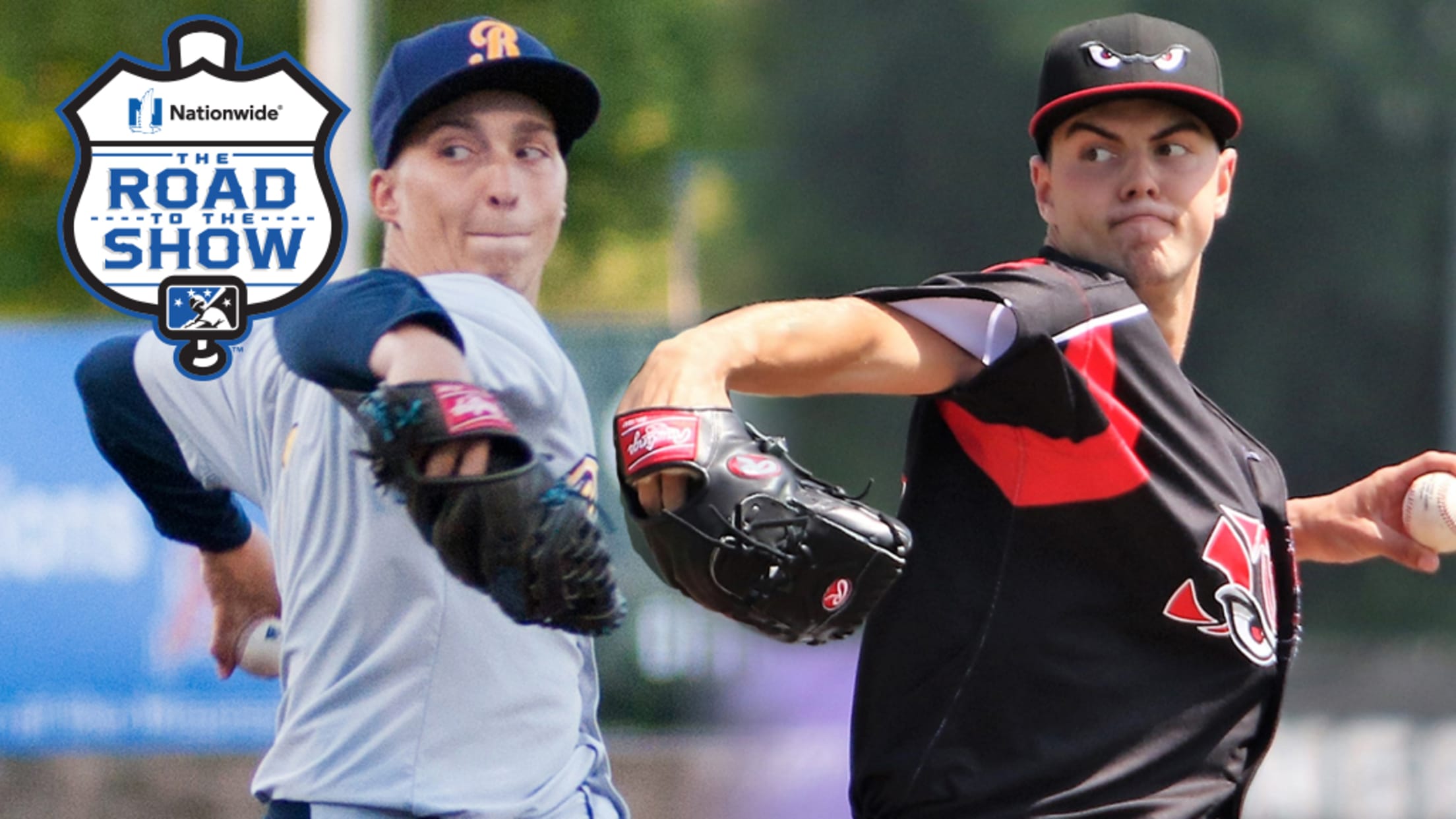 Blake Snell and MacKenzie Gore turned dominant seasons into MiLBY Awards during the last decade. (Daniel Lamb, Jerry Espinoza/MiLB.com)
There was no Minor League season in 2020 and, unfortunately, that means there will be no MiLBY Awards this year either. In their stead, Toolshed is taking the next couple weeks to look back at MiLBY winners from the major categories in the 2010s. The series will rank all the
There was no Minor League season in 2020 and, unfortunately, that means there will be no MiLBY Awards this year either. In their stead, Toolshed is taking the next couple weeks to look back at MiLBY winners from the major categories in the 2010s. The series will rank all the winners from 10-1 to evaluate which players truly had the most standout Minor League seasons in the last decade. (Note: The 2010 and 2011 MiLBYs were chosen by level, instead of Minor League-wide, so Toolshed has taken some license in selecting those year's winners for consideration in this series.) Last week's opener focused on <a href="https://www.milb.com/news/toolshed-s-best-of-the-decade-offensive-players" target="blank" >Offensive Players._ This edition hones in on Starting Pitchers.
10. Brock Stewart, 2016
Teams: Class A Advanced Rancho Cucamonga, Double-A Tulsa, Triple-A Oklahoma City
Stats: 21 G, 21 GS, 121 IP, 1.79 ERA, 129 K, 19 BB, 2.27 FIP, 0.88 WHIP, 27.9 K%
Overview: As a 2014 sixth-rounder who posted a 4.46 ERA in his first full season, Stewart wasn't exactly a name on the tip of most Minor League fans' lips going into 2016. That changed quickly by mid-June, when he already was pitching for his third Dodgers affiliate of the season on his way to a June 29 debut in the Majors. The right-hander never allowed more than three earned runs in any of his 21 starts in the Minors that summer, and he showed impressive control by not issuing more than two walks in any outing. Stewart relied heavily on a low-90s fastball that featured plenty of spin and kept hitters in the California, Texas and Pacific Coast leagues consistently off-balance. But a lack of quality secondary options led to a 5.79 ERA in the Majors that season and a 6.05 mark over 46 appearances in his career so far. (Stewart signed a Minor League deal with the Cubs this spring but was released in May.) Still, a former two-way player at Illinois State who only moved to the rotation full-time in 2015 deserves plenty of kudos for the way he shot through the Minors four years ago.
9. Tyler Glasnow, 2014
Teams: Class A Advanced Bradenton
Stats: 23 G, 23 GS, 124 1/3 IP, 1.74 ERA, 157 K, 57 BB, 2.63 FIP, 1.05 WHIP, 31.8 K%
Overview: The 6-foot-8 right-hander was a candidate for this spot many times during his days in the Minors. He notched 164 strikeouts over 111 1/3 innings in 2013. He posted a 1.93 ERA in 22 starts in 2016. In fact, his 2.02 ERA and 33.0 strikeout percentage were tops among all Minor League pitchers who threw at least 500 innings in the last decade. His one MiLBY-winning campaign, however, came six years ago when he dominated the Florida State League for a full summer. In 2014, Glasnow ranked among the top five qualified full-season pitchers in ERA, strikeout percentage, K/9 and FIP. As he does now, the then-Pirates prospect relied on a plus-plus fastball and hammer curve, both of which came out of the long extension that was a product of his large frame. Those two pitches were enough to help Glasnow fan 10 or more batters in five of his 23 starts. The control issues that still dog his game as a member of the Rays rotation were occasional issues with Bradenton. On April 30, he walked seven batters in only two frames. That hurt his overall numbers and kept him from climbing higher in these rankings, as did spending the whole season in a pitchers' league like the FSL. But it's important to remember Glasnow was only three years removed from falling to the fifth round in the 2011 Draft. In his MiLBY campaign, the California native was planting the seeds that grew into his future role of World Series starter.
8. Jon Duplantier, 2017
Teams: Class A Kane County, Class A Advanced Visalia
Stats: 25 G, 24 GS, 136 IP, 1.39 ERA, 165 K, 42 BB, 2.90 FIP, 0.98 WHIP, 31.3 K%
Overview: The D-backs took Duplantier in the third round of the 2016 Draft out of Rice and set him on a somewhat slow road after a bout with elbow soreness limited his pro time that first season. The right-hander took advantage of his opening assignment in the Midwest League by posting a 1.24 ERA and 0.83 WHIP with 78 K's over 72 2/3 innings at Kane County and didn't skip a beat with a 1.56 ERA and 87 K's over 63 1/3 frames at Visalia. He didn't allow an earned run in 13 of his 25 appearances and the Delaware native's best pitches were his breaking offerings -- a slider and a curve. His California League numbers were even more impressive, given the way that circuit favors hitters. Duplantier led full-season Minor Leaguers with his 1.39 ERA -- no one else was lower than 1.66 -- and also placed among the top 10 in batting average against (.192) and strikeout percentage. Hampered by injuries since this breakout season, he remains Arizona's No. 15 prospect but is only 13 1/3 innings away from graduation.
7. Liam Hendriks, 2010
Teams: Class A Beloit, Class A Advanced Fort Myers
Stats: 19 G, 18 GS, 108 2/3 IP, 1.74 ERA, 105 K, 12 BB, 2.19 FIP, 0.84 WHIP, 25.3 K%
Overview: This is funny to think about now. Hendriks has become one of the game's most dominant closers with the A's by thriving primarily on a 96 mph average fastball. (He's a free agent this offseason, by the way.) Back in 2010, the Australian right-hander was dominating with a much different pitch set. His fastball touched the lower 90s and even sat as low as 86 early in the season. He also worked more with a slider, curveball and changeup in his attempt to stick as a starter in the Minnesota system. The returns in this campaign were stellar. His 0.84 WHIP and 2.19 FIP topped the Minors among full-season starters while his 1.74 ERA placed second in the pool of 556. Hendriks especially thrived at the lower levels because of his control -- his 2.9 percent walk rate was third-lowest at the full-season levels. Hendriks' raw numbers could have been even more dominant, if not for a midseason appendectomy that kept him out for much of July and August. He debuted for the Twins in 2011 and bounced up and down with middling results before finally sticking as a reliever with the Blue Jays in 2015. He recently won the Mariano Rivera American League Reliever of the Year Award.
6. José Fernández, 2012
Teams: Class A Greensboro, Class A Advanced Jupiter
Stats: 25 G, 25 GS, 134 IP, 1.75 ERA, 158 K, 35 BB, 2.23 FIP, 0.93 WHIP, 30.8 K%
Overview: Before the Cuba-born right-hander became a Major League sensation, he was a 19-year-old working his way through the South Atlantic and Florida State leagues with ease. Fernández finished with sub-2.00 ERAs at both Greensboro and Jupiter and especially dominated at the lower level, where he struck out 99 over 79 innings. No full-season pitcher in 2012 finished with a lower FIP than Fernández's 2.23, while his 1.75 ERA placed fourth, his 30.8 percent K rate was third and his 0.93 WHIP fourth. The 2011 first-rounder impressed the rest of the baseball community with those numbers. He jumped to the No. 7 overall spot in MLB.com's prospect rankings heading into 2013. More importantly, he also impressed the Marlins, who promoted him straight to the Majors the following spring. Fernández won the 2013 NL Rookie of the Year award and made two All-Star teams before dying tragically in a 2016 boating incident.
5. Carl Edwards Jr., 2013
Teams: Class A Hickory, Class A Advanced Daytona
Stats: 24 G, 24 GS, 116 1/3 IP, 1.86 ERA, 155 K, 41 BB, 2.02 FIP, 1.01 WHIP, 33.1 K%
Overview: This was the breakout of all breakouts. The Rangers took Edwards in the 48th round of the 2011 Draft out of a South Carolina high school. Keen readers will note that round no longer exits in a normal Draft, never mind this year's five-round edition. After spending 2012 with short-season affiliates, the 6-foot-3, 170-pound right-hander moved to full-season leagues in 2013 and made an instant impact. Edwards posted a 1.83 ERA and struck out 122 over 93 1/3 innings at Hickory before going to the Cubs in a five-player deadline deal that sent Matt Garza the other way. Chicago believed in its new acquisition enough to push him straight to Class A Advanced and saw him flourish there, despite the change in level and organization. Edwards finished with a 1.96 ERA, 0.91 WHIP and 33 K's in a brief 23-inning spell with Daytona -- numbers good enough to lock in his MiLBY Award. He ended up with the best FIP, second-best K rate and fourth-best ERA among full-season pitchers and entered 2014 as a top-50 overall prospect on the strength of a plus heater and plus curve. Durability concerns and lack of a third pitch have made Edwards into a journeyman reliever, but he did make eight postseason appearances for the World Series-winning Cubs in 2016.
4. Chris Paddack, 2018
Teams: Class A Advanced Lake Elsinore, Double-A San Antonio
Stats: 17 G, 17 GS, 90 IP, 2.10 ERA, 120 K, 8 BB, 2.01 FIP, 0.82 WHIP, 35.3 K%
Overview: The Padres restricted Paddack to 90 innings after he missed the 2017 season following Tommy John surgery, and that limit is likely the only thing keeping him from jumping up higher in these rankings. The right-hander had no trouble finding his control after the procedure, issuing only eight walks in 17 starts and never more than one in any individual outing. His rate of 15 K/BB was the best in the Minors that season, and it wasn't particularly close; Ljay Newsome ranked second at 8.9. Paddack's 35.3 percent strikeout rate and 2.4 percent walk rate placed second among the 548 pitchers with at least 90 innings in 2018, and his 2.01 FIP and 0.82 WHIP were tops among that group. More specifically, Paddack punched out 40.9 percent of the batters he faced for Lake Elsinore, the highest K rate for any pitcher with at least 10 starts for one individual club in the 2010s. Like the Marlins with Fernández, the Padres liked enough of what they saw that they made Paddack a Major League starter from the get-go the following season.
3. Blake Snell, 2015
Teams: Class A Advanced Charlotte, Double-A Montgomery, Triple-A Durham
Stats: 25 G, 23 GS, 134 IP, 1.41 ERA, 163 K, 53 BB, 2.71 FIP, 1.02 WHIP, 31.3 K%
Overview: If this ranking was based solely on the most dominant stretch by a MiLBY winner, Snell would take the cake hands down. The Rays left-hander opened the 2015 season with eight straight scoreless outings for Charlotte and Montgomery. The streak reached 49 2/3 innings before ending against Tennessee on May 23, but in that outing, he whiffed 12 while allowing a lone run over six innings. Packing all those zeros in early certainly helped keep the ERA low, but Snell kept it going, finishing with marks of 1.57 at Montgomery and 1.83 at Durham. His 1.41 ERA was the lowest among Minor League qualifiers, while his 31.3 strikeout percent and .180 average against both placed third. Despite his dominance, the southpaw wasn't rewarded with a Major League debut until 2016. In 2018, he won the AL Cy Young award.
2. MacKenzie Gore, 2019
Teams: Class A Advanced Lake Elsinore, Double-A Amarillo
Stats: 20 G, 20 GS, 101 IP, 1.69 ERA, 135 K, 28 BB, 2.77 FIP, 0.83 WHIP, 35.7 K%
Overview: The last MiLBY winner in this category also is one of the most memorable of the decade. Toolshed already named Gore's 2019 as the most noteworthy Cal League season of the 2010s, and the numbers are worth repeating. The Padres left-hander posted a 1.02 ERA in 15 starts on a circuit known for its offense. He accomplished that by getting a lot of whiffs -- 110 strikeouts over 79 1/3 innings, to be exact. Less contact meant less of a chance for Cal League foes to take advantage of the hitter-friendly conditions. A sound strategy if you have the stuff to pull it off, and with four potentially plus pitches, Gore certainly had the arsenal. Including his time with Amarillo, his 35.7 K percent was the highest among MiLBY winners in the 2010s. (In a sign of the times, it was good for only fifth-best in the Minors in 2019.) Gore did lead his season in ERA and WHIP, making him an easy pick for last year's starting pitcher award. The 2017 first-rounder didn't crack San Diego's Major League roster this summer but should get strong consideration in 2021.
1. Matt Moore, 2011
Teams: Double-A Montgomery, Triple-A Durham
Stats: 27 G, 27 GS, 155 IP, 1.92 ERA, 210 K, 46 BB, 2.50 FIP, 0.95 WHIP, 34.8 K%
Overview: This one comes down to raw numbers. Only four pitchers struck out 200 batters in a single Minor League season during the 2010s. One was Moore in 2010, when he fanned 208. The other was this campaign, when the then-Rays left-hander managed to two-up himself in the K category. Part of that was Moore's pitching in another age. Moore was one of 64 Minor Leaguers in 2011 to go at least 155 innings. That number was down to only 11 such pitchers by 2019. Still, Moore thrived at each of the Minors' top two levels while working deep into the best season of his Minor League career. The 2007 eighth-rounder struck out 10 or more batters in seven of 27 starts, including a nine-inning, 11-K no-hitter on June 16 at Mobile. His 34.8 percent strikeout rate was tops in the Minors that season and falls right in line with the higher K rates later in the decade. His ERA, WHIP, FIP and .183 average against ranked on the leaderboard for full-season Minor Leaguers that season as well, giving Moore across-the-board dominance. The southpaw flashed three potential plus pitches in his fastball, curve and changeup and that, stuff combined with the results, made him the game's top pitching prospect at the end of 2011 -- right up there with Mike Trout and Bryce Harper as the best overall prospects in the game. Following nine Major League seasons and one more in Japan, Moore didn't quite live up to those lofty expectations, but looking back on 2011, it's pretty easy to see why there was so much to dream on.
Sam Dykstra is a reporter for MiLB.com. Follow and interact with him on Twitter, @SamDykstraMiLB.