Toolshed: Shortest, longest roads from first round
Which top 2020 talents could speed, take scenic routes to Majors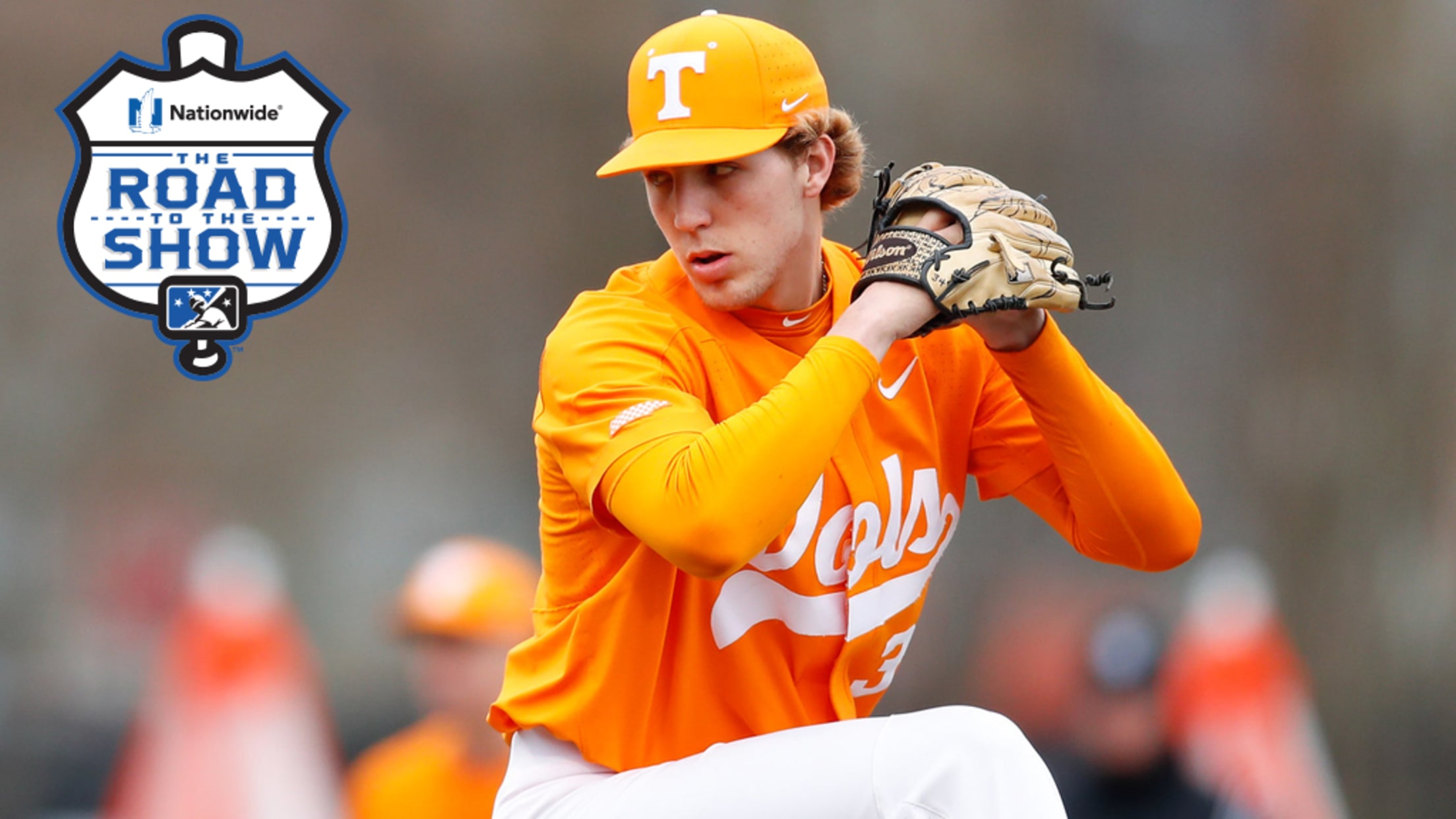 Garrett Crochet fanned 149 batters over 132 career innings at the University of Tennessee. (Alison P. McNabb/Tennessee Athletics)
Their roads all began together. From here, those roads will look very different. Twenty-nine players were selected in the first round of the 2020 First-Year Player Draft on Wednesday. Eighteen of them are position players. Eleven are pitchers. Eighteen come from the college ranks. Eleven hailed from high school. Because
Their roads all began together. From here, those roads will look very different.
Twenty-nine players were selected in the first round of the 2020 First-Year Player Draft on Wednesday. Eighteen of them are position players. Eleven are pitchers. Eighteen come from the college ranks. Eleven hailed from high school. Because of their backgrounds and skills, some will reach the Majors much quicker than those that need a lot more development time at the lower levels.
To prepare fans for the roads ahead for the Class of 2020, here are the five prospects Toolshed expects to ascend to the Majors the quickest and the five who likely have the longest journeys ahead.
Quickest roads to the Majors
1. Garrett Crochet, left-handed pitcher, White Sox (11th overall): This is a good time to point out that team situations matter as much as talent in these pseudo rankings. The White Sox made clear moves last offseason to try to contend in 2020, and with things potentially getting even weirder in a shortened season, they'll have an even better chance to return to the postseason for the first time since 2008. In order for that to happen, Chicago also will need whatever help it can get. A 6-foot-6 left-hander with high-90s velocity, a plus slider and good changeup certainly would help. The Sox drafted Crochet as a starter, and the work toward that role could begin in earnest next spring. For now, they could make use of potentially expanded rosters and use Crochet out of the bullpen almost immediately. The Tennessee southpaw only pitched 3 1/3 innings this spring due to the pandemic and a shoulder issue he later designated as a sore muscle, so he has the potential to pack on innings. In a normal year, the White Sox would allow Crochet to get his competitive innings elsewhere. But with Minor League Baseball still on hold for the foreseeable future, we know 2020 is far from a normal year.
2. Reid Detmers, left-handed pitcher, Angels (10th overall): Many were quick to make a Chris Sale comparison with Crochet, and indeed if he were to fly the ladder straight to the South Side, those would be apt. But the Halos have an even more recent example of bringing up a pitcher quickly -- 2017 second-rounder Griffin Canning in April 2019. Coming out of Louisville, Detmers already has the polish to follow in Canning's tracks. He sports an above-average fastball and curveball, and his whole three-pitch mix works so well because his command is so impressive. Hitting your spots is a skill that can translate to the pro side quickly, and starting pitching is certainly an area of need for Los Angeles, both now and long-term. (The club didn't have a pitcher ranked among its top five prospects until the Detmers pick.) The southpaw isn't likely to be a candidate in 2020, but one full Minor League season and a quick hook in the second could make his path just like Canning's.
3. Spencer Torkelson, third baseman/first baseman, Tigers (first overall): This year's top pick is certainly the name fans of all stripes might want to see in the Majors the quickest. Torkelson's power would play in The Show right now after he finished with 54 homers and a career .729 slugging percentage in three seasons at Arizona State. But again, team situation matters. Even in an abbreviated season, the Tigers aren't likely to contend in 2020 and won't see the advantage in bringing their new top position-player prospect to the Majors for a short stay. What's more, while Torkelson's bat could be deemed ready for the Majors, it's notable that Detroit announced him as a third baseman. Pretty much every evaluator who has seen Torkelson believes he's headed for the other corner infield spot long-term, but the Tigers might lengthen his Minor League stay to get him lots of time to succeed at third. Even then, the bat is just that good that it wouldn't be much of a surprise for Torkelson to come flying out of the gate in 2021, like Kris Bryant did in his first full season. That would force the Tigers to consider him at any position late in that season or early in 2022.
4. Max Meyer, right-handed pitcher, Marlins (third overall): Meyer is in someways the right-handed version of Crochet, minus six inches in height and the favorable big league situation. With a plus-plus heater and plus-plus slider, the former Minnesota Gopher likely would slide into the Miami bullpen without a problem right now. But the Fish aren't going to push for an National League East title this season, no matter the length of the 2020 campaign, and Miami took Meyer at No. 3 anyway over more heralded talents because they believe in his ability to be a starter. The stuff is just too good for Meyer to stay down for long. Assuming he's healthy and durable despite his size, the right-hander could arrive just shortly after the Marlins' current top pitching prospect Sixto Sanchez, who has already reached Double-A, and give Miami its one-two punch of the future very quickly.
5. Austin Martin, shortstop, Blue Jays (fifth overall): Martin was right there with Torkelson for top talent in this Draft, and it must have felt like an international theft for him to drop to Toronto at No. 5. Martin is a gifted hitter who makes tons of contact and could be poised to move quickly like Nick Madrigal did in his first full season, going from Class A Advanced to Triple-A in 2019. However unlike Madrigal, Martin's position isn't as well defined. He was announced as a shortstop on Draft Day, had played mostly center field and third base the past two seasons and is considered by some to be a future second baseman. The Jays seem to have their shortstop and third baseman set for a while in Bo Bichette and Vladimir Guerrero Jr. respectively, and Cavan Biggio had a strong rookie campaign at second as well. It may take some time for Martin to find a fit, but as a career .368 hitter in college, he has the right offensive skills to give Toronto a good problem before long.
Other potential quick movers: Asa Lacy was considered by many to be the top pitching prospect in the Draft but fell to the Royals at No. 4. His mix of three plus pitches (fastball, slider, changeup) and an above-average one (curveball) from the left side could get him to Kansas City quickly, but the Royals, who already have a depth of arms from the college ranks, have shown a preference to keep such pitchers in the middle ranks for their first full season. ... Nick Gonzales drew comparisons to Nico Hoerner from his former Cape Cod League manager Mike Roberts, who told MiLB.com, "He'll be in the big leagues in two years if they leave him alone." The Pirates might be taking notes.
Longest roads to the Majors
1. Nick Bitsko, right-handed pitcher, Rays (24th overall): At 17, Bitsko was the youngest player taken in the first round and appropriately gets the first slot here. The Pennsylvania hurler famously reclassified and graduated early to make himself eligible for this Draft and didn't get to show anything this spring in a competitive setting with the pandemic causing the cancellation of his final high-school season. In other words, he has some catching up to do. (It doesn't help either that first-round high-school righties don't have the best track records.) On stuff, Bitsko could crack a Major League rotation some day. His mid-90s fastball and curveball are potential plus pitches. He has above-average control and plenty of size at 6-foot-4. But given his youth and lack of experience, Tampa Bay will likely ease him in and give him the time and space he needs to develop into a potential frontline starter.
2. Nick Yorke, second baseman, Red Sox (17th overall): Boston's move to take Yorke at No. 17 was one of the most befuddling of the first round, though it later worked out that the organization could use the savings from here to sign third-rounder (and better talent) Blaze Jordan. Still, Yorke gets lumped in with the rest of the first-rounders, and as MLB.com's No. 139 prospect in this Draft, he has some tougher sledding ahead compared to his cohorts. The Red Sox liked the California native's overall hit tool and believed he was on the verge of a spring breakout before the pandemic. Time will tell if that was going to be the case, but even now, Yorke doesn't have a plus tool and is likely stuck to second base with a below-average arm. It'll take some time for him to develop into a higher-level talent, and by taking him where they did, Boston showed it's willing to wait out that process.
3. Mick Abel, right-handed pitcher, Phillies (15th overall): Again, prep right-handers historically seem to have an uphill battle to the Majors, and that's a big reason why Bitsko and Abel were the only two high-school pitchers taken among this year's top 29 picks. Abel is seen as the better pitcher of the two right now with three above-average pitches (fastball, slider, changeup) and good control from his 6-foot-5 frame, so he could get to the Majors a little earlier than Bitsko. It also helps that he turned 18 back in August. Expect the Phils to keep on the kid gloves for a bit all the same.
4. Jordan Walker, third baseman, Cardinals (21st overall): This selection was all about Walker's power potential. The 6-foot-5, 220-pound slugger already shows plus raw pop, and that could translate into even more in-game power as his hit tool improves. How long that process will take is still very much up in the air. Walker will need plenty of exposure to pro pitching to avoid becoming the typical high-K slugger who doesn't make enough contact to take full advantage of his slugging ability. There's also the possibility he'll have to move to first base someday -- a heightened threat now that he's in the same organization as Nolan Gorman -- and if that happens, there will be an even heavier burden on the bat, which would lengthen his stay in the Minors.
5. Tyler Soderstrom, catcher, Athletics (26th overall): No high-school catchers taken in the first round have made the Majors since the Class of 2013 (Reese McGuire and Nick Ciuffo). That says enough about the history that Soderstrom is working against here. It could help his case that some evaluators believe he'll move away from the catching position in time. His overall glove is behind his bat, which has plus potential from the left side, and his plus arm could certainly work at another position. If Oakland is invested in keeping Soderstrom behind the plate, then it'll take plenty of experience for him to make the improvements to stick. If the A's move him to third base or a corner outfield spot, he could move significantly quicker.
Other potential slow roaders: Ed Howard was one of the feel-good stories of the Draft when he stayed in his hometown by going to the Cubs at No. 16. He might be the most defensively gifted shortstop in this class, but his bat, which is behind the glove, will determine how quickly he makes it back to the Windy City. ... Carson Tucker -- the 23rd overall pick to the Indians -- knows the road to the Majors, thanks to his brother, Cole, and has plenty of development ahead of him before he could reach that level. His hit tool has the chance to be above-average while everything else (except for his lacking power) rates as a 50 on the 20-80 scouting scale.
Sam Dykstra is a reporter for MiLB.com. Follow and interact with him on Twitter, @SamDykstraMiLB.