Top prospects making cut in Major Leagues
Ohtani, Brinson, Kingery find spots on 2018 Opening Day rosters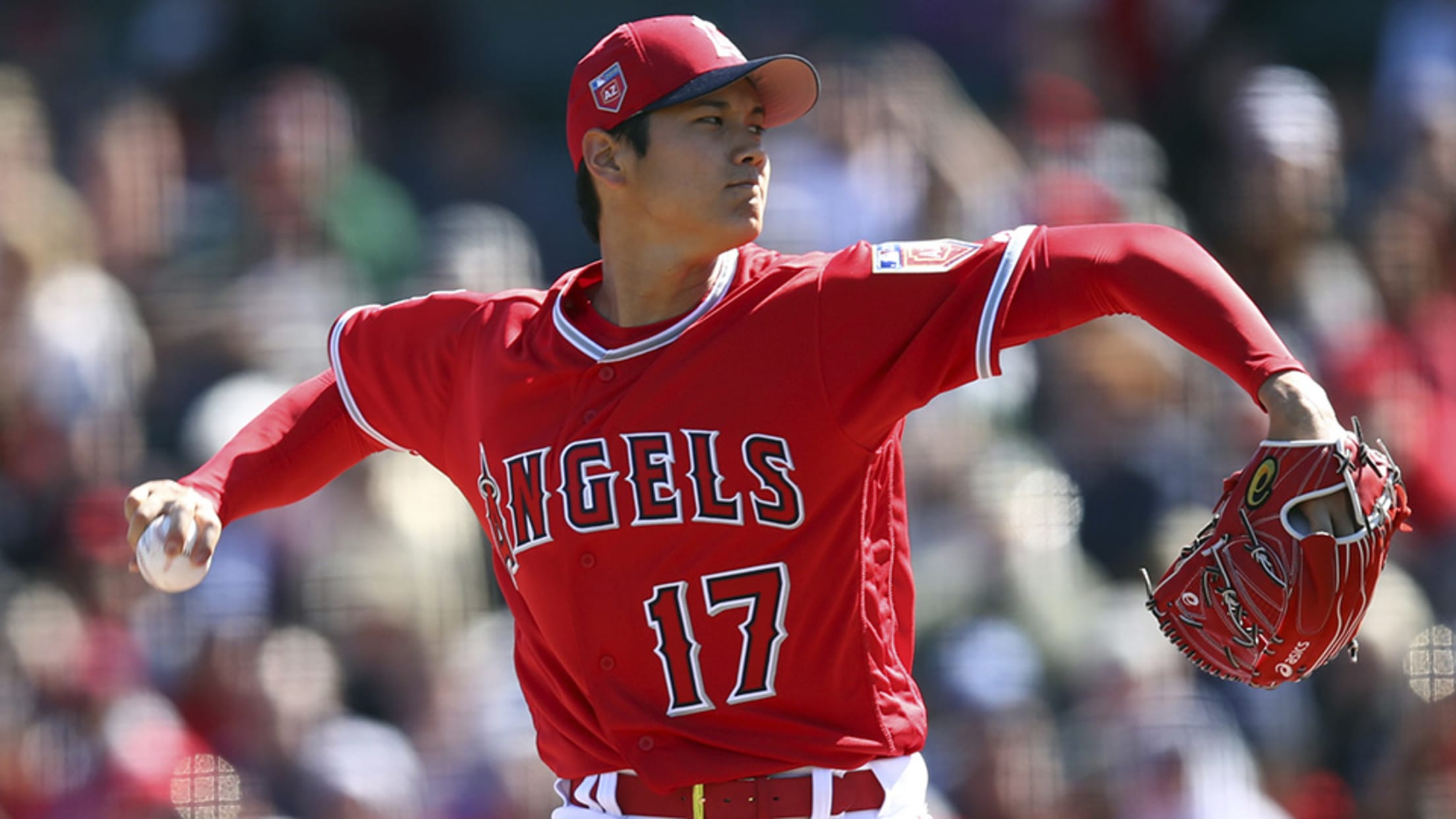 Top overall prospect Shohei Ohtani is expected to show off his five-pitch repertoire Sunday in Oakland. (Ben Margot/AP)
It's the "Will they, won't they" of the prospect world.Every spring, dozens of prospects are brought to Major League camp either as members of the 40-man roster or as non-roster invitees, and over the course of Grapefruit and Cactus League play, they get a chance to prove they're ready to
It's the "Will they, won't they" of the prospect world.
Every spring, dozens of prospects are brought to Major League camp either as members of the 40-man roster or as non-roster invitees, and over the course of Grapefruit and Cactus League play, they get a chance to prove they're ready to hang with the big boys. A talented few end up getting the call to open their season in a big league ballpark shrouded by bunting. They get to be day-one Major Leaguers.
After a long and at times arduous spring, the following MLB.com top 100 prospects will spend Opening Day on their respective Major League roster:
No. 1. Shohei Ohtani, RHP/DH, Angels: This was never in doubt, no matter Ohtani's Cactus League numbers. That said, they weren't exactly pretty. He gave up eight earned runs on nine hits (three homers) and two walks while striking out five in the two starts (2 2/3 innings) he made in Major League games in Arizona. His time on the backfield mounds weren't always spiffy either evidenced by a start last Saturday in which he walked five batters in 5 1/3 frames. At the plate, he went 4-for-32 (.125) with 10 strikeouts and no extra-base hits. Those numbers are enough to put the brakes on the hype train for any prospect, especially one ranked at the top. But Ohtani has told reporters he's always been a slow starter in the spring, and the Angels have repeatedly said they aren't worried. When he's on, the 23-year-old right-hander has special velocity to go with two more plus pitches in his slider and splitter, and he's still expected to show off his five-pitch repertoire Sunday in Oakland. Despite there being more worries about his bat, Ohtani will remain part of the DH rotation as well, but it wouldn't be surprising if he has a shorter leash there in his rookie season with the Halos talking him into a full-time role on the bump.
No. 27. Lewis Brinson, OF, Marlins: Giancarlo Stanton, Marcell Ozuna, Dee Gordon and Christian Yelich are all gone. Brinson, who came over from the Brewers for Yelich, is the new face of the Marlins, and he'll fill that role right from the first day of the season. It helps he's a southeastern Florida native who grew up idolizing Juan Pierre. (He'll wear Pierre's No. 9 number.) It also helps he's one of the game's toolsiest prospects. The 23-year-old center fielder packs a good amount of power and is a plus runner. His bat took a nice jump last season at Triple-A Colorado Springs, where he hit .331/.400/.562 in 76 games. That allowed him to get 21 Major League games with Milwaukee, and though he struggled (5-for-47, 17 strikeouts), it was in limited playing time for the competing club. He'll be a starter in Miami and get plenty of plate appearances out of the leadoff spot. The biggest question is his ability to stay on the field. Brinson hasn't played more than 120 games since 2013, and hamstring issues kept him out from mid-August to the end of the season last year. If he's healthy for all of 2018, Brinson could put up enough counting stats like homers and steals to be a major NL Rookie of the Year contender.
No. 35. Scott Kingery, UTIL, Phillies: This was a bit of a surprise. Instead of playing the service-time game, the Phils and their No. 2 prospect agreed to a six-year, $24 million contract with three option years that not only keep Kingery in Philly for a long time but get him there immediately. There is no worry about the clock starting. It starts now. That's exciting news for a player coming off a breakout season in which he hit .304/.359/.530 with 26 homers and 29 steals. Kingery has shown that last season's power breakout, fueled by an emphasis on getting the ball in the air, was no joke, too; he went deep five times and produced an .800 slugging percentage in 21 games this spring. His playing time situation could be interesting, however. Kingery isn't going to wrestle away the second-base job from César Hernández -- who's been worth 7.6 WAR over the last two seasons -- right away, but new manager Gabe Kepler has given him looks at shortstop, third base, center and right this spring. It's more likely Kingery bops around until he shows he can take over at the keystone full-time, but it's clear the Major League club wants his improved bat and impressive speed in the lineup as often as possible.
No. 37. J.P. Crawford, SS, Phillies: Same club, much more stable situation. The Phillies made it clear that their shortstop of the future was going to be their shortstop of the present this offseason when they dealt Freddy Galvis to the Padres. Crawford helped the cause by taking his patient offensive approach to the Majors when rosters expanded last September, putting up a .356 OBP in 23 games while showing his plus glove at short, second and third. He's back at his natural position, where the Phillies can get the most value out of his plus defense. It'll be interesting to see how much of Crawford's power jump carries over from 2017; he went deep 13 times from July 1 on at Triple-A but didn't homer in the Majors. If nothing else, the building blocks are there for Crawford to handle the 6 spot for years to come for a Philly team hoping to be back in contention soon.
No. 38. Jack Flaherty, RHP, Cardinals: The Cardinals' No. 2 prospect was actually optioned by the club on March 18, only to return to the Major League rotation when Adam Wainwright went on the disabled list with a hamstring injury. Flaherty likely deserved a longer look anyway. He's coming off a breakout season in the Minors: 2.18 ERA with 147 strikeouts and 35 walks in 148 2/3 innings between Double-A Springfield and Triple-A Memphis. His September numbers in the Majors (6.33 ERA in six appearances) weren't nearly as rosy, but he did have strong flashes in the spring with 24 strikeouts and only five walks in 15 2/3 innings. He's got special control and three above-average pitches (fastball, slider, change) -- aka, a mid-rotation starter kit. Even if Flaherty is the first pitcher out of town when Wainwright returns, he doesn't have anything left to prove in the Minors. He should get plenty of chances to stick in St. Louis as the season progresses.
No. 41. Ryan McMahon, INF, Rockies: This came down to the wire. The news that McMahon would open 2018 with the big club wasn't official until Tuesday. There was the possibility that the Rockies' signing of Carlos Gonzalez would push Ian Desmond into a starting role at first base, and thus Colorado would prefer McMahon get regular at-bats back at Triple-A Albuquerque. That still might happen if Desmond takes off in April and McMahon gets stuck on the bench. But the Rockies' No. 2 prospect used to be a full-time third baseman, and he's seen some time at second, so his versatility could help him stick in the Majors a little longer. What's mostly earned him this chance, of course, is his bat. McMahon hit .355/.403/.583 and led the Minor Leagues with 73 extra-base hits last season between Albuquerque and Double-A Hartford. Although he struggled some in two Major League stints, he showed plenty of offensive potential this spring with a .328/.375/.537 line in 29 games. Desmond might have been a big signing, but McMahon is showing it might not be long before he takes over first for the long term. Colorado starting him in the Majors speaks to their faith in the 23-year-old as well.
No. 82. Jesse Winker, OF, Reds: Winker barely qualifies for this list. Not because he barely made the Cincinnati roster; it's because he's only nine Major League at-bats shy of losing his prospect status. The 24-year-old hit .298/.375/.529 with seven homers and seven doubles over 121 at-bats with the Reds last season. That home run total surpassed his career Triple-A total of five, despite coming in 144 fewer games. His 135 wRC+ was third-highest among Reds hitters with at least 100 plate appearances, behind only All-Stars Joey Votto (165) and Zack Cozart (141). He stayed hot in the spring as well, hitting .347 with a .921 OPS in 20 Cactus League games. The Reds appropriately liked enough of what they saw to make Winker part of a four-man outfield rotation with Billy Hamilton, Adam Duvall and Scott Schebler, and if Winker can continue to produce a high average with even modest power, he should take one of the corner spots on a full-time basis before long.
No. 84. Tyler Mahle, RHP, Reds: This was a little more up in the air. Mahle had his moments with a 2.70 ERA over four Major League starts (20 innings) toward the end of last season but still had to fight to show he was worth a rotation spot this spring. He answered the call. The No. 5 Reds prospect's 4.56 ERA in seven appearances may not have stood out, but he threw strikes consistently with three walks in 23 2/3 innings and kept runners off base with a 0.97 WHIP. Mahle may not have the stuff to be a top-of-the-rotation type in the Majors -- only his fastball and slider grade out as above-average pitches -- but he's got a good mix and special control to provide plenty of value in a starting role. Unlike former top-100 prospects Robert Stephenson and Amir Garrett, who struggled out of the gate after making the Opening Day roster last season, Mahle has everything in place to meet his ceiling rather quickly.
96. Brandon Woodruff, RHP, Brewers: Starting pitching was thought to be a priority for the Brewers this offseason. Instead, it looks like they're keeping things in-house. Woodruff beat out the likes of Yovani Gallardo, Junior Guerra and Wade Miley (who has a groin injury) based almost on his potential alone. The 25-year-old posted a 4.81 ERA with 32 strikeouts in 43 innings in the Majors last season and had a rough spring with 10 earned runs allowed in 12 2/3 frames (7.11 ERA). He did strike out 15 and walk only three in that span, however, and manager Craig Counsell told reporters the organization would prefer him to work out his issues in the Majors rather than get sent back to an extreme environment like Colorado Springs. Woodruff will get a chance to prove he can grow into the role given to him when he starts April 6 against the Cubs, and he's got the three-pitch mix to make a rotation spot work, even if it's a lower one.
Other notable prospects on Opening Day rosters: Chance Sisco (Orioles No. 3), Jorge Alfaro (Phillies No. 7), Victor Caratini (Cubs No. 8), J.D. Davis (Astros No. 9), Daniel Vogelbach (Mariners No. 11), Yairo Muñoz (Cardinals No. 12), Brian Anderson (Marlins No. 9), Colin Moran (Pirates No. 8), Yonny Chirinos (Rays No. 21), Ryan Yarbrough (Rays No. 26), A.J. Minter (Braves No. 15), Jordan Hicks (Cardinals No. 7)
Sam Dykstra is a reporter for MiLB.com. Follow and interact with him on Twitter, @SamDykstraMiLB.