Reports: Nats' Soto getting call to Majors
No. 15 overall prospect hit .362 across three Minor League levels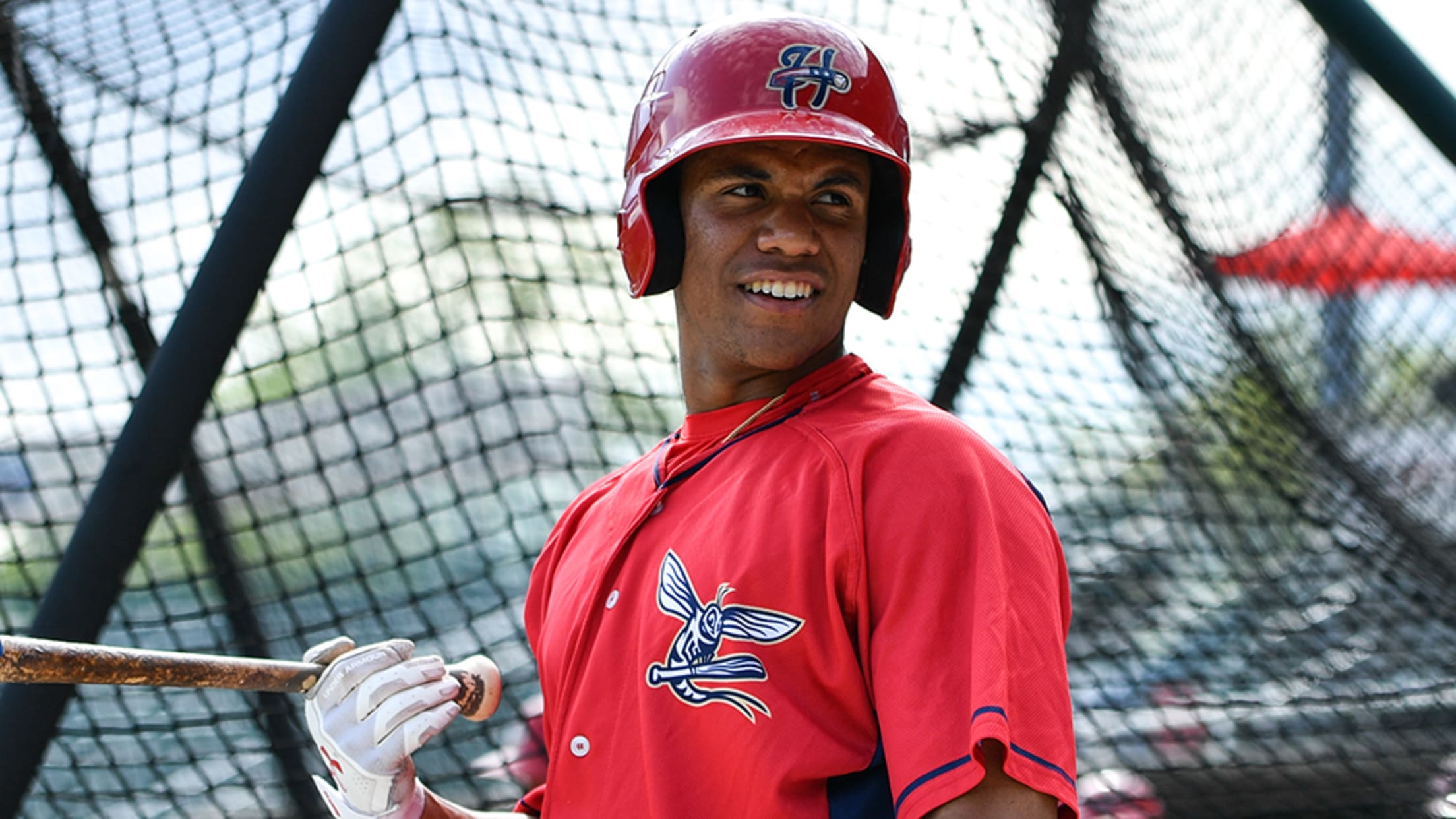 Juan Soto is batting .372 in 31 games across three Minor League levels this season. (Terrance Williams/MiLB.com)
Juan Soto's astronomical rise through the Minor Leagues this season is about to take its biggest step forward.According to several reports, the Nationals are expected to call up their second-ranked prospect from Double-A Harrisburg to make his big league debut. He reportedly will meet the club in Washington for Sunday's series
Juan Soto's astronomical rise through the Minor Leagues this season is about to take its biggest step forward.
According to several reports, the Nationals are expected to call up their second-ranked prospect from Double-A Harrisburg to make his big league debut. He reportedly will meet the club in Washington for Sunday's series finale against the Dodgers.
After an injury-shortened campaign in 2017, Soto opened this year with Class A Hagerstown and lasted only 16 games, batting .373 with five homers and 24 RBIs before advancing to Class A Advanced Potomac.
MLB.com's No. 15 overall prospect also made quick work of the Carolina League, hitting .371 with seven homers and 18 RBIs in 15 games and was elevated to Harrisburg on May 10. He's 10-for-31 (.323) with a pair of homers and 10 RBIs for the Senators.
"When you move up a level, it doesn't matter how tired you are or how bad of a travel you had, you're kind of geeked up for the game," Harrisburg manager Matthew LeCroy said after Soto homered in his Eastern League debut. "You're one step closer. You can tell he keeps his body in shape. There's a lot of good things that you see. He's just gotta continue to be consistent. Hopefully, we can help him along the way to get to the ultimate goal and that he does get an opportunity when he's ready."
The opportunity apparently has come.
At 19 years old, Soto will become the youngest player in the Majors, a title previously held by 20-year-old Braves outfielder Ronald Acuña Jr., MLB.com's second-ranked prospect. He also will be the first teenager to debut in the Majors since Dodgers left-hander Julio Urias in 2016 and the first to play for the Nationals since Bryce Harper in 2012.
Washington has dealt with an assortment of injuries in its outfield, most recently losing Howie Kendrick for the season to a ruptured Achilles tendon. Adam Eaton had arthroscopic surgery to remove a piece of cartilage from his left ankle on May 10 and Brian Goodwin has been sidelined by a wrist injury since April 15.
The club's top prospect, Victor Robles, suffered a hyperextended elbow and has been out since April 11, while the team learned Friday that 19th-ranked Rafael Bautista will miss the rest of the year with three torn ligaments in his left knee.
Despite the Nationals' recent aggressiveness with Soto, the team was cautious in its assignment to Hagerstown at the beginning of the season. Last year, the native of the Dominican Republic played 23 games with the Suns before fracturing his ankle on a slide into home on May 2. The injury derailed a brilliant start to his first full season in which he batted .360/.427/.523 with three homers, five doubles, 15 runs scored and 14 RBIs.
"He's a big, strong, physical left-handed bat," Nationals director of player development Mark Scialabba told MiLB.com before the season. "Very advanced approach at the plate, understands the strike zone [and] identifies pitches very well, especially for his age. [He] has power to all fields and really projects as, hopefully, your middle-order impact bat down the road."
Gerard Gilberto is a contributor to MiLB.com. Follow and interact with him on Twitter, @GerardGilberto4.