NATURALS TAKE CHAMPIONSHIP SERIES OPENER 7-5 OVER WICHITA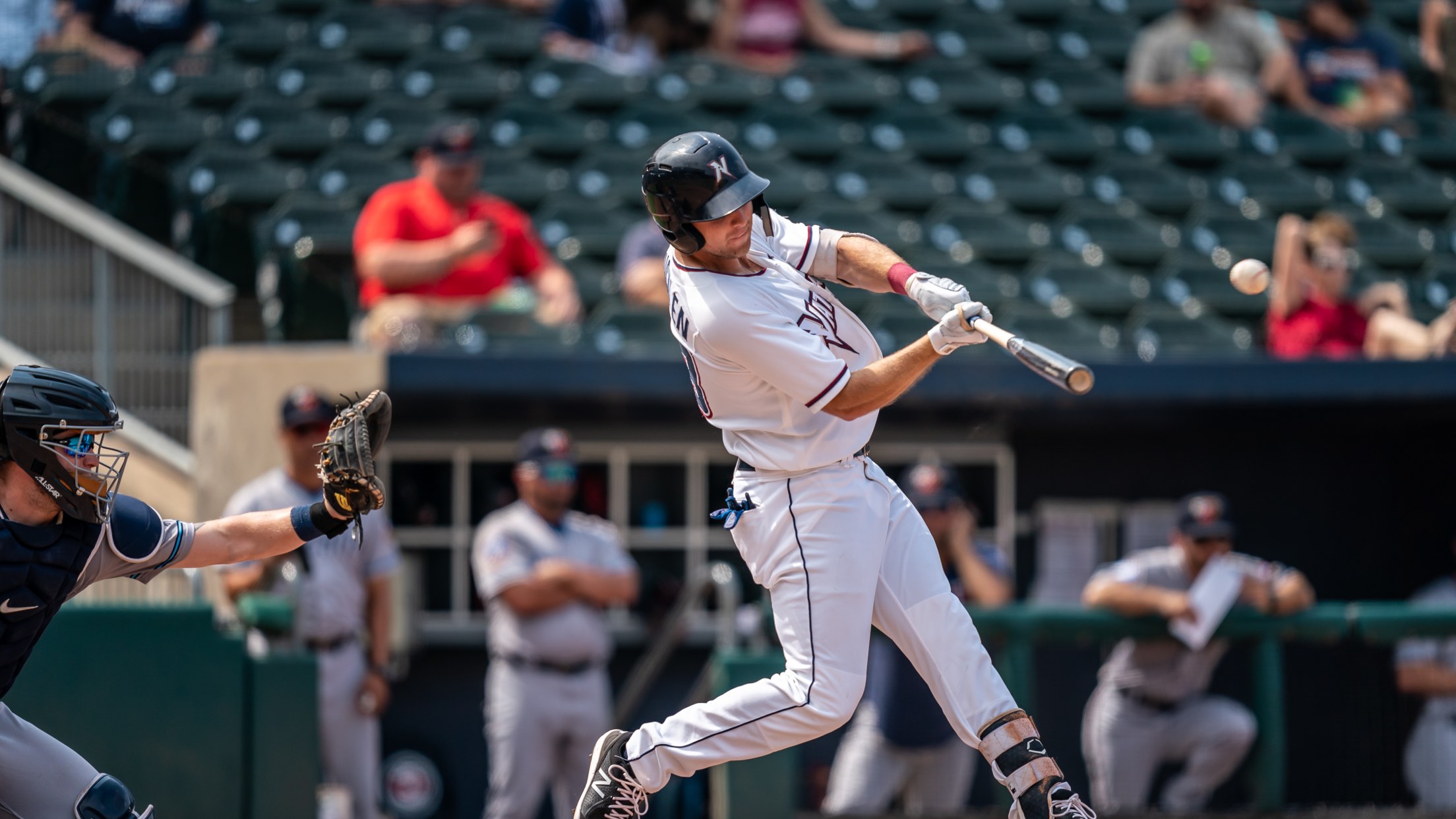 Outfielder Brewer Hicklen drilled a solo home run in the 7th to put the Naturals up for good in the Game 1 victory over the Wind Surge. (Alan Jamison)
The Northwest Arkansas Naturals battled back-and-forth all night Tuesday against the Wichita Wind Surge, pulling ahead in the final innings for a 7-5 win in Game 1 of the Double-A Central Championship Series. Both teams scored in the second, third and fourth innings, but a pair of runs in the
The Northwest Arkansas Naturals battled back-and-forth all night Tuesday against the Wichita Wind Surge, pulling ahead in the final innings for a 7-5 win in Game 1 of the Double-A Central Championship Series.
Both teams scored in the second, third and fourth innings, but a pair of runs in the third from the Naturals gave them the early lead.
Northwest Arkansas responded to a Wichita homer in the second with an RBI triple off the bat of Blake Perkins. After 2019 Natural D.J. Burt homered in the third, the Naturals countered with two runs in the bottom half, Seuly Matias and Freddy Fermin connected on back-to-back doubles, scoring Meibrys Viloria and Matias to tie the score, then put the Naturals ahead.
The two teams traded runs again in the fourth, with Viloria drawing a bases loaded walk to give the Naturals a 4-3 lead at the time.
Viloria reached in all five of his plate appearances, walking in his first three and singling in his last two.
While the Wind Surge tied the game with their third homer of the night in the sixth, the momentum turned in favor of the Naturals in the seventh for good. Brewer Hicklen made a leaping catch at the left-center field wall to end the top of the seventh, then with one out in the bottom half, drilled a go-ahead solo home run to center field, putting the Naturals up for good.
Northwest Arkansas added two runs of insurance in the eighth, on a two-run single from Fermin, giving him three RBI on the night.
All nine Naturals hitters reached at least once in the game, with eight recording hits, five scoring runs and five driving in runs.
Austin Cox (MLB Pipeline's No. 13 Royals' prospect) struck out four across 4.0 innings of work, outlasting Wichita starter Jordan Balazovic, who could not get out of the fourth.
Stephen Woods Jr. bridged the gap to Josh Dye, who earned the win with 2.1 scoreless innings of work, striking out three.
Dye took over for Woods Jr. in the sixth and stranded an inherited runner on base and pitched into the eighth, when Jose Cuas took over and worked a four-out save.
With a Game 1 win under their belts, the Naturals (1-0) need two more wins to capture the Double-A Central Championship. Game 2 will be at Arvest Ballpark at 6:30 p.m. CT on Wednesday night before the series shifts to Wichita on Friday for Game 3 of this Best-of-5 series.