Grand Junction's Motley knocks in seven runs
Rockies catching prospect comes up a double shy of the cycle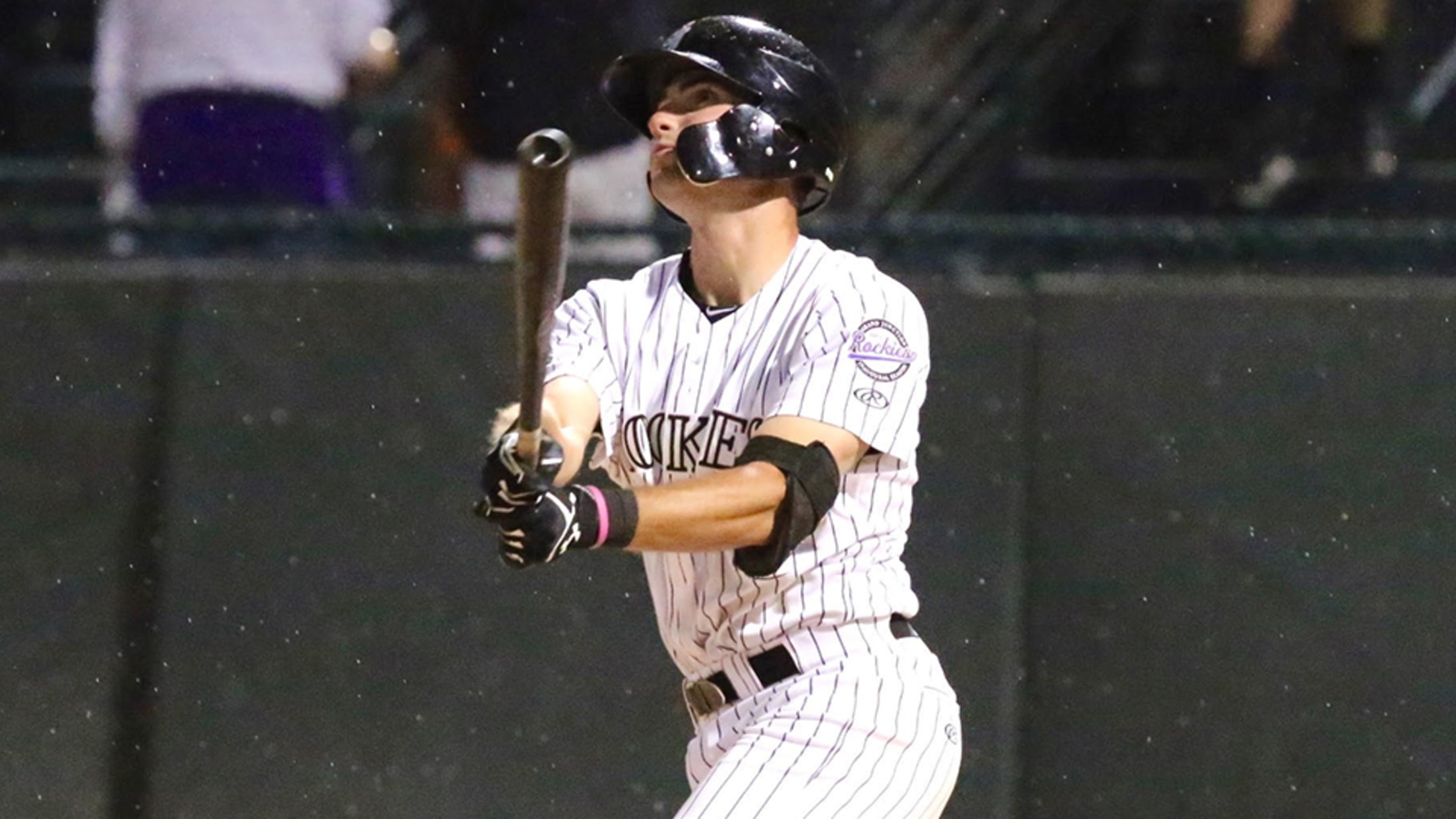 Ten of Nic Motley's 16 hits with Grand Junction have gone for extra bases. (Todd Bennett/Grand Junction Rockies)
While it probably goes without saying, Nic Motley attributed the big crooked number he posted in Saturday's box score to his teammates' strong effort at the plate.The Rockies' catching prospect knocked in a career-high seven runs and fell a double shy of the cycle in Rookie-level Grand Junction's 14-5 rout
While it probably goes without saying, Nic Motley attributed the big crooked number he posted in Saturday's box score to his teammates' strong effort at the plate.
The Rockies' catching prospect knocked in a career-high seven runs and fell a double shy of the cycle in Rookie-level Grand Junction's 14-5 rout of Idaho Falls at Suplizio Field.
Gameday box score
"That's what made it more fun. It's not just me who had a good night at the plate," the 14th-round pick in June's Draft said. "We really fed off each other and I think my teammates had a part in me doing well. They got the momentum rolling and kind of got the confidence up. I was able to feed off of that."
A 1-for-12 slump dropped Motley's batting average to .169 on Aug. 11. Over his last four games, however, the 14th-round pick in June's Draft has gone 6-for-17 to lift that mark 42 points.
"The coaches have really been working with me. They've been awesome," Motley said. "They've been really patient with me because I've had some really bad games, but they've kept working with me and stayed confident.
"I had some swing changes to make to try and get in a little bit of a rhythm and a load in my swing, which I didn't have really much of any. Before, I was kind of hitting from a standstill."
Through 24 games, the Texas community college product, has seen 10 of his 16 hits go for extra bases.
With Grand Junction staked to a 3-0 lead in the first inning and two runners on, the 21-year-old lifted a 1-0 fastball over the fence in left-center for his third homer.
"I just tried to put a good swing on it and I didn't think it was going to end up going out," Motley said. "I got a little lucky with the wind behind me and it went over."
In the second, Ramon Marcelino and Alan Trejo singled and Todd Czinege walked to set the stage for Motley. He cleared the bases with a triple, stretching the Rockies' lead to 11-2.
"It was almost the same pitch that he [Julio Pinto] threw me the at-bat before," Motley said. "I got the triple because it was to the deepest part of the field. I think it's just hitting line drives because I have problems getting under balls ... because I'm getting a little bit too big. But they do a really good job of just reminding me to hit line drives and good things will happen from there."
• Get tickets to a Grand Junction Rockies game »
Motley drew a two-out walk in the third and struck out on four pitches against right-hander Geoffrey Bramblett in the fifth.
After Marcelino smacked a one-out double to right in the seventh, Motley singled to left to drive in his seventh run and cap his career night.
Trejo collected four singles, scored twice and drove in two runs, while Mendoza homered, singled and plated three runs.
Pinto (3-7) was tagged for 12 runs and 11 hits, including three homers, in 1 1/3 innings for the Chukars.
Gerard Gilberto is a contributor to MiLB.com. Follow and interact with him on Twitter, @GerardGilberto4.