River Bandits on Hiatus until 2021
River Bandits on Hiatus until 2021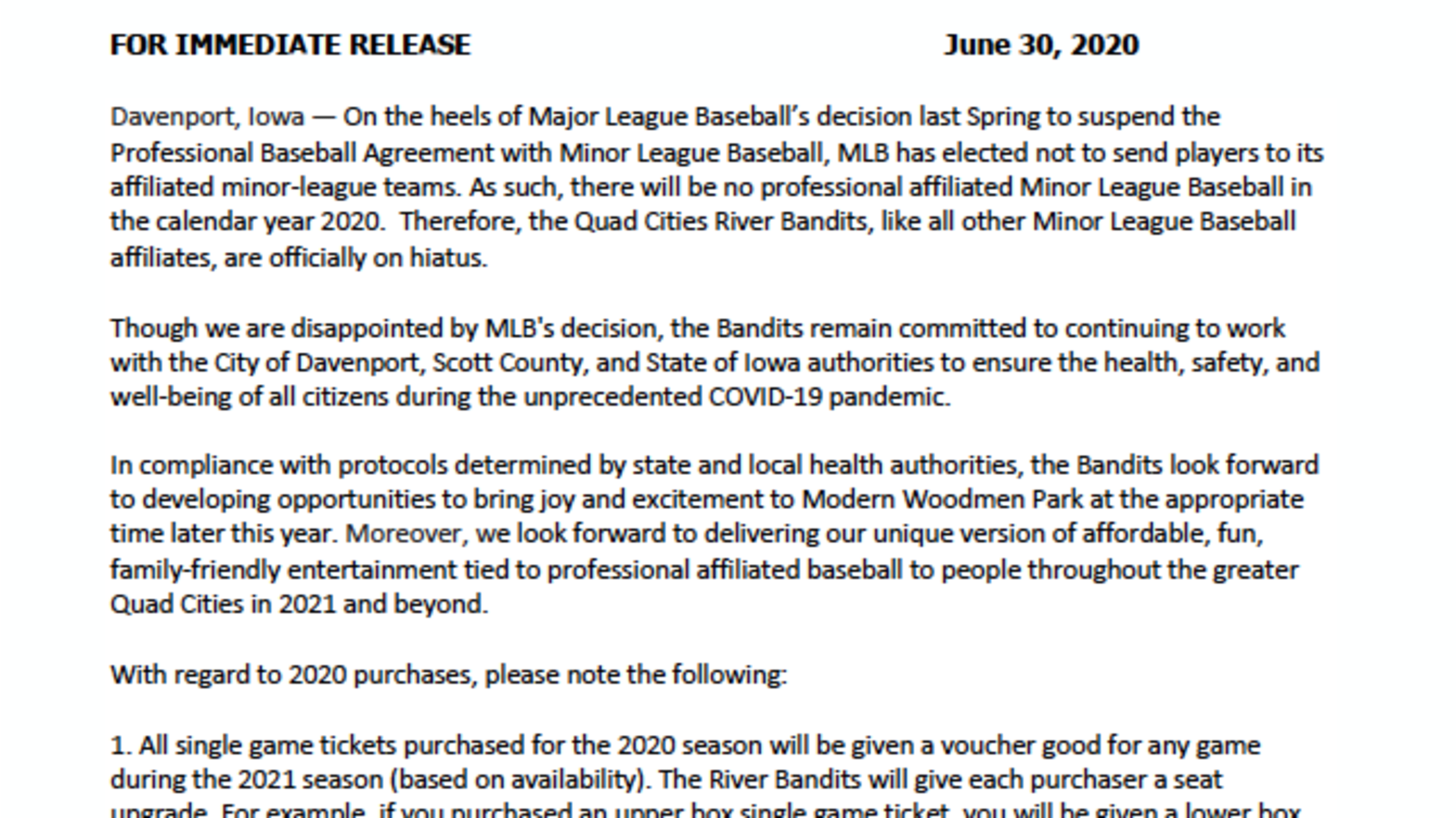 Davenport, Iowa — On the heels of Major League Baseball's decision last Spring to suspend the Professional Baseball Agreement with Minor League Baseball, MLB has elected not to send players to its affiliated minor-league teams. As such, there will be no professional affiliated Minor League Baseball in the calendar year
Davenport, Iowa — On the heels of Major League Baseball's decision last Spring to suspend the
Professional Baseball Agreement with Minor League Baseball, MLB has elected not to send players to its
affiliated minor-league teams. As such, there will be no professional affiliated Minor League Baseball in
the calendar year 2020. Therefore, the Quad Cities River Bandits, like all other Minor League Baseball
affiliates, are officially on hiatus.
Though we are disappointed by MLB's decision, the Bandits remain committed to continuing to work
with the City of Davenport, Scott County, and State of Iowa authorities to ensure the health, safety, and
well-being of all citizens during the unprecedented COVID-19 pandemic.
In compliance with protocols determined by state and local health authorities, the Bandits look forward
to developing opportunities to bring joy and excitement to Modern Woodmen Park at the appropriate
time later this year. Moreover, we look forward to delivering our unique version of affordable, fun,
family-friendly entertainment tied to professional affiliated baseball to people throughout the greater
Quad Cities in 2021 and beyond.
With regard to 2020 purchases, please note the following:
1. All single game tickets purchased for the 2020 season will be given a voucher good for any game
during the 2021 season (based on availability). The River Bandits will give each purchaser a seat
upgrade. For example, if you purchased an upper box single game ticket, you will be given a lower box
single game voucher.
2. All season ticket, group and single game suite purchases for the 2020 season will be credited towards
the 2021 season. The River Bandits will give each purchaser an additional 10% in ticket value. For
example, if $200 in tickets were purchased or deposit was placed for the 2020 season, the purchaser will
receive $220 in ticket credits for 2021.
3. All 2020 season sponsorships and suite leases will be transferred to the 2021 season. The River
Bandits will give each paid sponsor or paid suite lease purchaser an additional 10% in sponsorship
inventory or suite value credit in 2021. Any season sponsorship or suite lease holder who pays in full by
September 30, 2020 will also receive the 10% value credit for 2021.
All clients will be contacted via email by a River Bandits representative over the next four-six weeks.
ABOUT THE BANDITS: The 2020 season will be the River Bandits' eighth year as the Single-A affiliate of the Houston Astros and the 13th anniversary season since regaining the River Bandits moniker, which in 2015 was voted a top-8 nickname in all of Minor League Baseball. The River Bandits' charitable donations reached nearly $500,000 in 2019, including a $50,000 cash donation to Genesis Health Systems, and over $100,000 toward flood relief efforts after a record-setting flood displaced the team for over 20 games. In 2015 and again in 2017, the River Bandits earned Ballpark Digest's award for "Best Charitable Works" in Minor League Baseball, the only club to win that coveted award twice.
For more information, visit www.riverbandits.com , email [email protected], or contact the team at 563-324-3000.