New Skipper for Quakes in 2019
Mark Kertenian to lead Quakes this season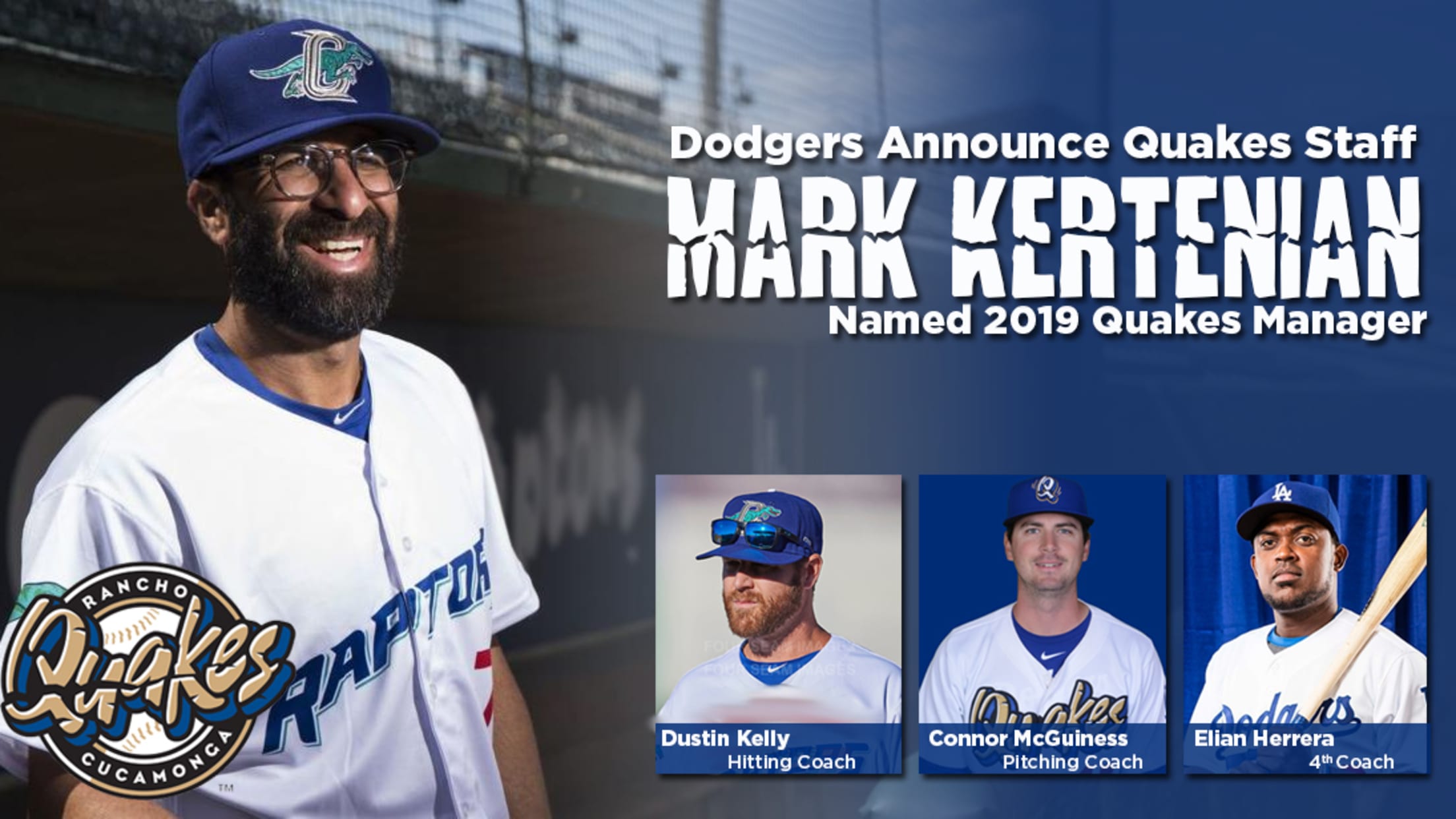 Rancho Cucamonga, CA - The Rancho Cucamonga Quakes will be led by a new manager in 2019, as the Los Angeles Dodgers have named their minor league coaching staffs for the upcoming season.Mark Kertenian is set to skipper the Quakes in 2019, as they defend their California League title.This will
Rancho Cucamonga, CA - The Rancho Cucamonga Quakes will be led by a new manager in 2019, as the Los Angeles Dodgers have named their minor league coaching staffs for the upcoming season.
Mark Kertenian is set to skipper the Quakes in 2019, as they defend their California League title.
This will be the third year in the Dodgers' system for the 39-year-old, as he won a Pioneer League title while managing the Ogden Raptors in 2017, before managing the Dodgers Arizona League team to the championship in 2018.
Born in Burbank, Calif., Kertenian played for two years at Los Angeles City College, before transferring to Point Loma Nazarene.
Kertenian obtained his B.A. in Political Science at Cal State Northridge before earning his Master's at Azusa Pacific University.
His coaching experience at the college level includes Cal State Northridge (2001-10), Nevada (2014) and Florida International University (2015-16).
The 2019 staff will be made up of only one returning coach, with Connor McGuiness set to reprise his role of pitching coach for a second straight year. Prior to his first season with the Quakes, the former Emory University product spent a season with the Great Lakes Loons of the Midwest League.
Newcomers to the coaching staff include hitting coach Dustin Kelly and bench coach Elian Herrera.
Kelly enters his second season with the Dodgers, after spending 2018 with the Ogden Raptors in the Pioneer League. A former infielder in Boston's minor league system, Kelly has also coached at California Polytechnic State University- San Luis Obispo.
Herrera spent four years in the big leagues, including two with Los Angeles. In four combined seasons between the Dodgers and Milwaukee Brewers, the Dominican Republic native hit .253 in 223 career games. His minor league resume includes three different stints with Inland Empire of the California League, from 2007-2009. This will be Herrera's first year coaching and first year with the Dodgers since 2013.
Former Quakes' skipper Drew Saylor, who helped lead the club to their 2018 Cal League Pennant, is now with the Pittsburgh Pirates organization, as he'll manage the West Virginia Black Bears of the New York-Penn League.
The Quakes open defense of their third Cal League Championship on Thursday, April 4th, as they travel to Stockton to open the 2019 season. One week later, the Quakes will return to Rancho and LoanMart Field, hosting the Lancaster JetHawks in the home opener. Season Tickets, Mini-Season Tickets and Group Tickets are on sale now by calling (909) 481-5000 or by visiting the Quakes' website at rcquakes.com. We look forward to seeing you at LoanMart Field...Go Quakes!