Johneshwy Fargas energizes Flying Squirrels with need for speed
Puerto Rican outfielder balances baseball, family in journey to big leagues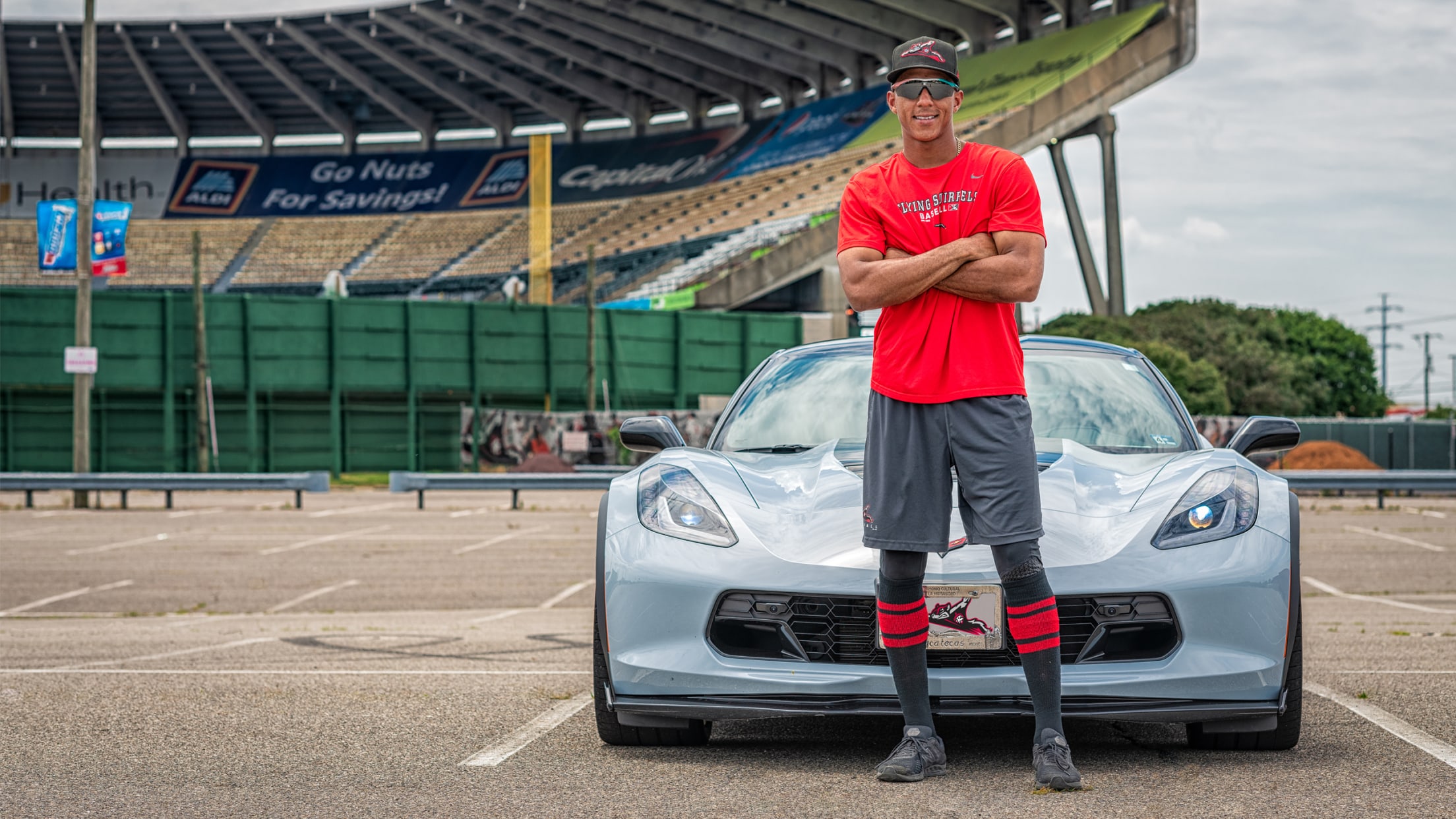 Johneshwy Fargas, the Eastern League's leader in stolen bases, has been driving a Chevrolet Corvette to the ballpark. (James H Loving)
Originally published in Issue No. 6 of The NutshellJohneshwy Fargas loves to go fast, both on the field and off.On the field, Fargas is leading the Eastern League and the San Francisco Giants organization with 21 stolen bases. Last season, he led the California League with a 47 steals, 10 more
Originally published in Issue No. 6 of The Nutshell
Johneshwy Fargas loves to go fast, both on the field and off.
On the field, Fargas is leading the Eastern League and the San Francisco Giants organization with 21 stolen bases. Last season, he led the California League with a 47 steals, 10 more than any other player. During a series earlier this month against the Reading Fightin Phils, Fargas swiped his 200th career base.
"When I'm on the bases, as soon as I get to first or second base, I want to get to the next bag," Fargas said. "If they throw me out, the next time I get on base, I'm going to try to steal again. I'm not afraid to run."
Off the field, Fargas drives a white Chevrolet Corvette, a car that blasts from 0 to 60 mph in less than 3 seconds. He won't admit the fastest he's ever gone while driving it.
"I love speed," Fargas said. "So I love (the car). That's why I want to have that car - because I want to drive a car that has speed, too."
His flashy ride draws attention from onlookers - fellow players, coaches and ballpark employees alike. Overall, it's a representation of the kind of player Fargas has become since he was selected by the San Francisco Giants in the 11th round of the 2015 MLB draft.
"He's definitely a sparkplug for us here," manager Willie Harris said. "If he gets going and when he is going, it's a lot of fun to watch, and the team just thrives off of it."
Fargas -- a native of Trujillo Alto, Puerto Rico -- began playing baseball when he was 5 years old after watching his two older brothers play. They also played basketball and raced one another.
After he was drafted, Fargas bought his mom Marisol Quiñones a house as a gift. It became the house that Fargas and his family -- including his daughter Johneshly -- took shelter in when Hurricane Maria struck Puerto Rico in September 2017.
"We were together, so we helped each other," he said. "And we're good right now, thank God. But too many families over there are hurt. People dead, houses destroyed, cars gone. It was really bad. For a month, we had no power."
His daughter will turn three next month, and Fargas is hoping to celebrate with her during a visit to Richmond. He says it's difficult to not be with his family more often, but he knows that succeeding on the field will lead to a better life.
"When I have to focus on baseball, it's baseball," he said. "When I'm with my family, during the offseason, I focus on my family. You have to put your family on the side sometimes because if you focus on baseball and make it to the big leagues, you can help your family. If you throw away baseball, how are you going to help them? If they need something, I'm going to be there to help them."
Fargas has been making strides and opening eyes this season - and not just with his car. Prior to the season Harris said Fargas might be the most underrated player on the Flying Squirrels' Opening Day roster.
"He's full of energy every day," Harris said. "He comes in excited whether he's in the lineup or not. That's what I like about him - you can never tell when things are going good for him or bad for him. He's always the same. That's a very, very tough characteristic to pick up at his age."
That maturity is paying dividends on the field. Playing at the Double-A level for the first time, Fargas has adjusted to more advanced pitching and has been concentrating on being more patient at the plate and on the bases, even with his elite quickness.
"I can't steal on every pitch," he said. "I have to look at the scoreboard, the pitcher's movement, see who is hitting behind me and understand the situation. That's going to dictate a lot. I always try to hit line drives, get on base, score and be that guy that gives some energy to the team."