Sox Star Dalbec Named 2018 Carolina League MVP
Slugging Third Baseman First Salem Sox Player to Win Award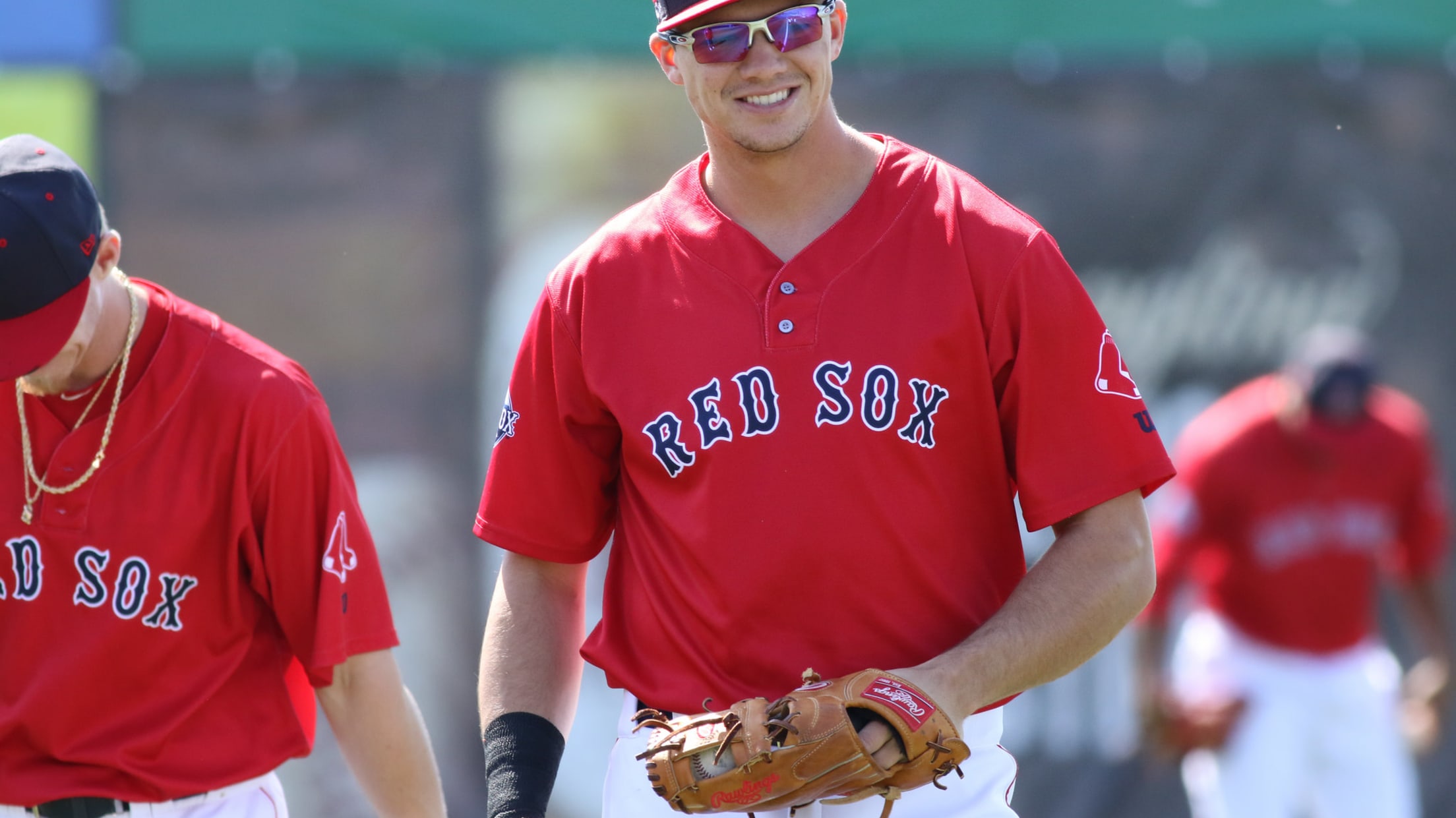 Bobby Dalbec is the first Salem Red Sox player to win Carolina League MVP honors. (Andy Grosh / MiLB)
SALEM, VA (September 12, 2018) - The Salem Red Sox are pleased to announce that third baseman Bobby Dalbec was dubbed the Carolina League's 2018 Most Valuable Player and a Year-End All-Star, while athletic trainer Nick Kuchwara was tabbed as the league's top trainer.Dalbec, 23, is the first Salem player
SALEM, VA (September 12, 2018) - The Salem Red Sox are pleased to announce that third baseman Bobby Dalbec was dubbed the Carolina League's 2018 Most Valuable Player and a Year-End All-Star, while athletic trainer Nick Kuchwara was tabbed as the league's top trainer.
Dalbec, 23, is the first Salem player in the Red Sox era (2009-present) to win MVP honors, and the first Salem player to do it since Mitch Einertson in 2007. He's the eighth player in Salem history to earn the award, joining a list that includes slugging outfielders Brad Hawpe (2002) and Dave Parker (1972). It's the second straight season that Salem has had just one Year-End All-Star, with first baseman Josh Ockimey earning the nod in 2017.
Kuchwara earned the honor of the CL's top trainer in his third season with Salem and fifth in the Boston Red Sox system. He was the trainer for Lowell in 2015, having previously worked in in Portland and Pawtucket. He hails from San Antonio, Texas, and now resides in Colorado.
Dalbec entered the season ranked by Baseball America as the Red Sox' No. 5 prospect, as well as the best power hitter among Boston minor leaguers. He more than backed up those accolades, hitting a Red Sox-era record 26 homers, which was three more than any other Carolina Leaguer. Dalbec started the year with remarkable consistency, bashing five homers in each of the first three months of the season while averaging 18.7 runs batted in per month. Despite leading the league in homers and being second in both RBI and extra-base hits at the All-Star Break, Dalbec was not named a Carolina League Mid-Season All-Star.
Once the second half began, Dalbec went on a remarkable tear. Over his final 35 games with Salem, Dalbec batted .323 with 12 homers, 37 RBI and a staggering 1.154 OPS. His July was tremendous, as he racked up 10 homers and 28 RBI in 26 games, though he missed out on CL Player of the Month honors. He finished his tenure with Salem on August 1, when he walked, tripled and homered against the Lynchburg Hillcats. Boston promoted Dalbec to the Double-A Portland Sea Dogs on August 3, and he performed well over his last 29 games, batting .261 with six more homers and 24 RBI.
Dalbec finished 2018 atop the Carolina League in a number of categories, including homers (26), RBI (85), extra-base hits (55), slugging percentage (.573), and on-base plus slugging percentage, or OPS (.945). His 32 total homers were tied for the fourth-most in the affiliated minor leagues, his 70 extra-base hits were one off MiLB leader Alex Kiriloff's 71, and his 109 RBI were second only to New York Mets prospect Peter Alonso (119).
Dalbec hit 13 of his Salem homers at Haley Toyota Field, and 13 homers were multi-run shots. The Sox went 15-10 when he homered, and his 10 July homers bested Xander Bogaerts' June in 2012 (8) for most in a month in the Red Sox era.
His 55 extra-base hits on the year passed the old Red Sox-era benchmark (51, Rafael Devers, 2016), and his slugging percentage surpassed Travis Shaw's 2012 mark of .545. Dalbec topped Michael Chavis' all-time team record for most homers at Haley Toyota Field (13 to 12), and he passed Brandon Jacobs' Sox-era career record of 24 with his 25th dinger. He ranks third on the all-time Salem single-season homer leaderboard, with only Charlie Howard's 27 in 1968 and Gerry Davis's 34 in 1981 ahead of him.
Dalbec is the first Salem player to lead the Carolina League in homers since Mark Saccomanno tied for the league lead with 22 in 2004, and the first to win the home run crown outright since Davis' remarkable 1981 season. He's also the first Salem player to top the circuit in RBI since Armando Romero did it in 1990 with 90 RBI, and just the fifth in franchise history.
With his All-Star selection, Dalbec joins a select group in the Red Sox era, becoming just the 16th player to earn that distinction. Of the preceding 15 players to win Year-End All-Star honors, 10 have played in the majors, including current Boston Red Sox stars Bogaerts, Devers, Jackie Bradley Jr. and Christian Vázquez. Other honorees no longer with the Boston organization include Shaw (Milwaukee Brewers), Yoán Moncada (Chicago White Sox), and Ryan Lavarnway (Oakland Athletics).
Drafted in the fourth round of the 2016 MLB Draft from the University of Arizona, Dalbec made his pro debut in 2016, batting .386 with seven homers in 34 games for the Short Season-A Lowell Spinners. He was named New York-Penn League Player of the Week for August 15-21 and 22-28 in that year, and was tabbed as the Red Sox Minor League Hitter of the Month for August/September. In 2017, Dalbec was limited by a hamate injury, batting .246 with 13 homers and 39 RBI in 78 games for the Low-A Greenville Drive. At Arizona, he was a Louisville Slugger Freshman All-American, and led the 2015 Cape Cod League with 12 homers for the Orleans Firebirds. A two-way star for the Wildcats, he led Arizona with 15 homers and 58 RBI as a sophomore, and played for Team USA in 2015.