Corcino slams Keys in 12-7 win
DeJesus tosses another quality start to secure the series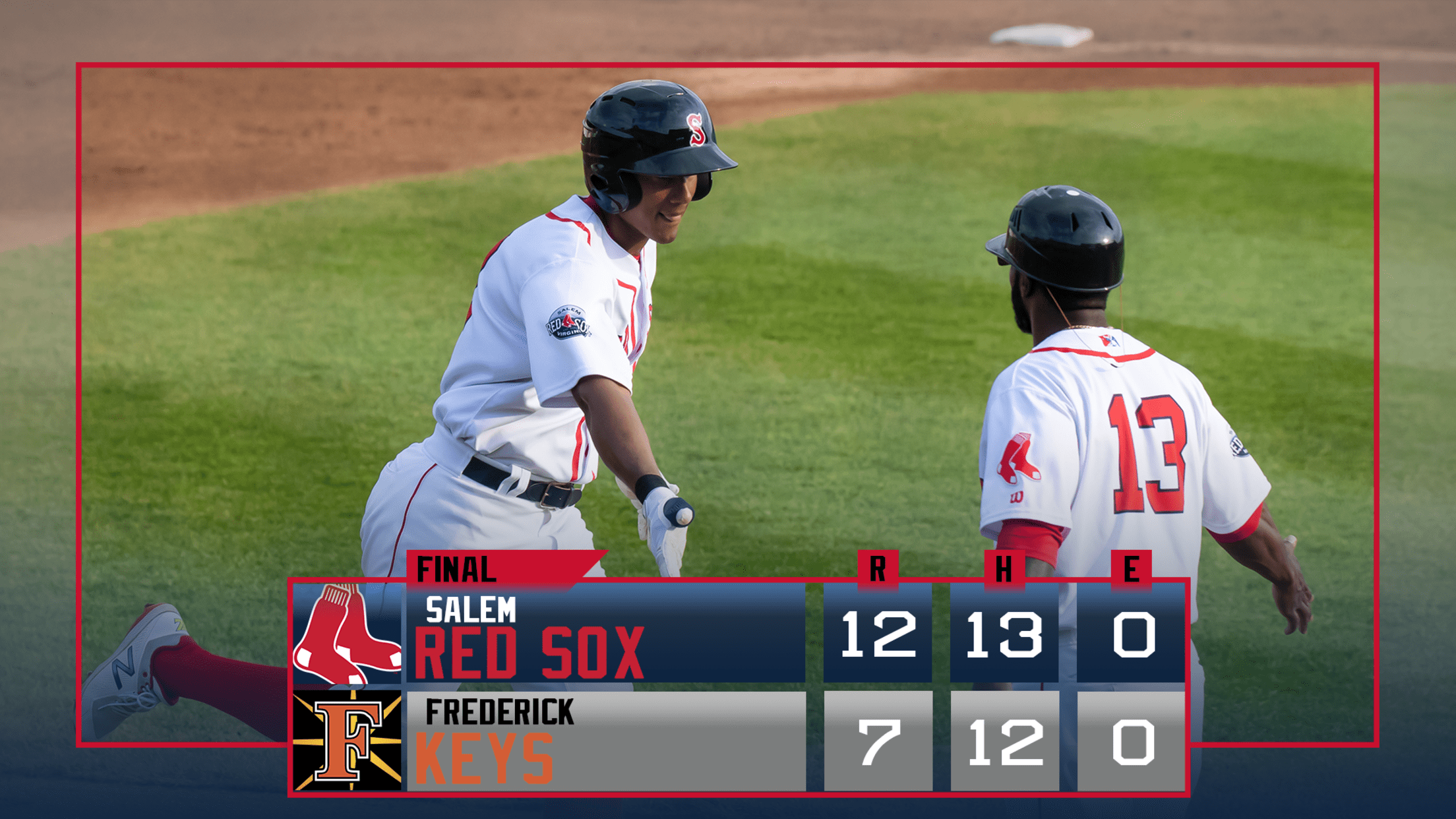 (John Wacher)
FREDERICK, Maryland (July 15, 2019) - Edgar Corcino blasted the Red Sox to a 12-7 win over Frederick for the series win Monday afternoon at Haley Toyota Field.How it Happened * Edgar Corcino broke the contest open in the second inning with a solo shot over the 28-foot wall to
FREDERICK, Maryland (July 15, 2019) - Edgar Corcino blasted the Red Sox to a 12-7 win over Frederick for the series win Monday afternoon at Haley Toyota Field.

How it Happened
* Edgar Corcino broke the contest open in the second inning with a solo shot over the 28-foot wall to put Salem up 1-0.
* A pair of walks and a single by Ryan Fitzgerald loaded the bases with two outs in the top of the third inning when Pedro Castellanos broke his hitless streak with an RBI single. Garret Benge followed suit, driving in two more runs on a single to left field and Corcino added his second RBI of the day with a base hit to extend the Sox' 5-0 over Frederick.
* Frederick found its way on the board in the bottom of the frame when Zach Jarrett knocked in an RBI to cut the lead 5-1.
* Jagger Rusconi led-off the fourth with a walk and came home on a single from Victor Acosta to reclaim a 6-1 advantage.
* Corcino destroyed his second home run of the day for an 8-1 difference after five innings.
* Garrett Benge delivered the ninth run of the day with a double in the sixth frame.
* The Keys scratched a run in the home half of the inning on an infield single by Jomar Reyes to cut the score 9-2.
* Fitzgerald sparked the eighth inning with a double. Back-to-back walks loaded the bases for Corcino who promptly scored two more on his fourth hit of the day. Nick Sciortino capped the run with an infield single and whopping 12-2 lead.
* Frederick rallied in the eighth and ninth innings, pushing five runs on a trio of doubles before running out of time and falling 12-7.
Standout Sox
* Edgar Corcino: 4-for-5, 6 RBI, 2 R, 2 HR
* Enmanuel De Jesus: 6.0 IP, 6 H, 2 R, 2 ER, 2 BB, 6 K - W (6-6)
* Garrett Benge: 2-for-3, 3 RBI, 2 R, 2B, 3 BB
* Pedro Castellanos: 2-for-5, RBI, 2 R

Noteworthy
* Edgar Corcino became the third Salem player this season to record two home runs in three games (Marcus Wilson, Dylan Hardy). He ties the individual, single game RBI record for 2019 at six, first set by Dylan Hardy April 19th Nymeo Field.
What's Next
Salem Red Sox vs. Down East Wood Ducks Wednesday, July 17, 2019. First pitch is scheduled for 7:05 PM EST.
RHP Daniel Gonzalez vs. TBA
Listen: SalemSox.com, TuneIn Radio, ESPN Blacksburg WKEX 1430 AM/94.1 FM, WGMN 1240 AM/93.3 FM
Watch: MiLB.TV
The Salem Red Sox are the Advanced-A affiliate of the Boston Red Sox and call Haley Toyota Field in Salem, Virginia home. The team was founded in 1968 and purchased by Fenway Sports Management in December of 2007. For more information on the Salem Red Sox, please visit SalemRedSox.com or contact Melanie Newman at [email protected].