Madden knocks Sox to 5-1 and series win
Salem splits Monday with Myrtle Beach, Diaz scoreless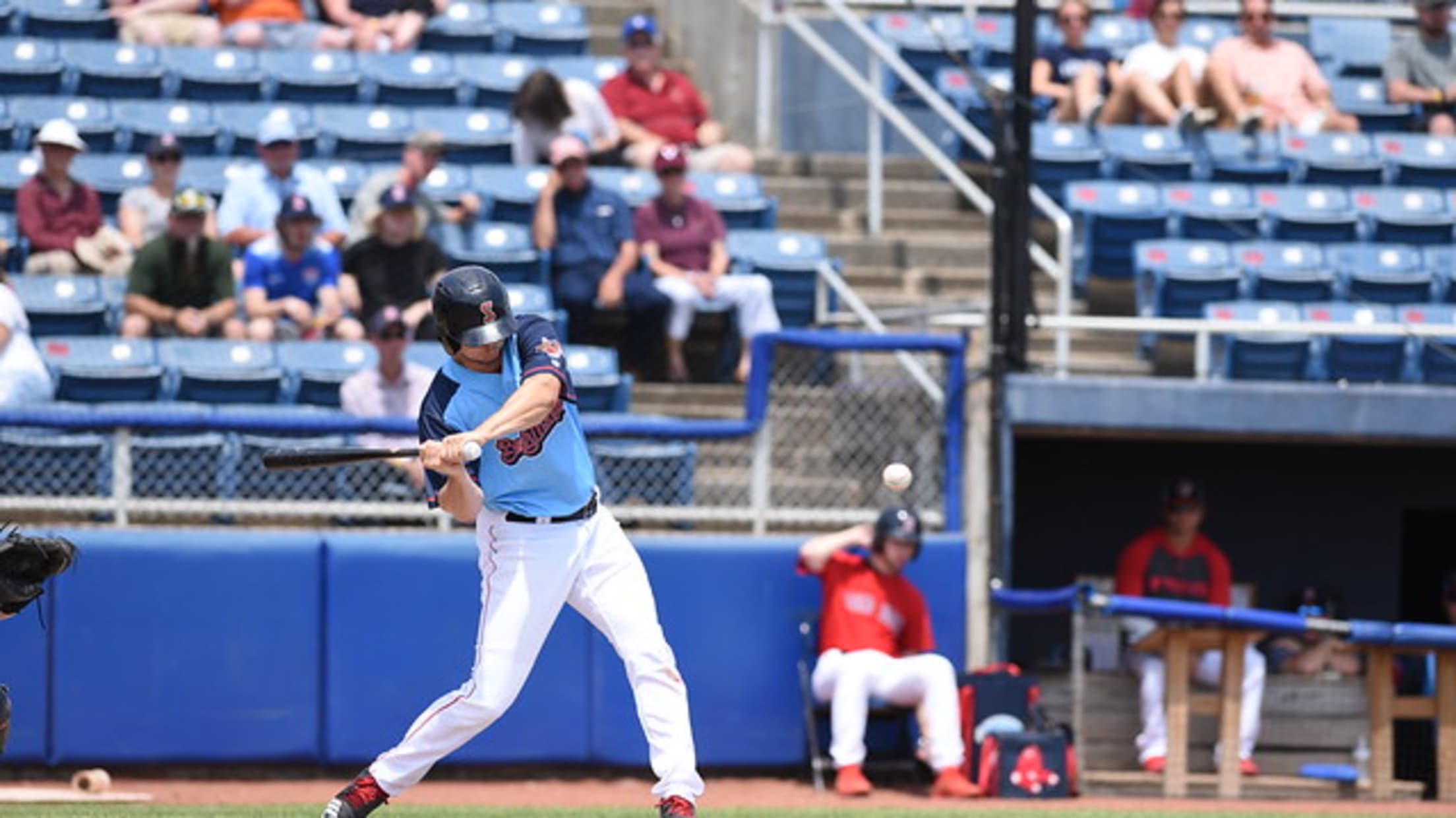 Charlie Madden drove home four runs in Monday's tilt with Myrtle Beach. (Gary Streiffer)
MYRTLE BEACH, South Carolina (July 22, 2019) - After falling 6-1 in Sunday's suspended game, Charlie Madden backed Jhonathan Diaz's scoreless outing with four RBI for a 5-1 win to take the series Monday night at TicketReturn.com Field.GAME ONEHow it Happened * The Birds struck early on a sacrifice fly
MYRTLE BEACH, South Carolina (July 22, 2019) - After falling 6-1 in Sunday's suspended game, Charlie Madden backed Jhonathan Diaz's scoreless outing with four RBI for a 5-1 win to take the series Monday night at TicketReturn.com Field.

GAME ONE
How it Happened
* The Birds struck early on a sacrifice fly in the first inning for a 1-0 lead.
Carlos Sepulveda extended the advantage, 3-0 with a two-run single in the fifth inning to advance 3-0.
Salem responded in the top of the seventh inning after Jagger Rusconi and Michael Osinski knocked back-to-back doubles, Nick Sciortino put the ball in play and shortstop Aramis Ademan committed an error, allowing Rusconi to score and cut the lead 3-1.
* Myrtle Beach tacked on insurance in the bottom of the frame, scoring three on a passed ball and pair of RBI to cement a 6-1 difference.
* Before the eighth inning could begin, time was called due to the lights in right field not working. The game was suspended after 44 minutes to be resumed Monday.
* Algenis Martinez tossed one inning of hitless baseball with one strikeout in the resumption.
Standout Sox
* Jagger Rusconi: 1-for-3, R
* Algenis Martinez: 1.0 IP, 0 H, 0 R, 0 ER, 0 BB, 1 K

GAME TWO
How it Happened
* Salem came back with a vengeance, Pedro Castellanos knocked a triple to score Victor Acosta and claim a 1-0 lead in the first inning.
* Castellanos singled to start the fourth inning, Keith Curcio and Edgar Corcino drew consecutive walks to load the bases when Charlie Madden hit a line drive single to score two and pile on, 3-0.
* Jhonathan Diaz finished after five innings, permitting no runs and just four hits while striking out four.
* Madden delivered again in the sixth, after Castellanos walked and Curcio doubled, both came home on another single to continue ahead 5-0.
* Myrtle Beach's lone run scored in the bottom of the sixth inning when Miguel Amaya scored on an error to cut the lead 5-1.
* Hunter Smith finished the final two frames with no earned runs and one strikeout.
Standout Sox
* Charlie Madden: 2-for-3, 4 RBI
* Jhonathan Diaz: 5.0 IP, 4 H, 0 R, 0 ER, 1 BB, 4 K - W (5-6)
* Pedro Castellanos: 2-for-3, RBI, 2 R, 3B
* Keith Curcio: 1-for-3, 2 R, 2B
* Hunter Smith: 2.0 IP, 3 H, 1 R, 0 ER, 0 BB, 1 K

Noteworthy
* Fitzgerald's single in the fourth inning of game two and single in the third inning of game three extended his hit streak to 11 games, tying his season high.
* Jhonathan Diaz's outing was his fifth of seven second-half starts in which no earned runs were permitted.
What's Next
Salem Red Sox vs Winston-Salem Dash Tuesday, July 23 2019. First pitch is scheduled for 7:05 PM EST.
RHP Dylan Thompson vs. LHP Konnor Pilkington
Listen: SalemSox.com, TuneIn Radio, ESPN Blacksburg WKEX 1430 AM/94.1 FM, WGMN 1240 AM/93.3 FM
Watch: MiLB.TV
The Salem Red Sox are the Advanced-A affiliate of the Boston Red Sox and call Haley Toyota Field in Salem, Virginia home. The team was founded in 1968 and purchased by Fenway Sports Management in December of 2007. For more information on the Salem Red Sox, please visit SalemRedSox.com or contact Melanie Newman at [email protected].