Winston-Salem takes series with 6-1 win
Ryan Fitzgerald records 3-for-4 day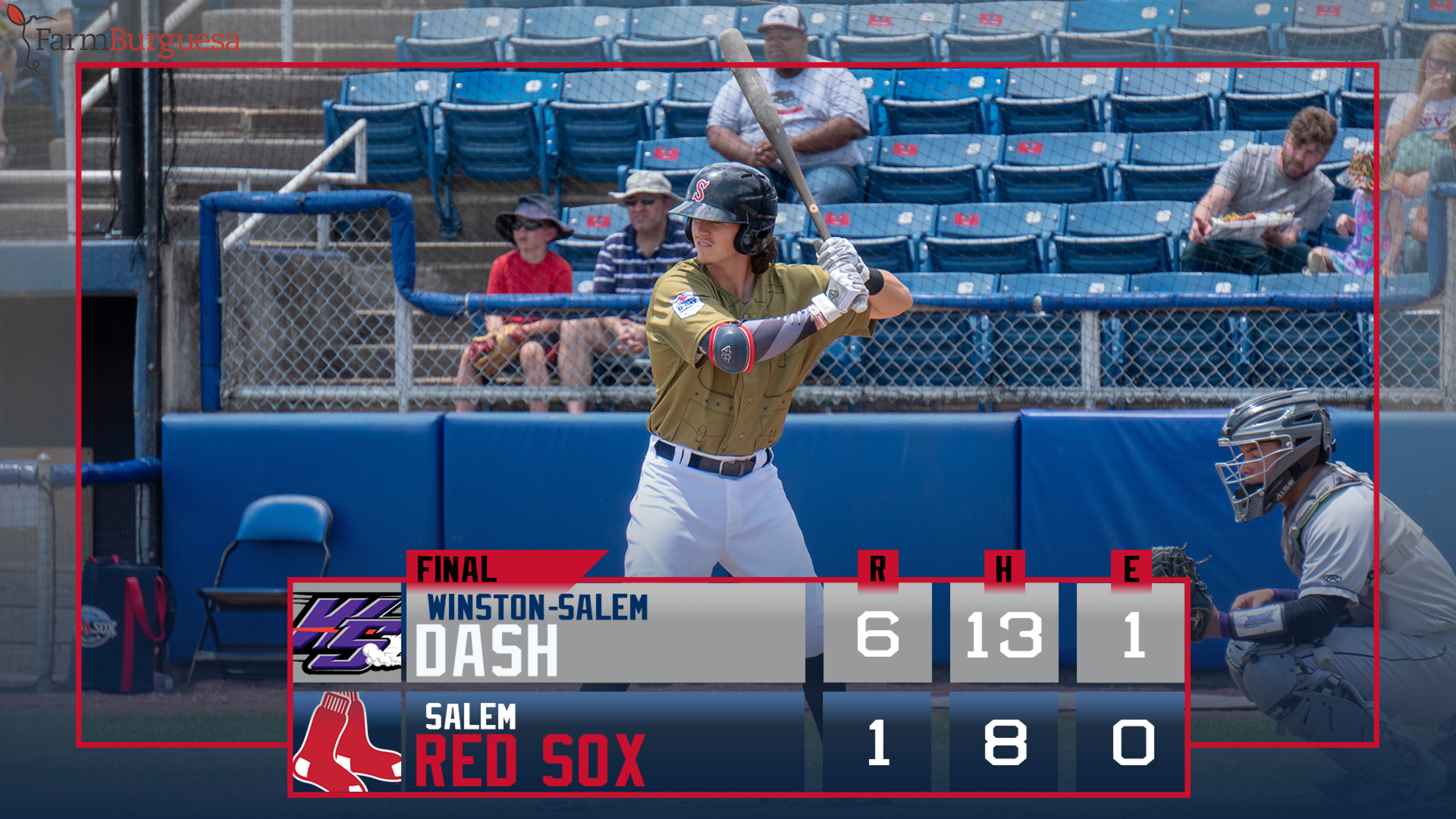 Ryan Fitzgerald pushed Salem's sole run Monday afternoon. (Troy Wisneski)
SALEM, Virginia (May 27, 2019) -  The Salem Red Sox fell to the Winston-Salem Dash 6-1 Monday afternoon at Haley Toyota Field.How it Happened* Tyler Frost broke up a scoreless contest with a 2-run home run in the third inning to give the Dash a 2-0 lead. Zach Remillard doubled
SALEM, Virginia (May 27, 2019) - The Salem Red Sox fell to the Winston-Salem Dash 6-1 Monday afternoon at Haley Toyota Field.

How it Happened
* Tyler Frost broke up a scoreless contest with a 2-run home run in the third inning to give the Dash a 2-0 lead. Zach Remillard doubled in the fifth frame to advance 3-0.
* Ryan Fitzgerald recorded Salem's only run with an RBI single in the sixth inning.
* Hunter Smith threw 1 1/3 innings of no-hit ball in relief.
* Winston-Salem closed the door, 6-1, with a three-run double from Frost in the eighth inning.

Standout Sox
* Ryan Fitzgerald: 3-for-4, RBI, 2B
* Victor Acosta: 2-for-4
* Hunter Smith: 1.1 IP, 0 H, 0 R, 0 BB, K

Noteworthy
* The Red Sox sported special jersey in light of Memorial Day. The jerseys are designed after the uniforms troops wore 75 years ago on D-Day as a tribute to the national monument located here in the Roanoke Valley.

What's Next
Salem Red Sox at Down East Wood Ducks, Wednesday, May 29, 2019. First pitch is scheduled for 7:00 PM EST
RHP Kutter Crawford vs RHP Jason Bahr
Listen: SalemSox.com, TuneIn Radio, ESPN Blacksburg WKEX 1430 AM/94.1 FM, ESPN Roanoke WGMN 1240 AM/93.3 FM
Watch: MiLB TV
The Salem Red Sox are the Advanced-A affiliate of the Boston Red Sox and call Haley Toyota Field in Salem, Virginia home. The team was founded in 1968 and purchased by Fenway Sports Management in December of 2007. For more information on the Salem Red Sox, please visit SalemRedSox.com or contact Melanie Newman at [email protected].