Feeling the joy on opening day
Missions set to face Clayton Kershaw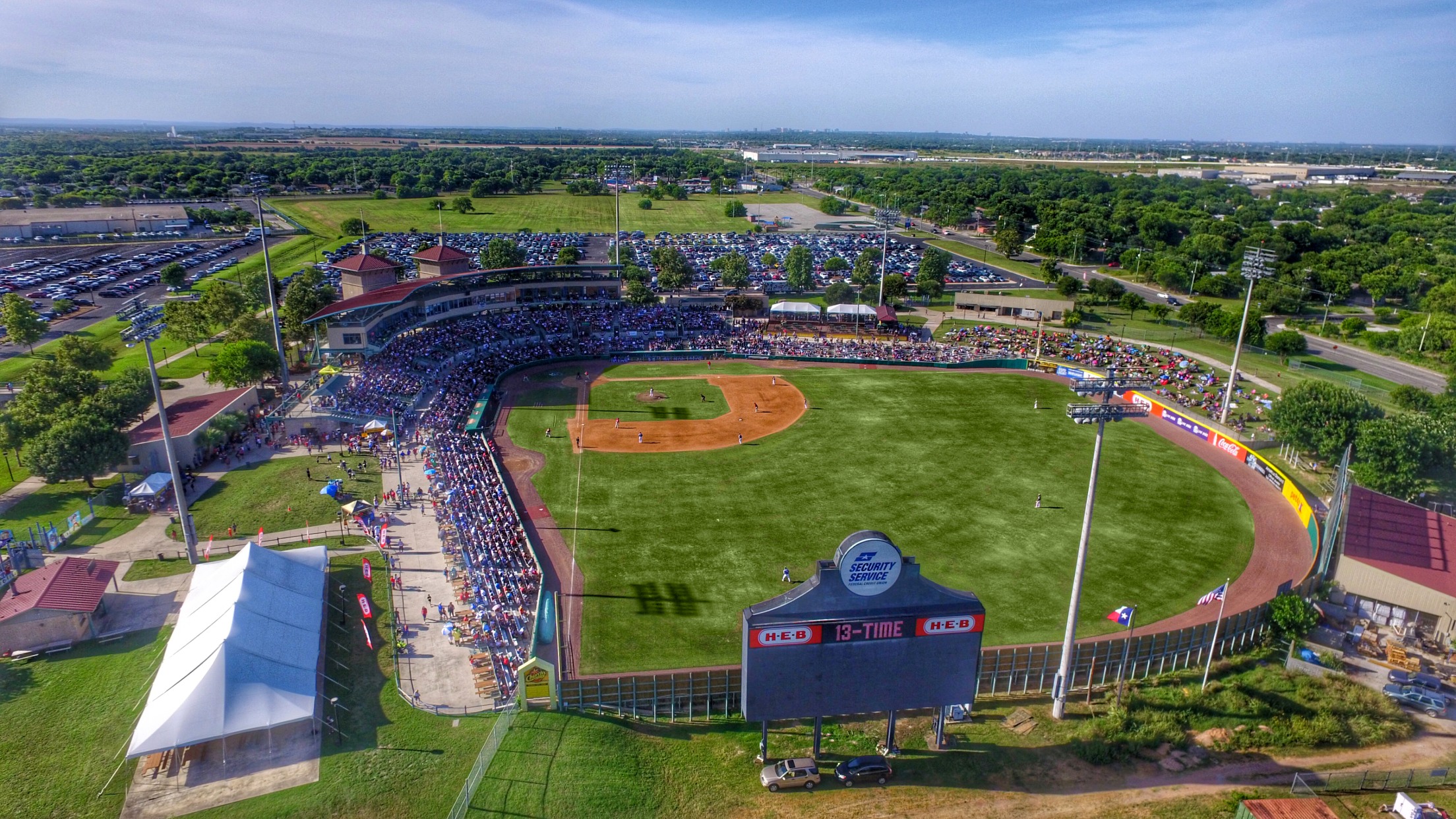 DCIM\100MEDIA\DJI_0041.JPG
Did the opening day of the major league baseball season last week really seem more joyful and poignant than usual?It did for me.In Milwaukee, fans are still buzzing about Lorenzo Cain's catch at the center field wall to clinch the Brewers' Game 1 victory over the St. Louis Cardinals.It was
Did the opening day of the major league baseball season last week really seem more joyful and poignant than usual?
It did for me.
In Milwaukee, fans are still buzzing about Lorenzo Cain's catch at the center field wall to clinch the Brewers' Game 1 victory over the St. Louis Cardinals.
It was a leaping grab punctuated initially with a roar from the crowd at Miller Park, and then with Cain gleefully throwing his glove into the air like a little leaguer.
Within the first few nights of the season, Brewers star Christian Yelich seemed to be on all the highlight reels, stroking home runs and game-winning hits.
Now, we have the new Triple-A affiliate of the Brewers, the San Antonio Missions, set to open a new era Thursday night in Oklahoma City.
Not only are the Missions scheduled to make their Pacific Coast League debut, but they're expected to face Los Angeles Dodgers' ace Clayton Kershaw, who is scheduled to pitch for the Oklahoma City Dodgers on a rehabilitation assignment.
Missions players are stoked about the chance to face the three-time, National League Cy Young award winner.
"That's awesome," right fielder Tyrone Taylor said. "When I go up to face him, I'll probably get these little jitters. It'll be a cool moment. But then I'll need to lock it in and play some baseball."
Taylor is from Torrance, in Southern California, and he grew up as a Dodgers fan.
When Taylor watched Dodgers games on television as a kid, he marveled at the array of pitches that Kershaw could locate, particularly the curve ball.
"He could throw any pitch, in any location that he wanted to," Taylor said. "I think he's good with every pitch. I don't want to speak for him, for what he considers his strikeout pitch. But I know (the curve) is really nasty.
"It looks like it's falling from the sky when you're watching on TV. I hope it doesn't look like that (on Thursday) from the batters' box."
Missions pitcher Adrian Houser, a native Oklahoman, will oppose Kershaw in the first of five straight games between San Antonio and OKC at the Chickasaw Bricktown Ballpark.
"One of the best pitchers in the game now and probably ever," Houser said. "He's been doing it for such a long time, and (he) just dominates every time he goes out there.
"He's just a winner, and never gives up. He's someone that a lot of young people can look up to and emulate, because he's been so good."
It's not known, at least among the Missions, how many pitches Kershaw will be allowed to throw.
He's coming off a bout with shoulder inflammation that forced the Dodgers to scratch him from what would have been his ninth straight opening-day start in the majors.
So, some are guessing four or five innings.
Houser shook his head when asked to assess Kershaw's eight-straight opening-day starts in the majors before this year.
"It's a very special thing," he said. "Pretty amazing."
For me, personally, this whole month with the Missions has been an amazing ride, and maybe that's why the start of this season has seemed so different.
But, you know what? I do believe that others are feeling the emotions, as well.
Frankly, I think part of it stems from how the country is so divided politically. I also think it's because some people are hurting in so many ways.
Economically, personally, whatever.
Nationally, people are dismayed with a seemingly continuous threat of natural disaster.
If it's not a hurricane in Texas or Florida, it's a wildfire in California.
Speaking at media day Tuesday afternoon, Taylor said he wasn't affected personally by the blazes in his home state last year.
But plenty of people were devastated, and he's grateful for the first-responders that worked so hard to bring the fires under control.
Taylor also applauded fundraising efforts engineered by Yelich, Ryan Braun and other members of the Brewers who live in some of the affected areas.
"I mean, it's cool to see everyone come together and help one another," he said. "I think that should be a big thing that the world does in general. It's definitely inspiring, and it's a cool thing to see."
For me, it's also pretty cool to see fans finally get to settle into their seats at the ballpark for opening day, following an offseason of adversity for so many.
Haven't we all experienced a few, real-life, sharp-breaking curve balls?
Houser said it's gratifying to be able to help supply a pleasant diversion for the benefit of those who enjoy the game.
"I mean, it's a kid's game that we play, and it's a lot of fun to do," he said. "It's very special. It's a better game when more people come out … so, you know, come on out, have some drinks and a hot dog and enjoy the old, classic American baseball game."
MISSIONS NOTES
The Missions have set their pitching rotation for the five games in Oklahoma City. After Houser, others in line to take the mound are Bubba Derby, Zack Brown, Aaron Wilkerson and San Antonio native Burch Smith. Houser is expected to get the ball for the team's home opener on April 9 against Memphis.