Remembering the Days of the 'Dawgs'
New Missions Pitching Coach Traveled the Road Across Canada to Find his MLB Dream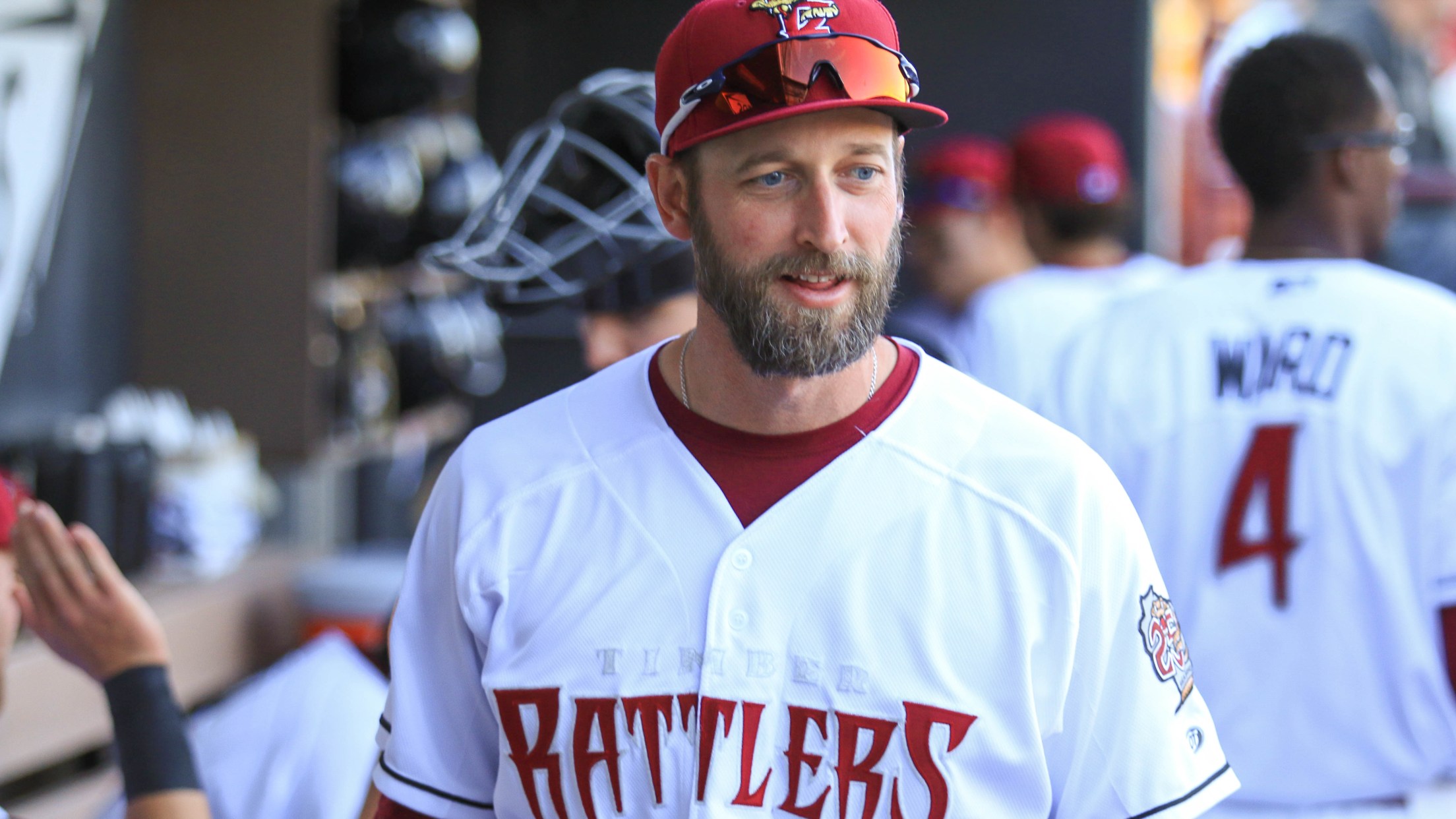 (Wisconsin Timber Rattlers)
First-year San Antonio Missions pitching coach Jim Henderson can tell you a few stories about growing up as a young baseball player north of the U.S. border in Alberta, Canada.Likewise, Henderson's former youth league coach in Calgary can also tell you a few tales, as well.Back in 1996, John Ircandia
First-year San Antonio Missions pitching coach Jim Henderson can tell you a few stories about growing up as a young baseball player north of the U.S. border in Alberta, Canada.
Likewise, Henderson's former youth league coach in Calgary can also tell you a few tales, as well.
Back in 1996, John Ircandia and some other dedicated baseball parents started a powerhouse travel team that they called the Calgary Dawgs. Seeking an extended season and better competition, the Dawgs broke away from Little League and Babe Ruth ball and started to hit the highway for out-of-town competition. Henderson said it was great fun, with multiple boys crammed into the back of family vehicles, rolling down the road in search of a dream.
"There were a handful of fathers, four or five of them, who had trucks or SUVs," he said. "We'd pile in, and we'd just go. Lots of hours (on the road)."
Ircandia said the athletes played together on the same team, essentially, through high school. When the boys were 14, the Dawgs upgraded, gaining enough funding to fly commercial to a showcase in Florida. A few years later, they played against highly-rated American ball clubs in Phoenix. The players flourished, Ircandia said, with most on the team earning college scholarships. Also, one of them - Henderson - would go on to play 14 seasons of professional baseball, including four in the major leagues.
As a result, the program continued to grow, until pretty soon it didn't even resemble the initial operation. Initially, when Henderson played, the Calgary Dawgs sometimes had to scramble to find places to practice. At times, they worked out in fields that had "some pretty big rocks," not to mention a few gopher holes, Henderson said.
Today, thanks to fundraising efforts, the Dawgs have relocated. They're based 30 miles south of Calgary in Okotoks, a town of about 30,000 people, where they have use of a $25 million stadium complex. The complex includes four stadiums and an indoor training facility, which comes in handy during the frigid Canadian winters. One of the stadiums, with seating for 4,000, serves as the home field to a collegiate summer league team. In addition, the program sponsors seven elite youth travel teams.
"This all started, really, with Jim and that original group," said Ircandia, the founding and managing director of Okotoks Baseball Club, Ltd.
Henderson, 37, a Phoenix-area resident who grew up in Calgary, marvels at the quality of the facility.
"It's pretty spectacular, not just in Canada, but in (all) North America," Henderson said. "It's kind of like a little mini-spring training complex. I'd compare it to some professional spring training complexes, in a way.
"The stadium that hosts the college games in the summer, it's as good as any minor league stadium. It's a pretty cool setup. And it's in Okotoks. Not many people even know where that is on the map."
As a right-handed pitcher in pro ball, Henderson was an over-achiever.
He emerged in 2003 out of Tennessee Wesleyan as a 26th-round draft choice of the Montreal Expos, and then he proceeded to prove everyone wrong, rising up to make the major leagues in 2012 with the Brewers.
But not without facing quite a bit of adversity.
In the spring of 2009, Henderson, at age 26, was released from the Cubs. The move was a surprise in a sense that the organization had just spent nearly a year helping Henderson with his rehabilitation.
So, Henderson had a choice. Either go home or take an offer from the Brewers, who wanted him to report to Single-A if he still wanted to play. From there, it would take him four more seasons to reach the majors, essentially meaning that he had to go through minor league baseball twice over a span of 10 years to reach the top.
"I worked so hard to get my shoulder back into shape, that I felt I just owed it to myself to kind of see it through," Henderson said.
In four major-league seasons, three with the Brewers and one with the Mets, he pitched in 155 games. Henderson posted a modest 10-11 record with 31 saves and 3.61 earned run average, finishing in 2016 with the Mets.
In 2018, the Brewers offered him a chance to join their minor league coaching staff, and he took it.
Now opening his third season with the organization, Henderson is moving up fast -- two levels this year, from Single-A Wisconsin to Triple-A San Antonio.
All of which means that he'll be working with Rick Sweet, a 31-year veteran skipper in the minors. Sweet has managed hundreds of players over the years, including Henderson in 2015 at Colorado Springs.
Both men have already met at the Brewers' training site multiple times in the past few months.
"He's done a great job of getting the most out of his ability as a player," Sweet said. "Usually, that's a pretty important thing (for a coach). If you've got a guy that reaches the top level (as a player), and also, has quite a bit of success…that's also a plus."
In addition, it helps that Henderson, who worked last season at Single-A Wisconsin, knows how the modern game works.
"He's very in tune to the analytics and all of the stuff that we use," Sweet said. "You know, you walk in, and our table's full of computers and all kinds of cameras and systems that we work with. He's very, very in tune to that, both as a player and then as a coach last year in A-ball."
Earlier this week, Henderson talked at length in a telephone interview about his Canadian roots and what it means to have helped start the Dawgs' legacy. Henderson remains as one of only a handful of players who have ever come out of Calgary to reach the majors. Atlanta Braves starter Mike Soroka is another, and he returned to the Okotoks facility to work out for a few days this winter, Henderson said.
Looking back, the Missions coach indicated that he still isn't sure how the Dawgs evolved into such a dynamic multi-team program.
"We weren't sure what we had at 11 or 12 years old," he said.
Henderson said all his teammates wanted to do at the time was play a more challenging schedule.
"We got thrown into tournaments where we had to play a lot older (athletes), and we kind of beat up on them a little bit," he said. "Once we saw that we could hang with (older) teams, like, the teams in British Columbia…I think they knew we had a special group of kids. Once we started doing that, it just kept on growing and growing."
Henderson said it's "pretty special" to know that his old team might be making a positive impact on other young men in the area.
"It's great to see," he said. "In the offseason, I'd come back to help out…Now Soroka came in to play catch once or twice. Just to see that there are (athletes) from the city making it all the way to the top, it should give the kids motivation. It's pretty important to everybody there."