Celebrating Black History Month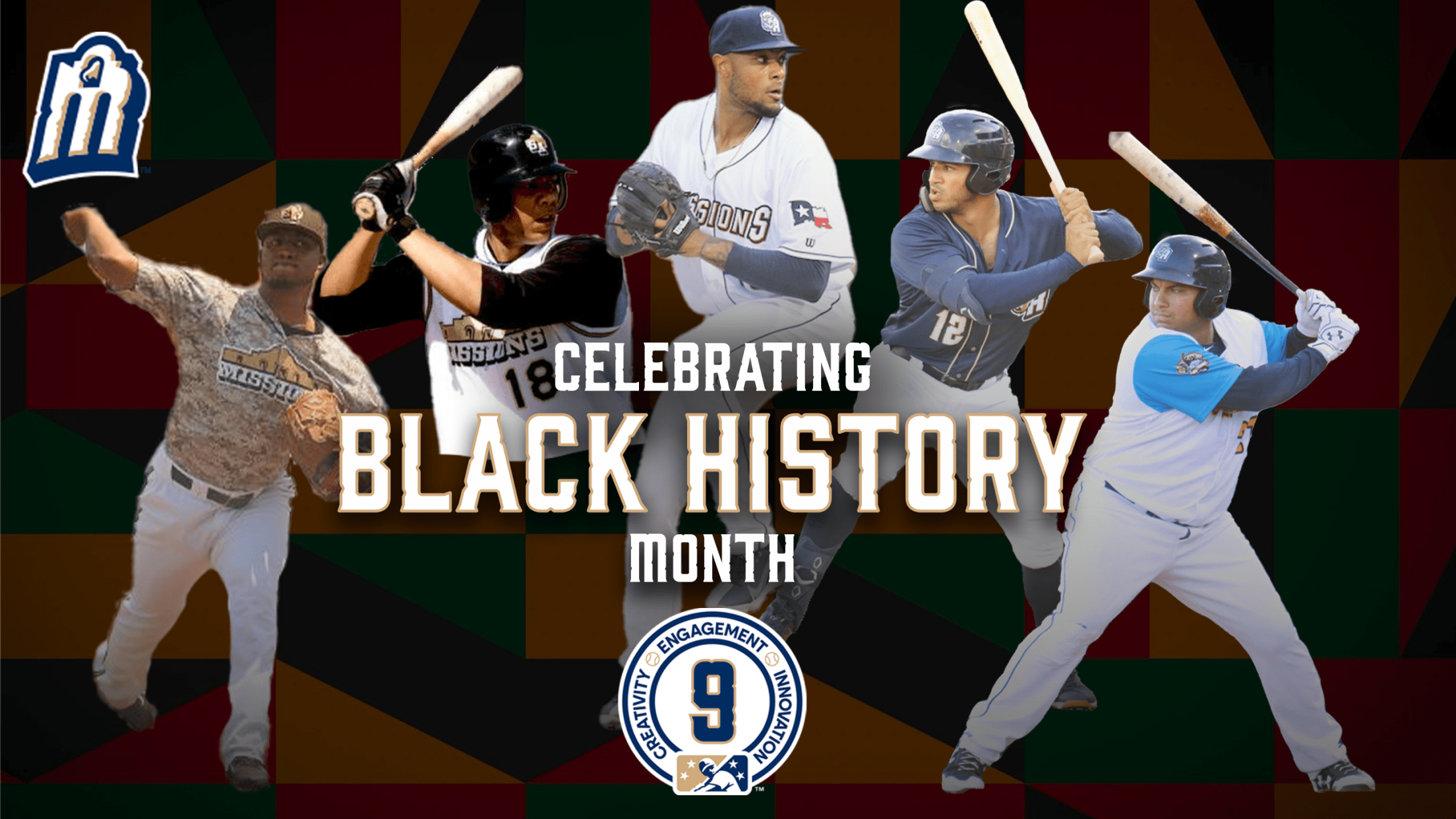 In honor of Black History Month, the San Antonio Missions Baseball Club is highlighting some of the terrific performances from Black players this century. From outstanding pitching performances to historic nights at the plate, these five players etched their names in the Missions history book: Trent Grisham 2019 was an
In honor of Black History Month, the San Antonio Missions Baseball Club is highlighting some of the terrific performances from Black players this century. From outstanding pitching performances to historic nights at the plate, these five players etched their names in the Missions history book:
Trent Grisham
2019 was an eventful and impactful season for Trent Grisham. The former 15th overall pick was assigned to Double-A Biloxi following a 2018 campaign in which he batted .233 with seven homers across 107 games. It appeared that the return to the Shuckers was what Grisham needed as he batted .254 and nearly doubled his home run total in just 63 games. This led to his promotion to Triple-A San Antonio on June 20th.
Grisham began his Missions career by homering in his first three games. He ended up hitting 13 dingers in just 34 games with San Antonio. He batted .412 in the month of July and collected 40 hits in just 25 games. The cherry on top of his historic run with the Missions came on July 30th against Sacramento at Nelson Wolff Stadium.
Batting lead-off, Grisham homered in the bottom of the first inning and then left the yard once again an inning later. He improved to 3-for-3 after hitting a single in the fourth inning and then doubled to lead off the sixth inning. Grisham completed the historic evening with a triple in the bottom of the seventh inning. He finished the night 5-for-5 with two homers, three runs scored and three runs driven in.
Grisham became the 7th Missions player since 1994 to hit for the cycle and the first to do since Daniel Robertson in 2011. The following day saw the Milwaukee Brewers purchase his contract and he made his Major League debut that night in Oakland.
Keyvius Sampson
Keyvius Sampson entered the 2013 season in hopes of redeeming himself from the previous campaign. A former 4th round pick of the Padres in 2009, Sampson enjoyed success in the minors during his first three seasons.
In his first season as a pro, he allowed just three earned runs across his four outings (8.0 innings total) in the Arizona League and Short-Season. The Florida native remained at the Short-Season level for the 2010 season and made 10 starts for Eugene. He went 3-3 with a 3.56 ERA in those starts. Sampson took a huge leap forward as he went 12-3 with a 2.90 ERA for Fort Wayne in 2011. San Diego continued to promote Sampson as he was assigned to San Antonio ahead of the 2012 season.
Making the jump to Double-A proved to be a challenge for Sampson as he endured his first losing season (8-11) and compiled a 5.00 ERA. Despite his struggles in the Alamo City, the Padres chose to keep him in San Antonio for the 2013 season after a brief rehab assignment in Tucson. This proved to be the right decision as the right-hander bounced back in a big way. In 19 games (18 starts), he went 10-4 with a 2.26 ERA and earned Texas League Player of the Week honors along the way.
He showcased his best stuff during the months of June and July that season. After starting the season 2-3, he went 3-1 with a 2.20 ERA in June and followed that up with a 1.95 ERA in the month of July. He also went 4-0 in six starts that month. Sampson would later be named to the Texas League Post-Season All-Star Team. Sampson currently holds the record for most strikeouts in a single month for a Missions pitcher (dating back to 2005) with 44 in the month of July.
Josh Naylor
The beginning of Josh Naylor's professional career was an intriguing one. After being drafted by the Miami Marlins with the 12th overall pick in 2015, Naylor was traded to San Diego a year later in a seven-player blockbuster deal. This coming after he batted .325 his first season and had hit eight home runs and batted .269 with Single-A Greensboro in 2016. However, he quickly found his groove with his new organization.
After being assigned to High-A Lake Elsinore, Naylor batted .252 with three long balls. This prompted San Diego to keep him at that level for the 2017 season. In 72 games, the Canadian nearly batted .300 while leaving the yard eight times and adding 16 doubles. This led to him being promoted to San Antonio in July of that year. He finished the year batting .250 in the Alamo City with just two homers.
The 2018 season was when Naylor would made his mark. Playing a full season with the Missions, Naylor hit a career-high 17 homers with 22 doubles and 74 runs driven in. The Arkansas Travelers were not a fan of Naylor as he recorded three two-homer games against the club that season. The first two coming in April and just five days apart (April 7th and 12th) and the other coming in July. He was named the Texas League Player of the Week, a Mid-Season All-Star and a Post-Season All-Star. One year later, he made his Major League debut with the Padres.
Reggie Lawson
The most recent player on this list, Reggie Lawson appeared in 21 games for the Missions from 2021-2022. Originally a competitive balance (71st overall) pick of the Padres in 2016, Lawson made quick work through the farm system and saw himself at the Double-A level in his fourth season.
The right-hander looked strong in his third season in 2018. Spending the entire campaign with High-A Lake Elsinore, Lawson went 8-5 with a 4.69 ERA across 24 outings (22 starts). This led to his promotion to Double-A Amarillo ahead of the 2019 season. Unfortunately, he only made it through six starts before opting for Tommy John surgery. Little did Lawson just how long he would be sidelined for.
After the cancellation of the 2020 season, Lawson was assigned to the Missions in June of 2021. With a pitch limit, and due to some struggles on the mound, the California native made just four starts and pitched 6.2 innings before his season was shut down. He returned to the Alamo City for the 2022 season and again faced some struggles in the Texas League. He began the season going 0-4 with a 9.43 ERA in the first two months. Similar to Sampson, something clicked for Lawson as he entered the month of June.
Lawson found his groove and went 4-0 with a 1.37 ERA in five starts that month. He allowed no more than one run and five hits in those starts and tied his career high with nine strikeouts on June 12th against Corpus Christi. He finished the incredible stretch with a dominant seven-inning performance on July 7th against Frisco. In that start, he allowed just one run on three hits while striking out four batters. With those six stellar outings, he improved his record to 4-2 and lowered his ERA to 4.47.
Kyle Blanks
Last, but not certainly not least, on this list is the 2008 season that Kyle Blanks put together for the San Antonio Missions.
Despite being a 42nd round draft pick in 2004, Blanks quickly proved that he was a smart draft pick for the Padres. The Pennsylvania native batted .299 with seven homers in his first 48 games in 2005. He followed that up by hitting 10 more and adding 20 doubles while batting close to .300 once again. Blanks found himself with High-A Lake Elsinore for the 2007 season and continued his dominance over the minors.
In 119 games, he finally broke the .300 plateau and clubbed 24 homers with 31 doubles and 100 runs driven in. It was clear that he was becoming one of the best hitters in the Padres and across all of Minor League Baseball. A promotion to San Antonio was awaiting him for the 2008 campaign.
Playing in 132 games that season, the slugger batted .325 while collecting 20 homers, 23 doubles and 107 RBI in the Texas League. Along the way, he was named Texas League Player of the Week and was selected to the Texas League Mid-Season All-Star, Post-Season All-Star Team and Baseball America Double-A All-Star Team. Blanks officially etched his name in the Missions infamy with his performance on August 25th, 2008.
Just five days after going 5-for-7 with six runs batted in against Frisco, Blanks outdid himself in Corpus Christi. He went 5-for-6 that night with a home run, two doubles and nine runs batted in. In doing so, he became just the 3rd player in Missions history to drive in nine runs in a game and the first since Charlie Grant in 1948 to accomplish that feat.