Slowed down by a hot team
Chanclas lose 3-2 to the Sacramento River Cats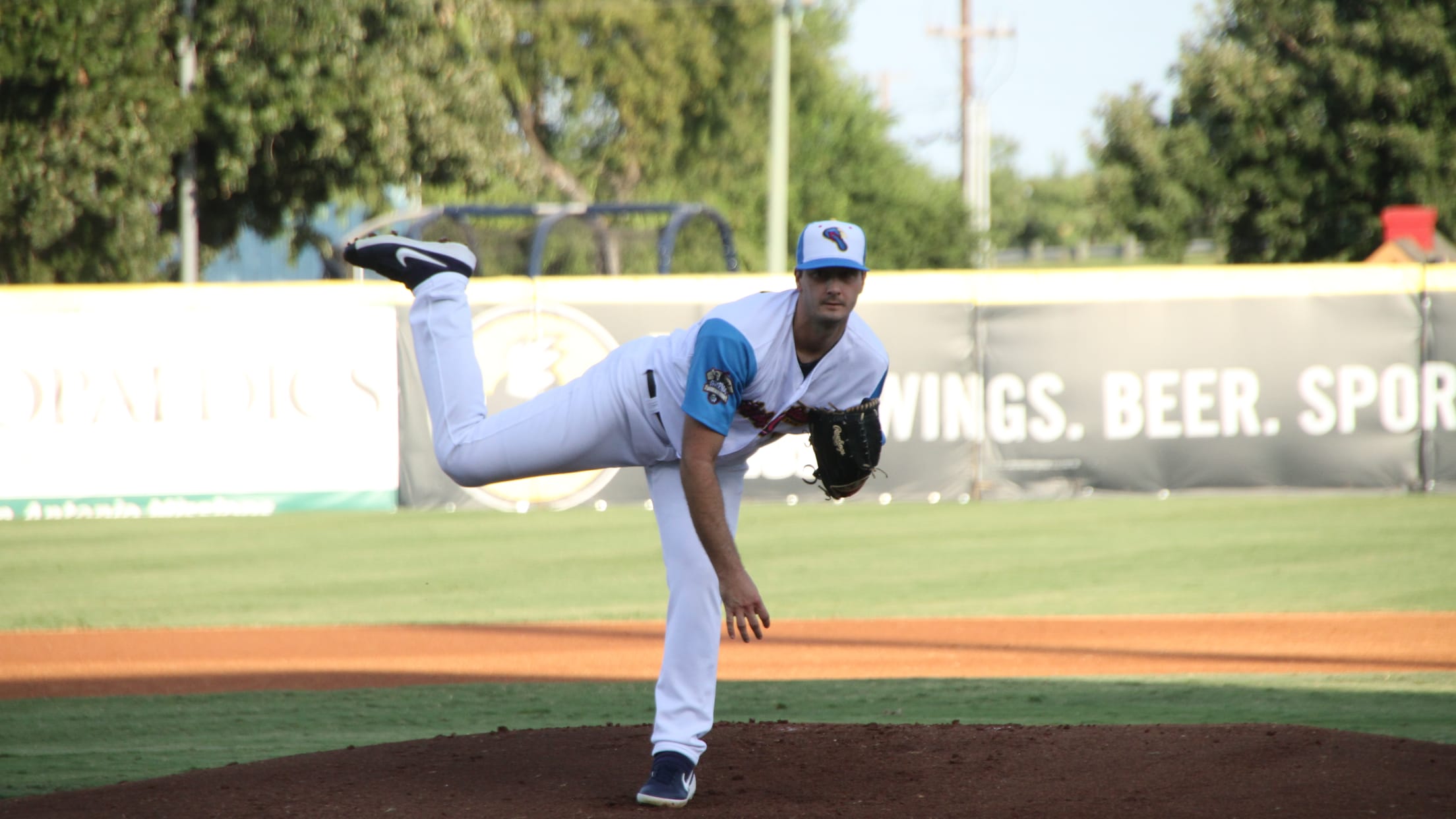 Milwaukee Brewers field coordinator Charlie Greene arrived in San Antonio earlier this week to work for a few days as the acting manager of the Missions.As Rick Sweet took his mandated four-game vacation away from Pacific Coast League baseball, Greene was assigned to call the shots in the dugout at
Milwaukee Brewers field coordinator Charlie Greene arrived in San Antonio earlier this week to work for a few days as the acting manager of the Missions.
As Rick Sweet took his mandated four-game vacation away from Pacific Coast League baseball, Greene was assigned to call the shots in the dugout at Wolff Stadium.
Now that the team's red-hot offense has cooled considerably over the past 48 hours, the affable Greene joked Thursday night that he may be the reason.
"I think I cooled 'em off," Greene said, after a 3-2 loss to the Sacramento River Cats. "I'm getting heat from all the guys in the organization. I think once I leave town, they'll catch fire on Saturday."
Playing in front of 4,367 fans as the Flying Chanclas de San Antonio, the Missions were grounded for the second night in a row.
On Wednesday, the River Cats allowed only seven hits in a 5-2 victory over the Missions. The Cats, led by former Missions manager Dave Brundage, yielded only five hits on Thursday.
It's a somewhat surprising development for a team that scored 47 runs on 64 hits in a five-game winning streak through Tuesday night.
More than likely, though, the reasons for the swoon can be traced to two factors.
First, the Missions may still be trying to find their footing as an offense after Trent Grisham left town to join the parent-club Milwaukee Brewers and Mauricio Dubón walked across the infield at Wolff to get to know his new teammates with the River Cats.
Also, secondly, and maybe most importantly, Sacramento is a good team, anyway. And it's just now starting to find its groove.
In beating the Missions two out of three games in San Antonio, the River Cats have now won five straight series.
Once a .500 ball club, they have surged since the end of June with an 18-10 record, picking up confidence en route to a stranglehold on first place in the Pacific Northern Division.
On Thursday night, for instance, Missions starting pitcher Burch Smith retired the first 16 batters. But the River Cats kept battling and won.
What has got into these Cats?
"I don't think anything's got into our team," said Brundage, who won two Texas League titles with the Missions in 2002 and 2003. "I've said all year long, this team has persevered … You know, our backs have been against the wall numerous times. It was evident tonight."
The Missions took a 2-0 lead in the first inning on David Freitas' two-run homer.
But the River Cats, frustrated by Smith early, continued to battle and broke through against the Missions' bullpen.
They scored a run off Miguel Sanchez in the seventh and two off Brewers veteran Jimmy Nelson in the eighth.
"We give up a home run in the first inning, and we almost get no hit through six, so it was nice to see that we persevered, Brundage said. "We've won some games like that (recently), where we haven't given up. We just continue to play."
After the first inning, River Cats pitching shut down the Missions on three hits.
Starter Conner Menez worked five innings, and then yielded to Steven Okert, Williams Jerez and Fernando Abad, a threesome that combined to shut out the Missions from the sixth through the ninth.
Sacramento's infield defense played a major role, with third baseman Abiatal Avelino making highlight reel plays that robbed the Missions of potential leadoff hits in both the fourth and eighth innings.
In the fourth, he speared a hot smash from Tyrone Taylor and, from his knees, made a perfect throw across the diamond to complete the play.
In the eighth, Avelino gloved a one-hopper off the bat of Corey Ray, who was playing his first game for the Missions since May.
"I just tried to be ready on every pitch," Avelino said. "That happens when you're ready every pitch."
PCL standings
American Southern Division -- San Antonio 68-42, Round Rock 65-44, New Orleans 57-51, Oklahoma City 51-58.
Pacific Northern Division - Sacramento 60-50, Fresno 53-57, Tacoma 51-59, Reno 50-60.
Coming up
The Missions host the Fresno Grizzlies for four games starting Friday night. Sweet is expected to return to his post Saturday night.
Dubon's impact
In his second game with Sacramento since he was traded from the Brewers organization to the Giants, Mauricio Dubon went 1-for-4 and scored a run. He also made a leaping catch of a line drive off the bat of Freitas in the sixth inning.
Ray's return
Corey Ray, rated by MLB Pipeline as the No. 4 prospect in the Brewers' minor league system, played in his first game for the Missions since May 21. He went 0-for-4 and struck out twice, but he hit the ball hard for infield outs in his last two at-bats.
Since the start of the season, Ray has been on the injured list twice for a finger injury. He returned and played 11 games in Double-A Biloxi recently before he joined the Missions Thursday night. Ray started in center field and batted leadoff.
Grisham's MLB debut
Trent Grisham, in his major league debut with the Milwaukee Brewers, produced an RBI on a fourth-inning sacrifice fly Thursday afternoon at Oakland.
Grisham, 22, from Richland High School in the DFW MetroPlex, was slotted into the No. 9 spot in the batting order for his first game. He went 0 for 3 at the plate.
In his last game with the Triple-A Missions Tuesday night, he hit for the cycle with two home runs in an 8-4 victory over Sacramento.
Saladino, Williams to return
Utility man Tyler Saladino and relief pitcher Taylor Williams have been optioned by the Brewers to the Missions. They're expected to join the club by Sunday.
Called up to the major leagues for the second time this season on June 28, Saladino struggled in going 8 for 63 in 26 games with the Brewers.
But he did have two memorable swings, hitting grand slams in back-to-back games on July 21 at Arizona and on July 22 at home against Cincinnati.
Saladino was hitting .288, with 14 home runs and 57 RBI, when he was called up to the big leagues.
Black, Faria report
Relief pitchers Jake Faria and Ray Black have reported to the team after being acquired by the Brewers in trades.
Faria (9-8, with a 4.18 earned run average in 40 games in the major leagues) came from the Tampa Bay Rays in the deal for major league first baseman Jesús Aguilar.
Black (2-2, 6.04 in 28 games in MLB) was one of two pitchers acquired from the San Francisco Giants for Mauricio Dubon.
Brewers field coordinator Charlie Greene said it would be another day or two before they would pitch in a game for the Missions.
Faria has split time this season between Tampa Bay and the Triple-A Durham Bulls.
Black most recently played for the Sacramento River Cats, but he did pitch in 26 games for the Giants last season and in two this year.
He 2-2 with a 6.04 earned run average in the majors, with 38 strikeouts in 25.1 innings.
Erceg improving
Third baseman Lucas Erceg sat out this third game with a hip injury. He was available to pinch hit Thursday night but didn't play. Erceg suffered the injury in Omaha last Sunday when he slipped on the bag at first base while running out a ground ball.