Cubs Edge Dragons On Pagan Homer
South Bend improves to 6-2 in their last eight games with Tuesday night's victory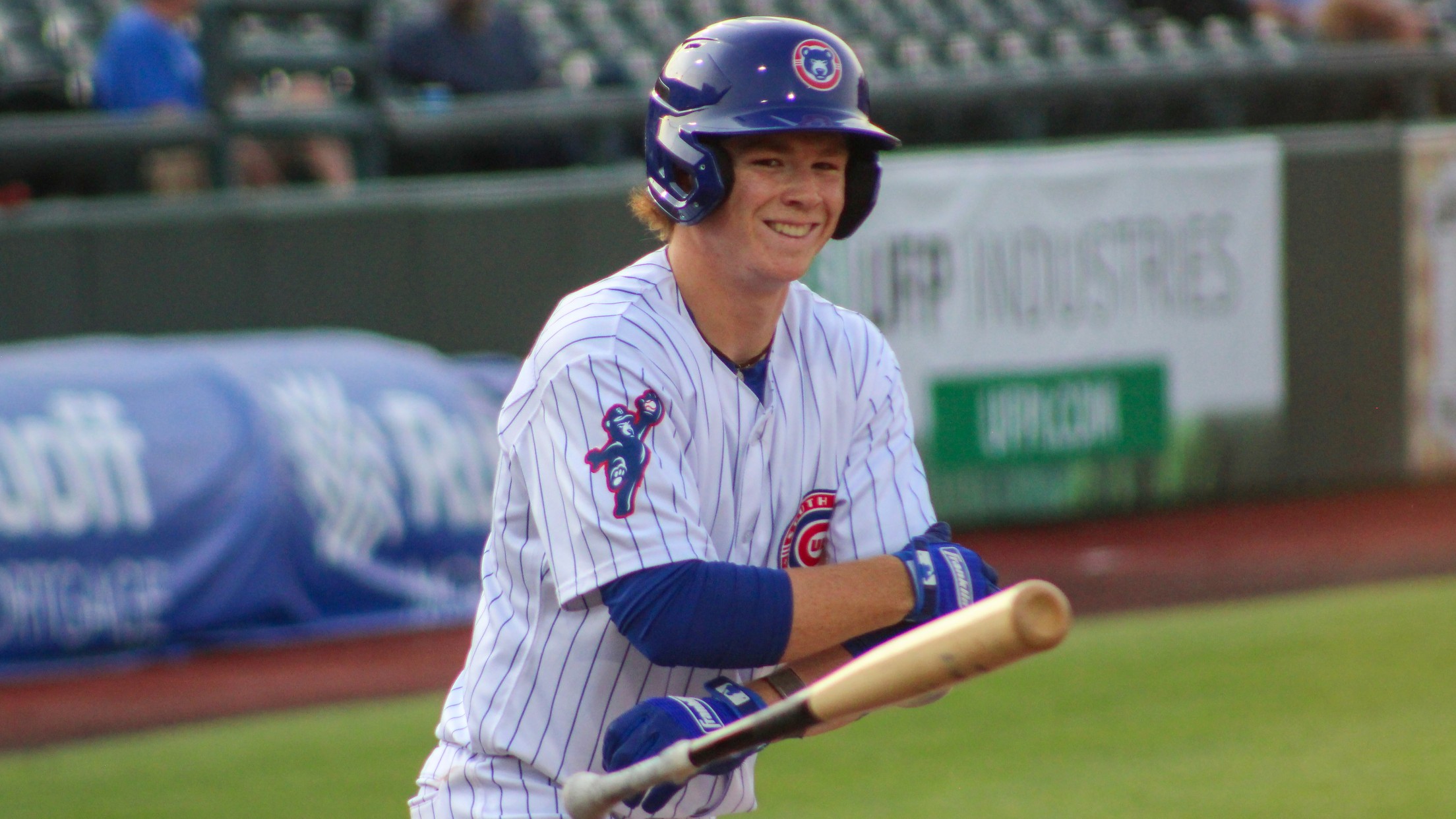 (Chris Hagstrom-Jones)
SOUTH BEND, IN - James Triantos picked up two more hits, as did Bryce Ball, plus Richard Gallardo impressed again at home in a hard fought 3-2 victory over Dayton. The win propelled the Cubs back into sole possession of first place in the West. Triantos (2-3, R, BB) made
SOUTH BEND, IN - James Triantos picked up two more hits, as did Bryce Ball, plus Richard Gallardo impressed again at home in a hard fought 3-2 victory over Dayton. The win propelled the Cubs back into sole possession of first place in the West.
Triantos (2-3, R, BB) made it three-straight games with multiple hits for the 20-year-old and through just over two weeks he's now batting .375 with just one strikeout. He singled in the third inning with two outs and moved into scoring position on a balk by Hunter Parks (4 IP, 4 H, 2 R, 1 ER, 2 BB, 4 K). Bryce Ball followed with a grounder to second that Tyler Callahan booted, and Triantos came around to score. Callihan picked up two errors on the play with his throw home getting to the backstop, allowing Ball to move up to second.
The next inning Yohendrick Pinango (0-2, 2 BB, 2 SB, R) walked to start the frame, drawing his 24th walk of the season after walking 30 times all of last year. A disengagement violation (a third pickoff attempt that saw Pinango safe at first) advanced him to second and just mere moments later the 21-year-old from Venezuela swiped third base. He scored on a Casey Opitz (0-1, 2 BB, RBI) sac-fly to left.
Richard Gallardo (6 IP, 4 H, 2 R, 0 BB, 5 K) started the day with a 3.00 ERA at Four Winds Field in 2023 and exited with that number staying exactly the same. After four scoreless innings of work for the right-hander he gave up a solo-homer to Callahan to start the fifth inning. Mat Nelson smoked a double down the line in left on the next pitch and Dayton seemed like they had finally found their footing offensively. After moving up on a ground out, Nelson scored on a Michael Trautwein sac-fly to left field.
All knotted up at two runs apiece, Ezequiel Pagan (1-4, HR, RBI, R) started the Cubs half of the fifth inning with a solo blast of his own. Pagan sent a towering fly ball down the line in right that just barely appeared to clear the yellow line and just barely stayed fair. The home run came on the second pitch thrown by Owen Holt, the first man used out of the Dragons bullpen.
The Cubs would lead the rest of the game with Adam Laskey and Frankie Scalzo Jr. combining for three scoreless innings in relief to shut the door.
Wednesday morning South Bend and Dayton meet for game two at 11:05 a.m.