Espinoza Perfect, Triantos Homers, As Cubs Move Into First
David Avitia gets the game-winning hit in his first pro start as South Bend clinches the series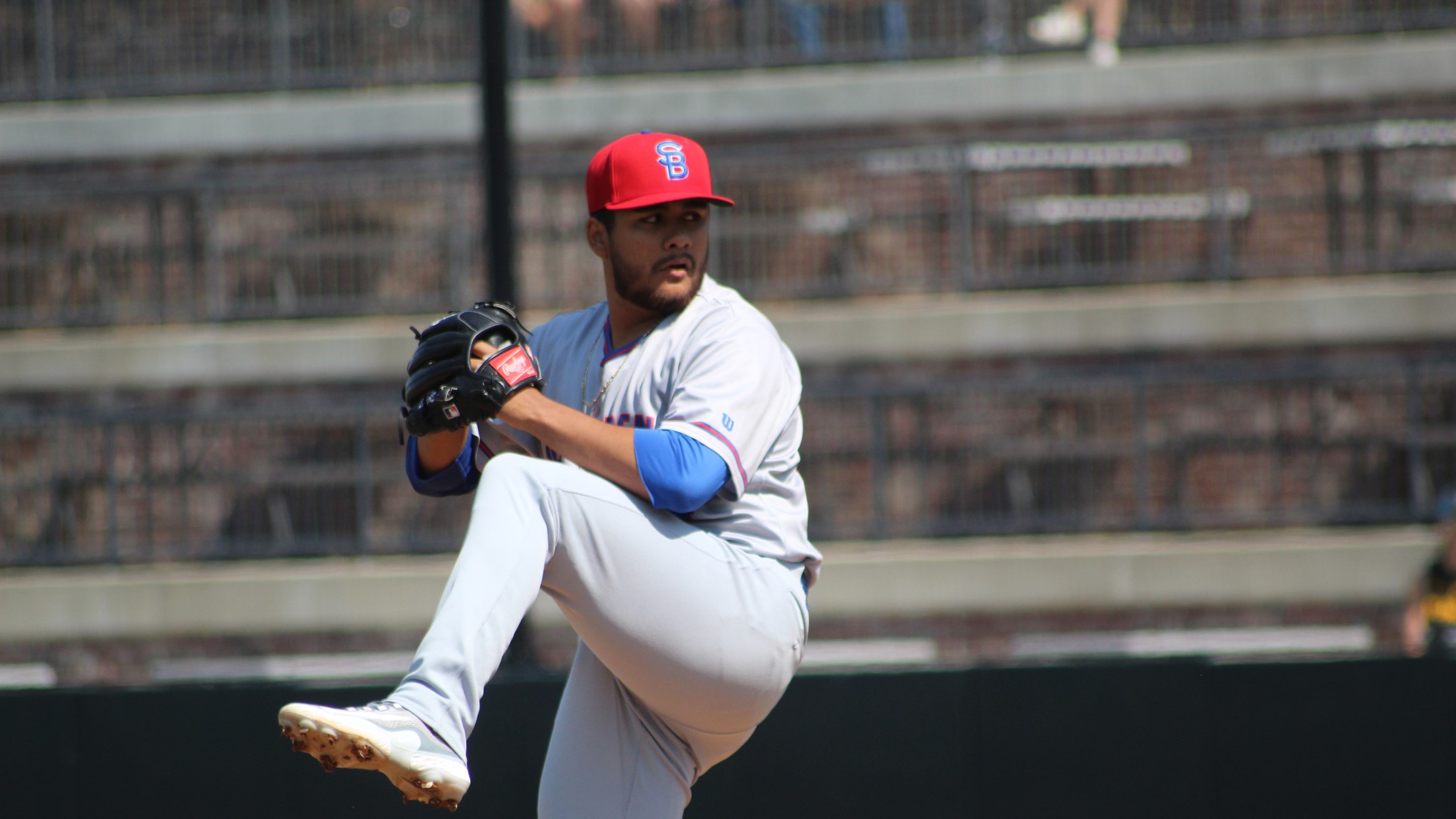 (Todd Johnson)
BELOIT, WI - The Cubs had been in second place for 27 straight days, that streak was put to bed after Saturday's 3-2 victory, with South Bend (22-16) hopping Beloit (21-16) in the West Division. Perhaps it was the most unlikeliest of heroes that tallied the game-winning hit today. David
BELOIT, WI - The Cubs had been in second place for 27 straight days, that streak was put to bed after Saturday's 3-2 victory, with South Bend (22-16) hopping Beloit (21-16) in the West Division.
Perhaps it was the most unlikeliest of heroes that tallied the game-winning hit today. David Avitia, making just his second pro start and up to bat for just the fourth time in his first pro season, knocked a two-out RBI single to left in the seventh that scored Christian Franklin to put the Cubs up 3-2.
Last night Tyler Santana went five shutout innings and faced the minimum; Manuel Espinoza was even better tonight. It's hard to even describe how purely dominant the right-hander from Mexico was against the Sky Carp. Having missed a large chunk of the season due to injury last year and having only just joined this club last week, Espinoza looked like a world-beater on Saturday afternoon. The fastball showcased incredible life and the 5-foot-11 kid put the ball exactly where he wanted to on virtually every pitch. He went four innings, retiring all 12 batters he faced and struck out nine. Eight of the nine strikeouts were swinging.
I think to put it simply, Espinoza's performance was captivating. It was a tour de force, a virtuoso outing. It reminded me of a start Daniel Palencia had last year in Fort Wayne in early August when he punched out the first six batters of the game. Their stuff is distinctly different but Espinoza was that level of dominant tonight, and that's saying something.
James Triantos (2-4, HR, 2B, 2 R) launched a solo-shot in the first inning with two outs off Alex Williams that got the Cubs on the board first. Three innings later Triantos began the fourth with a double, advanced to third on an infield single from Bryce Ball (3-3, BB), and scored on a sac-fly to center off the bat of Fabian Pertuz.
Jarod Wright (3 IP, 3 H, 2 R, 0 ER, 0 BB, K) came out of the bullpen first and kept the perfect game going two outs into the sixth inning. However with two outs a fly ball to shallow left field was dropped by Yohendrick Pinango, ending the perfect game and giving the Sky Carp a runner at third as Angeudis Santos never stopped running on the play.
Dalvy Rosario followed by dumping a single to shallow center to end the no-hitter and shutout. He stole second soon after and scored on a Kahlil Watson single that tied the game. Wright settled in after allowing the two unearned runs and retired the last four batters he faced.
In the seventh inning Christian Franklin singled with one out, stole second, and then Avitia found the late-inning magic.
Frankie Scalzo Jr. (2 IP, 0 H, 0 R, BB, 3 K) shut the door on Beloit with a very solid outing to get the last six outs of the game and pick up his second save.
With the Cubs win and Cedar Rapids also falling tonight elsewhere, South Bend has taken solo possession of first place.