Beesley Homers, but South Bend Falls to Lansing
First Professional Home Run is Highlight in Cubs Second Straight Loss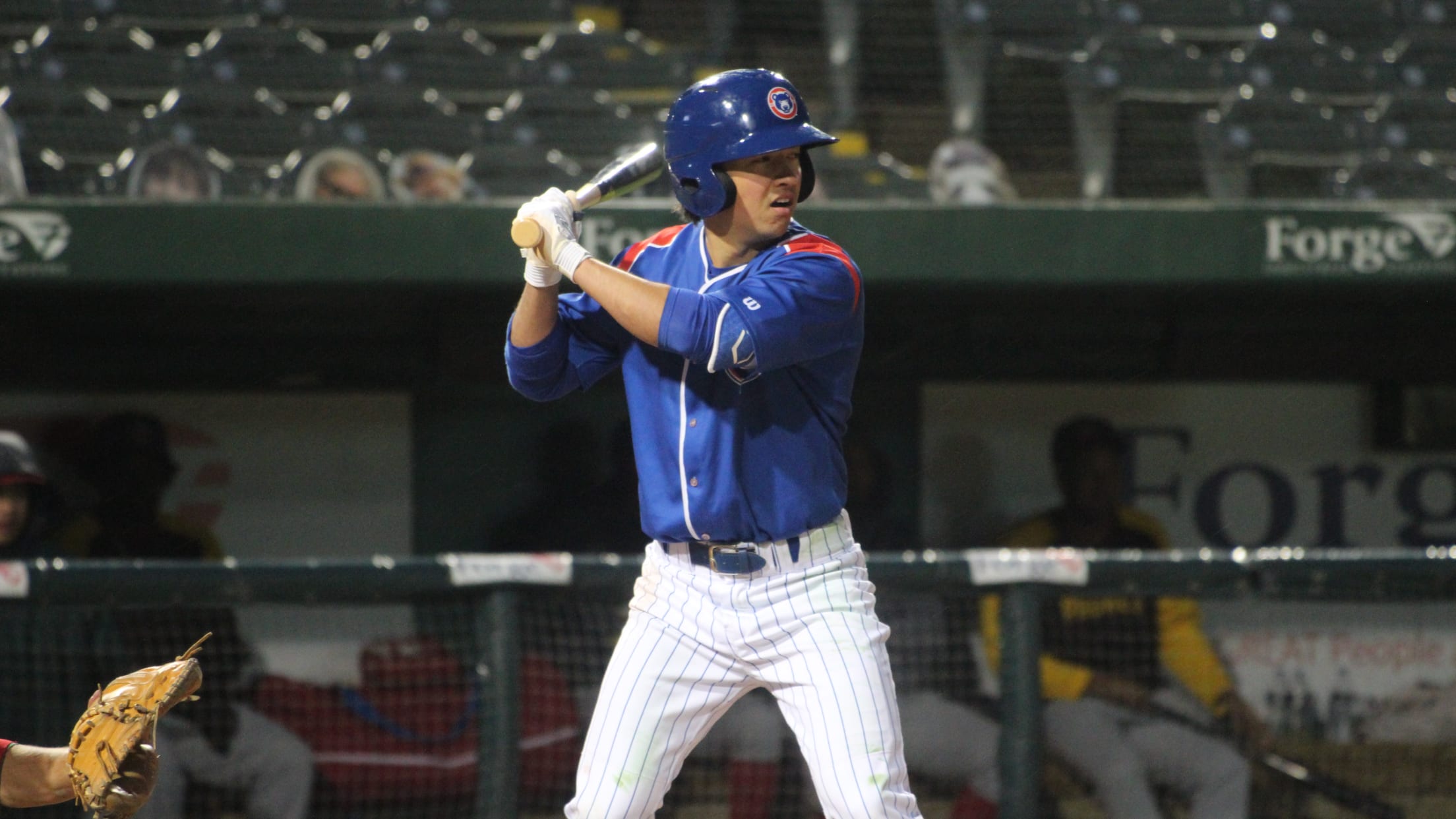 Box Score WP: Colin Peluse (2-1, 4.50 ERA) LP: Max Bain (2-2, 6.85 ERA) South Bend surrendered runs in all but two innings of Saturday night's showdown against the Lugnuts, and couldn't overcome a 10-strikeout effort from Colin Peluse in their second straight loss. Lansing began the game hot, scoring
WP: Colin Peluse (2-1, 4.50 ERA)
LP: Max Bain (2-2, 6.85 ERA)
South Bend surrendered runs in all but two innings of Saturday night's showdown against the Lugnuts, and couldn't overcome a 10-strikeout effort from Colin Peluse in their second straight loss.
Lansing began the game hot, scoring in each of their first four frames. Cobie Vance laced a double into right to open up the scoring for Lugnuts in the first, but South Bend would tie it up the following inning.
Yonathan Perlaza reached base in the second with his sixth hit of the series on a one-out single. After Jake Slaughter walked Bryce Windham smacked a liner into left for his team-leading 16th RBI of the season to tie it up.
After that, the Lugnuts took control again. Lazaro Armenteros scored on a fielder's choice in the bottom half of the second inning to take back the lead. The following inning, Lansing's lead extended on Cobie Vance's second RBI of the game.
It was 3-1 Lugnuts heading into the fourth, and then Lansing doubled its lead. A triple from Elvis Peralta and two wild pitches made the score 6-1 after four frames.
Lansing scored two more in the sixth on an RBI single from Jake Suddleson. But South Bend would strike back the next inning. After Bryce Windham reached on an error, Bradlee Beesley took a 1-0 heater over the centerfield fence to cut the Lugnuts lead to 8-3. It was the first home run of Beesley's professional career.
Shane Selmen answered with a homer in the bottom half of the seventh and Lansing took a 3-2 lead in the series by a score of 9-3.
Beesley and Windham both went 1-4 but combined for all three RBIs, with Beesley driving in two of South Bend's three runs on the home run. Josue Huma went 2-4, his second straight game with multiple hits.
Next Up: Derek Casey (1-3, 4.56 ERA) vs Stevie Emanuels (1-1, 4.32 ERA)
South Bend returns home for a six-game series starting on June 8 at 7:05 p.m. ET vs the Wisconsin Timber Rattlers. Bring your furry friends to the ballpark for Tail Wagging Tuesday, or preorder a Triple Day Tuesday ticket package, which includes a game ticket, jumbo hot dog, and 16 oz. fountain soda for just $12! Tickets can be purchased online at SouthBendCubs.com