Cubs Host 'Light Up the Night' to benefit Ronald McDonald House Charities on September 24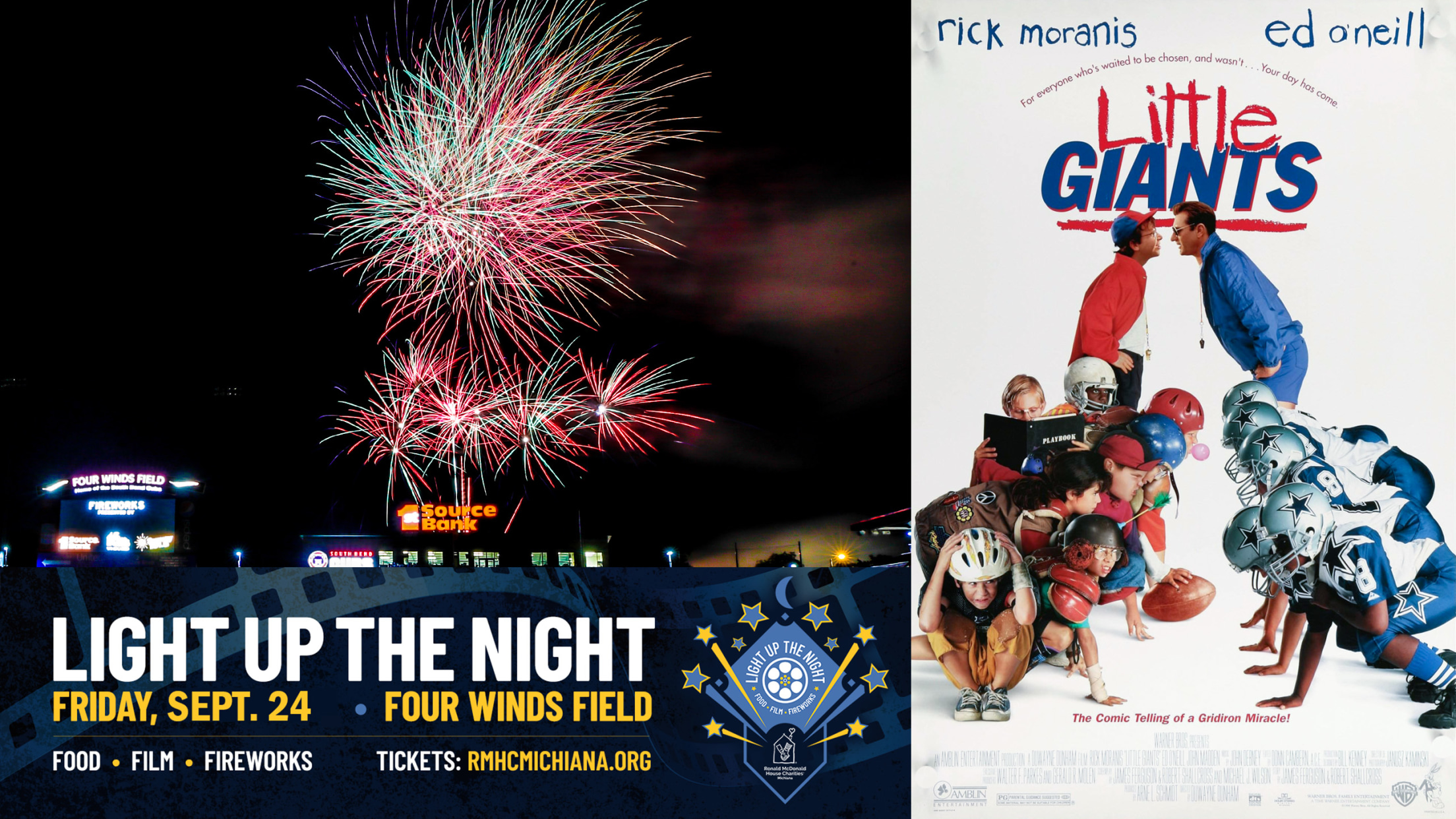 UPDATE: The movie Little Giants will begin at 6:45 p.m. with fireworks to follow (approximately 8:30 p.m.). SOUTH BEND, IN – The South Bend Cubs will host Light Up the Night at Four Winds Field on Friday, September 24. The night will feature a movie and will serve as a
UPDATE: The movie Little Giants will begin at 6:45 p.m. with fireworks to follow (approximately 8:30 p.m.).
SOUTH BEND, IN – The South Bend Cubs will host Light Up the Night at Four Winds Field on Friday, September 24. The night will feature a movie and will serve as a special fundraiser for Ronald McDonald House Charities of Michiana. Gates open at 6:00 p.m. and the movie begins at 6:45 p.m. The featured film will be Little Giants, presented by Lippert and after the movie, enjoy a fantastic fireworks display, powered by McDonald's.
Early bird general admission tickets are $10 if purchased before September 1. Tickets are $12 if purchased on or after September 1. Proceeds from the ticket sales will benefit Ronald McDonald House Charities of Michiana. Fans will be able to sit in the outfield grass, seating bowl or Budweiser picnic garden and are welcome to bring blankets with them, but lawn chairs and umbrellas are prohibited. Tickets can be purchased by clicking here, visiting the Four Winds Field Box Office, or calling (574) 235-9988.
A limited number of suites will be made available for purchase for groups of 12 or more, which includes the chance to buy special suite menu items. For more information or to purchase a suite for Light Up the Night, contact Ronald McDonald House Charities by clicking here.
On top of the movie, plenty of Four Winds Field attractions will be open such as the Toyota Fun Zone, Miller Lite Tiki Hut, 1st Source Bank Performance Center, and the splash pad. Many concessions stands and drink portables will be open, including fan favorite Steakadelphia. Round Barn Sangria, Jack Daniels cocktails and select craft beers will also be available. The Cubs Den Team Store will be open with a special Light Up the Night sale.
Ronald McDonald House Charities of Michiana offers a home-away-from home for families with seriously ill or injured children 21 and younger. They create, find and support programs that directly improve the well-being of children and their families to live happier and healthier lives.
Per health and safety guidelines, fans who are fully vaccinated are not required to wear a mask, and attendees who are not vaccinated are encouraged to continue wearing a face covering.
About the South Bend Cubs
The South Bend Cubs are the Class A-Advanced minor league affiliate of the 2016 World Series Champion Chicago Cubs. Over the past 33 years, the team has won four Midwest League titles, most recently in 2019, and has captured eight division titles. In 2019, the South Bend Cubs hosted the Midwest League All-Star Game. In June 2017, Four Winds Field, home of the South Bend Cubs, was voted Best Class A ballpark in the country by Ballpark Digest. In 2015 the team was named Ballpark Digest's Team of the Year and received the John H. Johnson President's Award, the highest award in minor league baseball. The team is owned and operated by Swing-Batter-Swing, LLC whose principal shareholder is Andrew T. Berlin of Chicago, Ill.