Midwest League Announces 2019 All-Star Game Rosters
East and West rosters are packed with top talent from across the entire circuit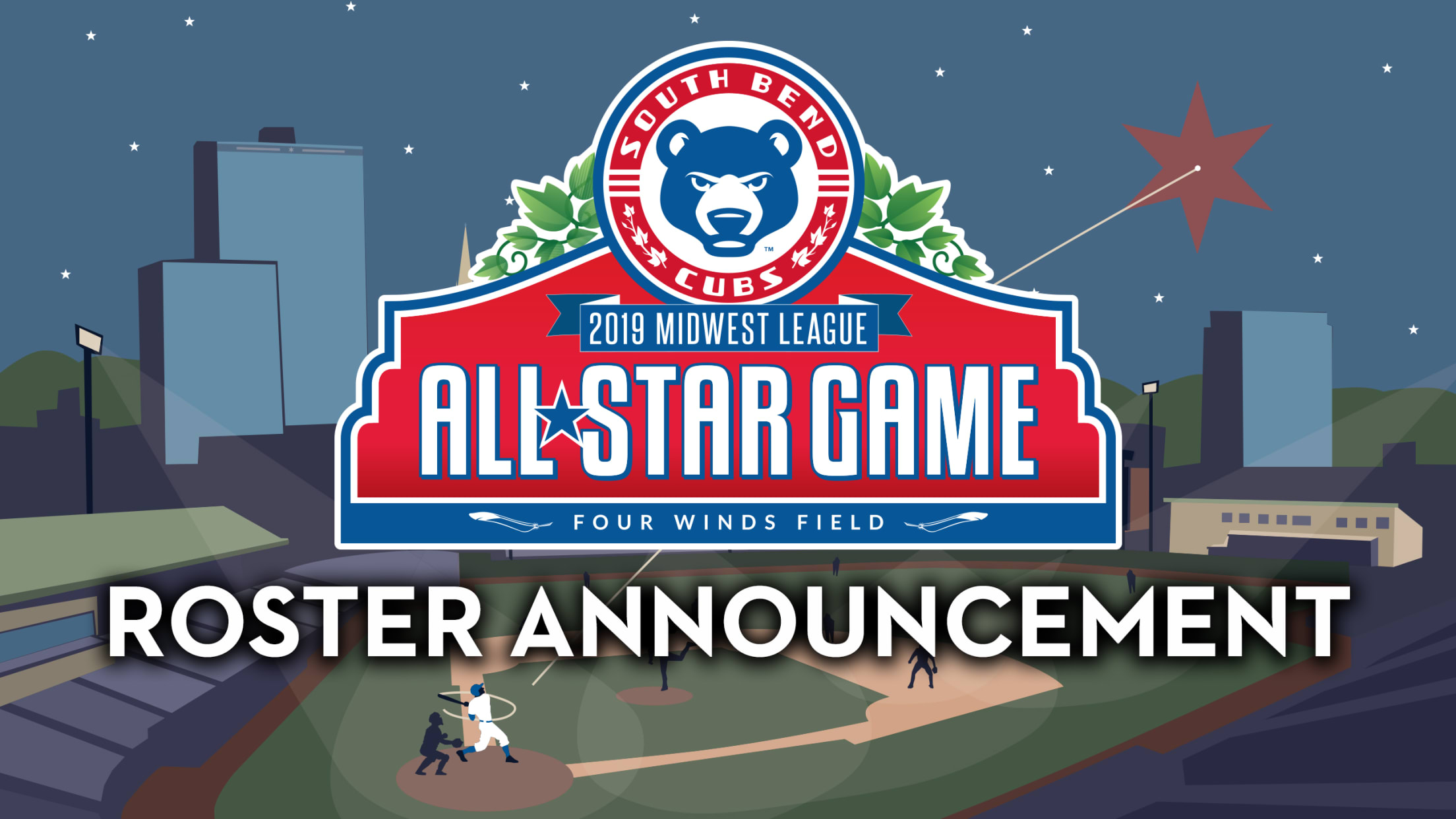 SOUTH BEND, IN - With the 55th annual Midwest League All-Star Game at Four Winds Field under two weeks away, the Midwest League has announced the official team rosters for the game between the Eastern and Western Divisions. This year's game will again be loaded with supreme talent from each
SOUTH BEND, IN - With the 55th annual Midwest League All-Star Game at Four Winds Field under two weeks away, the Midwest League has announced the official team rosters for the game between the Eastern and Western Divisions. This year's game will again be loaded with supreme talent from each team in the league.
Midwest League Eastern Division Roster
Midwest League Western Division Roster
In particular, the game will feature two number one overall prospects. 18-year-old shortstop and number one Tampa Bay Rays prospect Wander Franco has taken baseball by storm since debuting as a 17-year-old in the Rays system. Franco is hitting over .320 with the Bowling Green Hot Rods this season and will start at shortstop for the East. Peoria's Nolan Gorman will start at third base for the Western Division and is ranked as the top prospect in the St. Louis Cardinals system. Gorman currently ranks fourth in the Midwest League in home runs with 10.
The hosting South Bend Cubs will send five players to the All-Star game, including four pitchers. Shortstop Andy Weber will be a reserve off the bench for Manager Buddy Bailey. Pitchers Brailyn Marquez, Riley Thompson, Cam Sanders, and Jeff Passantino will all be available on the mound for the East.
Other notable Eastern Division players on the team include Lake County's Will Benson and Fort Wayne's Xavier Edwards. Benson, a returning Midwest League player from 2018, leads the league in home runs for the second straight season with 16. Edwards will not turn 20 until August 9, but has burst onto the scene with Fort Wayne by leading the league in batting average at .354.
Top pitching prospects headline the West's roster. This includes the Midwest League strikeout and ERA leader. Clinton's Chris Vallimont leads the league in K's with 70, while Burlington's Cristopher Molina has his ERA all the way down to 1.49 in over 50 innings.
Bowling Green will send the most players to the All-Star Game this season with eight. Tied for the lead in the Western Division are the Wisconsin Timber Rattlers and Quad Cities River Bandits with six players each.
The total team representatives in the East include Bowling Green with 8, South Bend 5, Lansing 5, Great Lakes 5, Fort Wayne 3, Lake County 3, Dayton 1, and West Michigan 1.
In the West, Wisconsin has 6 players, Quad Cities 6, Peoria 4, Kane County 4, Cedar Rapids 3, Clinton 3, Burlington 3, and Beloit 2.
The full team rosters are listed below.
Eastern Divison Starters
C: Chris Betts - Bowling Green
1B: Jake Brodt - Lansing
2B: Xavier Edwards - Fort Wayne
3B: Miguel Vargas - Great Lakes
SS: Wander Franco - Bowling Green
OF: Niko Hulsizer - Great Lakes
OF: Will Benson - Lake County
OF: Ulrich Bojarski - West Michigan
DH: Roberto Alvarez - Bowling Green
Eastern Division Reserves
C: Pabel Manzanero - Dayton
INF: Dillon Paulson - Great Lakes
INF: Andy Weber - South Bend
INF: Nick Podkul - Lansing
INF: Tyler Freeman - Lake County
INF: Ryan Gold - Lansing
OF: Grant Witherspoon - Bowling Green
Eastern Division Pitchers
Easton McGee - Bowling Green
Shane McClanahan - Bowling Green
Alan Strong - Bowling Green
Caleb Sampen - Bowling Green
Ryan Weathers - Fort Wayne
Henry Henry - Fort Wayne
Jose Chacin - Great Lakes
Austin Drury - Great Lakes
Manuel Alvarez - Lake County
Josh Winchowski - Lansing
Cobi Johnson - Lansing
Jeff Passantino - South Bend
Riley Thompson - South Bend
Brailyn Marquez - South Bend
Cam Sanders - South Bend
Western Divison Starters
C: David Fry - Wisconsin
1B: Brady Whalen - Peoria
2B: Blaze Alexander - Kane County
3B: Nolan Gorman - Peoria
SS: Brice Turang - Wisconsin
OF: Jerar Encarnacion - Clinton
OF: Alek Thomas - Kane County
OF: Austin Dennis - Quad Cities
DH: Chris Williams - Cedar Rapids
Western Division Reserves
C: Cesar Salazar - Quad Cities
INF: Gabe Snyder - Cedar Rapids
INF: Trey Dawson - Quad Cities
INF: Buddy Kennedy - Kane County
INF: Jeremy Pena - Quad Cities
INF: Delvin Perez - Peoria
OF: Jesus Lujano - Wisconsin
Western Division Pitchers
Eric Mariñez - Beloit
Aiden McIntyre - Beloit
Robinson Pina - Burlington
Jose Soriano - Burlington
Cristopher Molina - Burlington
Josh Winder - Cedar Rapids
Humberto Mejia - Clinton
Chris Vallimont - Clinton
Blake Workman - Kane County
Diego Cordero - Peoria
Matt Ruppenthal - Quad Cities
Austin Hansen - Quad Cities
Adam Hill - Wisconsin
Aaron Ashby - Wisconsin
Logan Gillaspie - Wisconsin
2019 Midwest League All-Star Game
The 2019 Midwest League All-Star Game presented by Four Winds Casinos takes place Tuesday, June 18 and will feature some of the most promising players in professional baseball today. It is the first time in 30 years the Midwest League All-Star game will be held in South Bend, Indiana. The 2019 event will kick off with a concert on Sunday, June 16 at Four Winds Field featuring global superstar Pitbull, along with two additional acts. Fan Fest at Four Winds Field will take place on Monday, June 17 and will feature a home run derby with the top hitters in the Midwest League, an autograph session with several former Chicago Cubs players along with the 2019 Midwest League All-Star players. On Tuesday, Chicago Cubs Hall of Famer Ryne Sandberg will headline an All-Star Luncheon at the Century Center in downtown South Bend, with proceeds benefitting Beacon Children's Hospital. For more information on the 2019 Midwest League All-Star Game and any of the events leading up to it, including tickets for the All-Star Luncheon, visit SouthBendCubs.com and search for All-Star Festivities.
About the South Bend Cubs
The South Bend Cubs are the Class A minor league affiliate of the 2016 World Series Champion Chicago Cubs. Over the past 31 seasons, the team has won five Midwest League titles, most recently in 2005, and has captured 12 division titles. In 2019, the South Bend Cubs will host the Midwest League All-Star Game. In June 2017, Four Winds Field, home of the South Bend Cubs, was voted Best Class A ballpark in the country by Ballpark Digest. In 2015 the team was named Ballpark Digest's Team of the Year and received the John H. Johnson President's Award, the highest award in minor league baseball. The team is owned and operated by Swing-Batter-Swing, LLC whose principal shareholder is Andrew T. Berlin of Chicago, IL.