Ruoff Mortgage Homestand Preview: June 21-26
South Bend hosts Peoria for second time after Cubs sweep in May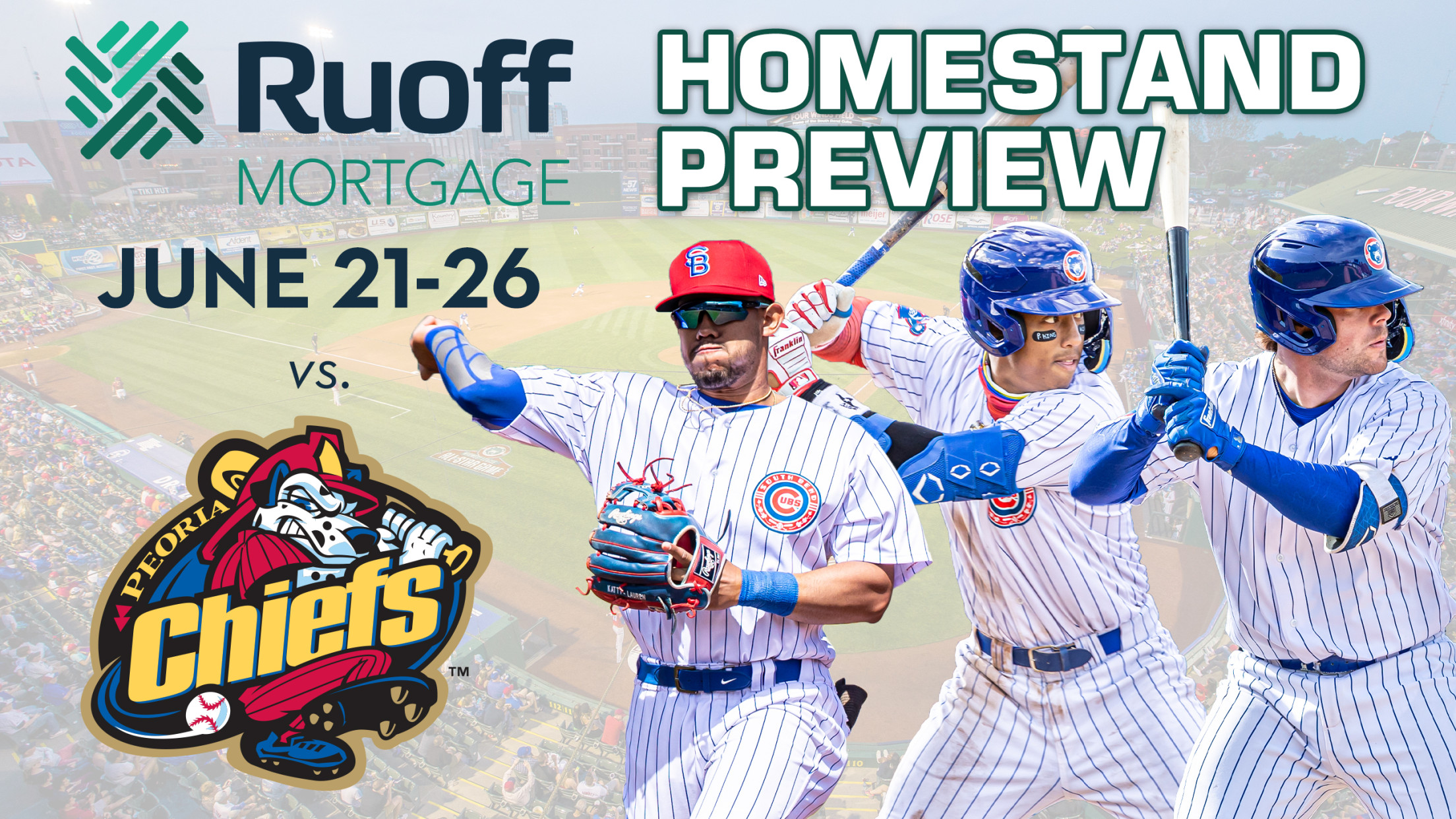 This is a heck of a way to officially kick off Summer 2022. The South Bend Cubs are scheduled to host the Peoria Chiefs for six games at Four Winds Field in a rematch of a series from a month ago that featured the Cubs picking up their first six
This is a heck of a way to officially kick off Summer 2022. The South Bend Cubs are scheduled to host the Peoria Chiefs for six games at Four Winds Field in a rematch of a series from a month ago that featured the Cubs picking up their first six game sweep in team history. South Bend whitewashed the Chiefs in that big sweep, and they'll be looking for similar success again against the St. Louis Cardinals High-An affiliate.
It's Cubs vs Cardinals, Midwest League style. We hope you can join us at Four Winds Field, which was just named High-A's 'Best Ballpark' by Ballpark Digest. You can experience the country's best ballpark and start summer in style by visiting SouthBendCubs.com or the Four Winds Field Box Office for tickets. The telephone number is 574-235-9988.
The six-game sweep of the Chiefs was not too long ago in the grand scheme of things, but in that time Peoria has lost a ton of firepower in their starting rotation and lineup. Right-handers Gordon Graceffo and Michael McGreevy each were called up to Double-A. So was Masyn Winn. The former first round pick of the Cardinals was leading the league in hitting until he was promoted.
For the Cubs, they have the same story from a plate perspective. Guys like Matt Mervis and Jake Slaughter have been promoted to the Tennessee Smokies. Former Cubs closer Jeremiah Estrada is also no longer in South Bend and has taken the trip to Knoxville.
Even with fresh faces packing the roster, this should be a solid West Division battle. Both of these clubs will miss out on the playoffs, at least from a first half perspective. And with the second half beginning midway through his upcoming tilt, wins will be at a premium in order to get off to a solid start with the hopes of clinching that second half playoff marker.
Players to watch on Peoria…
Mike Antico, OF: One of the familiar names from the last series that these two teams played, Mike Antico has quite the repertoire as to being a reliable defensive outfielder and contact guy, but he only managed two hits in six games against the Cubs. The pitching staff worked some magical outings during that series, but can South Bend do it again? Antico is on a heater through the last couple weeks and has a 12-game hitting streak. During that time, he is hitting .373 with three homers and 11 RBI. He's not an easy guy to punch out either. That same 12-game stretch has given him 51 at-bats, and he has struck out in only eight of them. His hitting streak is also the longest active presently in High-A baseball. The lone difference from the last series is that Antico had a guy like Winn hitting before him. Let's see what the approach is against him this week.
Nathanael Heredia, LHP: There weren't too many Peoria bright spots from that last time they were at Four Winds Field, but this young and hard throwing lefty Nathanael Heredia sure was one of them. A very slender guy at 6'3'' and 190 pounds, Heredia builds up a ton of strength and velocity with how ferociously he pushes off of the rubber. Not an easy match-up for lefties at all. What I thought of his stuff could be compared to how a guy like Josh Hader pitches. Funky arm angle, really hard fastball, and a slider that can be dipped in during any count. In two games against South Bend, Heredia worked a combined three innings of scoreless ball with two hits allowed, one walks and six strikeouts. The Cubs will not want to put themselves in a position this week when they're down late and this guy is coming in.
John Beller, LHP: With the call-up's of right-handed studs like McGreevy and Graceffo, spots in the Chiefs rotation seem to be still up for grabs. Top-30 Cardinals prospect and former third round pick Austin Love has struggled and possesses an ERA over 7.00. Multiple jobs available at one time in Minor League Baseball do not come about very often. So who's going to take it? Lefty John Beller has now made back-to-back starts with Peoria after coming out of the bullpen to begin the season. On May 26 against Lake County, he was tremendous in 3.1 shutout and hitless frames and seven strikeouts. He did not pitch again until June 14, but was not on the injured list. All that time off proved to be costly, as he made it through just 0.2 innings versus West Michigan due to pitch count. He needed 30 offerings to record those two outs. He also walked three and didn't strike out anybody. So in these two very Jekyl and Hyde starts, what Beller will be see in Downtown South Bend this week?
Players to watch on South Bend…
Pablo Aliendo, C: An 0/4 performance in his first game against the Quad Cities River Bandits did not deter Pablo Aliendo from raking in the rest of this past week's away series. The Cubs catcher punished River Bandits pitching in the final three games he played to end that six-gamer as he went 6/11 at the plate. That included a four hit day on Sunday. We have been waiting for Aliendo's bat to really take off this season, could this be it? There's a lot of talent packed into the portfolio of the 21-year-old catcher. You have to remind yourself a lot when you watch Aliendo behind the plate that he just gained the ability to legally enter a bar. If his bat really heats up as summer begins, and he keeps up the pace he performs at behind the plate, there's no reason why he can't be a defining reason of the Cubs winning the West Division for the second half.
Fabian Pertuz, SS: It's now been more than a month since Ed Howard suffered his injury at Four Winds Field and was subsequently placed on the 60-day injured list. Multiple shortstops have tried to fill his place, but none have been better than Fabian Pertuz. Then again, Pertuz has been solid all year. He hit the first home run of the season for the Cubs on Opening Night, and has played all over the infield whether that is third base, shortstop, or second base. Right now, Pertuz is hot and steps into this upcoming Peoria series with a seven game hitting streak. He's hitting .357 during that time and has brought in nine RBI in the last week. Pertuz has also found a consistent double play partner in Yeison Santana at second. The more comfortable they get together, the better as the Cubs begin this second half journey.
Caleb Knight, C/1B: Speaking of getting an opportunity, ever since Mervis was called up to AA Tennessee, the South Bend Cubs first base job has been for the taking. We have seen Jonathan Sierra blend into a routine there, with Jake Washer also getting opportunities. But Caleb Knight has made his reps at first base count. After a short stay on the development list, Knight played in five of the six games at Quad Cities and is currently working on a 10 game on base streak. We saw Washer punch up an on base streak of 17 games, but how long can Knight's go? The 2019 Midwest League Champion is one of the best clubhouse guys on the team, and he is continuing to produce. Expect to see him penciled in the lineup for as long as that continues.
Schedule (Rotations TBD)…
Tuesday, June 21 - 7:05 PM ET: RHP Manuel Espinoza vs RHP Austin Love
Wednesday, June 22 - 7:05 PM ET: RHP Daniel Palencia vs RHP Zane Mills
Thursday, June 23 - 7:05 PM ET: LHP Jordan Wicks vs RHP Wilfredo Pereira
Friday, June 24 - 7:05 PM ET: RHP Kohl Franklin vs RHP Dionys Rodriguez
Saturday, June 25 - 7:05 PM ET: LHP DJ Herz vs RHP Logan Gragg
Sunday, June 26 - 2:05 PM ET: RHP Manuel Espinoza vs RHP Austin Love
Catch the entire six-game series in South Bend on Sports Radio 960 AM WSBT, online at wsbtradio.com, or on MiLB.com with Brendan King and Max Thoma on the call. Thursday night's game is set to be aired live on Marquee Sports Network.