Q & A with 2018 NWL MVP Curtis Terry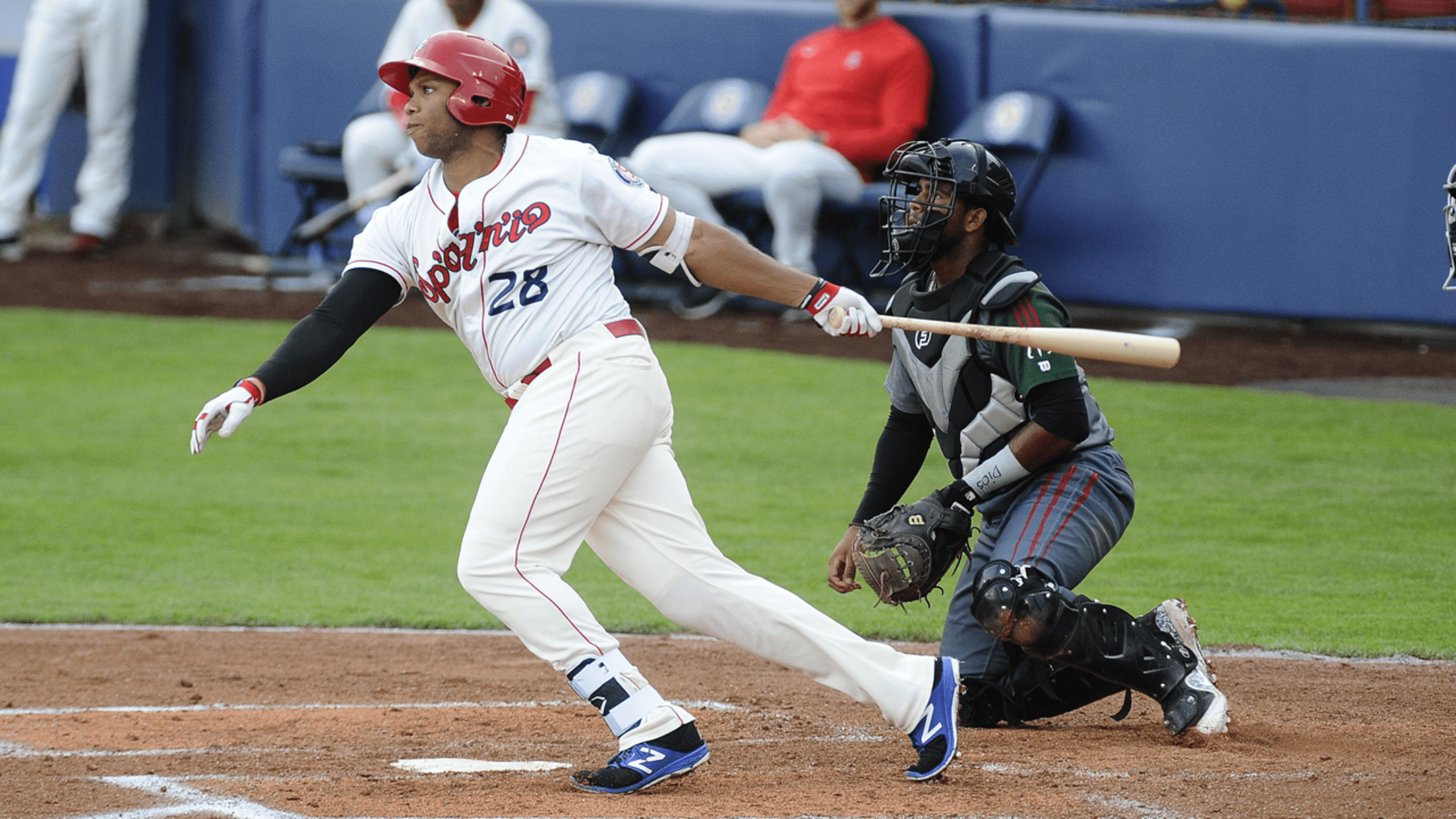 SPOKANE, Wash. - The image of Curtis Terry blasting home runs deep into the Spokane sky will live on in the minds of Indians fans for years to come. The 6'3" first baseman spent parts of three seasons with the Indians, from 2016-2018. After showing signs of immense potential in
SPOKANE, Wash. - The image of Curtis Terry blasting home runs deep into the Spokane sky will live on in the minds of Indians fans for years to come. The 6'3" first baseman spent parts of three seasons with the Indians, from 2016-2018. After showing signs of immense potential in each of his first two stints in Spokane, Terry returned in 2018 and took the Northwest League by storm. He batted .337 on the season with 15 home runs and 60 RBI across just 67 games, in route to capturing the NWL MVP award. Terry also traveled to Grand Junction after being selected as a NWL all-star in 2018. He went on to win the home run derby title and went 3-4 with 2 runs and a walk in the all-star game. In 2019, Terry continued to build upon his MVP season, belting 25 home runs and driving in 80 runs in a combined 129 games between the Hickory Crawdads and Down East Wood Ducks. His impressive performance during the 2019 season garnered recognition from the Texas Rangers, earning him the Tom Grieve Minor League Player of the Year Award. We had a chance to chat with Curtis Terry to discuss his time in Spokane, continued on-field development, and much more.
SI: Thank you for taking some time to chat with us. How have you been? Where are you spending your time these days?
CT: I have been doing great throughout the pandemic. I spent most of that time in Georgia practicing and coaching a travel team during the summer. I'm in Arizona right now for instructs.
SI: Like many of us, I'm sure this year has been a strange year for you. Can you fill us in a bit on what your day-to-day looks like and how you've been able to stay in baseball shape during this time?
CT: My day-to-day during Covid was starting off with workouts and physical therapy with hitting in the morning. Some days hitting off actual pitchers then heading over to my travel team practice during the week and coaching all weekend. Have you picked up any new hobbies during this time? Nothing new but I did get to go fishing with my friends. I haven't been able to do that in years because of baseball.
SI: How has your time in the Rangers system helped with your development, both personal and on-field?
CT: It has helped me develop relationships with players throughout all the years I've been playing. They have also taught me so many life lessons off the field. On the field, they have helped with every aspect of my game.
SI: Spokane fans will forever remember your legendary power at the plate, but your fielding percentage has also increased each of the past four seasons. How much of your training is devoted to defensive vs. offensive development?
CT: Well, I do a lot of extra work defensively and love it just as much as hitting now and realize how important footwork is on the defensive side.
SI: What are some of your favorite memories of your time spent in Spokane?
CT: Fourth of July games in Spokane were amazing. I loved to play in them and getting to sit there and watch fireworks with my friends and teammates on the field - it made me feel like a kid at home.
SI: Do you have a favorite Spokane Indians Mascot?
CT: Definitely Ribby because I thought it was funny to see a fish sprint in from left field in the middle of the game.
SI: What motivated you to start playing baseball? Any advice to young baseball players out there?
CT: I just love to hit, even now it feels great every time I square up a baseball. I know players come and go in pro ball but it's so fun making new friends and bonding with other players throughout the summer. I love and thank baseball for giving me those experiences. The advice I give to kids and what I say to my team is if you're gonna walk on that field, play hard. That's the only way to play, and make sure you have fun at the end of the day.
SI: With Halloween right around the corner, have you decided on a costume? Do you have a favorite Halloween Movie?
CT: I haven't decided on a costume since I'm in instructs through November. As for a movie, I think the Halloween Michael Myers movies are the scariest ones I have seen.
SI: What is your favorite quote?
CT: "You ain't got no guts!" -Kenny Holmberg
About the Spokane Indians - The Spokane Indians are the Short Season Class "A" affiliate of the Texas Rangers and play at Avista Stadium. The Spokane Indians Team Store is available for online orders and curbside pickup.