Spokane Indians Through the Decades: A Look Back at Teams of 10, 20, 30, 40, & 50 Years Ago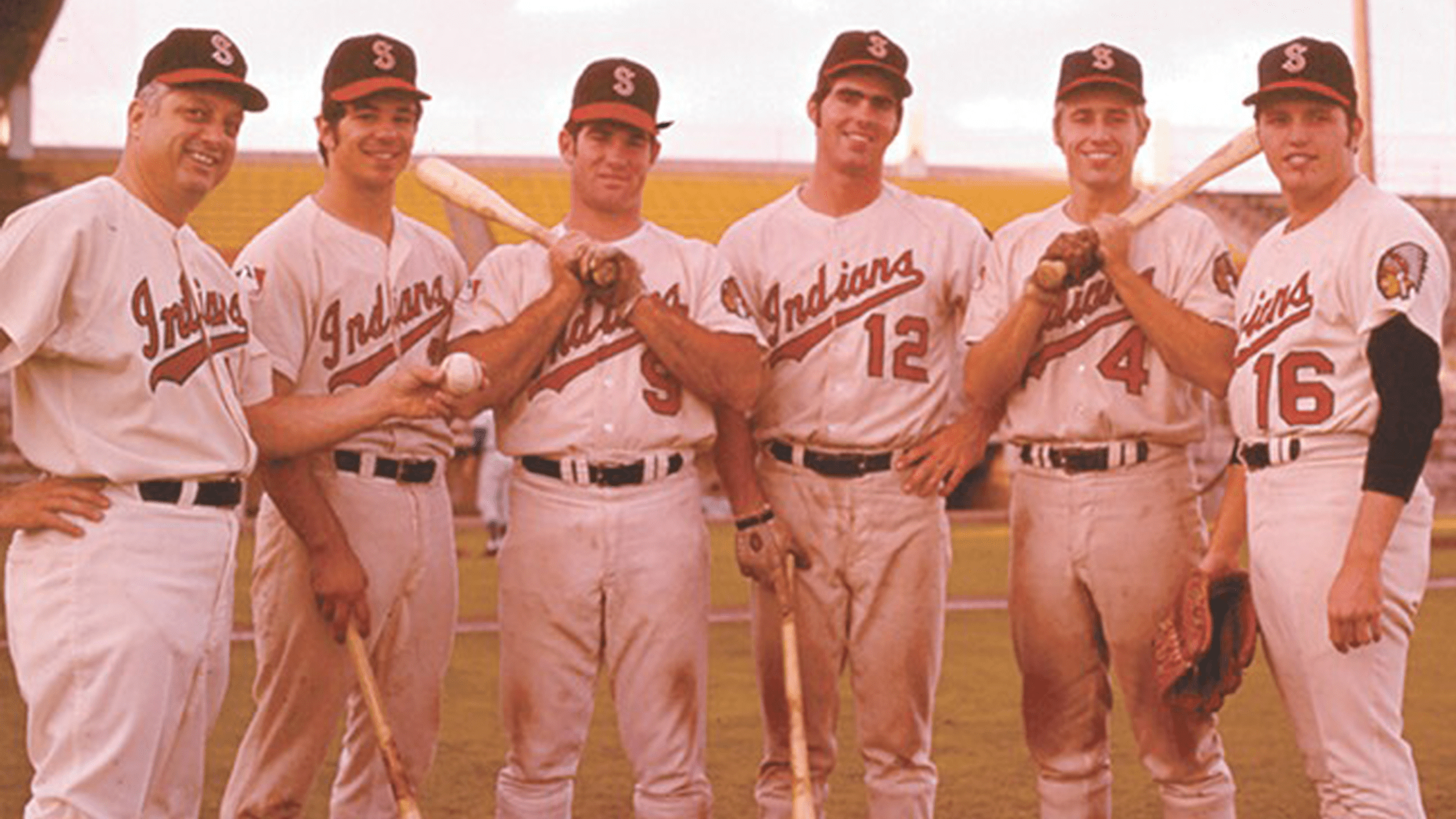 2010 Record: 43-33 (1st Place in Eastern Division) MLB Affiliate: Texas Rangers Notable Alumni: Jurickson Profar Notes: The 2010 Spokane Indians are one of the greatest "what-if" teams in recent memory. The league's youngest squad featured three first-round picks (Kellin Deglan, Mike Olt and Jake Skole) and a talented international
2010
Record: 43-33 (1st Place in Eastern Division)
MLB Affiliate: Texas Rangers
Notable Alumni: Jurickson Profar
Notes: The 2010 Spokane Indians are one of the greatest "what-if" teams in recent memory. The league's youngest squad featured three first-round picks (Kellin Deglan, Mike Olt and Jake Skole) and a talented international class that featured future number one overall prospect Jurickson Profar. The offense, which was led by NWL MVP Jared Hoying, finished atop the league in batting (.273) and runs (410) while the pitching staff, buoyed by strong performances from Ben Rowen, Miguel De Los Santos and Tim Stanford, ended the season in the middle of the pack in most statistical categories. Spokane finished with a solid 43-33 regular season record before sweeping the Yakima Bears in the first round of the playoffs. The Indians then took Game 1 of the NWL Championship series against Everett before dropping the next two against the AquaSox bring a sudden end to a promising season. Profar has put together the best MLB career from the 2010 squad, although thus far it has fallen short of the immense expectations that followed him through the minors. Olt reached the majors with Texas before being traded to the Chicago Cubs, but a concussion and vision problems ultimately derailed his career. Skole never got above Double-A before retiring from baseball and returning to the University of Georgia to play football, while Deglan finally reached Triple-A last season with the New York Yankees. Hoying and lefthander Chad Bell reunited last season with the Hanwha Eagles of the Korean Baseball Organization and are set to team up again in 2020.
2000
Record: 38-38 (3rd in Eastern Division)
MLB Affiliate: Kansas City Royals
Notable Alumni: N/A
Notes: The tail end of Spokane's affiliation with the Royals - aka the Tom Poquette years - produced some truly forgettable seasons, starting with a pedestrian 2000 squad (things only got worse in 2001 when the Indians posted an abysmal 22-54 ledger). It certainly wasn't all Poquette's fault though, as the 2000-01 teams would only combine to produce five big league players with Kansas City struggling to identify talent in the draft. The 2000 Indians were a bit unlucky, finishing second in the league in batting and fourth in ERA, but still ending the season at .500 despite scoring 42 more runs than they allowed. Chad Santos, who would get all of seven big league at-bats with the Giants in 2006, was the team's offensive star with an .820 OPS, 14 home runs, and 47 RBI. Justin Cowan (.312) led the squad in average while speedster Marco Cunningham stole 31 bases - a number no Indians player has eclipsed in the last two decades. Ian Ferguson (5-6 3.28 ERA, 71.1 IP) and Brad Stiles (8-3, 3.78 ERA, 78.2 IP) were the pitching staff's workhorses with Mike Natale (1.32 ERA, 43 K's in 41 IP) and Mark Newell (2.25 ERA, 1.10 WHIP in 40 IP) anchoring the bullpen.
1990
Record: 49-27 (1st in North Division, Defeated Boise 2-1 for NWL Championship)
MLB Affiliate: San Diego Padres
Notable Alumni: Gene Glynn (Manager)
Notes: The 1990 squad captured the last of four consecutive NWL Championships during a fruitful affiliation between the San Diego Padres and Spokane Indians. Although devoid of noteworthy future MLB talent (only five players from the squad would reach the majors, with Matt Mieske the most notable) the Indians won nearly two-thirds of their regular season games before topping the Boise Hawks, who featured MLB All-Stars Garret Anderson and Troy Percival, for the NWL title. Mieske led the Indians with a .964 OPS, 12 HR, 63 RBI and 26 stolen bases, while Jay Gainer topped the team in average (.356) and doubles (21). Future big leaguer Lance Painter was nearly unhittable for Spokane, finishing the season with 104 strikeouts in 71.2 IP with a 1.51 ERA and 0.837 WHIP. Clarkston High School graduate Bruce Bensching was nearly as dominant as Painter, posting an 8-1 record and 1.54 ERA with 10 saves and 78 K's in 58.1 IP (Bensching returned to Clarkston following his playing career and is now the high school's head baseball coach). Manager Gene Glynn has spent the last three decades as either a minor league skipper or big league coach, and currently serves as the infield and baserunning coordinator for the Miami Marlins.
1980
Record: 60-80 (5th in North Division)
MLB Affiliate: Seattle Mariners
Notable Alumni: Joe Coleman, Jerry Narron, Dave Henderson, Rene Lachemann (manager)
Notes: The Indians struggled during their three-year affiliation with the Mariners, posting a combined 184-243 record during that span, though the 1980 squad was probably the best of the bunch at least in terms of future big league talent. It was a long summer in 1980 though, as the team posted a whopping 4.54 team ERA and scored the second-fewest runs in the league, finishing a woeful 19.5 games behind first place Vancouver. Outfielder Steve Stroughter paced the offense with a .307 average and 75 RBIs while speedy infielder Kim Allen stole an incredible 84 bases—the most in the PCL in the last 60 years. Dave Henderson, who would go on to post 27.6 WAR over 14 MLB seasons, held his own as one of the team's youngest hitters with a .279 average and 34 extra base hits in 109 games. Right-hander Randy Stein (12-8, 3.90 ERA) was the team's most consistent starter with Manny Sarmiento (8-7, 3.00 ERA, 13 saves) serving as the de facto closer. Reliever Joe Coleman (1-0, 1.64 ERA, 22 IP) won 142 games in the majors but all of them came prior to his time with the Indians. Skipper Rene Lachemann and catcher Jerry Narron would both spend time as big league managers, although neither would post a winning record across 13 combined MLB seasons.
1970
Record: 94-52
MLB Affiliate: Los Angeles Dodgers
Notable Alumni: Doyle Alexander, Bill Buckner, Steve Garvey, Charlie Hough, Tommy Lasorda (Manager), Davey Lopes, Tom Paciorek, Bill Russell, Bobby Valentine, Geoff Zahn
Notes: Guess you'd like to see the big tamale, huh? The 1970 Spokane Indians are considered one of the greatest minor league teams of all time (Baseball America tabbed them as the top squad of the second half of the 20th century) and for good reason. That year's team would go on to produce a Hall of Fame manager (Lasorda), an NL MVP (Garvey), a batting title (Buckner), five Gold Gloves, and a combined 21 All-Star selections. It certainly wasn't hard to forecast future success for the members of this team after they ran roughshod over the Northwest League, finishing with a 94-52 record before sweeping the Hawaii Islanders (who actually finished with a better regular season record at 98-48) for the PCL title. Spokane hit an amazing .299 as a team that year and also led the PCL in stolen bases while striking out at the lowest rate in the league. Bobby Valentine was named MVP after stuffing the stat sheet with a .340 average, 39 doubles, 16 triples, 14 home runs, 80 RBIs, and 29 stolen bases. Injuries would ultimately keep Valentine from enjoying similar success at the big league level, though he would go on to win over 1,100 games as an MLB manager with the Rangers, Mets, and Red Sox. Other offensive standouts that season included Tom Paciorek (.326, 17 HR, 101 RBIs), Garvey (.319, 15 HR, 87 RBI), and Bill Buckner (.335, 33 2B, 74 RBIs) The pitching staff is often overshadowed by the squad's legendary offensive stars but they finished second in the league in ERA (3.31) and strikeouts (881) led by strong performances from Charlie Hough (12-8, 1.95 ERA), Jerry Stephenson (18-5, 2.82 ERA), and Bob O'Brien (13-3, 3.40). Spokane hurlers Hough, Doyle Alexander, and Geoff Zahn would go on to combine for a total of 93.8 WAR and over 500 big league wins. Amazingly, it's been half a century since this team took the field, and their legend seems destined to grow with every passing year.