'Cats, BlueShield complete youth field renovations
Over 10 fields renovated through partnership since 2012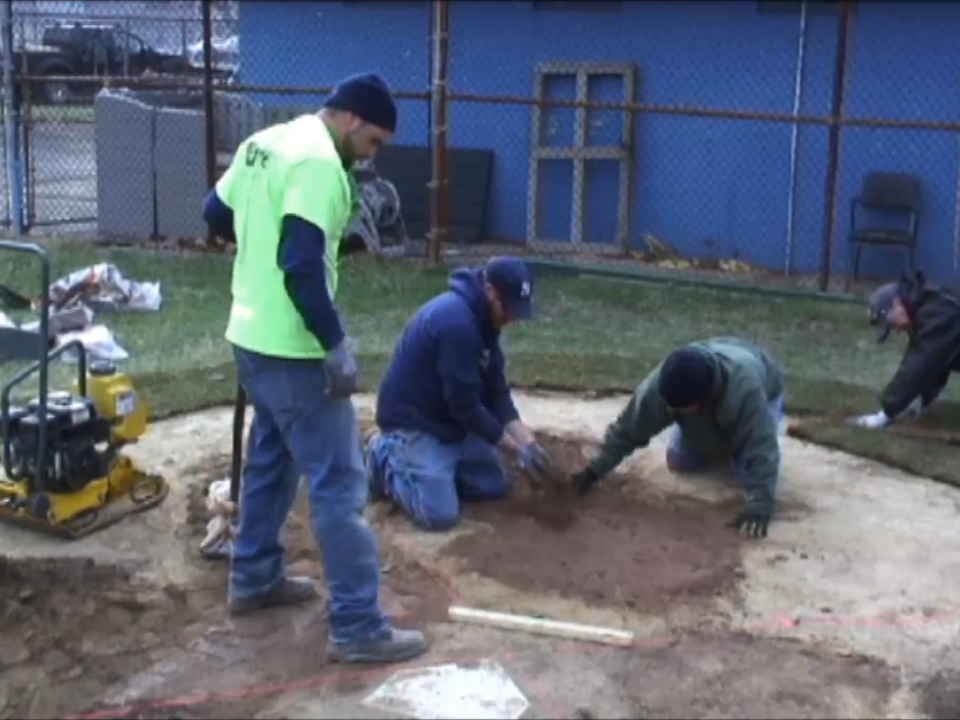 By Tri-City ValleyCats | April 21, 2014 5:25 PM ET
TROY, NY- At the end of the day on Friday, April 18, the playing surface at the fields of Schenectady Little League, Twin Town Little League, Berne-Knox-Westerlo Little League, and Spring Youth Baseball were completely revamped. Each field received brand new sod, bases, a home plate & pitcher's mound, and the baselines measured to the correct specifications.
The renovations are part of the '4 in 24' Field Renovation Project, where the entire scope of the project was completed in less than 24 hours. Since the '4 in 24' began back in 2011, the 'Cats have helped to renovate over 20 youth fields throughout the Capital Region, and it continues to be one of the ValleyCats most important yearly initiatives.
"Each year the '4 in 24' project provides an opportunity for our front office to get out into the community and support today's youth by refurbishing ball fields. We couldn't do it without the outstanding support of BlueShield of Northeastern New York, who shares our deep commitment of giving back to our communities," said Rick Murphy, Vice President / General Manager, Tri-City ValleyCats.
The ValleyCats partnered with BlueShield of Northeastern New York in 2012 to expand the initiative even further, together forming the Community Grounds Crew Program. The program is an expanded initiative focused on assisting local youth leagues with maintenance and upkeep of their fields throughout the spring and summer. Their mission is to provide the youth of the Capital Region with a safe place to play, learn, grow, and most importantly, have fun.
"Our partnership with the ValleyCats has seen more than 10 fields throughout the region transformed in the last three years," said Dr. Kirk Panneton, Regional Executive and Medical Director, BlueShield of Northeastern New York. "We know that when young athletes step onto these safe and well-maintained diamonds, they will be taking an important step toward living active and healthy lifestyles."
In 2014, Little League Baseball and the New York-Penn League each celebrate their 75th anniversary. Additionally, Schenectady Little League will be celebrating the 60th anniversary of their Little League World Series victory in 1954. The Michigan Avenue field, which received the renovation, was home to the 1954 team. Presently, Schenectady Little League has 300+ members after merging with JC and Bellevue Little League in 2008, and Northside Little League this season. Opening Day is set for Saturday, May 3.
Twin Town Little League, the ValleyCats neighbors across the street from "The Joe," received the renovation on the field where it plays all of its championship games and most all-star tournament games. Twin Town Little League is home to 50-55 teams / 550+ players, and Opening Day will take place on Saturday, April 26.
Berne-Knox-Westerlo Little League, a smaller league comprised of about 13 teams and 135 players, uses three different locations for their games, including the Westerlo field on County Route 401. This is where the 'Cats focused their attention, as it was severely damaged by Hurricane Irene in 2011. Because the field sits right next to a stream, it had been under 2-3 feet of water, washing away most of the infield dirt. This year, they will have a brand new infield just in time for Opening Day on April 27.
Rounding out the four fields is Spring Youth Baseball. Spring has been part of the Troy community since 1955, making it one of the oldest continuously running baseball programs within Rensselaer County. The field plays host to the Spring Renegades travel program, whose 8 & under team won back-to-back Eastern NY State Championships in 2012 & 2013. They are asked to host many tournaments, including State and Mid-Atlantic Championships, and these renovations will help put the field in as best shape as possible. Spring currently fields 30+ teams and has over 350 players. Opening Day is set for Saturday, April 26.
This year's '4 in 24' efforts are also aided by the support of Admar Construction, who will provide the necessary equipment to complete the renovations, The Brickman Group, and Turface Athletics, who are supplying clay and bricks for the pitcher's mound and home plate areas. Other support comes from the New York-Penn League Charitable Foundation, whose contributions come from past events held at Joseph L. Bruno Stadium.
Click here to view our 'Cats Corner blog post with a photo recap of the renovations>>
(Dr. Kirk Panneton, Regional Executive and Medical Director, BlueShield of Northeastern New York (L); Matt Callahan, Assistant General Manager, Tri-City ValleyCats (R))
This story was not subject to the approval of the National Association of Professional Baseball Leagues or its clubs.
View More