Canadians Baron Received National Field Recognition
Ross Baron's work on historic Nat Bailey Stadium has gained the acknowledgment of both the Sports Turf Managers Association and Minor League Baseball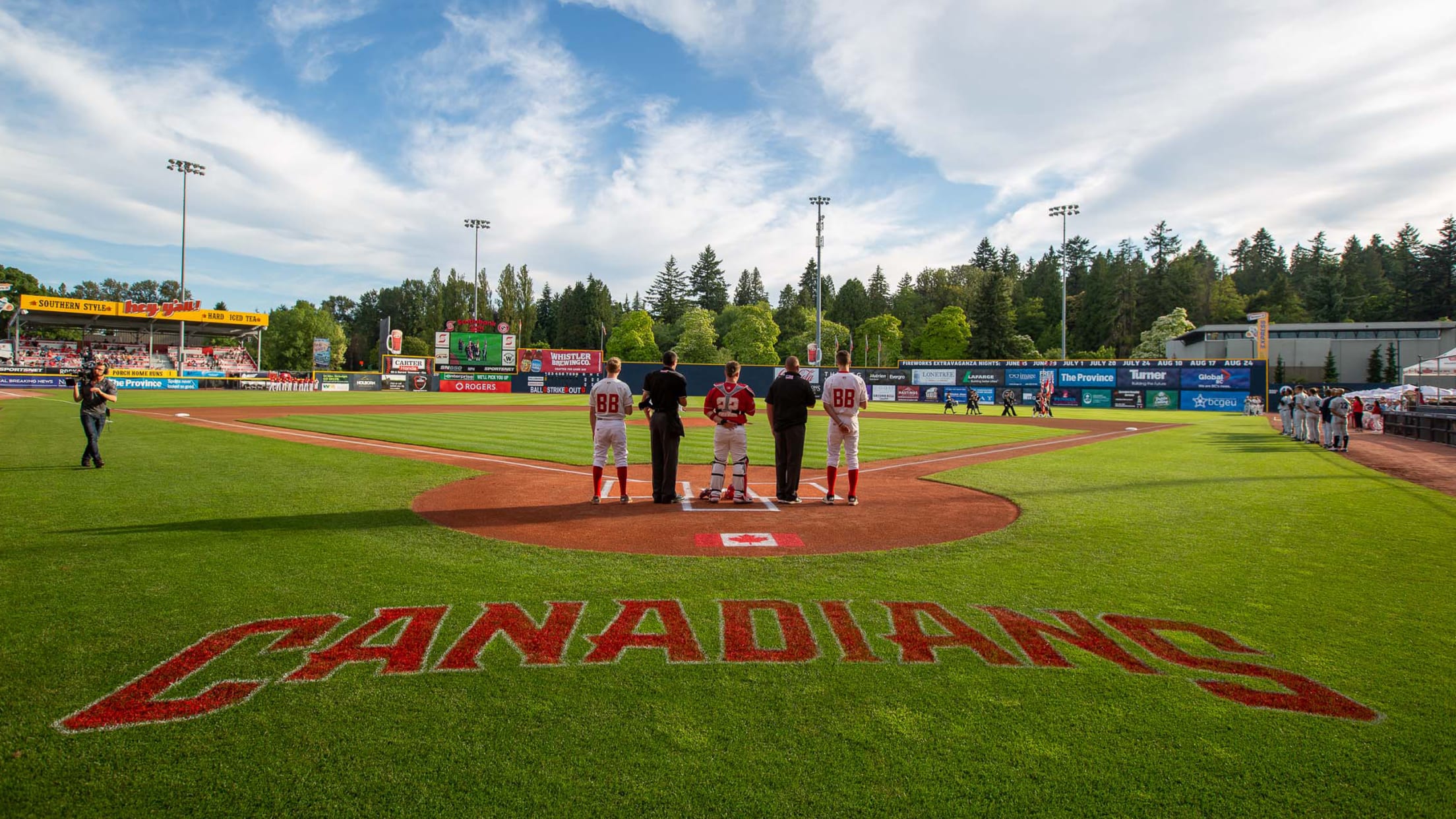 (Vancouver, B.C.) - Minor League Baseball (MiLB) and the Sports Turf Managers Association (STMA) have put forward the recipients of the 2019 Sports Field Managers of the Year for each classification and for the first time in franchise history, Vancouver Canadians Ross Baron has received the distinction on a national
Canadians Announce 2020 Early Bird Schedule
Vancouver opens with a five-game home stand vs. Eugene starting Wednesday, June 17th at 7:05pm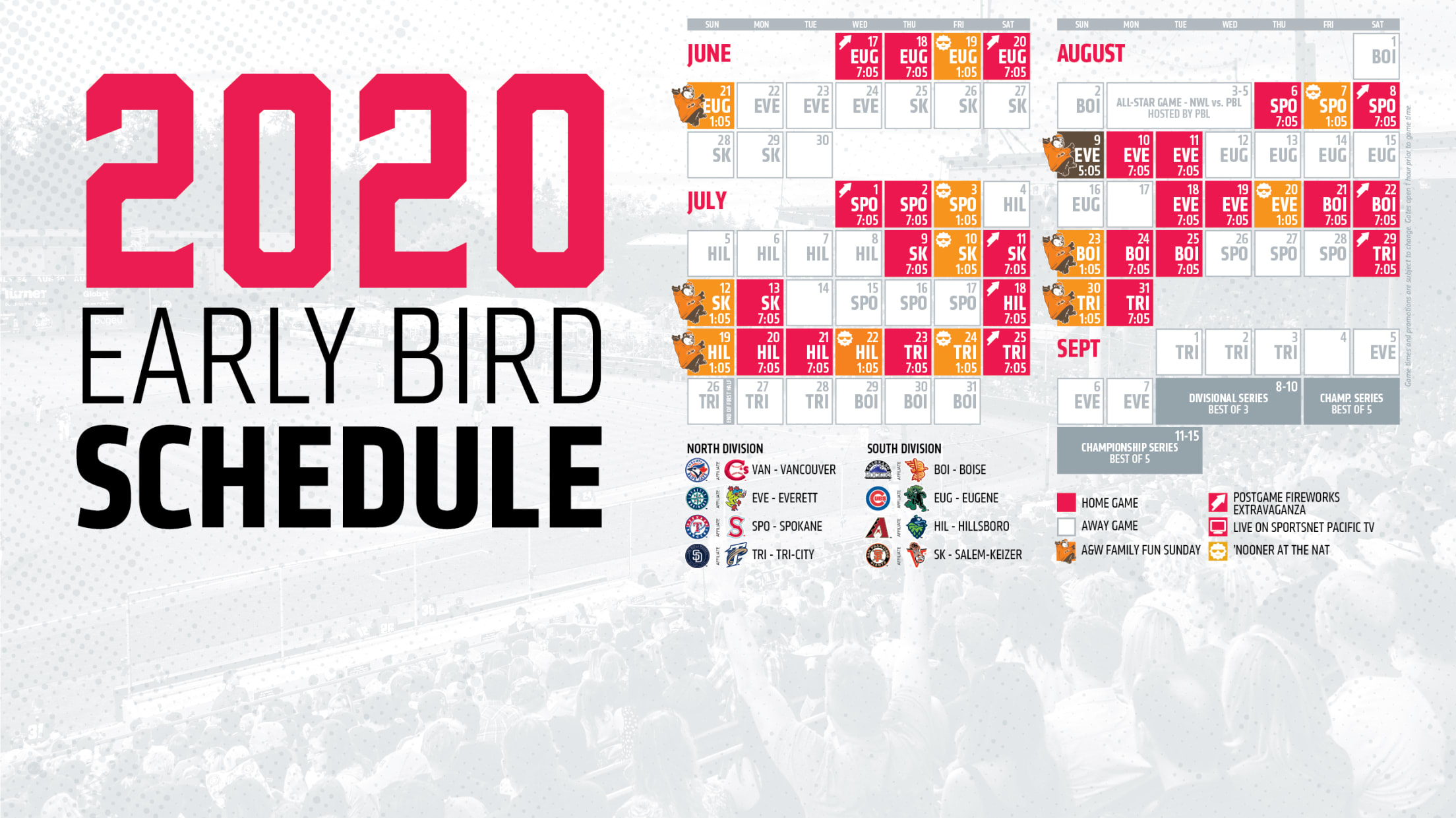 (Nat Bailey Stadium - Vancouver, B.C.) - The Vancouver Canadians Baseball Club has announced its 2020 Early Bird Schedule that includes all home and away dates including start times for games played out at historic Nat Bailey Stadium.Vancouver opens with a five-game series at home against the Eugene Emeralds (Chicago
Canadians TBT: Part 1
Each Thursday, Canadians broadcaster Rob Fai takes a look back at some of the amazing moments in franchise history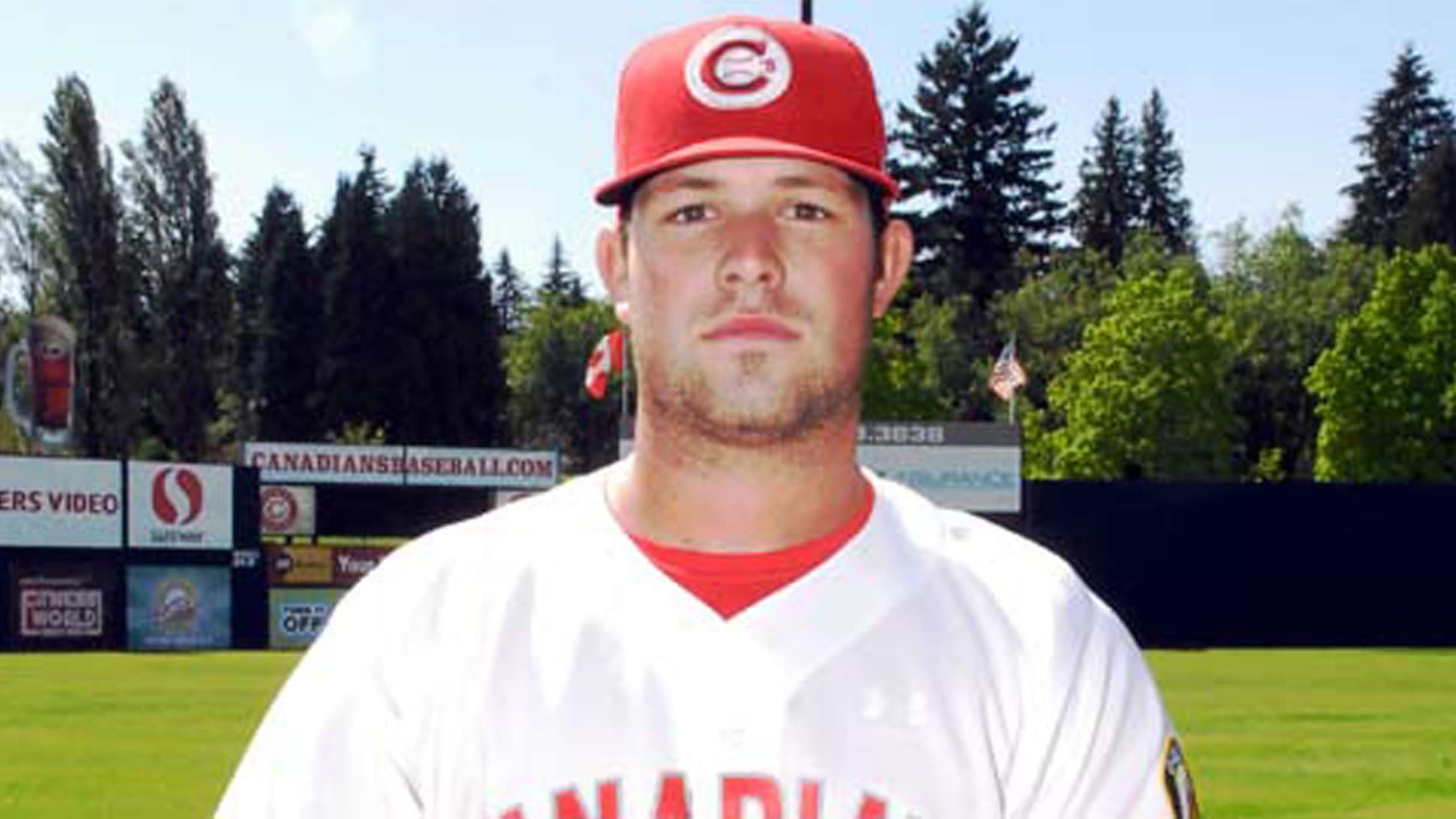 (Vancouver, B.C.) - It had been raining for the better part of the day on a soggy Wednesday afternoon here in Vancouver and yet the Canadians and Spokane Indians still figured to try and get a game in before the rain was set to intensify. Mother Nature caught wind of
Canadians Baron Receives 3rd Consecutive Sports Turf Manager of the Year Award
Nat Bailey Stadium never looked better as Baron acknowledged as Top Turf Manager once again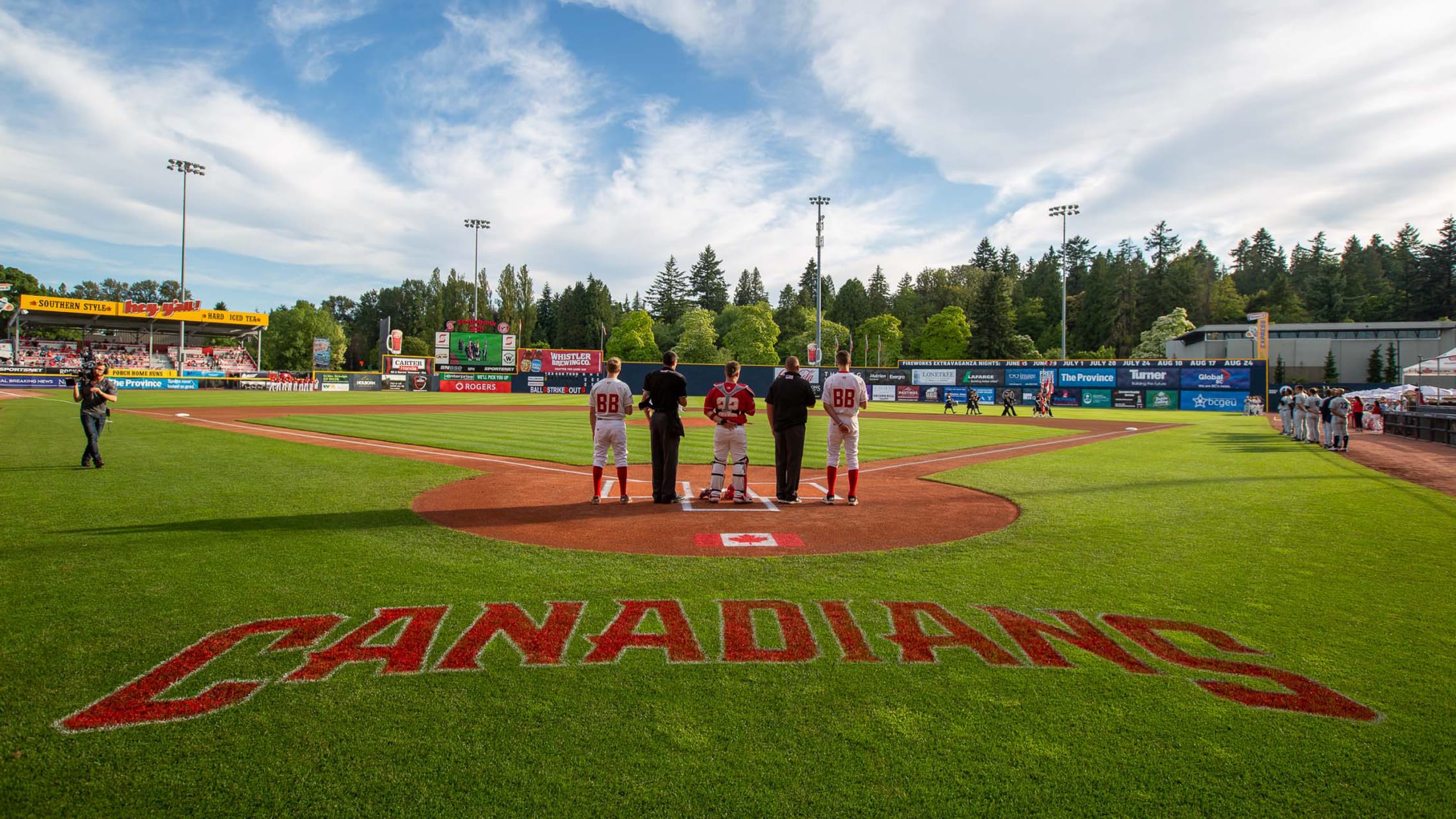 (Scotiabank Field at Nat Bailey Stadium - Vancouver, B.C.) - Minor League Baseball has announced that Vancouver Canadians Head Groundskeeper Ross Baron is recipient of the Sports Turf Manager of the Year Award for the Northwest League. This is the third consecutive time the award has been given to the Vancouver Canadians,
Robertson named NWL Player of the Week (Aug 26 - Sept 2)
Canadians outfielder punished baseball in final week of regular season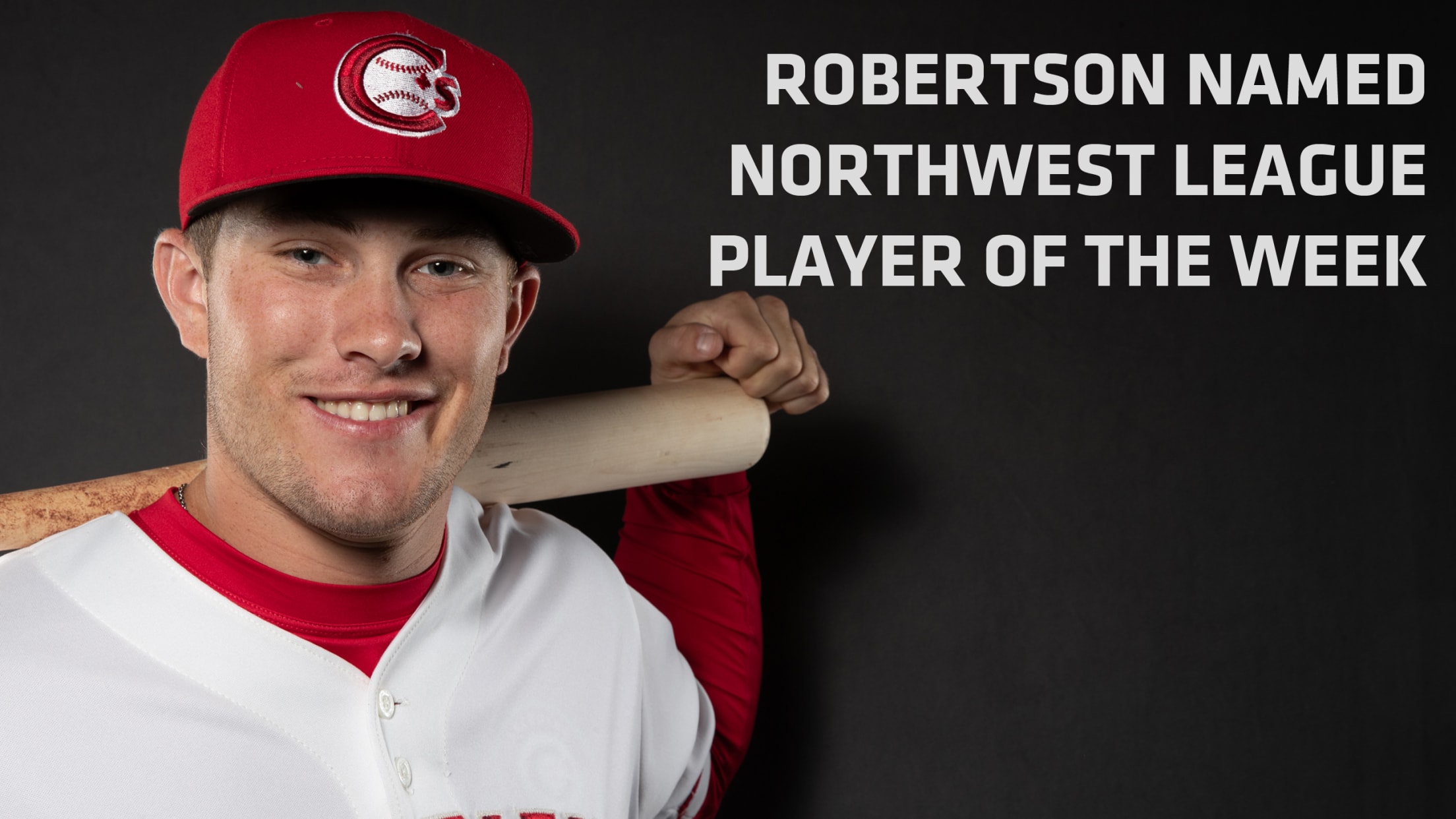 VANCOUVER, B.C. -- Canadians outfielder Will Robertson has been named Northwest League Player of the Week (August 26 - September 2) after hitting .458 (11-for-24) in his final six games of the season.Robertson became the first player since A.J. Kirby-Jones (2010) to hit home runs in three consecutive games as
Gm 76: C's swept in season finale; fall 3-1 to Everett
Vancouver drops final five games of season after loss out at Funko Field on Monday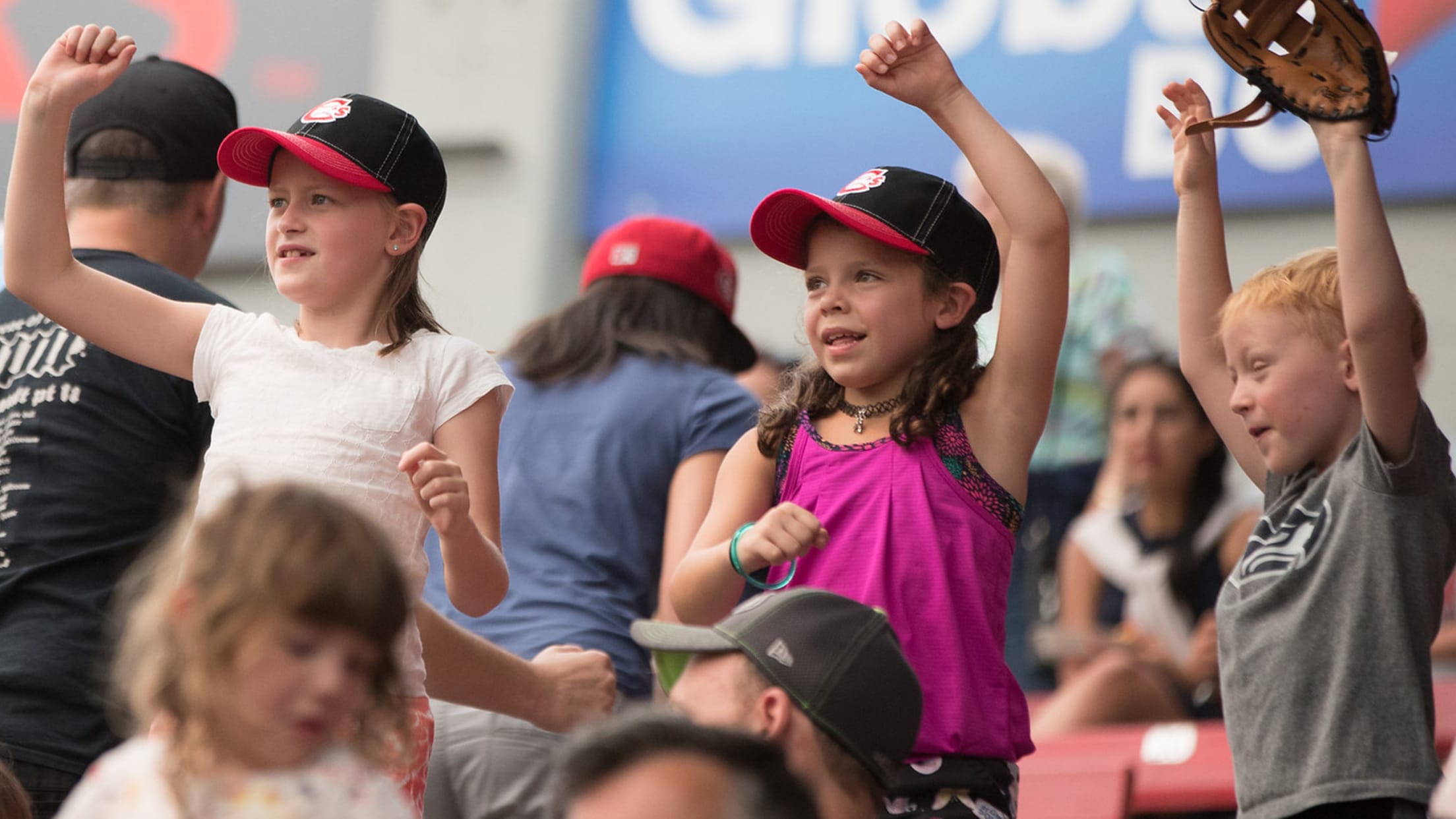 Everett, WA - 17-year old Winder Garcia retired the first nine Aquasox that he faced in order and went five strong innings allowing just one run but Everett got a pair of runs off Parker Caracci late to complete a three-game sweep of the Vancouver Canadians on Monday afternoon with
Gm 75: C's fall 11-3 in Everett on Sunday afternoon
Vancouver runs into red hot Aquasox offense dropping fourth straight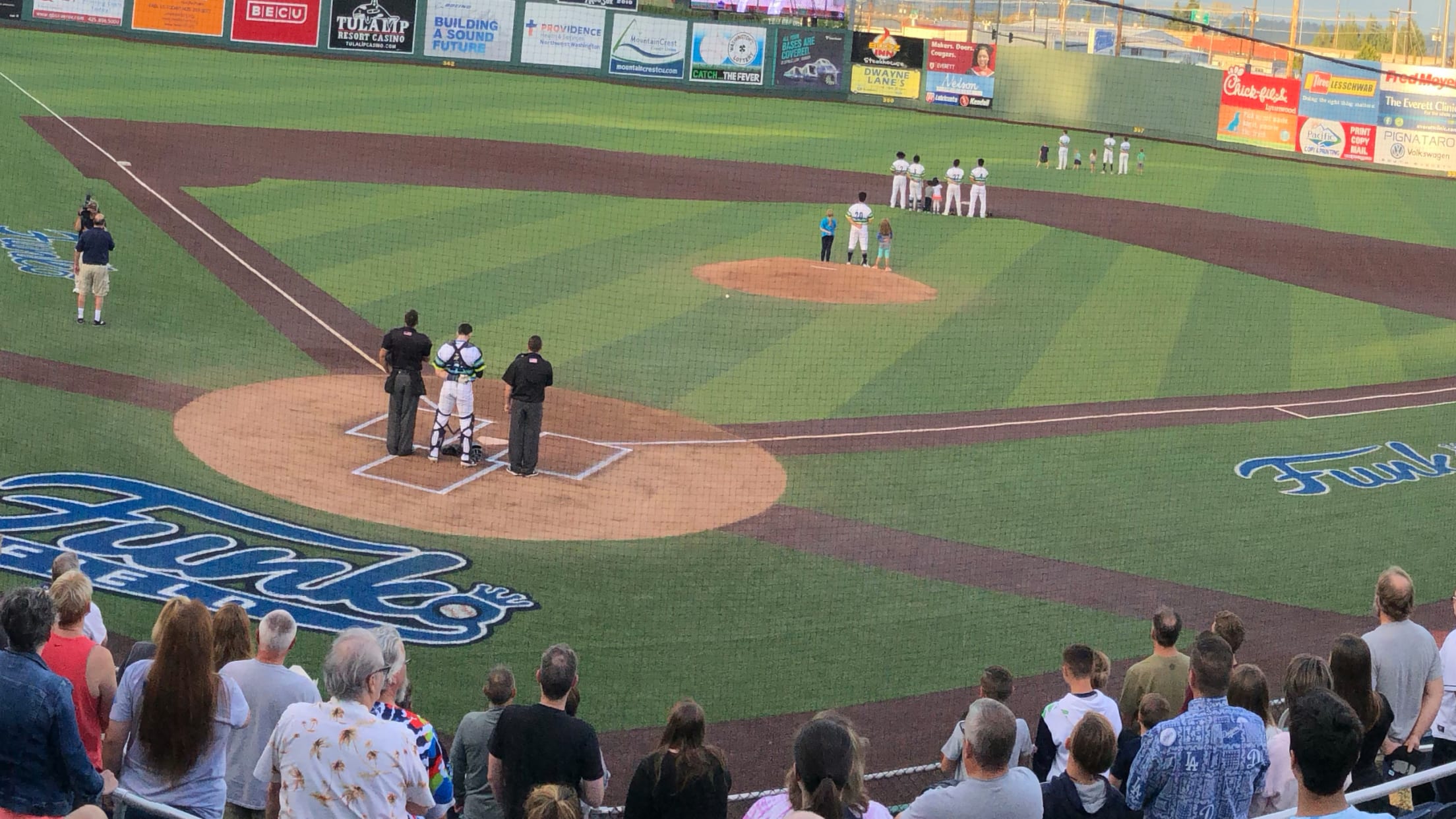 Everett, WA -- Luis Quinones struggled in his final outing of the summer allowing a season-high six earned runs over his 2 1/3 innings as Everett scored early and often on route to a 11-3 victory over Vancouver on Sunday afternoon. The loss was the Canadians fourth straight since being
Gm 74: C's just can't catch Everett; fall 5-3 on Saturday
Vancouver fights back to draw even only to hand back lead to Aquasox on Saturday night out at Funk Field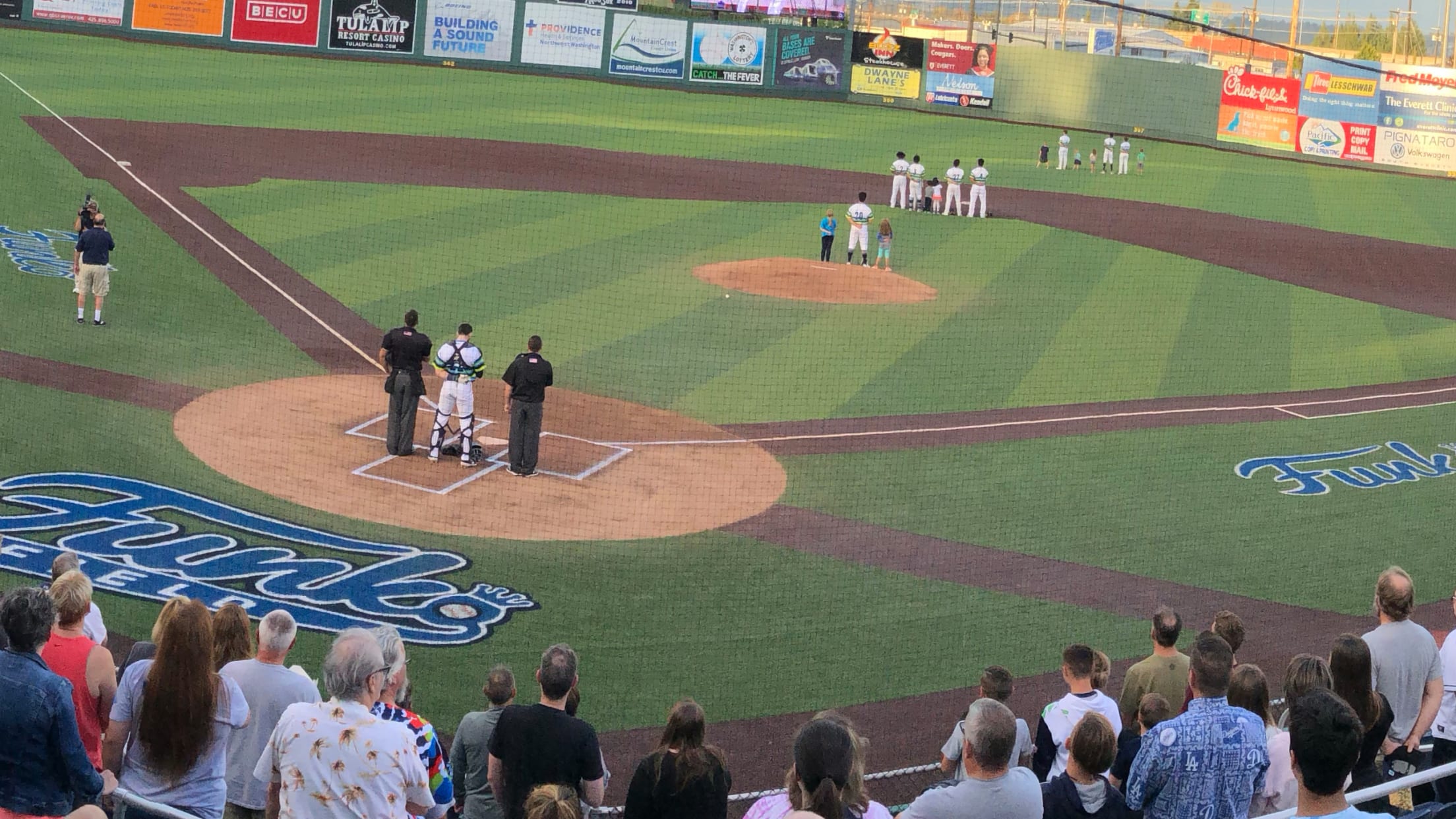 Everett, WA -- Perhaps it was poetic justice for the Aquasox after base umpire Kyle Stutz missed a call that helped the Canadians erase a two-run deficit, that a pair of catchable baseball both fell for base hits in the bottom of the eighth inning to hand Everett a 5-3
Gm 73: Dust Devils clinch second half pennant with 8-5 win over C's
Vancouver blows four-run lead as Tri-City punches ticket to the post-season at Nat Bailey Stadium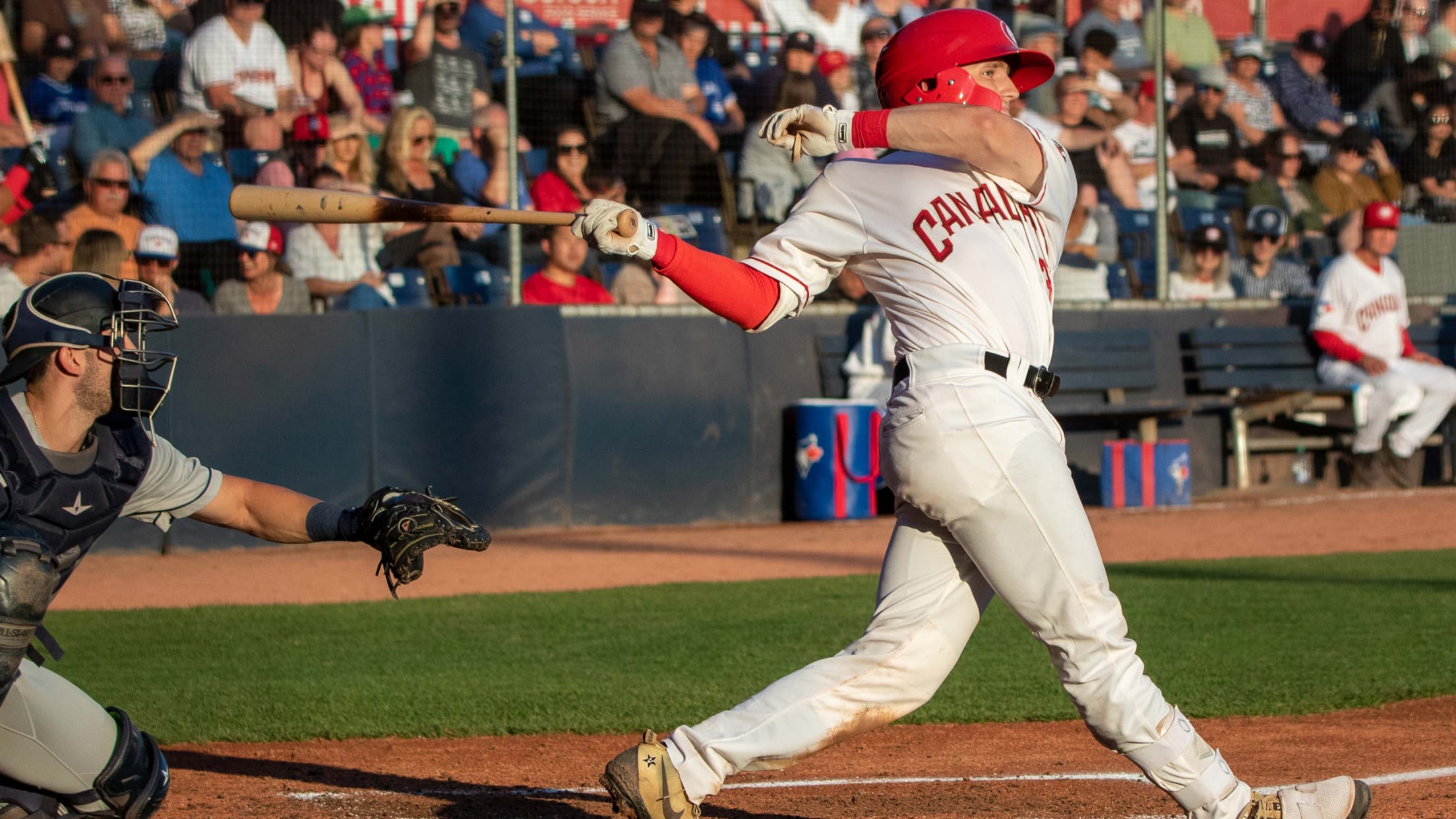 Vancouver, B.C. -- Jared DiCesare went five innings allowing four hits and a lone run departing Friday's game with a four-run lead but Tri-City roared back with seven unanswered runs to claim the North Division second half pennant with an 8-5 victory in front of 6,413 fans marking the 25th
Canadians acknowledge players with season-ending awards
Adam Kloffenstein named Canadians Most Valuable Player in pre-game ceremony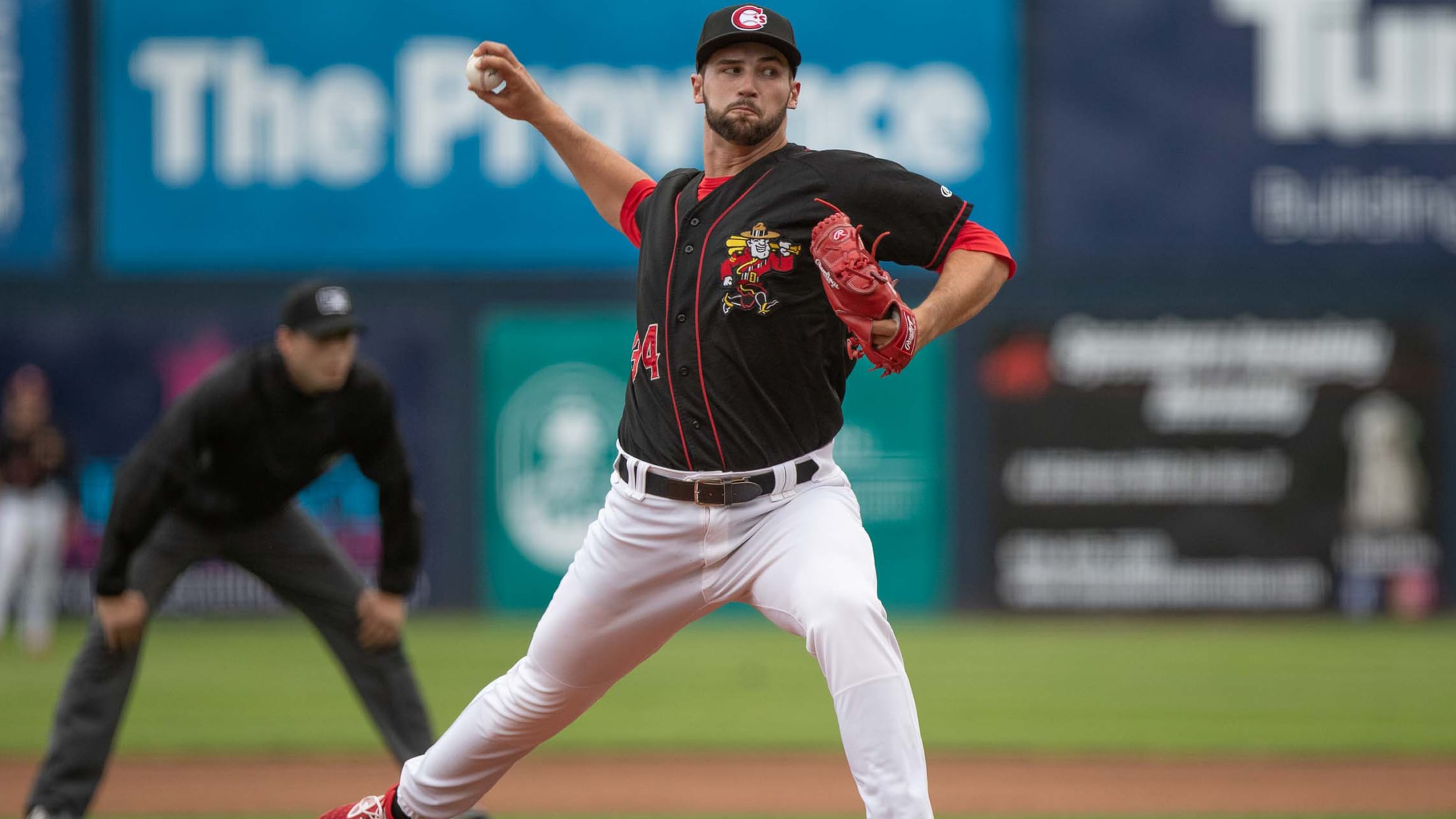 Nat Bailey Stadium - Vancouver, B.C. -- Adam Kloffenstein was acknowledged as the Vancouver Canadians most valuable player on Thursday in a pre-game ceremony located within the C's clubhouse. Each year the organization hands out four awards as the season draws toward its conclusion.Top Offensive Player - Yorman Rodriguez The
Gm 72: C's post-season hopes dashed in extra innings marathon
Thursday night summed up Vancouver's entire season in extra innings loss to Tri-City in a marathon 11-inning game that took nearly five hours to play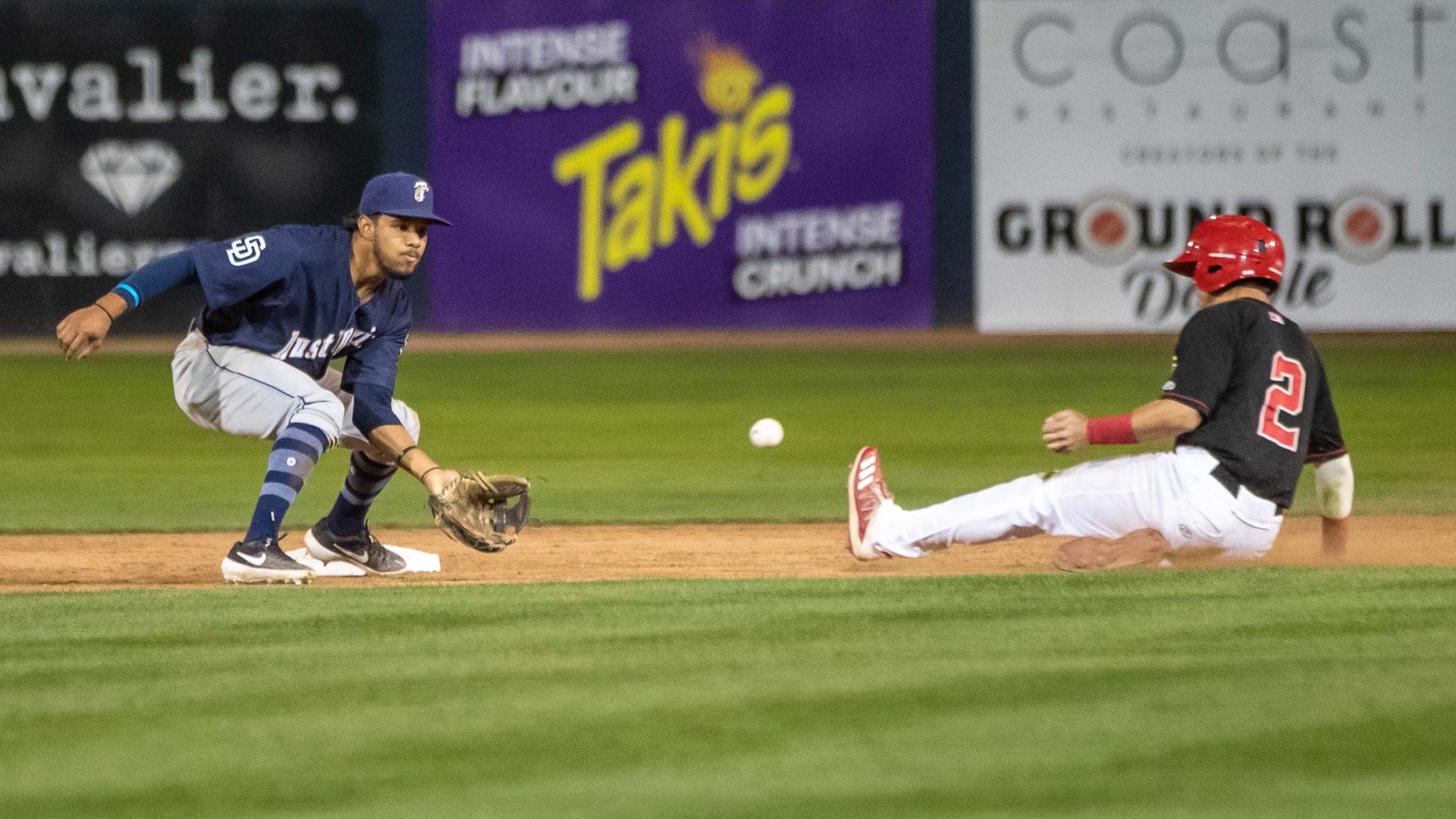 Nat Bailey Stadium - Vancouver, B.C. -- 437 pitches, 11 pitching changes, 21 walks, a pair of six-run innings, six lead changes and one playoff spot on the line were just some of the storylines coming out of Thursday's four-hour, forty-two minute extra inning marathon that saw the Canadians fall
C's partner with The Cape Group on New Community Initiative
The Vancouver Canadians Baseball Club in cooperation with The Cape Group are proud to announce a new community initiative that will give local baseball organizations the change to truly make a difference for players of all abilities.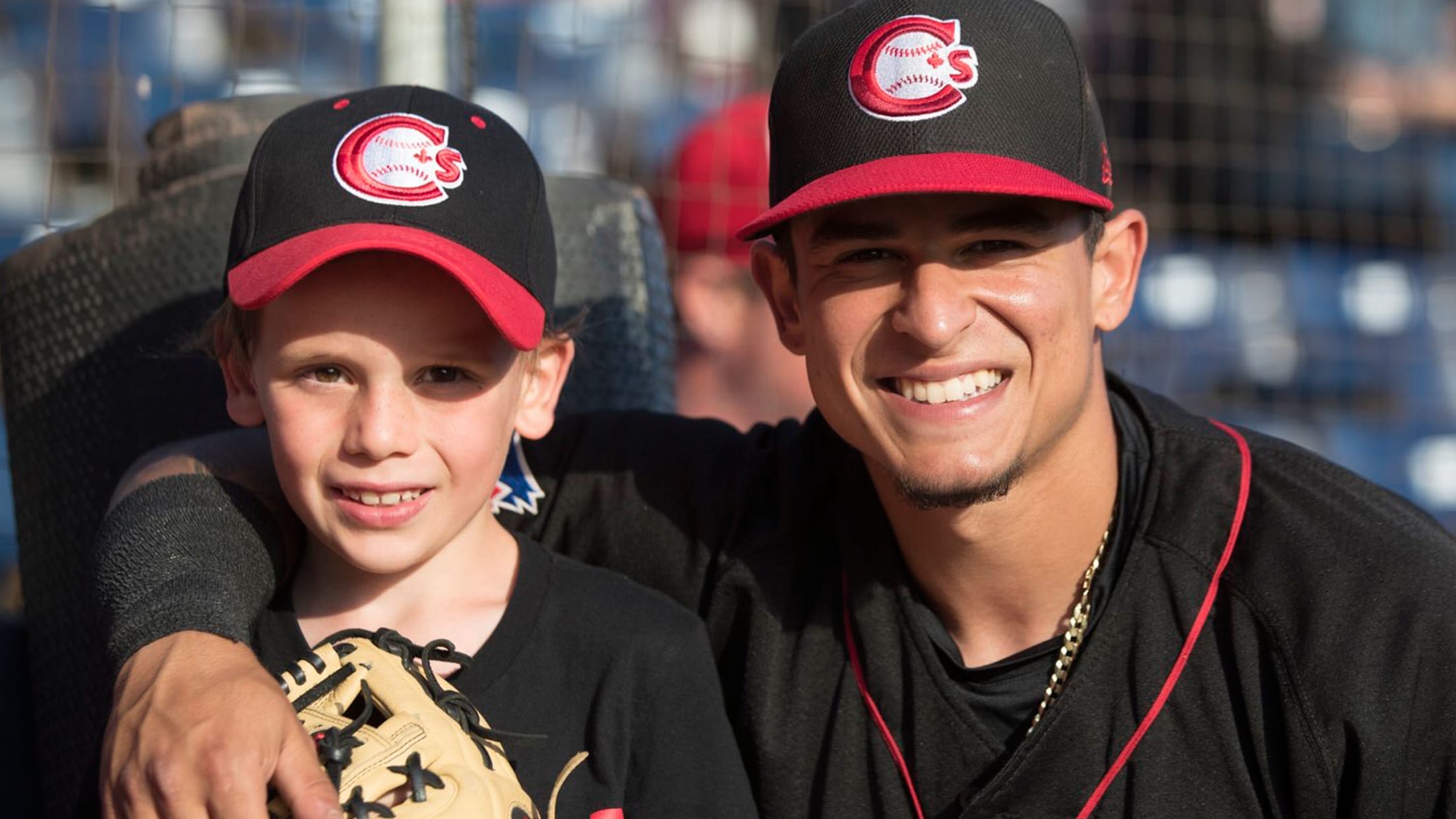 (Nat Bailey Stadium - Vancouver, B.C.) - The Vancouver Canadians Baseball Club in cooperation with The Cape Group are proud to announce a new community initiative that will give local baseball organizations the chance to truly make a difference for players of all abilities.The Change-Up Field Project will award two
Gm 71: Walk-off win keeps C's post-season alive for another day
Sloniger delivers in bottom of ninth to propel Vancouver to 8-7 walk off win over Dust Devils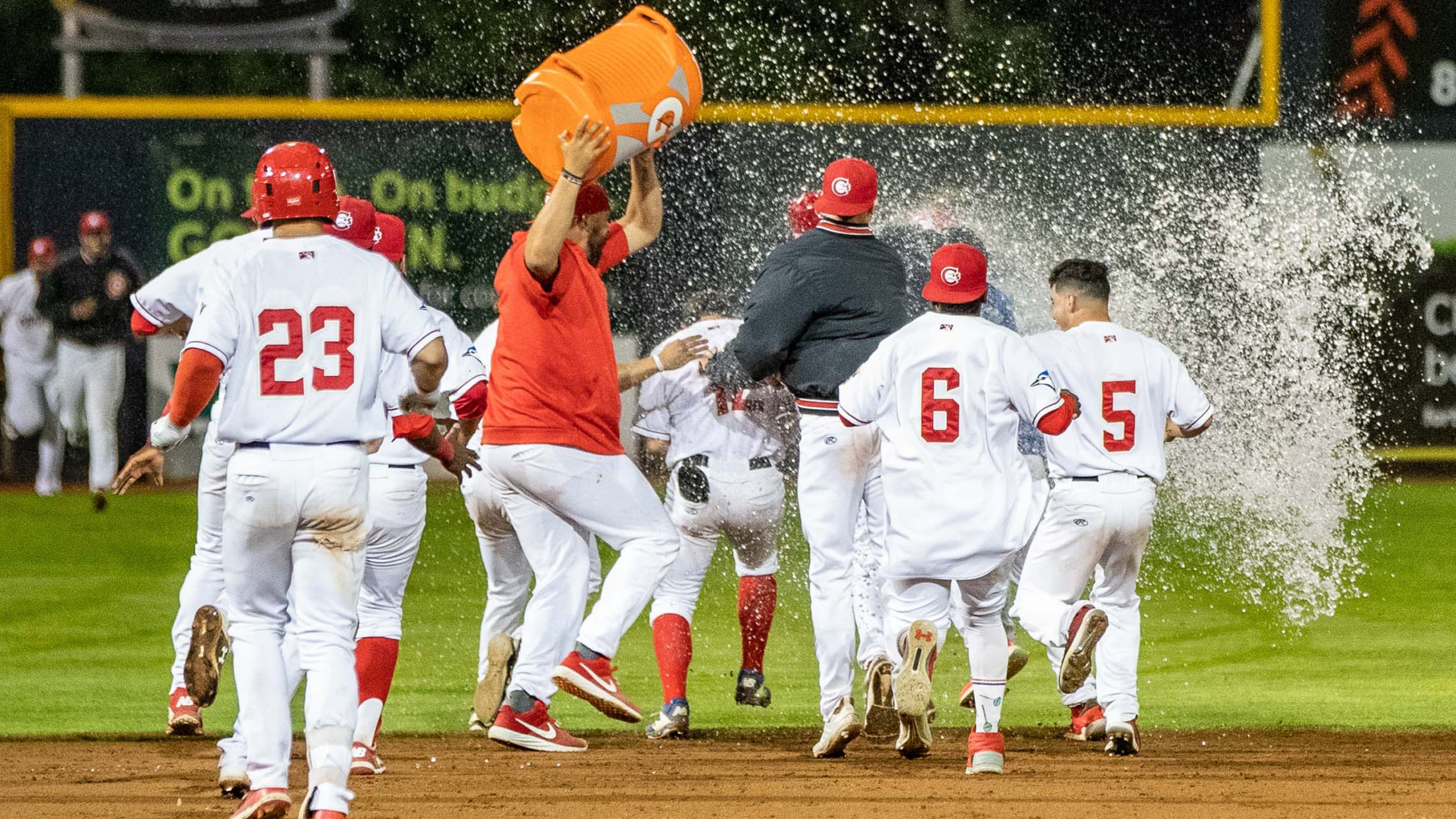 Nat Bailey Stadium - Vancouver, B.C. - Ryan Sloniger's RBI single in the bottom of the ninth snapped a 7-7 tie and helped the Canadians keep its slim post-season hopes alive on Wednesday night in front of 6,413 sun soaked fans. Vancouver (15-18) sent Adam Kloffenstein to the mound and
Gm 70: C's strike out 19 in 9-1 victory over Volcanoes
Salem-Keizer walks 13 Canadians to drop second straight out at Nat Bailey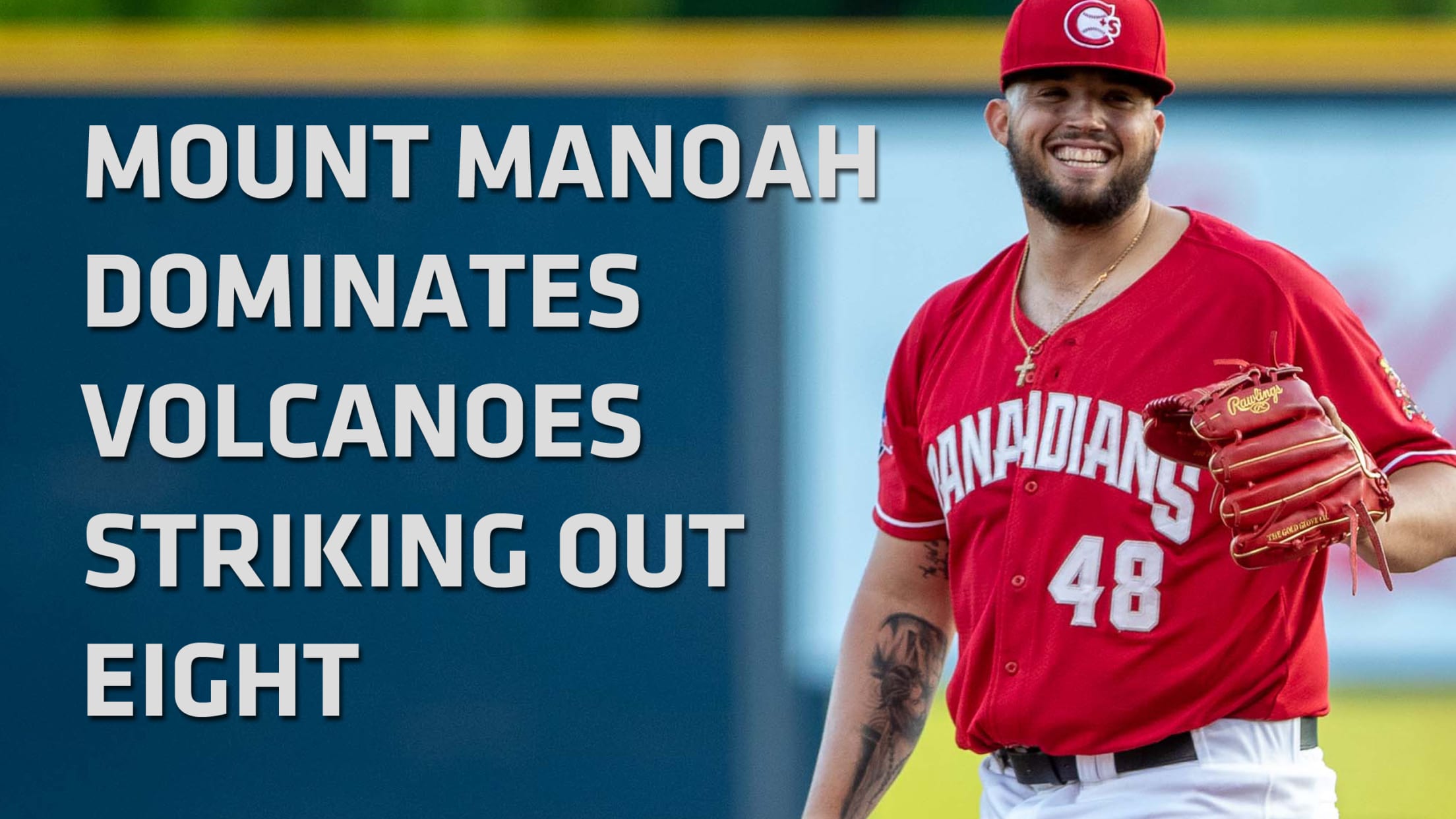 Nat Bailey Stadium - Vancouver, B.C. -- Alek Manoah struck out eight over his four innings of work setting the tone for a Canadians pitching staff that struck out 19 Volcanoes on Monday night in front of a sold out crowd at Nat Bailey Stadium. The Canadians topped Salem-Keizer for
Gm 69: C's six-run outburst sinks Volcanoes on Sunday at The Nat
Vancouver pitching dominant to pace Canadians to lopsided victory over Salem-Keizer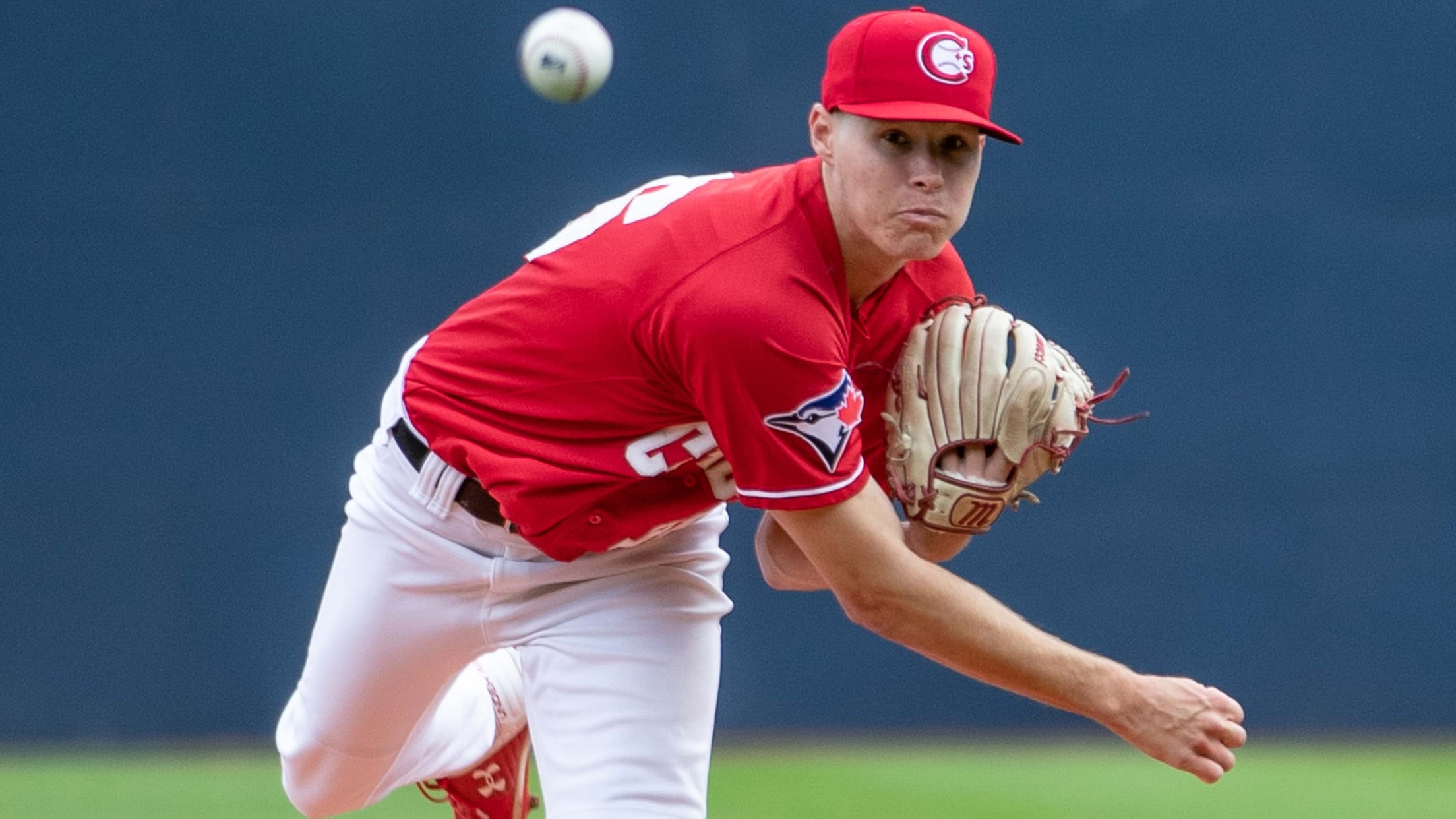 Vancouver, B.C. -- Luis Quinones struck out nine over his four innings of work while Tanner Morris had three hits and a pair of RBI as Vancouver found its first win of the weekend with a 7-1 victory over Salem-Keizer on Sunday afternoon in front of a sold out crowd
Gm 68: Vancouver rally in 9th not enough falling 5-3 to Volcanoes
Canadians shut out for first eight innings but get spark in 9th plating three in Saturday night loss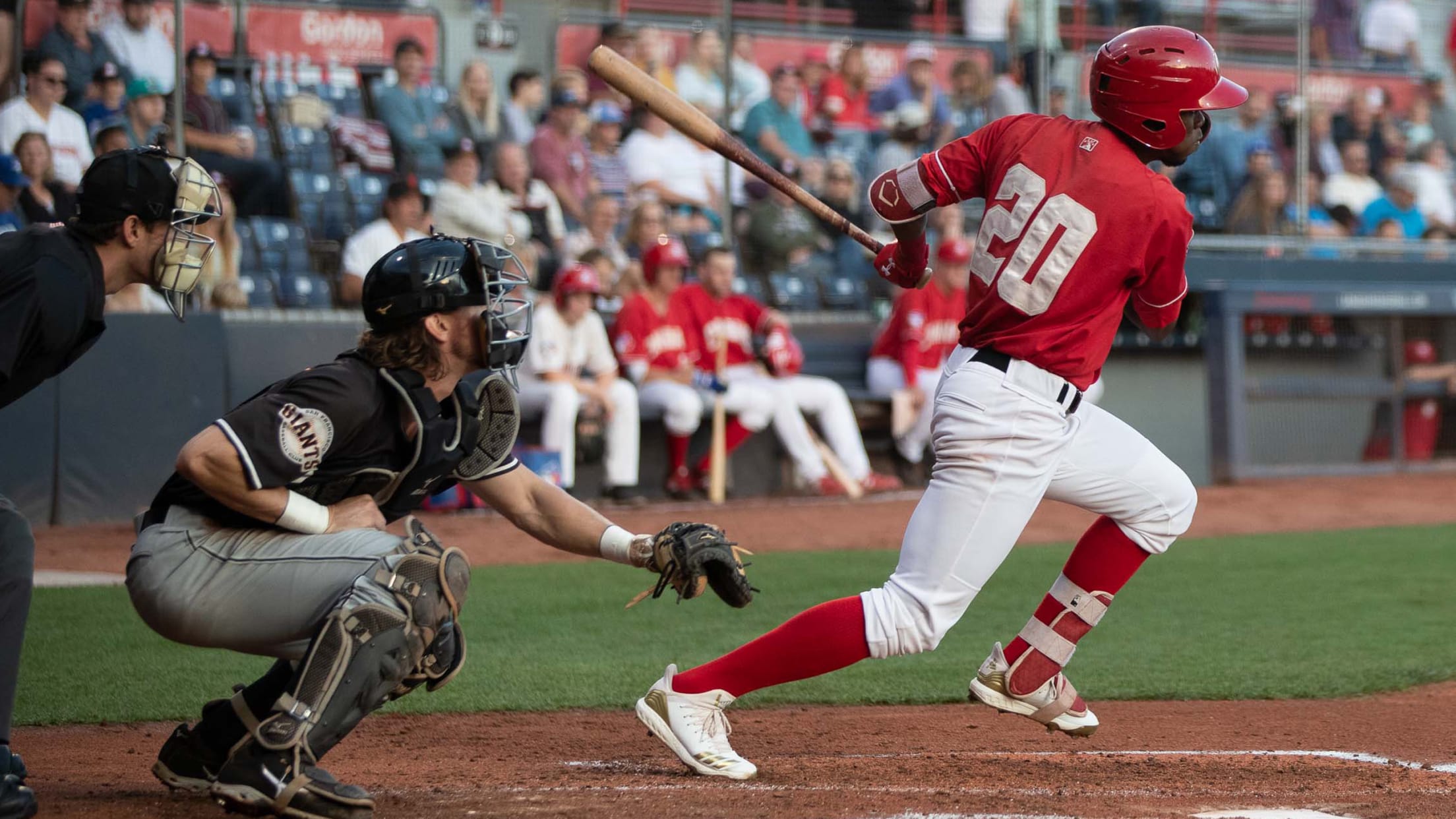 Nat Bailey Stadium - Vancouver, B.C. -- A four-run top of the fifth inning that featured a pair of triples from Armani Smith and Tyler Wyatt was enough for Salem-Keizer to sink the Vancouver Canadians on Saturday in front of a sellout crowd of 6,413 fans out at Nat Bailey
Gm 67: Volcanoes dampen C's playoff hopes with 4-1 win out at The Nat
Canadians just can't find offense dropping third game in past four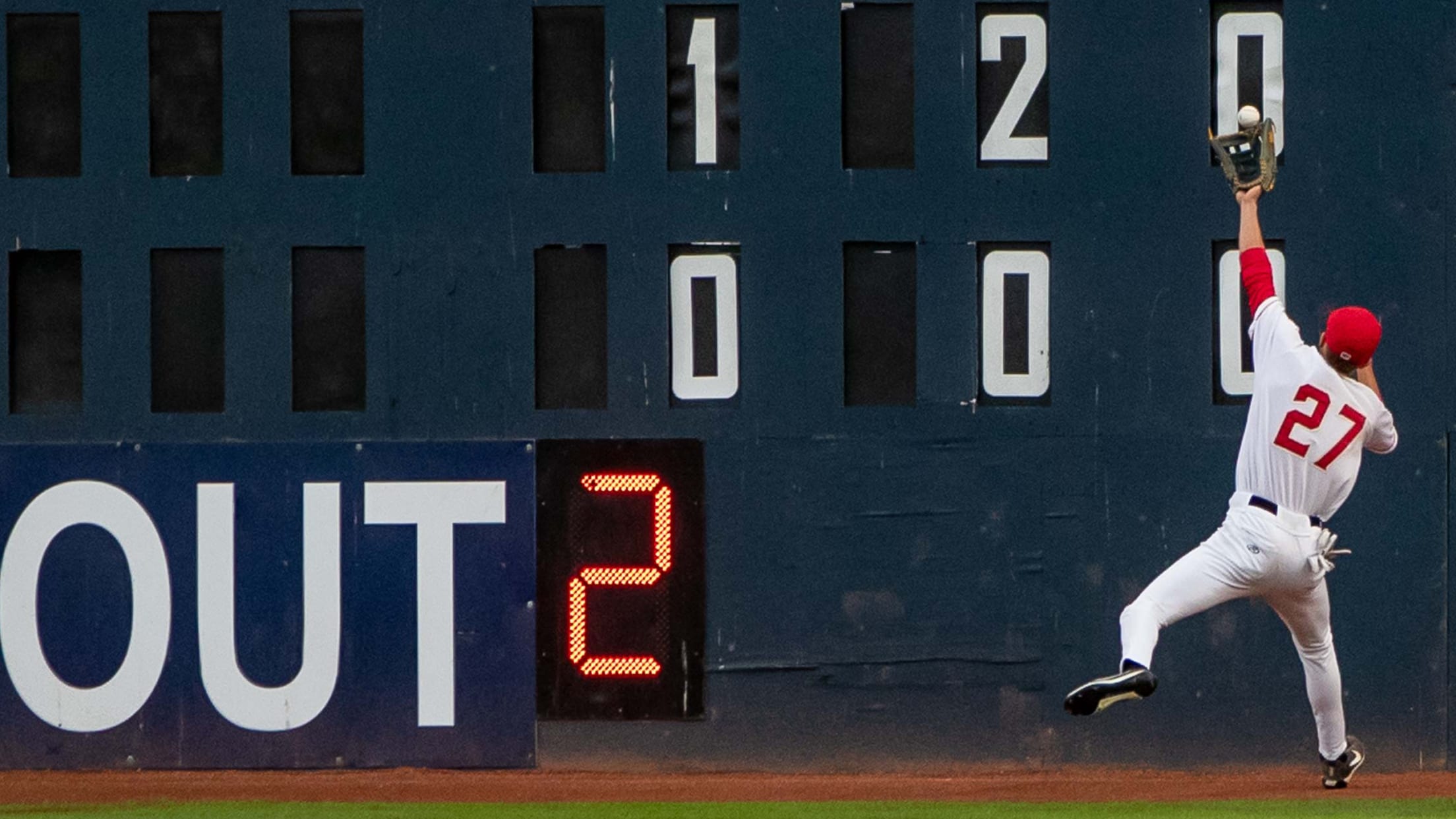 Nat Bailey Stadium - Vancouver, B.C. -- Jasier Herrera went seven innings of one-run baseball to help Salem-Keizer open a four-game series with a 4-1 victory over Vancouver on Friday night in front of 6,413 fans. The loss was Vancouver's third in the past four games.Armani Smith was 2-for-4 with
Gm 66: C's shutout in Tri-City striking out 17 times
Vancouver last six hitters strike out in order to fall three back of Tri-City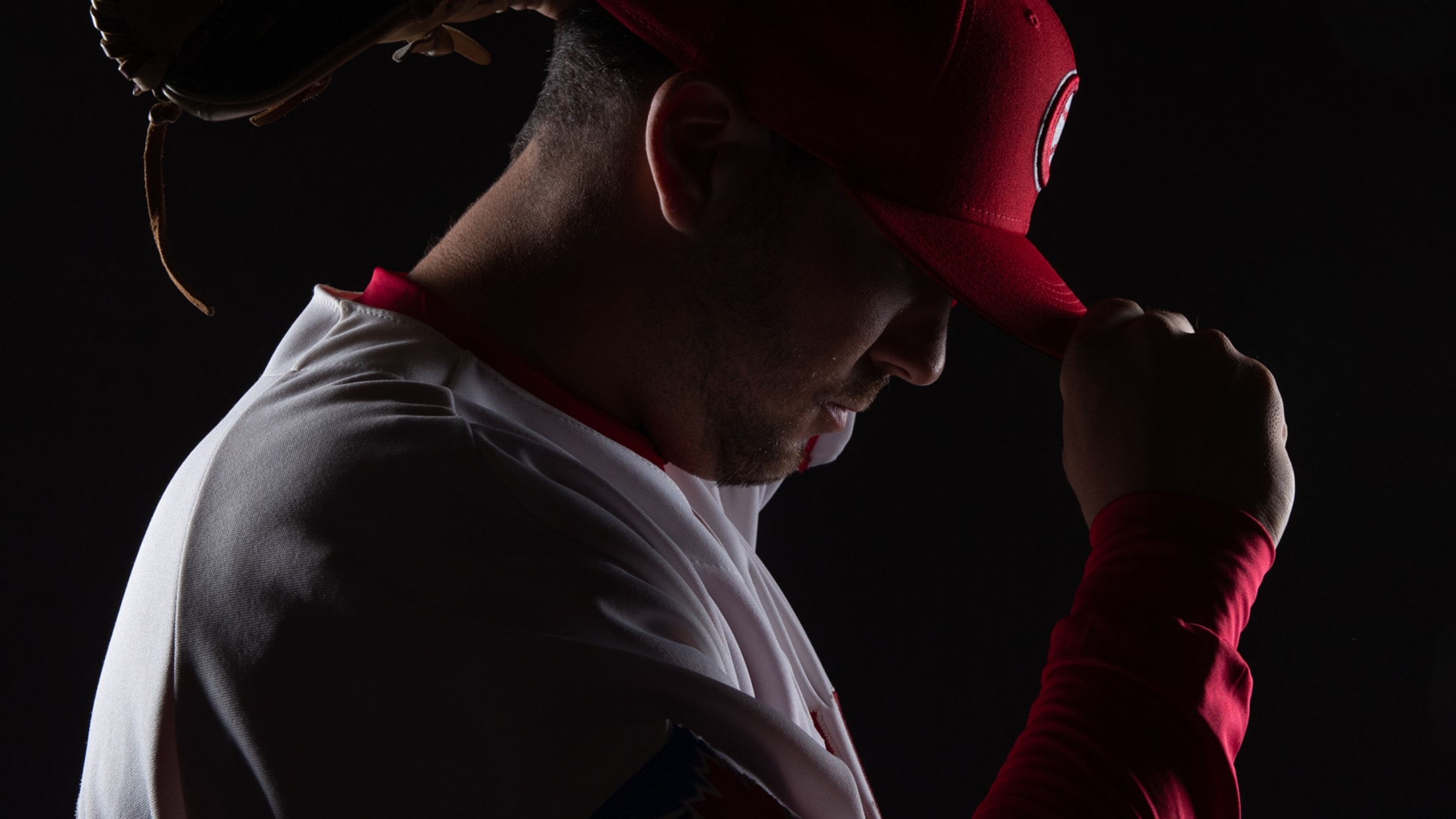 PASCO, Wa -- Despite six strong innings from Alex Nolan who allowed one unearned run, Vancouver's offense has the spotlight on them after striking out 17 times en route to a 2-0 shutout loss to Tri-City on Thursday night out at Gesa Stadium. The loss moves Vancouver three back of
Gm 65: Pitching takes center stage in C's 1-0 extra innings victory
Kloffenstein & Gillingham deliver Vancouver's most important win of 2019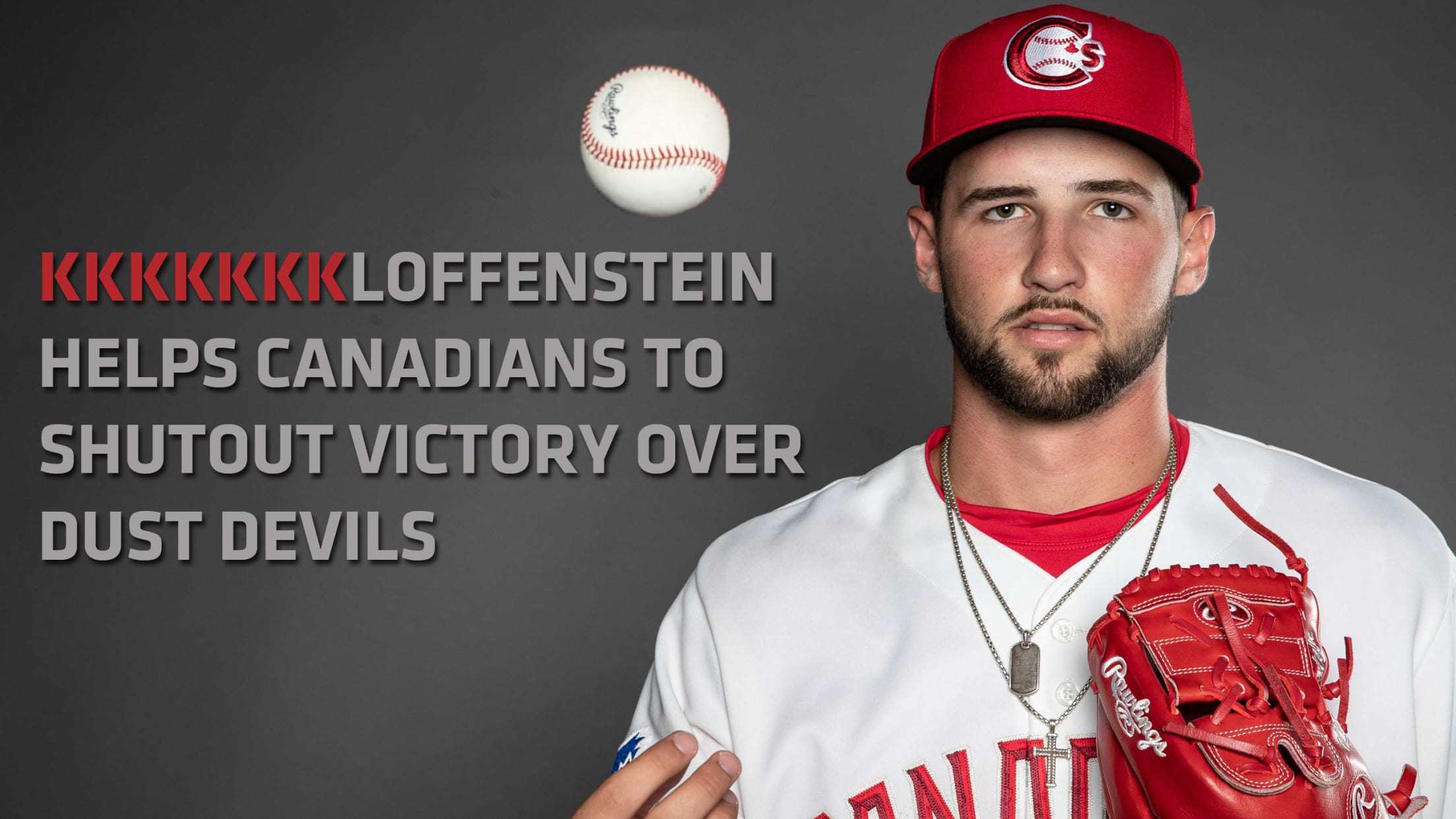 PASCO, Wa. -- Adam Kloffenstein went seven shutout innings followed by three spotless frames from Luke Gillingham as Vancouver powered past Tri-City 1-0 in ten innings on Wednesday night out at Gesa Stadium. The victory improves the Canadians to 4-1 in the past five games and 7-3 over the past
Gm 64: Manoah takes loss as Vancouver offense sputters in 4-2 defeat in Tri-City
Canadians look lethargic in series opening loss to Dust Devils as playoff hopes dim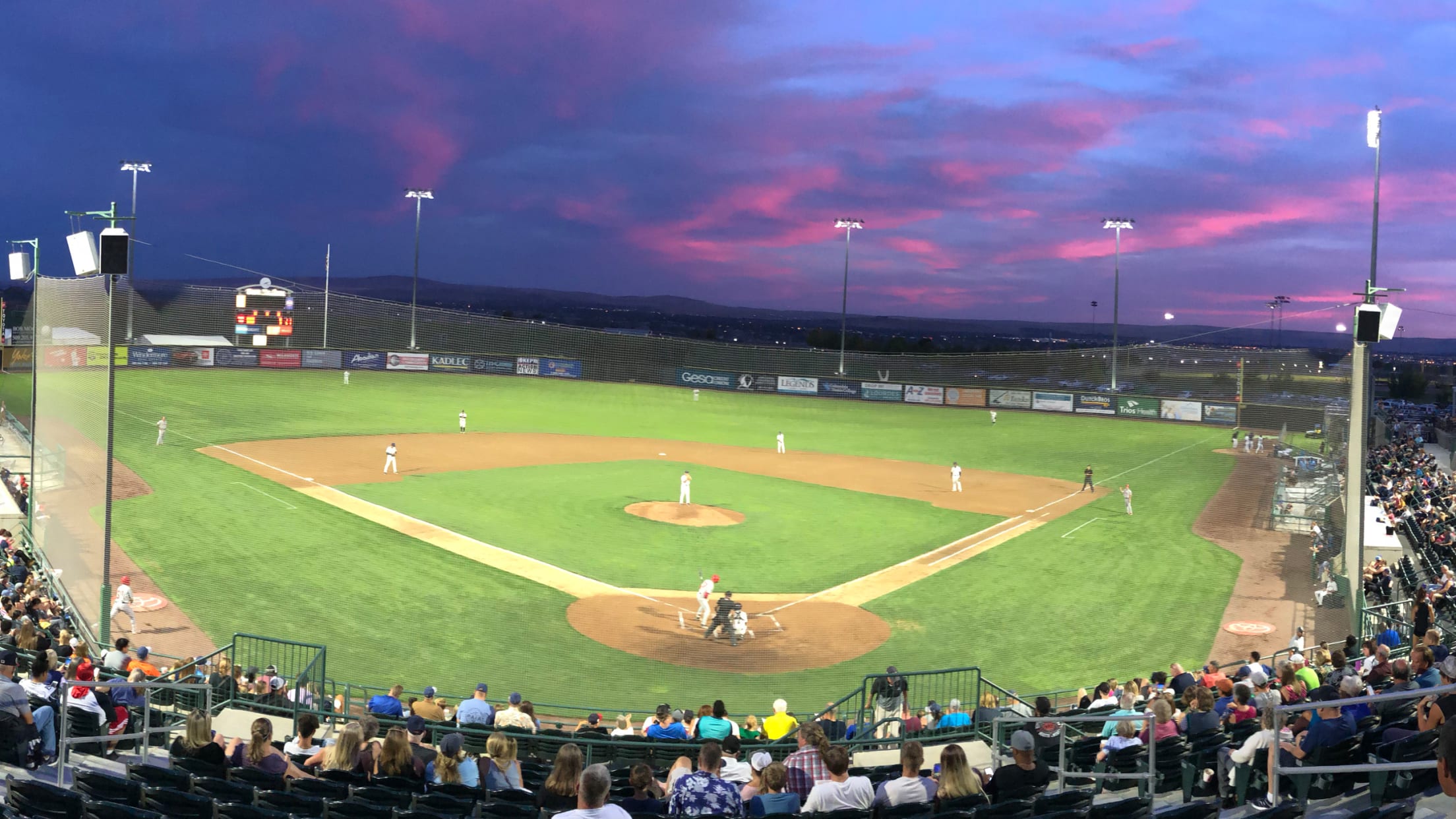 Pasco, Washington -- Vancouver managed just one hit on Tuesday opening a three-game series out at Gesa Stadium where the Tri-City Dust Devils won a fourth consecutive game over the Canadians 4-2 in front of 1,713 fans. The loss keeps Vancouver four games back of North Division leading Spokane with
Gm 63: C's ride brooms toward Tri-City after sweep of Hawks
Vancouver improves to 4-1 over past five games with 8-3 victory over Boise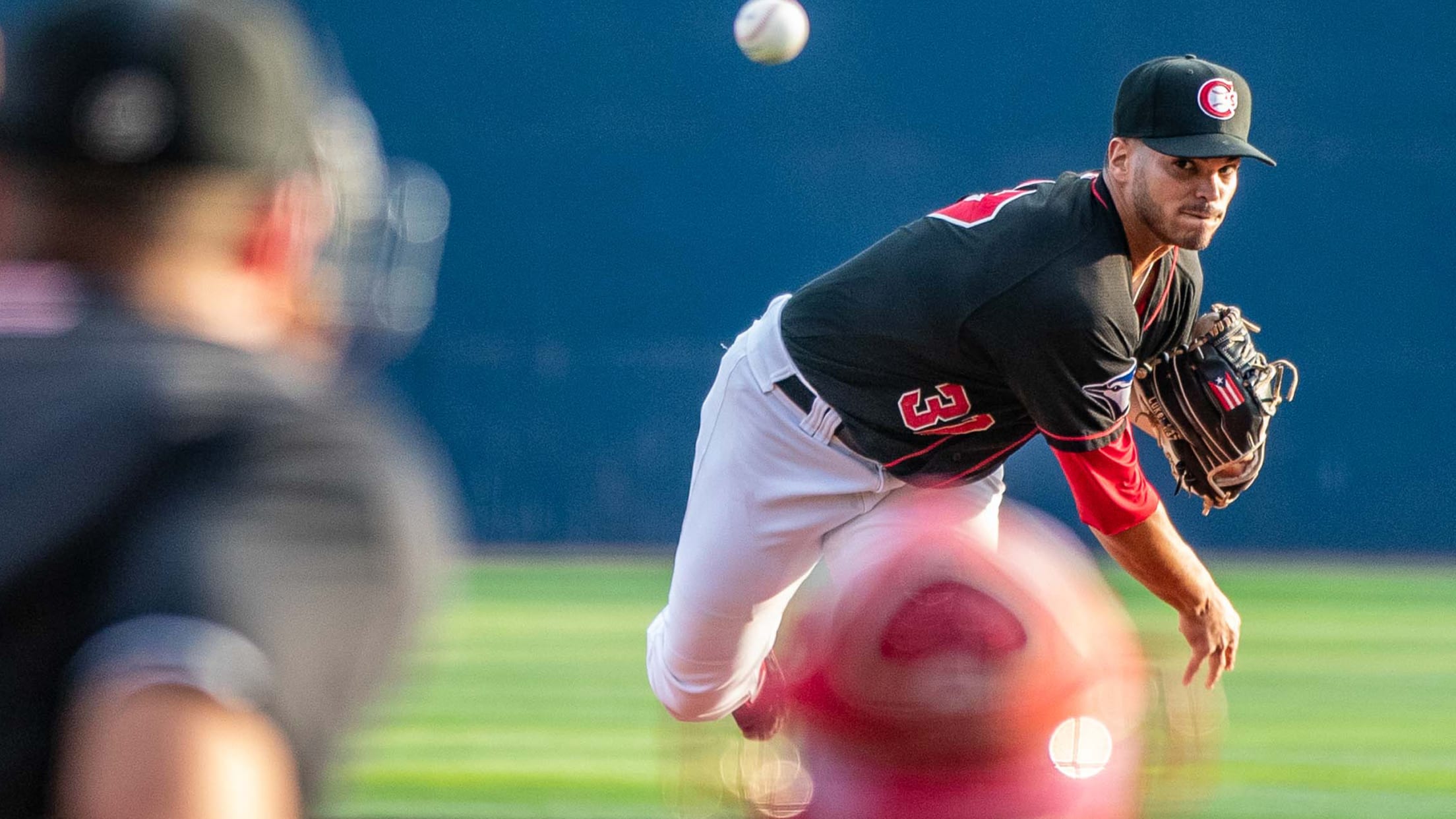 Nat Bailey Stadium - Vancouver, B.C. -- Cameron Eden went 3-for-5 helping pace the Canadians offense toward an 8-3 victory over Boise on Monday night in front of 6,413 fans. Vancouver collected 12 hits in the finale of a three-game series against the South Division Hawks while Nick Fraze earned
Gm 62: C's win second straight thriller over Boise
Vancouver finds 3-2 victory over Hawks to take series on Sunday afternoon out at Nat Bailey Stadium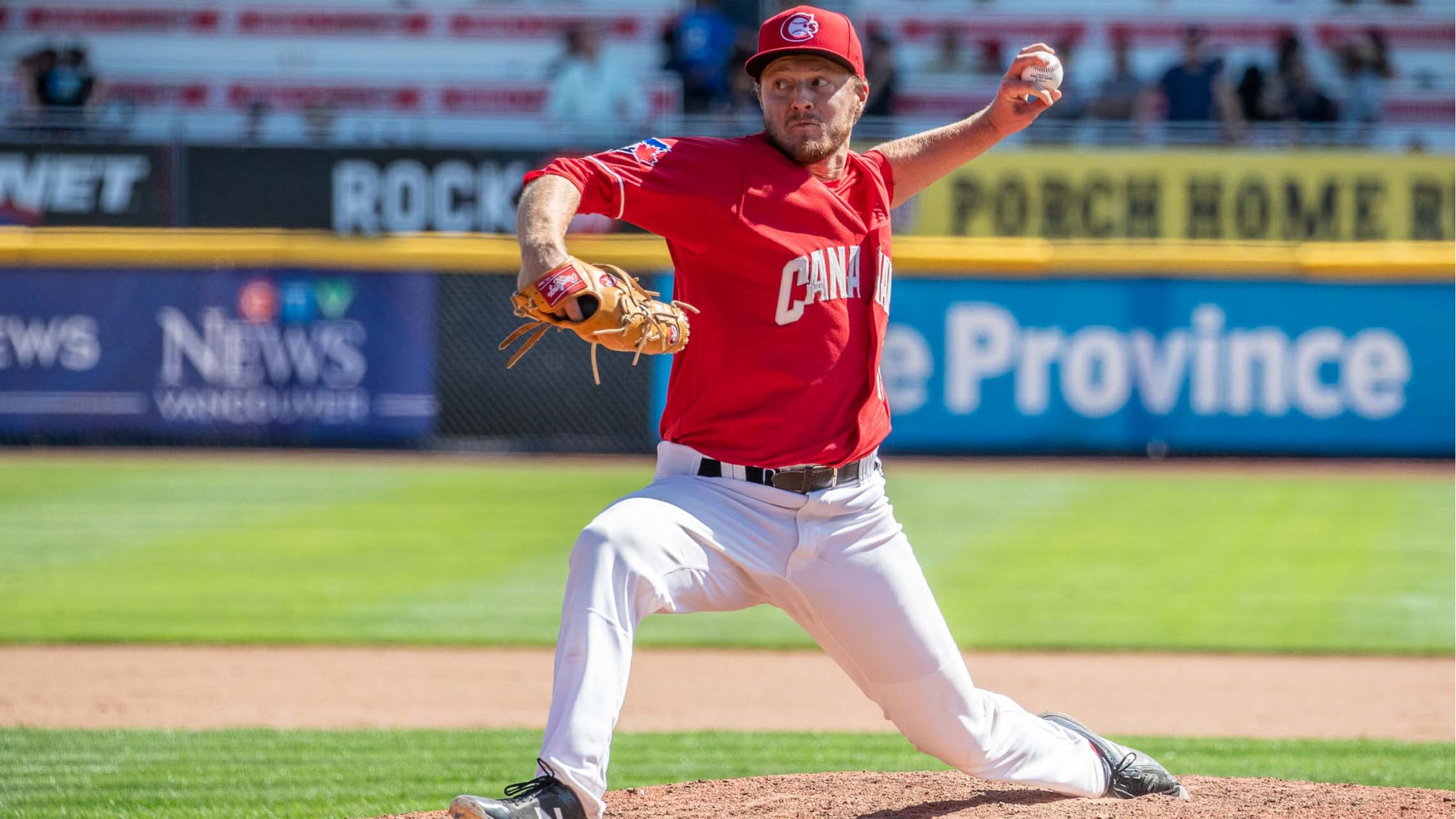 Vancouver, B.C. -- A ground ball off the bat of MC Gregory Contreras skipped off Tyler Plantier's glove at third base allowing Philip Clarke to score helping Vancouver to a 3-2 victory over Boise on Sunday afternoon in front of 6,413 sun soaked fans at Nat Bailey Stadium.Boise scored a
Gm 61: 12th inning is where Vancouver finds series opening victory vs. Boise
Canadians score winning run on wild pitch to open home stand with much needed victory over Hawks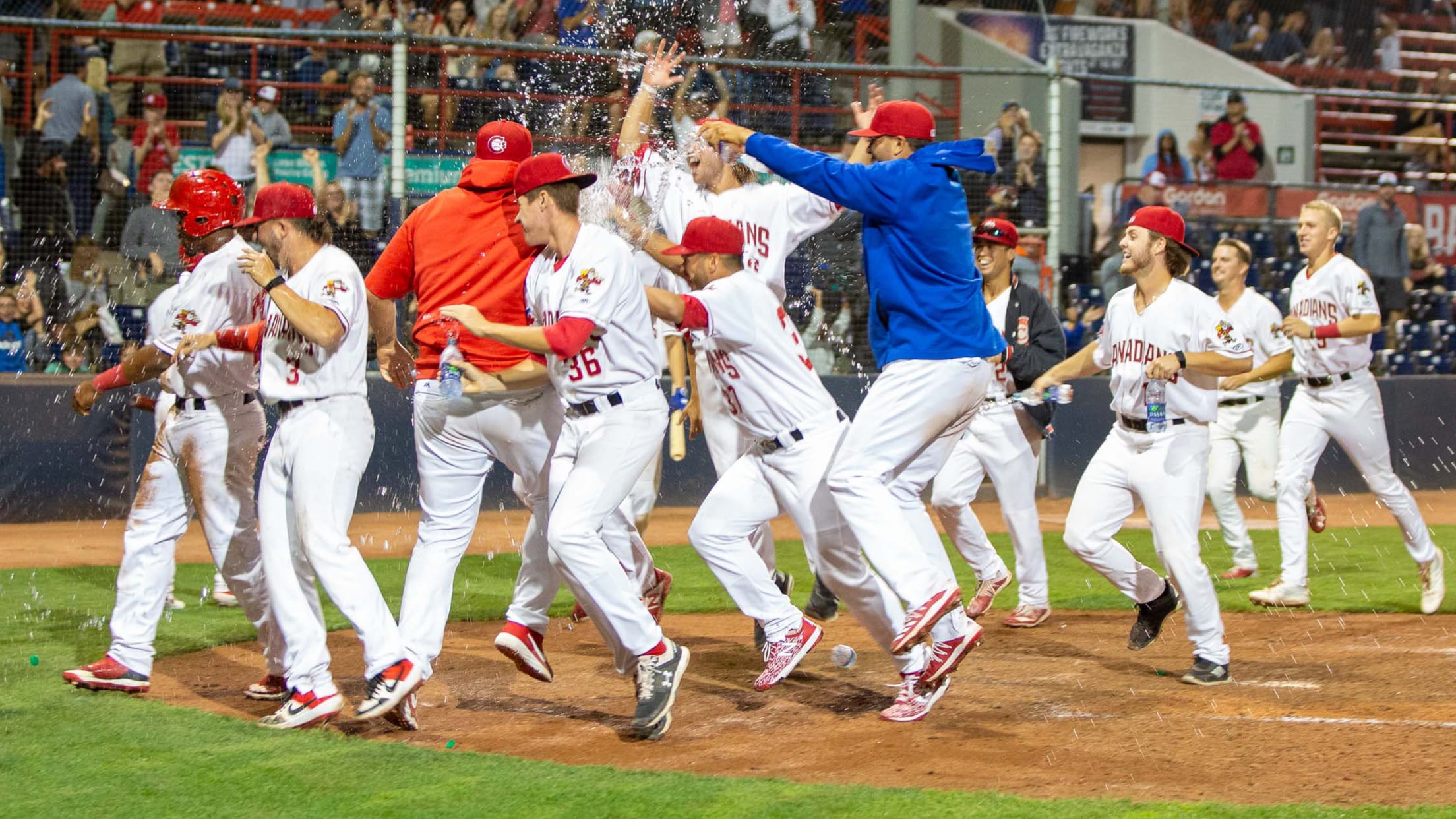 Vancouver, British Columbia -- Stephen Jones uncorked a wild pitch in the bottom of the twelfth inning scoring McGregory Contreras from third base as the Vancouver Canadians (9-14) kept pace in the North Division with a 3-2 extra innings victory over Boise on Saturday night in front of 6,413 fans
Gm 60: Spokane steers C's playoff hopes in wrong direction
Vancouver offense sputters in series finale vs. Indians on Friday night; fall 2-1 out at Avista Stadium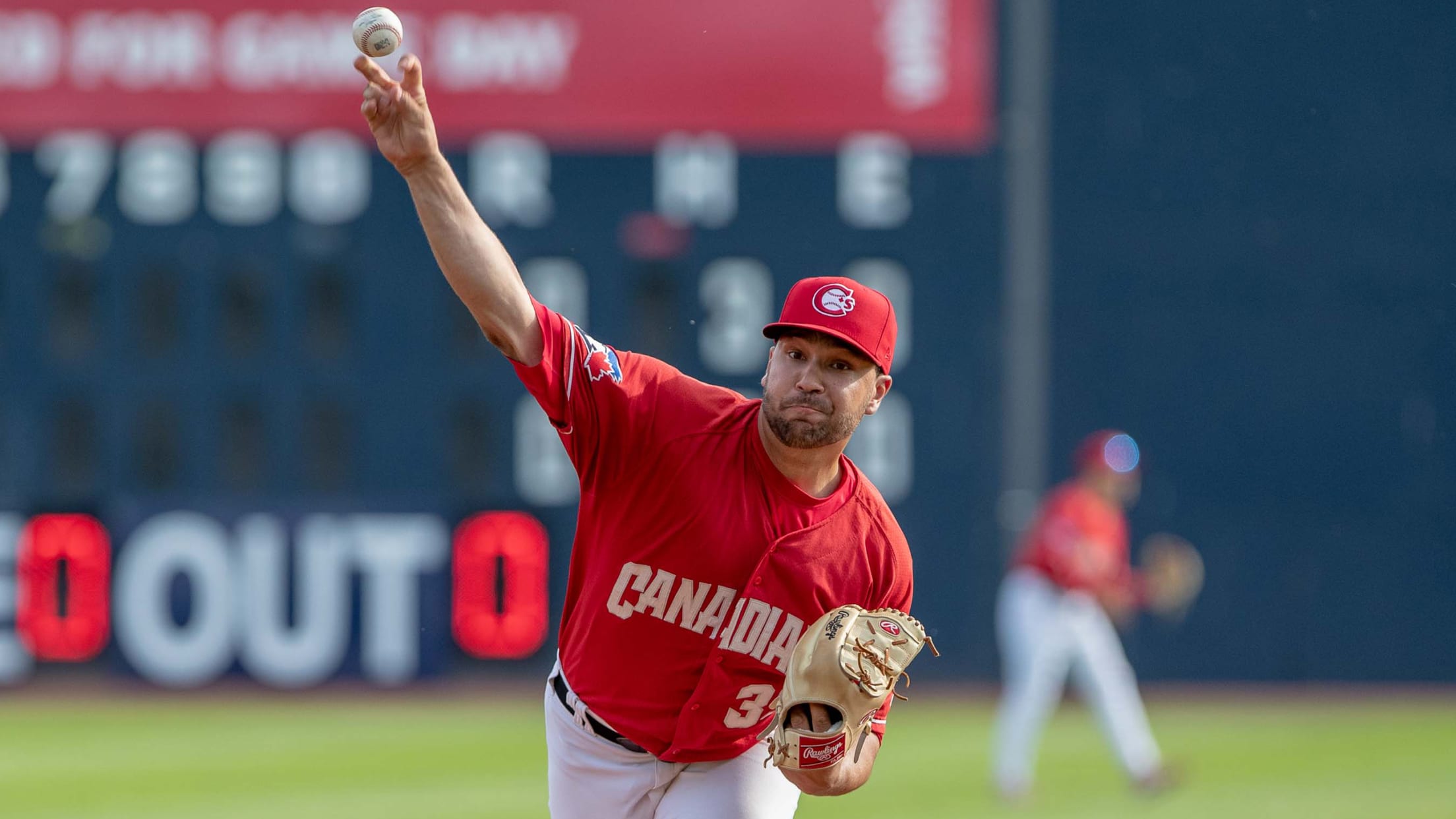 Spokane, Washington -- Kellen Strahm stole a sure base-hit off the bat of Will Robertson in the top of the third inning saving a pair of runs and then proceeded to slug the second of two straight home runs off Alex Nolan to help the Indians to a 2-1 victory
Gm 59: King Kloff helps shutout Spokane on Thursday night
Vancouver pitching takes center stage in one-run victory that pulls C's to within four of North Division leading Indians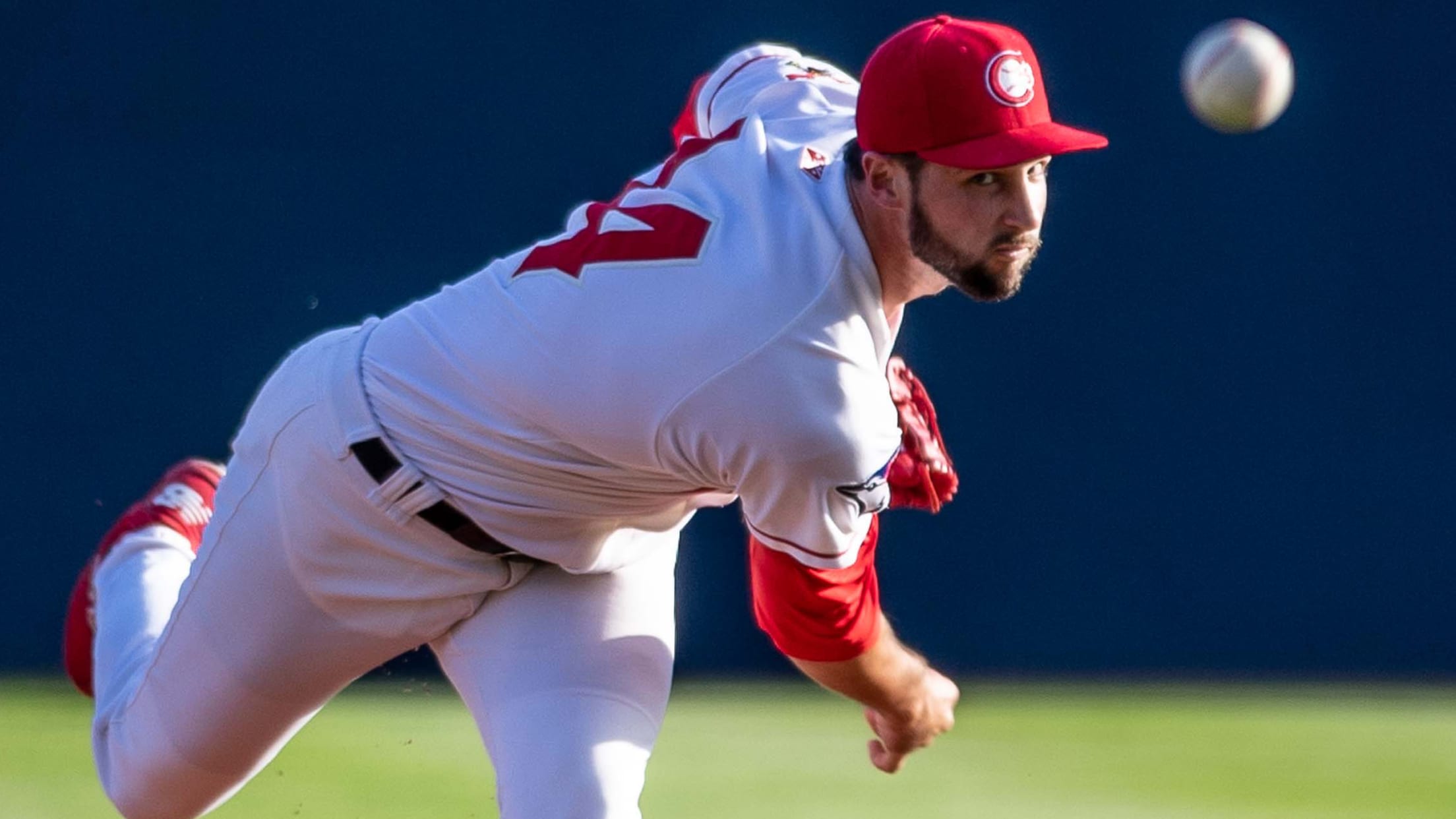 Spokane, Washington -- Adam Kloffenstein went five scoreless innings striking out eight to help pace Vancouver to a much-needed 1-0 victory over Spokane on Thursday night out at Avista Stadium in front of 5,195 fans. The win for Vancouver (8-13) moves them to within four games of top spot in