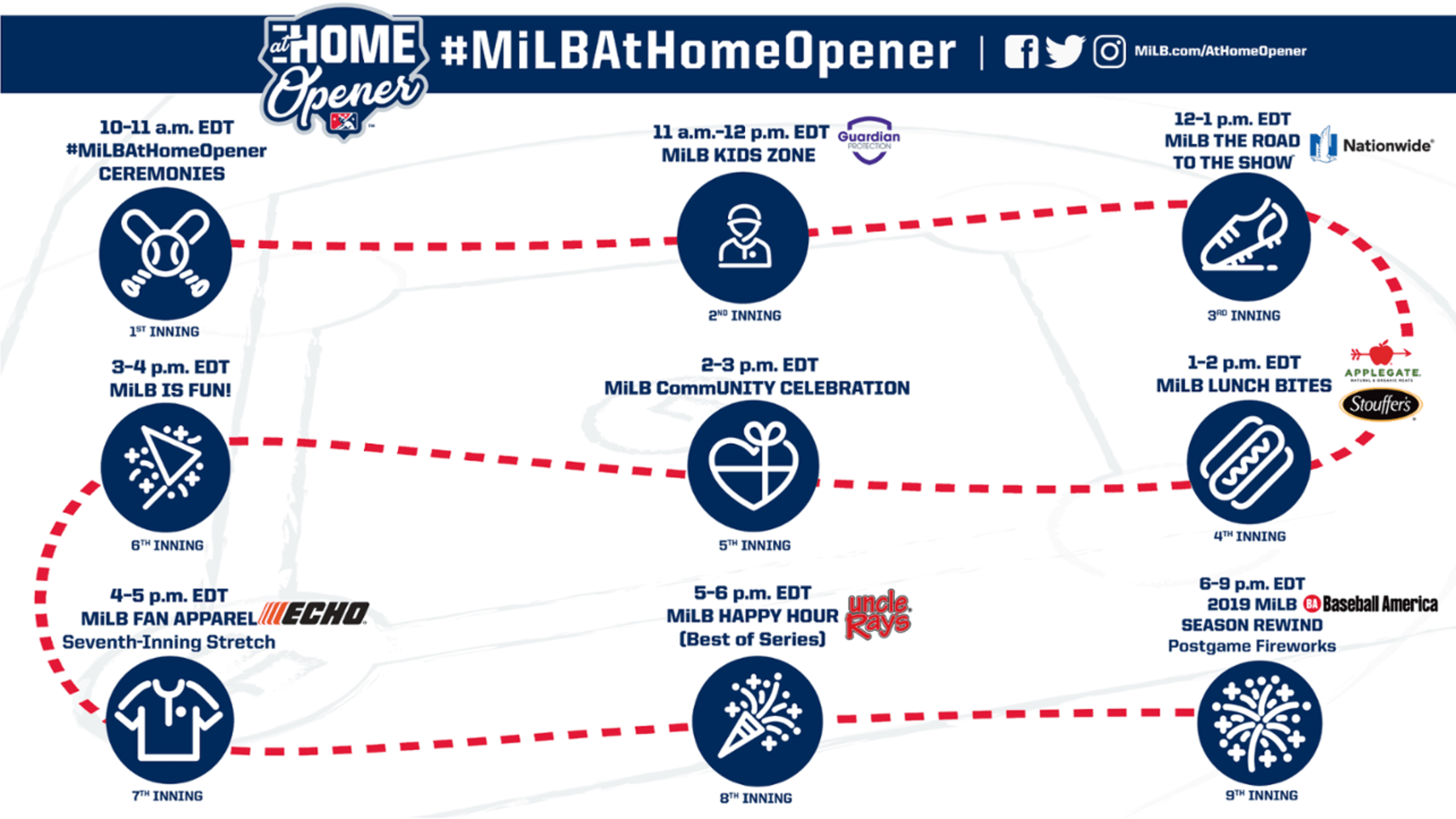 We're celebrating what would have been our favorite day of the year -- Minor League Baseball's Opening Night! Despite not taking the field, MiLB wants to make this special day the most memorable it can be with the best fans around, celebrating everything we love about baseball. So, round up your family, friends and pets and grab your favorite smart device. Check out today's schedule below and follow us on Facebook, Instagram and Twitter for a fun-filled day, virtually celebrating #MiLBAtHomeOpener.
Mentions: @MiLB | Hashtags: #MiLBAtHomeOpener
1st Inning (10-11 a.m. EDT)
#MiLBAtHomeOpener Ceremonies: Let's kick off the ceremonies with a #MiLBAtHomeOpener message from MiLB President & CEO Pat O'Conner. After that, join us for a special version of the national anthem.
Watch the Opening Day video.
Watch the National Anthem
2nd Inning (11 a.m.-12 p.m. EDT):
MiLB Kids Zone featuring Guardian Protection: Enjoy a fun-filled inning of activities and games for kids of all ages. Join the conversation as we chat about our favorite MiLB mascots and download and color some MiLB coloring pages. Don't forget to share your best artwork on social media using the hashtag #MiLBAtHomeOpener. You could even win a prize!
3rd Inning (12-1 p.m. EDT):
MiLB: The Road to the Show™ Covered by Nationwide: MiLB is home to baseball's top prospects, and this action-packed inning contains memorable on-field performances from today's brightest stars. Between chronicling those prospects' Road to the Show™ with highlight reels and a special live appearance by Tyler Maun and Sam Dykstra from MiLB's The Show Before the Show podcast, you will not want to miss this inning!
4th: Inning (1-2 p.m. EDT):
MiLB Lunch Bites featuring STOUFFER'S® and Applegate: MiLB is home to some of the most creative and mouthwatering food in all of sports and entertainment. Fans can download STOUFFER'S recipes to make at home, debate the best hot dog topping is and enter for a chance to win exclusive prizes from Applegate.
5th Inning (2-3 p.m. EDT):
MiLB CommUNITY Celebration: MiLB teams are hard at work finding ways to help their local communities while the season is delayed. Browse these initiatives and learn more about what teams are doing to help others.
6th Inning (3-4 p.m. EDT):
MiLB is Fun!: As the saying goes, "It's Fun to Be a Fan" of MiLB. This inning is all geared toward promoting the unforgettable on-field experiences that millions of fans enjoy every year, including promotional nights, giveaways and new identity reveals.
7th Inning (4-5 p.m. EDT):
MiLB Fan Apparel featuring ECHO Incorporated and Nationwide: Alright, MiLB fans, who can show up MiLB's Tyler Maun's cap collection? Now is your chance to show off your team pride and favorite MiLB gear. This inning is all about the creative, unique and locally relevant logos and identities of MiLB. Highlighting some of the best MiLB collections on MiLBStore.com, including the 92 Copa de la Diversión identities, supported by ECHO Incorporated and Nationwide, fans will have the chance to win select giveaways. And the MiLB At Home Opener would not be the same without a seventh-inning stretch, so get moving around the house and get ready for the homestretch.
Watch the 7th Inning Stretch
8th Inning (5-6 p.m. EDT):
MiLB Happy Hour (Best of Series): In this inning, fans can engage with some of the best moments across MiLB, including bat dogs, player dances and fan moments. Supporting this memory bank will be none other than the MiLB traveler, Ben Hill of Ben's Biz Blog. Ben will be providing some of his best memories from his MiLB journey.
9th Inning (6-10 p.m. EDT):
2019 MiLB.TV Season Rewind featuring Baseball America: Looking back on the 2019 MiLB season, there were plenty of awesome moments for our millions of fans to celebrate. To wrap up the day, MiLB will be streaming memorable games from last year's championship season that originally aired on MiLB.TV. Head on over to the MiLB Facebook and YouTube channels to relive some of the best of the best memories from last season. After the final out is made around 9 p.m., stick around on our social channels as we end the day the only way we know how -- with a bang! Join us for a virtual postgame fireworks show.