Frisco Stalls Arkansas, 3-1
Travs leave 10 runners on base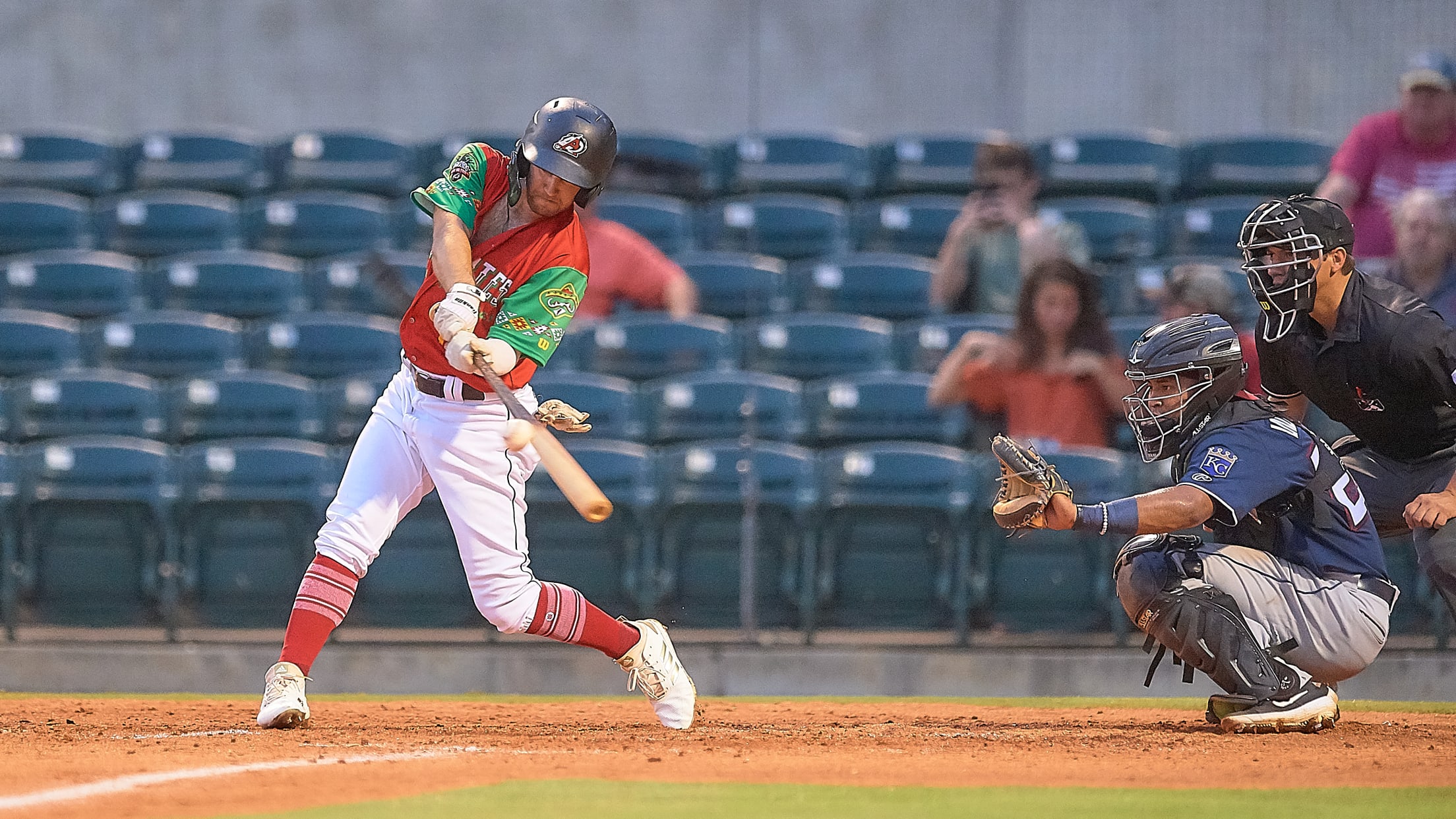 Aaron Knapp had two hits, including a triple, and two walks in the loss. (Mark Wagner)
Frisco, TX-Despite numerous baserunners, the Arkansas Travelers dropped a 3-1 decision to the Frisco RoughRiders in the opener of a four game series on Saturday night. The Travs scored in the opening inning but finished the night 0-10 with runners in scoring position, leaving 10 men on base and had
Frisco, TX-Despite numerous baserunners, the Arkansas Travelers dropped a 3-1 decision to the Frisco RoughRiders in the opener of a four game series on Saturday night. The Travs scored in the opening inning but finished the night 0-10 with runners in scoring position, leaving 10 men on base and had another two thrown out on the bases. Frisco starter Brock Burke pitched 5.2 innings allowing just one run on seven hits with seven strikeouts for the win. Three relievers combined to pitched shutout ball the rest of the way with Jake Lemoine getting the save. Ljay Newsome was the losing pitcher giving up three runs over five innings in his second start with the Travs.
Moments That Mattered
* After a first inning run by the Travs, Frisco answered with a pair of two out runs in the second inning. Isiah Kiner-Falefa added a solo homer an inning later.
* Arkansas had chances throughout the game to cut into the Frisco lead. In the fifth and sixth innings, they had a runner at second with none out but failed to score each time. Then in the eighth, Kyle Lewis led off with a double but was thrown out at third trying to stretch it to a triple.
Notable Travs Performances
* RF Kyle Lewis: 4-4, run, 2 2B
* LF Aaron Knapp: 2-2, 2 BB, 3B
* RHP Zac Grotz: 3 IP, 3 H, K
News and Notes
* The three scoreless innings from Grotz extend the bullpen's scoreless streak to 19 innings.
* Arkansas falls to 4-8 on the season against Frisco and is now assured of losing the season series to the Riders.
Up Next
Game two in Frisco is Sunday night with right-hander Logan Gilbert (0-1, 5.91) making the start against righty Collin Wiles (0-1, 9.00). First pitch is set for 6:05 and the game will be broadcast on the Sports Animal 920, the First Pitch App, TuneIn radio and milb.tv.